The weirdest thing happened….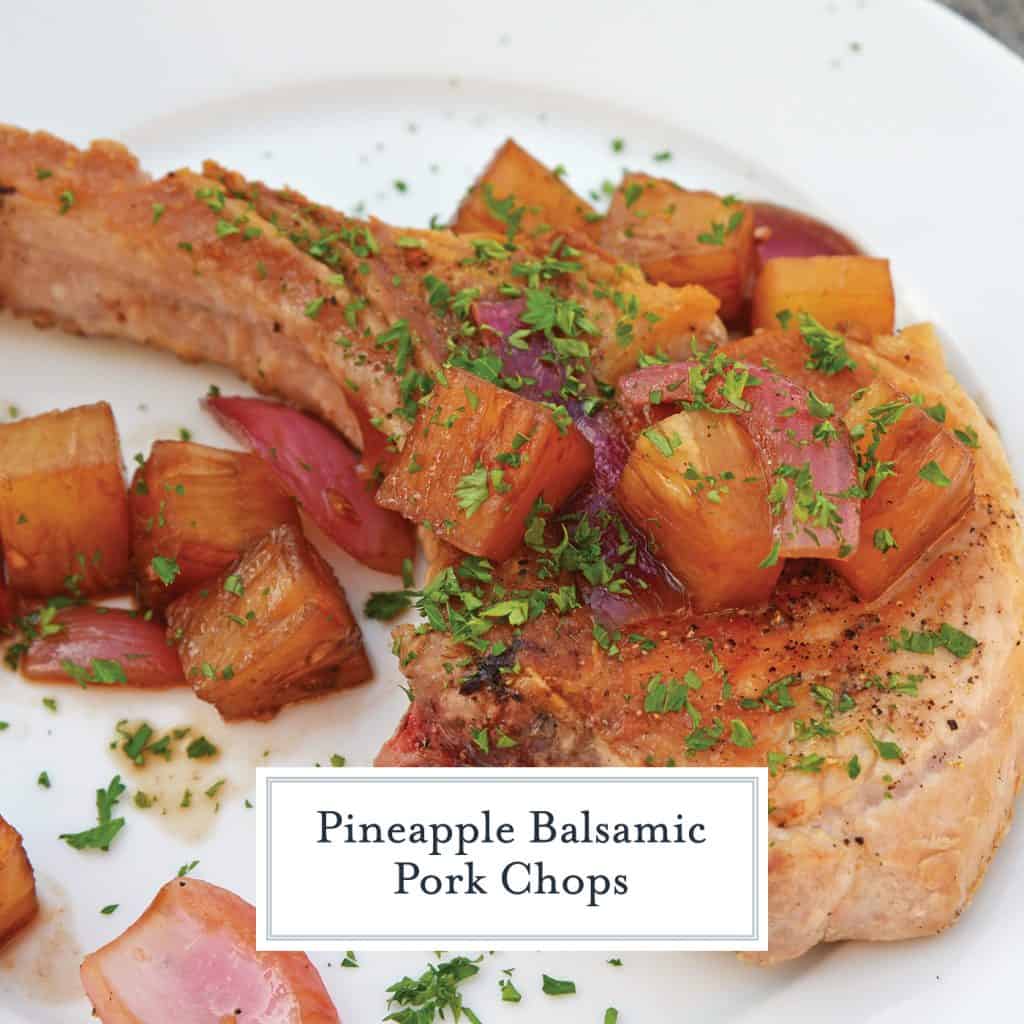 Pineapple Balsamic Pork Chops are an easy pork chop recipe that uses caramelized balsamic vinegar and sweet, luscious pineapples to make a simple sauce for pan seared pork chops.
A lovely women left a comment on this post and I headed over to review the post, as I commonly do.
Make sure you PIN Balsamic Pineapple Pork Chops!
In fact, I had totally forgotten about this recipe. And I soon realized I was in a pork chop rut.
Those exist? YES, they do! I've been doing the same thing over and over again to my poor pork chops.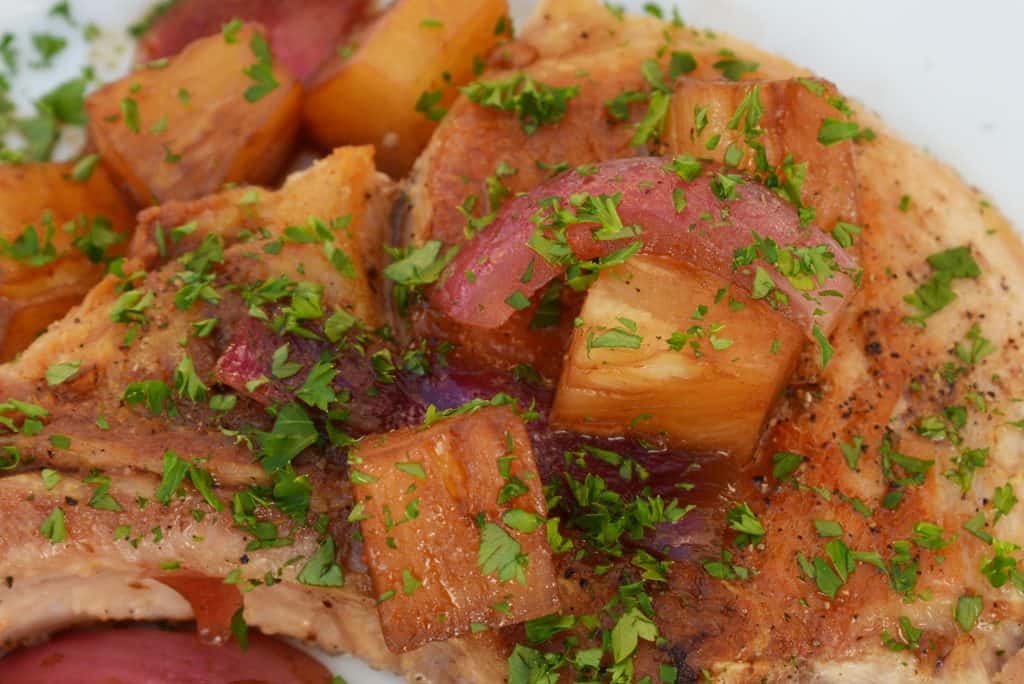 Marinate in Italian dressing. Grill. Eat. Repeat.
Eva says: "Just made this, very good, fast & simple!
Yeah, I had red peppers so I added them."
But when I got here, the oddest thing happened. THERE WASN'T ANYTHING WRITTEN.
Some time between the last two or three years since I wrote this post and then updated the images, all of the text apparently disappeared. I disappeared into the black hole of blog posts…
The blog abyss.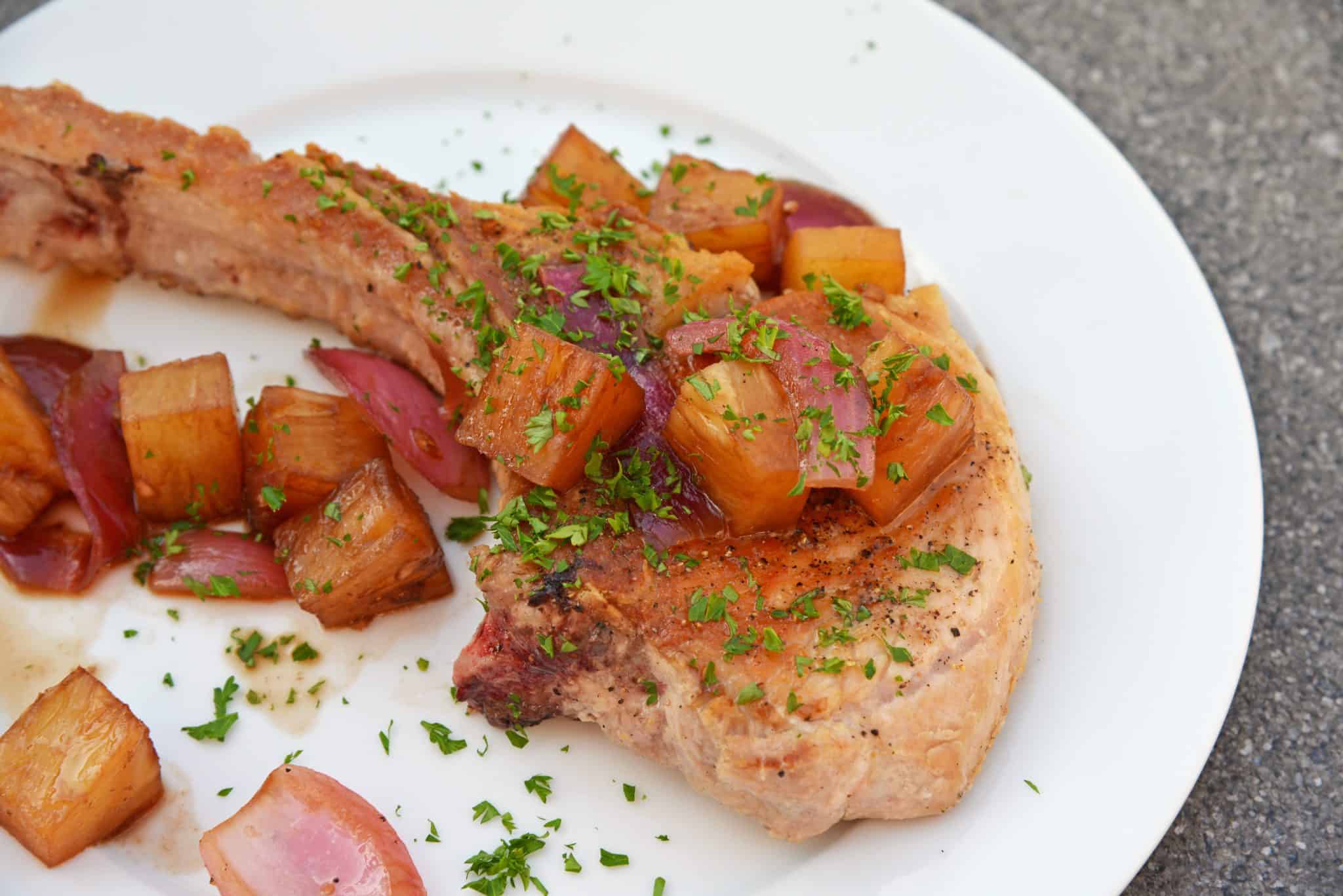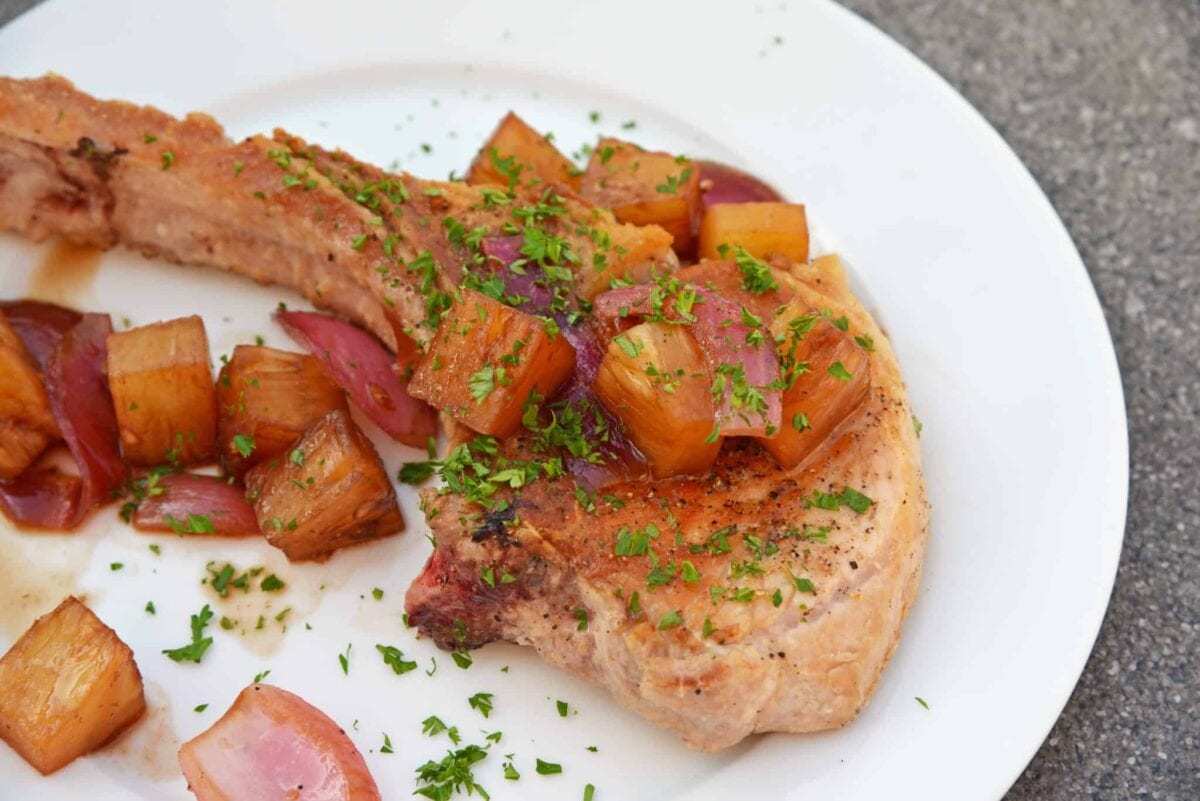 So quite frankly, while I am writing this, I don't remember much about the recipe or have any glowing remarks or knowledgeable tips and tricks.
Kathleen wrote: "My husband loved this dish just the way it was. I added a little soy sauce to my dish and it was yummy. I used fresh pineapple."
What I do remember is that this Balsamic Pineapple Pork Chops are delicious.
Balsamic vinegar reduces into a sweet balsamic reduction and pairs perfectly with lush pineapple cubes.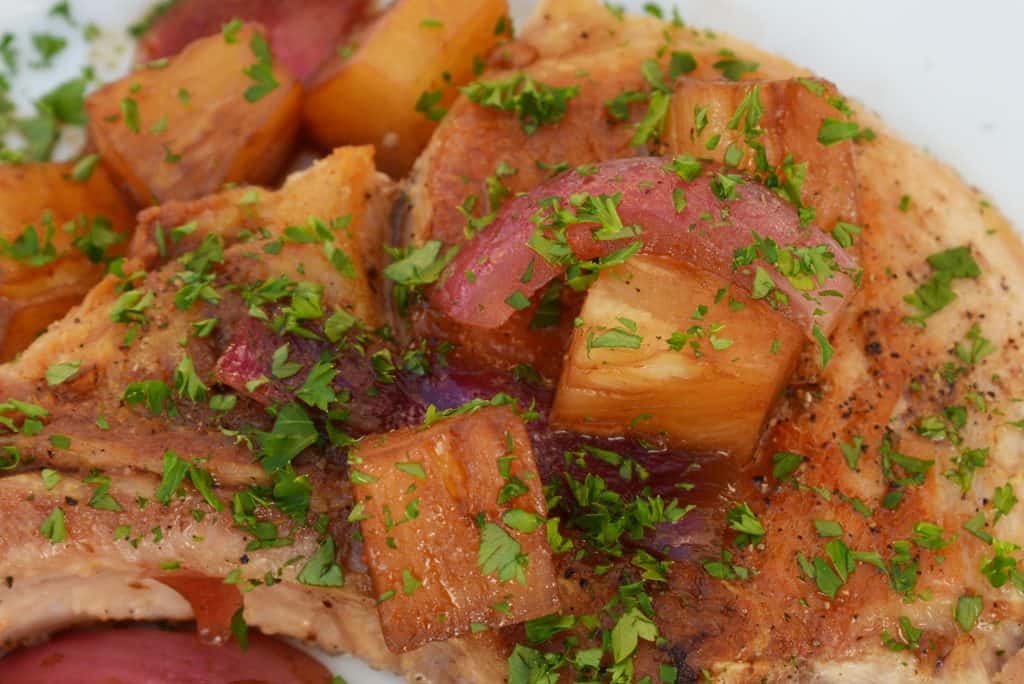 I'm convinced that pineapple was made to pair with pork. Like spaghetti and meatballs. Delicious.
PRO TIP: Do not use expensive aged balsamic vinegar for this recipe. Use cheap stuff!
And this particular recipe only uses 7 ingredients and takes less than 30 minutes to prepare. With the exception of the pork chops, most of these items are pantry staples.
And no marinating time! Which means you don't even need to have foresight about making this meal.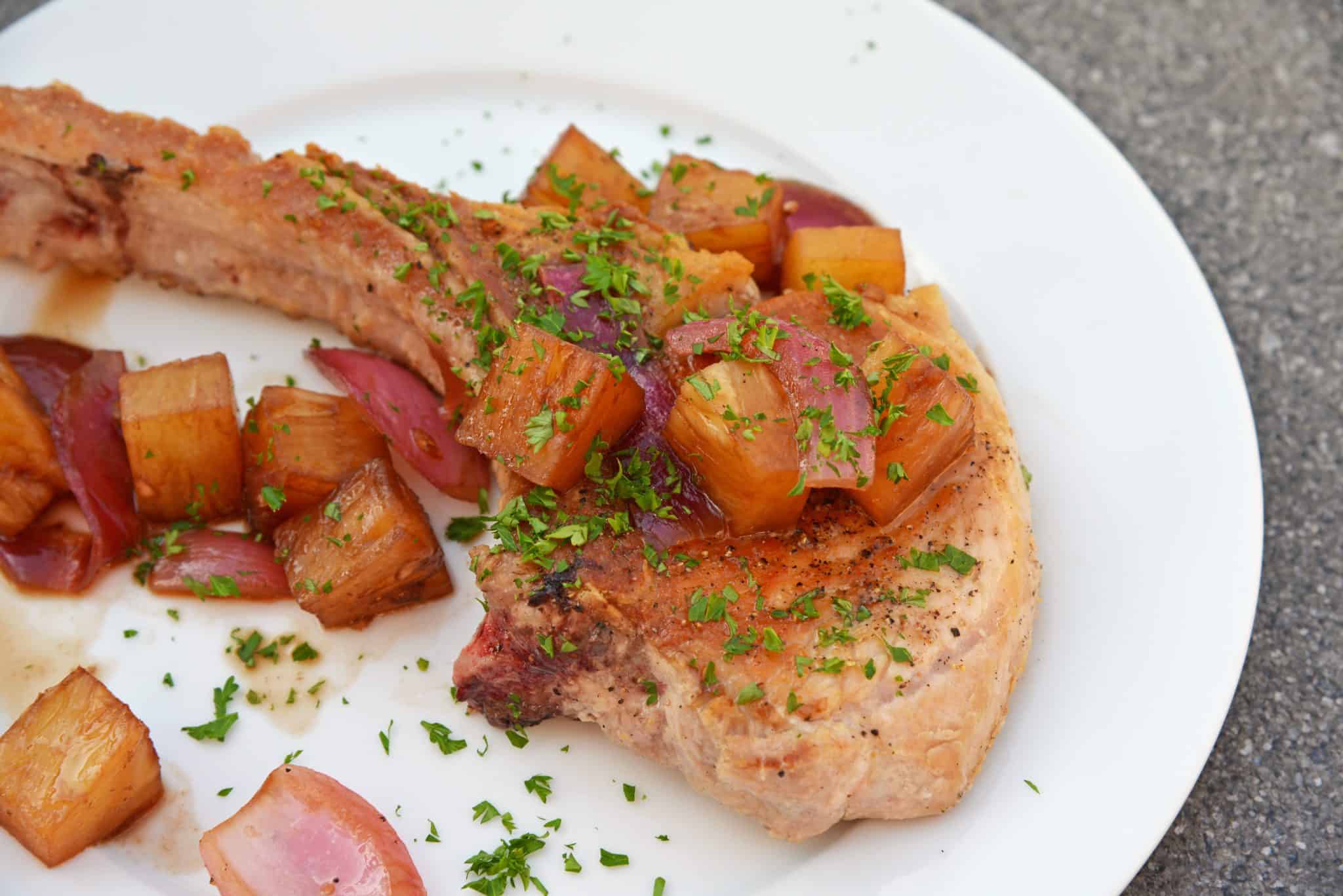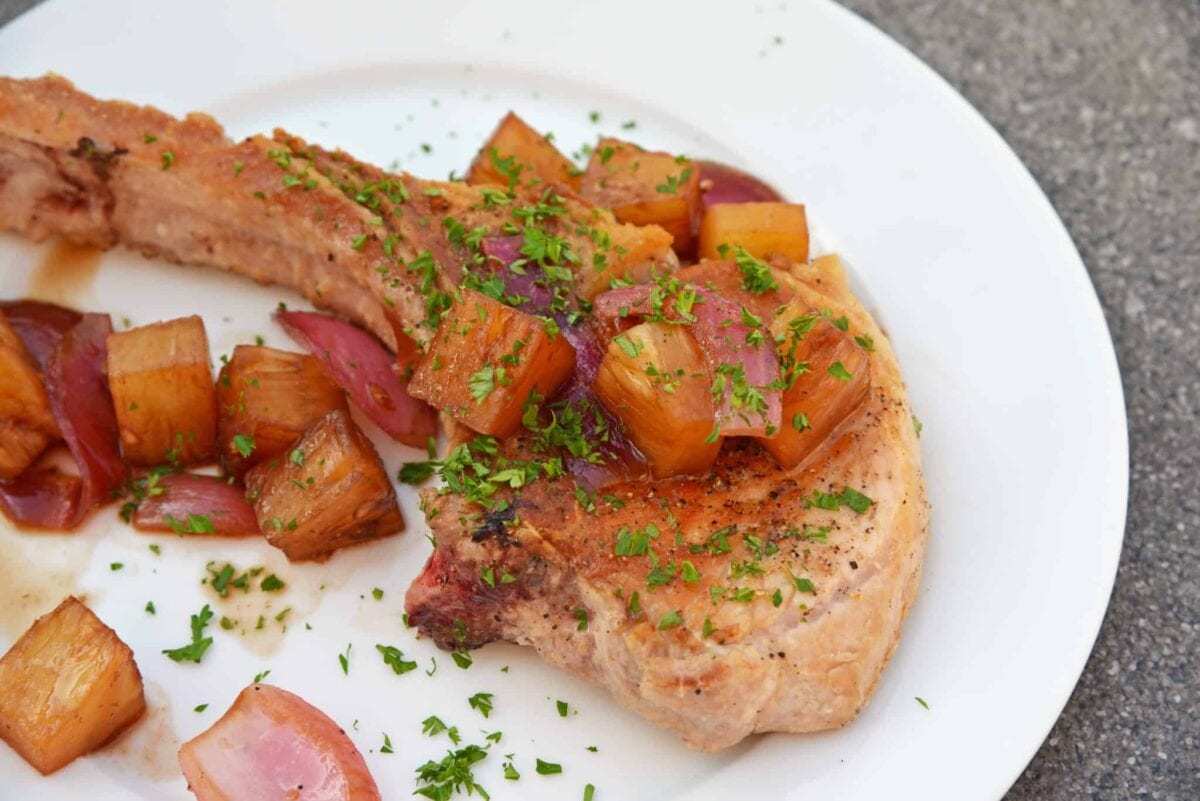 So what are you waiting for? Make Pineapple Balsamic Pork Chops your new favorite pork recipe.
Questions you might have about how to make this pan fried pork chops:
Can I use fresh pineapple instead of canned? Sure! I use canned because it is easier and already chopped, but if you have fresh at your disposal, but all means, use it!
What type of balsamic vinegar should I use? I go over this in my Balsamic Reduction recipe.
DO NOT USE GOOD OR EXPENSIVE BALSAMIC VINEGAR for this recipe. When making a reduction, all of the elements that make a nice vinegar are essentially cooked off. Don't waste your money and use the cheap stuff.
Can I make this same pineapple balsamic sauce for other cuts of pork? Sure! The sauce is verstile and pairs with any cut of pork, really.
Simply season your meat with salt and pepper, brown and cook, and if needed make the sauce in a separate saucepan.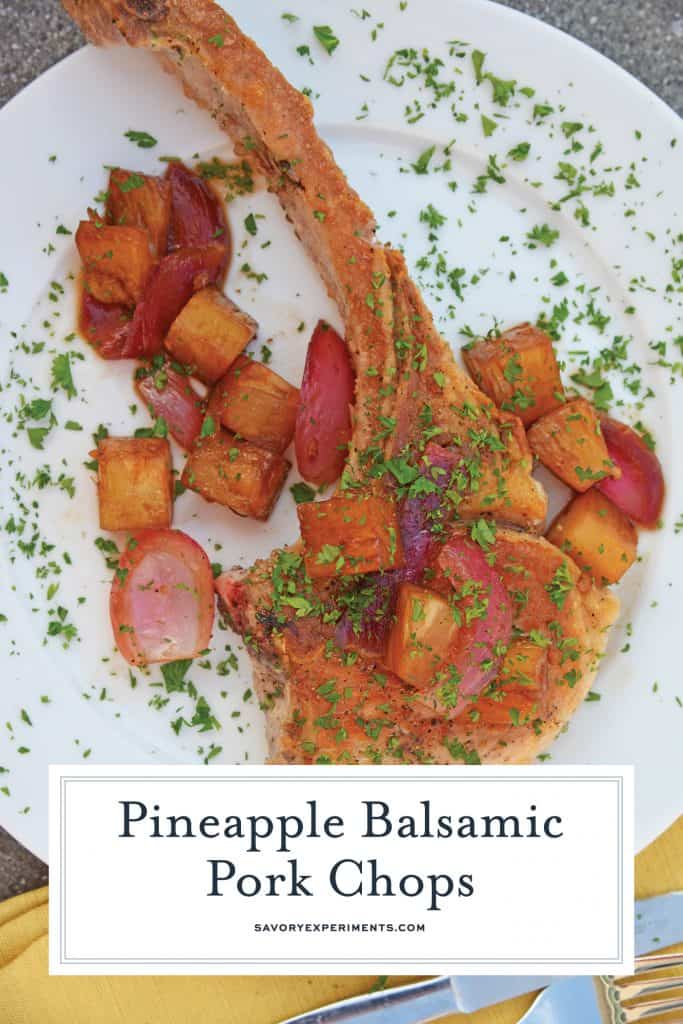 Can I make it ahead of time? You can make the sauce ahead of time, if you desire. If you are making a larger pork loin or pork tenderloin, you can make it ahead of time and reheat.
But for chops, I would suggest cooking right before serving. Since they are thinner, you run the risk of over cooking when reheating.
What temperature should pork be? The internal temperature of pork should be 145 degrees. Most people overcook their pork. Don't be that person.
Tools for making Balsamic Pork Chops:
Heavy Bottom Frying Pan– this will be one of your most used kitchen tools. Having something that is heavy bottom will distribute heat better and prevent burning whether you are using an electric or gas range.
Meat Thermometer– Every home kitchen should have a meat thermometer. Never take a guess as to if something is done again!
Wood cutting board – wood won't dull your knives like plastic and if treated properly, has natural antimicrobial properties.
Good knife – Global is my favorite! They are worth the price, I promise. I am kind of obsessed with them and store them tucked away so no one else can use them. Including hubby. Hands off my good stuff!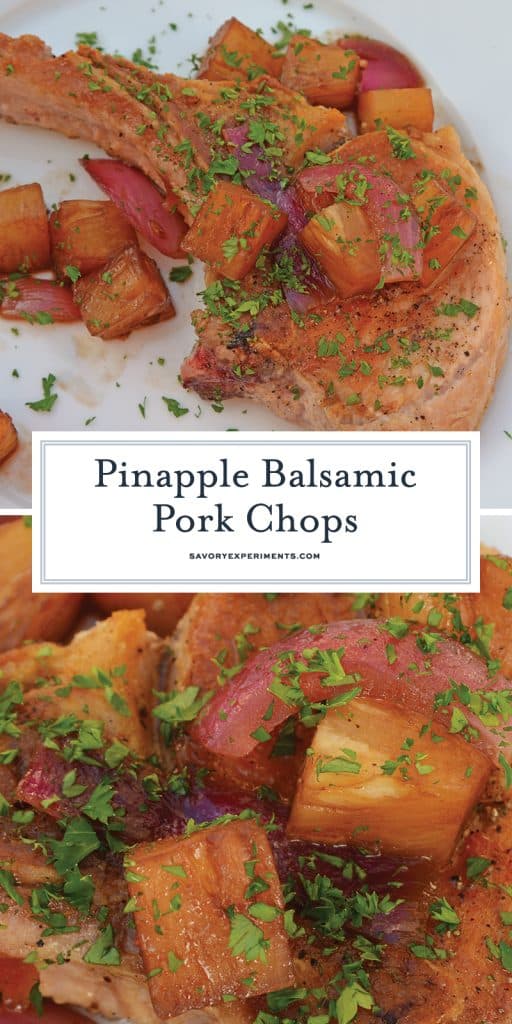 Check out these other pork chop recipes: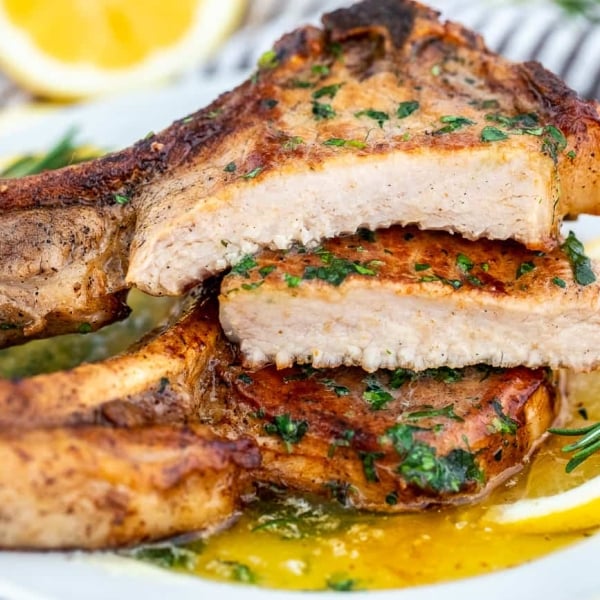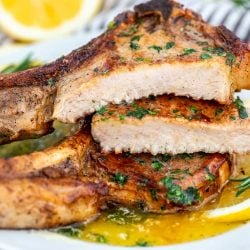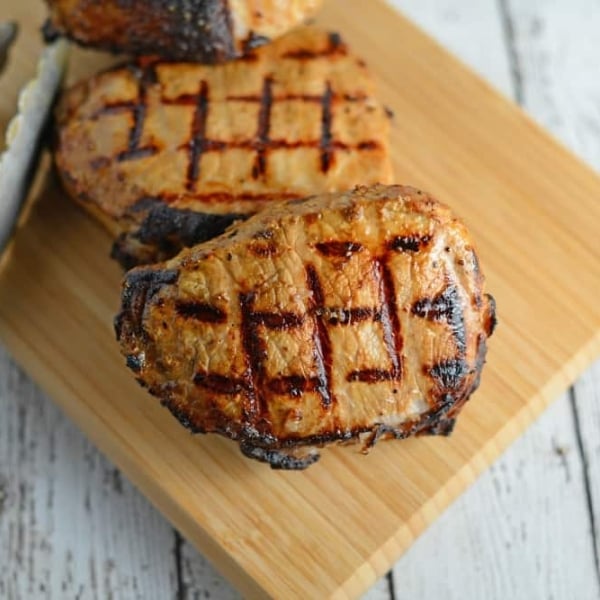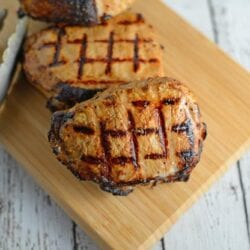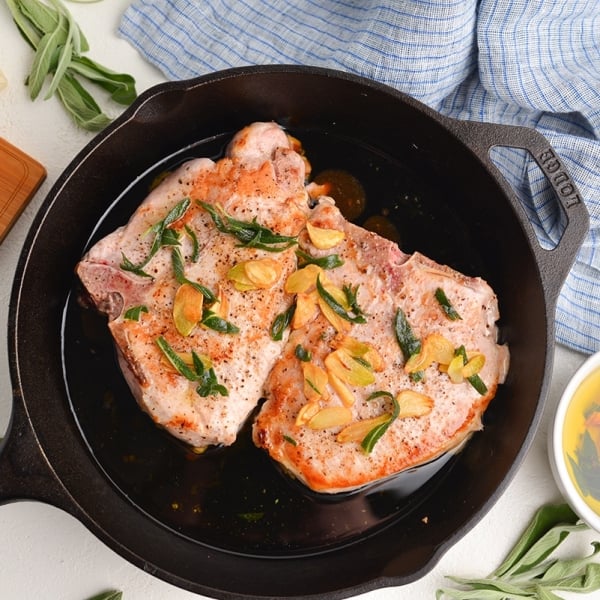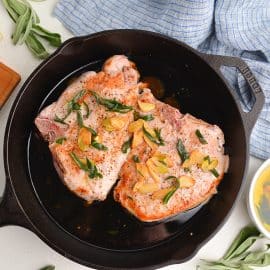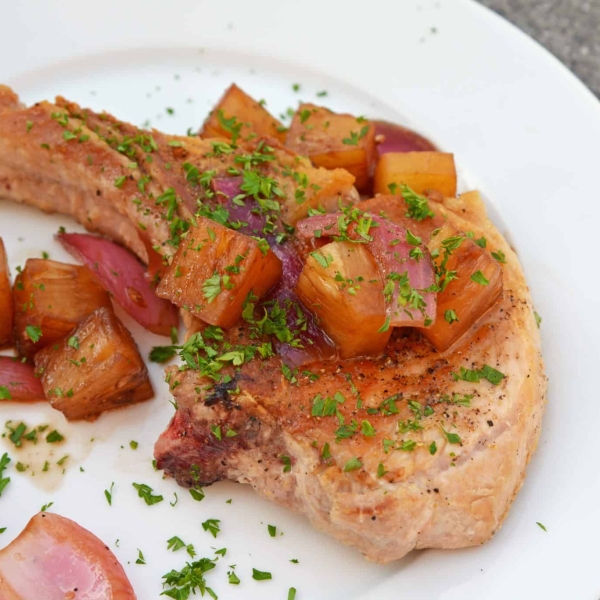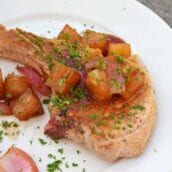 Pineapple Balsamic Pork Chop Recipe
Pineapple Balsamic Pork Chops are a quick and easy meal that combine sweet balsamic vinegar and pineapple with garlic and onions for a well-balanced and easy meal!
Instructions
Heat large skillet with extra virgin olive oil over medium heat. Season both sides of pork chops with fine sea salt and pepper.

Add pork chops, sear 4-5 minutes on both sides. Cooking time will be dependant on the size of your pork chop. Internal temperture should be 145 degrees. Set aside.

Without cleaning out the pan, add red onion. If the pan is dry, additional olive oil may be needed. Cook until onions starts to soften, approximately 3-4 minutes. Add garlic, cooking for another 1 minute.

Add balsamic vinegar and pineapple chunks, brining to a low simmer until liquid has reduced and sauce starts to become sticky approximately 10 minutes.

Add pork chops back to the pan, spooning sauce over top. Cook for 2-3 minutes, just enough to reheat. Serve immediately.

If you've tried this recipe, come back and let us know how it was!
Nutrition
Calories:
399
kcal
,
Carbohydrates:
18
g
,
Protein:
35
g
,
Fat:
18
g
,
Saturated Fat:
5
g
,
Cholesterol:
116
mg
,
Sodium:
102
mg
,
Potassium:
729
mg
,
Fiber:
1
g
,
Sugar:
15
g
,
Vitamin A:
35
IU
,
Vitamin C:
8.5
mg
,
Calcium:
59
mg
,
Iron:
1.5
mg