This is a rice pilaf recipe, with just one bite you will quickly see why this recipe will become a family favorite! Make sure you don't miss out on this delicious vegetable rice pilaf!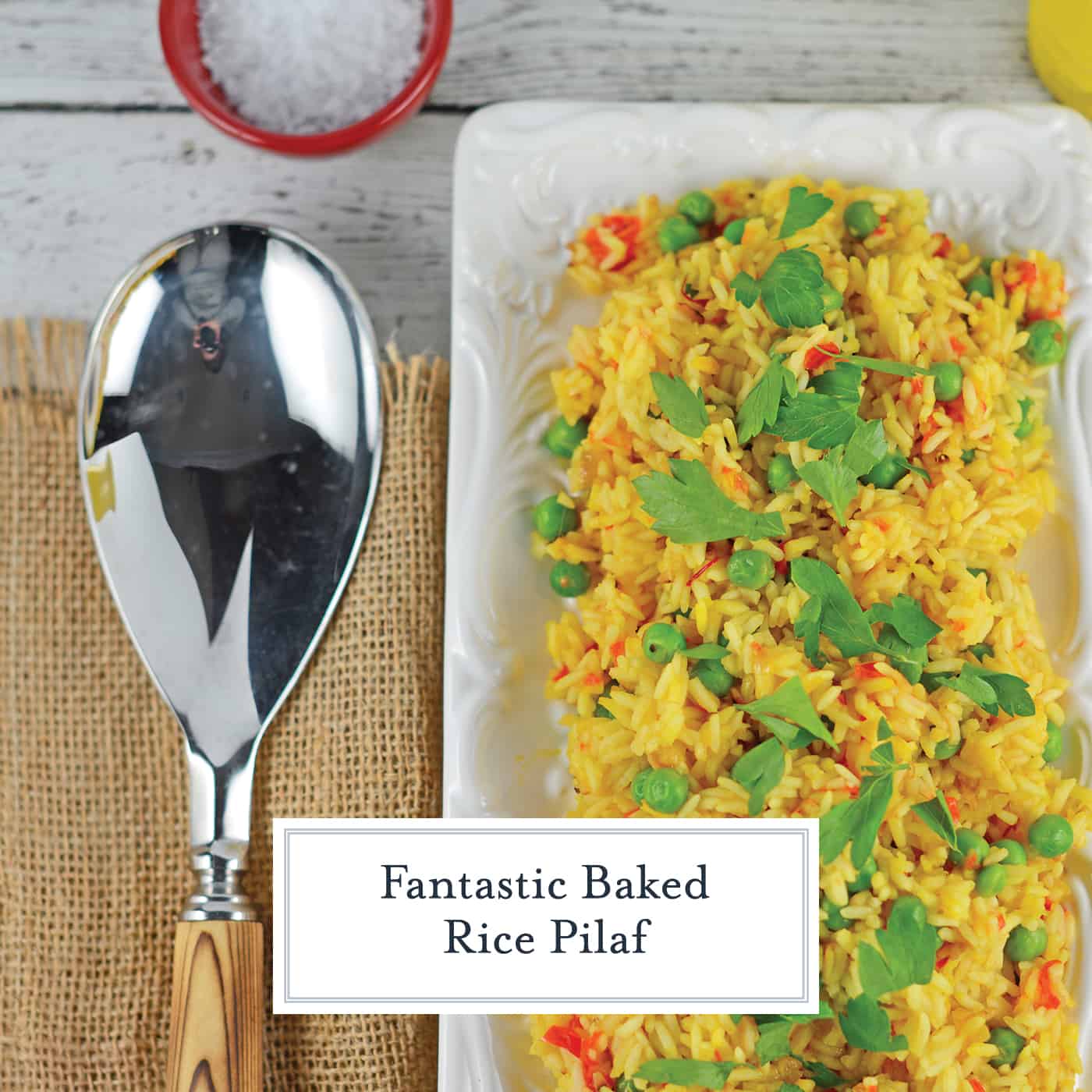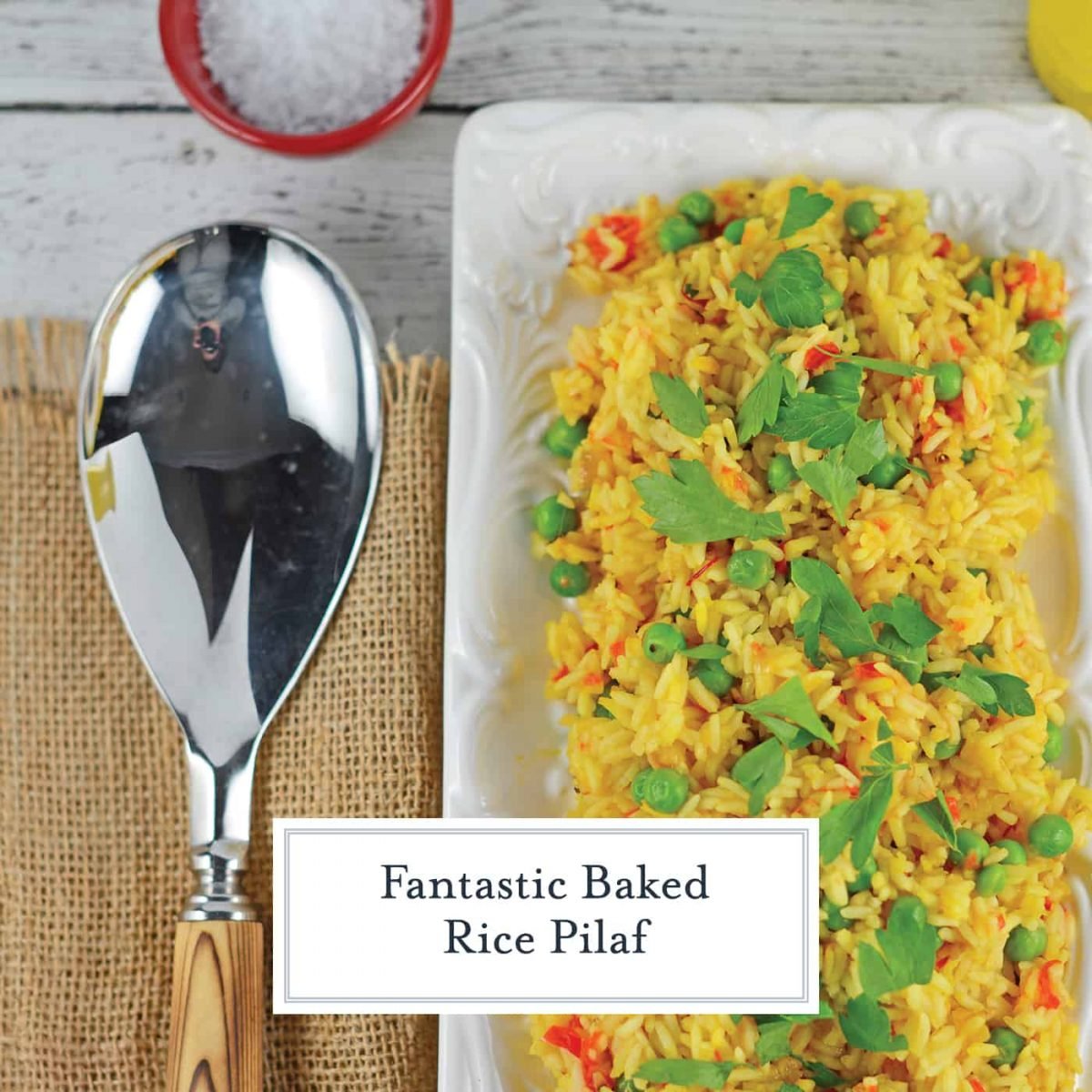 You'll never buy boxed rice pilaf ever again once you've made Baked Rice Pilaf! This is a fool proof way of getting the perfect rice every time… in the oven!
Rice pilaf is a recipe that every home cook should have mastered. It is a super versatile side dish, but often under seasoned and therefore seen as boring. The most simple description is toasted rice with butter, onion and garlic. Baked Rice Pilaf will change your image, I promise.
Baked Rice Pilaf doesn't have to stop at butter, onion and garlic. Take your own culinary liberties and make your own… make it interesting.
Look to see what is leftover in your vegetable crisper from a salad or other dish and use them! Dried fruits, nuts, hard cheese can all be used to make your rice pilaf awesome.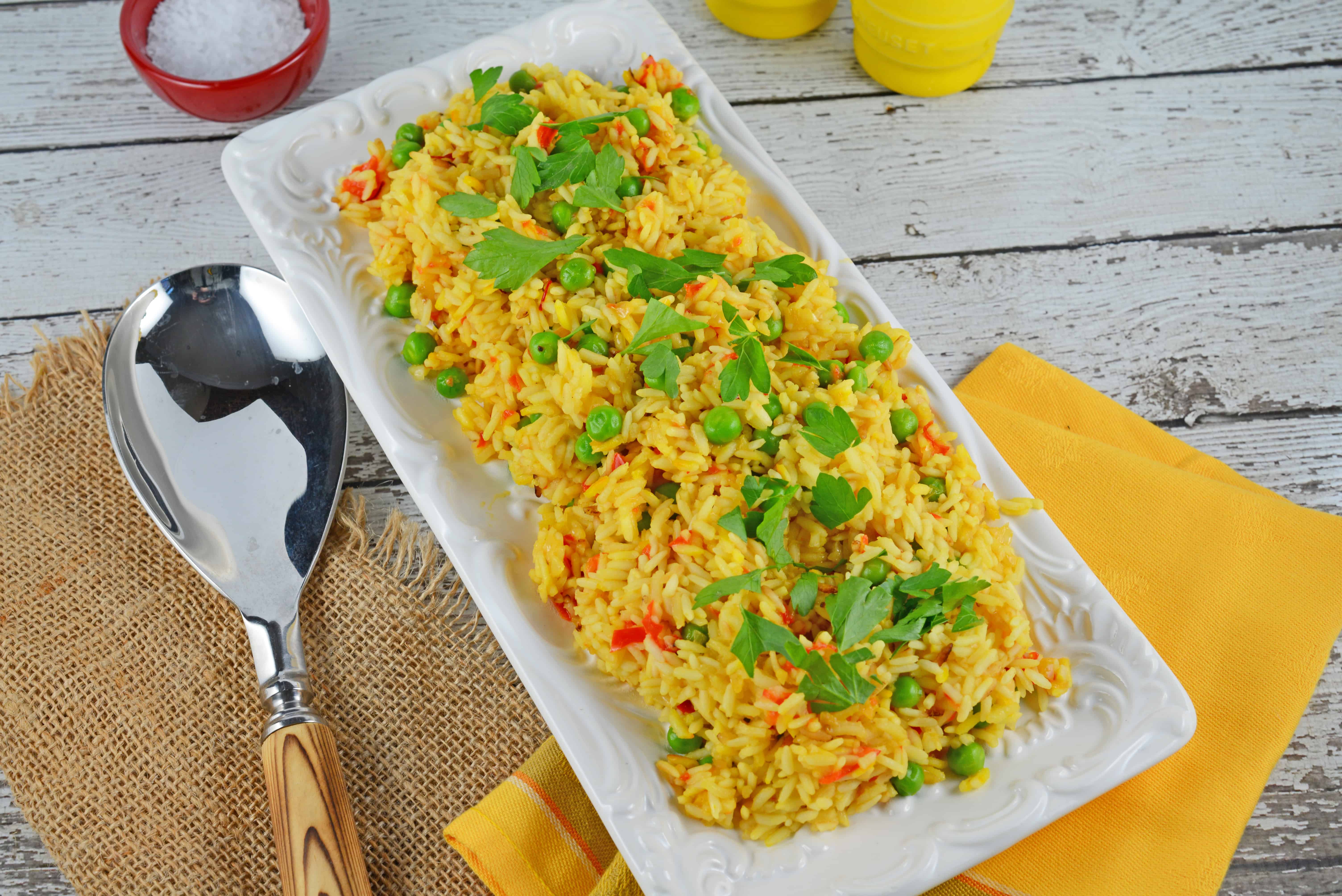 What is rice pilaf? Well first off, rice pilaf is thought to have originated in India. It is a dish made up of rice that is cooked in broth, onion, garlic, carrots along with other vegetables.
Depending where in the world you eat rice pilaf, it may include meats, fish, pasta and dried fruits. This rice pilaf recipe is of Middle Eastern descent.
Baked rice pilaf is no boring dish. I used saffron and chicken stock instead of water to add a golden hue and loads of flavor. When I think about pilaf, I think about vegetables, primarily peas, although I'm not sure why. I don't want large chunks, instead I'm searching for more of a sofrito, small, minced bits, much like in Paella.
I also used a new technique… I baked the rice! I've read about this technique twice now, once when learning about Iranian rice and the other from Alton Brown's cookbook Good Eats.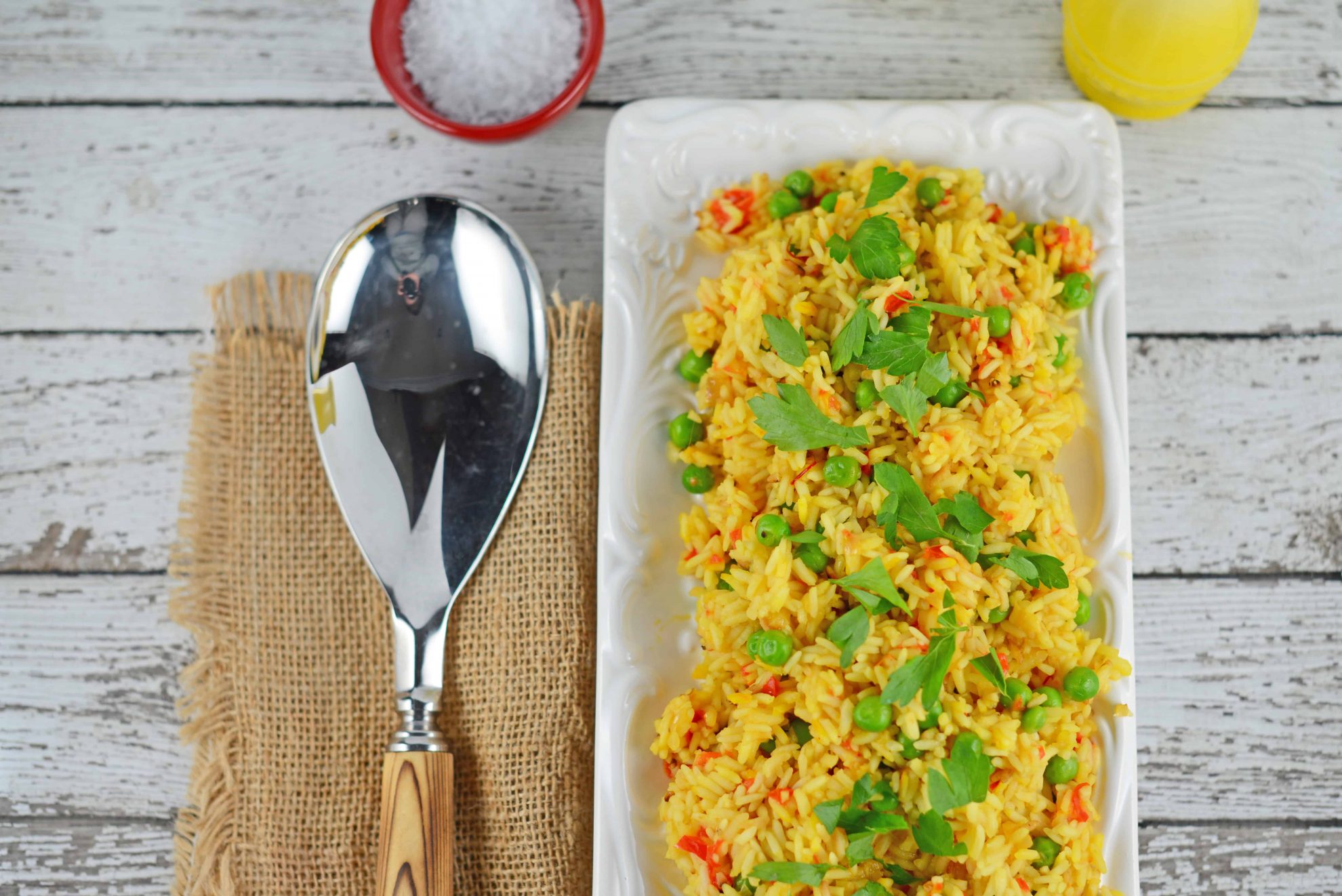 The technique uses a damp dish towel to absorb the evaporating liquid, preventing it from dripping back down from the lid and from your rice getting soggy.
Before you make your own pilaf rice, make sure to read my tips on making the perfect rice and that you have an ovenproof saucepan with a lid.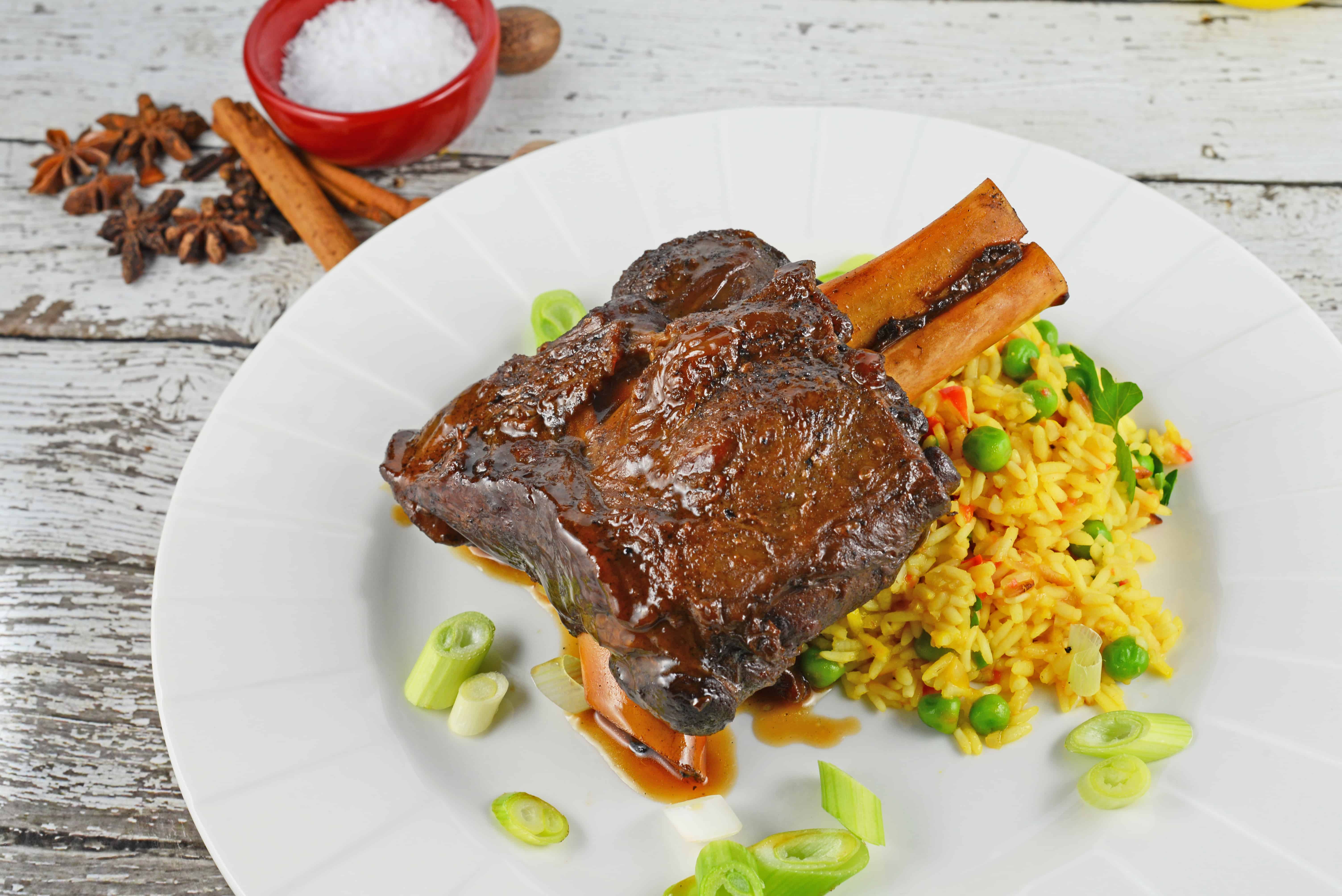 I paired this batch of Rice Pilaf with Braised Boar Shanks, a rich, tender and lean meat simmered in spices.
If you loved this vegetable rice pilaf, check out these other easy rice dishes: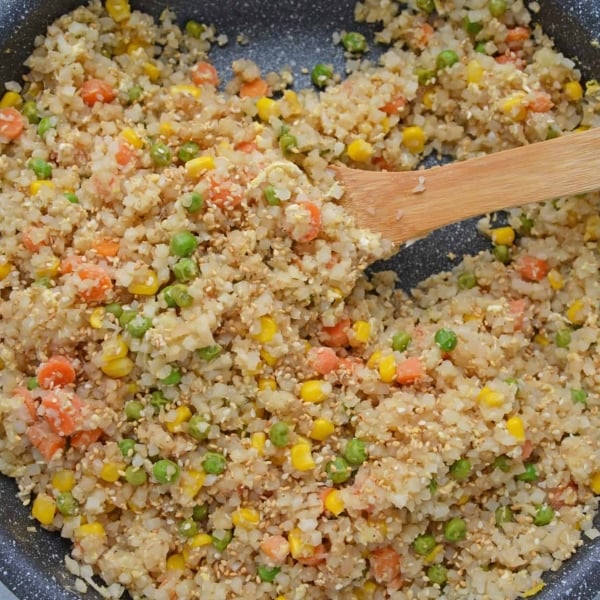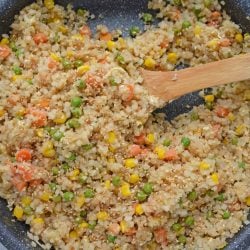 Cauliflower Fried Rice
If you've ever wondered how to make Cauliflower Fried Rice, look no further! This cauliflower fried rice recipe is the perfect way to cut down on carbs!
See The Recipe!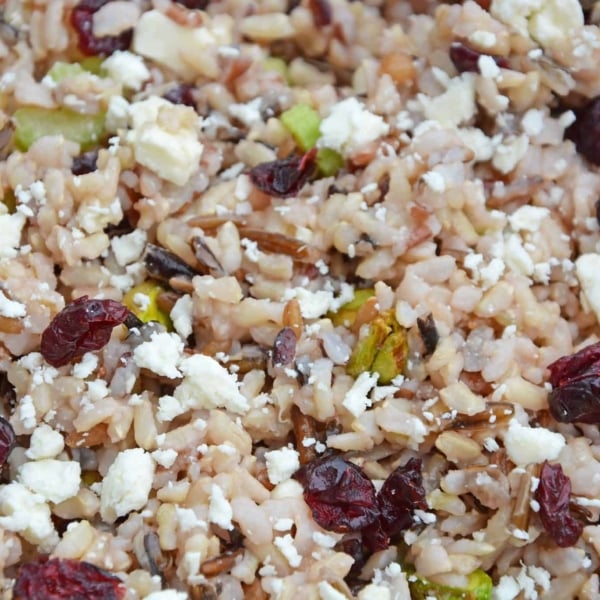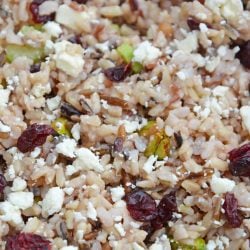 Wild Rice Pilaf
This Wild Rice Pilaf recipe is an easy side dish for your next potluck, picnic or dinner. Quick and easy to make in advance it's the best rice pilaf recipe!
See The Recipe!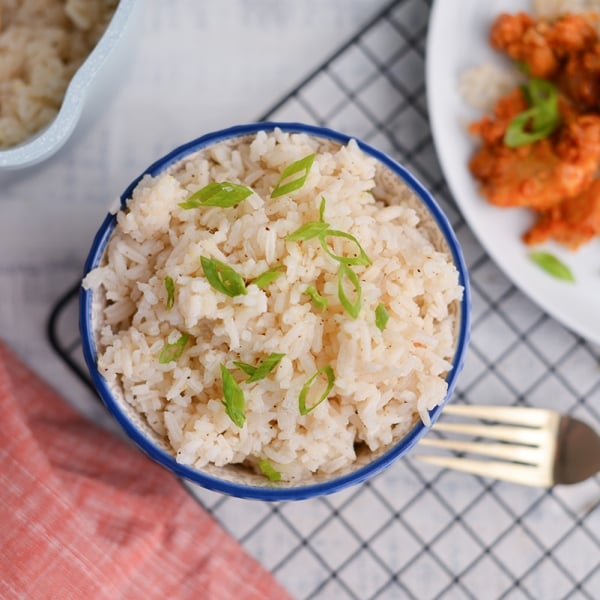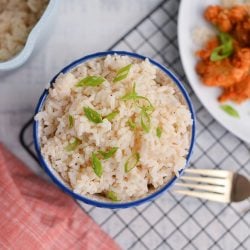 Ginger Rice Recipe
Ginger Rice is one of my favorite jasmine rice recipes. It pairs perfectly with many Asian dishes and adds much more flavor to meals than traditional white rice.
See The Recipe!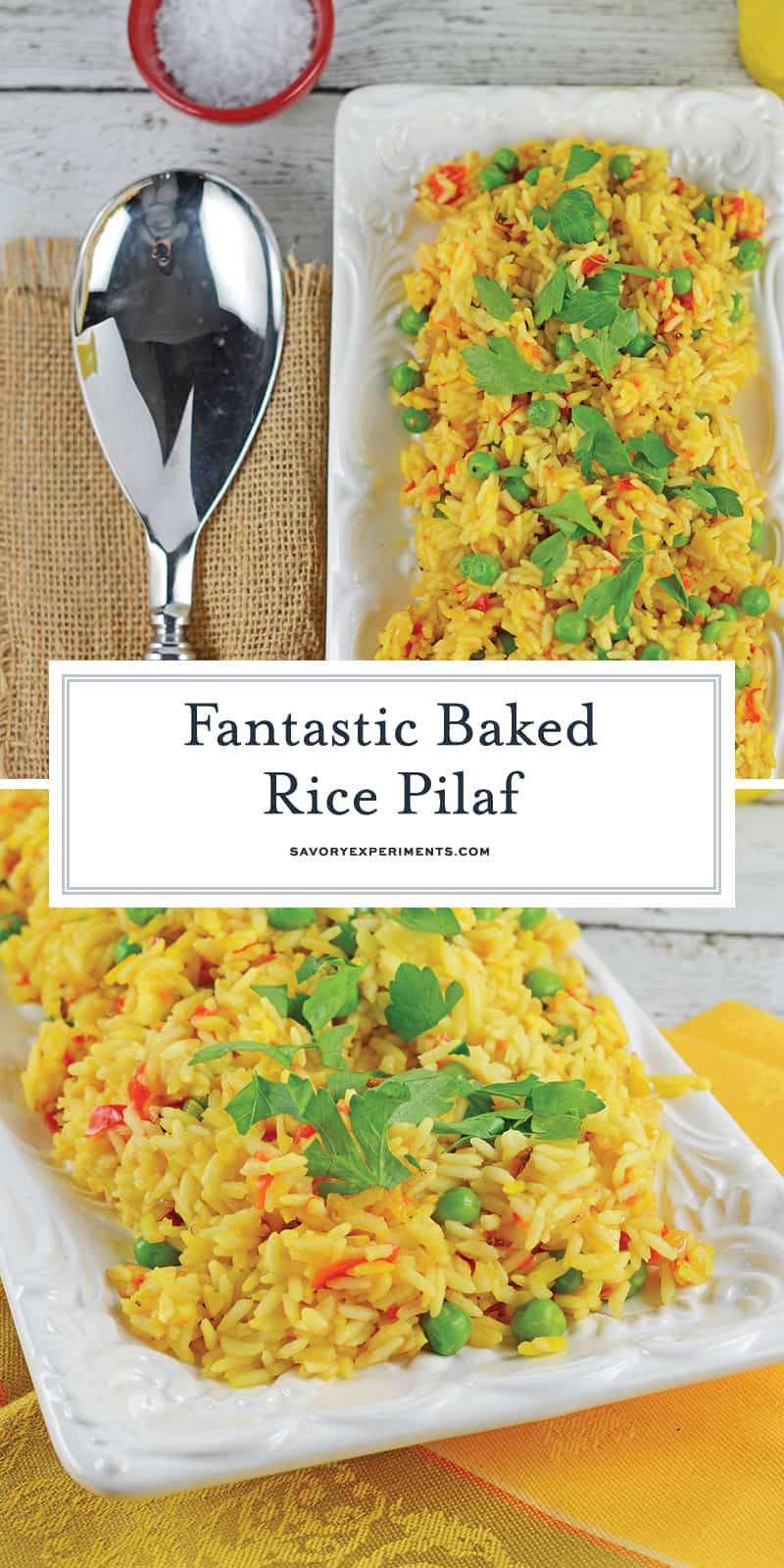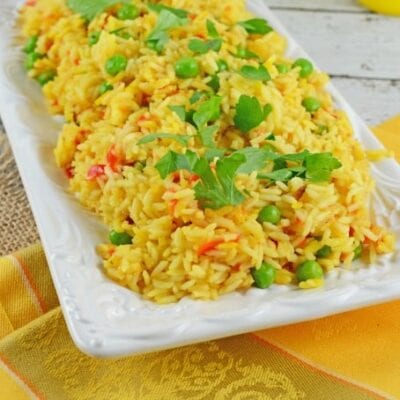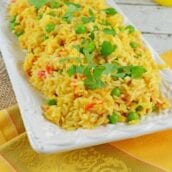 Baked Rice Pilaf
You'll never buy boxed rice pilaf ever again once you've made Bake Rice Pilaf! This is a fool proof way of getting the perfect rice every time… in the oven!
Instructions
Preheat the oven to 350.

Melt the butter in medium sauce pan over medium high heat.

Stir in the onion, garlic, bell pepper and sea salt.

Decrease the heat to low and continue to cook until onion is soft, approximately 3 to 4 minutes. Increase the heat to medium and add the rice. Stir, then allow to sit for about 30 seconds so the rice has time to brown. Continue doing this for approximately 3-4 minutes, or until it smells nutty.

Add the saffron and its water and chicken broth and stir. Increase the heat and bring to a boil.

Now for the new techinque: Thoroughly wet a thin, clean kitchen towel towel, take the sauce pan off the heat, pour peas in an even layer on top of the rice, then place the towel across the top of the sauce pan. Top with the lid, then fold the towel corners up over the lid.

Place sauce pan, towel and all, to the oven and bake 15 minutes.

Remove and rest at room temperature for 15 more minutes. Resist the temptation to open the lid!

Fluff rice with a fork and serve!

If you've tried this recipe, come back and let us know how it was!
Notes
Instead of mincing, take the veggies for a whirl in your food processor.
Nutrition
Calories:
320
kcal
,
Carbohydrates:
64
g
,
Protein:
7
g
,
Fat:
3
g
,
Saturated Fat:
1
g
,
Cholesterol:
6
mg
,
Sodium:
668
mg
,
Potassium:
256
mg
,
Fiber:
2
g
,
Sugar:
1
g
,
Vitamin A:
355
IU
,
Vitamin C:
22.4
mg
,
Calcium:
35
mg
,
Iron:
1.2
mg