This bulgogi recipe is an amazing way to make some delicious Korean Beef Tacos! With each bite you'll taste mouth watering flavors that will definitely satisfy all your taco cravings!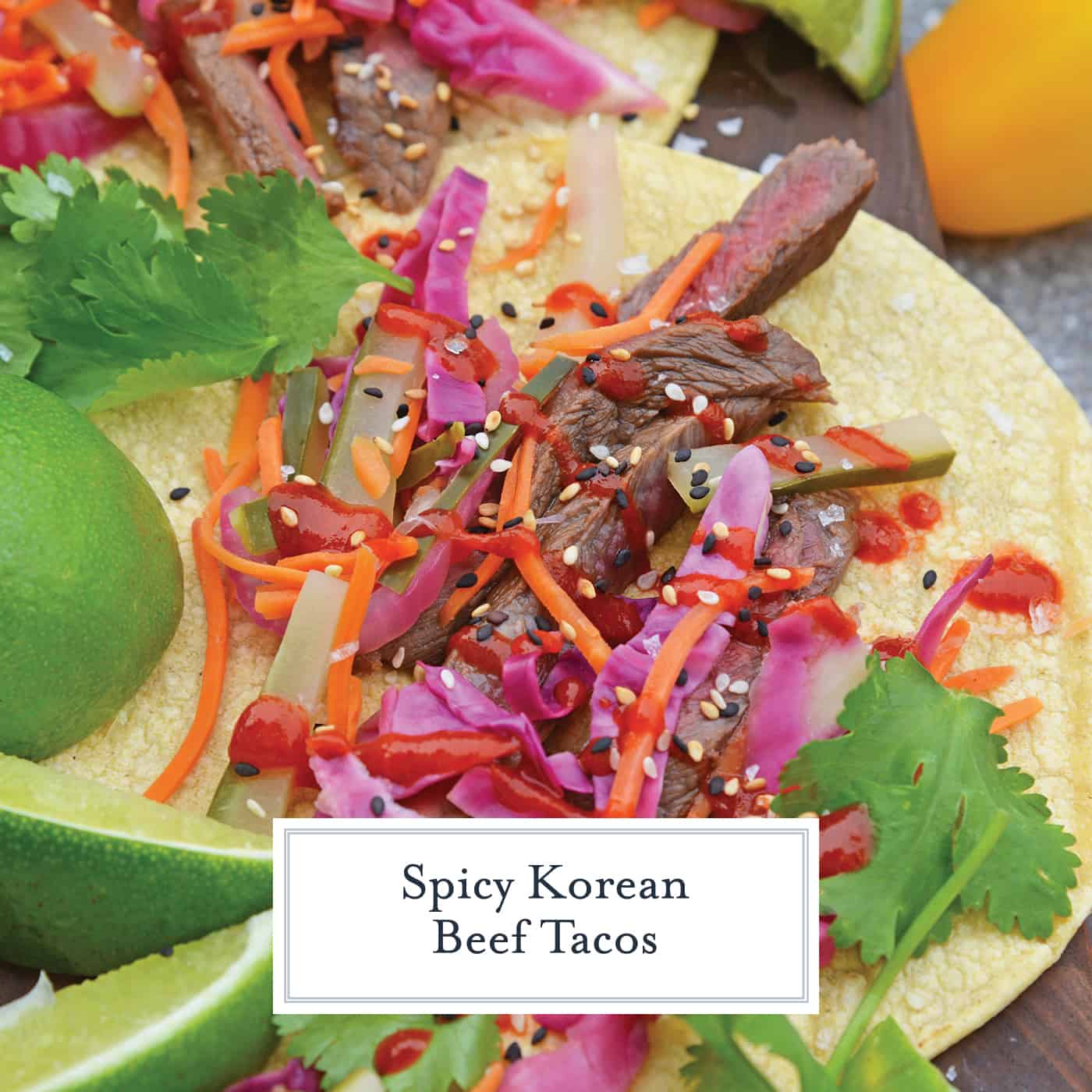 Korean Beef Tacos
A local food truck used to come to my office every Thursday. I looked forward to the change in pace and flavorful food compared to my usual cardboard frozen meal or lame protein bar. Much to my dismay, they no longer come.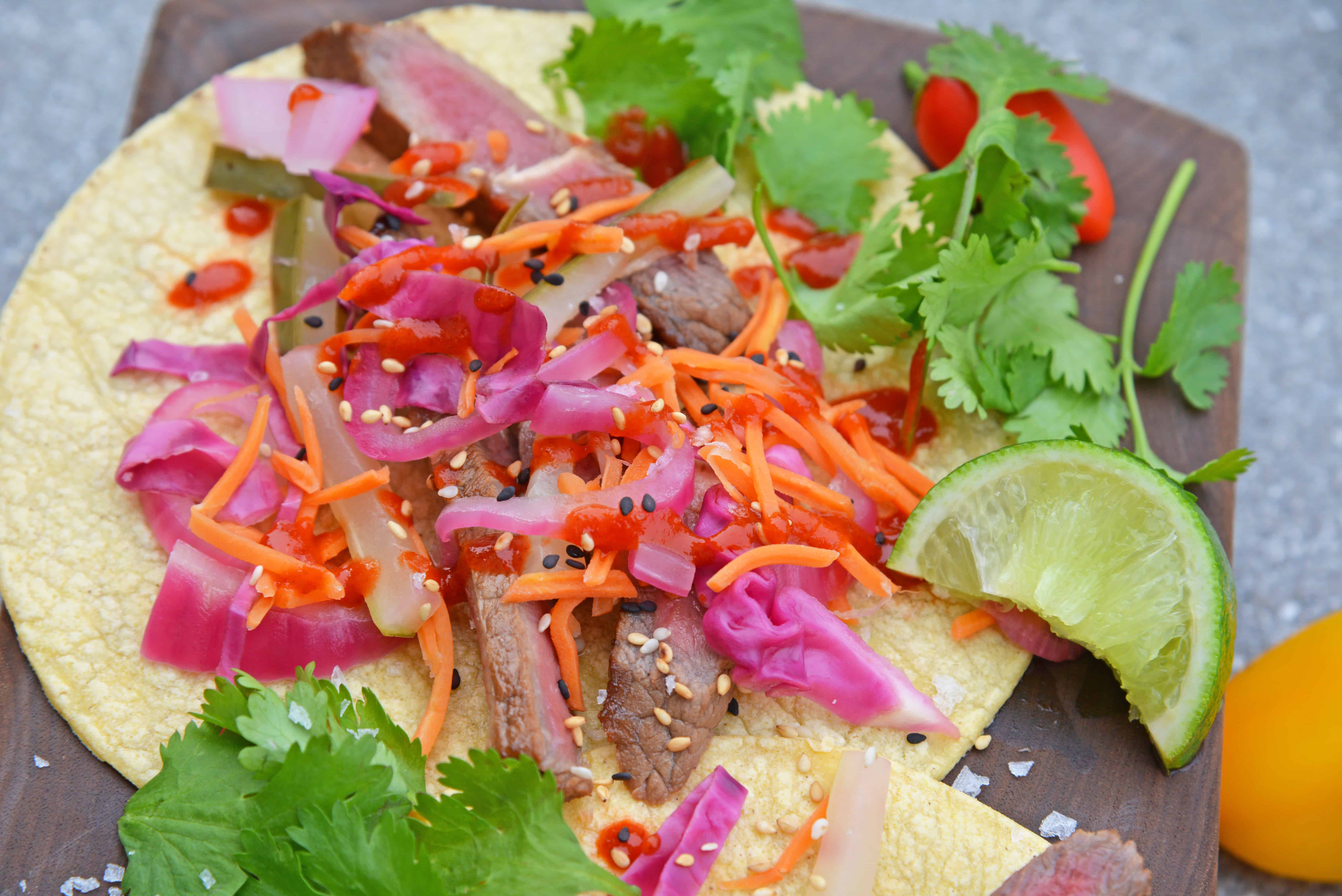 Although this is helpful for my wallet and waistline, I just kept craving one of my favorite food truck delicacies, Korean Beef Tacos. My only choice was to replicate.
Baltimore is a big town for "eating your meat on the street." The food truck boom hit and hit hard. We have everything from breakfast to dessert roaming the streets offering steamed food wrapped in aluminum foil.
Truth be told, I used to be scared of food trucks, but I guess my vision was of dirty hot dog water from the streets of Manhattan. Let me tell you, food trucks have changed. They follow sanitation codes, offer fresh and local ingredients and come up with some truly gourmet to-go meals, vegan to bacon galore!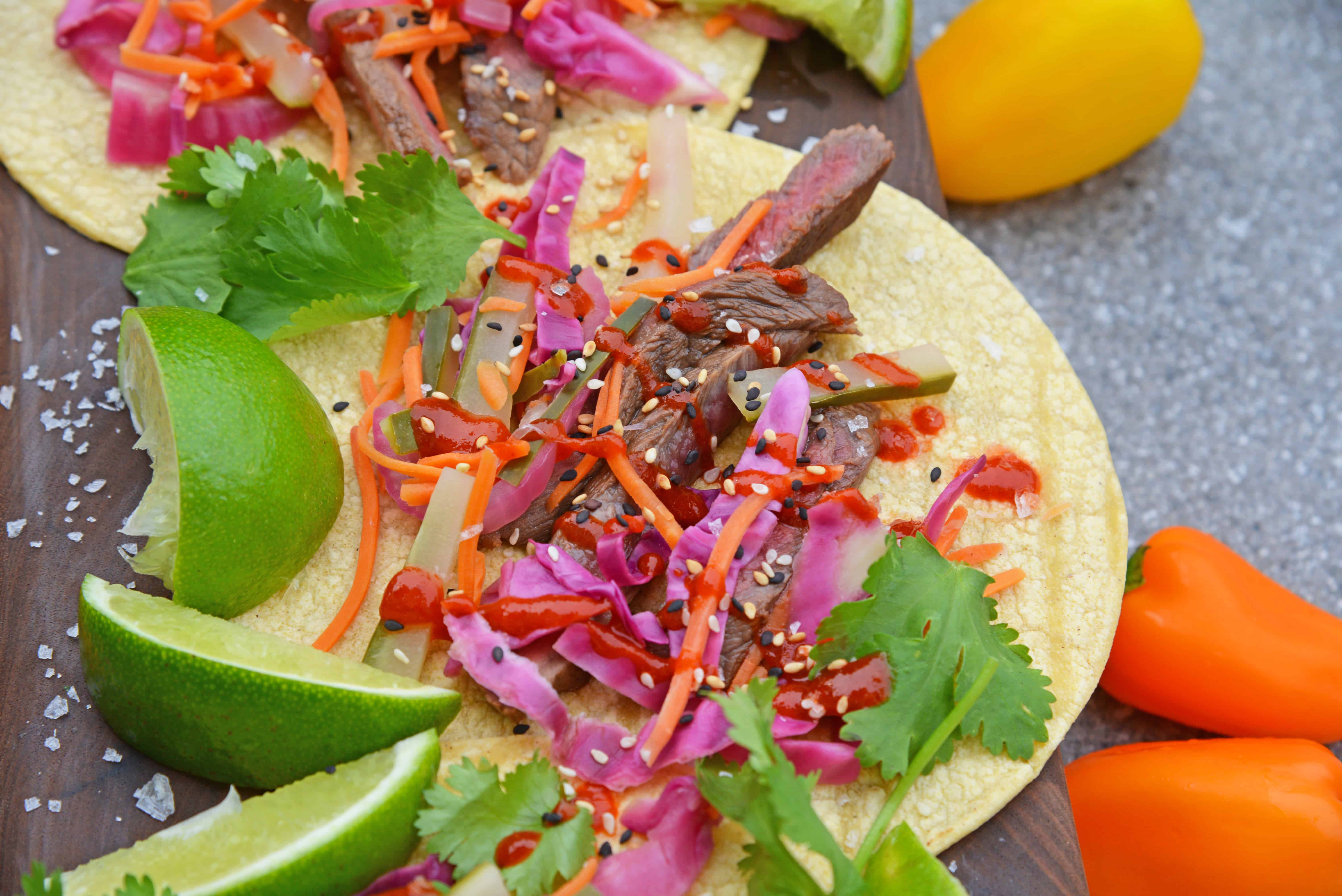 I'm sure you've seen bulgogi beef listed as one of the ingredients in the recipe card, and I'm sure most of you are curious to know that it is. The word bulgogi means "fire meat" which is essentially what it is.
Bulgogi beef is thinly sliced pieces of marinated sirloin that is cooked on the grill or in a griddle on the stove top. From the meaning of bulgogi you'd think it would have a spicy flavor but it's actually on the sweeter side. You can also make our Instant Pot Korean Beef for a shredded version with the same delicious flavors.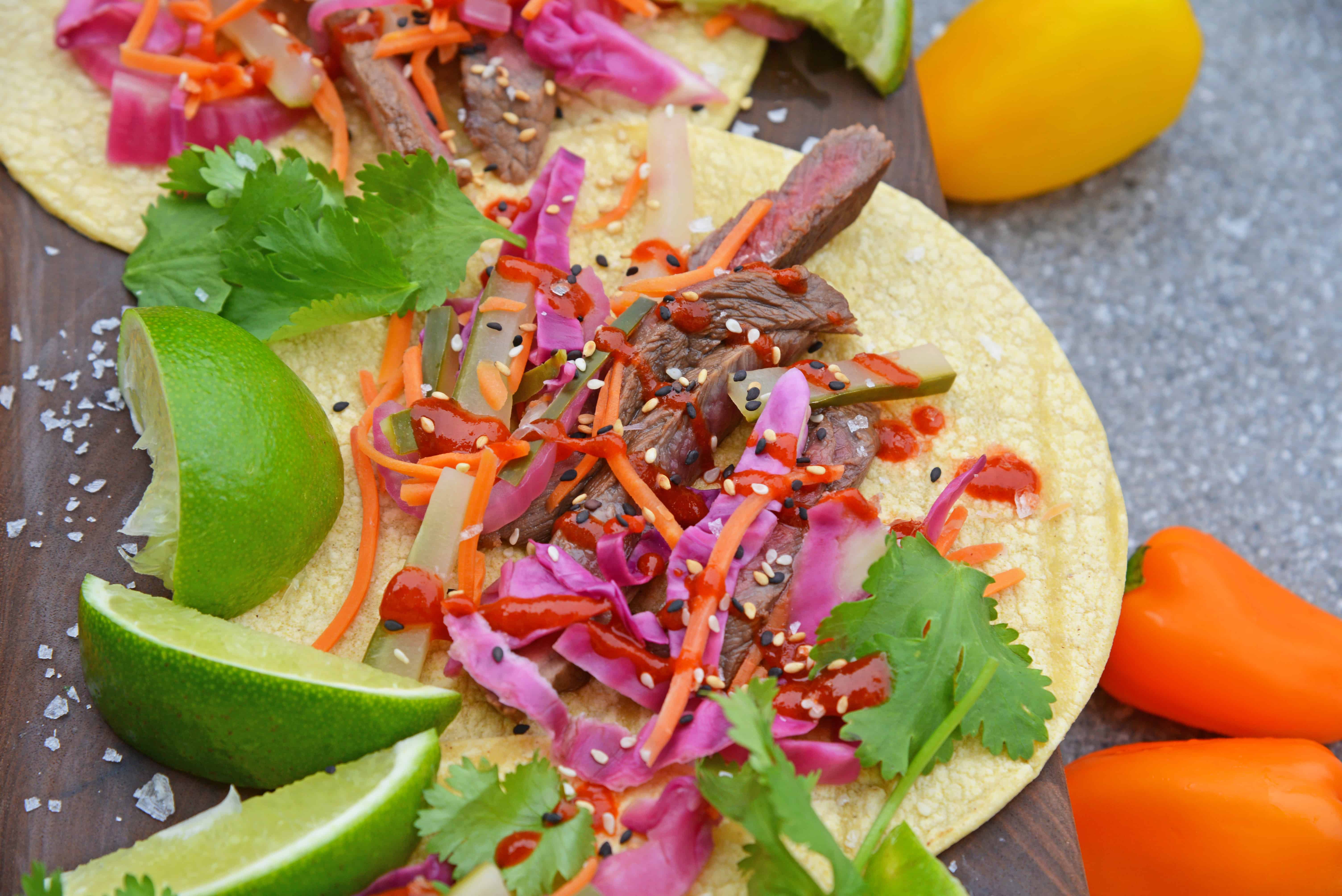 Bulgogi is one of the most popular Korean dishes and is usually served to non Koreans for their first Korean food experience. You'll find it being served at Korean barbecue restaurants where you cook it yourself at the built in grills at your table. Make into tacos, serve over rice or even make beef bulgogi bowls!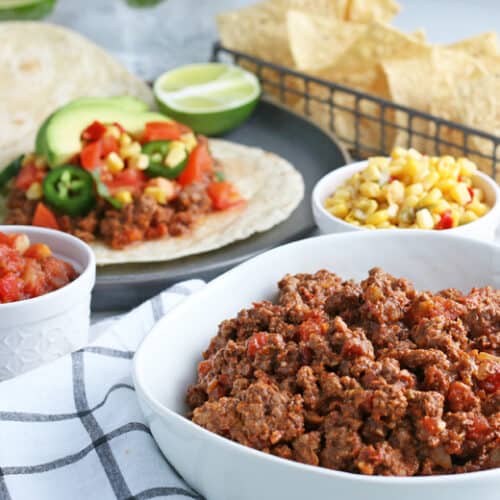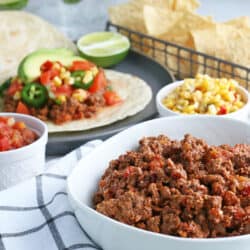 Crockpot Taco Meat
Making taco meat for a crowd has never been easier than this Crock Pot Taco Meat recipe! Only 3 ingredients, set it and forget it!
View this recipe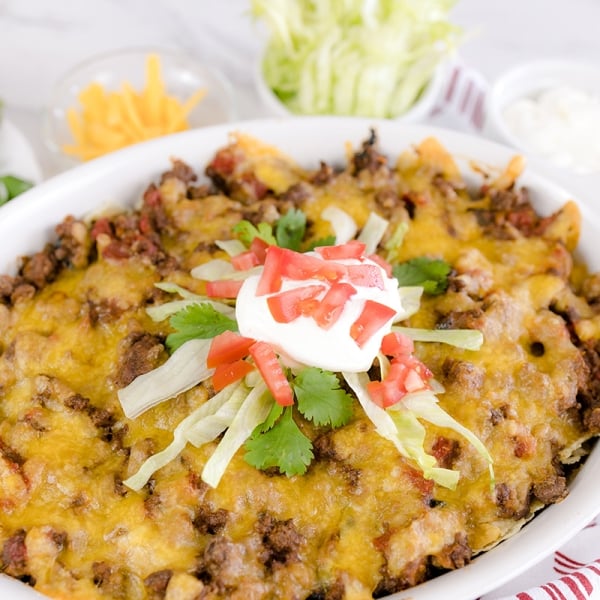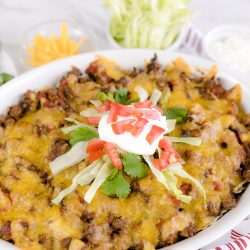 Taco Bake Casserole Recipe
This easy taco bake casserole recipe is a great cheesy recipe for an weeknight meal or potluck. Easily customizable with your favorite taco toppings.
View this recipe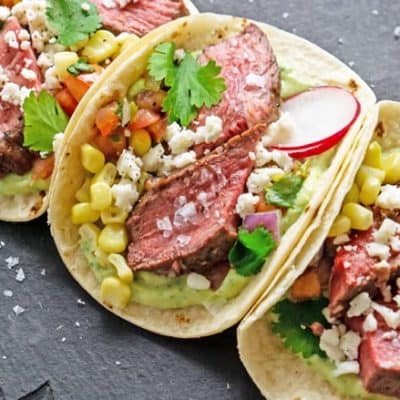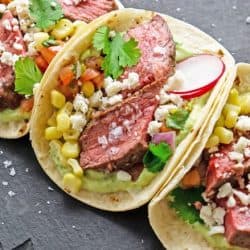 Jalapeno Lime Flank Steak Tacos
Flank Steak Tacos with a jalapeno lime marinade that will have you craving more. Made with few ingredients and lots of flavor, it's sure to become a family favorite!
View this recipe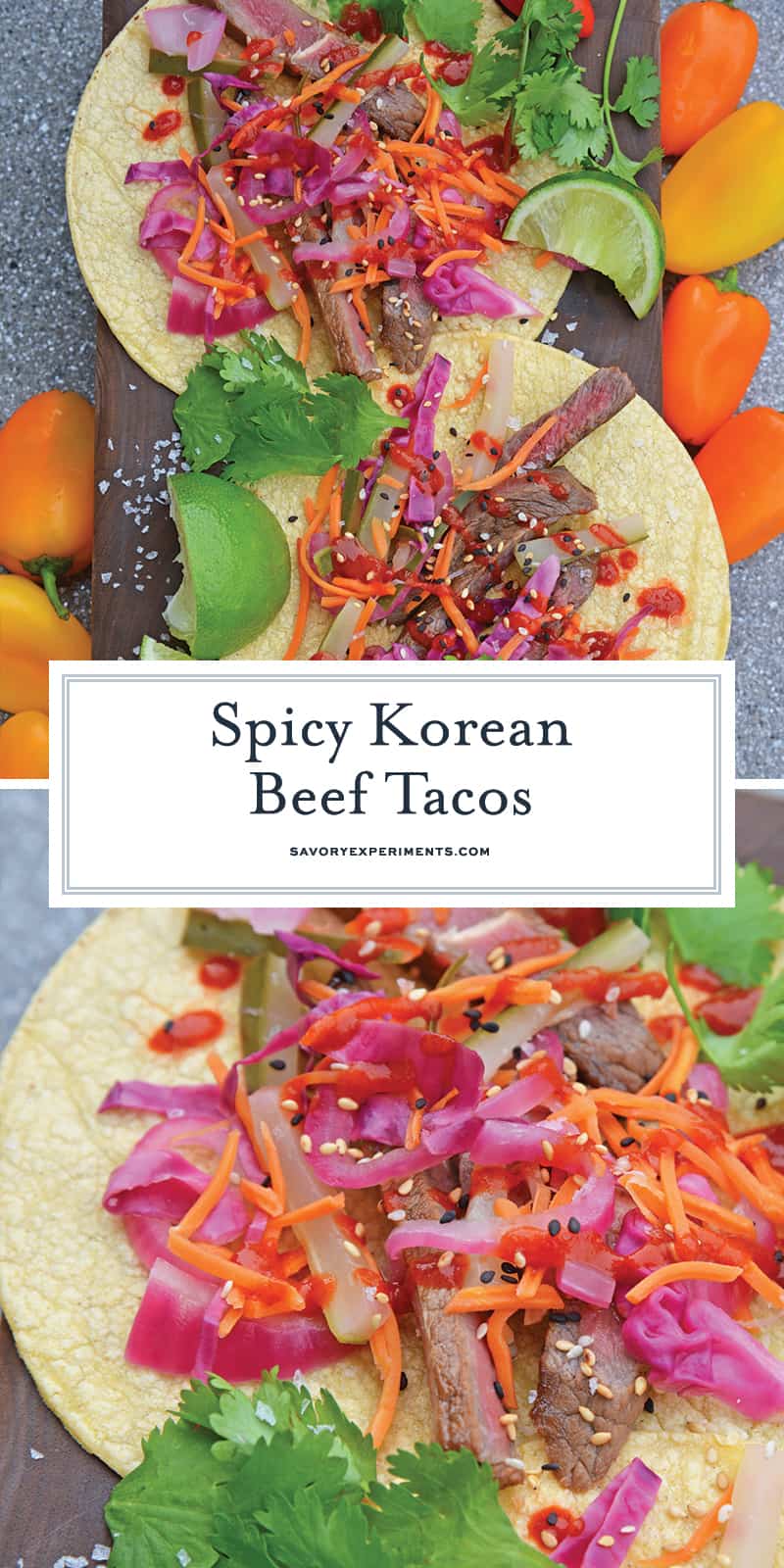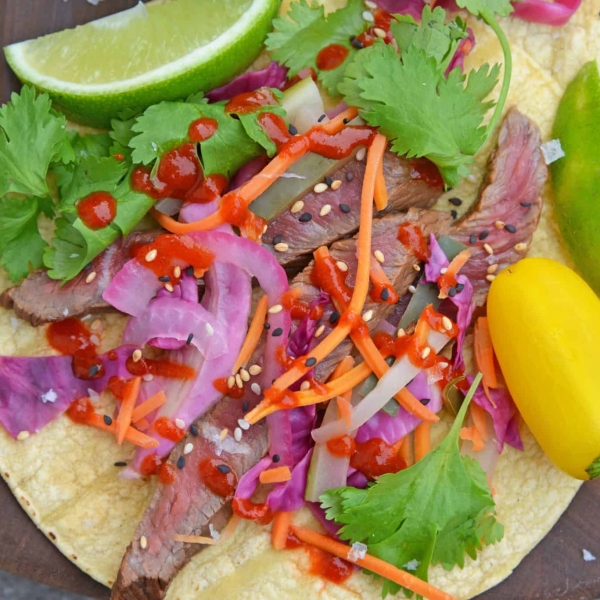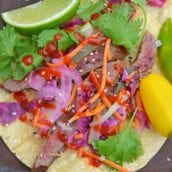 Korean Beef Tacos
Korean Beef Tacos are stuffed with seasoned bulgogi beef, fresh veggies, and spicy sauce! These are the best Korean tacos you will ever eat!
Ingredients
Instructions
Bulgogi Beef:
In a large airtight plastic bag mix sirloin steak, soy sauce, brown sugar, sesame oil, garlic and rice vinegar. Massage together and into the meat.

Marinate in the refrigerator for a minimum of one hour, but up to over night. While the meat marinates, chop and prepare the veggies.
Chipotle Aioli:
In a small food processor or using an immersion blender, blend together mayonnaise, chipotle peppers and salt. If you do not have either of these, finely chop chipotle peppers and whisk together. It will not be as smooth, but will taste the same. Cover and refrigerate until ready to assemble.
Easy Kimchi:
Fill a medium saucepan half way with water and bring to a boil. Add apple cider vinegar, cabbage, onions, carrots and cucumber. Boil for 2 minutes, just long enough to soften, but not long enough for the veggies to be mushy. Remove and strain.

In a medium mixing bowl, toss vegetables with rice vinegar and sesame seeds. Set aside until ready to assemble.

About 15 minutes before you are ready to eat, heat a large frying pan over medium-high heat. Coat well with cooking spray. Remove sirloin from marinade, discard of remaining marinade.

Add to hot pan, tossing over 30 seconds or so. Due to the sirloin being so thin, it will cook quickly. For medium rare, it will only take 2-5 minutes. Time more or less depending on your choice of wellness.

Preheat oven to 350 degrees and prepare 12 large pieces of aluminum foil. Assemble each taco with all ingredients. Wrap tightly in aluminum foil. Lay in a single file layer on a large cookie sheet. Heat for 5 minutes. Remove and serve by unwrapping aluminum foil, no utensils needed!

Enjoy your Korean Beef Tacos!

If you've tried this recipe, please come back, rate it and leave a comment. We'd love to hear from you!

If you've tried this recipe, please come back and let us know how it was!
Nutrition
Calories:
226
kcal
,
Carbohydrates:
18
g
,
Protein:
15
g
,
Fat:
10
g
,
Saturated Fat:
3
g
,
Cholesterol:
37
mg
,
Sodium:
829
mg
,
Potassium:
311
mg
,
Fiber:
2
g
,
Sugar:
4
g
,
Vitamin A:
1065
IU
,
Vitamin C:
4.9
mg
,
Calcium:
111
mg
,
Iron:
1.6
mg