One of my favorite things to do in the kitchen is take something basic and easy, like box brownie mix, and turning it into something special, like this yummy Halloween themed dessert.
If you're also a fan of box brownie recipes, these Halloween Brownies are for you!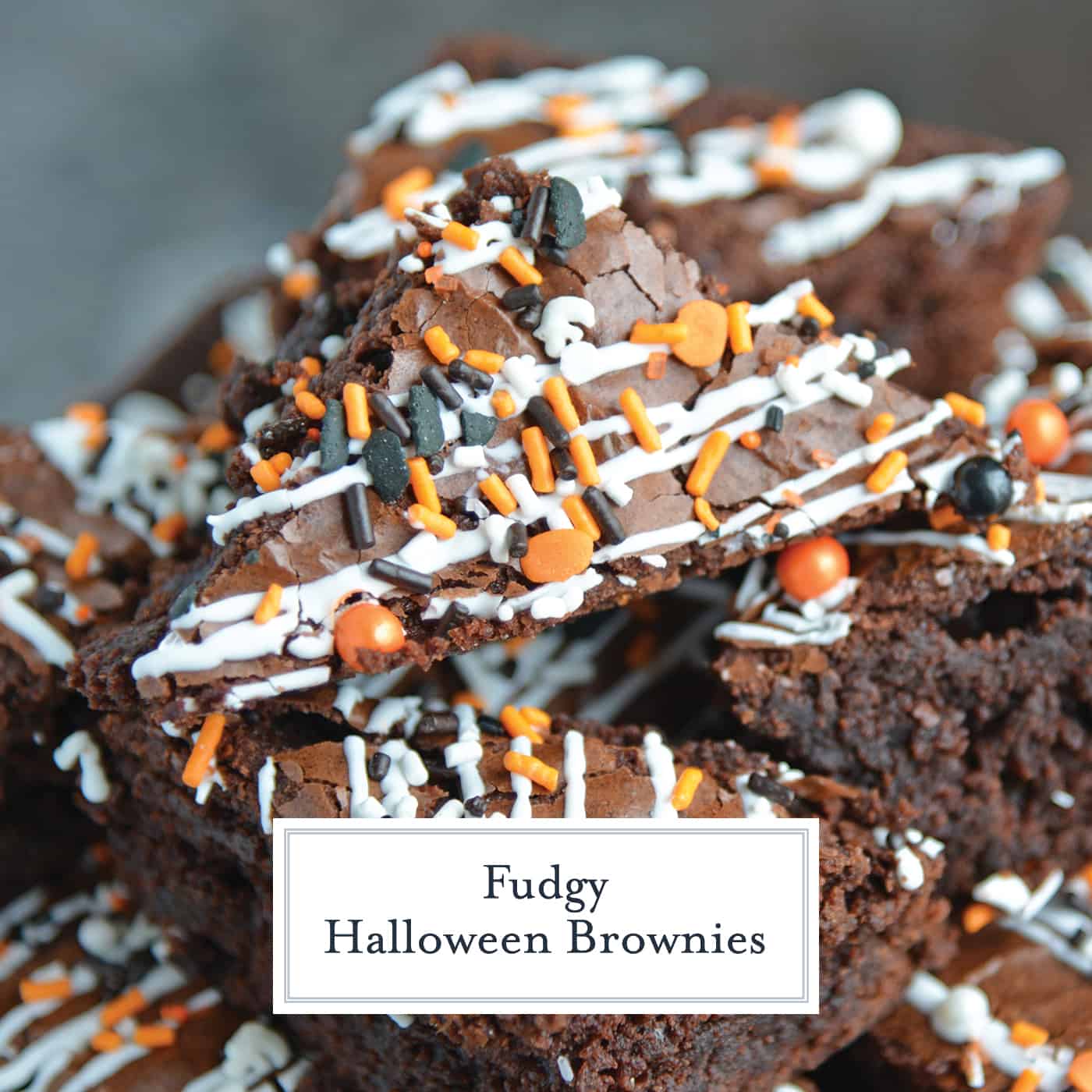 Halloween Brownies
As we know, when it comes to Halloween themed desserts, I like cute and colorful more than anything else. And when it comes to desserts in general, easy is my preference.
I combined those two things to make these fun Halloween Brownies, made with….brownie mix. Yes. That's right. I used a box brownie recipe to make these Halloween Brownies!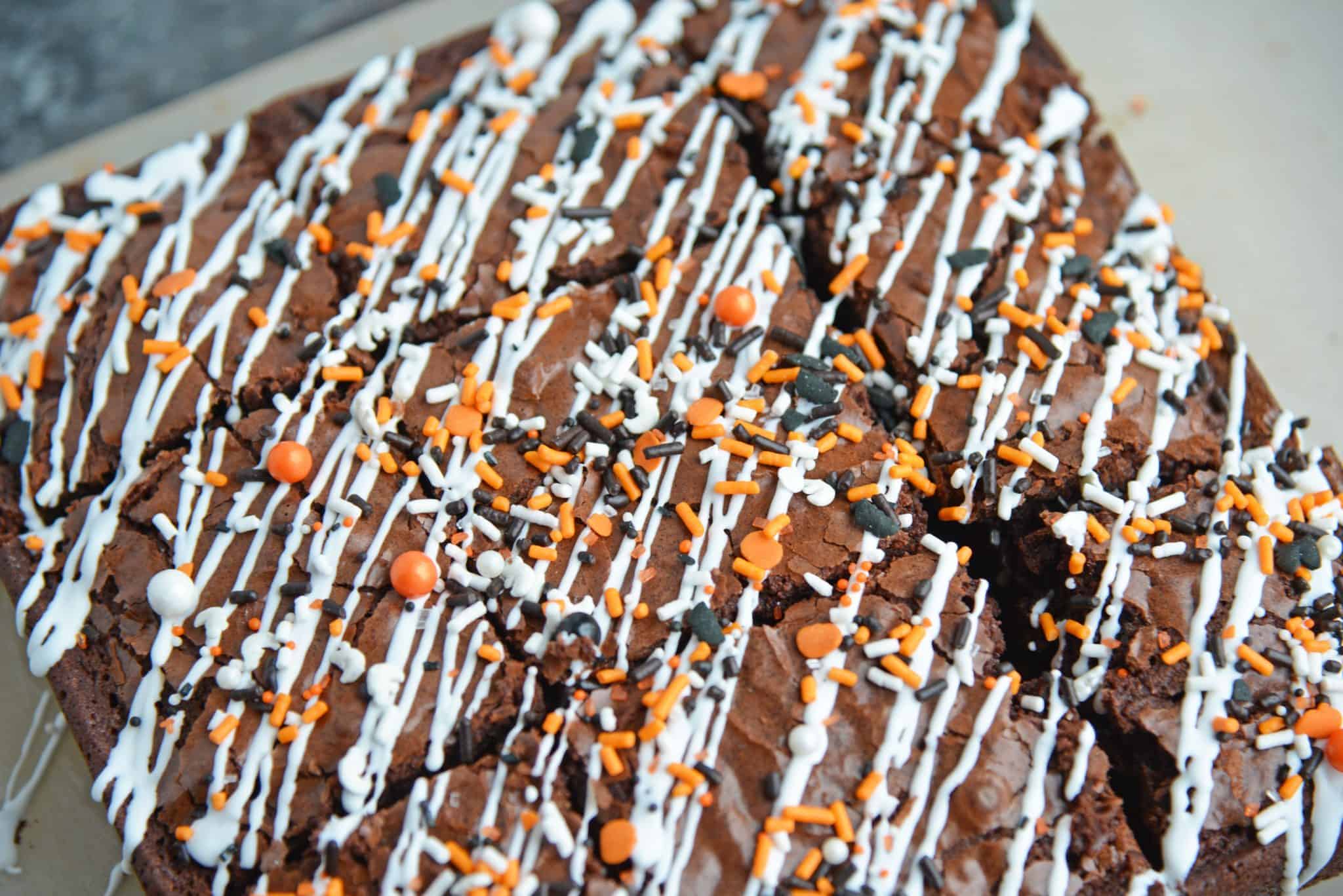 People are flabbergasted when they find out that I don't always make everything from scratch.
Truth be told, I have a stash of brownie and cake mixes in my garage. They're something I always stock up on during any 10 for $10 sales at the supermarket.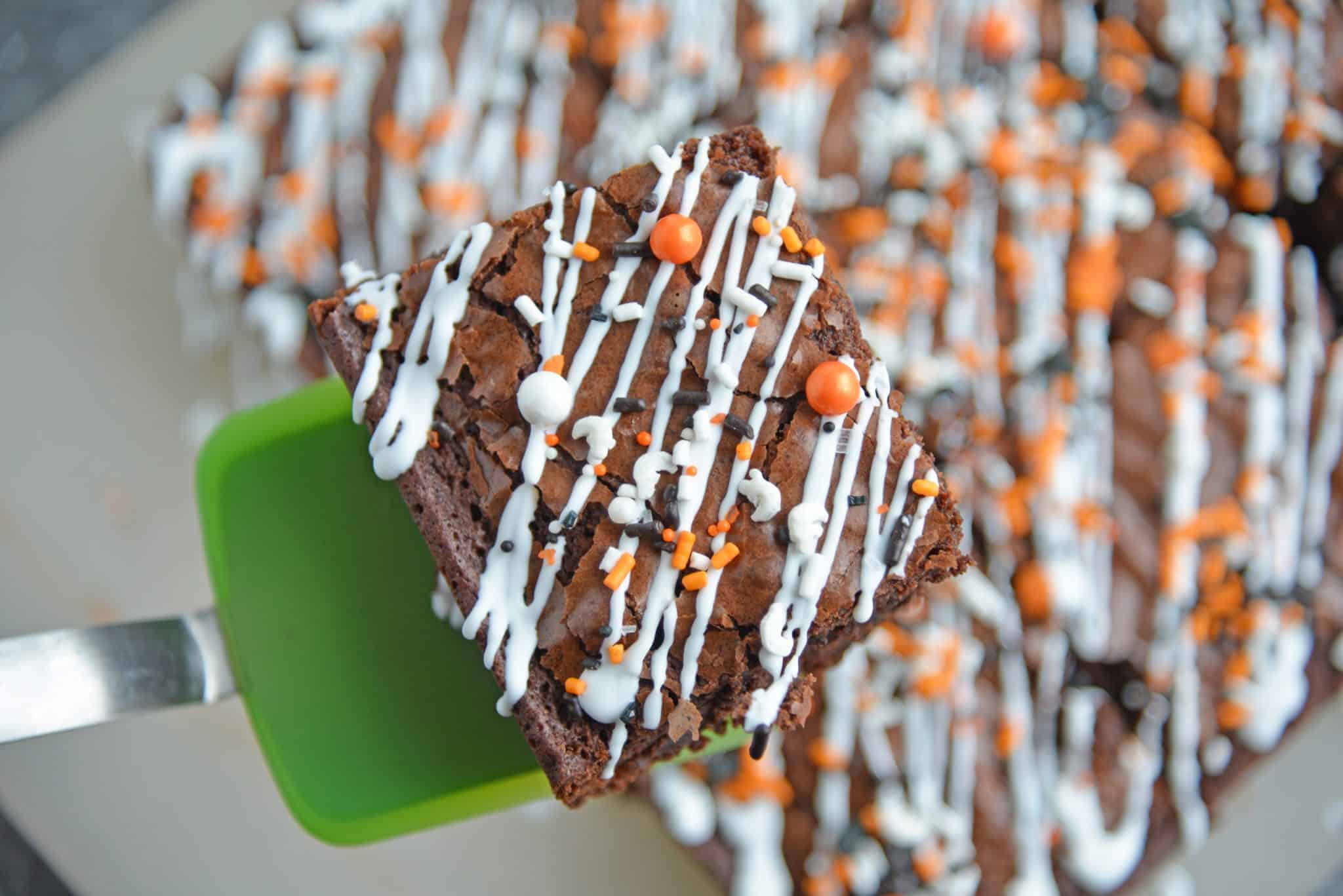 Brownies from a Box
Just because you make something from a box doesn't mean that you can't put your own spin on it to make it unique. My Halloween Brownies used a box of brownie mix with leftover cookie icing and sprinkles from my Halloween Chocolate Sugar Cookies.
And a couple secret ingredients so they taste AH-mazing!
Together, they made a beautiful dessert platter than gave variation for those who prefer one over the other and both were baked and done during just one nap time, which is how I measure all of my time these days, in naps.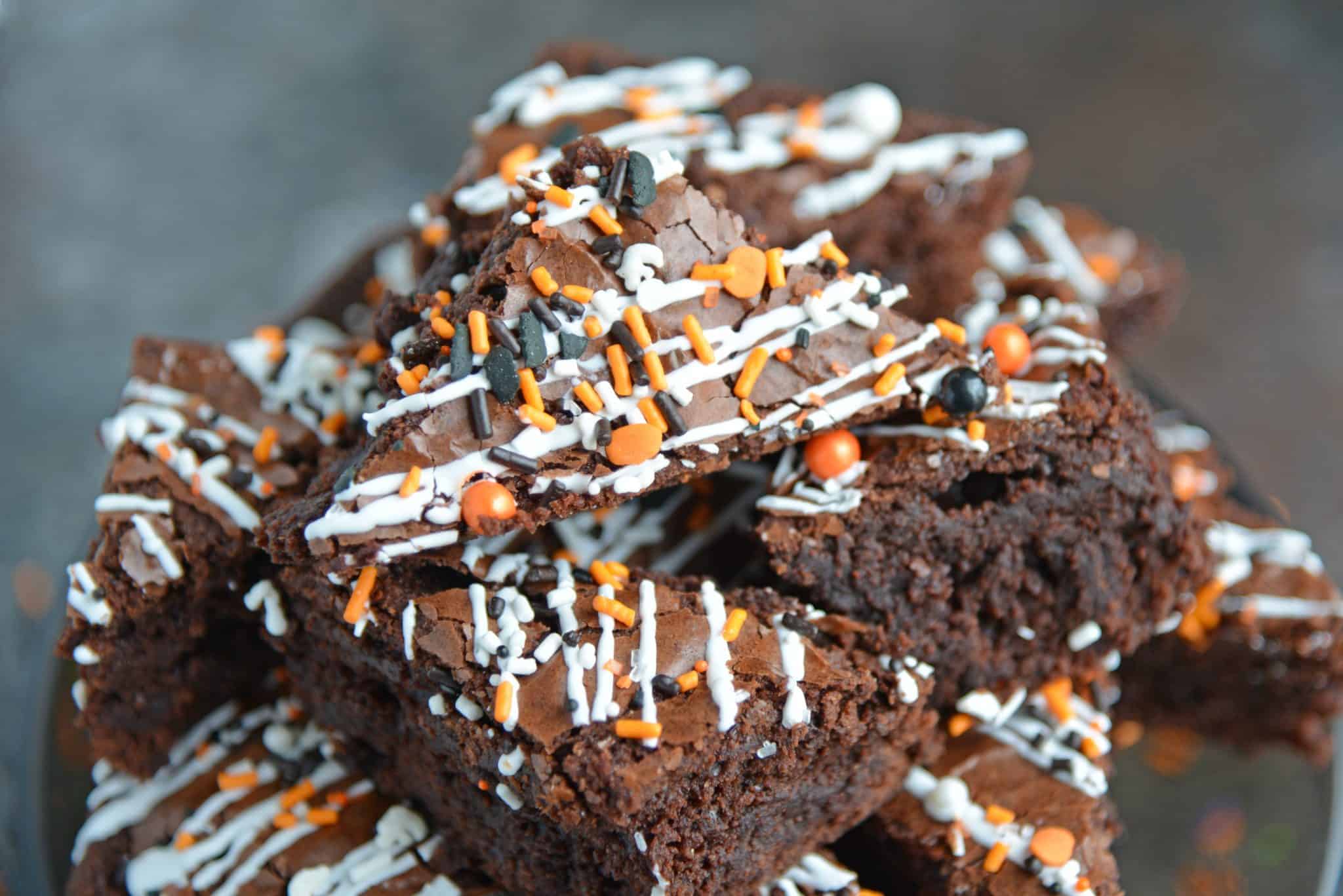 And these fabulous Sprinkles are a custom blend straight from Sweets & Treats Shop! They have fun and festive blends for every occassions and holiday.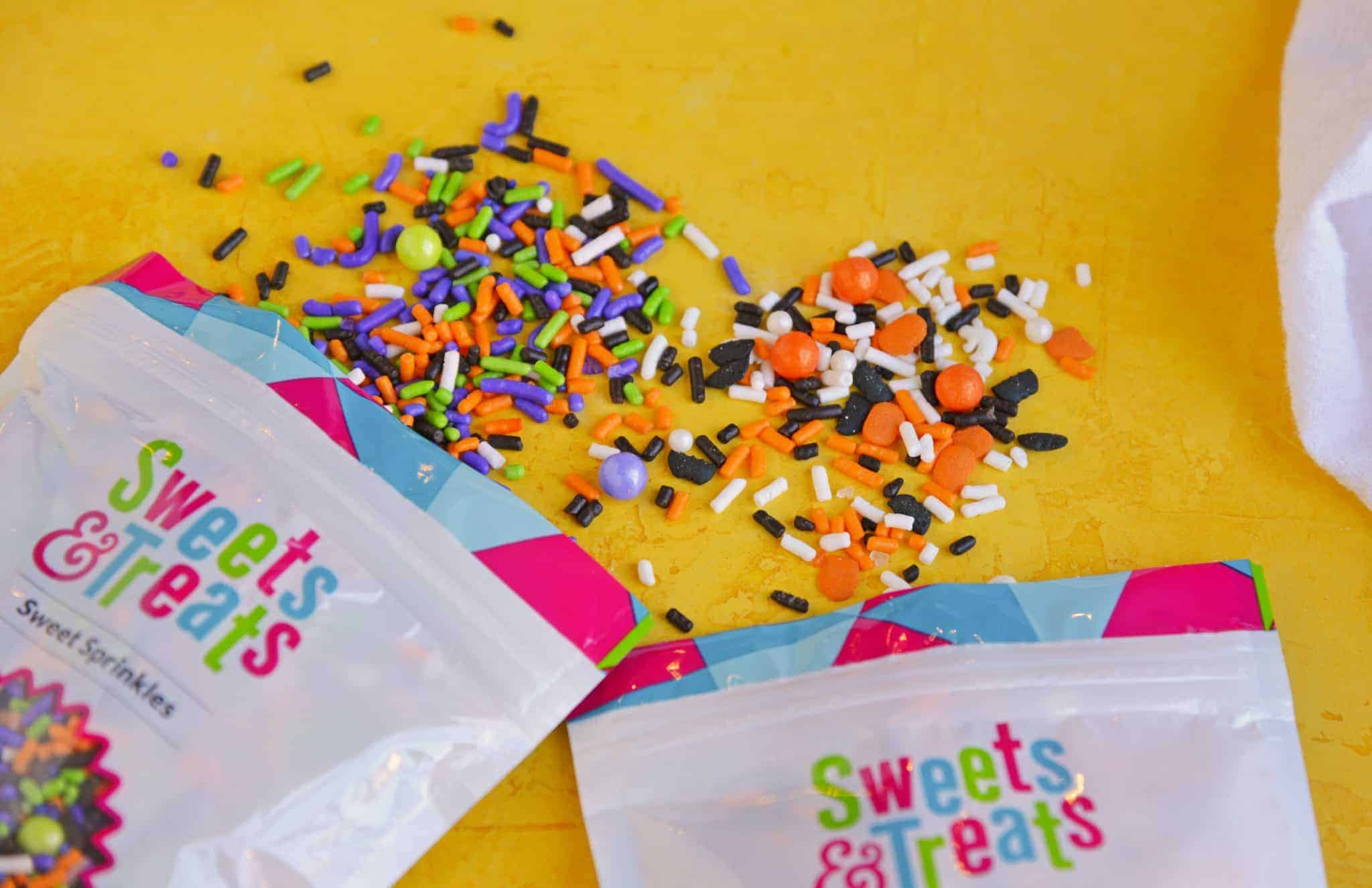 Fun brownie box mix hacks:
These brownies use my super strong homemade vanilla extract with instant espresso powder and mini chocolate chips to elevate them.
Espresso powder might seem like an odd ingredient, but it is actually one of the best ways to take anything chocolate and amplify the flavor. If you are concerned with caffeine, use a caffeine free espresso powder. Or omit it, it won't make or break the recipe.
Mini chocolate chips melt and make little gooey pockets of amazingness. Full size are another option, but minis tend to spread out more evenly.
Add 2 teaspoons flavored extract.
Add 1 cup chopped nuts.
Add 1 cup chocolate, butterscotch or toffee chips.
Top with fudge or easy caramel sauce.
Sprinkle with fleur de sel, making them sweet and salty!
I have to admit that because they're so easy, these brownies have become one of my favorite Halloween desserts this year. Even better, because they're so festive and delicious, everyone thinks I made them from scratch.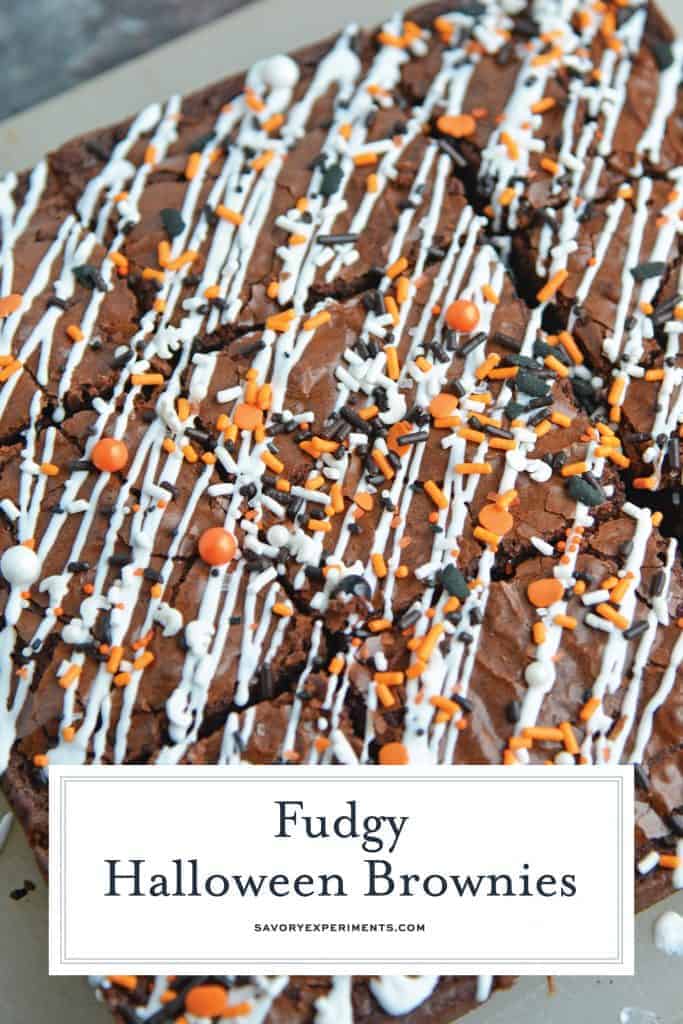 You may like these other easy Halloween desserts: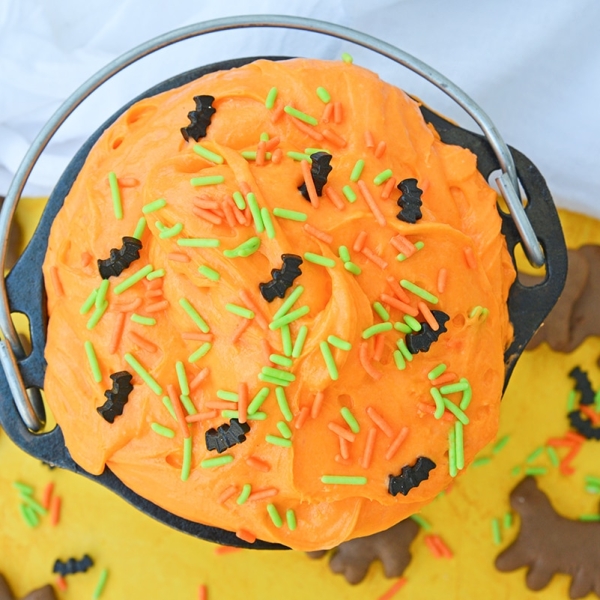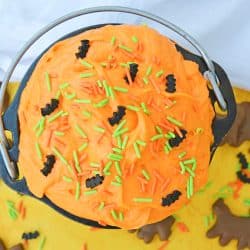 Halloween Dunkaroo Dip Recipe
This Halloween Dunkaroo Dip is a festive and easy cake batter dip that's perfect for Halloween parties. With just a few ingredients and no baking involved, it'll become one of your go-to Halloween desserts.
View this recipe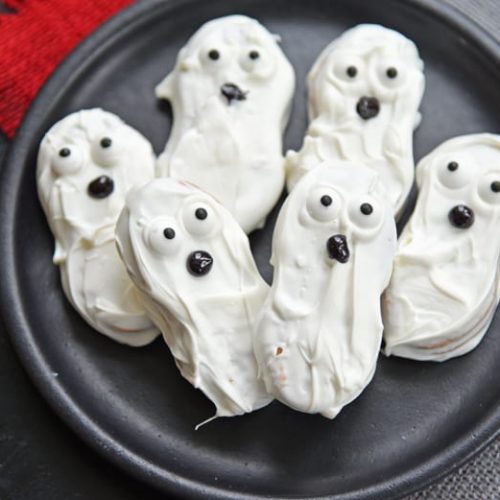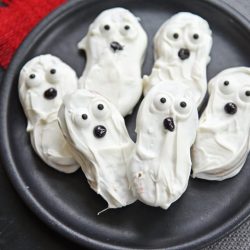 No Bake Ghost Cookies
No bake Halloween treats don't get any easier than these Ghost Cookies! Super cute and easy enough for the kids to help with!
View this recipe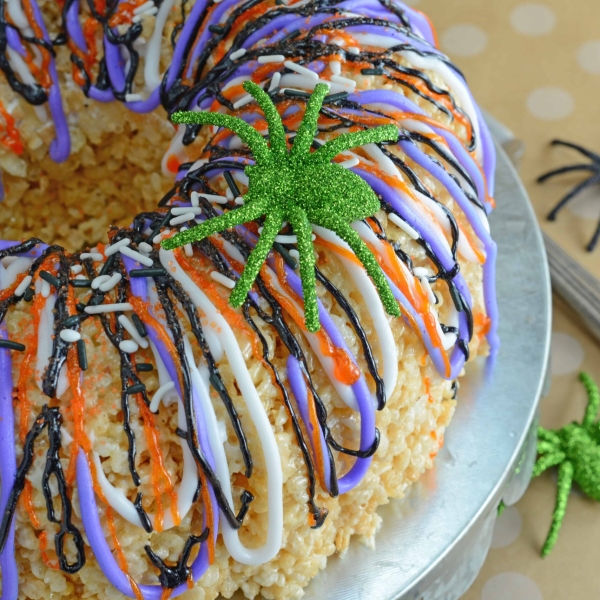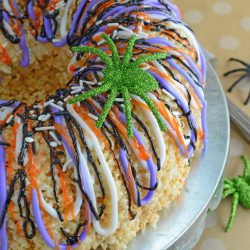 Halloween Rice Krispie Treat Cake
Halloween Rice Krispie Cake is stuffed with fluff! What better way to celebrate the holiday than with a giant homemade rice krispies treat?
View this recipe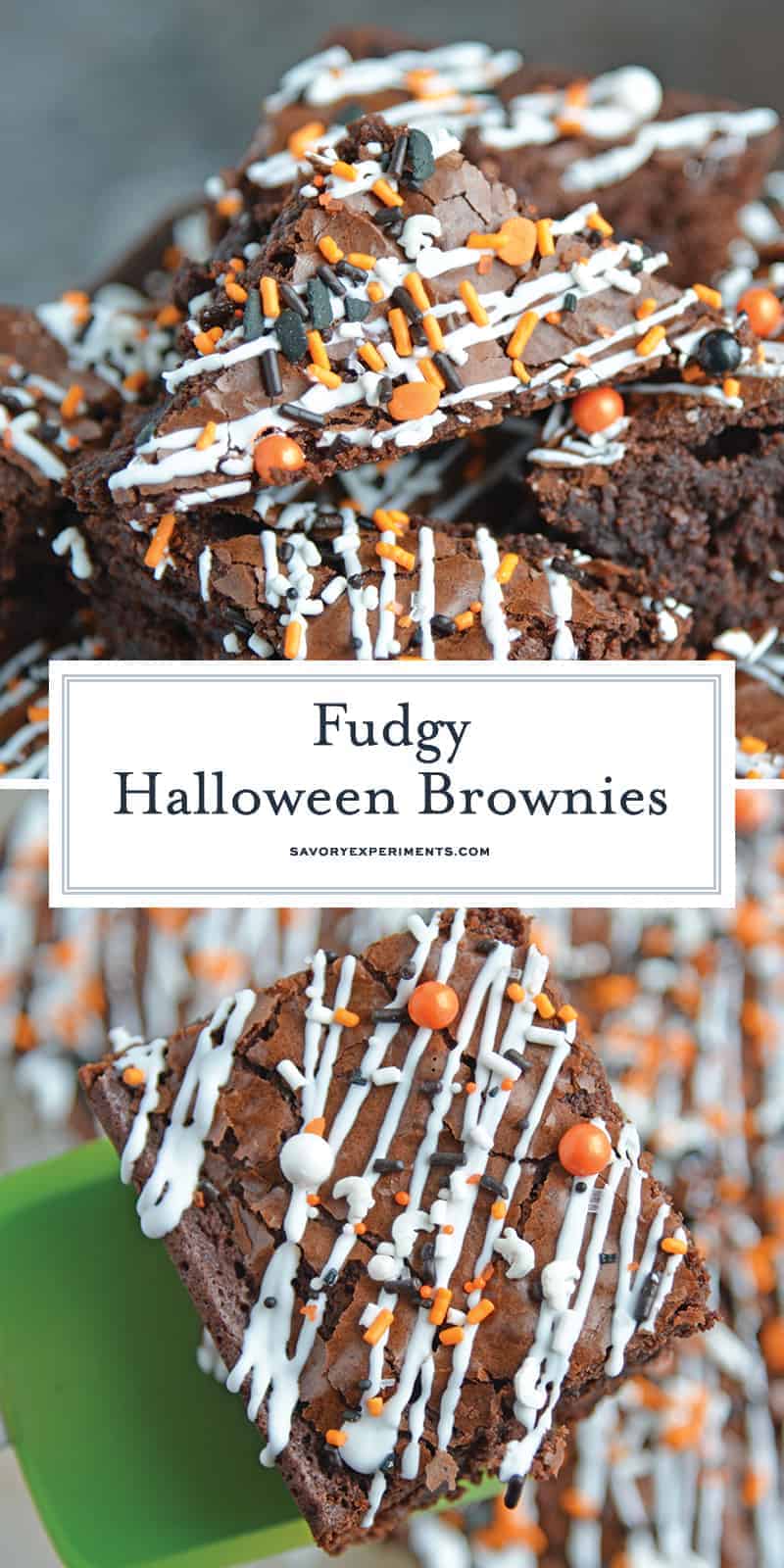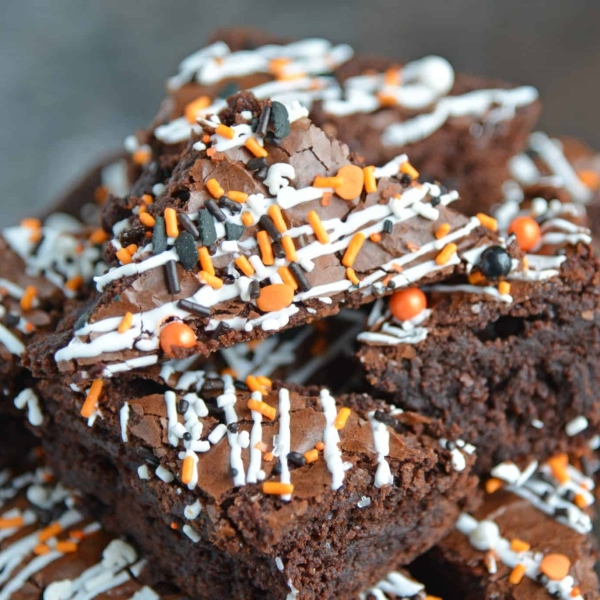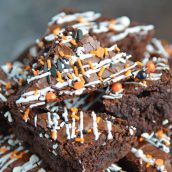 Halloween Brownies
Halloween Brownies are a quick and easy Halloween themed dessert made with box brownie mix, cookie icing and sprinkles. An easy Halloween dessert!
Instructions
Prepare brownie batter according to box directions, but add vanilla extract and 1 teaspoon instant espresso powder dissolved in the wet ingredients. To do this, I generally just add it straight to the water before adding to the batter. Fold in mini chocolate chips.

Bake according to package directions.

When brownies are cooled, drizzle with slightly warm cookie icing.

While tacky, sprinkle with favorite sprinkles and allow to set before cutting.

If you've tried this recipe, let us know how it was!
Nutrition
Calories:
321
kcal
,
Carbohydrates:
11
g
,
Cholesterol:
17
mg
,
Sodium:
89
mg
,
Potassium:
16
mg
,
Sugar:
7
g
,
Vitamin A:
25
IU
,
Calcium:
12
mg
,
Iron:
0.5
mg
Check out the amazing #HalloweenTreatsWeek recipes from our bloggers today!