Minty Green Crinkle Cookies are light and soft, perfect for any day of the year, but also for St. Patrick's Day!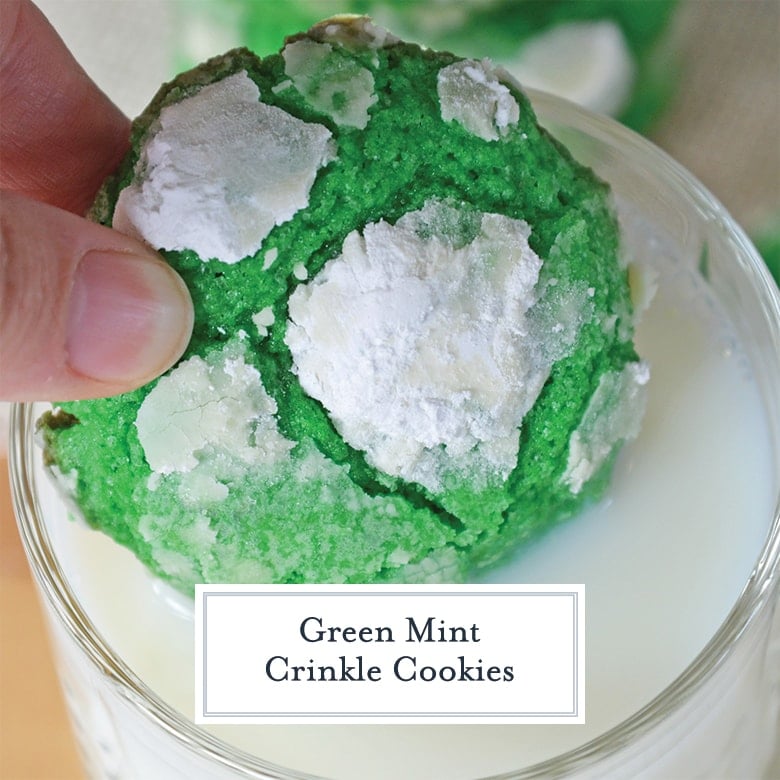 The Backstory
If you are one of those folks who hates when bloggers tell a story… keep on scrolling. But for those of you who want to know how these got here, read on!
I was a wee blogger, very junior in my career and for whatever reason I wanted red velvet cookies for St. Patrick's Day. Why? I can not remember the details. But they would be GREEN velvet! I have seen blue velvet, so why not green?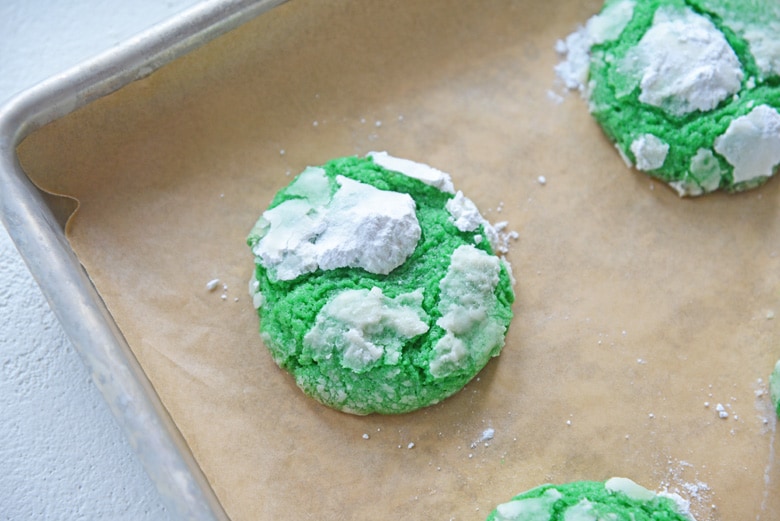 Red velvet is actually not a flavor at all, it is chocolate with red food coloring. Actually back in the day it got the name from using beets in the cake for both color and moisture, but I digress.
So I started out to make green velvet cookies and wouldn't you guess it, you had to use a TON of green food coloring to turn cocoa laced cookies green. And the green you did get was a muddy army green, not a pretty kelly green.
So I posted them this way. And it wasn't until recently (Quarantine 2020) that I decided to come back and give these a makeover.
I've ditched the concept of green chocolate cookies because really, what was I thinking? Added mint because mint is always fun with anything green and modeled the cookie recipe after my beloved (and award winning) Lemon Cooler Cookies which are really just lemon crinkle cookies.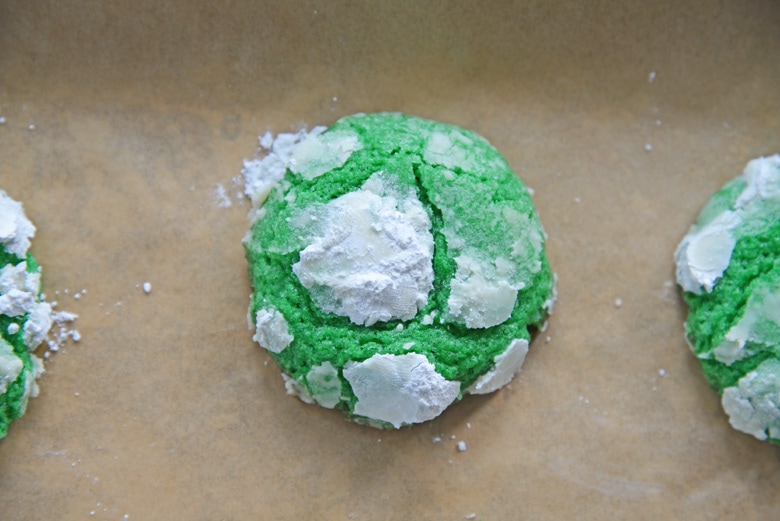 Crinkle Cookie Recipe
Crinkle cookies get their name from their distinctive appearance or cracks on the top of the cookie. The science behind how that look is made is fascinating.
Sugar works much like salt in that it draws moisture out of things. In this instance, the dough. By topping these cookies in sugar, it draws the moisture out of the surface, promoting and drawing out cracks before the interior has set.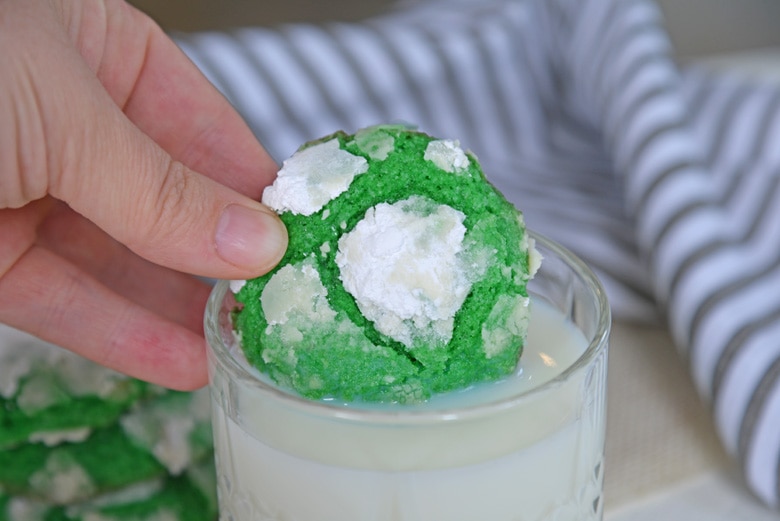 The sugar crystals will actually turn into a liquid or syrup during the bake and then recrystallize as the liquid evaporates in the oven. The result is a gorgeous cookie with a beautifully sugary crust and a decadent chewy center.
Mint Cookies
And now with the beautiful green hue, who wouldn't think they were mint? No one!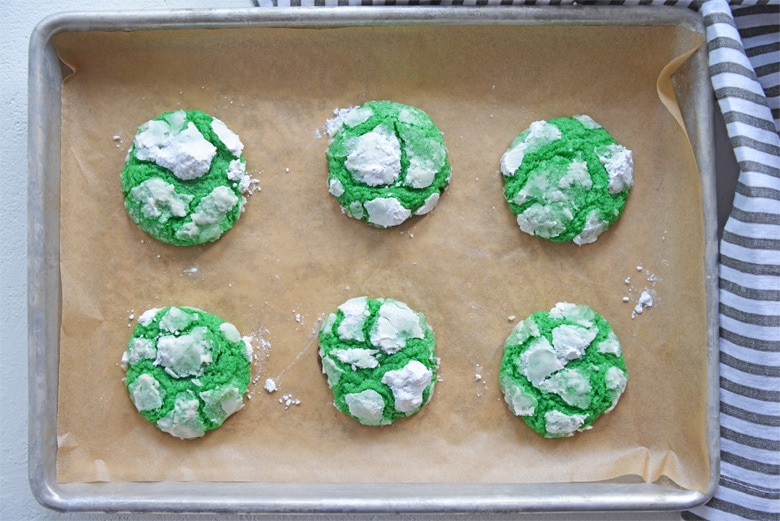 You can actually use vanilla, if you wish. You can use any extract, really. Almond, butter, rum, lemon, but mint makes sense. Just makes sure it is peppermint and not spearmint- I made that mistake once with peppermint patties and it was just weird.
Serve them anytime of year, even Christmas, but they are the best for St. Paddy's.
Ingredients
The ingredients are fairly standard with the exception of color tint and extract. Despite having sugar and also being rolled in sugar, they aren't terribly sweet.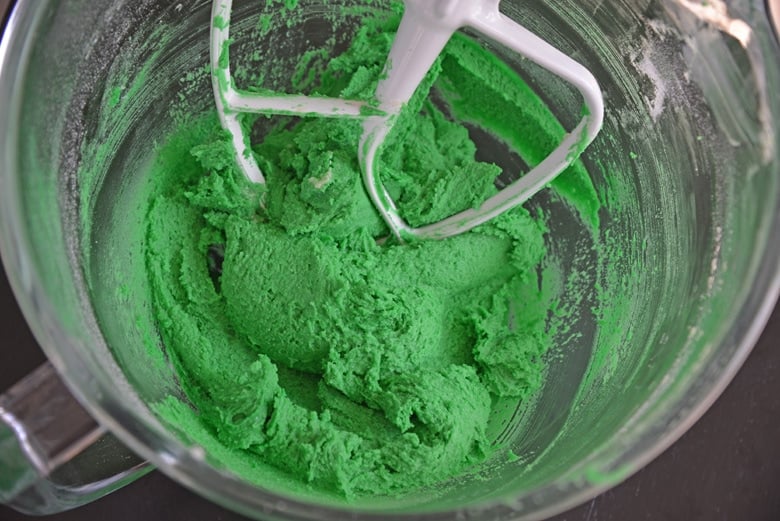 Unsalted butter– omit additional salt if you use salted
Sugar
Peppermint Extract
Eggs
Liquid green food coloring
Fine sea salt
Baking powder
Baking soda
Flour
Powdered sugar (confectioner's sugar)
How to Make Crinkle Cookies
The instructions are quite simple as well. Make a traditional cookie dough and then..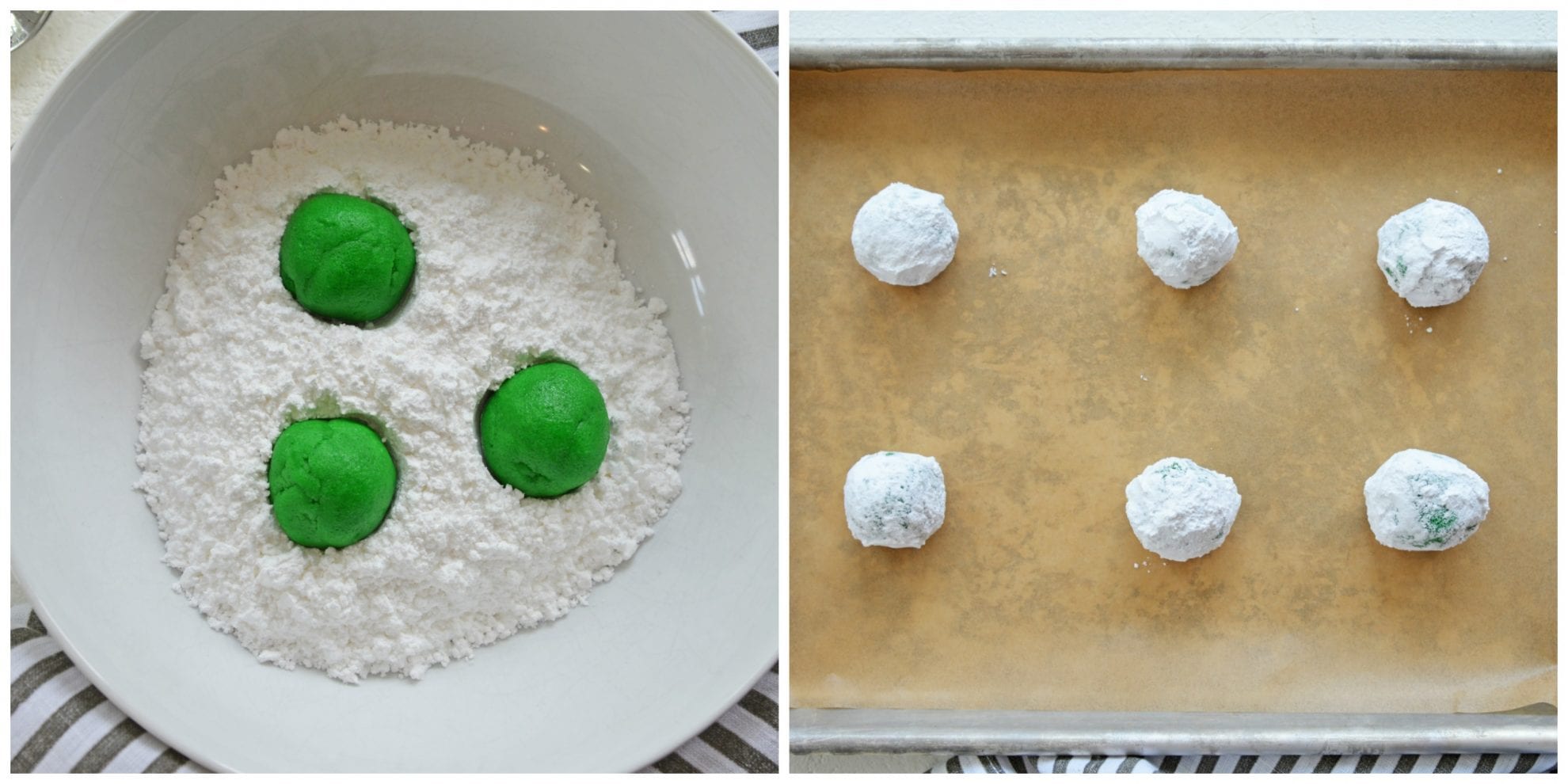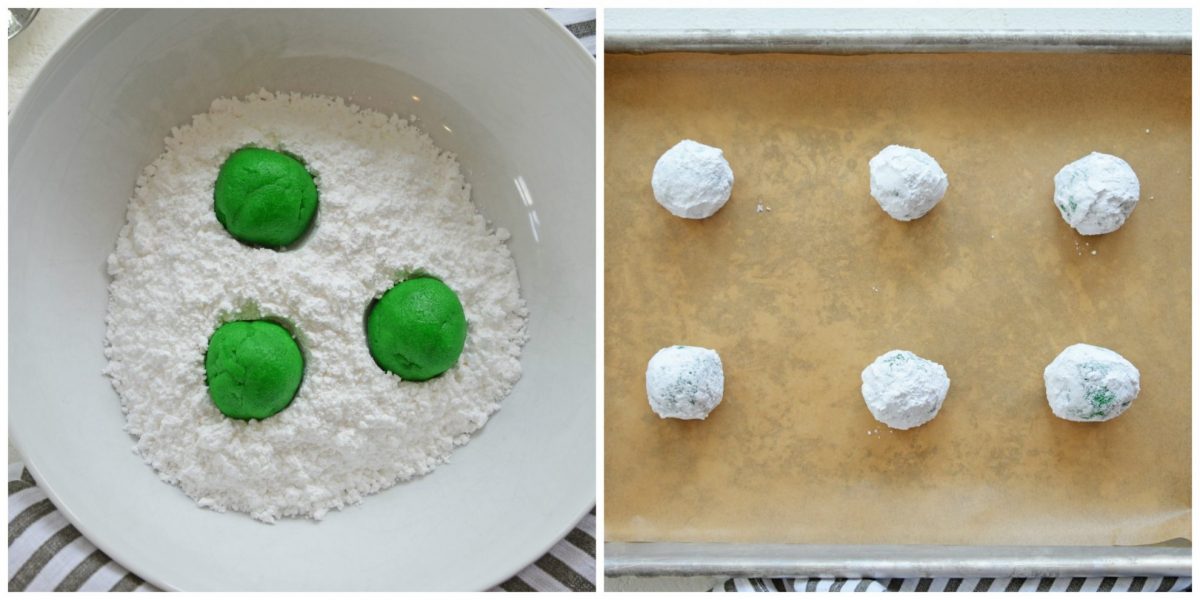 Chill the dough for at least an hour, if not longer. This brings the dough to the right temperature to not melt and get too thin while baking.
Roll dough into balls. The way to get these beautiful mounds is by chilling and balling. Failure to do either means the flattest cookies you've ever seen.
Bake. Use parchment paper to prevent sticking and burning. The trick is to take them out when the tops start to crack and get a little glossy. They might even appear still raw- take them out now! The bottoms might just be starting to brown. Don't over cook or you won't get the soft, light instead.
Allow to cool. The powdered sugar will harden a little so you get a crunch with soft inside.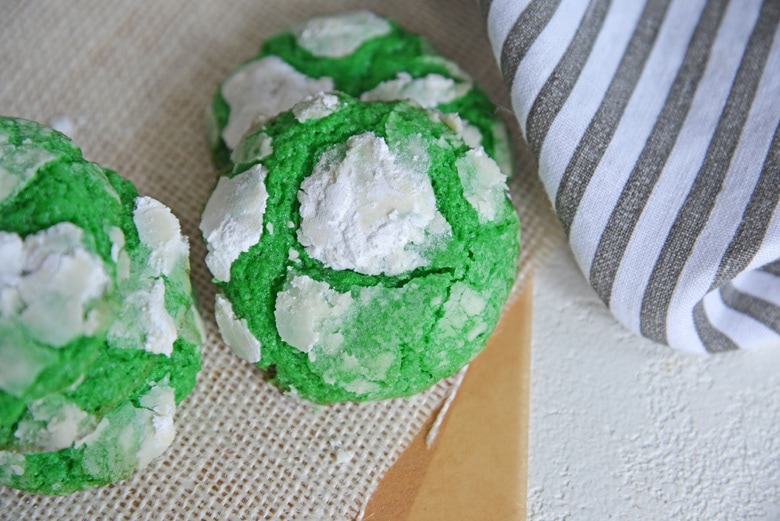 Storage & Freezing
These cookies are great to make ahead, bake for cookie exchange or on a holiday cookie tray. Like most cookies, they are best within the first 3 days.
Store at room temperature in an airtight container.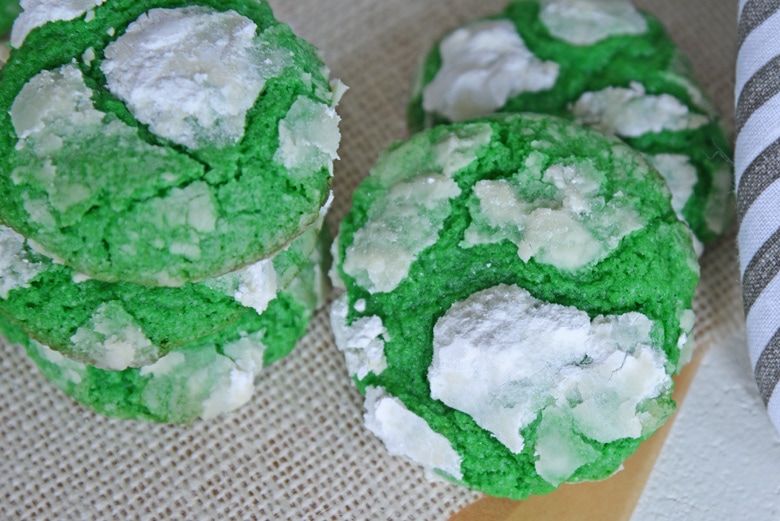 These cookies can be frozen up to 3 months. Thaw at room temperature in a single layer for 30 minutes.
Tools
Stand Mixer– Oh, it was a happy day when I finally got my stand mixer and now I am not quite sure how I ever liked without one. Do yourself a favor and invest. A quality mixer will last a lifetime, plus more. Plus, they come in fun colors!
Rimmed Baking Sheets – I really like this thick, industrial gauge baking sheets. You'll find this type in professional kitchens and are less likely to warp. Also, super cheap and they come in a variety of sizes. I have one of each.
Parchment Paper– I love these because they are already in sized sheets. I use them for so much more than just baking and aren't as wasteful.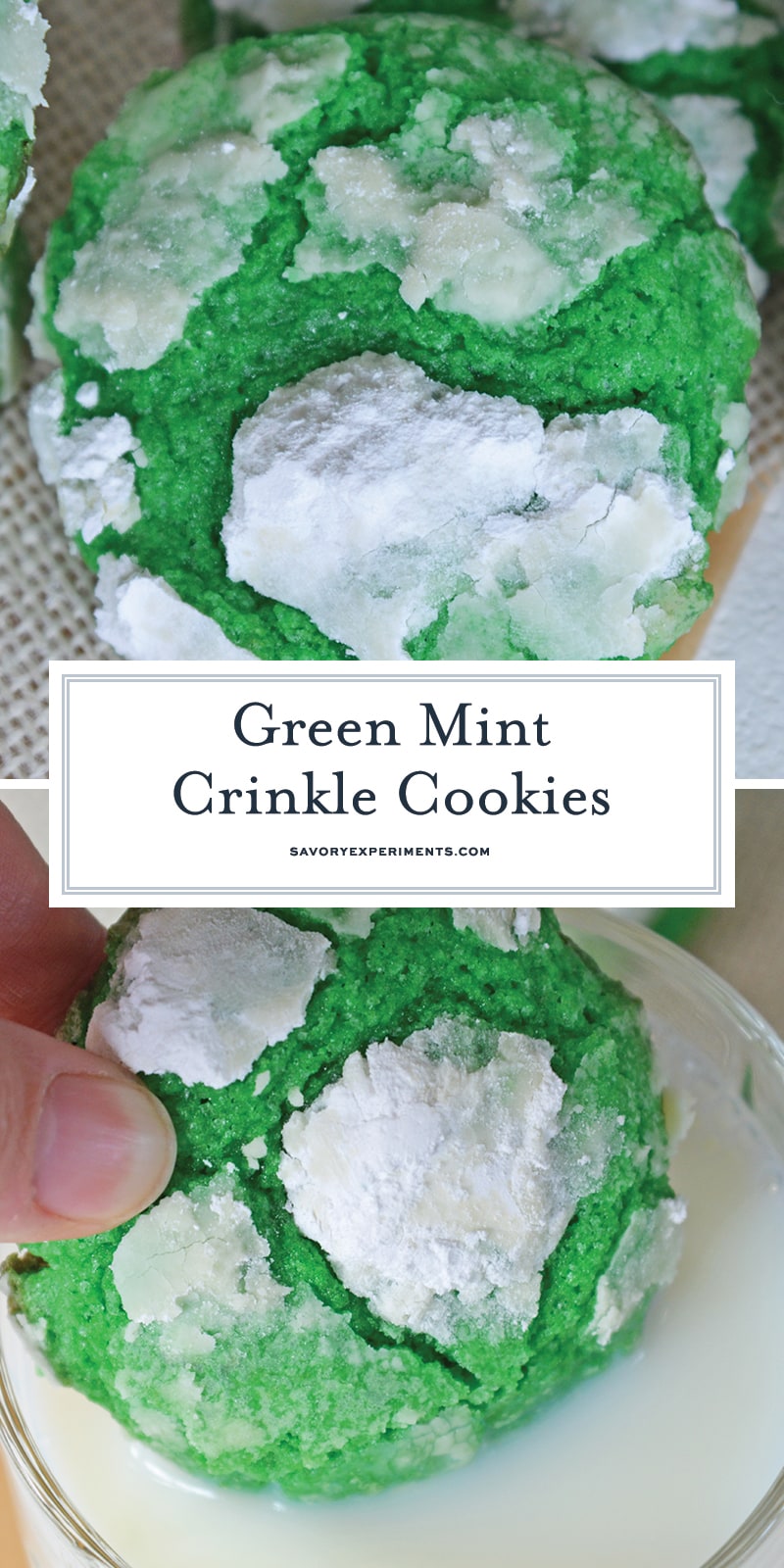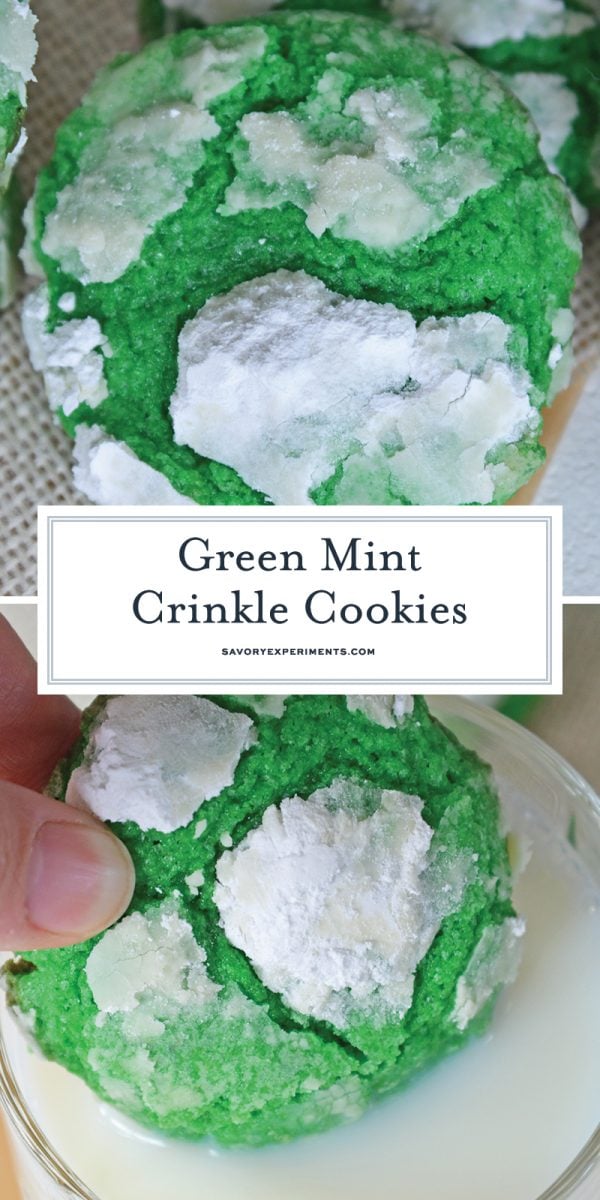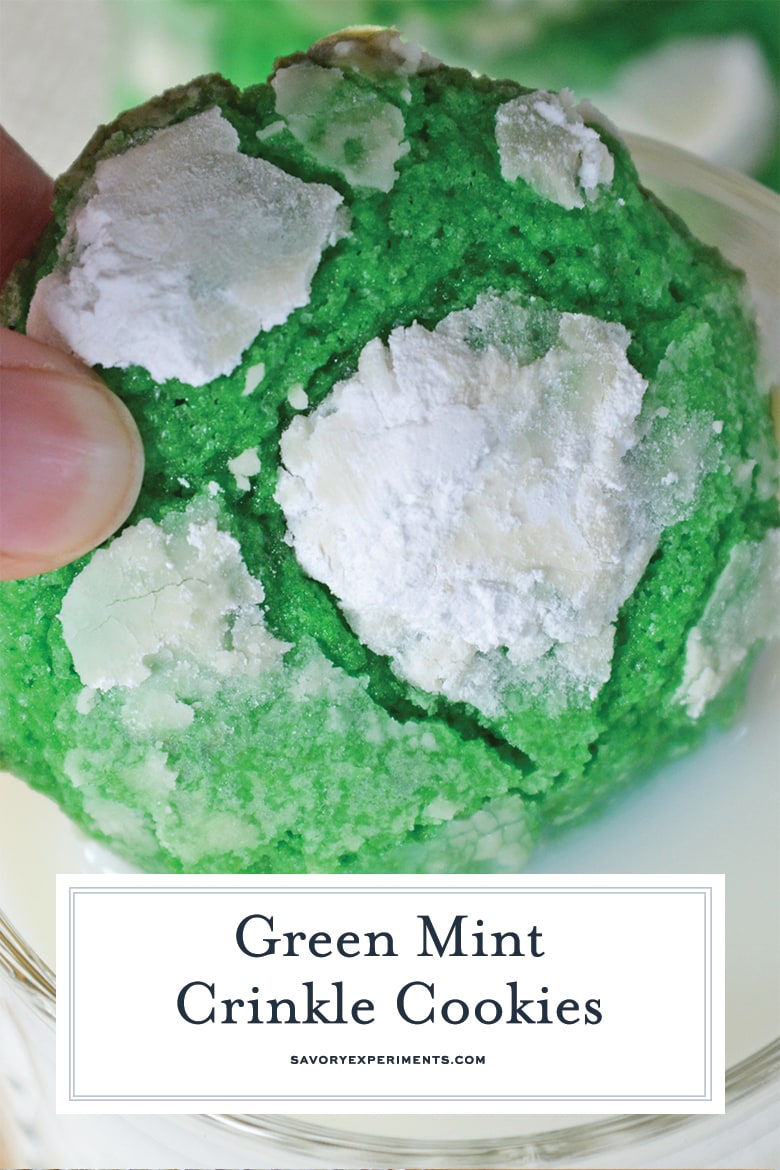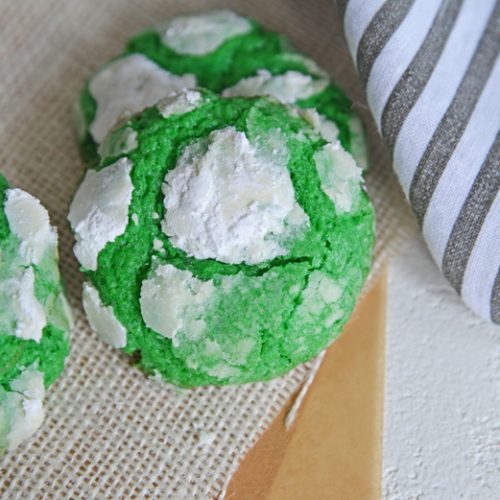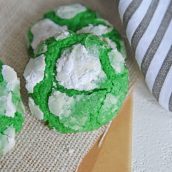 Green Mint Crinkle Cookies
Minty green crinkle cookies that are light and fluffy. Perfect for tea or coffee!
Instructions
In the bowl of a stand mixer fitted with the paddle attachment or a large mixing bowl with an electra mixer, beat butter until light and fluffy.

Add sugar, beating again for 1-2 minutes. Add peppermint extract and eggs, one at a time, until fully incorporated. Add green food coloring.

Sift together sea salt, baking powder, baking soda and flour. Add in 3 portions until just mixed.

Cover and chill for at least 1 hour, but up to overnight.

Preheat oven to 375 degrees and line a baking sheet with parchment paper.

Roll dough into a 1 inch ball and then in powdered sugar.

Place 2 inches apart on baking sheet and bake for 10-11 minutes. Tops will still be glossy, this is normal. Do not overcook them.

Remove and allow to cool. They will deflate a little and the cracks will become more apparent.

Store at room temperature in an airtight container after fully cooled.

If you've tried this recipe, come back and let us know how it was in the comments or ratings.
Notes
You can use gel, but you'll only need about 1/4 teaspoon.
Nutrition
Calories:
149
kcal
,
Carbohydrates:
24
g
,
Protein:
1
g
,
Fat:
5
g
,
Saturated Fat:
3
g
,
Cholesterol:
23
mg
,
Sodium:
45
mg
,
Potassium:
22
mg
,
Fiber:
1
g
,
Sugar:
16
g
,
Vitamin A:
171
IU
,
Calcium:
7
mg
,
Iron:
1
mg