With a cool and creamy peppermint center, this Homemade Peppermint Patty recipe is so easy to make! It only uses 4 ingredients and can be customized for any holiday or event.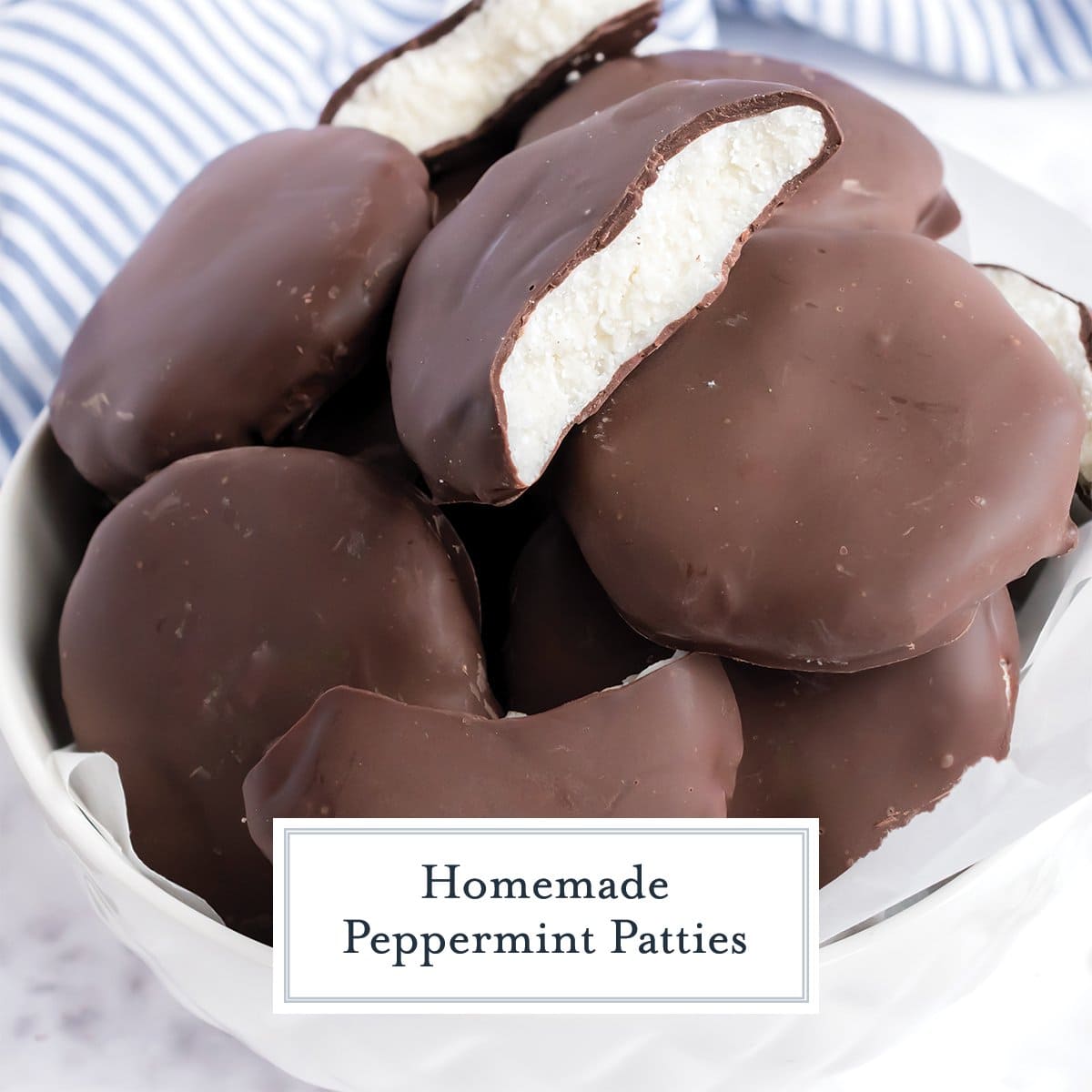 Peppermint Patties vs. Peppermint Patty
So there happens to be a lot of debate about how exactly you spell this delicious treat, because there is also another meaning to the phrase "peppermint patty."
If you couldn't tell by the pictures, we aren't talking about the Peanuts character Peppermint Patty, created by Charles M. Schulz. You know, the little red-haired girl who has a big crush on Charlie Brown?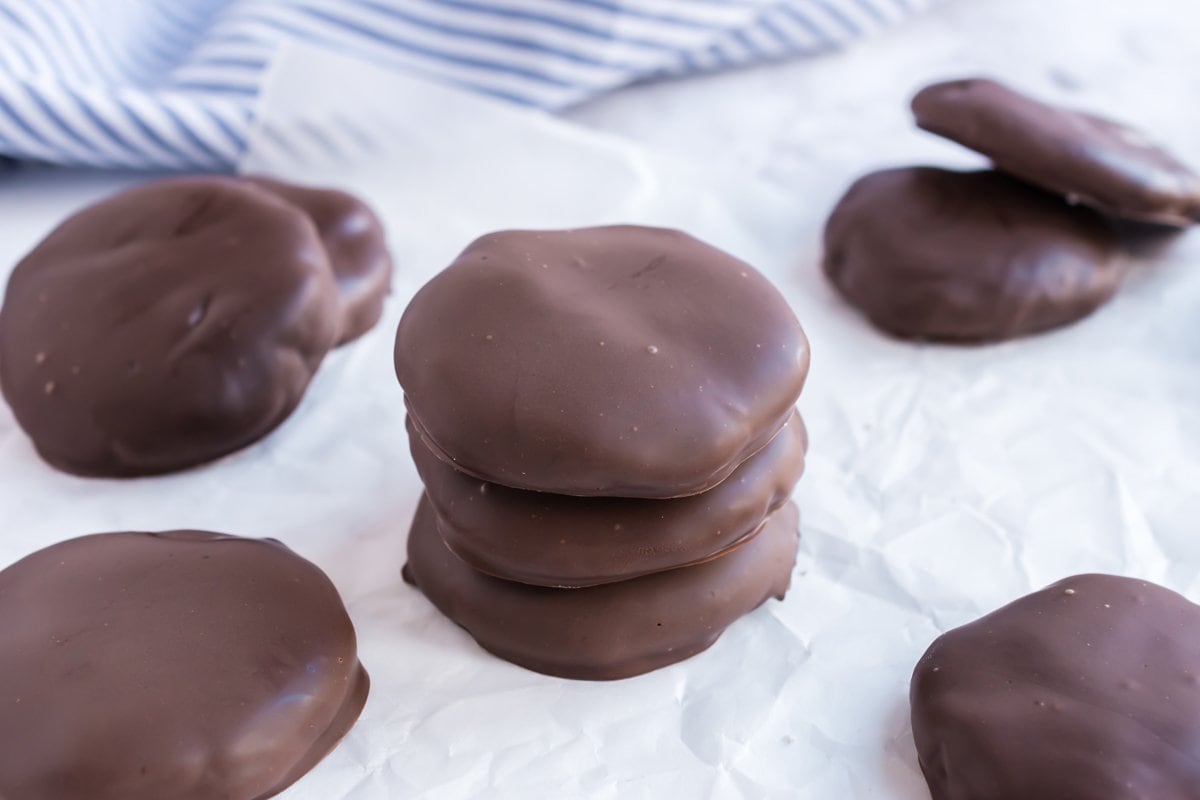 While she's cute and all (and I'm a big fan of Charlie Brown!) chances are you Googled "homemade peppermint patty" looking for a recipe similar to those silver and blue packaged treats. And I'm here to tell you that you came to the right place!
Although sometimes used interchangeably, the term "peppermint patties" is generally referring to the peppermint candies, while "Peppermint Patty" is the name of the girl from the comic strip. You might see me using both terms here in this post, but just know I am always referencing the sweet snack version.
History
This particular chocolate mint candy apparently started as an idea for a chocolate cookie. The goal being the sensation of cool peppermint surrounded by slightly butter dark chocolate. It was first brought about in 1940 by Henry Kessler at the York Cone Company.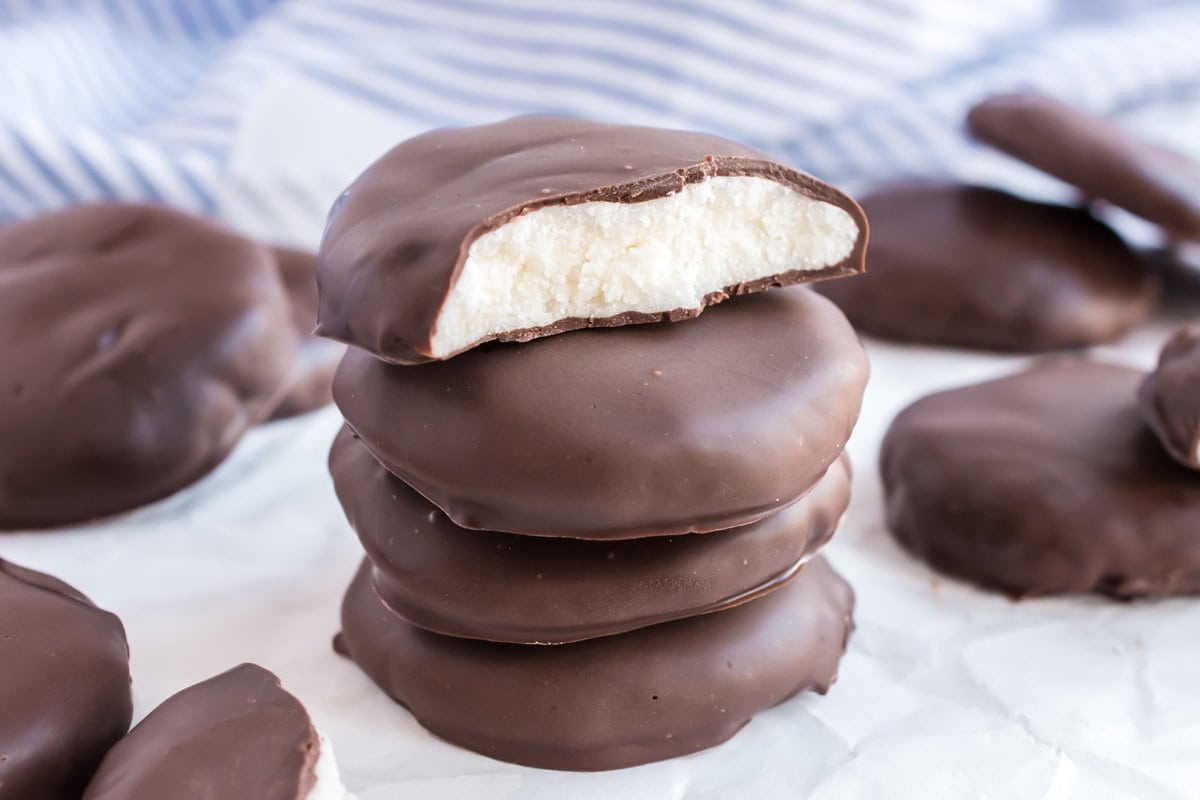 It later changed hands from Cadbury and after a few more mergers, was acquired by the Hershey Company. The original was a little snappier (each batch was actually given a snap test), while today's product is considered to be chewy.
Ingredients
The ingredients to make these are actually very simple. When you make treats like this from scratch, it's nice because you don't have to worry about any high fructose corn syrup or other additives that might come from store bought york peppermint patties.
peppermint extract
dark chocolate Candy Melts
After three trial runs and lots of taste testers, including one self proclaimed "Homemade Peppermint Patty Expert" this recipe has been declared THE BEST Peppermint Pattie recipe!
Mistakes made include using regular "mint" extract instead of "peppermint". This was one of those "duh moments" and resulted in spearmint instead of peppermint. Not bad really, but not a homemade peppermint pattie.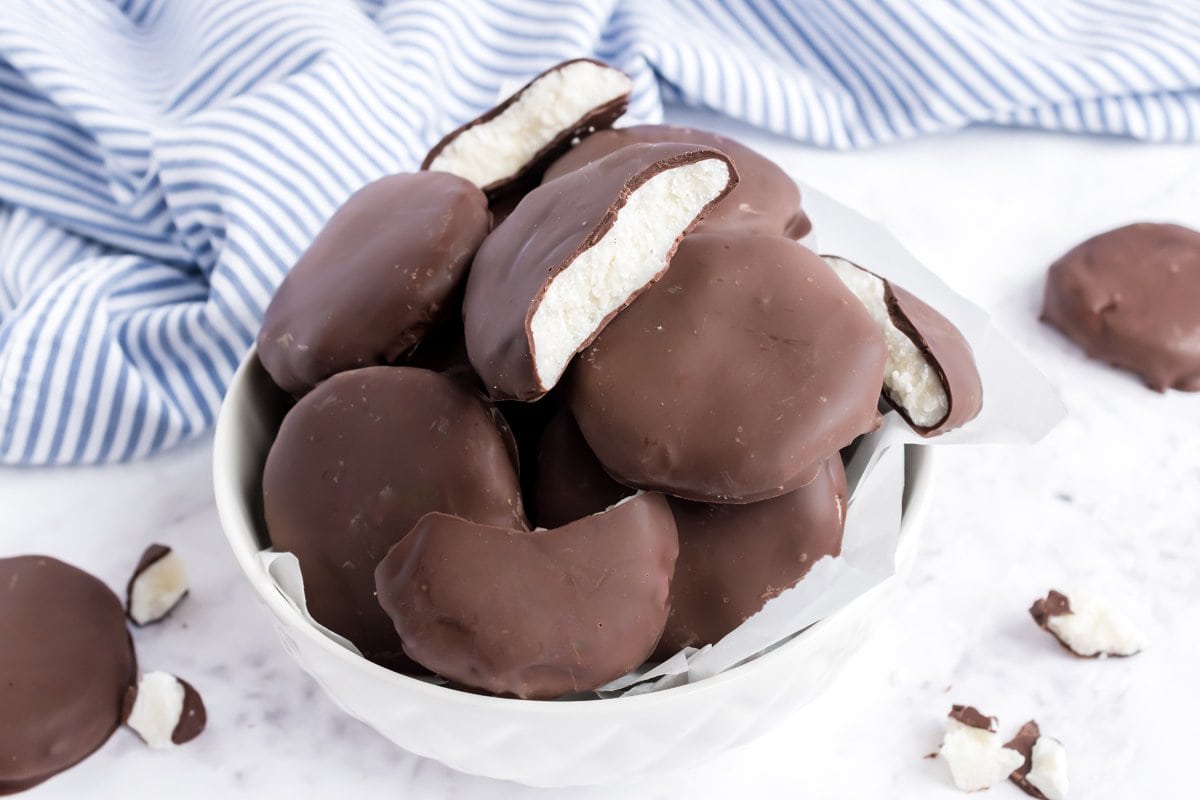 It did prompt me to realize that I could make any flavor of "pattie" I wanted! Vanilla, raspberry, spearmint, chocolate, maybe even a guinness flavor for St. Patrick's Day!
Also, I prefer using Candy Melts to make my homemade peppermint patty. They melt nice and smooth and set up great, but if you don't have them on hand, you can use regular chocolate and add a teaspoon of vegetable oil or coconut oil to help it become smooth.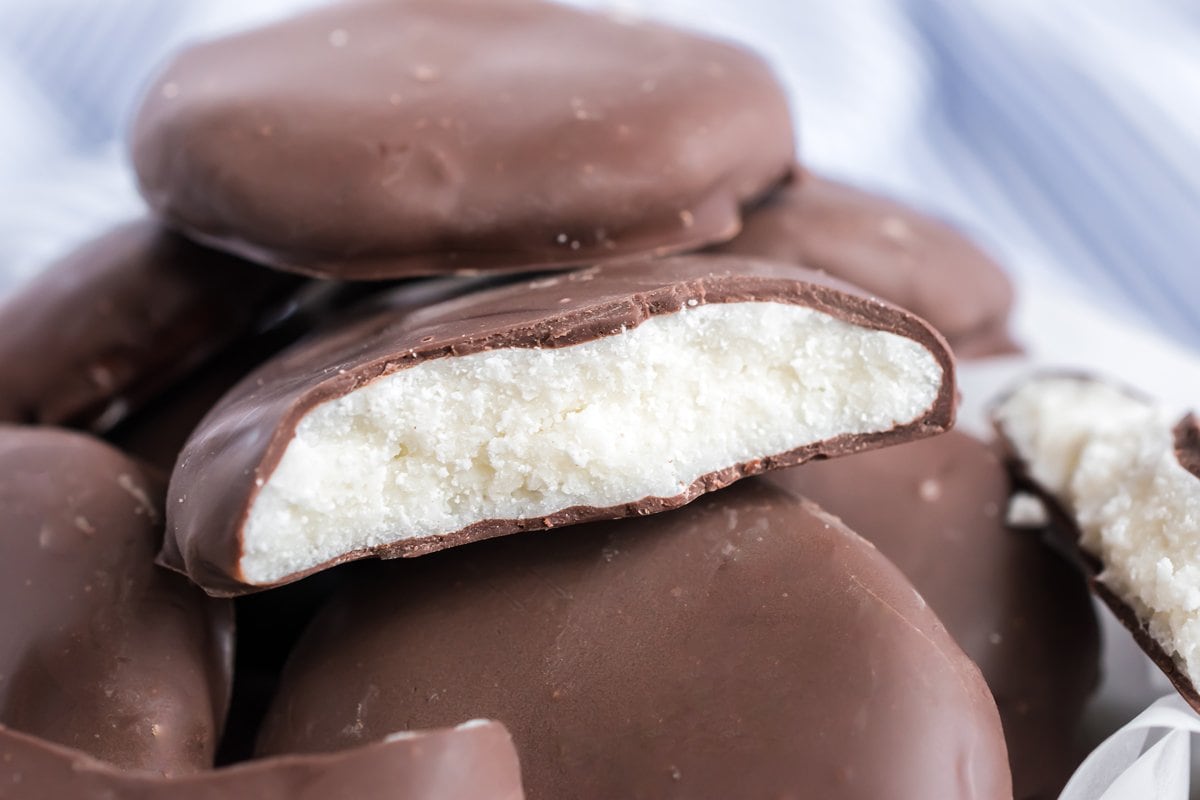 How to Make
The process to make a homemade peppermint patty is really simple, but I'll share all of my tips and tricks for you to get the best peppermint patties ever.
To start, you will want to blend together sweetened condensed milk through powdered sugar. Mix at a medium speed for 5 minutes or until the mixture has no lumps. The dough should be stiff and easily workable with your hands.
Next roll the dough into about 28 1-inch balls. Flatten each ball with the palm of your hand to make the filling for the patties. Allow them to dry at room temperature for at least 2 hours before dipping in the chocolate. Flip the patties over about 1 hour into the drying time.
When you are ready to melt the chocolate, place the patties in the freezer for 15-20 minutes first. This allows them to become nice and firm, making them easier to dip.
Next, you will dip them in chocolate.
Melting the Chocolate
Now comes the chocolate melting. I like to melt chocolate in a double boiler even though it takes a little extra time and involves cleaning another dish. However. you can also melt your chocolate in the microwave, but run the risk of it getting too hot and becoming a glob.
Once the chocolate is melted, dip the patties into the chocolate, tapping on the side to get excess off. I like using the fork dip method- place the patty on a fork and this prevents your fingers from getting covered in chocolate.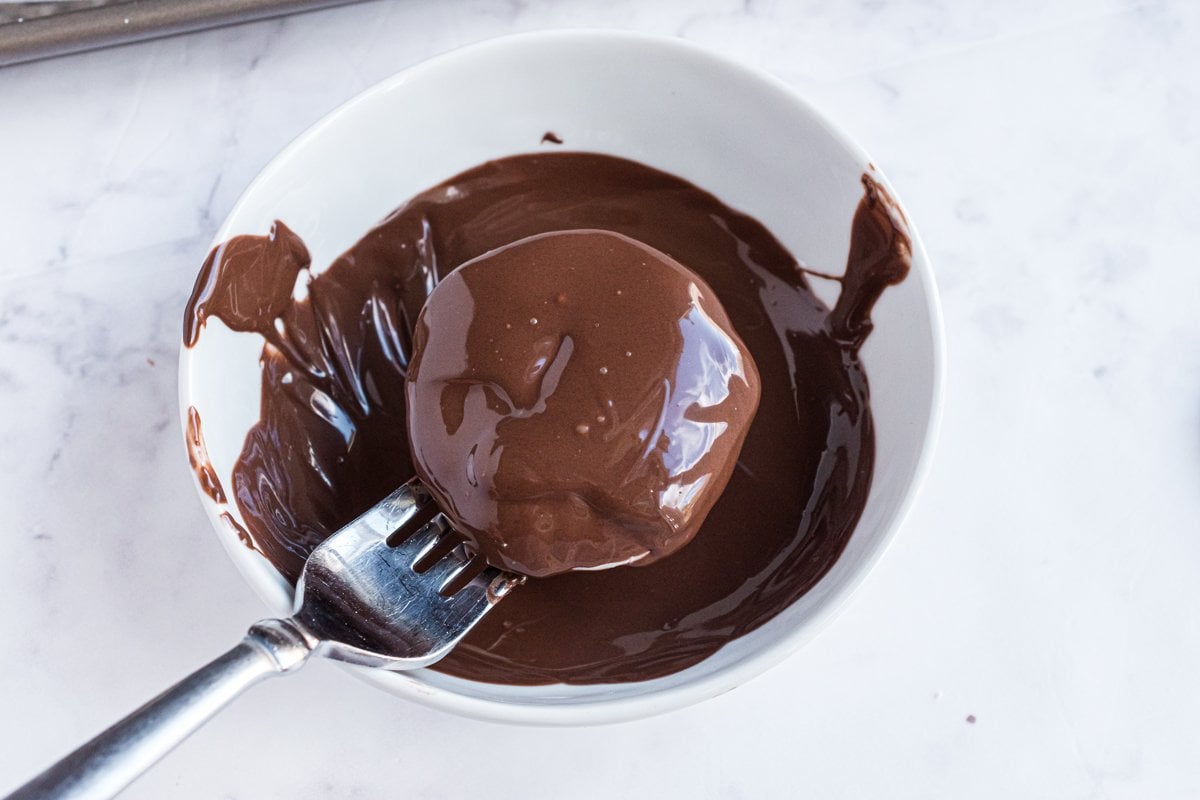 Next place the patties onto a parchment paper (or wax paper) lined baking sheet to cool. If you desire sprinkles, add those on now. Place them in the refrigerator for an additional 30 minutes to set.
Your homemade peppermint patty is ready to eat! I store any extras in the refrigerator not only because I prefer mine to be chilled, but because the chocolate has the tendency to sweat a little depending on weather conditions.
Also make sure you allow enough drying time for the creamy filling. Any excess moisture can impact the ability of the chocolate to stick and set to the outside. Lastly, using dark chocolate versus milk chocolate.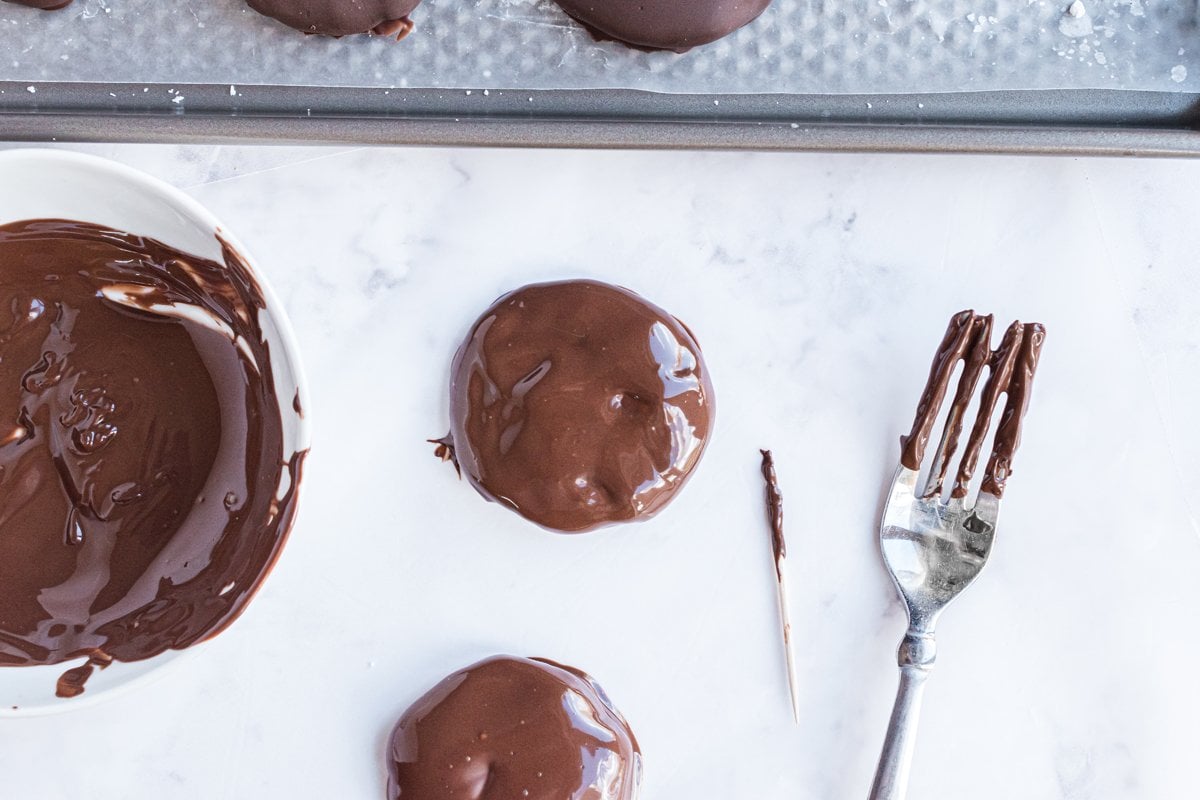 Storage
These peppermint patties can be stored at room temperature in a cool, dry place in an airtight container.
You can store them in the fridge, but be mindful that the chocolate will sweat a little when it comes to temperature.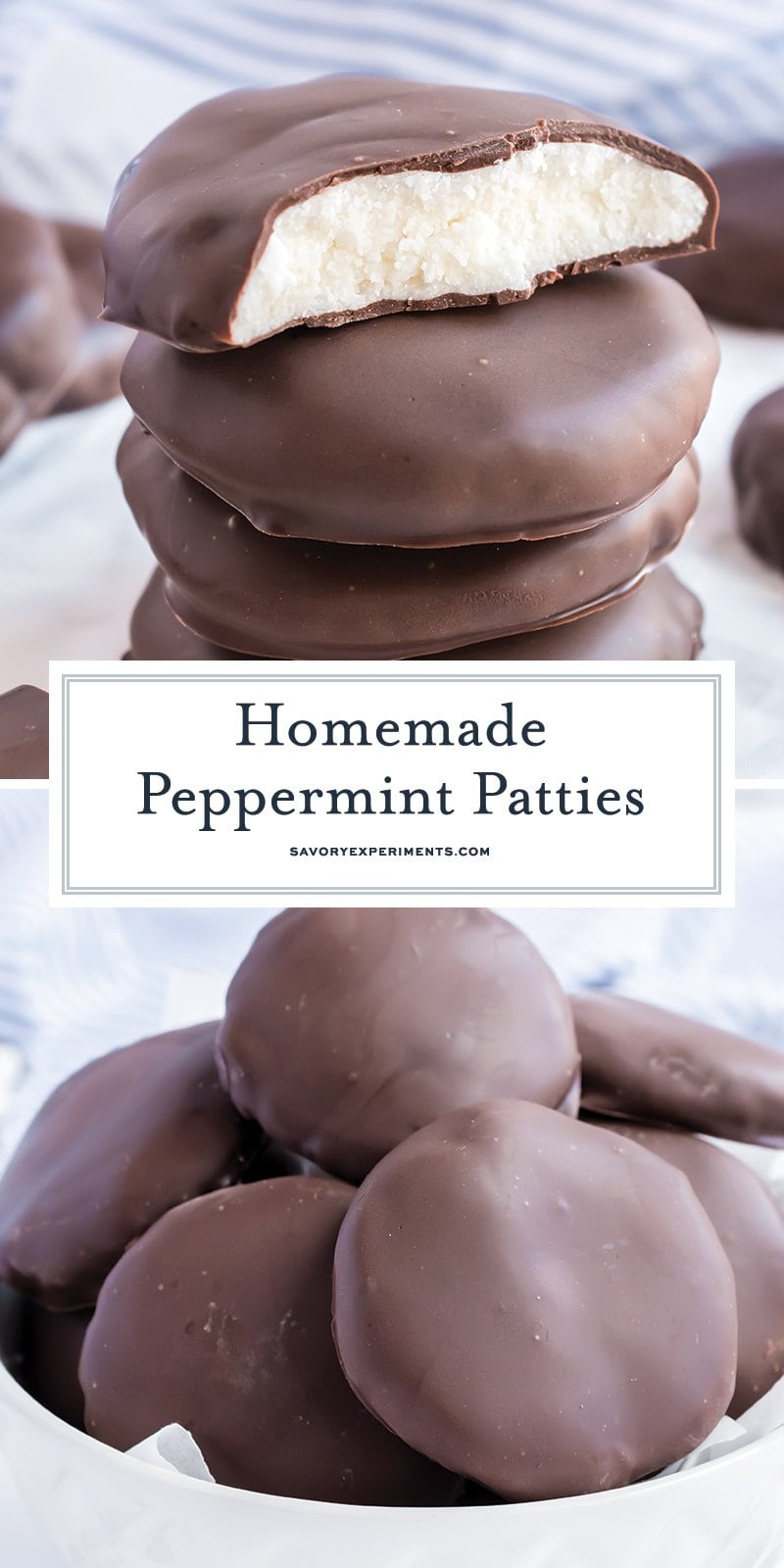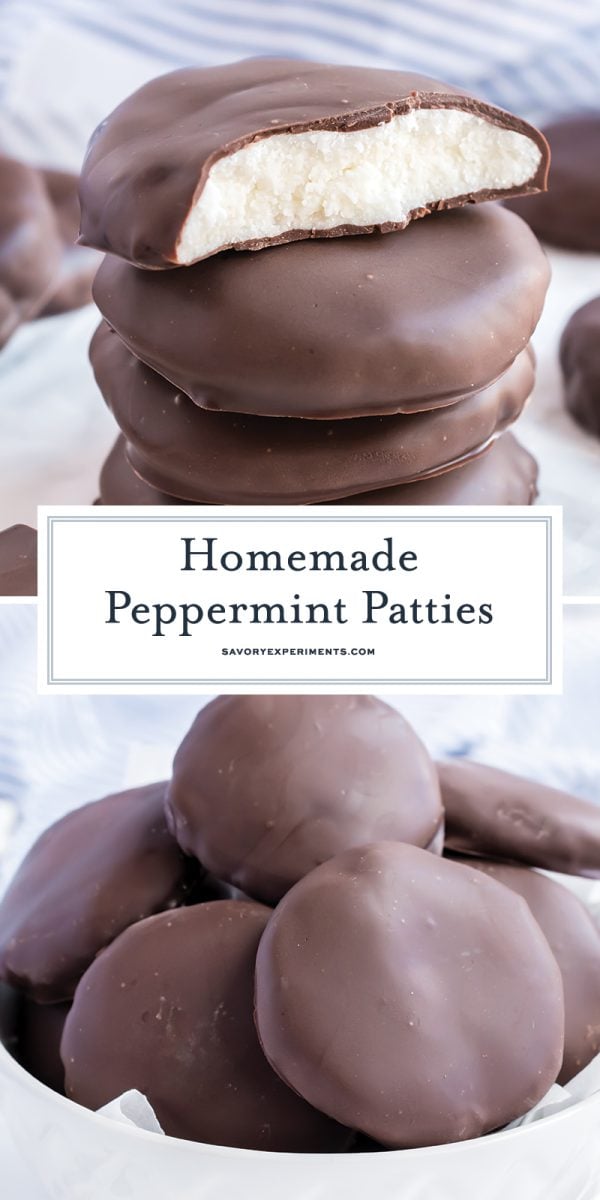 More delicious treats: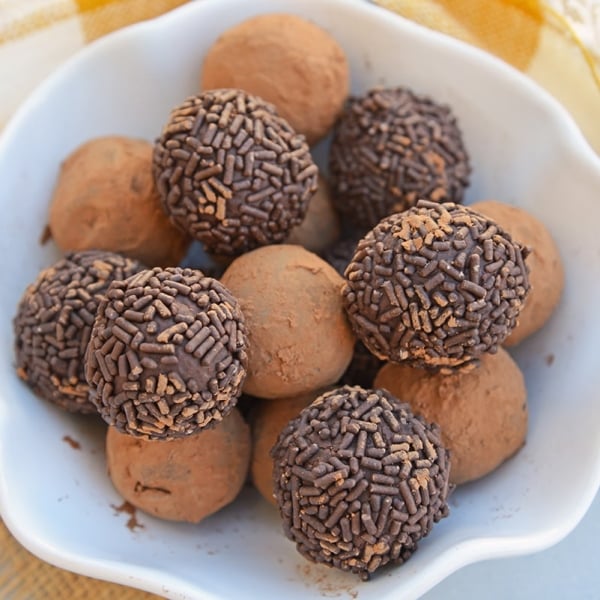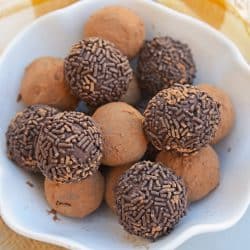 Chocolate Truffle Recipe
Easy Chocolate Truffles only use 4 ingredients, including sweetened condensed milk, to make a rich, decadent dessert. Roll them in chocolate sprinkles, powdered sugar or cocoa for the the finished touch!
See The Recipe!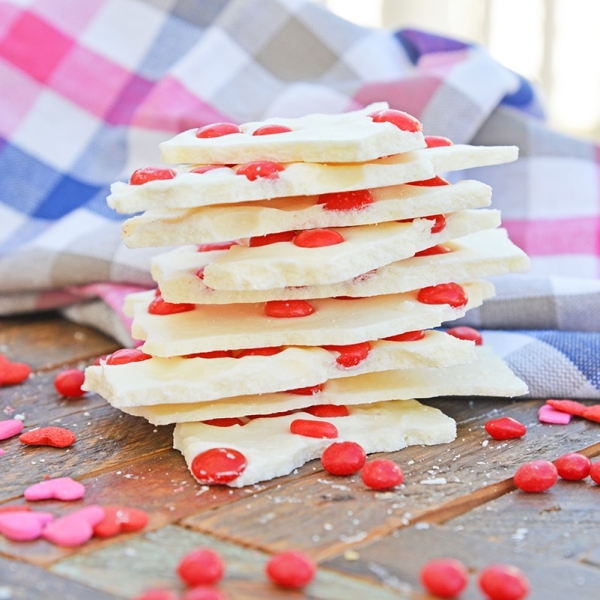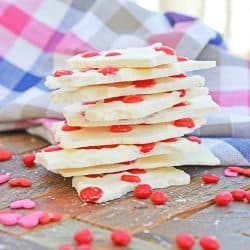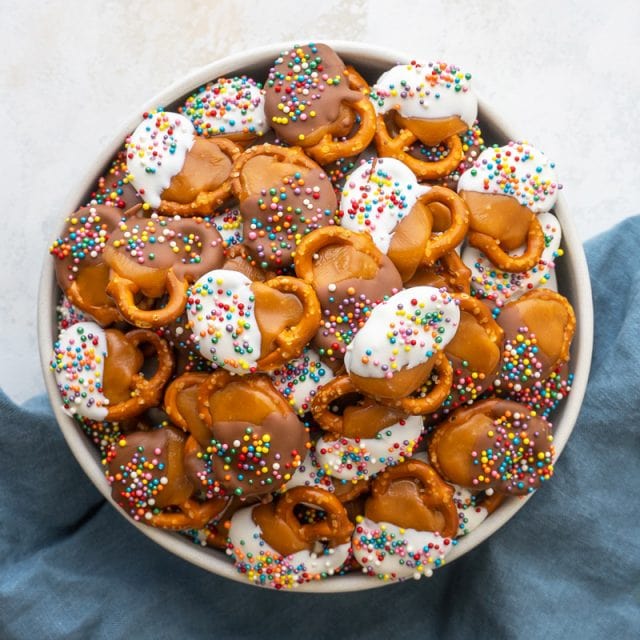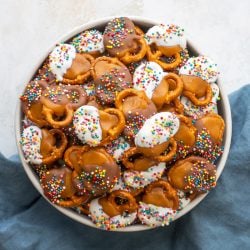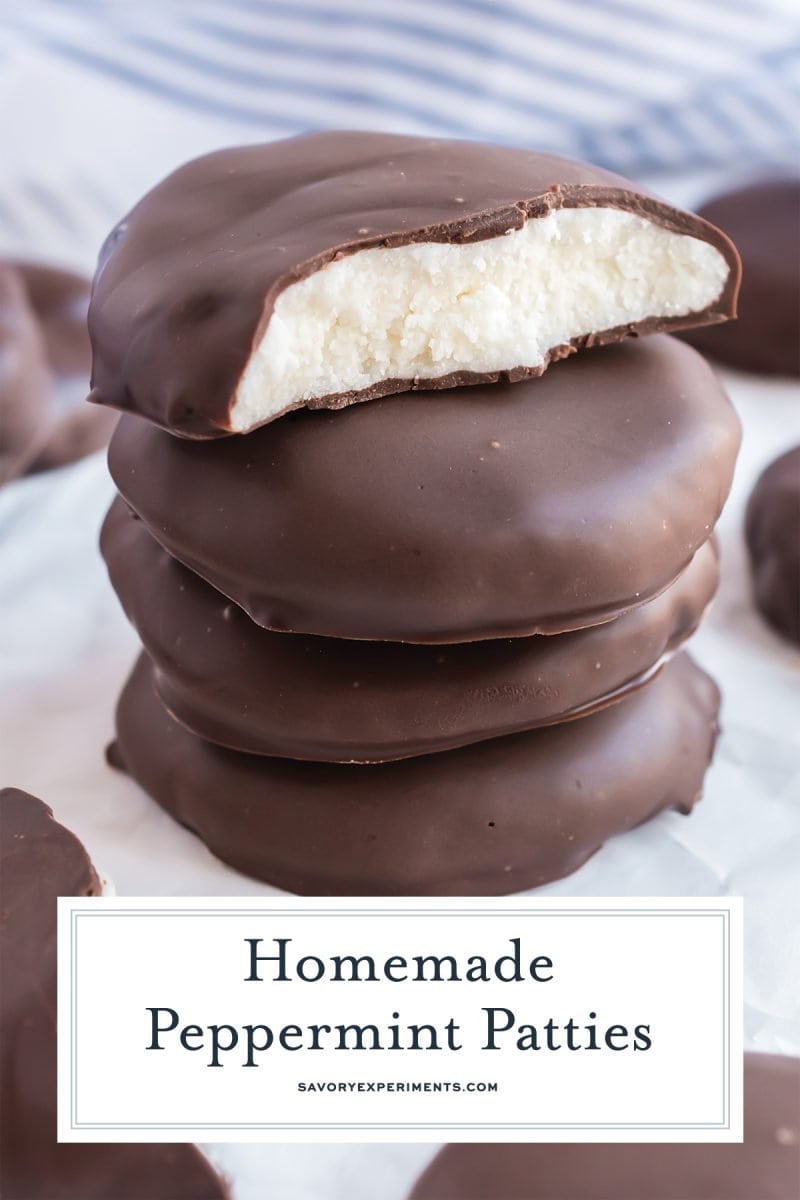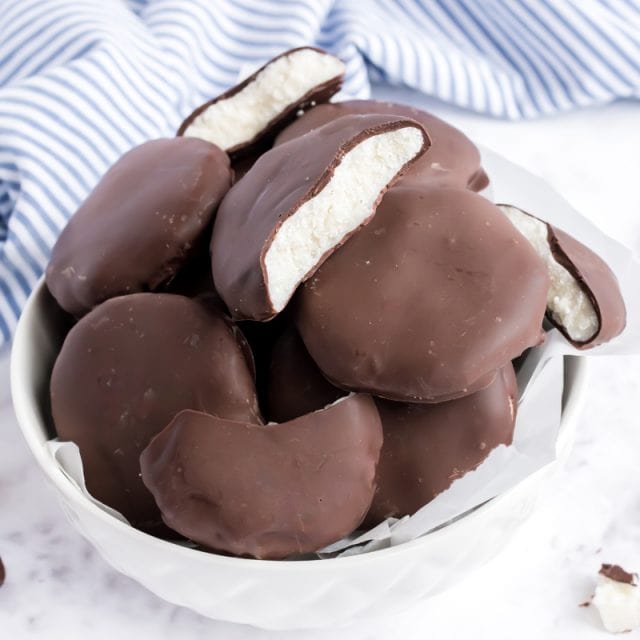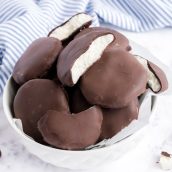 Homemade Peppermint Patties
Cool and creamy, Homemade Peppermint Patties are so easy to make and can be customized to fit any holiday or event.
Instructions
In a medium mixing bowl or the bowl of a stand mixer fitted with a paddle attachment, blend together the sweetened condensed milk, peppermint extract and powdered sugar. Add food coloring at this step if you desire a color. Mix at a medium speed for 2-3 minutes or until mixture is smooth with no lumps. Dough will be stiff and form patties, but not dry and crumbly.

Line a large rimmed baking sheet with wax pr parchment paper. Roll dough into approximately 28 1-inch balls. Flatten each with the palm of your hand to make the filling for patties. Allow to dry at room temperature for at least 2 hours, flipping once.

Right before melting the chocolate place in the refrigerator or freezer for 15-20 minutes.

Melt chocolate in double boiler. Dip patties into chocolate, tapping on the side to get excess off. Place onto a parchment paper lined baking sheet to cool. If you desire sprinkles, add now. Place in the refrigerator for an additional 30 minutes to set.

If you tried this recipe, come back and let us know how it was in the comments or ratings.
Nutrition
Calories:
130
kcal
,
Carbohydrates:
24
g
,
Protein:
1
g
,
Fat:
3
g
,
Saturated Fat:
1
g
,
Cholesterol:
2
mg
,
Sodium:
12
mg
,
Potassium:
75
mg
,
Sugar:
22
g
,
Vitamin A:
25
IU
,
Vitamin C:
0.2
mg
,
Calcium:
28
mg
,
Iron:
0.8
mg