French Baked Onions are the perfect dish to serve to your family and friends! It is a fun and tasty new way to get the flavor of French onion soup in a simple and delicious side dish.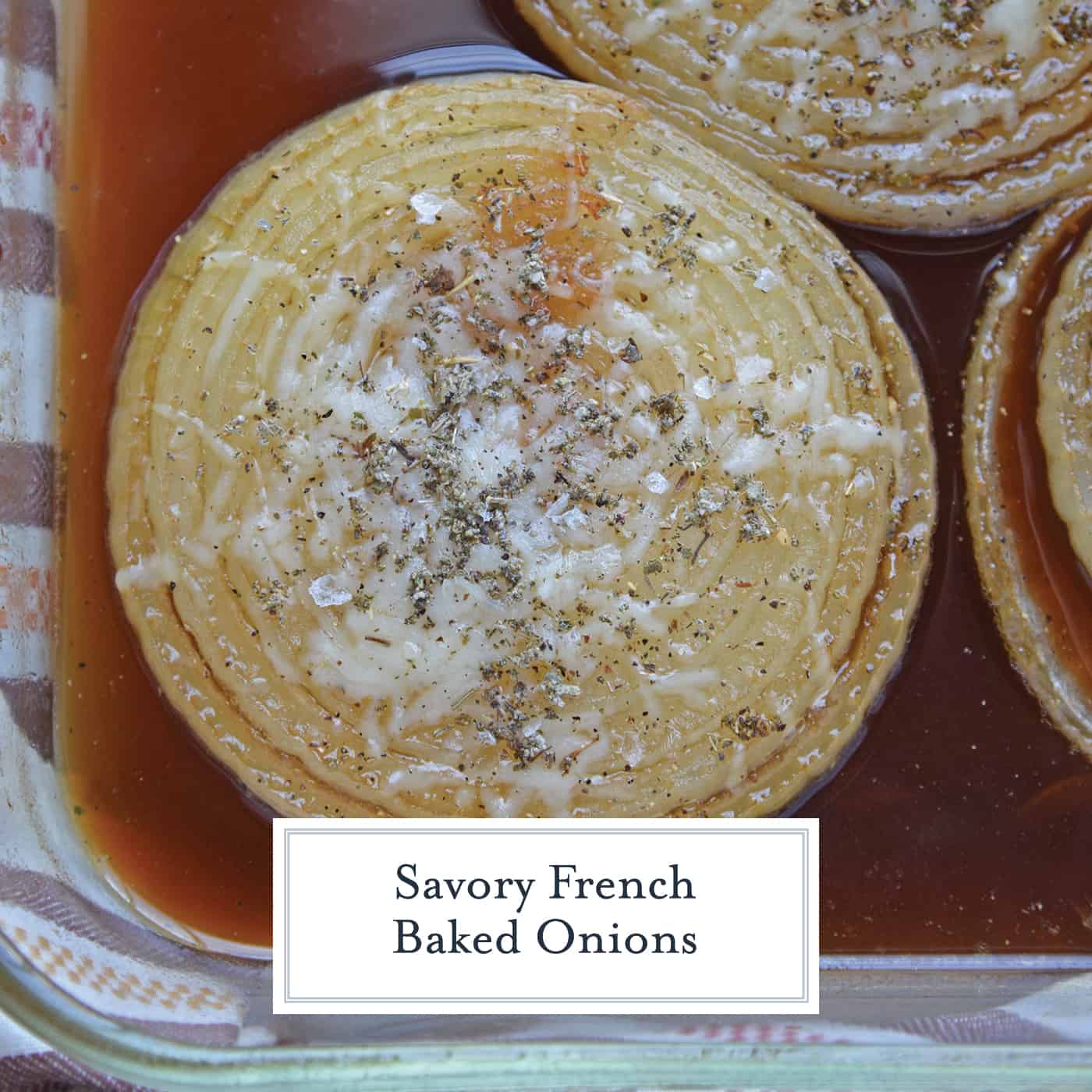 Have you ever craved French onion soup during the warmer months? Too heavy, too hot, maybe not? Perhaps it is just too much work to put it all together.
Here is your answer: French Baked Onions. All the goodness and taste of a hearty crock of French onion soup, but without all the heavy lifting or the heaviness of the original dish.
Why You'll Love French Baked Onions
French Baked Onions are the perfect dish when you want French onion soup in a hurry. They are a great side dish recipe for any meal.
Same Flavor, Less Time – French onion soup can be time-consuming. These baked onions however are not.
Gluten-Free – Watching your weight? Perhaps you have some dietary restrictions? These have the same flavor as the French favorite without the layer of bread that is problematic for some.
Sweet & Savory – There is a reason sweet and savory go so well together, it's flipping delicious. Baking these onions for an hour in the oven brings out their natural sugars. Pair that with tangy cheese and bold stock, and it's a match made in heaven.
What Are French Baked Onions
This dish is a classic twist on the typical French onion soup. The key to this recipe is using sweet onions because they have a smooth flavor and their sweetness intensifies in the oven.
A (Very) Brief History of the Onion
Did you know that onions are thought to have originated over 5000 years ago and are an ancient food source? They were considered staples in many diets way back when and were found to be particularly important to the Egyptians.
The French Onion Soup that we all know and love didn't come about until the 17th century. Many believe this recipe was stumbled upon by King Louis XV who had a case of the late-night munchies at his hunting cabin. With only onions, butter, and champagne (what a combo!), he threw everything into a pot.
Voila! A very basic French Onion Soup was born and we can all be happy because of it.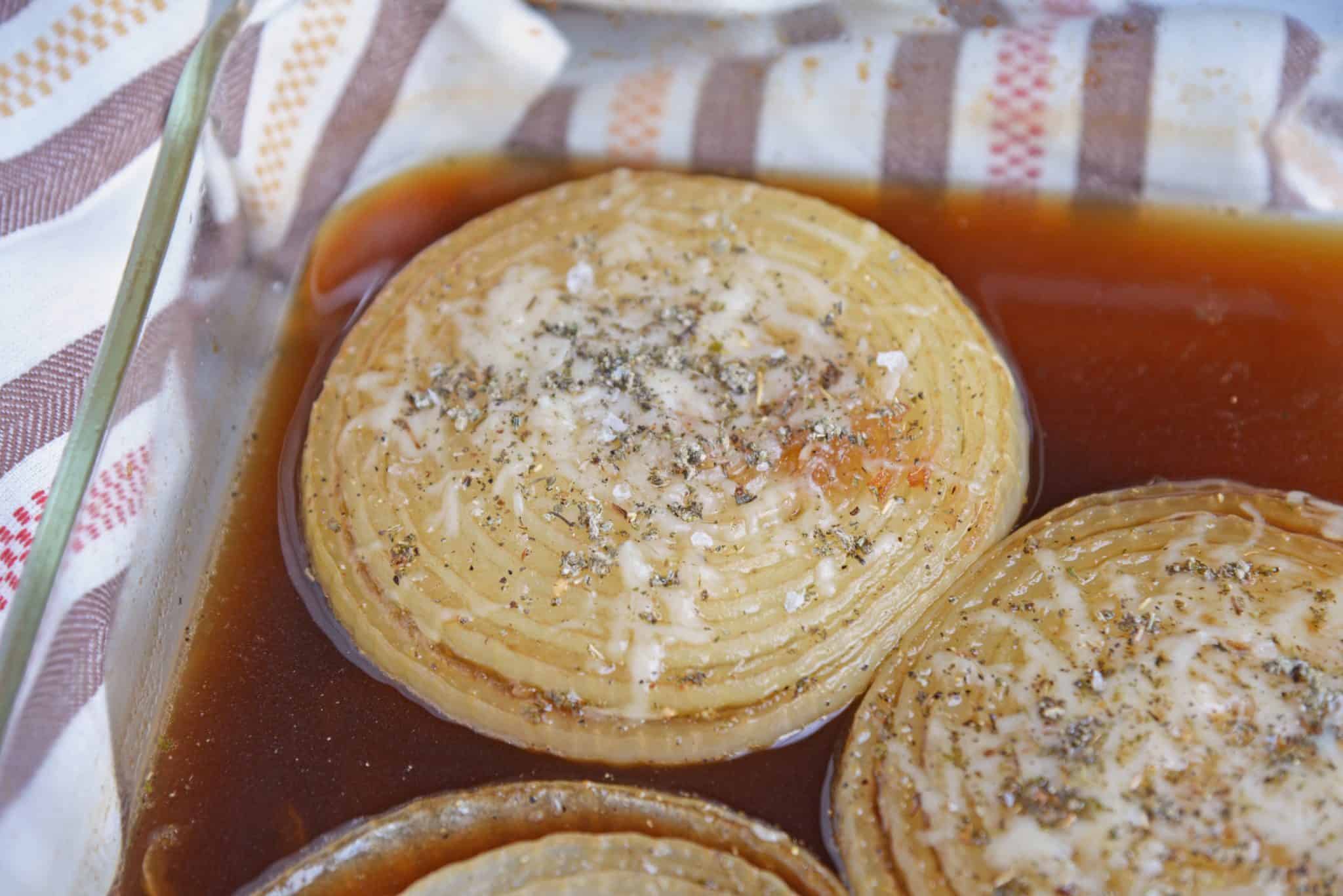 Ingredients
With just a handful of ingredients, this recipe can be on your table.
Sweet Onions – There are a few varieties to choose from, but most stores will simply label them "sweet onions." They do not necessarily have more sugar in them compared to other onion varieties, but they do have less sulfur. That sulfur is what gives onions their potency and pungency.
Beef Consomme – Think of this as a heartier more intense version of beef broth. You can make your own, but I find it is easier to buy it in the can.
Water – Helps to even out the richness of the other liquids.
Rubbed Sage – Ground sage is a very fine powder whereas rubbed sage is in larger pieces and almost fluffy in texture. Rubbed sage has a more pronounced flavor than the ground type, but if you are in a pinch, the ground kind will work here.
Swiss Cheese – This type of cheese generally has a mild tang and a bit of sweetness to it. Use more or less depending on your cheesiness level preferences.
Fine Sea Salt – Onions love good seasoning to help further bring out the sweetness. The fine granules here will dissolve quickly and round things out perfectly.
Freshly Ground Pepper – I can't stress it enough: if you splurge on one thing, let it be whole peppercorns and a pepper mill. Pre-ground pepper is often stale in flavor and just doesn't bring that peppery goodness we all know and love.
Cooking Spray – You don't need much of this. It is really here to ensure the bottom of the onions do not burn in the oven. If you don't have spray, give the baking dish a drizzle of olive oil and spread it with your hand or a paper towel.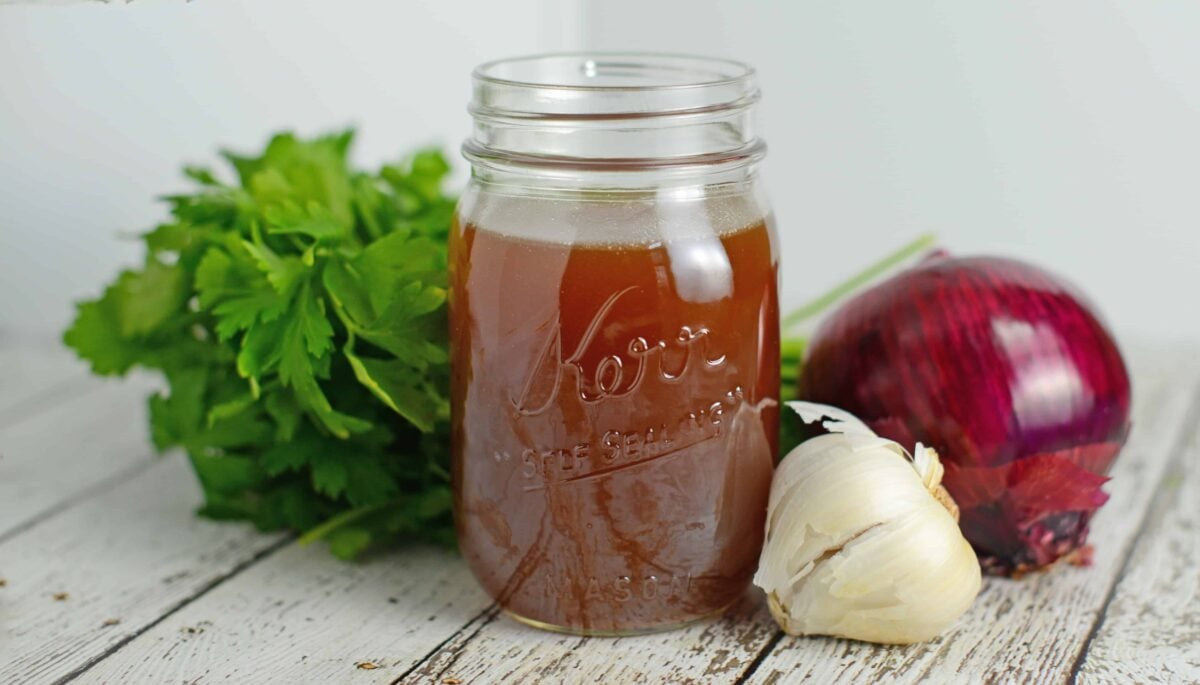 How to Make French Baked Onions
This recipe takes the same principles of making French Onion Soup and simplifies them.
Prep the oven and the pan. Always start with preheating your oven if you are using it in a recipe. Coat your baking dish with a thin layer of oil so your onions don't stick.
Add your onions and liquids. Onions need to be in a single layer here so every bit of them can soak up the beefy flavor and soften.
Bake. Here you are taking out the pan caramelization and going straight to the oven. Basting is extremely important because your onions will not be fully submerged. If you do not, the tops will dry out and get crunchy.
Finish them off. Cheese is added in the last few minutes of cooking because it doesn't need too long to melt. The seasonings are added here so they stay concentrated on each onion piece and don't get lost in the liquids.
Plate and serve. Much like French onion Soup, this dish is best served piping hot.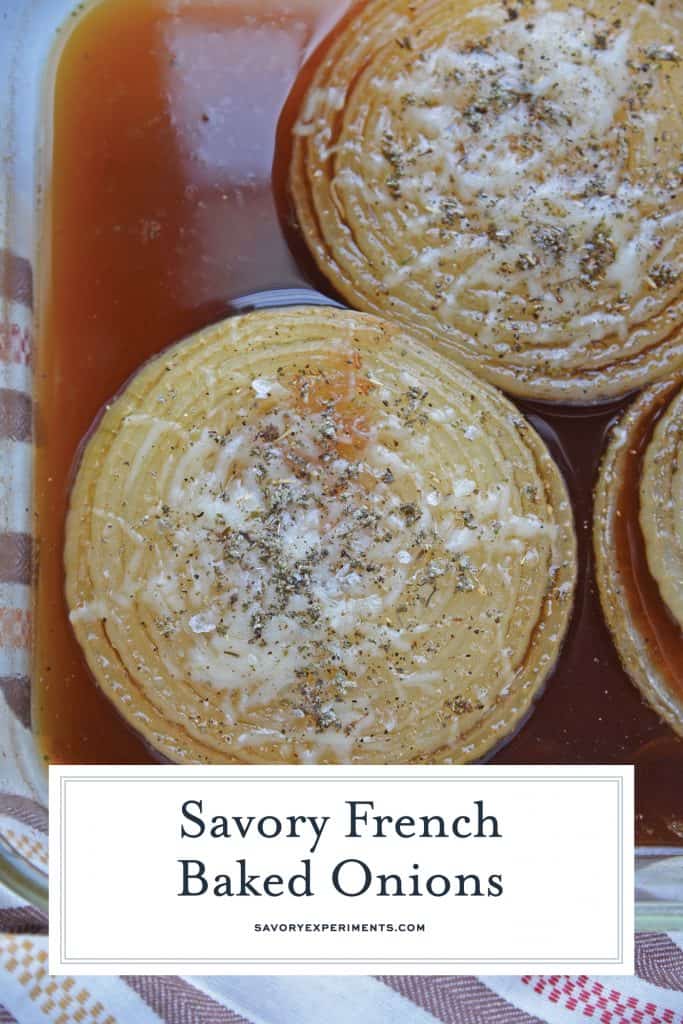 What to Serve French Baked Onions With
These are the perfect side dish for dinner whether you are making steak or chicken. It would be really hard to go wrong here, but here are a few suggestions if you need them.
Variations
There are a few things to try if you are looking to switch things up.
Try different onions – If you are lucky enough to have a store that stocks different varieties of onions, try this recipe with any of them. Maui, Vidalia, Walla Walla, and Texas sweets are just a few of the possibilities.
Cheese – Swiss is classic but there are a few other varieties to try here. Provolone is mild and sweet with a great pull to it. Gruyere is a classic and has an earthy nutty flavor. Even Comte, a semi-soft French cheese with buttery and caramelly notes could be fun to try!
Breadcrumbs – If you are missing that glutinous element, top your onions when they come out of the oven with a pinch or two of breadcrumbs for a little crunch.
Caramelizing Onions
If you do decide that you want to try your hand at caramelizing onions, give it a whirl, but make a double, maybe even triple batch and freeze them. Here are my easy instructions on how to caramelize onions.
Oh, and be sure you give yourself plenty of time to babysit – the onions that is! They take quite a while to get there, but are well worth it!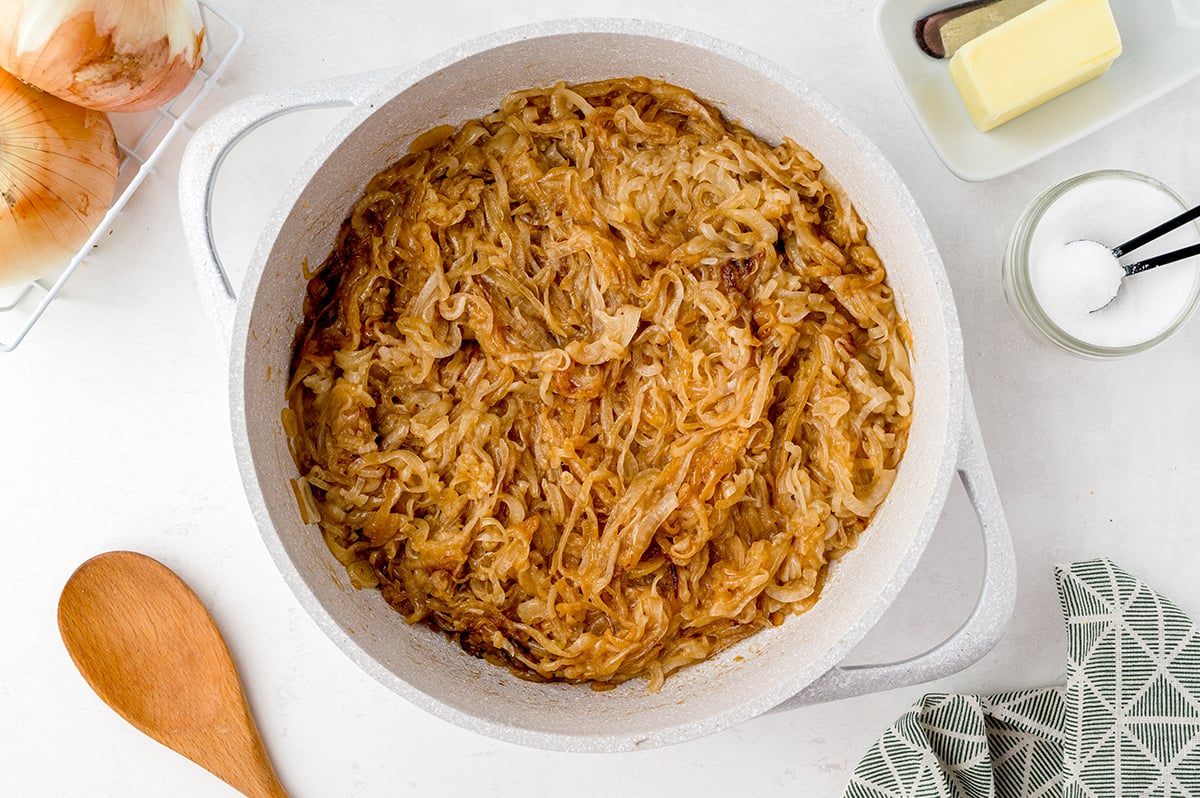 If you are going to the trouble of caramelizing onions, you might want to make traditional French onion soup, but consider making it with apples. They are sweet and the perfect accompaniment to onions and beef. Try my Apple French Onion Soup!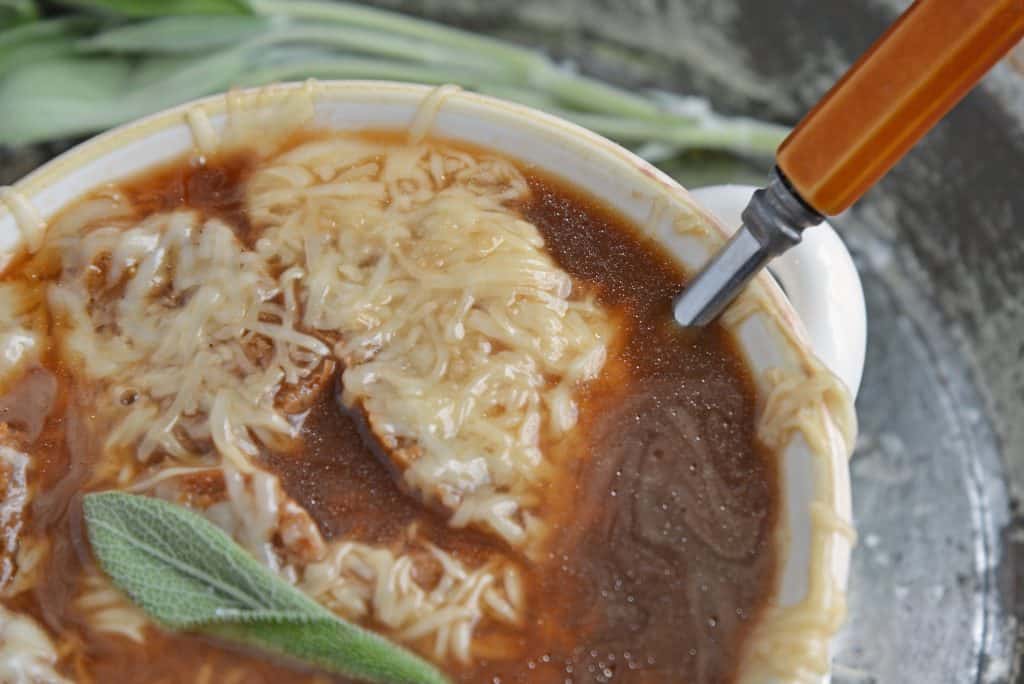 Storing and Freezing
Storing – French Baked Onions can be stored in an airtight container or dish in the fridge for up to 5 days, but be sure to store them in their beefy goodness. You do not wan them to dry out.
Freezing – These can be frozen in an airtight container in the fridge for up to 6 months, but be warned that they will lose some of their textural integrity upon thawing out and reheating.
Questions About French Baked Onions
What kind of onions are used in French?
The real question is what kind of onions do they not use! Yellow onions and green onions are popular as well as chives, leeks, shallots, and more!
Why does French onion soup taste so good?
I think we can all agree this is very subjective, but in my humble opinion it is the mix of sweet and savory coming together. You add melted cheese to the mix and you have a winner that makes my tastebuds dance!
What makes French onion French?
This all has to do with this dish's country of origin. There are a few theories about who created the dish, but all signs point to France as the country where it was originated.
Check out some of these other easy onion recipes: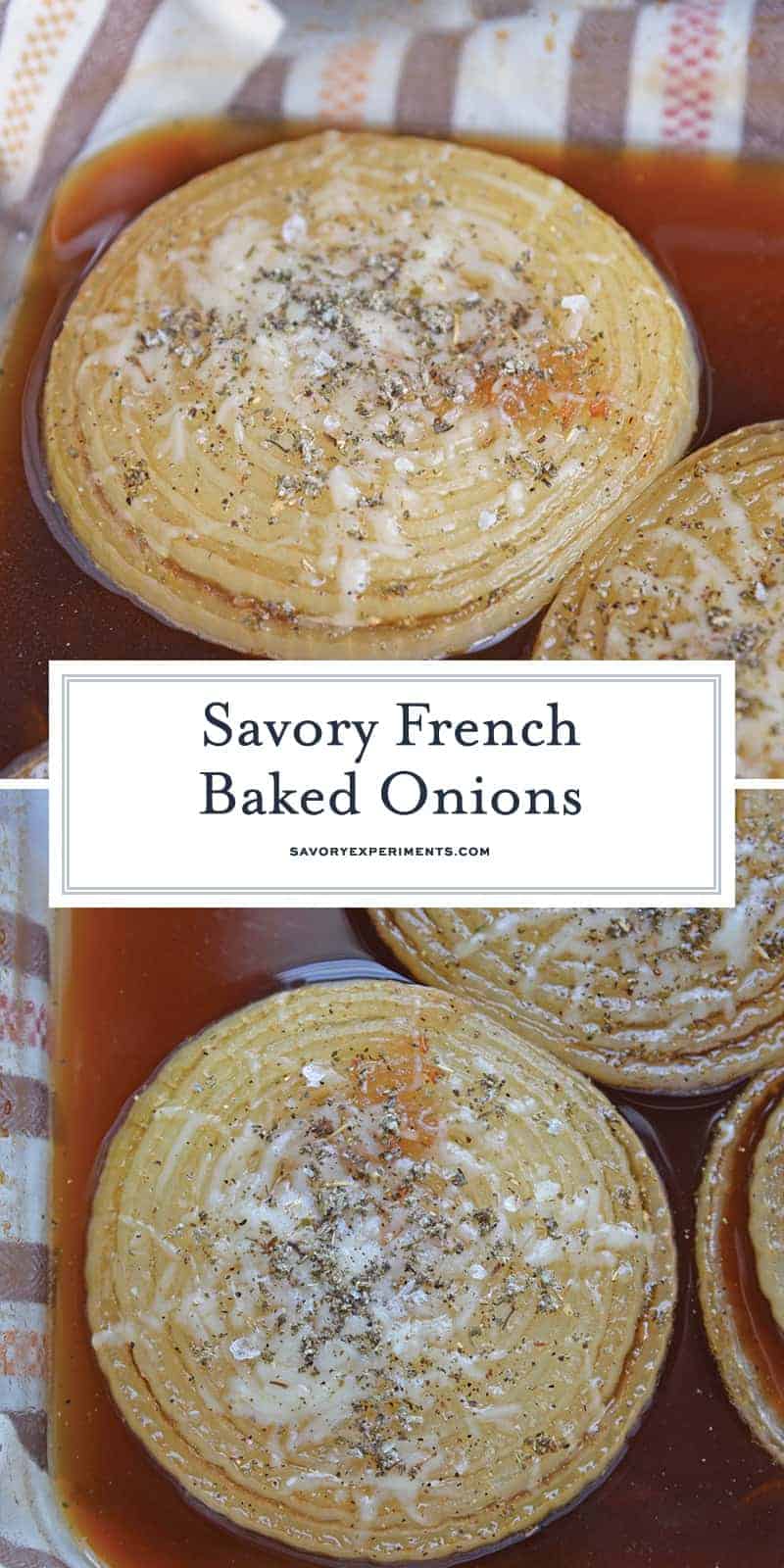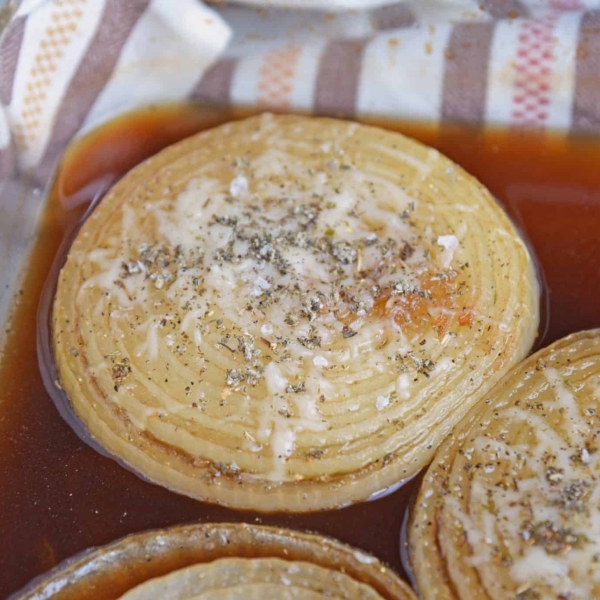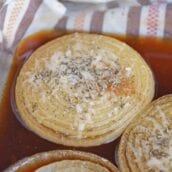 French Baked Onion Recipe
French Baked Onions are the perfect dish when you want french onion soup without the soup. A side dish recipe perfect for any meal.
Ingredients
2

large sweet onions

, halved lengthwise

10.5

ounces

beef consomme

1/4

cup

water

2

teaspoons

rubbed sage

4-8

slices

Swiss cheese

, depending on how cheesy you like it

fine sea salt and freshly ground pepper
Instructions
Preheat oven to 300 degrees. Lightly coat a large baking dish with cooking spray. I use 9×13, however you could go slightly smaller. Onion halves need to lay in a single layer.

Lay onion halves into the baking dish. Pour beef consomme over top of onions. Add water to bottom of the dish.

Place onions in the oven. Bake for 1 hour, basting every 15 minutes with beefy broth.

Onions should be translucent and soft. Top each onion halve with 1-2 slices Swiss cheese. Sprinkle 1/2 teaspoon sage on each slice. Season with fine sea salt and freshly ground pepper. Return to the oven for 3-4 minutes, or until cheese starts to melt.

Remove and serve immediately.
Nutrition
Calories:
164
kcal
,
Carbohydrates:
14
g
,
Protein:
9
g
,
Fat:
8
g
,
Saturated Fat:
5
g
,
Cholesterol:
25
mg
,
Sodium:
344
mg
,
Potassium:
258
mg
,
Fiber:
1
g
,
Sugar:
8
g
,
Vitamin A:
230
IU
,
Vitamin C:
7.9
mg
,
Calcium:
259
mg
,
Iron:
0.6
mg