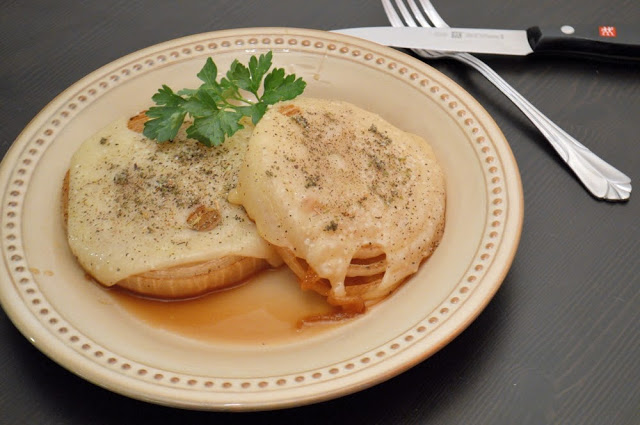 Have you ever craved French Onion Soup during the warmer months? Too heavy, too hot, maybe not. Here is your answer: French Baked Onions. All the goodness and taste of a hearty crock of French Onion Soup, but without the heaviness. Slowly roasting onions in beef consomme does two things; it caramelizes them and infuses them with the flavor of beef. Finish it off with a little bit of sage, salt, pepper and a slice of silky Swiss cheese and viola: French Baked Onions (French Onion Soup without the soup). The perfect side dish for any grilled steak!
Time: 1 hour 15 minutes
Serves: 4 sides
Ingredients for French Baked Onions
2 large sweet onions, halved lengthwise
10.5 ounce can beef consomme
1/2 cup water
1 teaspoon dried rubbed sage
4-8 slices Swiss cheese (depending on how cheesy you like it)
Fine sea salt and freshly ground pepper
Cooking spray

1. Preheat oven to 350 degrees. Lightly coat a large baking dish with cooking spray. I use 9×13, however you could go slightly smaller. Onions halves need to lay flat down and have a little bit of breathing room.
2. Lay onions halves into the baking dish. Pour beef consomme over top of onions. Add 1/2 cup water to bottom of the dish. Now that onions are pooled in rich, beefy flavor, place them in the oven.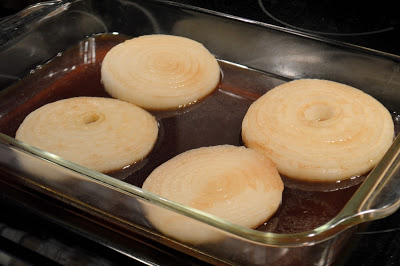 3. Every 15 minutes for 1 hour, remove and baste with liquids in the bottom of the pan.
4. After a full hour onions should be translucent and soft. Top each onion halve with 1-2 slices Swiss cheese. Sprinkle 1/4 teaspoon sage on each slice. Season with fine sea salt and freshly ground pepper. Return to the oven for 3-4 minutes, or until cheese starts to melt.
5. Remove and serve immediately! Enjoy your French Baked Onions!
Now you want more, don't ya? Join me on
Facebook
for daily recipes and discussion, follow me on
Twitter
or see where I get some of my inspiration on
Pinterest
!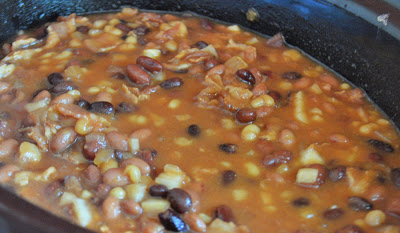 If you like this recipe, make sure to follow me on Pinterest for even more! 
Visit Savory Experiments's profile on Pinterest.