Easy Chocolate Truffles are perfect as a holiday platter or to fill in the holes on your cookie tray. Using this super simple hack, you'll have the best chocolate truffles in no time at all!
Easy Chocolate Truffles only use 4 ingredients, including sweetened condensed milk, to make a rich, decadent dessert. Roll them in chocolate sprinkles, powdered sugar or cocoa for the the finished touch!
The way I see it, there are two types of truffle recipes in this world. The old fashioned, difficult way and the easy, new age way.
It is very similar to comparing no churn ice cream to ice cream maker ice cream. The result is slightly different, they both taste delicious, but one requires slightly more time and work.
Old fashioned truffles recipes will have you using heavy cream, often coffee or flavored liquor and corn syrup. This easy chocolate truffle recipe uses condensed milk. Sweetened condensed milk, to be exact.
It is an easy little hack that cuts down on the probability of error and makes the whole process much simpler. You can still roll your truffles in whatever your heart desires.
Some of the most popular are powdered cocoa, chocolate sprinkles and powdered sugar, but don't limit yourself. Change it up and use flaked coconut, toasted nuts or spices like cinnamon and nutmeg.
Easy chocolate truffles are the perfect treat to bring to a potluck or party. They fill awkward holes on any cookie tray and are the ultimate treat for both Christmas and Valentine's Day.
If I had the time and energy, I'd give Godiva a run for their money with this homemade truffle recipe! LOL.
Some questions you might have about chocolate truffles:
What is a chocolate truffle? Not the fungus you find in the ground! LOL. A chocolate truffle is a little ball made of fudgy, rich chocolate and rolled in even more goodies.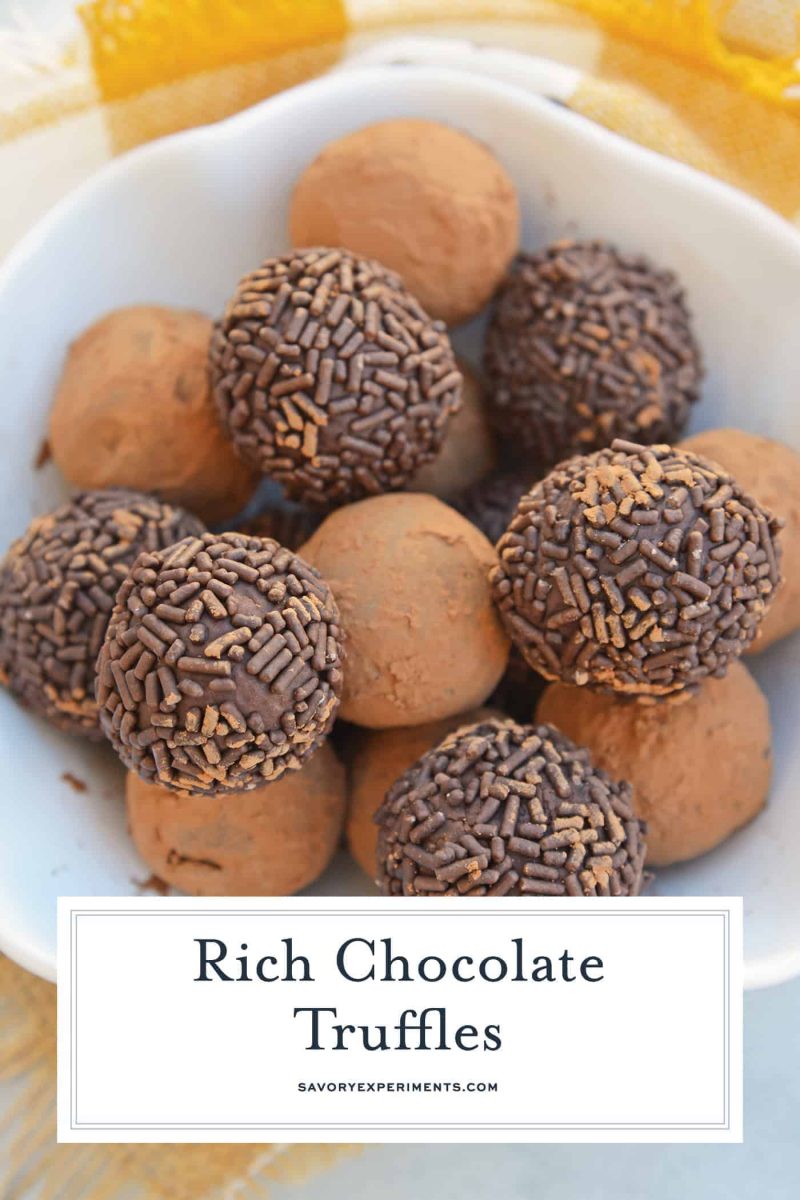 How do you store chocolate truffles? Chocolate truffles can be stored at room temperture for a few days in an airtight container, but up to 2 weeks if kept in the refrigerator.
Allow time for them to come up to room temperture if you do refrigerate them. Chocolate truffles can also be frozen and served at a later date.

Can I make my truffles in the microwave? You can, but be very careful, it is easy to burn the chocolate. I recommend keeping a very close eye on a heavy bottom saucepan or using a double boiler.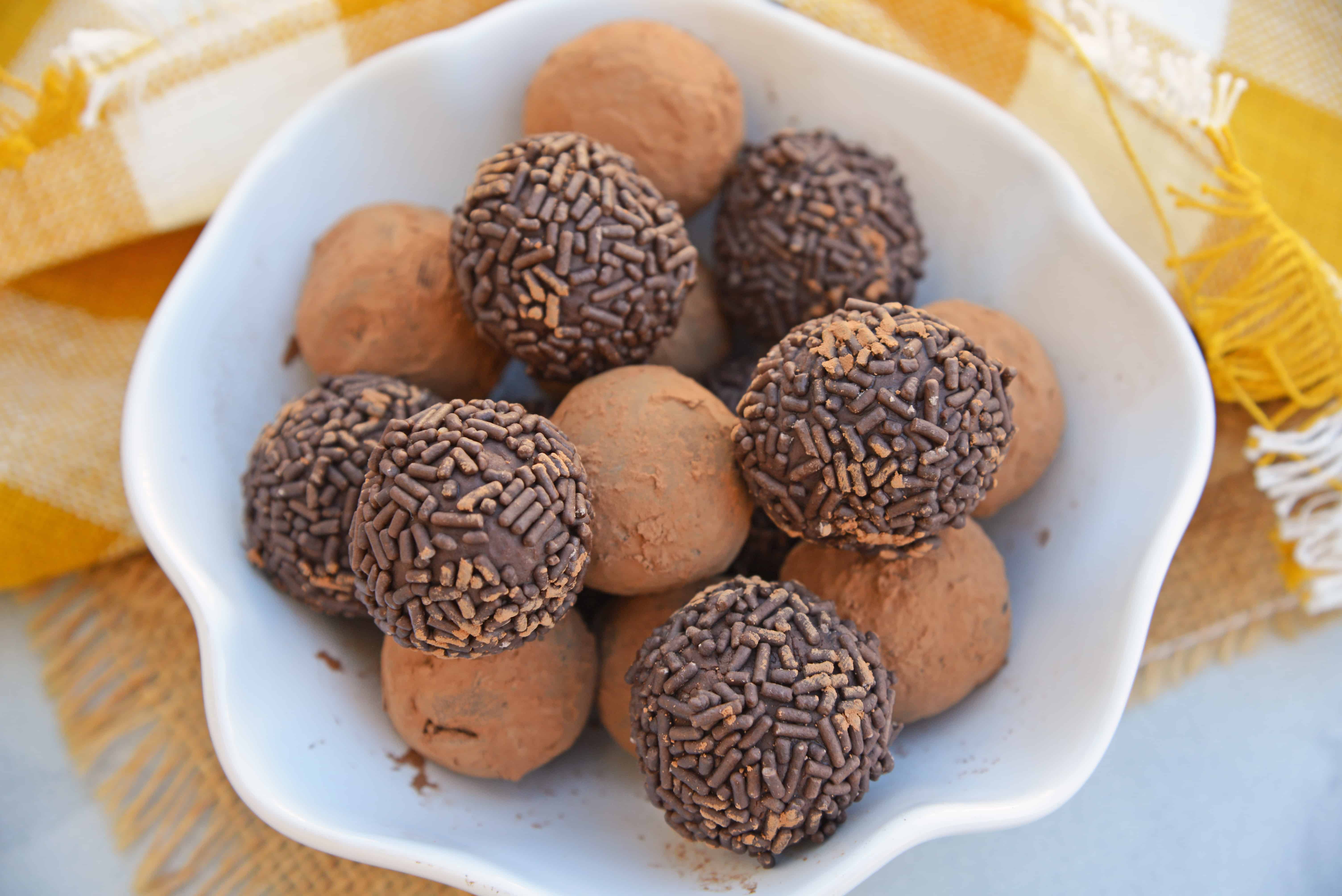 You might also enjoy these recipes: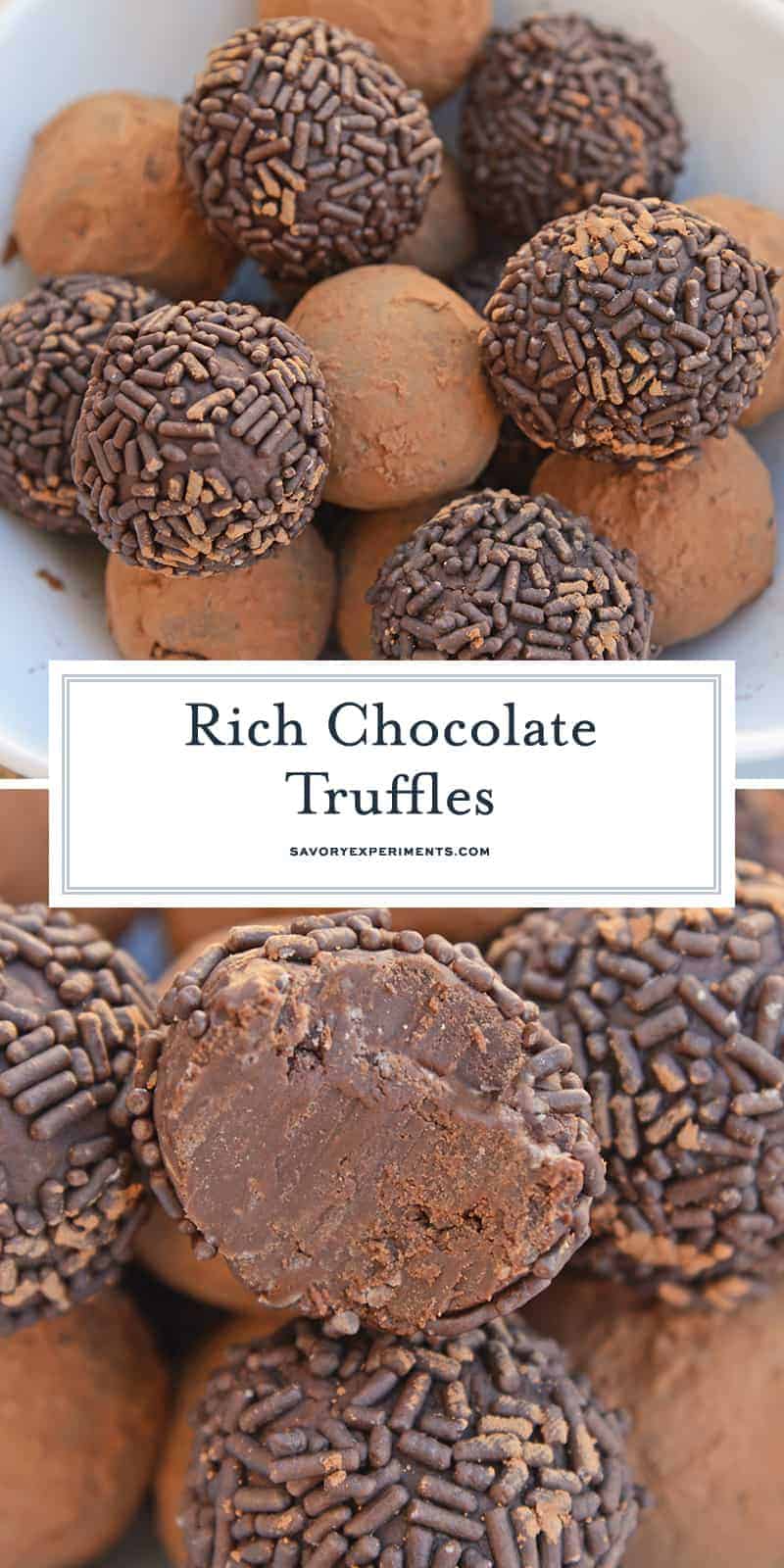 CONNECT WITH SAVORY EXPERIMENTS!

Be sure to follow me on social media, so you never miss a post!

Facebook | Twitter | Youtube
Pinterest | Instagram

Get our FREE 8 Day E-Course on How to Be a Better Home Cook. Sign up HERE!