I'm not sure why, but ever since I was a child Cornflake Christmas Wreath Cookies and braided Candy Cane cookies trigger the ultimate of Christmas feelings.
These classic no bake cookies only use a handful of ingredients and are ready in just 15 minutes. And truth be told, I enjoy them better warm, so I usually eat one right after forming the cute little wreath shapes.
They are great for cookie exchanges and cookie trays during the holiday season. Kids love them and they tend to be nostalgic for adults. Festive wreaths perfect for Christmas time or even Thanksgiving.
Christmas Wreath Cookie Ingredients
Never heard of them? I'm pretty sure you've at least seen them. They are an iconic sweet treat.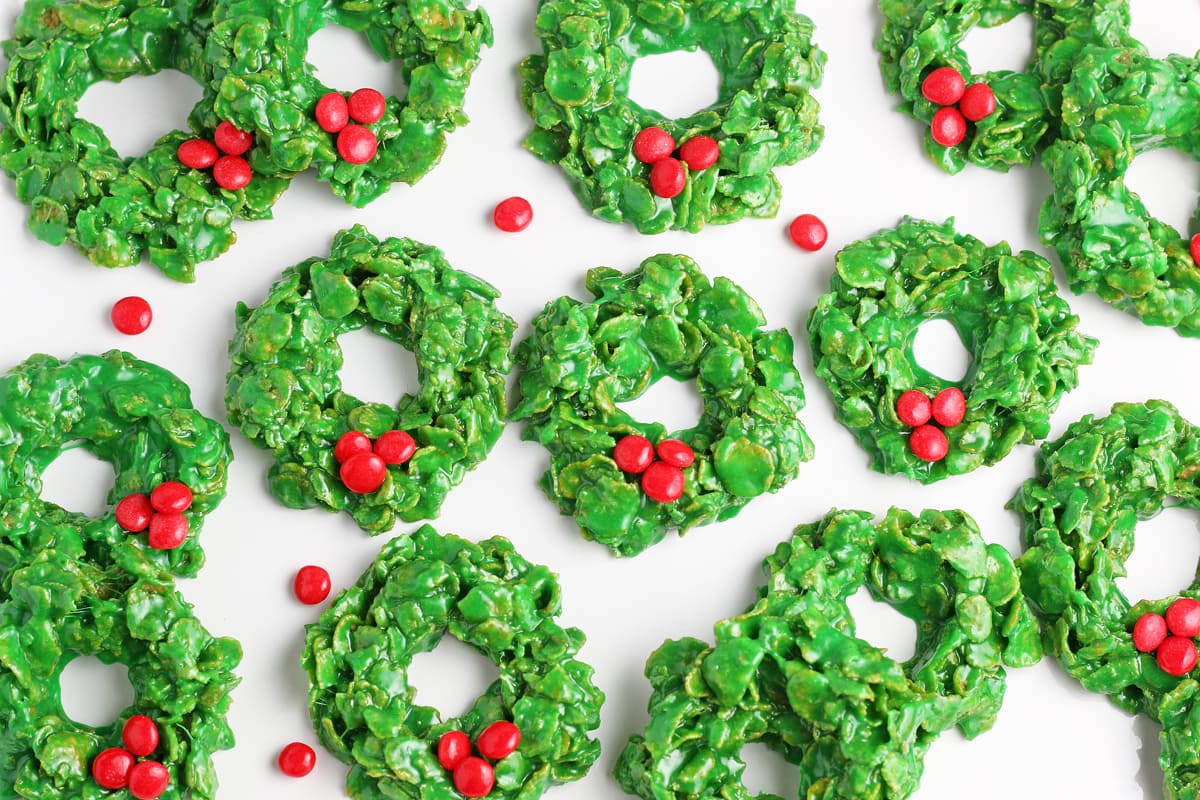 They are a mix of cereal bars, meets rice krispie treats and also no bake christmas cookies. Here is the list of simple ingredients to log with your other easy recipes.
Mini Marshmallows– Mini marshmallows will melt the most evenly. You can for sure use large marshmallows, check out our marshmallow conversion guide to figure out volumes.
Cornflake Cereal – cornflakes mimic the wisps of evergreen and pine trees, but you can really use any cereal you want. Cheerios and Chex will also work, although Chex are a little fragile.
Vanilla Extract– Pure vanilla extract is best. Clear can also be used in a pinch and if you want a totally different flavor profile, opt for almond or peppermint extracts.
Butter– Salted butter was used for this recipe for ease. Since no other ingredients have much salt, I wasn't worried about controlling the levels. Unsalted butter is fine too, but I'd suggest adding a pinch of fine sea salt to balance the sugar.
Green Food Coloring – Gel gives the most vibrant results. Liquid drops can also be used, as can all natural food coloring.
Red Candies– Mini or regular M&Ms or cinnamon candy imperials
Nonstick Cooking spray or vegetable oil– We used parchment paper, but just to be safe!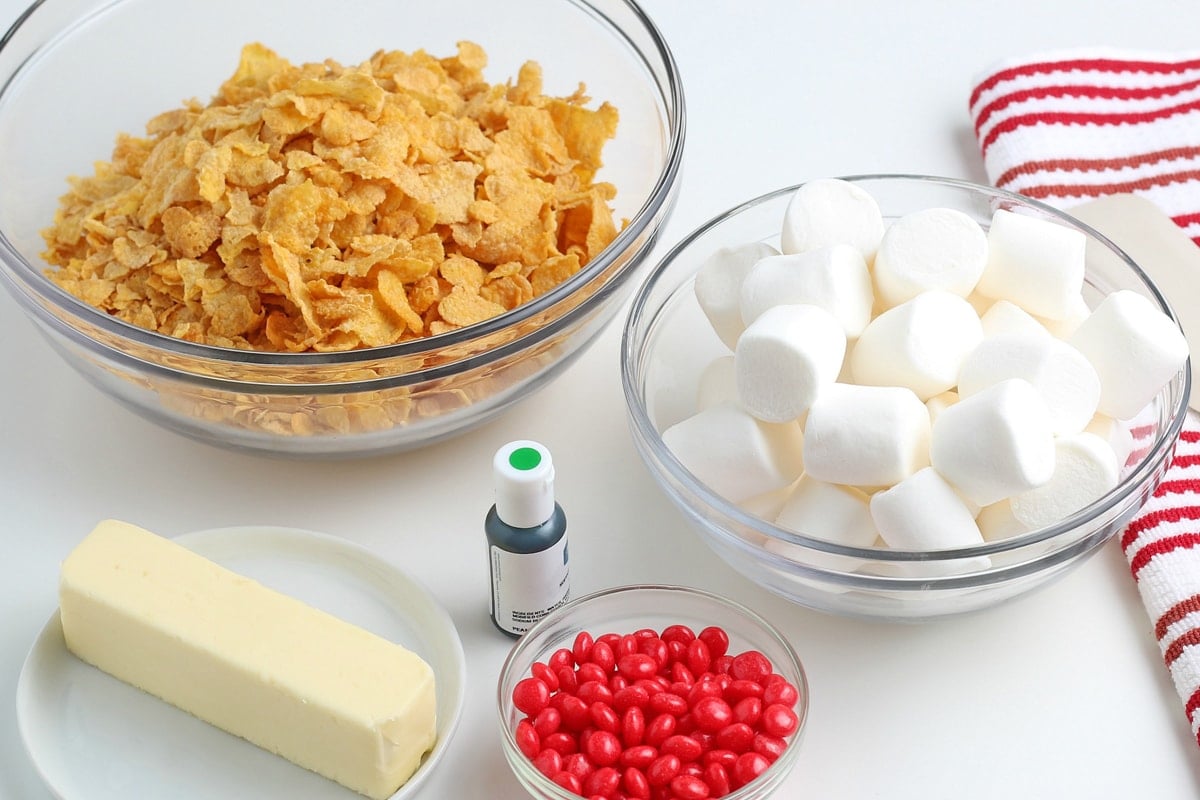 How to Make Cornflake Wreath Cookies
Making them is similar to making rice krispie treats.
Melt butter in a large saucepan, being careful not to burn or brown. Use a pot bigger than you think you need, it makes it much easier to work. Add the marshmallows, vanilla and then for this recipe, green food coloring. Stir well until no streaks remain. Use more or less to get the desired green color.
Toss the marshmallow mixture with the Corn flakes cereal carefully. Don't overmix for the flakes starts to fall apart.
Using a cookie scoop, drop onto a parchment (or wax paper) lined baking sheet. You can spray this with cooking spray to further prevent sticking, but that is optional.
Use food safe gloves (and spray these with cooking spray too!) and mold into little wreaths and decorate with red berries (red cinnamon candies or red M&M).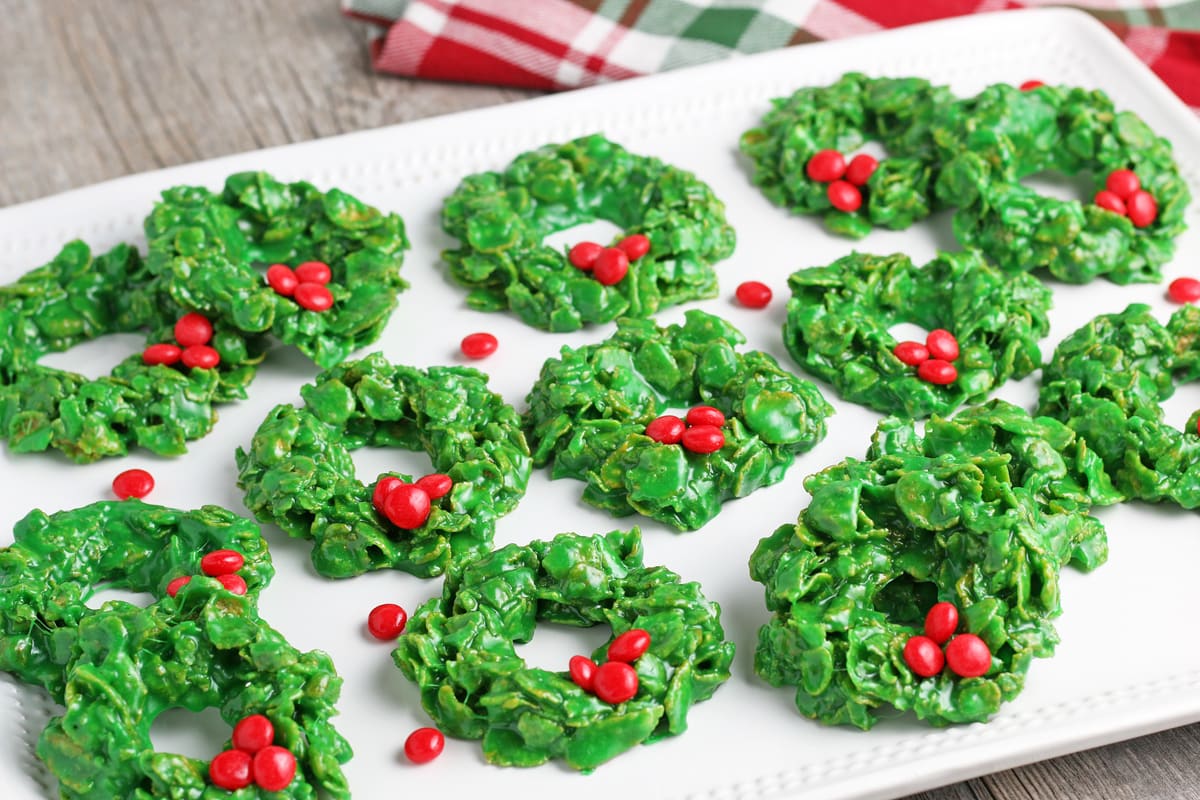 It is, but the shaping of the festive treatss can be a little tricky. The marshmallow mixture is sticky and it is hot! Here are my tips for shaping your wreaths.
Let the mixture cool slightly so it isn't super, burn you hot, but don't wait until it starts to harden.
Wear powderless latex gloves. While these won't keep out all the heat, it makes it more bearable.
Spray your hands with cooking spray or rub a little vegetable oil on them to prevent sticking. You might have to do this several times.
To make it even easier, lay a greased round cookie cutter on the prepared baking sheet and pack the mixture in. Use a smaller cutter or your fingers to create a hole in the middle ro make a wreath shape.
Add red candy embellishments as the holly berries before it fully sets and dries.
If you miss the tacky stage, use dots of red frosting to create the berries or use any other color of frosting as an adhesive.

Cornflake Wreaths Variations
You know I love a few substitutions and variations! There aren't too many options here, but there are a few ways to make your Christmas Wreath Cookies yours…
Use a different flavored extract. While some recipes don't use any at all, I like the added umph of vanilla. Swap this out for almond, peppermint, maple, imitation butter or any other flavor your heart desires.
Flavored marshmallows- Marshmallows are key here! Chocolate, strawberry and other varieties of marshmallows also work. Be mindful that this might impact flavor and color of your cornflake wreaths. You can also omit food coloring and just make a natural, burlap style wreath.
Frosting instead of candy. Red hots or M&Ms aren't a total necessity. If you miss the tacky phase or just don't want to use candy, make a few red dots with frosting.
Decorate your wreath. Mine are traditional, but this is just a jumping off point. Create a bow with fruit leather or add multi colored frosting dots to make Christmas lights.
Use a different cereal. Don't feel chained to Cornflakes. Cheerios and Rice Krispies work, and I am sure any other cereal you prefer will too. I tried this with Chew and they were a little too fragile to form without crumbling, so that is the only one I would stay away from.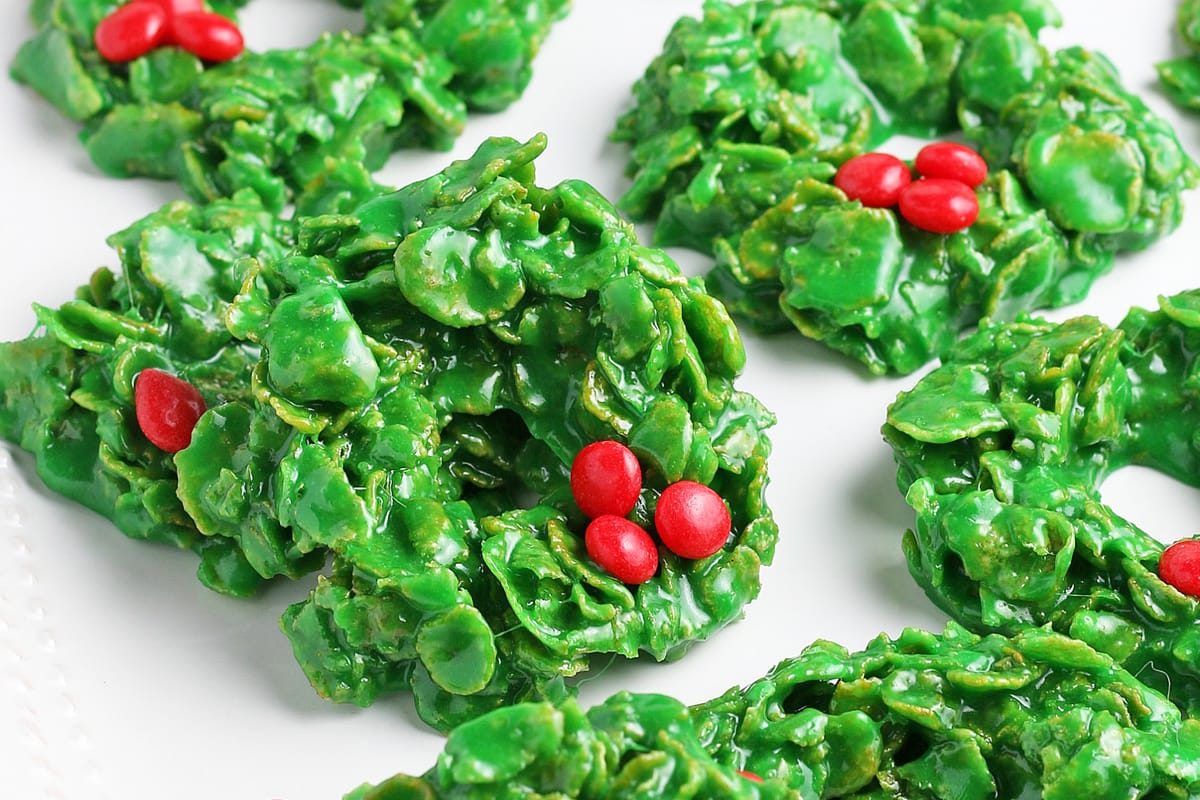 Make Ahead & Storage
Make Ahead & Storage: These festive treats can be made days in advance. They are best enjoyed within 5 days of making.
Let them cool to room temperature and harden fully before stacking in air airtight container. I like to place a sheet of wax or parchment paper between each layer.
Freezing: I do not recommend freezing Cornflake Christmas Wreaths. The marshmallow thaws too hard and chewy. Makes you jaw hurt to eat them! With that said, it can be done if you are really determined to do so, just let them thaw at room temperature.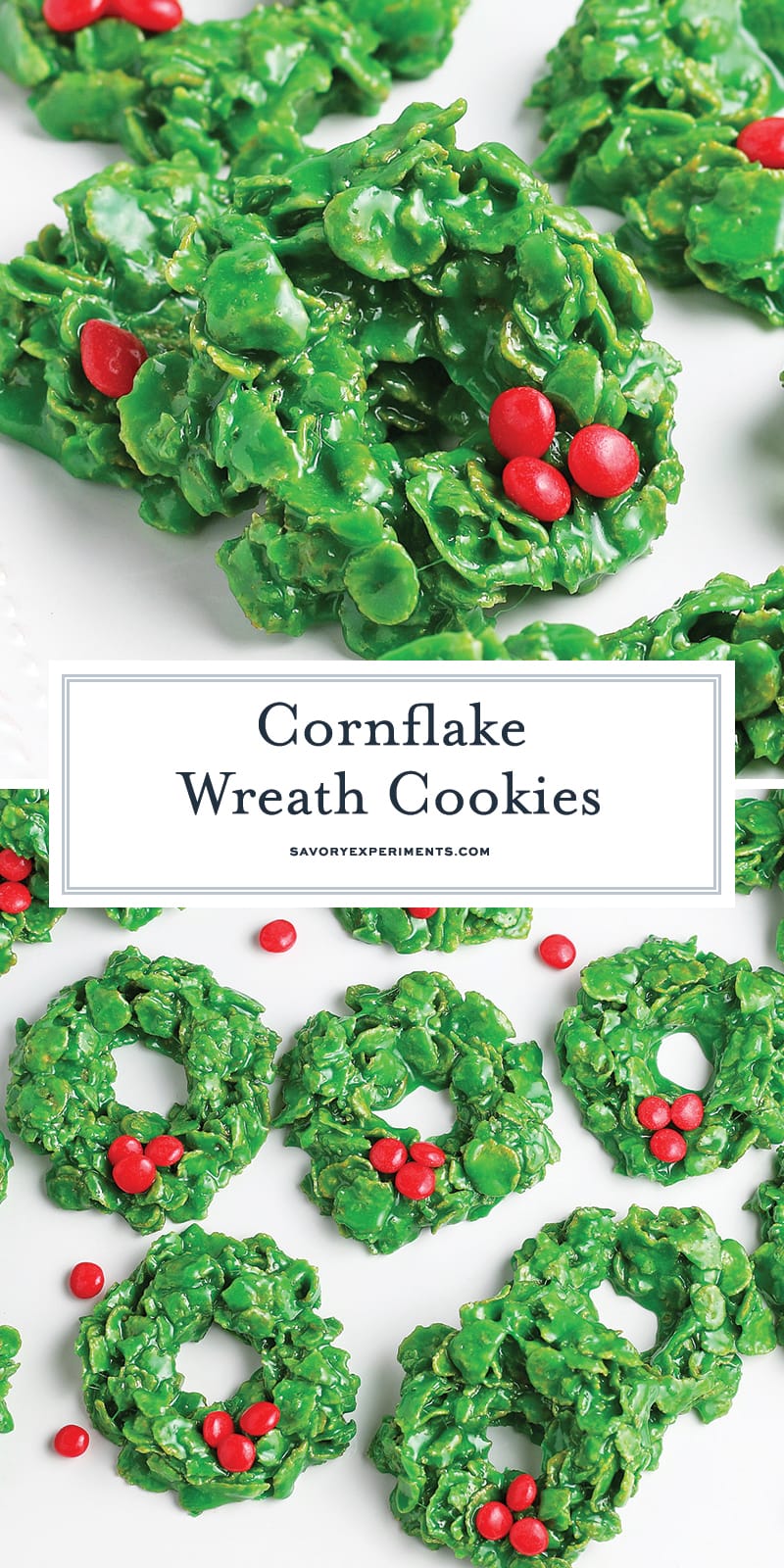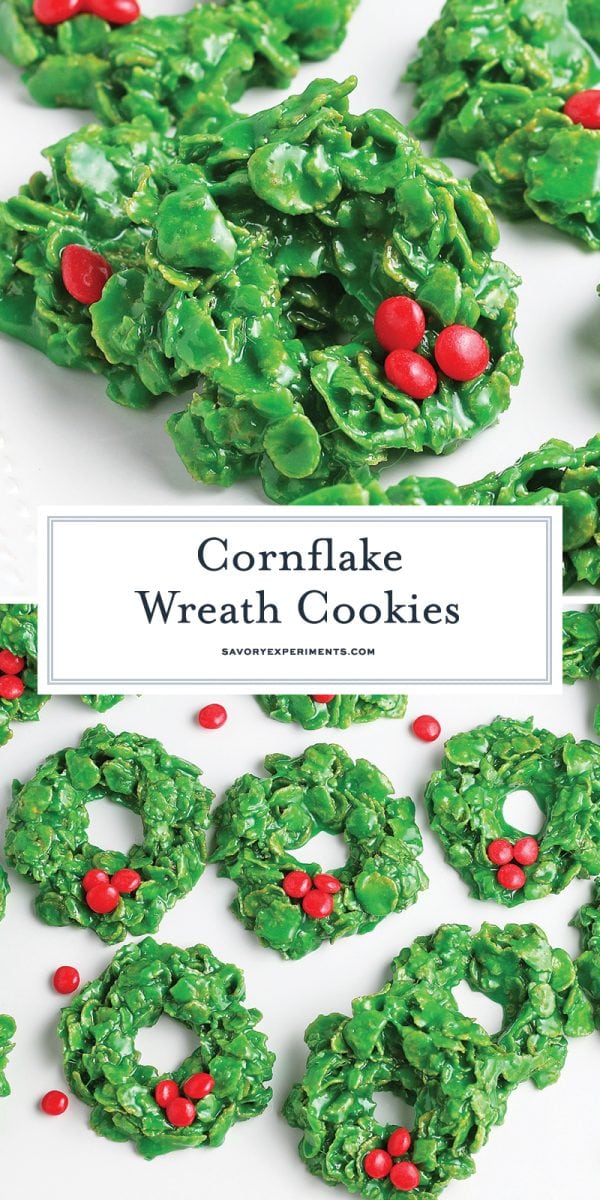 More Christmas cookie ideas: