Christmas Coal Candy Recipe
Looking for a laugh or practical joke around the holidays? Give the gift of coal with this Christmas Coal Candy!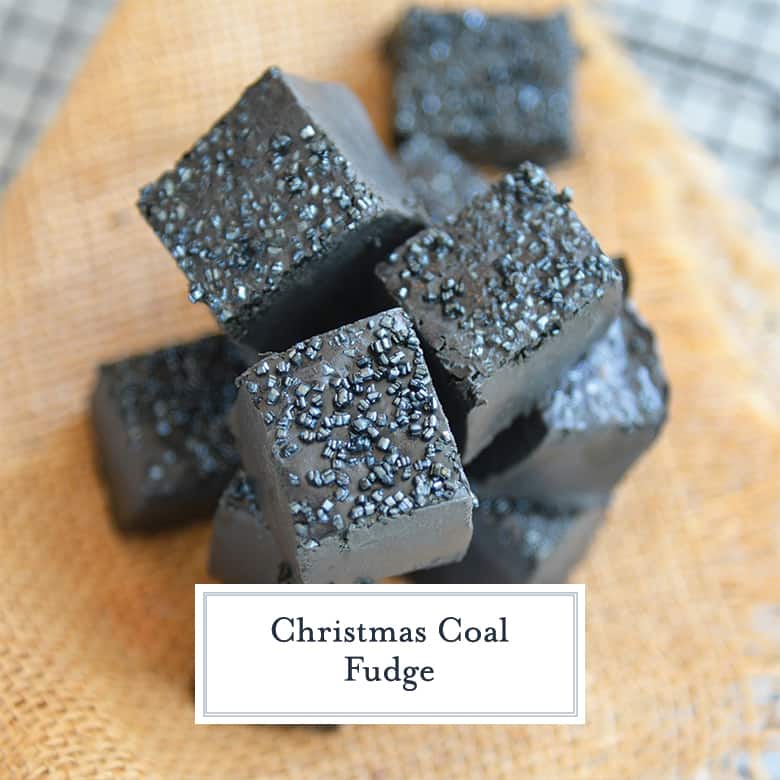 This Christmas Coal Candy is the perfect fudge recipe for Christmas! Give as a gag gift to someone who needs coal for Christmas.
This isn't your typical stinky ore. No, it is a delicious vanilla fudge tinged black with sparkly glitter sprinkles. Not really a punishment, is it?
How did the folklore of coal get started in the US? Some beleive that the tradition of coal started in Holland in the 16th century.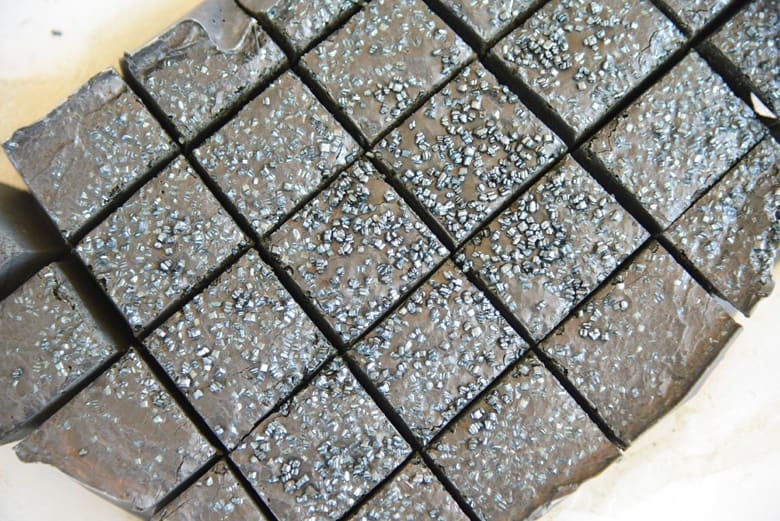 In the days leading up to Christmas, children would leave out their shoes. The children would get coal for bad behavior, but if they were good they got a toy, cookies or candy.
Cookies, candy and toys before Christmas!? YES!
In fact, one of our closest friends is Dutch and his family still has this tradition. Sinterklaas (a version of Santa Claus) and his elves arrives by boat on December 5th for a big festival to kick off the season.
He wears a fancy red cape and is surrounded by his elves, the most famous is named Pete. Up until a few years ago, the elves wore black face paint to symbolize ash from sliding down a chimney, but the times caught up with traditional and now the elves just follow Saint Nick without their makeup.
It's available streaming every year, totally worth watching to kick off the holiday season and also give the kiddos some cultural education.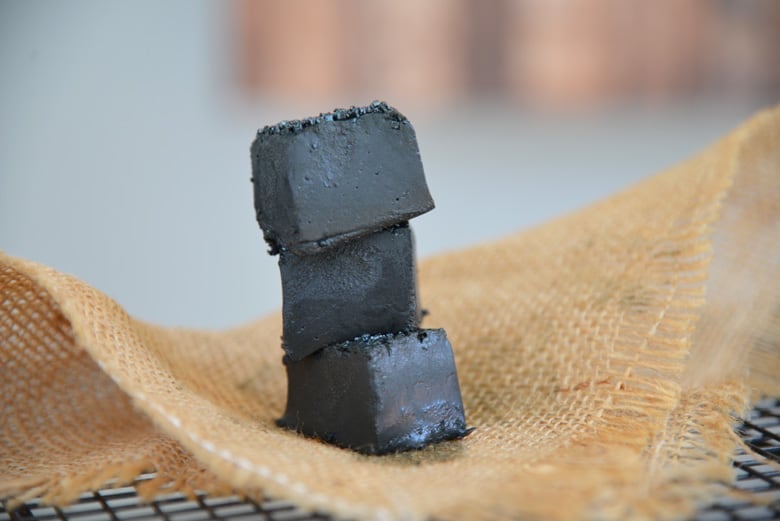 This easy fudge recipe uses a fudge making hack, sweetened condensed milk, unlike traditional fudge that melts sugar with sugar corn syrup.
If you want a traditional fudge recipe, or just want to see the differences, check out my Christmas Fudge Recipe– A delicious Almond Fudge made the old fashioned way!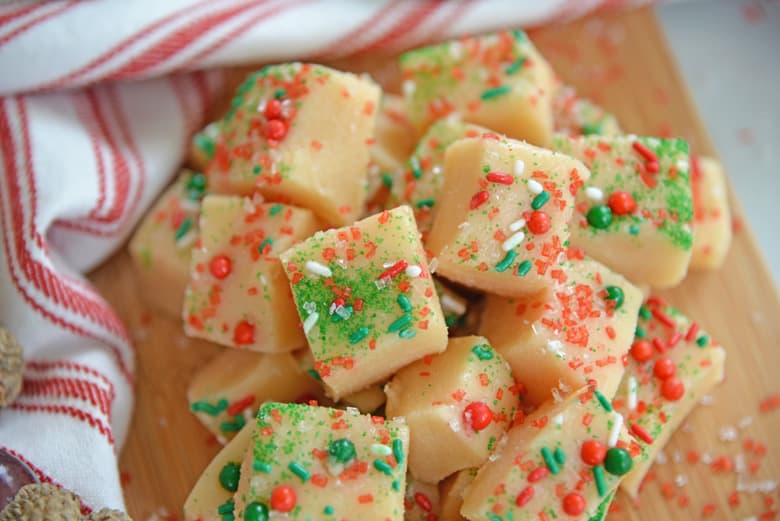 You don't have to be as vigilant with the temperature or technique and it has a lot more forgiveness. You don't even need a candy thermometer!
While the definition of fudge doesn't include chocolate, many folks automatically connect fudge with chocolate. For my Christmas Coal, I did use white chocolate along with A LOT of black food coloring.
I've had several people ask what type of black food coloring I used- it was the McCormick brand black food coloring that comes in its own bottle that resembles an extract bottle.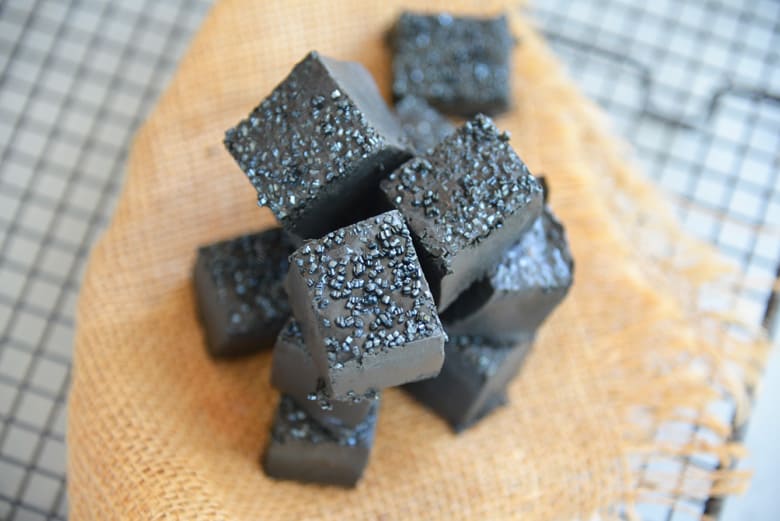 I will not tell you that you only need a drop. You'll need a good amount to achieve a black, and not gray, fudge. I topped mine with metallic gray sprinkles to give it a little bit sparkle.
I've also had folks ask if they can use activated charcoal or black cocoa to get this signature hue. You might be able to, but I doubt it.
Also, both of these are a powdered form and adding a dry ingredient to this recipe would totally throw off the chemistry.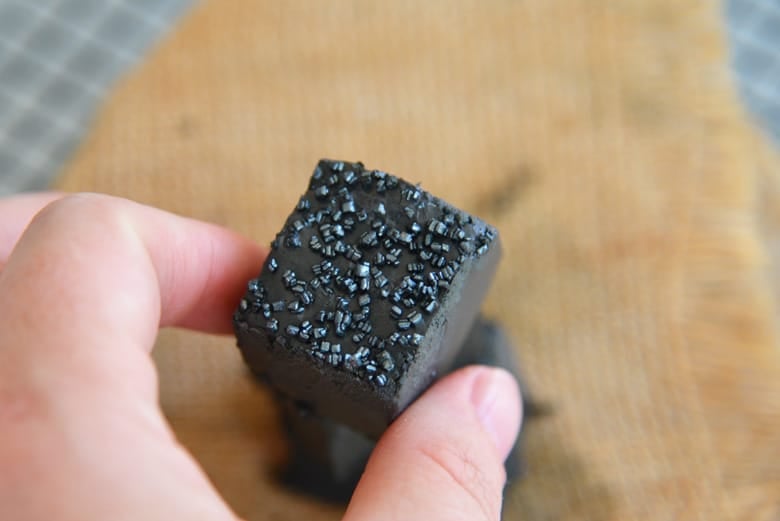 To make this Christmas Coal Candy, start by lining an 8-inch square baking pan with parchment paper. This helps the fudge to release from the pan much easier.
Next, heat the white chocolate, sweetened condensed milk, butter, salt and vanilla extract in a heavy bottom sauce pan. Make sure you are (while still over the heat) stirring constantly until the mixture is completely smooth.
READER TIP: Use milk chocolate or dark chocolate to reduce the amount of black food coloring needed.
Remove the pan from the heat and stir in the black food coloring. Depending on which brand you use, you might need more or less than I did. Just use enough to get it to the desired shade.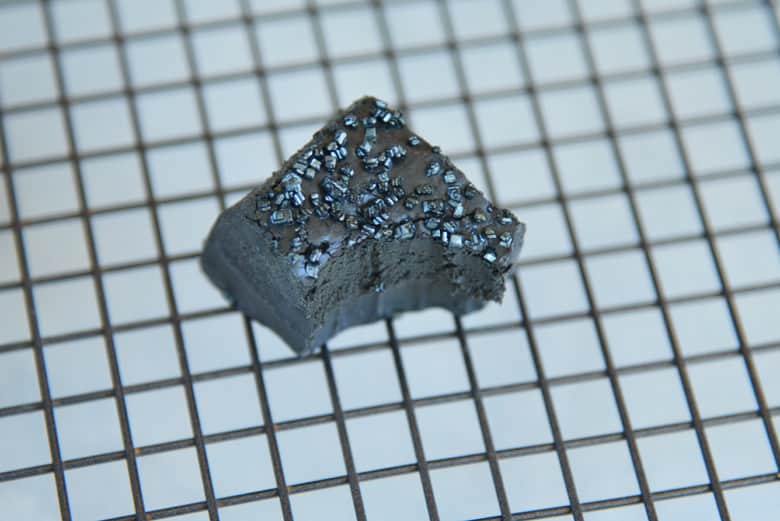 After the food coloring is evenly distributed throughout the Christmas Coal Candy mixture, pour it into the prepared pan. Sprinkle the top with black or silver sprinkles to give your fudge a glittery effect (and a nice crunch)!
I got an awesome suggestion from a reader to roll the chilled fudge into asymmetrical balls and then the sprinkles to get the shape of rocks instead of classic fudge.
Place the pan in the refrigerator and allow to cool completely before cutting. This should take a minimum of 8 hours.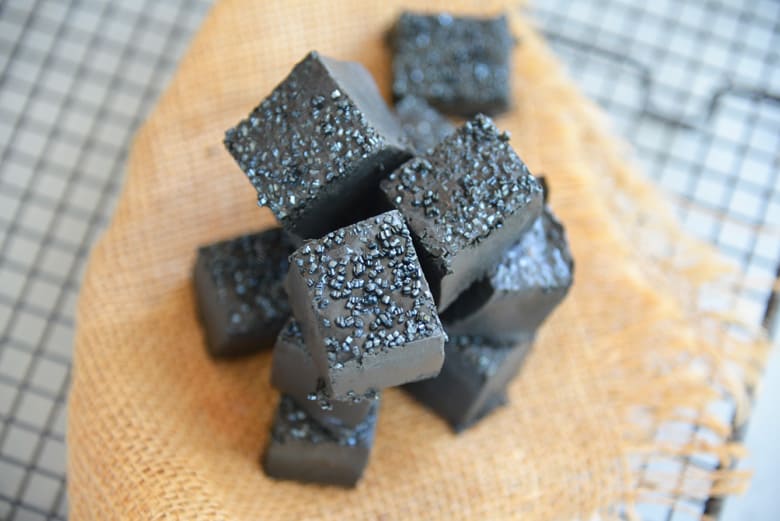 Once completely cooled, you can cut and serve! This Christmas Coal Candy would be perfect to serve at any holiday gathering (especially an ugly sweater party!)
But if you aren't eating it right away, be sure to store in an airtight container.
Imagine the look on your kids faces when you tell them to go grab a lump of coal. Priceless, I'm sure!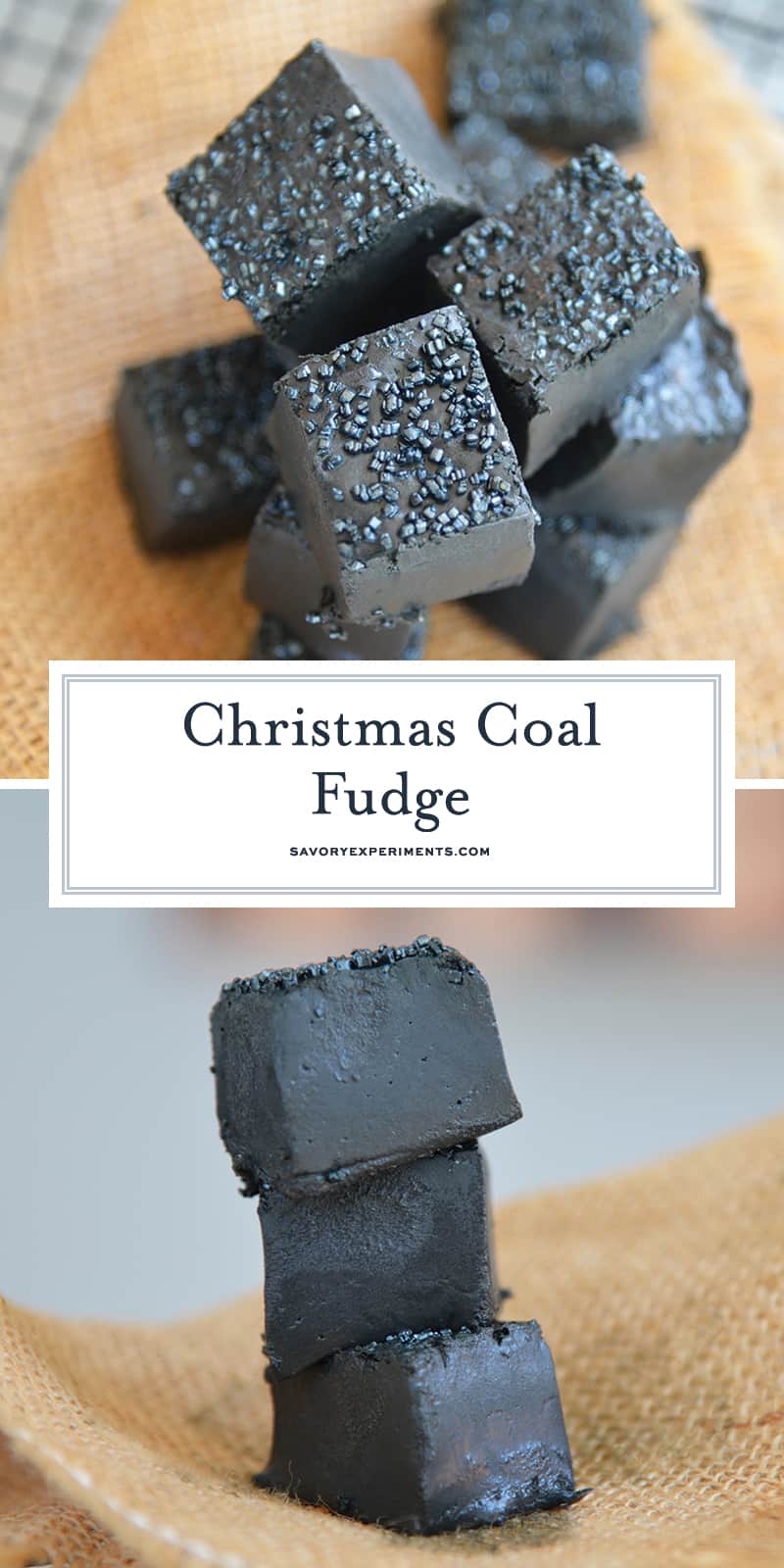 If you love fudge as much as I do, check out these other delicious fudge recipes:
Questions you might have about how to make black fudge:
Do I have to use vanilla? Nope! Use whatever flavors you'd like. Some people like using a licorice flavor and others like to play games with your tastebuds and use an unexpected flavor like raspberry, almond or even peppermint.
How do you store fudge? I like to store mine in the fridge in an airtight container. Allow it to sit for 15 minutes or so before serving to come to temperature.
Can fudge sit out? Yes, you can let fudge sit out, it is cooked. Some folks don't refrigerate it at all.
How long does fudge last? I would say 2-3 days before it starts to dry out.
Why does my fudge sweat? Fudge has some water in it and if it goes through extreme temperature changes, it will produce sweat.
Can I use black cocoa instead of black food coloring? I am sure there is a way to do it, but I don't have that recipe. It also won't give enough to be this solid of a black color.
What does black food coloring taste like? Historically, black food coloring doesn't taste great, but now days and using this recipe, which is admittedly heavy on the sweet stuff, you can't taste it that much.
You can also use a stronger flavor, like licorice or peppermint, to mask it.
Can I use activated charcoal? I do not recommend using activated charcoal for this recipe.
Will black food coloring stain my mouth? The short answer is yes. But no more than anything else with food coloring or a lollipop.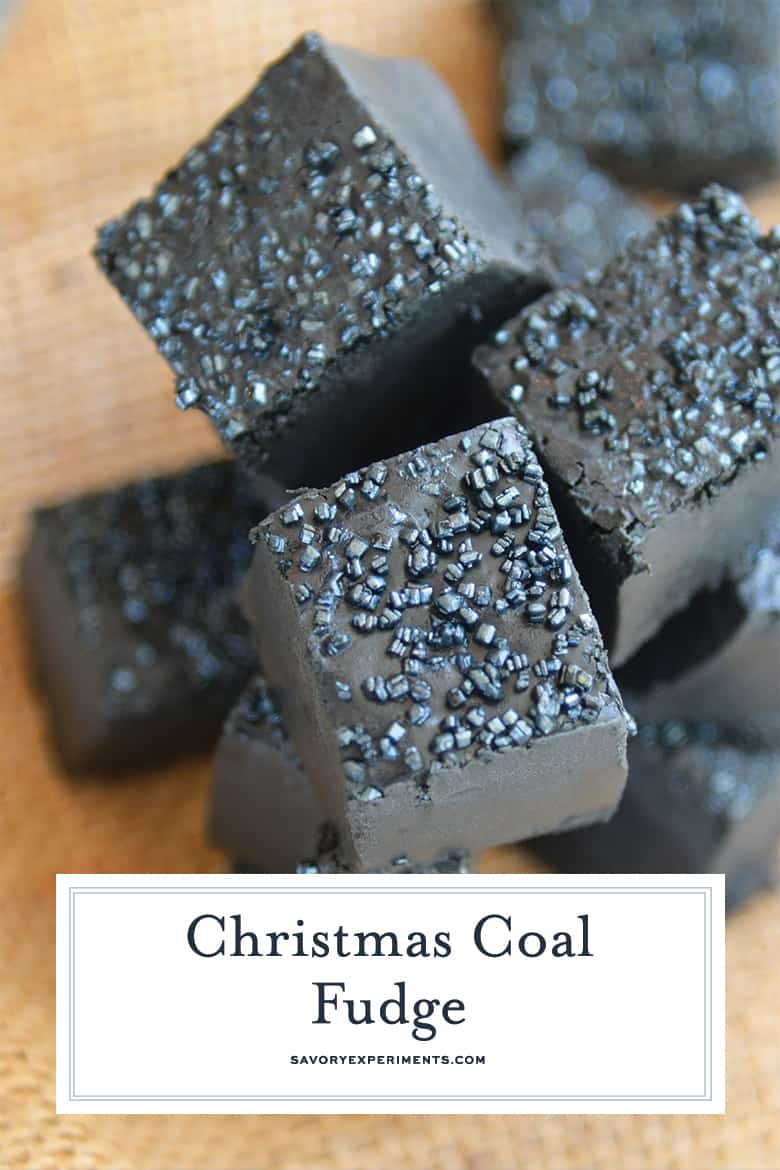 CONNECT WITH SAVORY EXPERIMENTS!

Be sure to follow me on social media, so you never miss a post!

Facebook | Twitter | Youtube
Pinterest | Instagram

Get our FREE 8 Day E-Course on How to Be a Better Home Cook. Sign up HERE!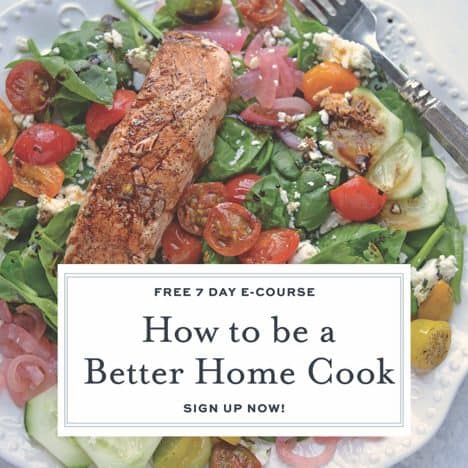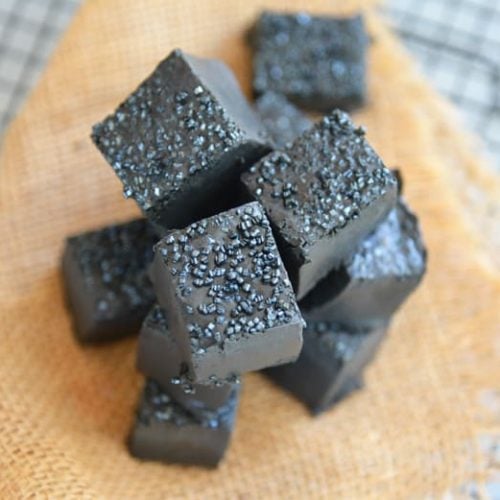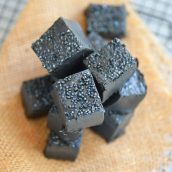 Print Recipe
Christmas Coal Candy
This Christmas Coal Candy is the perfect fudge recipe for Christmas! Give as a gag gift to someone who needs coal for Christmas.
Ingredients
3

ounces

white baking chocolate*

14

ounces

sweetened condensed milk

2

tablespoons

unsalted butter

½

teaspoon

fine sea salt

2

teaspoons

pure vanilla extract

2

tablespoons

black food coloring

Black or silver sprinkles or sanding sugar

, optional
Instructions
Line an 8×8 square baking dish with parchment paper.

Heat white chocolate, sweetened condensed milk, unsalted butter, fine sea salt and pure vanilla extract in a heavy bottom sauce pan.

Stir constantly until mixture is smooth, approximately 5 minutes.

Remove from heat and whisk in black food coloring. You may need more or less depending on the brand.

Pour into parchment lined dish and spread evenly.

Sprinkle with black or silver embellishments, if desired. Allow to cool fully before covering and chilling for a minimum of 8 hours.

Lift parchment out of the pan and cut into 1-inch squares.

If you've tried this recipe, come back and let us know how it was!
Video
Notes
Use milk chocolate or dark chocolate and you can reduce the amount of black food coloring. 
Nutrition
Calories:
94
kcal
|
Carbohydrates:
14
g
|
Protein:
2
g
|
Fat:
4
g
|
Saturated Fat:
2
g
|
Cholesterol:
12
mg
|
Sodium:
104
mg
|
Potassium:
92
mg
|
Sugar:
14
g
|
Vitamin A:
110
IU
|
Vitamin C:
1
mg
|
Calcium:
70
mg
|
Iron:
1
mg