Sweet Potato Quiche Recipe consisting of roasted sweet potatoes, crisp red onions, smoky bacon, fresh rosemary and parsley make for a unique and palate pleasing quiche recipe. Add gruyere cheese and you've got heaven in a pie plate!
Sweet Potato Quiche is an easy quiche recipe that can be made for brunch, as an entree or side dish! Roasted sweet potatoes, red onion, bacon, rosemary, and parsley make this a winning bacon quiche recipe!
Sweet Potato Quiche has been voted the "best quiche recipe" for many Thanksgivings in my home. It doesn't contain your typical quiche ingredients (except egg, because can there really be an eggless quiche?).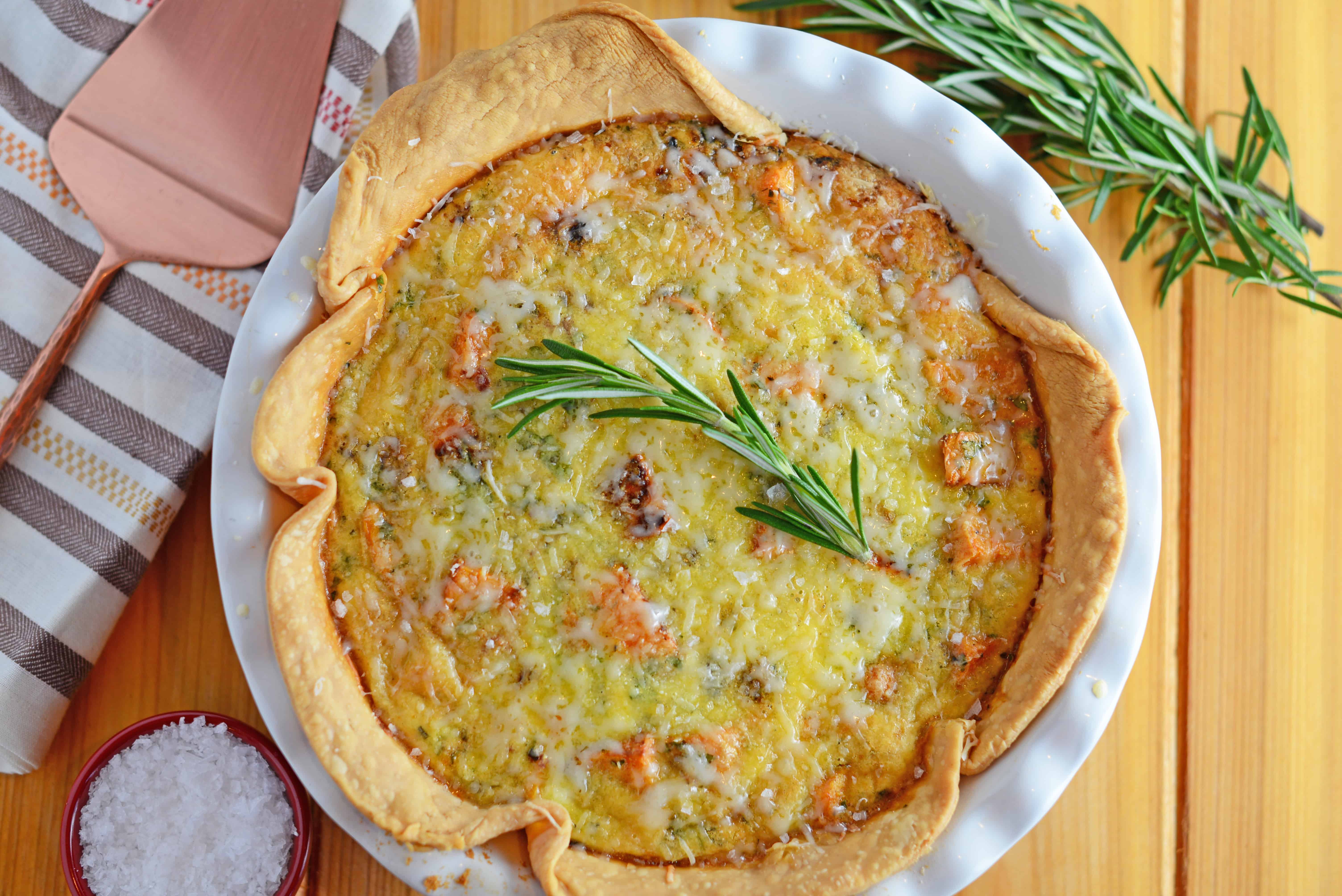 This quiche recipe was originally found years ago while skimming through a Southern Living magazine
. I made a few adaptations, like instead of using a tart shell, I used pie crust and instead of covering it with a layer of pie crust, I covered it with another layer of gruyere cheese.
The original recipe proportions were all off too, I'm honestly not quite sure how they planned to get all of the quiche fillings into the tart, there was just too much!
I've now made Sweet Potato Quiche several times and perfected the amounts. Sweet potato sizes do range, so you might have a little more or a little less.
Just adjust by adding or omitting an egg. Bacon is also optional, but I love the smoky flavor it adds to this classic comfort quiche recipe.
Sweet Potato Quiche requires a deep pie dish
. If you get a shallow dish or pre-made crust, your chunks of sweet potato will never fit. Cooking times may also very, jut make sure the center is set and you will be good to go!
Sweet Potato Quiche also makes for a fabulous potluck dish and can easily be made ahead and frozen.
Did You Know SweetPotato is One Word?
Did you know that sweetpotato is actually one word? Most people still use two, so we do as well, but in 1989 this nun (not an adjective) was officially changed to one word to help standout against it's very commonly confused cousin the yam.
And as we know, sweet potatoes are not yams! You've likely never even had a yam in your lifetime because they aren't grown in the US. So bring up this little bit of trivia at your table tonight.
If you enjoyed this Sweet Potato Quiche Recipe, be sure to check out these other easy quiche recipes: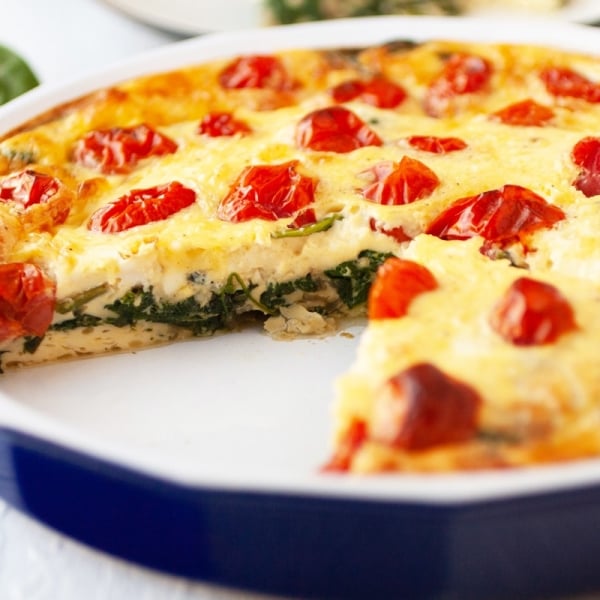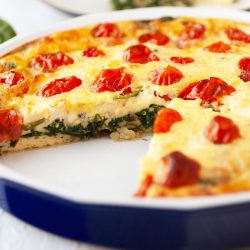 Sweet Potato Quiche Recipe
Sweet Potato Quiche can be made as a brunch, entree or side dish. Roasted sweet potatoes, red onion, bacon and rosemary make this a winning quiche recipe!
Instructions
Preheat oven to 350 degrees. Unwrap and lay room temperture pie crust into a deep 9-inch pie dish. I do not arrange the edges because I like the rustic look, but you can totally pinch and fold to make it look pretty. Pierce the bottom and sides several times with a fork. Bake for 8-10 minutes or until it is just barely starting to cook and brown. Remove and set aside.

Prepare sweet potatoes and onion by placing them in a large bowl and tossing with extra virgin olive oil and freshly cracked pepper. Spread in a single layer on a rimmed baking sheet and bake at 350 degrees for 20-25 minutes, or until potatoes are fork tender.

Combine crumbled bacon, chopped parsley, beaten eggs, half & half, chopped rosemary, fine sea salt and 1 1/2 cups finely shredded Gruyere cheese in a large mixing bowl, stirring well to combine.

Transfer sweet potato and red onion mixture to prepared pie crust. Arrange ingredients as easily as possible so you get a taste of everything in each in bite.

Pour egg mixture over sweet potatoes and red onion until just reaching the top of the pie crust.

Place into the oven and bake for 25-35 minutes, or until center is set. Top with remaining 1/2 cup Gruyere cheese while still warm. Serve immediately or refrigerate and re-warm at 350 degrees for 10 minutes.

If you've tried this recipe, please come back and let us know how it was!
Notes
Bacon is optional.
A deep dish pie plate is necessary.
If the edges of the pie crust are starting to brown, loosely place a sheet of aluminum foil over the top.
Nutrition
Calories:
348
kcal
,
Carbohydrates:
12
g
,
Protein:
15
g
,
Fat:
26
g
,
Saturated Fat:
10
g
,
Cholesterol:
107
mg
,
Sodium:
444
mg
,
Potassium:
126
mg
,
Vitamin A:
630
IU
,
Vitamin C:
3.2
mg
,
Calcium:
360
mg
,
Iron:
1.1
mg