If you're looking for easy asparagus recipes, look no further! With the perfect amount of cheese and asparagus, this Crustless Asparagus Quiche is the perfect dish for any brunch, breakfast or brinner.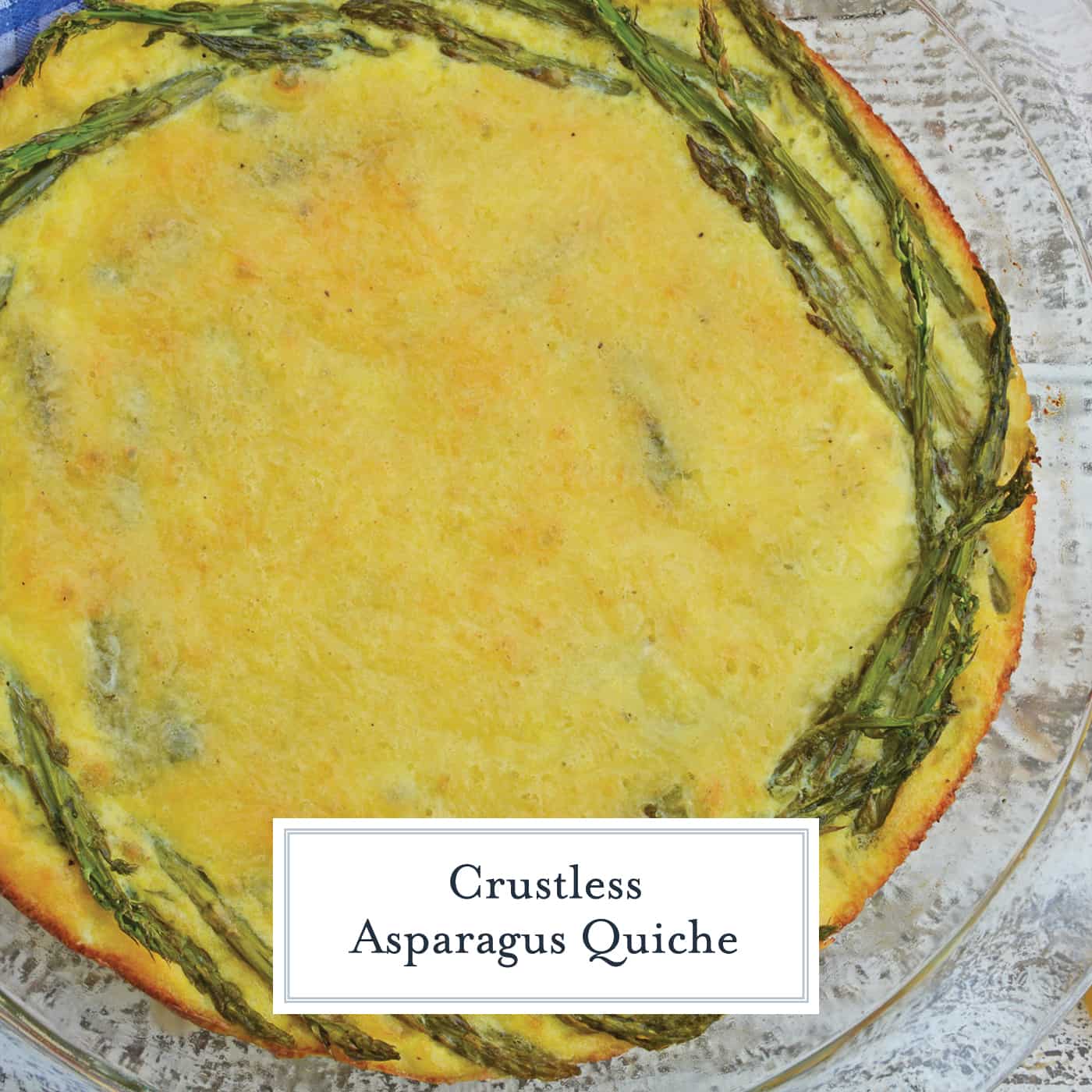 This crustless quiche recipe is one of the best asparagus recipes. An asparagus quiche would be a great addition to your next breakfast, brunch or lunch!
Asparagus Soup is sponsored by Michigan Asparagus. Although I received compensation for this post, the opinions and statements are 100% my own.
Every year in June, Oceana County, Michigan (also nicknamed the asparagus capital of the world) holds the National Asparagus Festival.
This festival has everything from pageants and a parade to farm tours and asparagus taste testing. Not to mention the best asparagus recipes out there.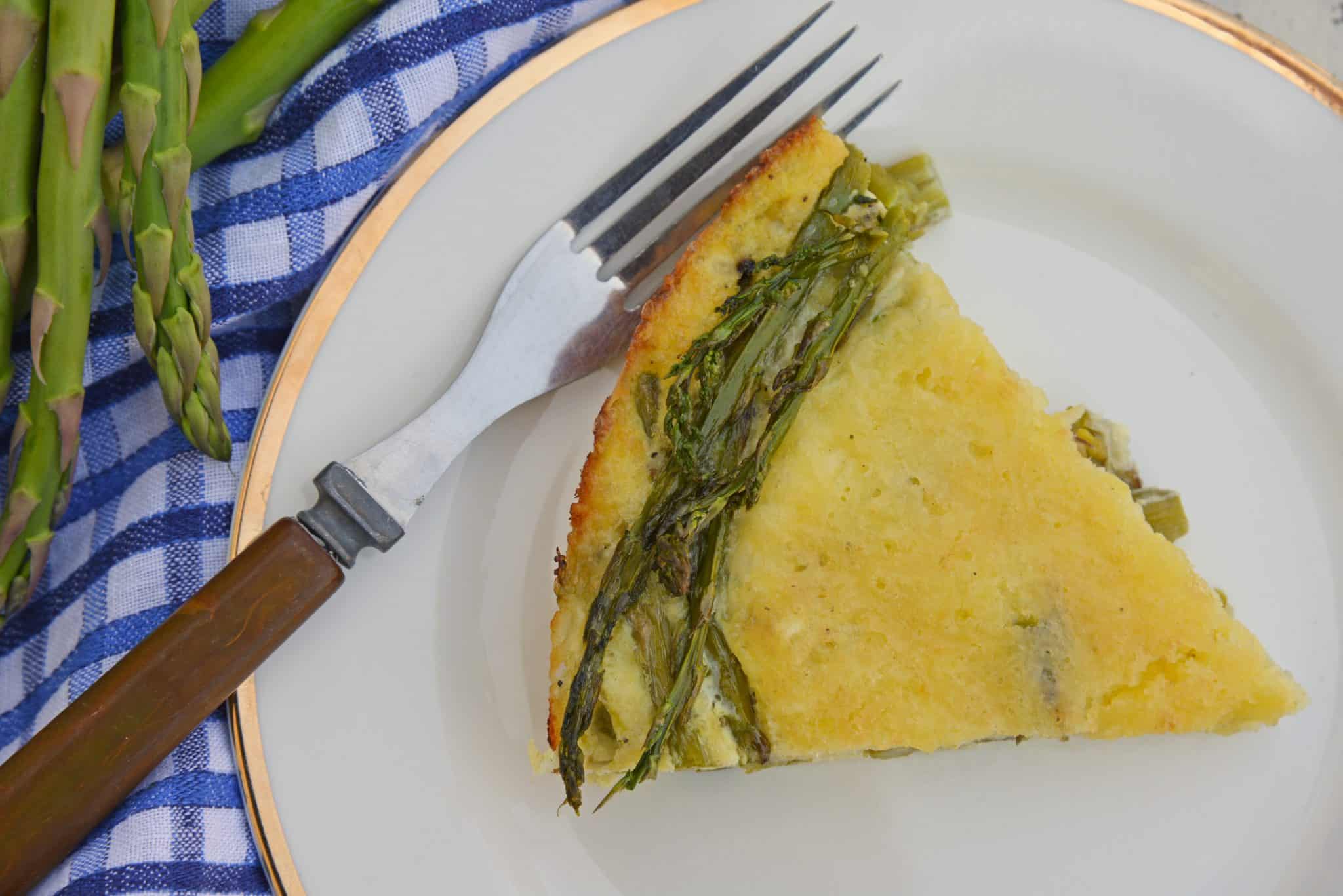 The growing season for asparagus is particularly short. Due to this, people have found ways to preserve it for as long as possible. Some of these preserving techniques include pickling and freezing. In fact, around 60% of Michigan's asparagus is frozen, canned or pickled.
One of the things that I love most about asparagus is that there are SO many asparagus recipes out there! Whether it's served by itself as a side, put into a salad or used in a soup, asparagus is versatile.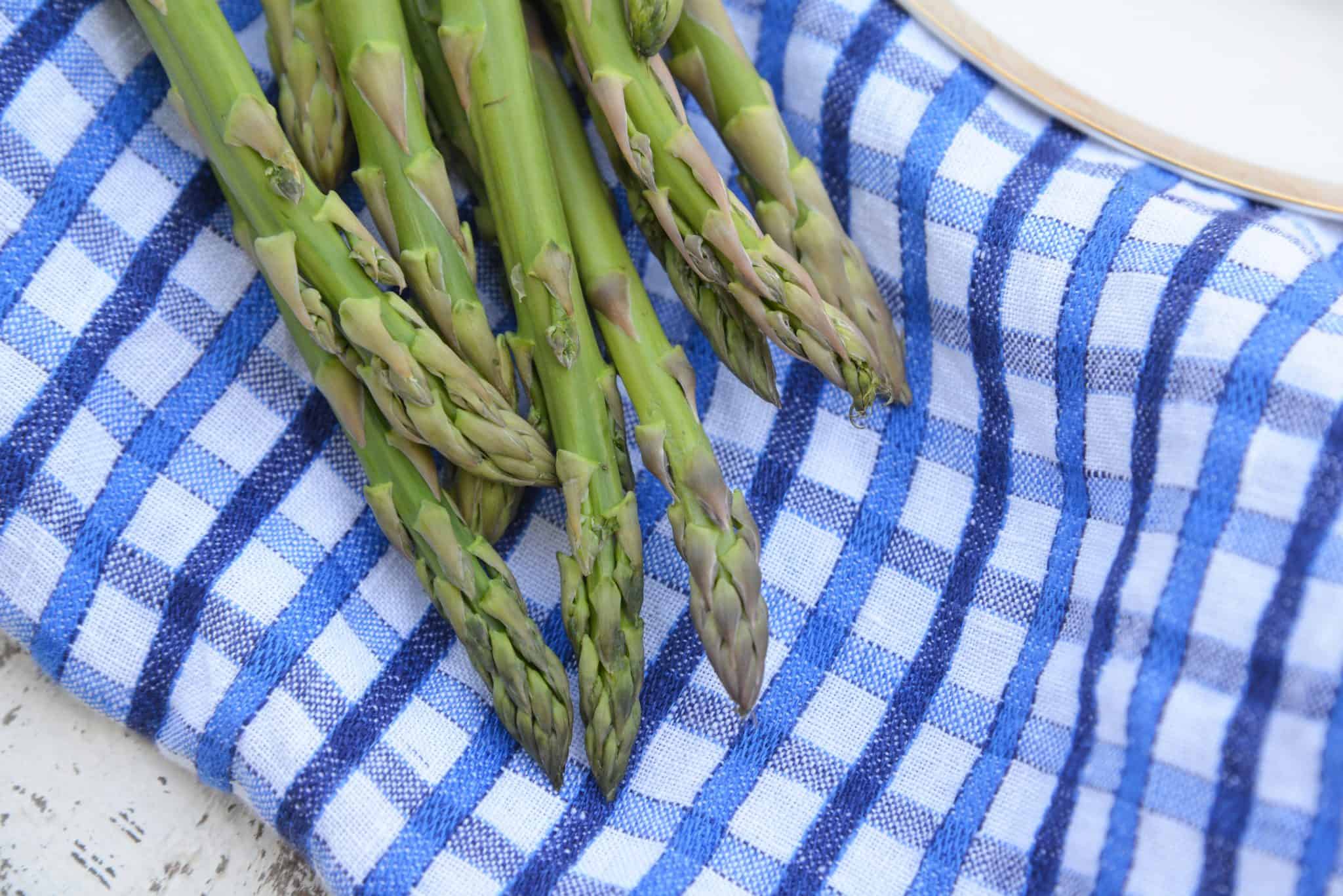 Asparagus also has plenty of health benefits including being fat and cholesterol free with nearly no sodium. It is also considered a good source of potassium, fiber, thiamin and vitamin B6.
Because of the low amount of pesticides used, asparagus is one of the safest crops to consume. It is one of the few foods that does not need to be purchased organic. More asparagus for all!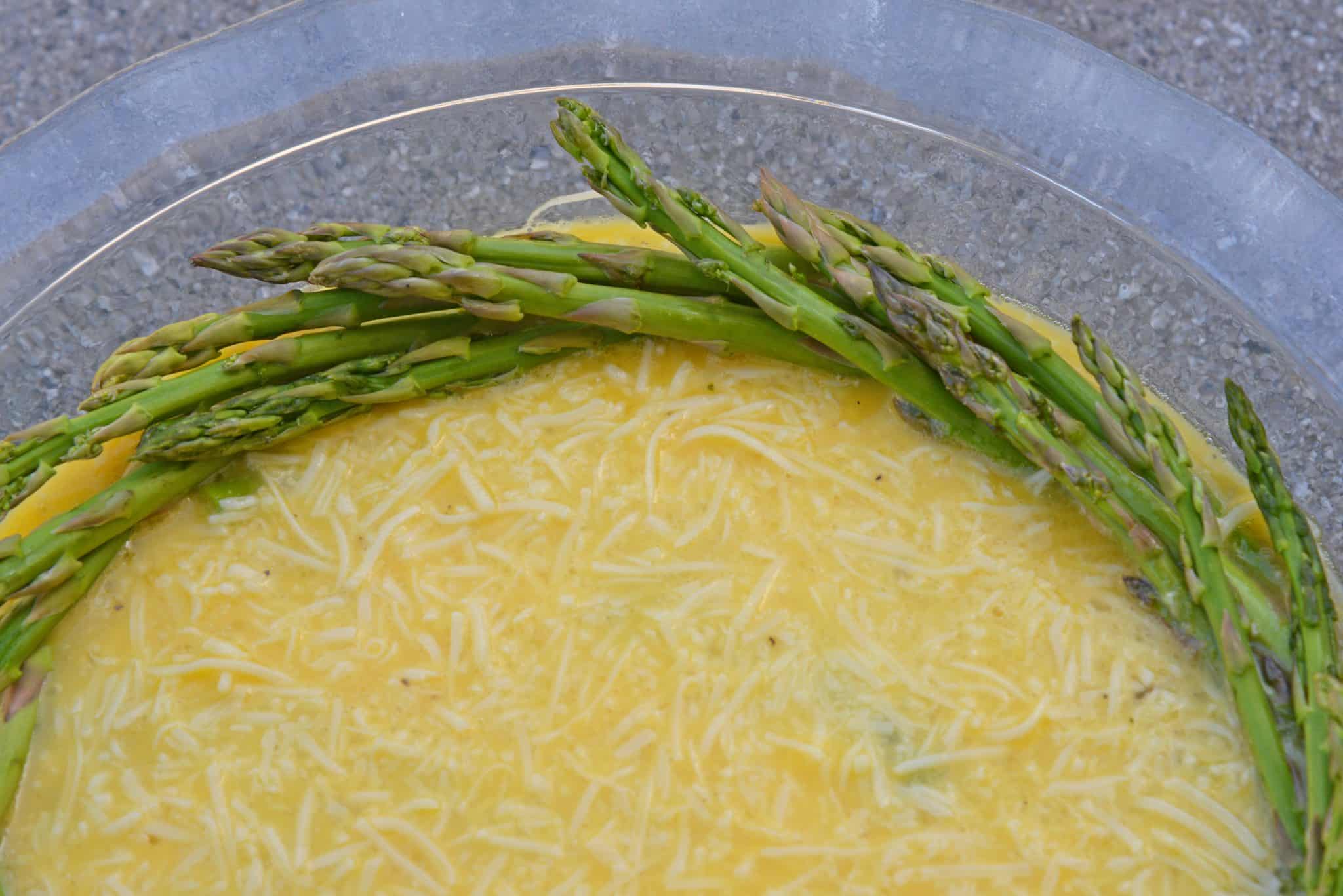 Well, not if you are in my house. Asparagus happens to be my 8-month old daughter's absolute favorite food. She practically ate this whole crustless quiche herself!
A crustless quiche recipe is an especially healthy way to consume asparagus because it cuts down on carbs. This particular quiche uses the asparagus stalks to add some stability to the egg.
This crustless quiche is perfectly seasoned with staple ingredients that you more than likely already have in your pantry. Salt, pepper, garlic powder and Swiss cheese add a simple but delicious flavor. Asparagus has enough of its own, so we just want to complement, not overpower.
PRO TIP: Just to make getting your quiche in and out of the oven easier, place it on a baking sheet. It is easier to grab and not dent or mar your creation.
Beyond being healthy, this asparagus quiche has a beautiful braided frame made entirely of asparagus. The trick to this is cutting the stalks to 3-4 inches, then layer on each other the whole way around. Use the cut pieces to bake into the quiche.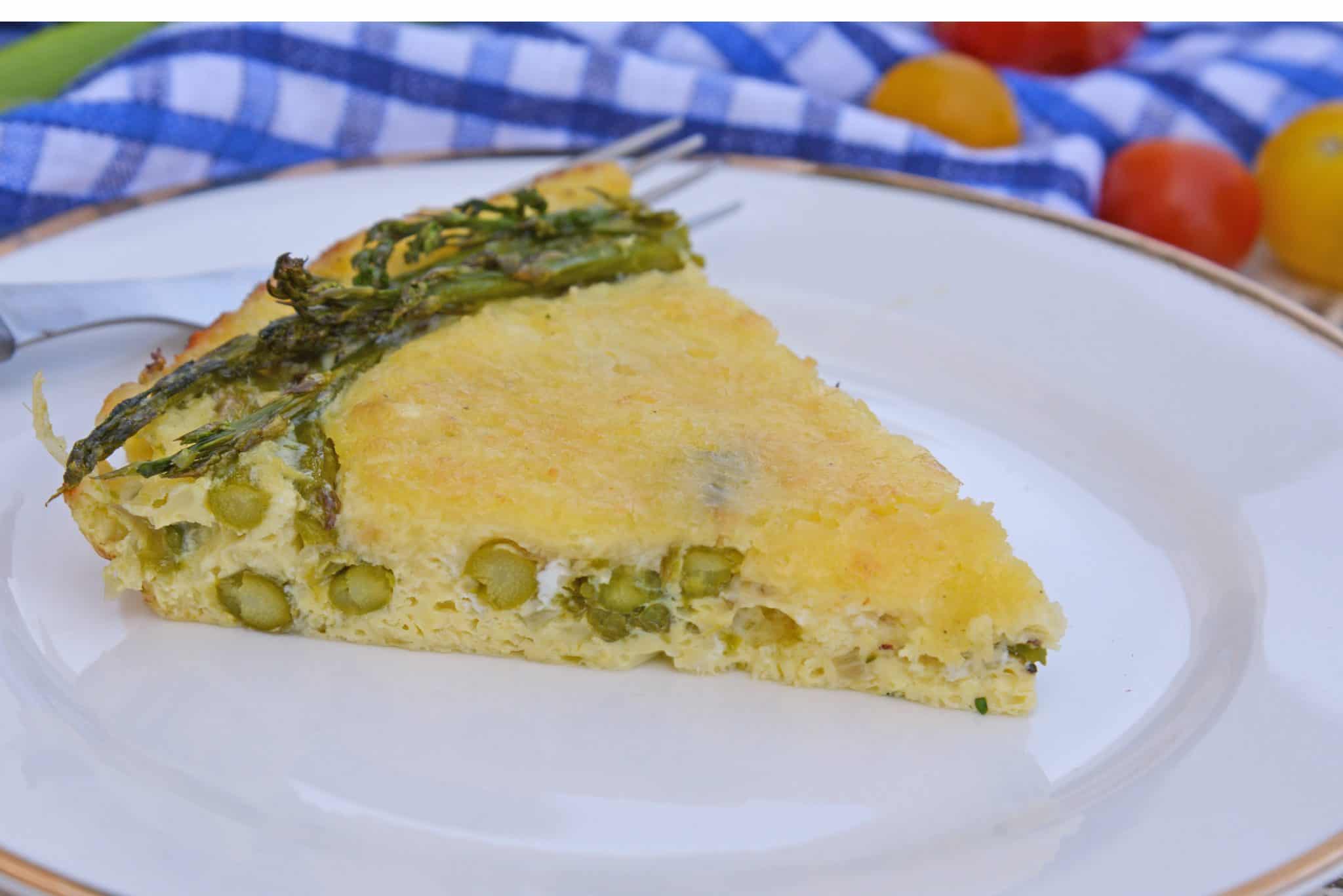 This crustless asparagus quiche is elegant enough to make for a brunch, but can be easily made for a weekday breakfast as well. It's a great way to add some veggies to your breakfast!
It can also be made ahead of time or frozen. sometimes I make three (if the crowd is big enough) to have a selection, broccoli quiche and crustless spinach quiche are the other two favorites. All green, who knew?
You will love these other asparagus recipes: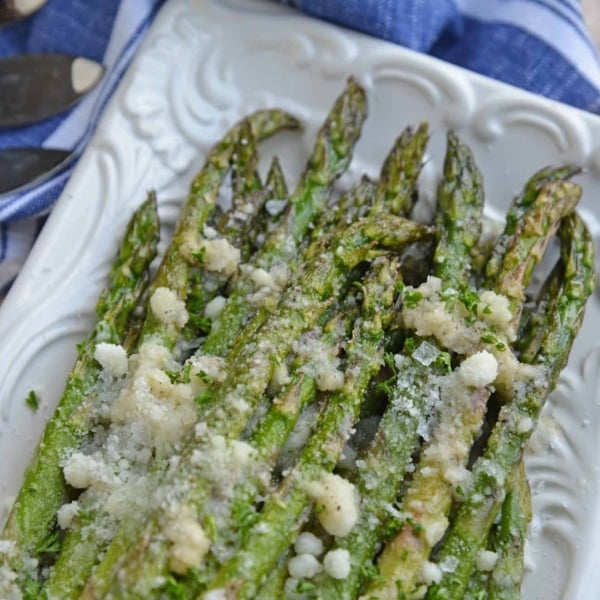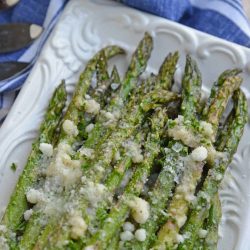 Garlic Parmesan Asparagus
Garlic Parmesan Asparagus is an easy side dish with loads of flavor. One of your favorite vegetables covered in fresh garlic and Parmesan cheese, what could be better?
See The Recipe!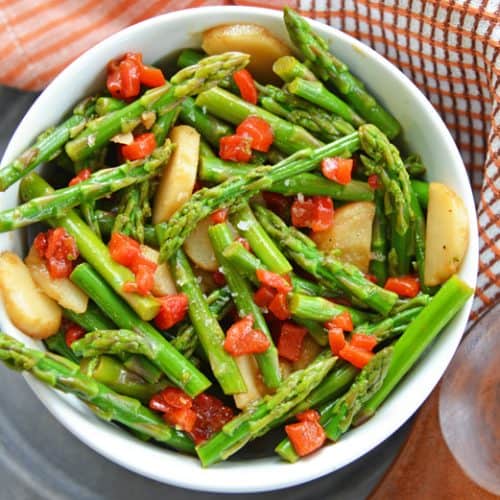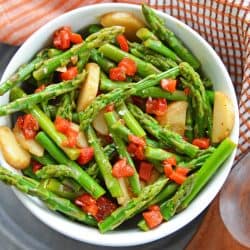 Tools for making Crustless Asparagus Quiche:
Pie Plates– I think every kitchen should have at least three shallow dishes or pie plates for the process of breading and frying. You can also bake pies in them! Hehe.
Heavy Bottom Frying Pan– this will be one of your most used kitchen tools. Having something that is heavy bottom will distribute heat better and prevent burning whether you are using an electric or gas range.
Wood cutting board – wood won't dull your knives like plastic and if treated properly, has natural antimicrobial properties.
Good knife – Global is my favorite! They are worth the price, I promise. I am kind of obsessed with them and store them tucked away so no one else can use them. Including hubby. Hands off my good stuff!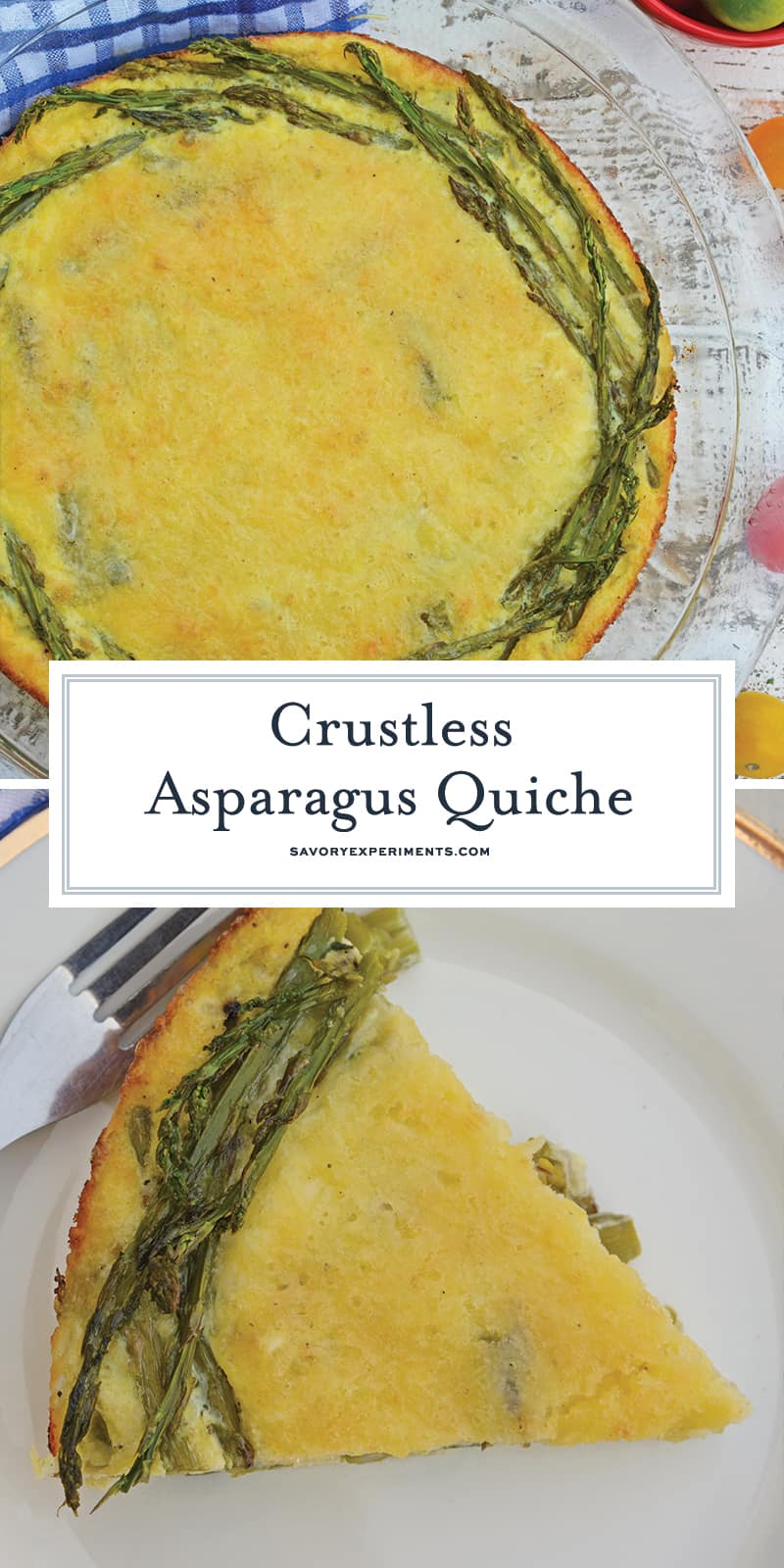 Questions you might have about how to make quiche:
Can I add ham? Yes, you can surely make this a ham and asparagus quiche. It is a lovely flavor combination. I would suggest adding 1/2 cup cubed ham in step number 4 when you fold in the cheese.
Can I add mushrooms? Yes you can also make this a mushroom and asparagus quiche, a vegetable quiche for the record books!
Since mushrooms contain so much water, you'll want to sweat them out in the frying pan along with the shallots in step number 2. You can use about 8 ounces of sliced mushrooms.
You can also add spinach in the same way. Use about 12 ounces of spinach as it wilts down to nearly nothing.
What can I substitute for butter? You can use olive oil or even coconut oil.
Can I freeze quiche? Yes, it is quite popular to freeze cooked eggs. Make sure you package it well in airtight container or plastic wrap. Quiche slices can be frozen for up to 4 months. Eggs are best defrosted quickly in the microwave for about 30-45 seconds.
Can I make quiche ahead of time? Quiche, whether it has a crust or is crustless, can be made up to a day before hand and reheated when ready to serve. Although some even like it room temperture.
However, I like mine to be fresh, as reheated eggs can sometimes be rubbery, so I prepare the egg and asparagus mixture the day before and then assemble and cook it the day I am serving. It is still super easy.
Where does quiche come from? Quiche is French in nature, but has become a standard part of American brunch culture as well. Quiche Lorraine, quiche made with bacon and cheese, was the first and most popularized version. Most say it came to the US in the 1950s.
Are quiche and frittata the same thing? They are very similar, frittata is Italian and usually starts in a frying pan with the eggs poured over. Quiche is only baked.
Can I make this asparagus quiche in to quiche cups? Yes! You can use a 12 count muffin tin, simply divide up the egg mixture into muffin tins sprayed with nonstick spray. Bake at 350 for about 15 minutes.
Can I add more eggs? You can add more eggs, but be mindful that this might require a large baking dish and/or longer cooking time. Maybe a 9×9 baking dish would work better. Add up to 10 eggs to serve more individuals.
What kind of cheese do you use for quiche? For this quiche, I used Swiss cheese, but you can literally use whatever cheese you prefer. The cheese police will not come tell you it isn't a frittata because you didn't use "the right" cheese.
Gruyere cheese and Parmesan cheese, both hard cheese are excellent substitutions, although I see most people using a sharp cheddar cheese.
What can I substitute for milk? You can use any fat percentage of milk, half and half or even cream. You can also omit the milk, but it does help make the eggs fluffier and softer.
Is quiche gluten free? I can't speak for all quiche recipes, but this crustless quiche recipes is gluten free. If a quiche recipe has flour, you can generally omit the flour and it will be okay, it will just impact the fluffy factor.
Can I make this quiche in a pie crust? Yes! By all means, go ahead and use a premade pie crust and pour it on in there. The baking time shouldn't be impacted as the crusts are typically precooked.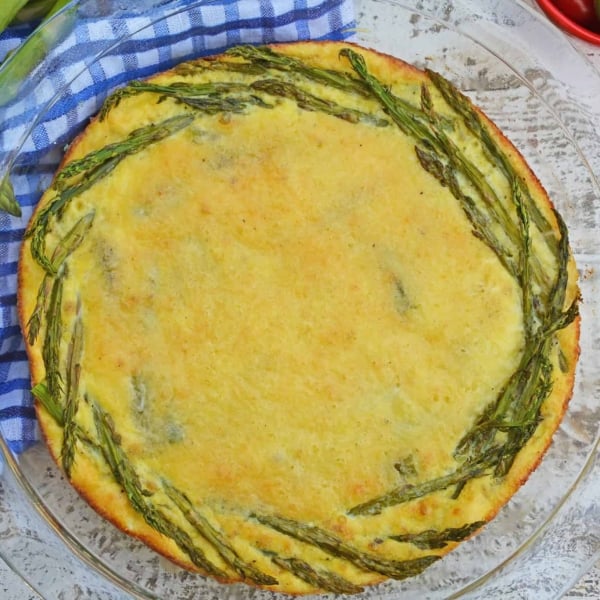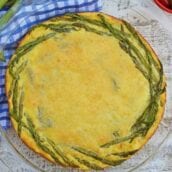 Crustless Asparagus Quiche
This crustless quiche recipe is one of the best asparagus recipes. An asparagus quiche would be a great addition to your next breakfast, brunch or lunch!
Instructions
Preheat oven to 350 degrees.

Heat butter in a medium frying pan over medium heat. Add asparagus and shallot. Saute until just tender, approximately 5 minutes. Remove from heat and set aside.

Beat eggs in a medium mixing bowl. Continue to whisk in milk, fine sea salt, ground black pepper and garlic powder.

Fold in Swiss cheese and asparagus mixture.

Spray a 9-inch pie plate with cooking spray. Pour in egg mixture.

Create a fun asparagus design, if you choose.

Bake for 40-45 minutes or until quiche is lightly browned and no longer jiggles.

Remove and allow to cool for 5 minutes before cutting and serving.

If you've tried this recipe, come back and let us know how it was!
Notes
If you plan to line your crustless quiche with a frame, like mine, choose thinner stalks (they bend easier) and aim for about 15. Overlap them to create a frame, or a "princess crown" as my husband calls it.
Nutrition
Calories:
152
kcal
,
Carbohydrates:
3
g
,
Protein:
9
g
,
Fat:
11
g
,
Saturated Fat:
6
g
,
Cholesterol:
128
mg
,
Sodium:
250
mg
,
Potassium:
124
mg
,
Sugar:
1
g
,
Vitamin A:
620
IU
,
Vitamin C:
1.8
mg
,
Calcium:
187
mg
,
Iron:
1.2
mg
For more recipes and information on the wonderful world of asparagus, visit www.michiganasparagus.org.