If you're looking for easy asparagus recipes, look no further! With the perfect amount of cheese and asparagus, this Crustless Asparagus Quiche is the perfect dish for any brunch, breakfast or brinner.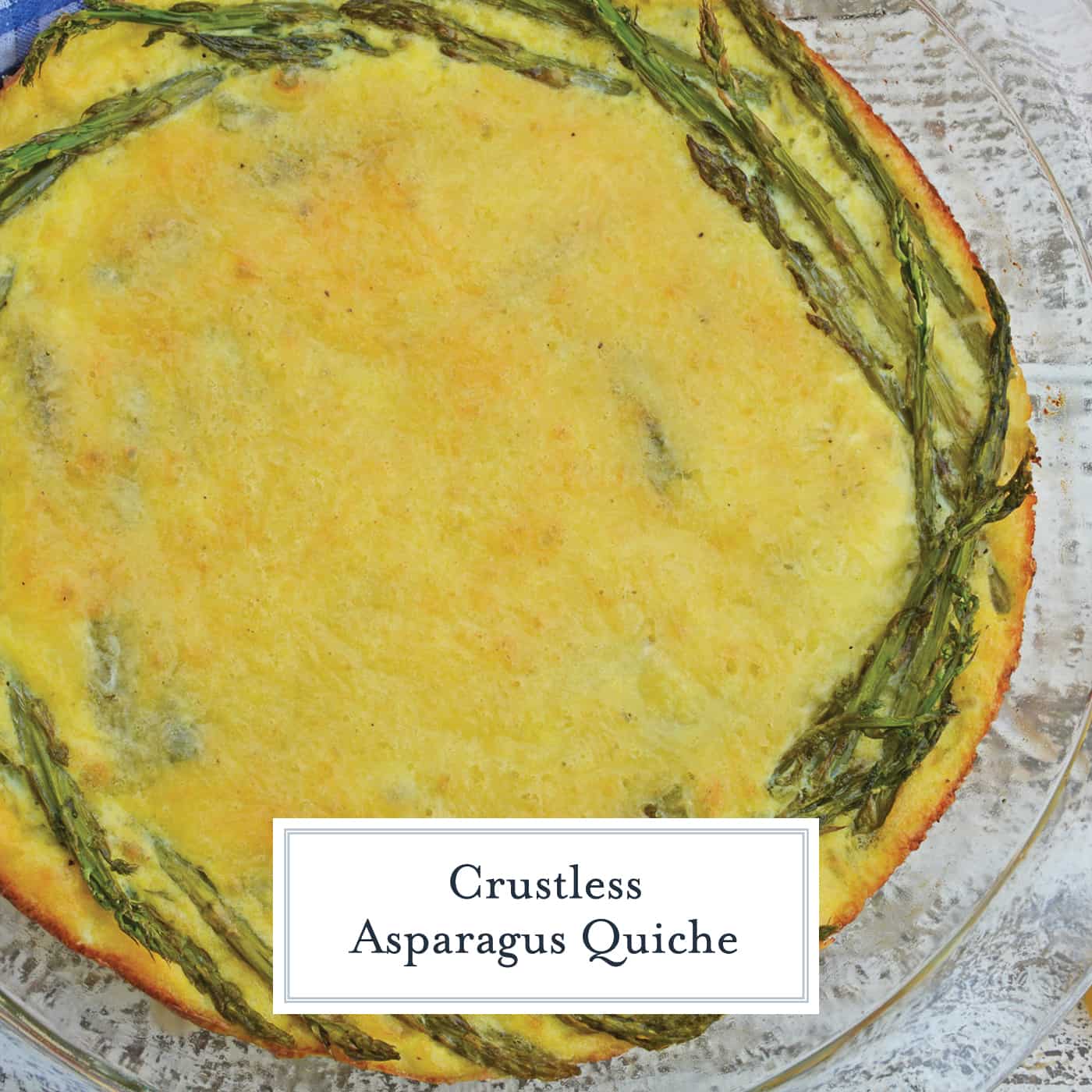 This crustless quiche recipe is one of the best asparagus recipes. An asparagus quiche would be a great addition to your next breakfast, brunch or lunch!
Asparagus Soup is sponsored by Michigan Asparagus. Although I received compensation for this post, the opinions and statements are 100% my own. 
Every year in June, Oceana County, Michigan (also nicknamed the "asparagus capital of the world") holds the National Asparagus Festival. This festival has everything from pageants and a parade to farm tours asparagus taste testing.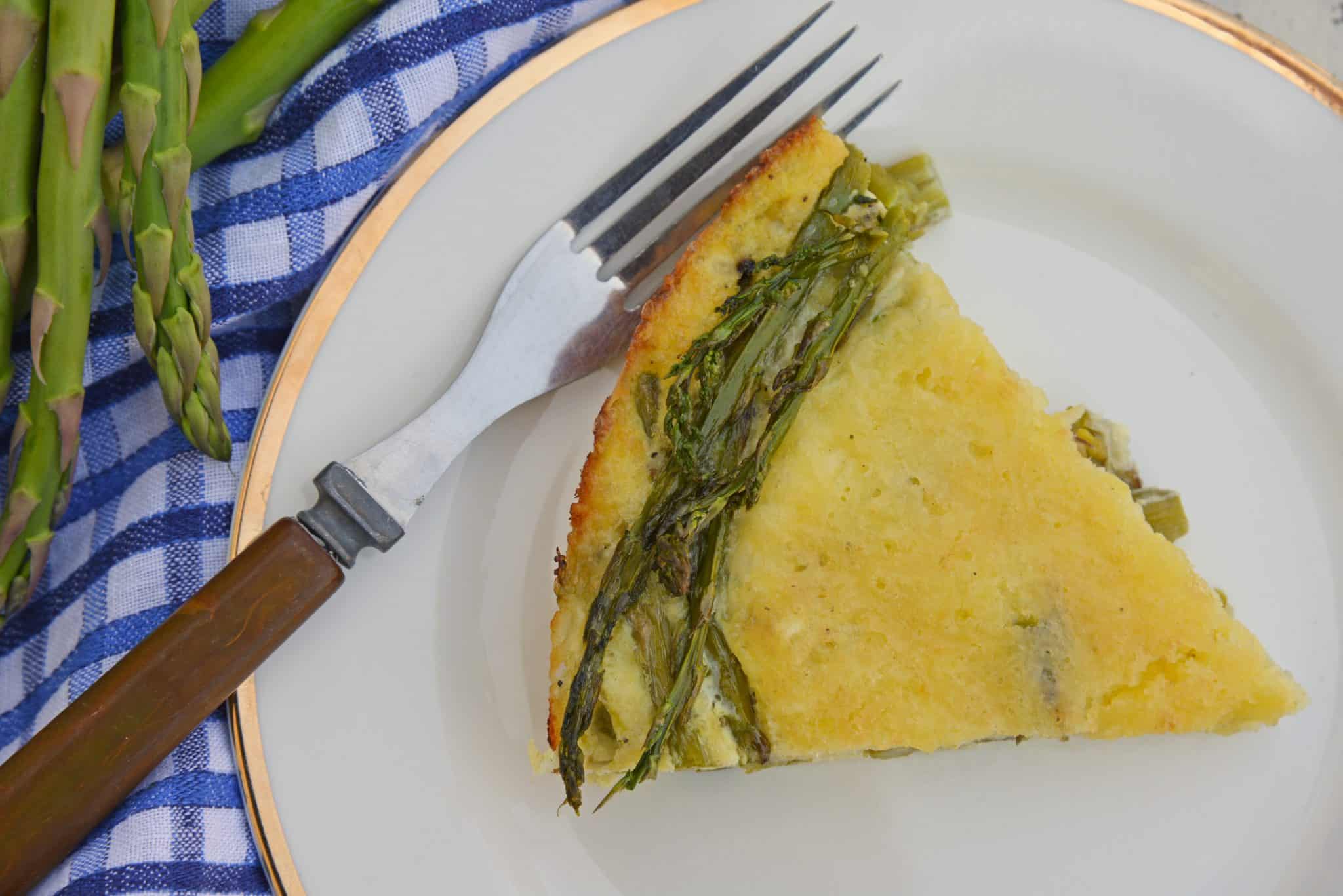 The growing season for asparagus is particularly short; because of this, people have found ways to preserve it for as long as possible. Some of these preserving techniques include pickling and freezing. In fact, around 60% of Michigan's asparagus is frozen, canned or pickled.
One of the things that I love most about asparagus is that there are SO many asparagus recipes out there! Whether it's served by itself as a side or put into a salad, asparagus is versatile.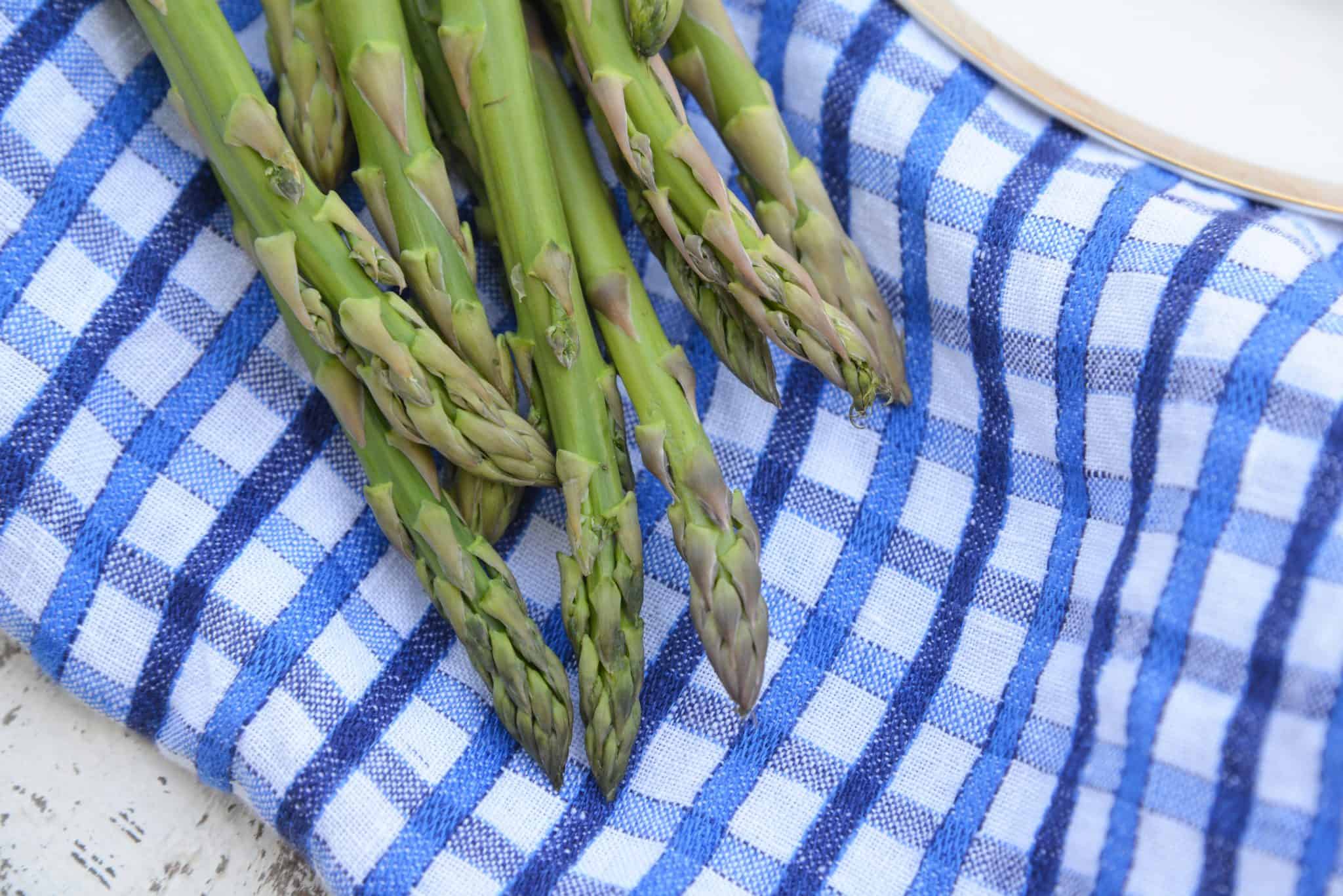 Asparagus also has plenty of  health benefits including being fat and cholesterol free with nearly no sodium. It is also considered a good source of potassium, fiber, thiamin and vitamin B6. 
Because of the low amount of pesticides used, asparagus is one of the safest crops to consume. It is one of the few foods that does not need to be purchased organic. More asparagus for all!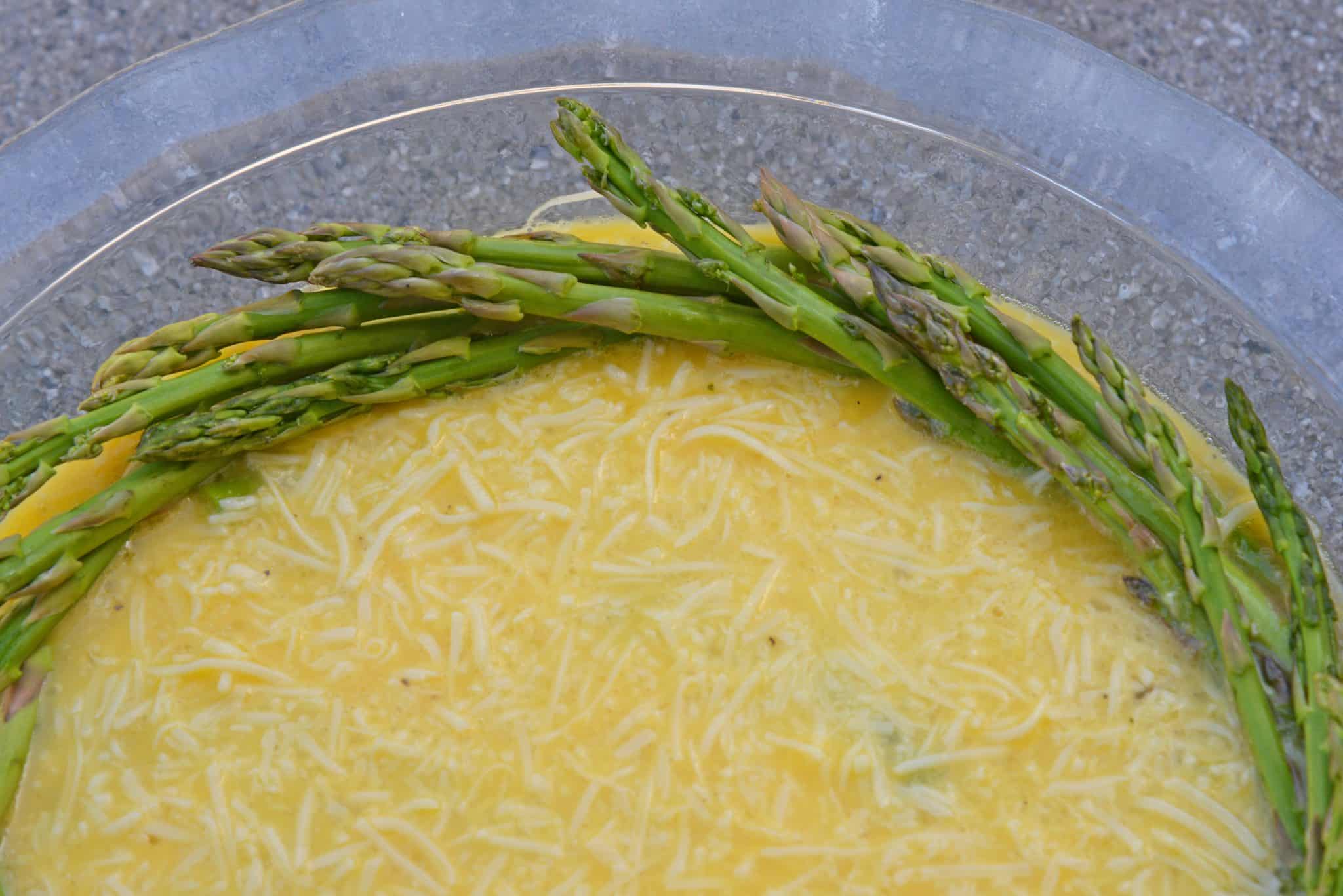 Well, not if you are in my house. Asparagus happens to be my 8-month old daughter's absolute favorite food. She practically ate this whole crustless quiche herself!
A crustless quiche recipe is an especially healthy way to consume asparagus because it cuts down on carbs. This particular quiche uses the asparagus stalks to add some stability to the egg. 
This quiche is perfectly seasoned with staple ingredients that you more than likely already have in your pantry. Salt, pepper, garlic powder and Swiss cheese add a simple but delicious flavor. Asparagus has enough of its own, so we just want to complement, not overpower. 
Beyond being healthy, this asparagus quiche has a beautiful braided frame made entirely of asparagus. The trick to this is cutting the stalks to 3-4 inches, then layer on each other the whole way around.  Use the cut pieces to bake into the quiche.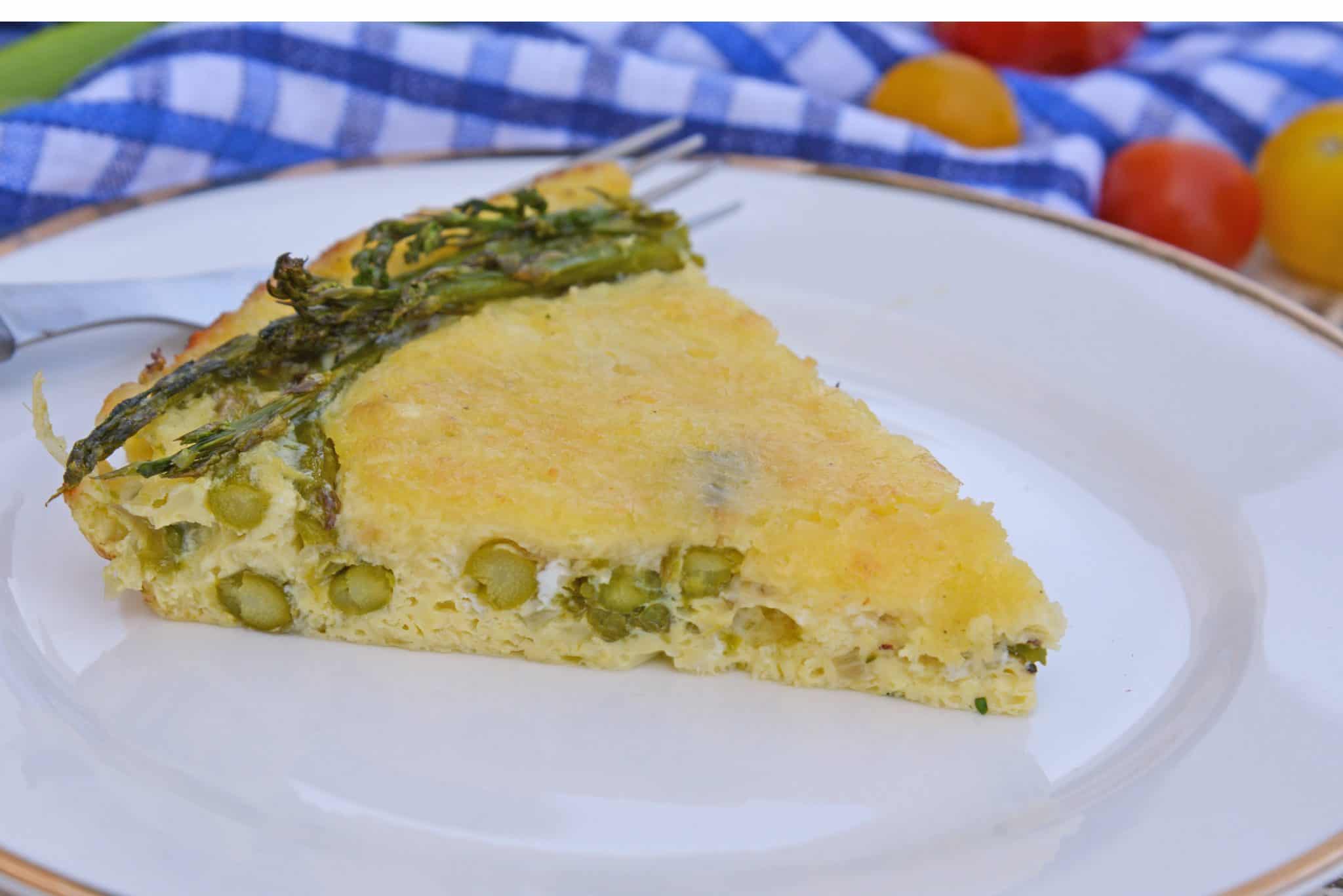 This crustless asparagus quiche is elegant enough to make for a brunch, but can be easily made for a weekday breakfast as well. It's a great way to add some veggies to your breakfast! It can also be made ahead of time or frozen. 
If you like this asparagus quiche recipe, you will love these other asparagus recipes: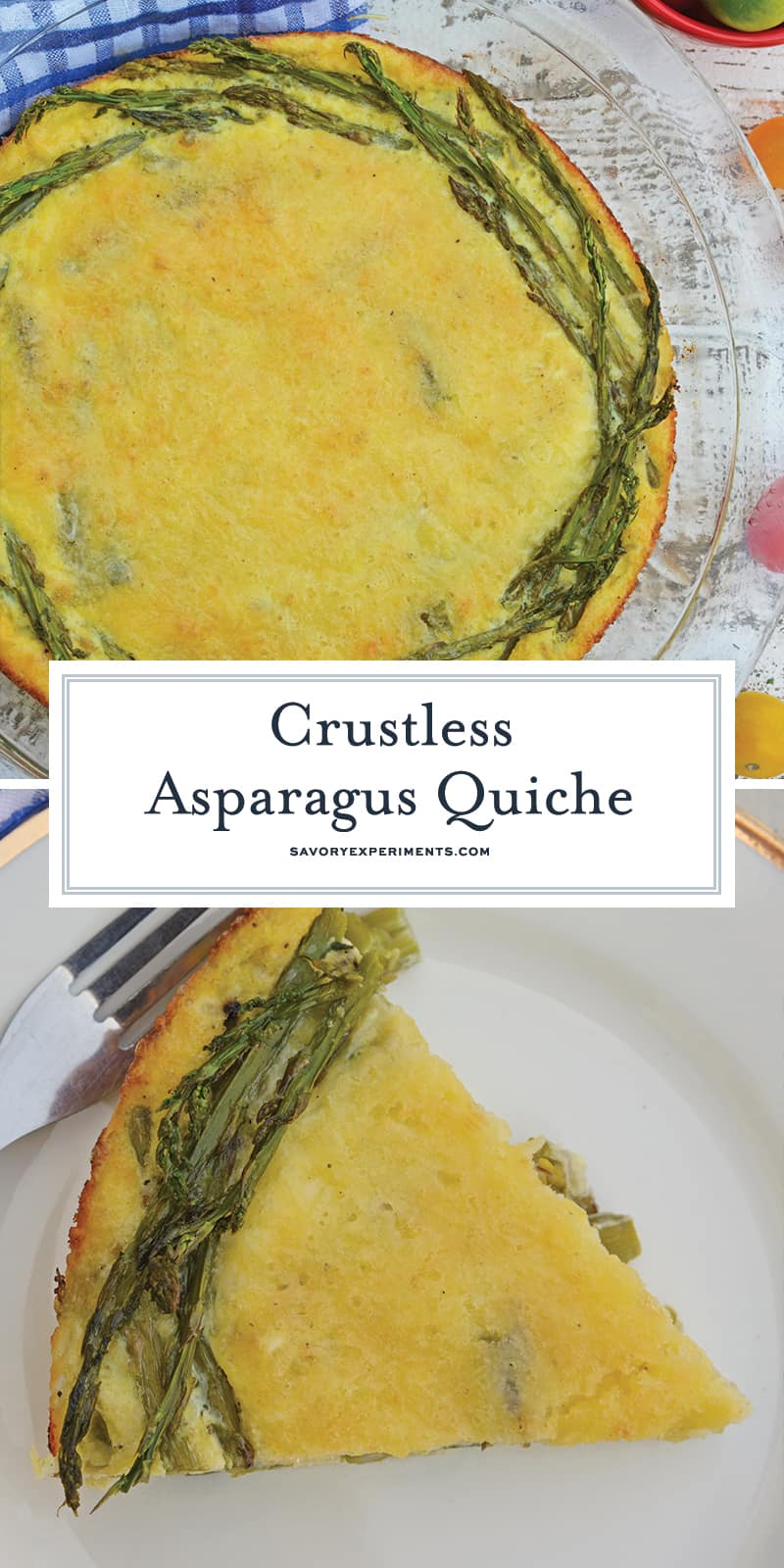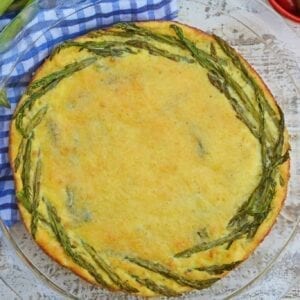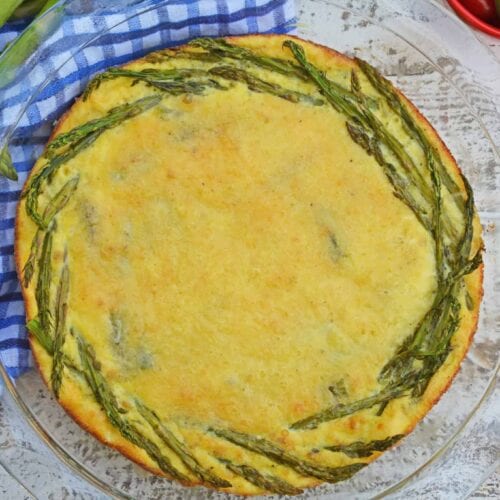 Crustless Asparagus Quiche
This crustless quiche recipe is one of the best asparagus recipes. An asparagus quiche would be a great addition to your next breakfast, brunch or lunch!
Keyword:
asparagus quiche, crustless quiche
Ingredients
2

tablespoons

butter

½

pound

asparagus

, trimmed and cut into 1-inch pieces, plus a few full stalks for topping *

2

tablespoons

shallot

, minced

5

eggs

2

tablespoon

2 percent or whole milk

½

teaspoon

fine sea salt

½

teaspoon

ground black pepper

½

teaspoon

garlic powder

1 1/2

cups

Swiss cheese

, shredded
Instructions
Preheat oven to 350 degrees.

Heat butter in a medium frying pan over medium heat. Add asparagus and shallot. Saute until just tender, approximately 5 minutes. Remove from heat and set aside.

Beat eggs in a medium mixing bowl. Continue to whisk in milk, fine sea salt, ground black pepper and garlic powder.

Fold in Swiss cheese and asparagus mixture.

Spray a 9-inch pie plate with cooking spray. Pour in egg mixture.

Create a fun asparagus design, if you choose.

Bake for 40-45 minutes or until quiche is lightly browned and no longer jiggles.

Remove and allow to cool for 5 minutes before cutting and serving.

If you've tried this recipe, come back and let us know how it was!
Recipe Notes
If you plan to line your crustless quiche with a frame, like mine, choose thinner stalks (they bend easier) and aim for about 15. Overlap them to create a frame, or a "princess crown" as my husband calls it.
Nutrition Facts
Crustless Asparagus Quiche
Amount Per Serving
Calories 152
Calories from Fat 99
% Daily Value*
Total Fat 11g 17%
Cholesterol 128mg 43%
Sodium 250mg 10%
Potassium 124mg 4%
Total Carbohydrates 3g 1%
Protein 9g 18%
* Percent Daily Values are based on a 2000 calorie diet.
For more recipes and information on the wonderful world of asparagus, visit www.michiganasparagus.org.