Shrimp Scampi is a classic Italian dish served in many American Italian eateries. I often get asked what does scampi mean? It is an odd word.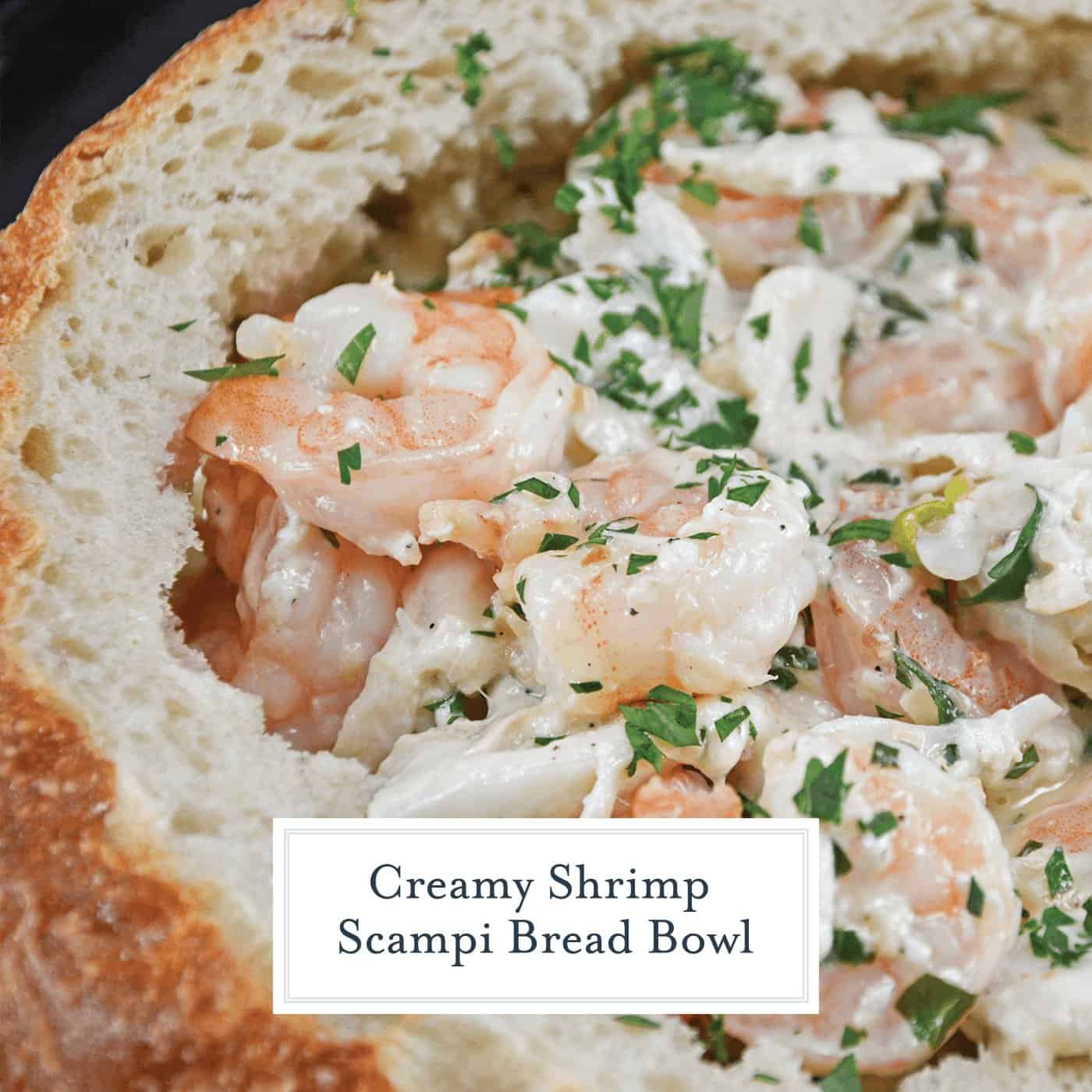 Well, scampi literally translates to prawns or shrimp. So in actuality we are calling our dishes "Shrimp Shrimp".
This Creamy Shrimp Scampi Bread Bowl can be an easy appetizer or entree, dipping bread in the rich scampi sauce with succulent shrimp.
Most folks believe scampi refers to the scampi sauce generally served with shrimp scampi, made from butter, white wine, garlic and spices. Serve shrimp scampi recipes over pasta, rice, bread or alone.
Shrimp Scampi recipes can be served as an entree or appetizer and never disappoint. Shrimp appetizers are usually in crostini form, so similar, but not nearly as impressive of a presentation.
While scampi is a dish served in Italy, creamy sauces like Alfredo, are Americanized. Italians would also probably have something to say about any type of seafood being served with cheese. It is a big no-no.
But I am a rule breaker!!!
This recipe for creamy Shrimp Scampi Bread Bowl is actually a copycat recipe from one of my favorite Italian restaurants in Baltimore, Amicci's, called the Pane Rotundo.
Silky, creamy scampi sauce is ladled into fresh bread bowl, topped with shrimp and couple sprinkles of cheese. It is their signature dish and if you ever get the pleasure of dining in the casual eatery, also get the house salad.
I mean this when I say that the salad dressing it out of this world. I've never even attempted to recreate it, I just stop by and buy it by the bottle!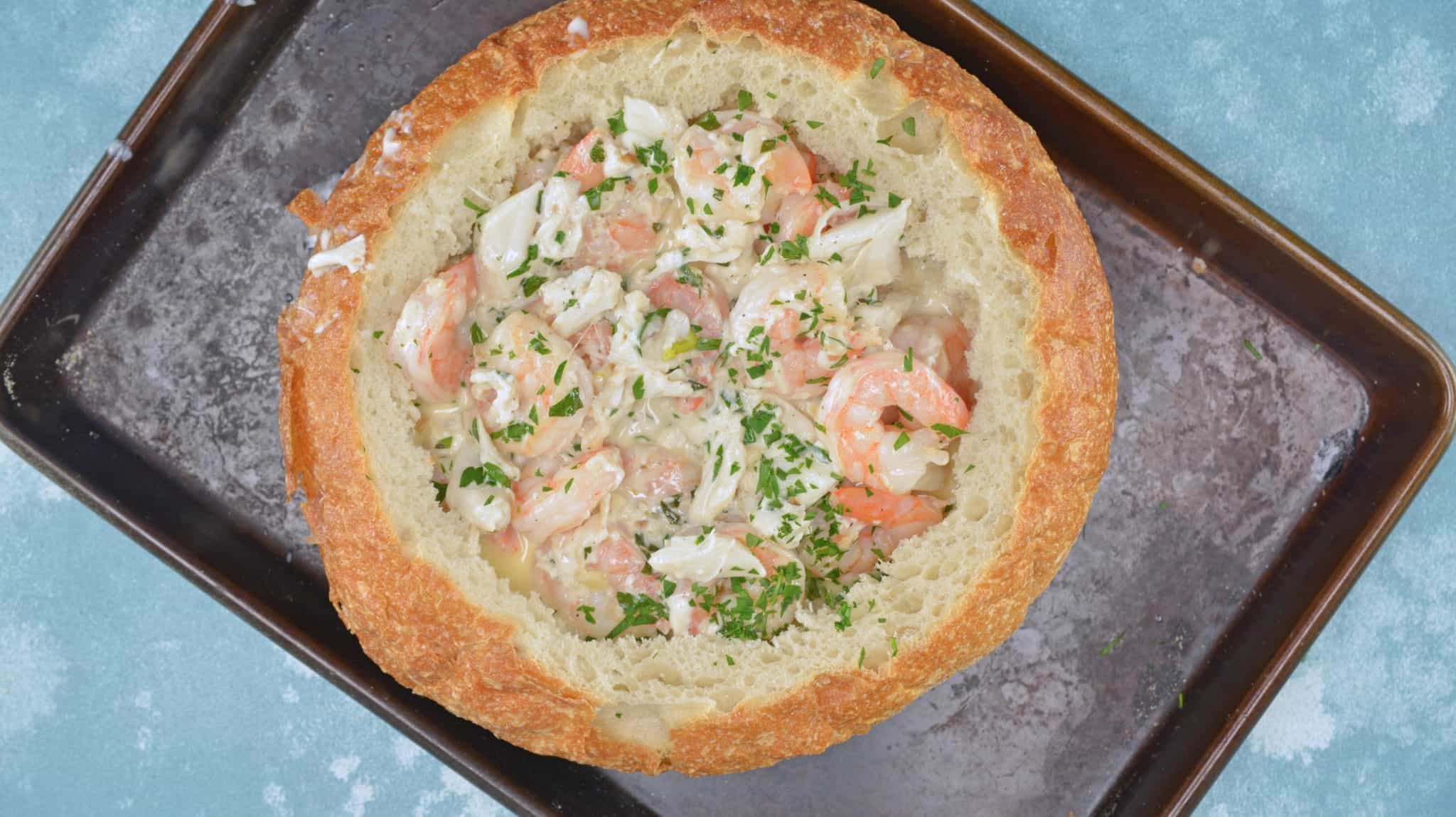 Most scampi sauce recipes are not creamy, but in my bread bowl, it works perfectly. Too buttery and the sauce would simply melt right in instead of filling the bowl. A gentle crust achieved by toasting the bread bowl also prevents this.
PRO TIP: You can certianly serve this as an entree, even adding pasta and making it a pasta bread bowl. Carb-on-carb sounds delicious to me!
Much like when folks make a spinach dip bread bowl, use the pieces you dug out to surround the bowl for dipping and even tear away at it after the shrimp are gone.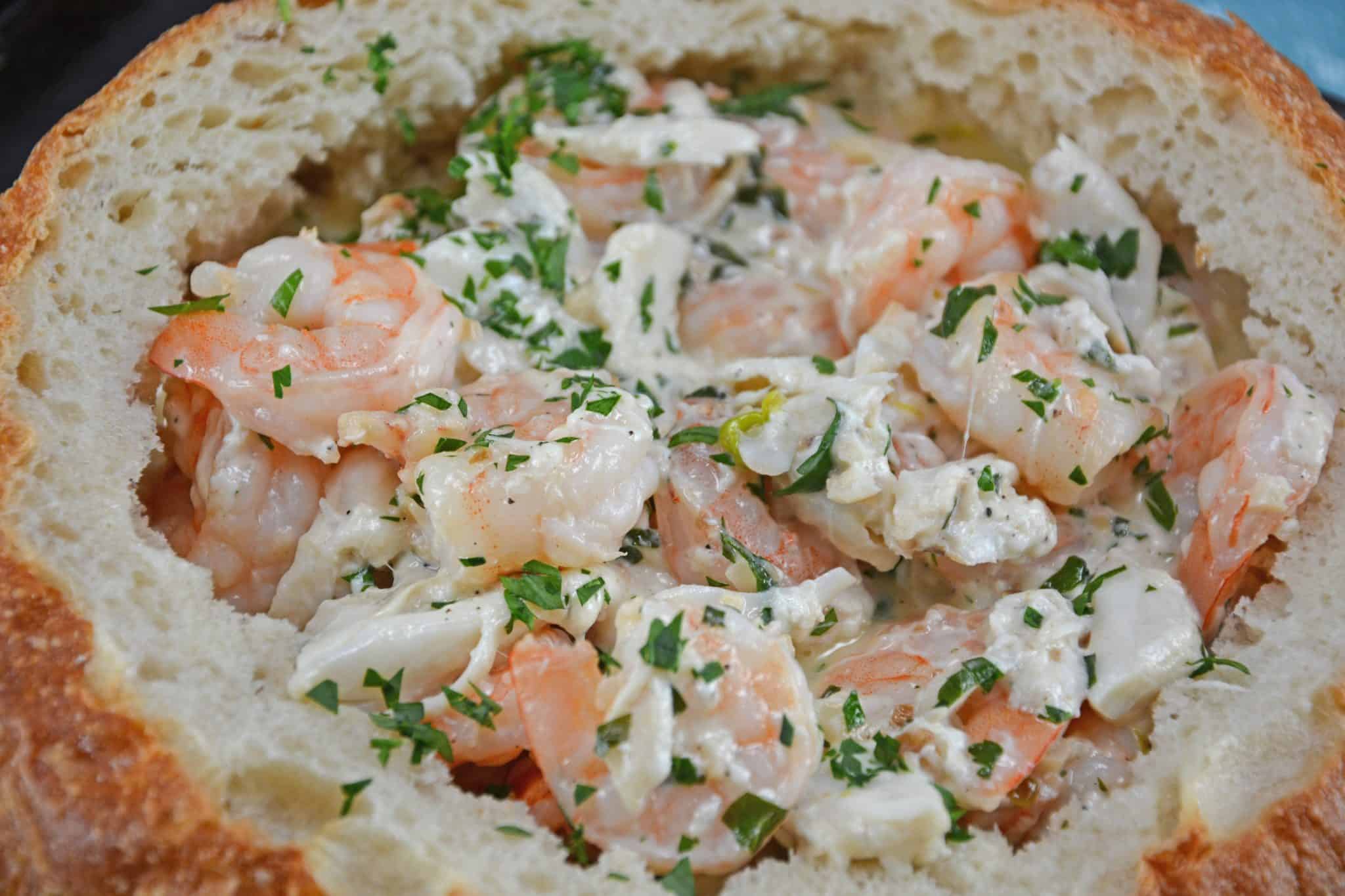 In addition to the shrimp scampi, I also add other seafood on occasion. Crab seems to be prefered since I live in the crab mecca of Baltimore.
You can also use langinstos, scallops, lobster, clams or mussels. If adding raw, add it along with the shrimp. If adding cooked, add it right at the end before ladling.
One thing is for sure, this Creamy Shrimp Scampi Bread Bowl will not disappoint!

Tools you'll need for making your recipe for Shrimp Scampi:
Heavy Bottom Frying Pan– this will be one of your most used kitchen tools. Having something that is heavy bottom will distribute heat better and prevent burning whether you are using an electric or gas range.
Wood cutting board – wood won't dull your knives like plastic and if treated properly, has natural antimicrobial properties.
Good knife – Global is my favorite! They are worth the price, I promise. I am kind of obsessed with them and store them tucked away so no one else can use them. Including hubby. Hands off my good stuff!
If you like this scampi recipe, you'll love some of our other Italian favorites: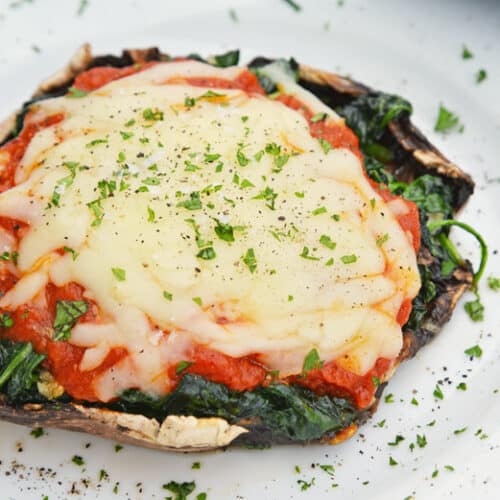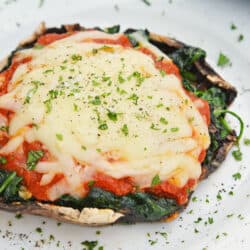 Spinach Stuffed Mushrooms
Does you partake in meatless Monday? These EASY Spinach Stuffed Mushrooms are so tasty and filling that you won't miss the meat at all! The BEST appetizer!
View this recipe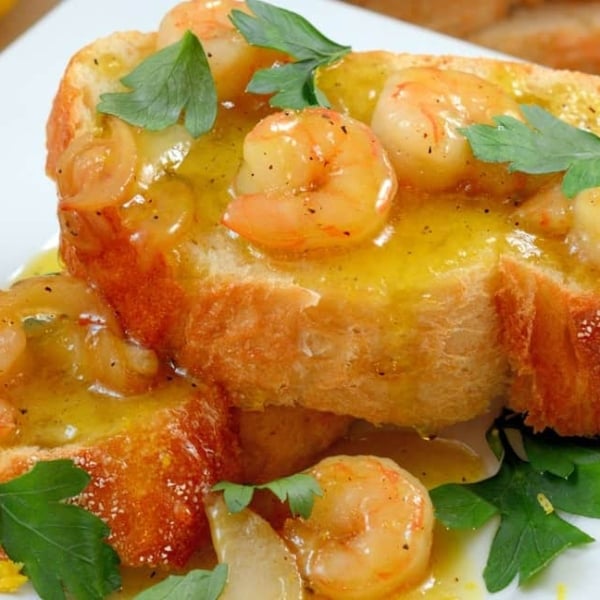 Limoncello Shrimp Crostini
Limoncello Shrimp Crostini is an agrodolce sauce with shrimp, garlic and parsley spooned over crusty French bread.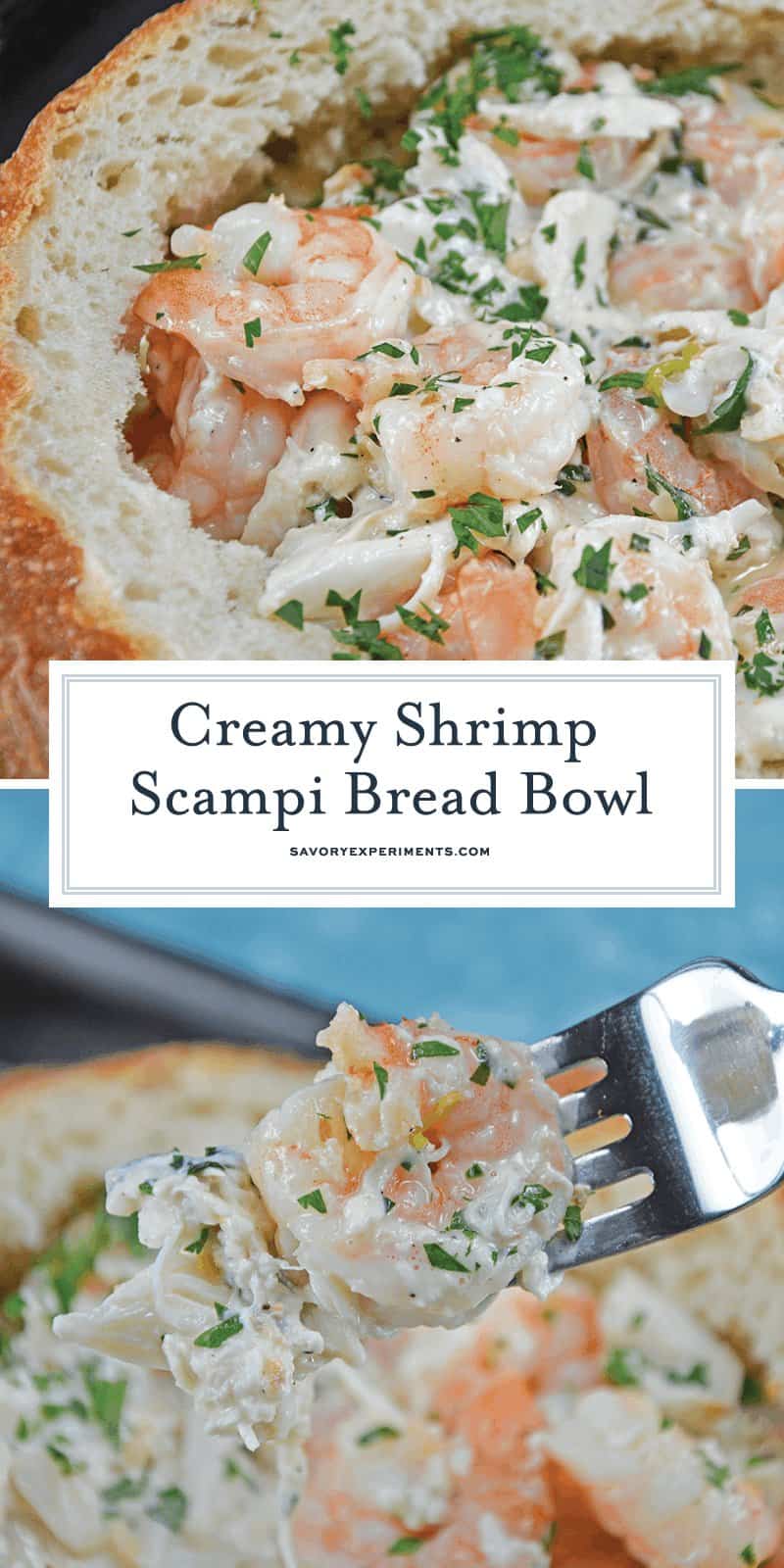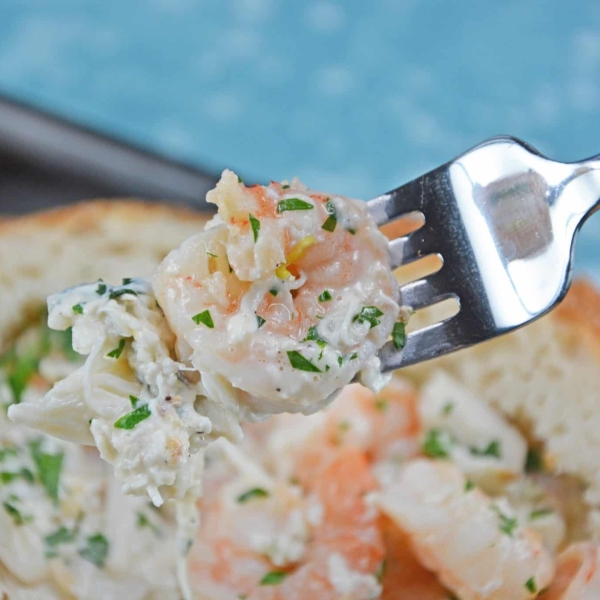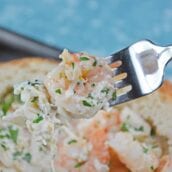 Creamy Shrimp Scampi Bread Bowl
Creamy Shrimp Scampi Bread Bowl can be an easy appetizer or entree, dipping bread in the rich scampi sauce with succulent shrimp.
Instructions
Preheat broiler on high. Cut the top off your bread bowl and using your fingers, hollow out the center, leaving high rims around the edges, reserving bread pieces for serving. Toast bread under broiler for 3-4 minutes or until crispy.

In a large skillet, melt butter over medium-high heat. Saute garlic until fragrant and soft.

Add shrimp, stirring until pink and starting to curl.

Add white wine, fine sea salt, ground pepper, parsley and finally cream. Stir.

Add parmesan and mozzarella cheese, stirring until it becomes thick.

If you are adding any additional cooked seafood, like crab, add this now.

Ladle into bread bowl, garnish with additional parsley and serve!

If you've tried this recipe, come back and let us know how it was!
Notes
You can use whatever type of seafood you prefer, or stick with just shrimp. I like the mix of crab and shrimp. You can also buy or make additional crostini to dip and serve.
Nutrition
Calories:
1219
kcal
,
Carbohydrates:
77
g
,
Protein:
37
g
,
Fat:
83
g
,
Saturated Fat:
47
g
,
Cholesterol:
273
mg
,
Sodium:
2108
mg
,
Potassium:
533
mg
,
Fiber:
5
g
,
Sugar:
44
g
,
Vitamin A:
1620
IU
,
Vitamin C:
13.2
mg
,
Calcium:
293
mg
,
Iron:
5
mg