Pistachio Cranberry Bark is a simple and delightful recipe to enjoy during the holiday season! Easy to make, it is the ultimate sweet treat to fill those holes in your cookie tray.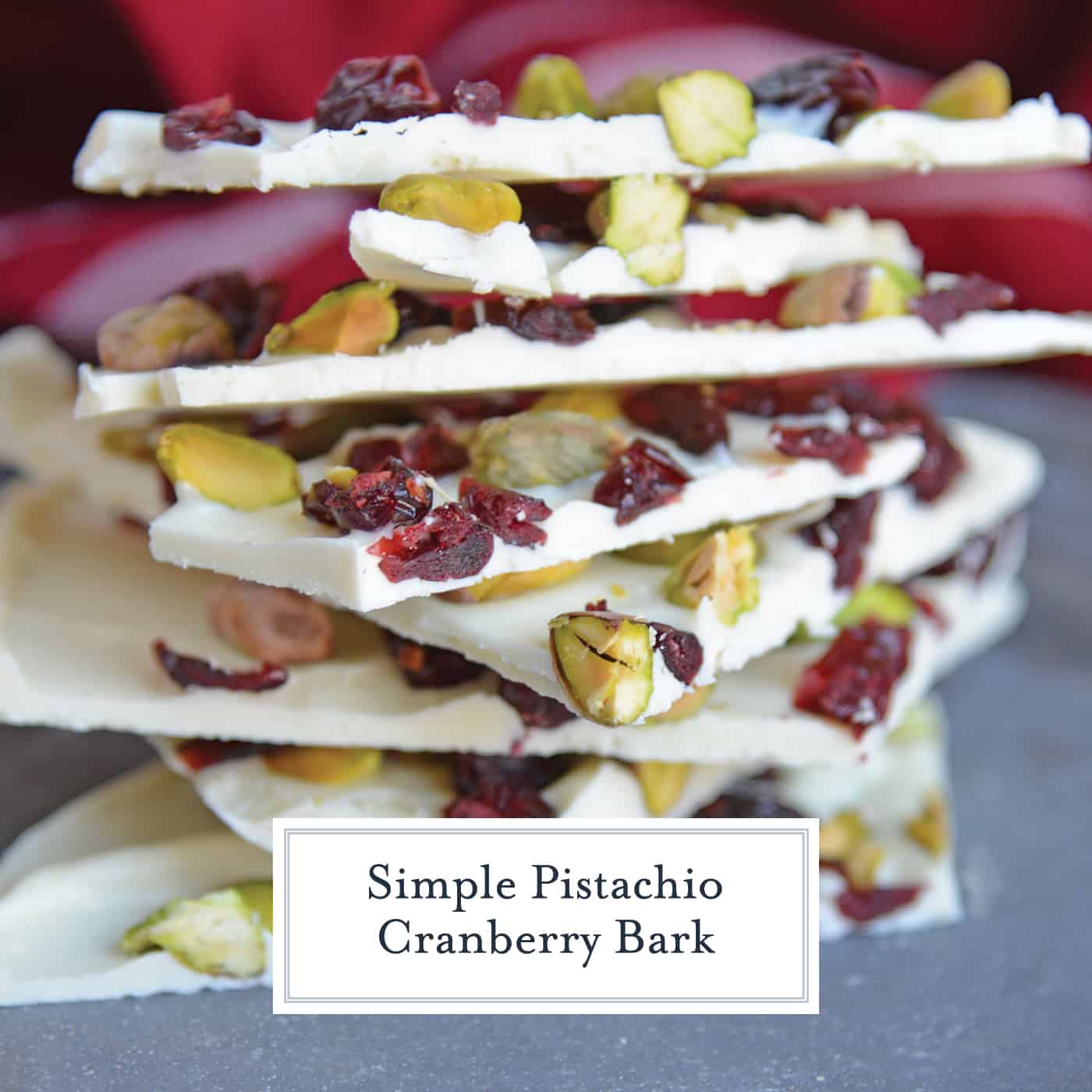 Pistachio Cranberry Bark is a delicious combination of pistachios, dried cranberries, and white chocolate! Pistachio Cranberry Bark is so easy it only takes 10 minutes to make!
Probably the most simple of holiday baking, barks can be very satisfying, make great gifts and are a fabulous finger food. Pistachio Cranberry Bark combines creamy white chocolate, salty pistachios and gummy sweet dried cranberries.
Bonus? These yummy flavors also happen to be Christmas colors! Sweet!
Many people associate bark with the holidays, but more so for Peppermint bark. I actually prefer this sweet, salty, smooth and crunchy concoction.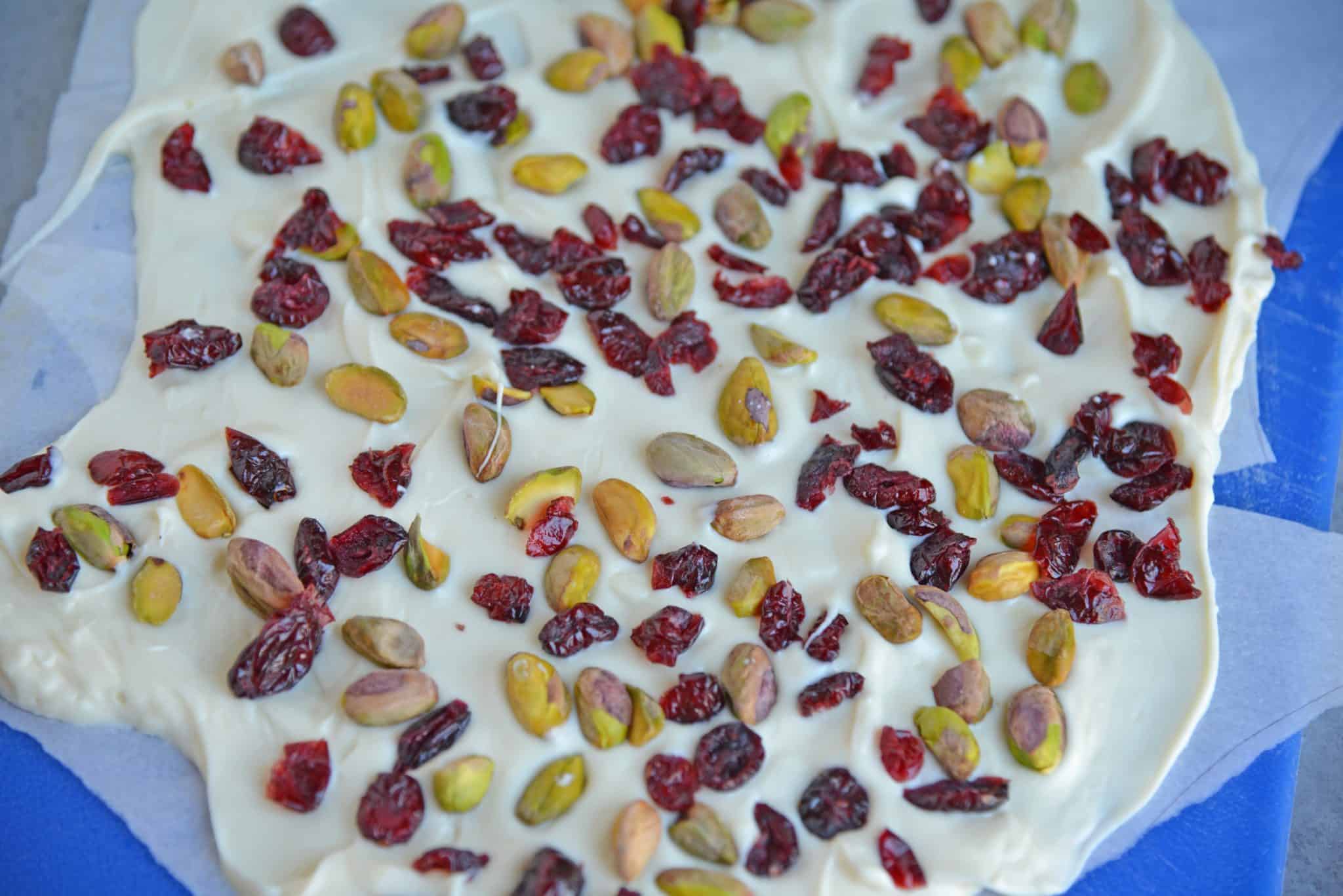 Almond Bark
What is almond bark?
The name alone sounds like it is a almond heavy food, but oddly enough, there are no almonds. It doesn't even taste like almonds.
It is a chocolate-like candy that is made with vegetable oil, food coloring, and flavoring. You can find it in blocks, or round melts, and is typically used in place of chocolate.
Almond Bark and white chocolate are commonly exchanged for each other, having similar attributes. White chocolate isn't really chocolate either. Instead coming from the cocoa bean just like cocoa butter.
The best part about this recipe is how easy it is to make, You can make this in a double boiler, saucepan and heat proof bowl or even in the microwave.
Simply spread melted chocolate (or almond bark) on parchment paper and sprinkle pistachios and dried cranberries. Place it in the fridge to set.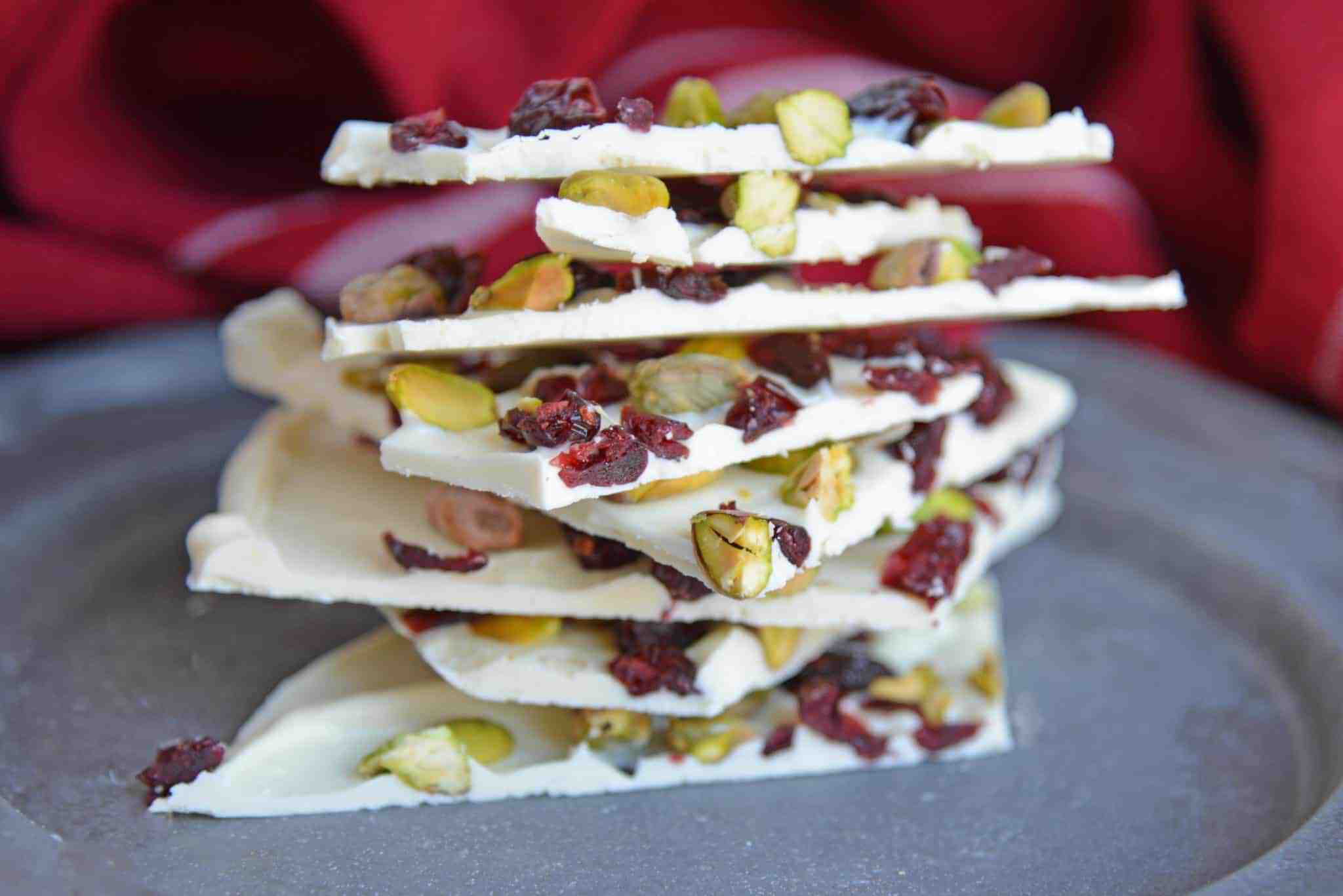 If you're making this in a hurry then you can cut it after 5-10 minutes but if you can leave it for 1-2 hours for better results.
You can store your Pistachio Cranberry Bark for up to 2 weeks in an airtight container.
Melting Chocolate
Melting chocolate, like many other things in the kitchen, is chemistry and science.
You need the optimal temperature to make sure your chocolate melts to a silky-smooth consistency, don't do it over high heat, keep it at medium.
Skip the microwave and use a double boiler. The microwave heats too fast and too hot.
If you do need to use the microwave, use it at 50% power or defrost mode and go slow, 15 second intervals.
Don't fully boil the water in your double boiler. Get it hot enough to melt the chocolate, but not to a rolling boil.
Put the top pot on with chocolate after the water has come to temperature.
Stir constantly while melting. It should only take a minute or so.
Use immediately and while shiny.
If chocolate gets too hot, it gets clumpy and matte.
You can try to revive it by adding 2 teaspoons of vegetable shortening, but sometimes you are better off just starting over.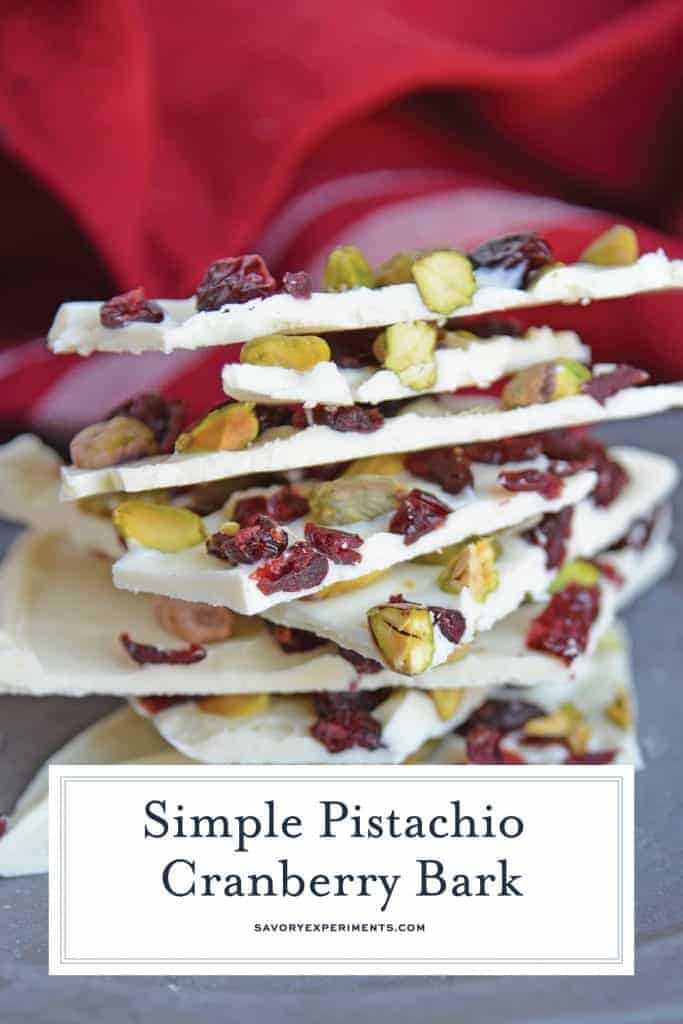 If you loved this Christmas bark recipe, check out these other easy festive recipes: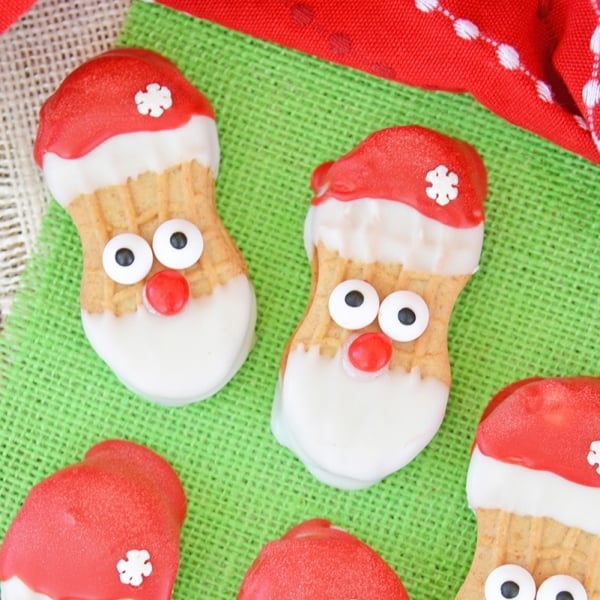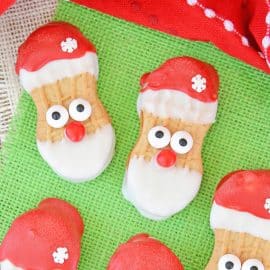 Santa Cookies
If you're looking an an easy, no-bake Christmas cookie, check out my Nutter Butter Santa Cookies! They're super festive, and simple to make.
See The Recipe!
Holiday Meringue Wreath
If you're looking for the perfect showstopping holiday dessert, look no further than this Meringue Wreath! A beautiful holiday pavlova with whipped cream and fresh berries.
See The Recipe!
Questions you might have about how to make holiday bark:
Do you have to keep bark refrigerated? You don't have to, but like any type of chocolate, you run the risk of it melting if you don't. Certainly keep it at a normal inside temperature.
Can I makes this recipe with a different type of chocolate? Sure! I like white so the cranberries and pistachios really pop, but feel free to use a milk chocolate or even a dark chocolate.
Can I freeze Christmas bark? You can freeze this recipe, but make sure you thaw it well. A frozen pistachio is bound to chip a tooth!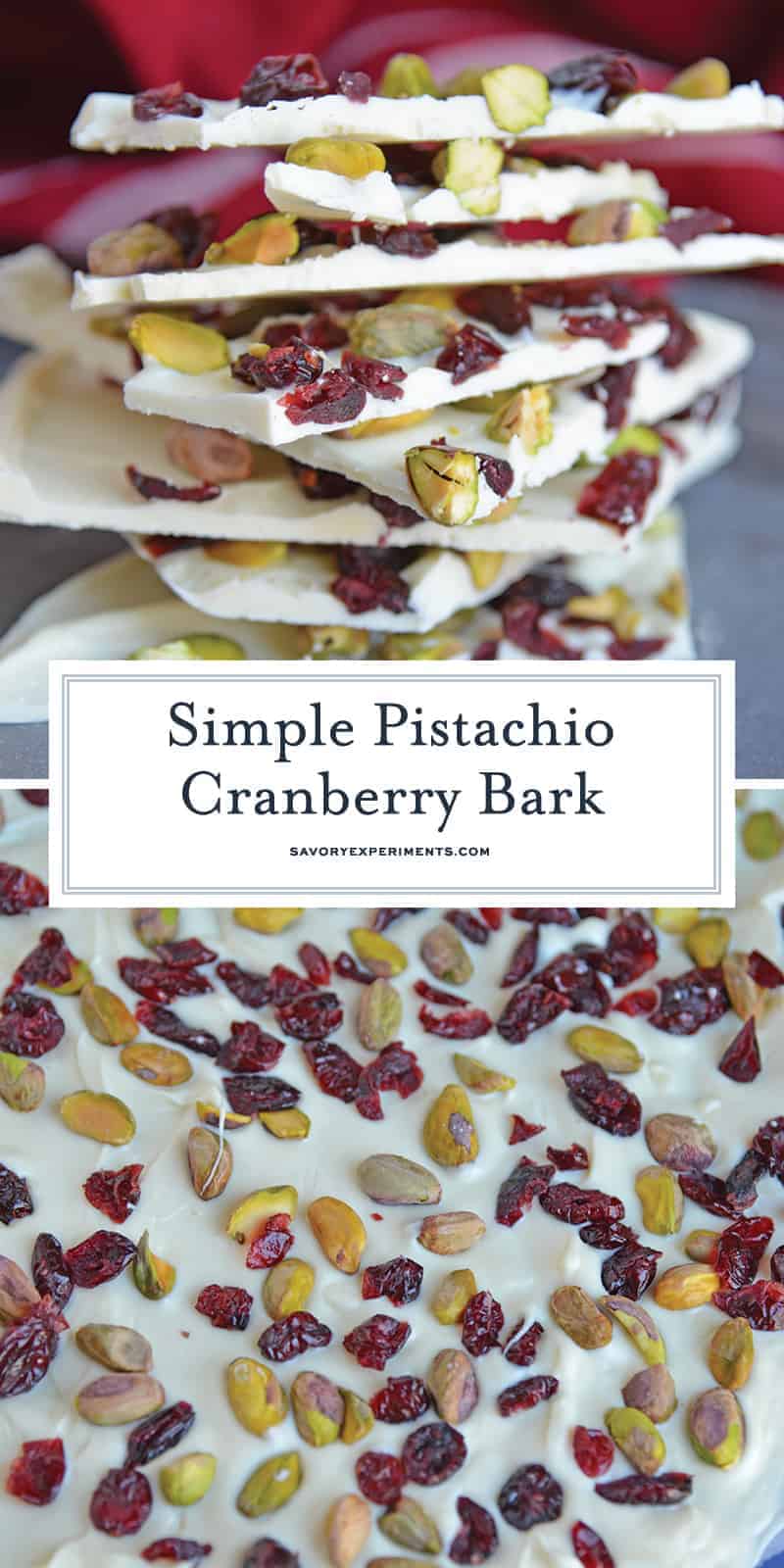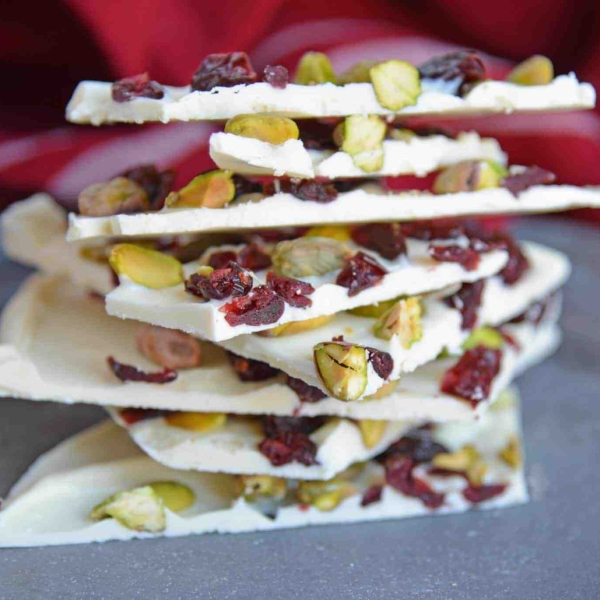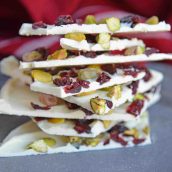 Pistachio Cranberry Bark Recipe
Pistachio Cranberry Bark is a delicious combination of pistachios, dried cranberries, and white chocolate! Pistachio Cranberry Bark is so easy it only takes 10 minutes to make!

Equipment
Heat Resistant Rubber Spatula
Instructions
Use either a double boiler or sauce pan with heat proof bowl. Fill bottom pan with 2 inches of water and place over medium-high heat.

Heat candy melts, stirring frequently for even melting.

While chocolate is melting, place a large sheet of parchment paper on a cookie sheet. Lightly coat with cooking spray.

Continue to melt chocolate, as it starts to get really melty, stir continuously until smooth.

Spread chocolate over parchment paper using an offset spatula. Quickly sprinkle shelled pistachios and dried cranberries over chocolate, gently pressing down.

Place in the refrigerator for 5-10 minutes, or until set. Remove and roughly cut with a large knife. Do not worry about cutting in nice clean squares, bark is best in rough, uneven pieces.

Store in an airtight container at room temperature.

If you've tried this recipe, come back and let us know how it was!
Notes
*If you can't find almond bark, use 24 ounces white chocolate chips and 2 teaspoons shortening or white chocolate candy melts.
Nutrition
Calories:
574
kcal
,
Carbohydrates:
72
g
,
Protein:
2
g
,
Fat:
29
g
,
Saturated Fat:
24
g
,
Sodium:
25
mg
,
Potassium:
103
mg
,
Fiber:
1
g
,
Sugar:
68
g
,
Vitamin A:
25
IU
,
Vitamin C:
0.3
mg
,
Calcium:
11
mg
,
Iron:
0.5
mg