Looking for the ultimate, easy, yet festive and totally delicious appetizer? Look no further! This Cranberry Goat Cheese Roll is one of the best things I make and it is SO EASY.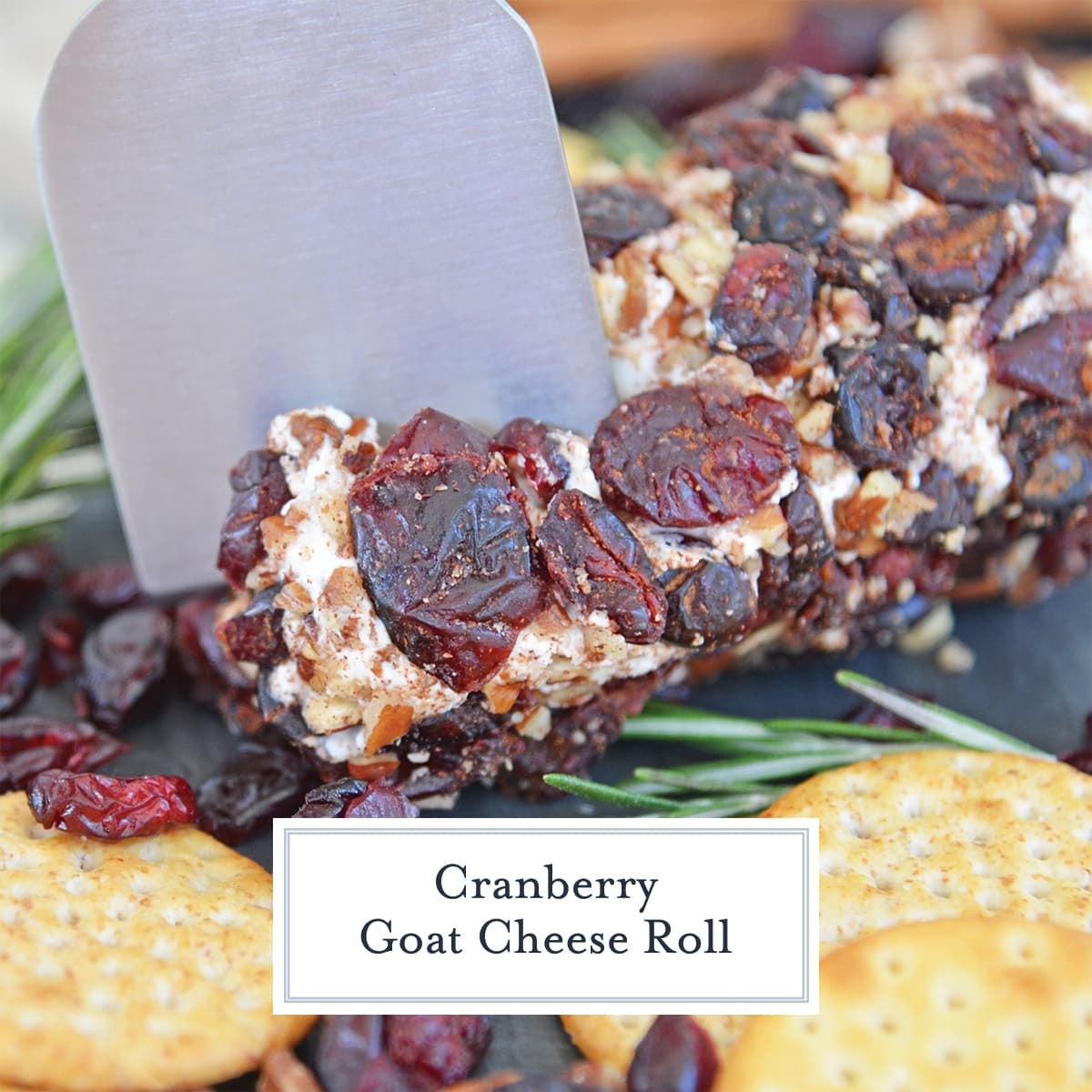 Goat Cheese Roll
I can't take credit for this recipe, but I'll give credit where it is deserved and this shout out goes to Aldi grocery store! Nope, this isn't a paid advertisement.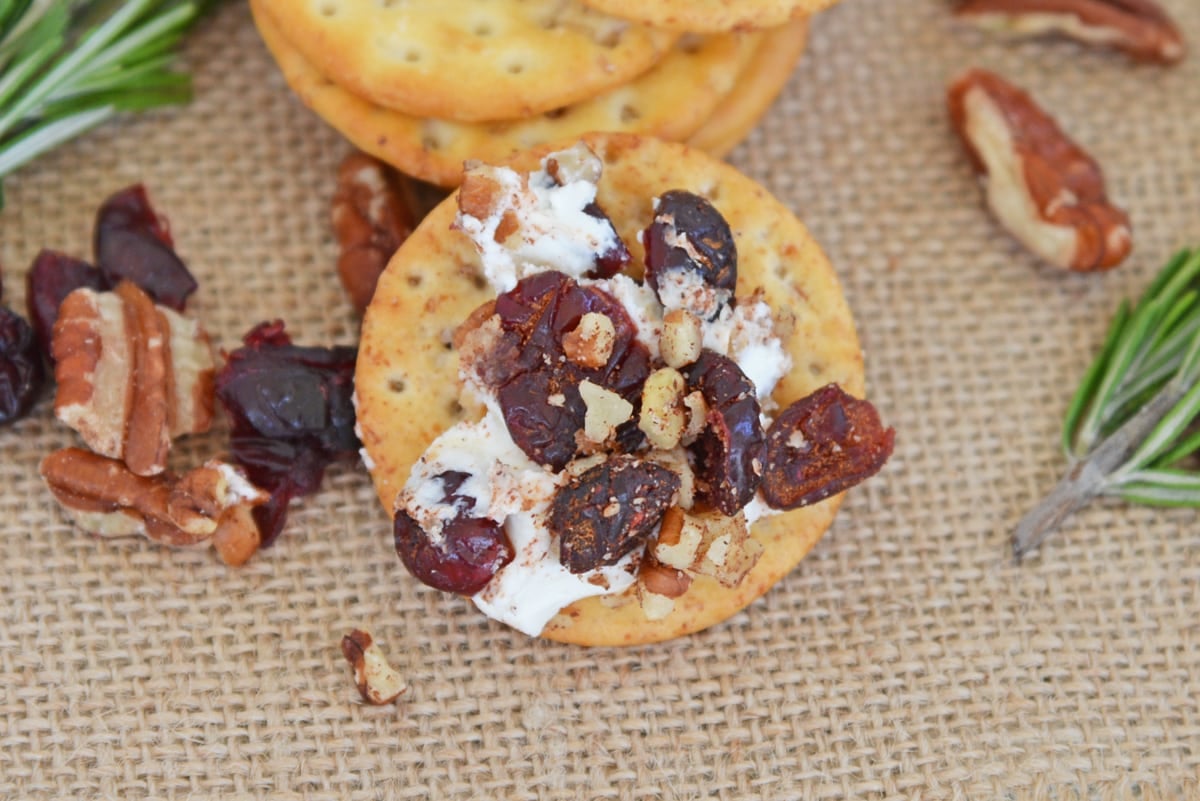 This is me telling you that during the holiday season especially, I shop there for all of my appetizers and cheese trays. They have a huge selection and while I'd spend $100 at my gourmet cheese shop in the regular grocery store, I'll spend $30 at Aldi.
And it was there that I started buying the Cranberry Goat Cheese Roll. It is simple and only 5 ingredients:
Goat Cheese
Dried Cranberries
Ground Cinnamon
Fine Sea Salt
Pecans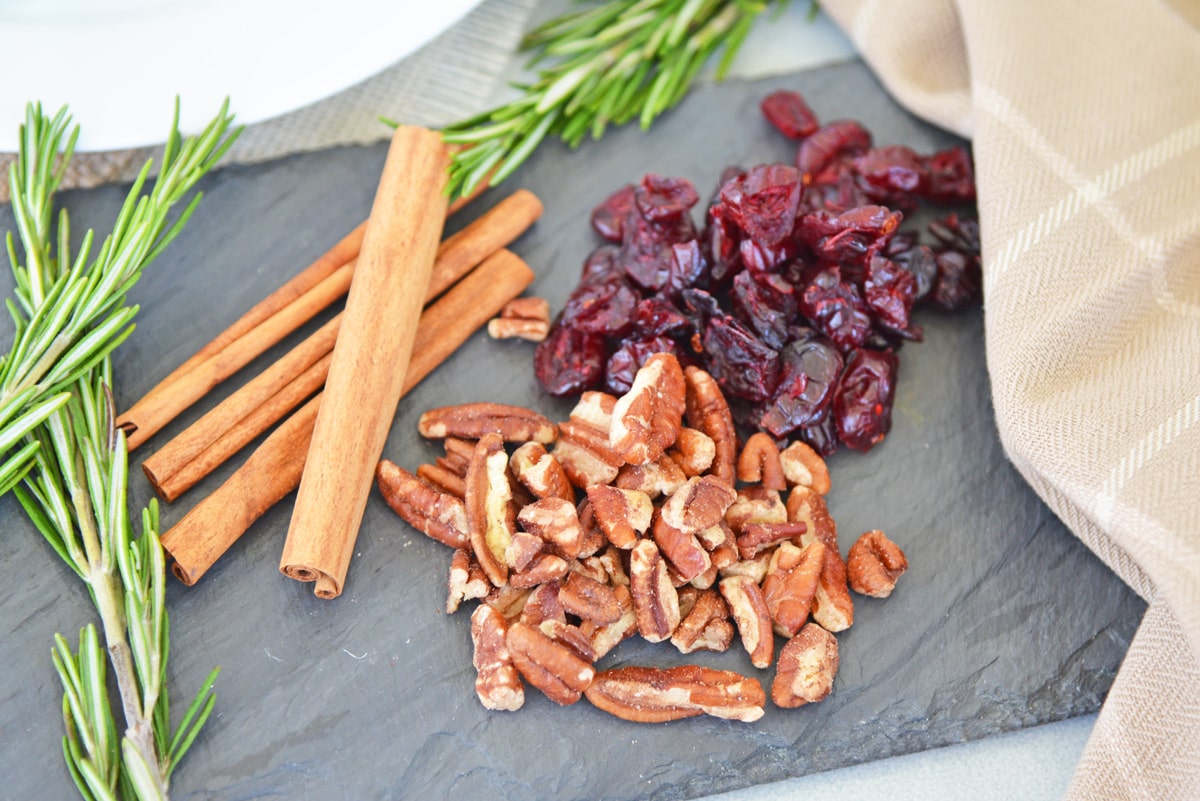 But guess what? After the holidays ended, my favorite appetizer disappeared! So I did what I always do, I started to make own.
What is Goat Cheese?
Goat cheese has been around for ages, but I feel like it was more of a food trend in the last decade showing up as fried goat cheese balls, on crostini , salads, sandwiches, pizza and more.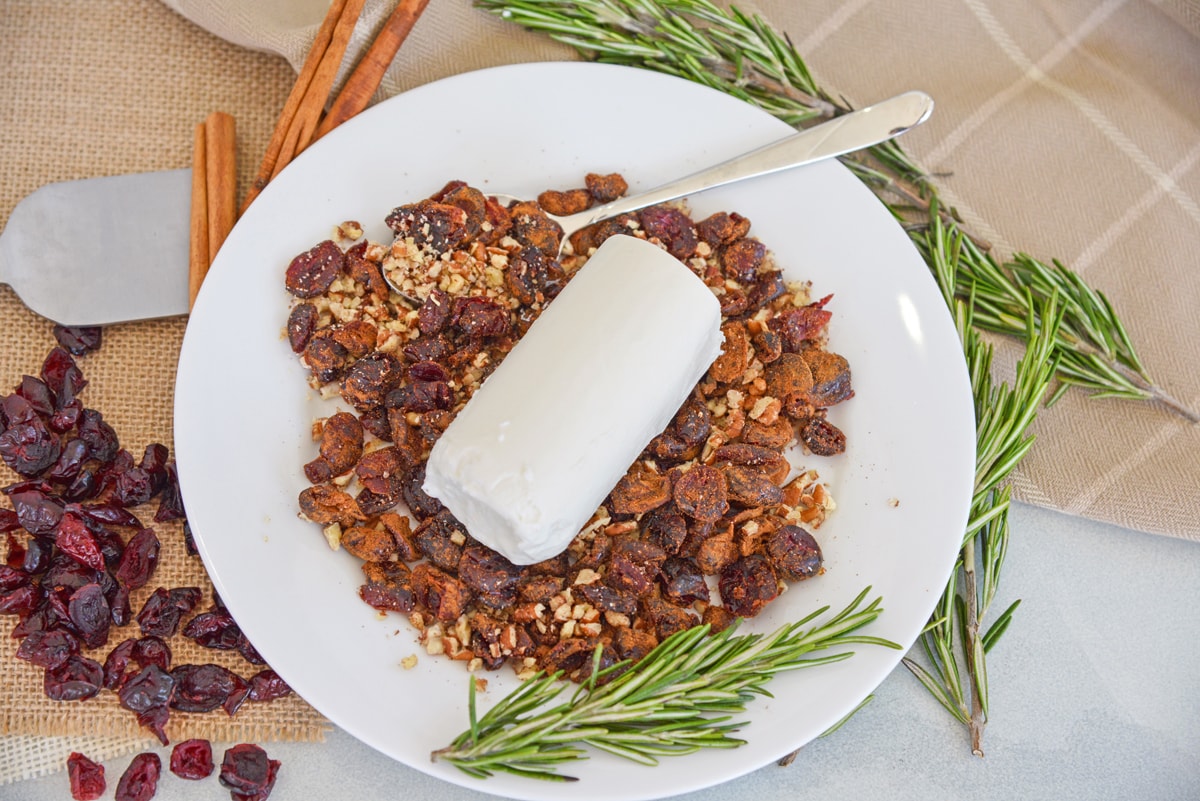 Technically, goat cheese is any cheese made from goats milk and this can range from soft to hard cheese, however most people tend to automatically think of the soft goat cheese roll.
This soft cheese is also known as chèvre. It has a similar texture to cream cheese, is velvety, a little tangy and totally spreadable and dreamy. Perfect for cheese plates and also for crackers!
How to Make
Making this recipe is super simple.
Toss dried cranberries with ground cinnamon and sea salt. If you just try to roll the whole cheese log into both, it picks up the dried cranberries, but not the cinnamon and if you do cinnamon and then cranberries, the cheese isn't tacky enough to really stick well to the fruit.
Then roll your soft goat cheese log in the cinnamon and salt dusted cranberries and finely chopped pecans.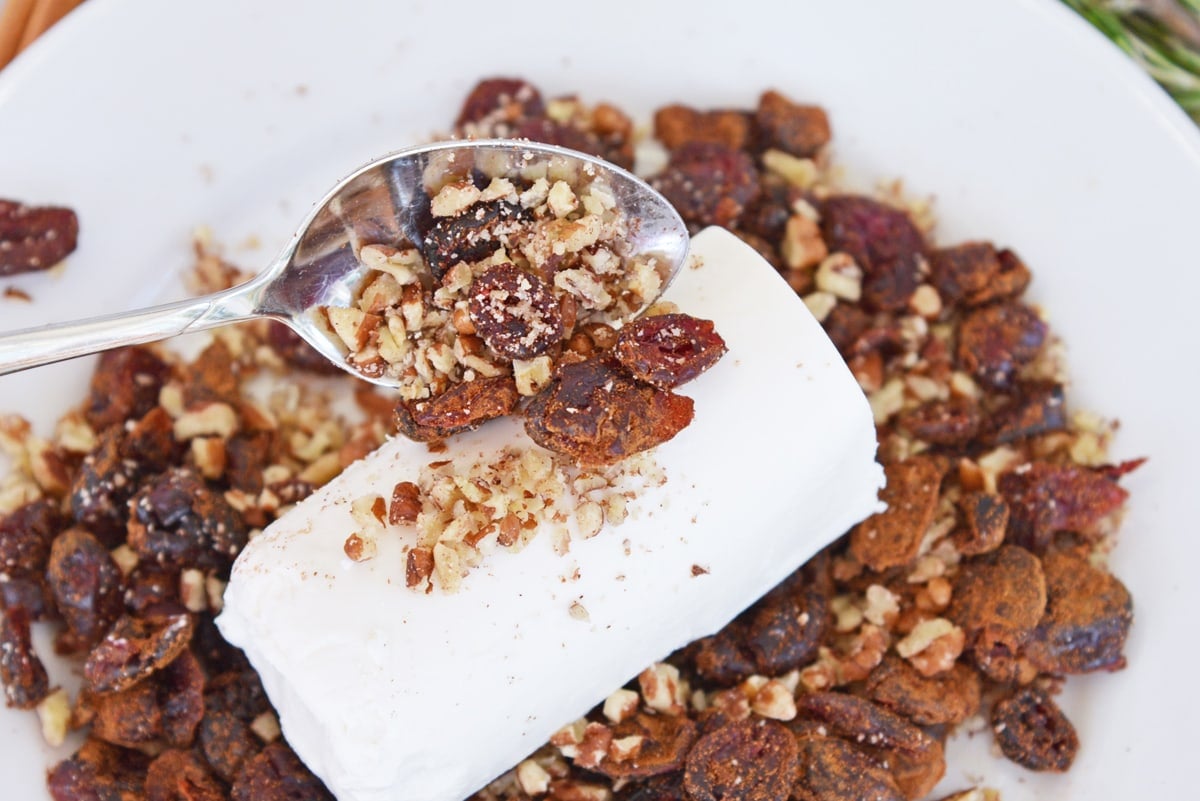 Place on your serving platter and your are DONE.
I'm going to answer a few common questions. The first is why do I add salt?
Salt can emphasis any flavor whether it be tart or sweet. If you are totally opposed, omit it and you'll still have a tasty treat.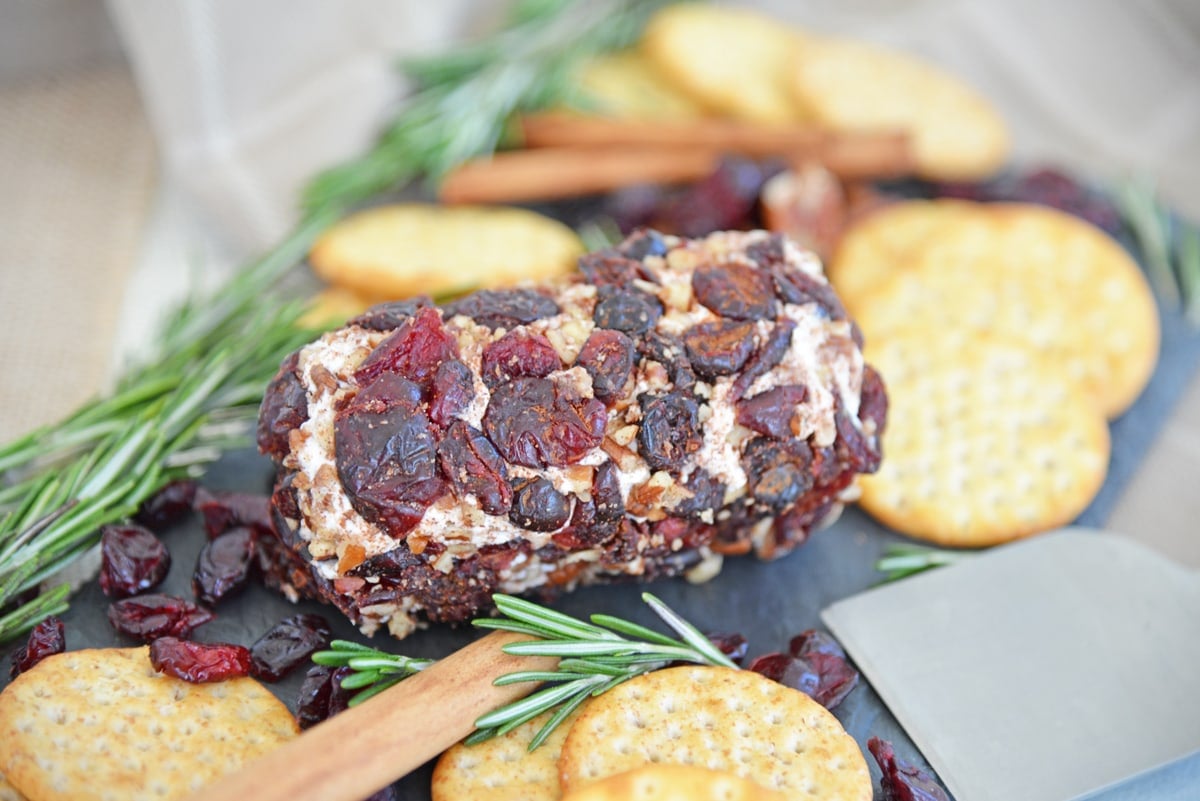 Secondly, why freshy cinnamon? Well, ground ground cinnamon you buy in a jar lose flavor and potency super fast. To ensure you are getting full cinnamon bang for your buck, buy whole sticks and quickly grate them yourself.
Lastly, the nuts. I prefer pecans, but you can omit these altogether or use walnuts.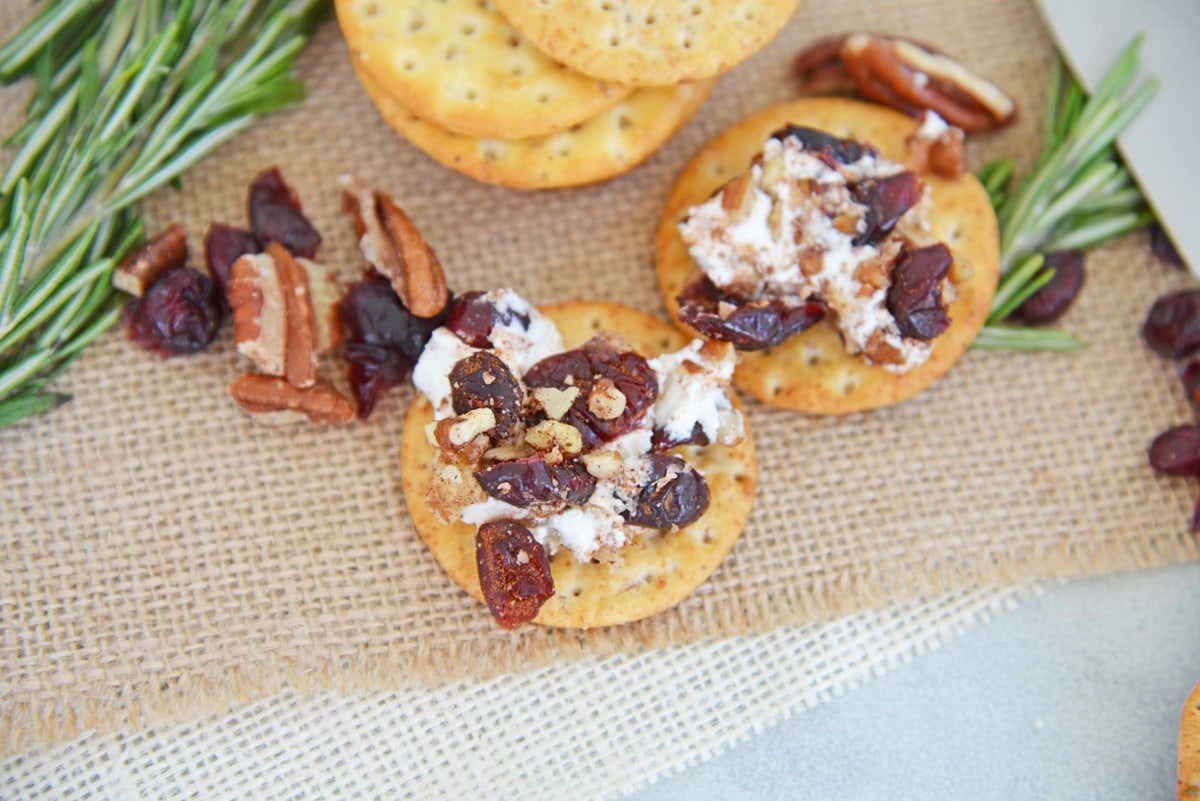 Fresh vs Dried Cranberries
Dried cranberries are going to be much sweet and little sticky, helping them adhere to your cheese log.
You can use fresh, but make sure to chop them and then drain them well. The natural juices will prevent sticking and just fall off into a watery cheesy mess.
It will taste good, but it won't look as pretty or festive.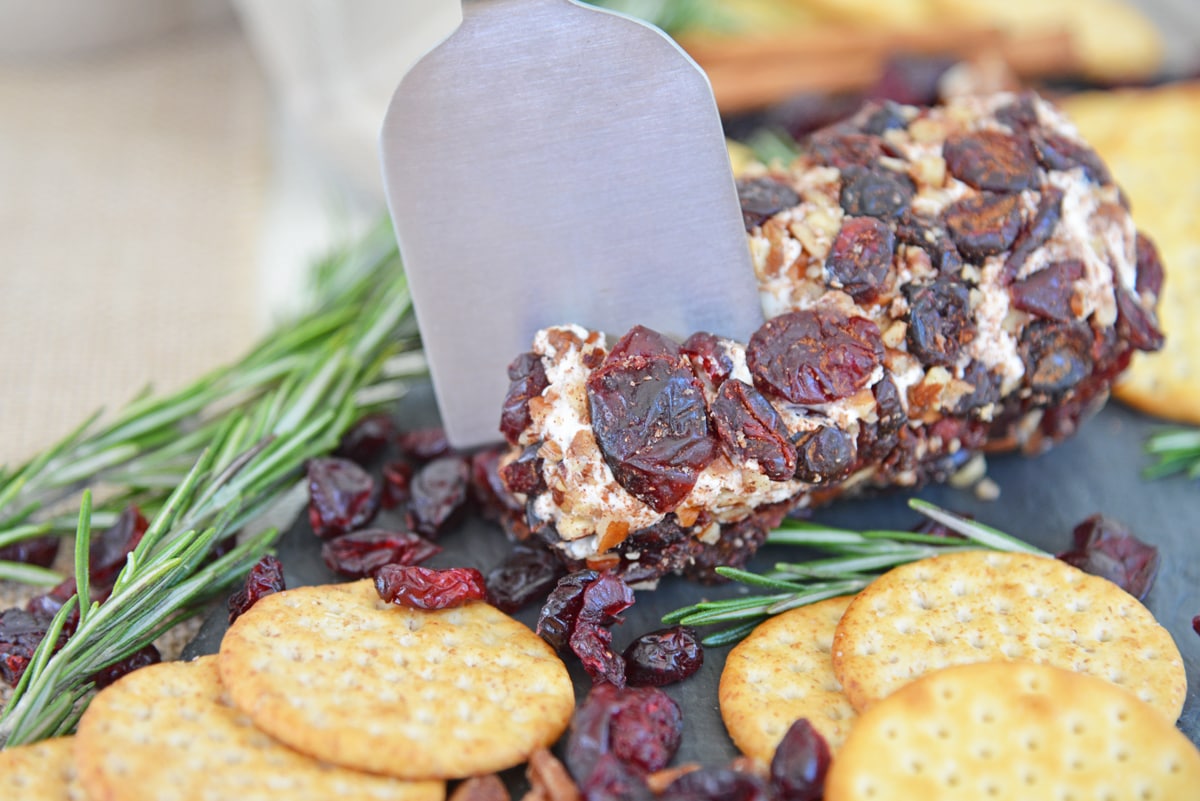 Make Ahead & Storage
This cheese log can be made up to 2 days in advance, however is best served within a few hours of making. It will stay good refrigerated for up to 5 days.
I like to let mine soften for 15-20 minutes for a better spreadable texture. I like to use fresh rosemary to garnish.
You can freeze this recipe, but keep in mind that nearly all cheeses defrost a little drier than they were originally.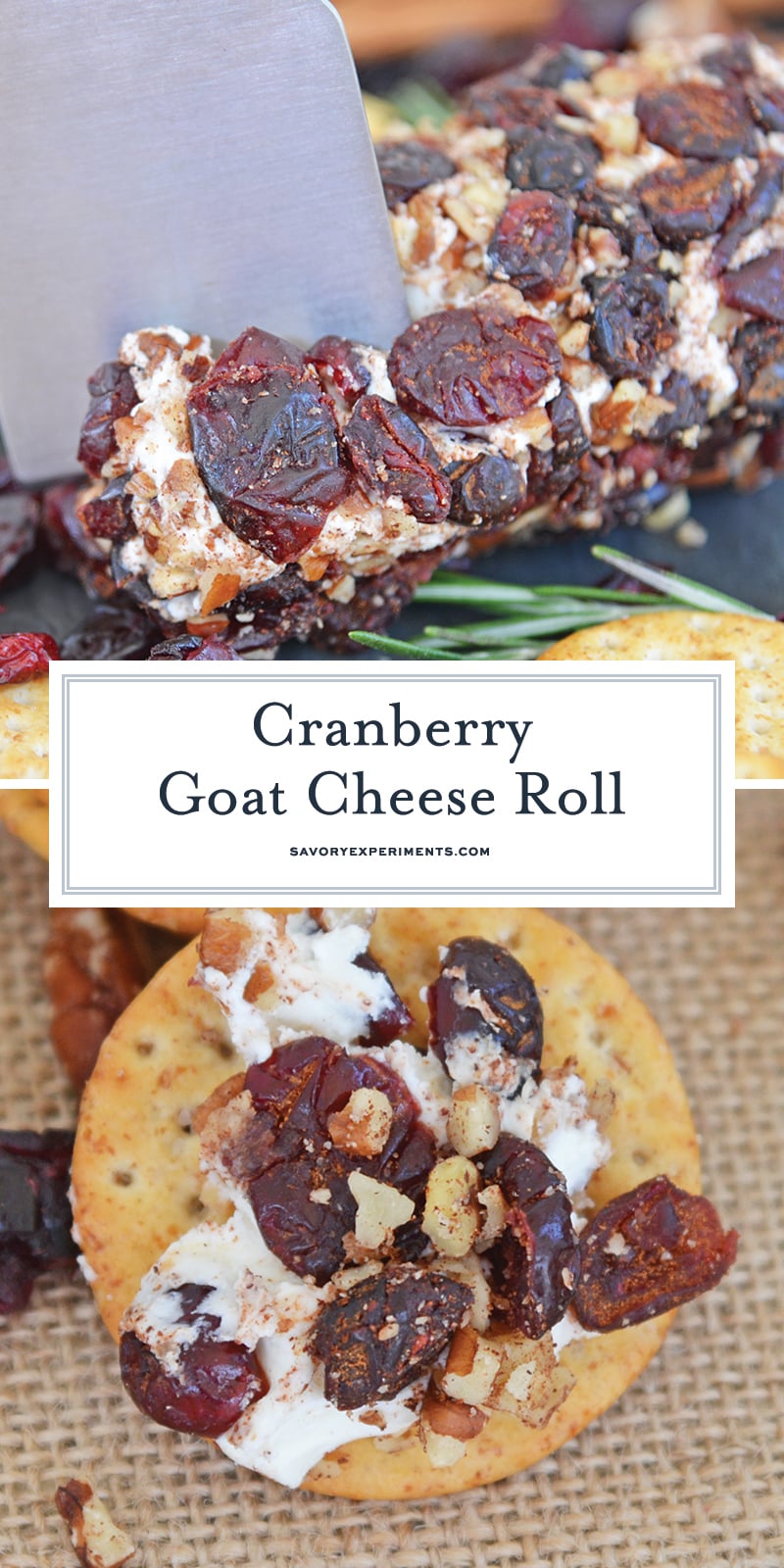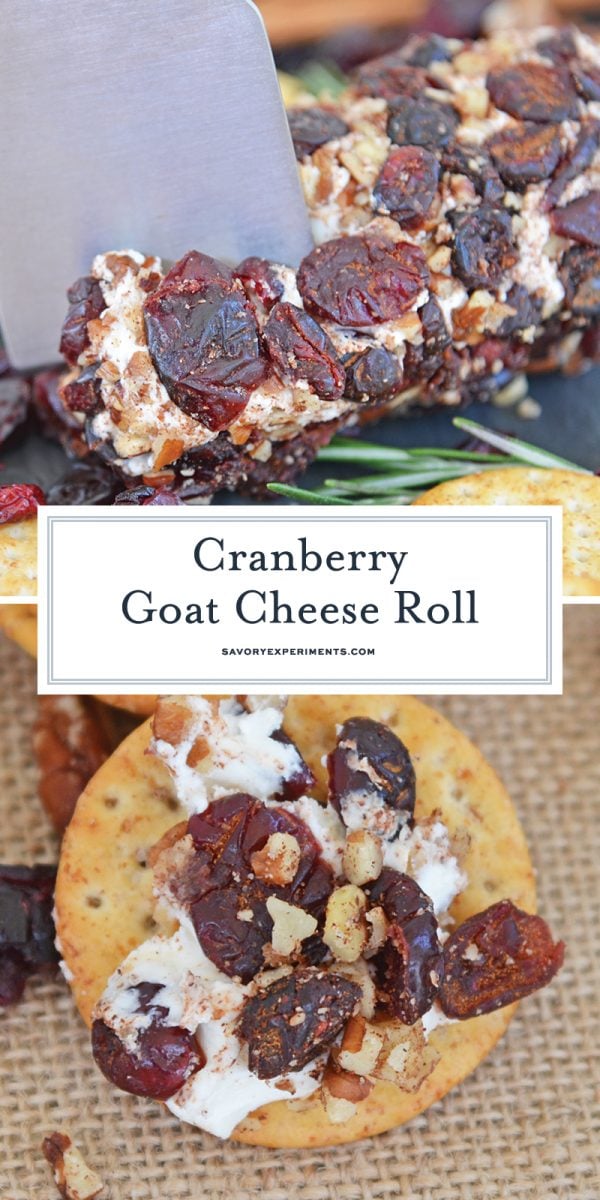 Grab one of these delicious recipes for your holiday celebration!
Pull Apart Cheesy Bread
from What's Cookin' Chicago
Cranberry Goat Cheese Roll
from Savory Experiments
Loaded Cauliflower
from Devour Dinner
Caramelized Onion and Pear Bites
from Chipa by the Dozen
Bacon Ranch Cheese Ball
from House of Nash Eats
Old Fashioned Green Beans with Bacon and Brown Sugar
from Rose Bakes
Pear and Brie Crostini
from Tastes of Homemade
Breakfast Charcuterie Board
from Hoosier Homemade
Hasselback Potato Gratin
from The Flour Handprint
Beef Wellington
from Fresh Coast Eats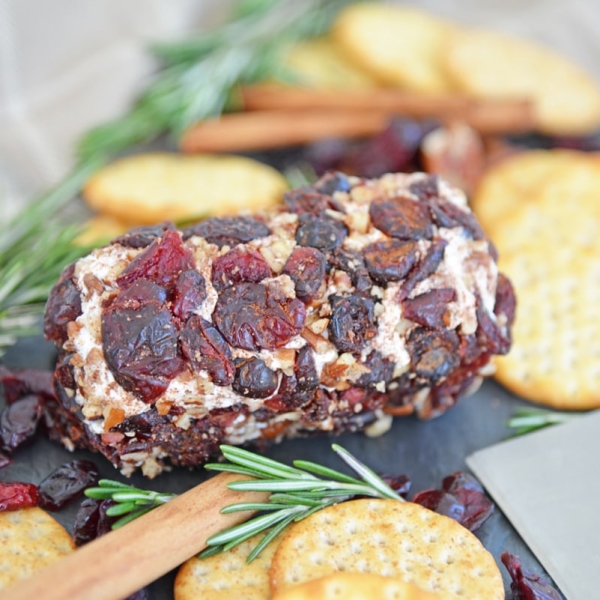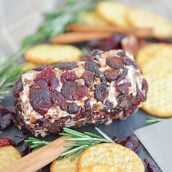 Cranberry Goat Cheese Roll
This Cranberry Goat Cheese Roll is the ultimate no cook appetizer. All you need is a log of goat cheese, cranberries, pecans and cinnamon.
Instructions
Nutrition
Calories:
114
kcal
,
Carbohydrates:
5
g
,
Protein:
6
g
,
Fat:
8
g
,
Saturated Fat:
4
g
,
Cholesterol:
13
mg
,
Sodium:
298
mg
,
Potassium:
21
mg
,
Fiber:
1
g
,
Sugar:
4
g
,
Vitamin A:
293
IU
,
Calcium:
42
mg
,
Iron:
1
mg