With the classic Christmas colors of red and green, these Cranberry Pistachio Cookies are perfect for the holidays!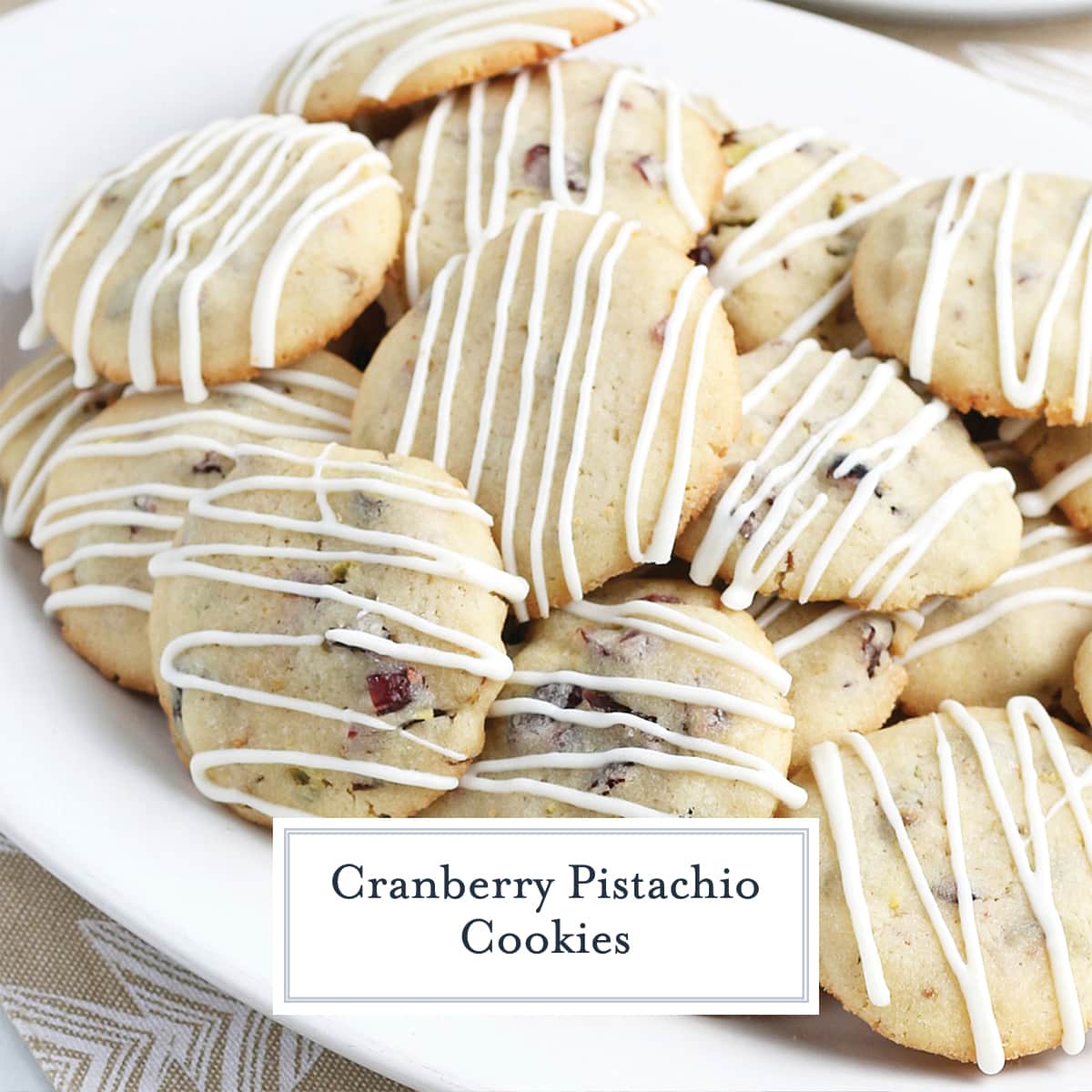 Like many, I find myself baking more this holiday season. Whether it is to pass the time since I'm not spending it traveling or because I am making edible treats to send, I wanted to find new cookie recipes.
Cranberry Pistachio Cookie Recipe
Since my Cranberry Pistachio Bark does tremendously well every year during the holidays, a natural choice was to transform them into sugar cookies too.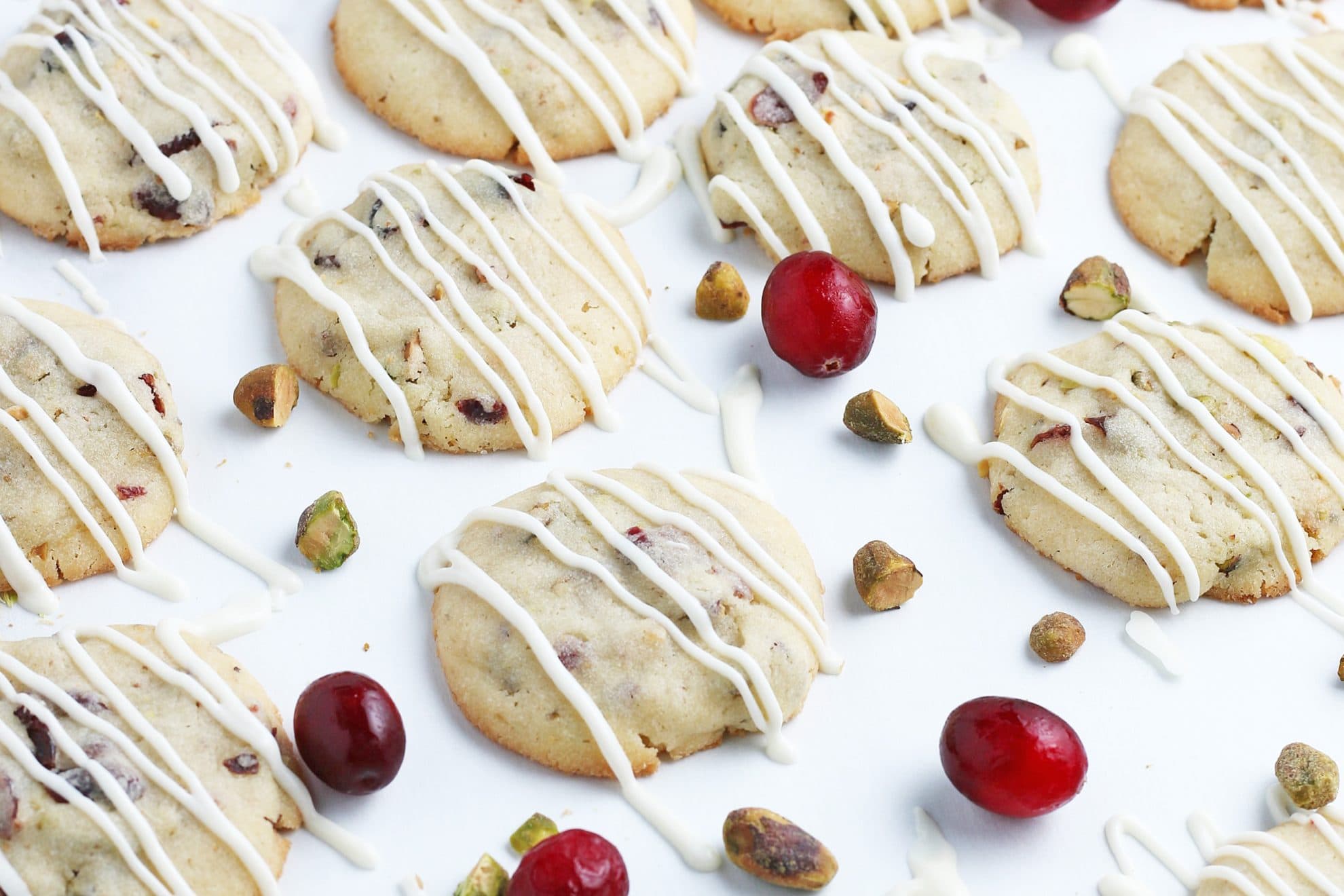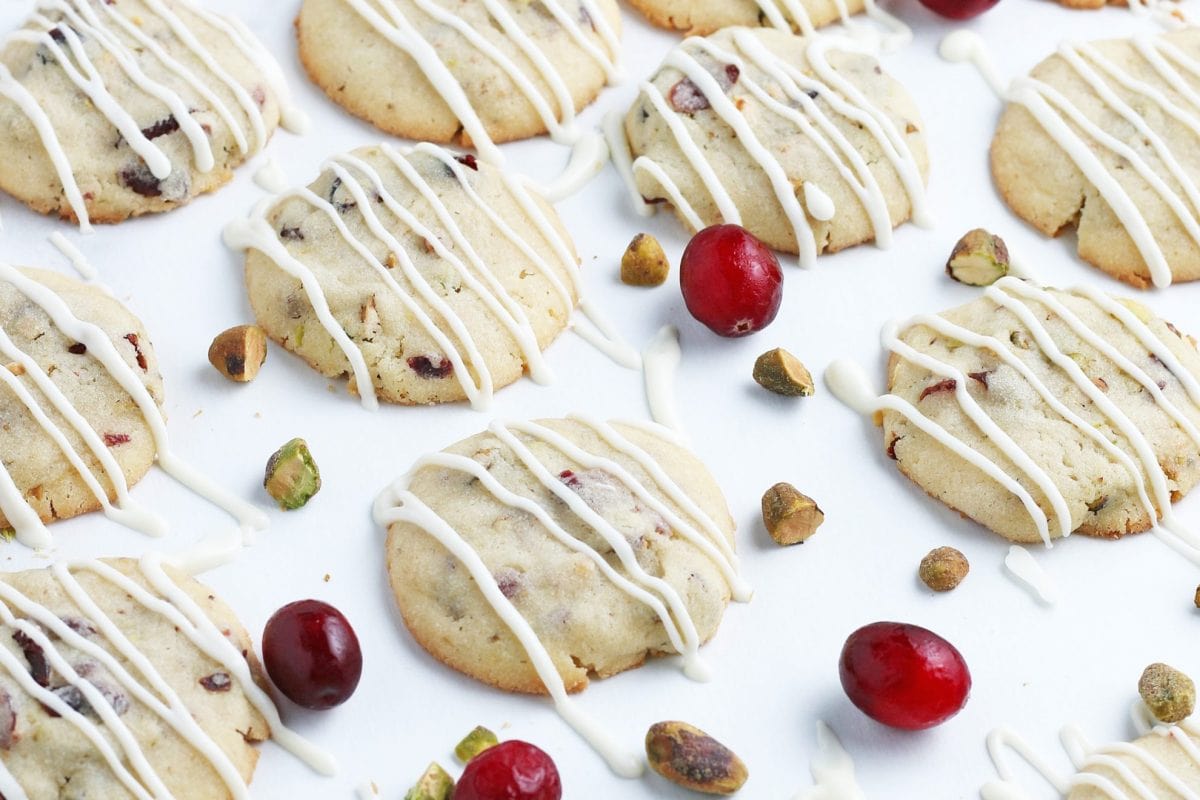 Classic sugar cookie dough dotted with salty pistachios and chewy dried cranberries. We all know that salt and sweet desserts make my day and the colors of red and green are super festive, making these ideal for any cookie tray.
Variations
While I love the sweet and velvety taste and texture of cranberry with pistachio, where are a couple other ways to customize your cookies.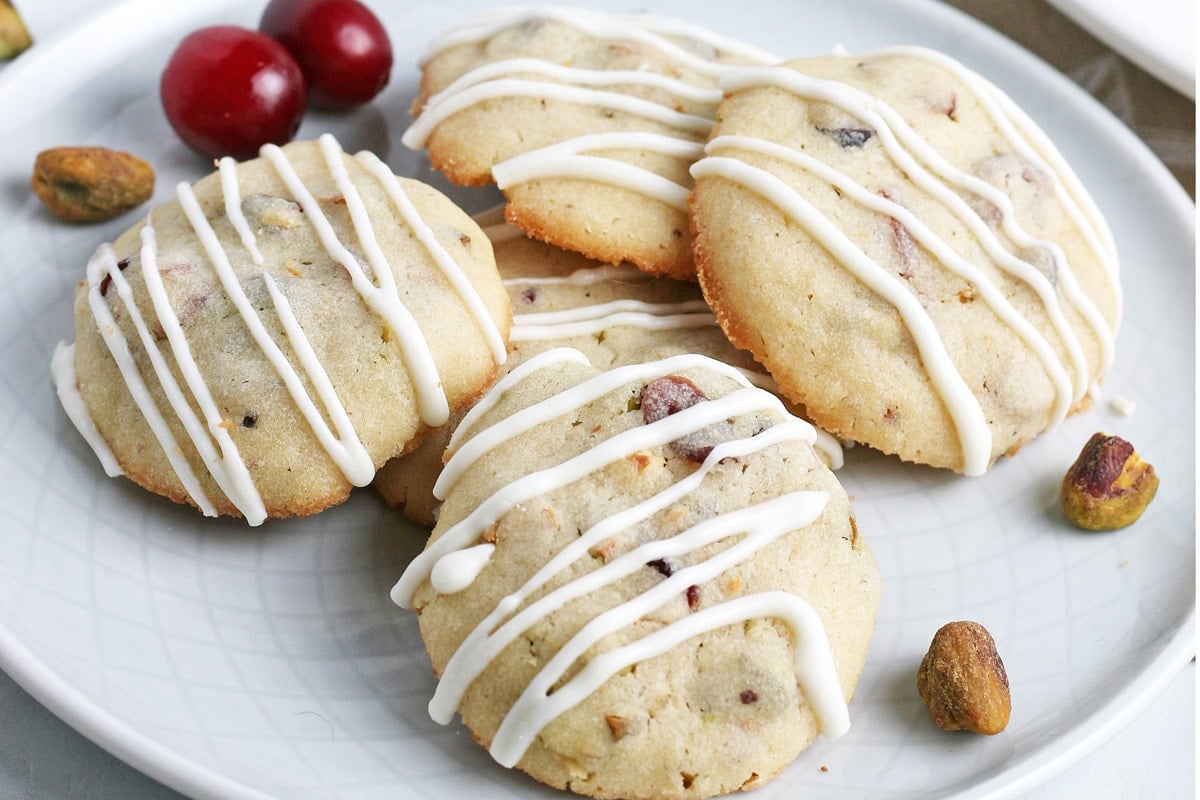 Are you nuts? Just swap out the pistachios for your favorite nuts. Walnuts, pecans and even pine nuts are good substitutes.
Extracts are Key- Using both vanilla and almond helps these cookies stand out from the rest, but you can use all vanilla, all almond or swap out another flavor. Orange, butter and maple are other good choices.
Citrus– What other flavors complement cranberries, chocolate and pistachios? Citris, of course! I find that orange it the best. Add 1 teaspoon of fresh orange zest to the cranberry pistachio cookies batter during the butter and sugar creaming step.
Vary your Icing– I used a classic powdered sugar glaze, but you can also use white chocolate. It reminds me of freshly fallen snow. But since white chocolate isn't really chocolate at all, some foodie friend might prefer using dark or milk chocolate. Or… you can use a combination of both!
Salt Levels– Everyone's threshold for what is "salty" differs. I LOVE salt and welcome a nice crunchy mild version, but others don't want any at all. Omit the salt topping if this is the case. Some salt is necessary to enhance natural flavors in the cookies and your pistachios will likely be lightly salted as well.
Don't Skip Toasting!
This seems like one of those steps you can save a little time with and skip. I don't suggest it with these Cranberry Pistachio Cookies.
Toasting any nuts for any recipe adds depth and sophistication to the flavor profile. Many will develop deeper earthy flavors of caramel, while bitter and sour flavors can be reduced.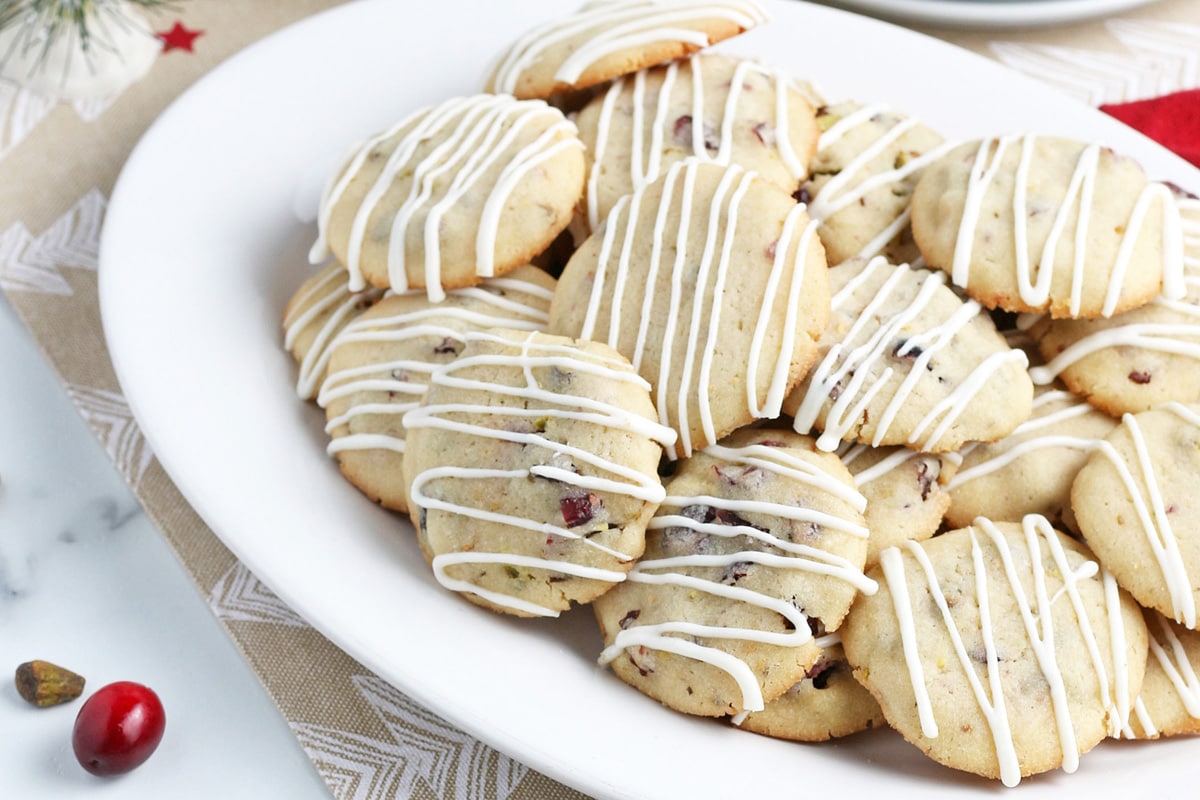 How to Toast Nuts
Stovetop method– heat a large skillet over medium heat. Add dry nuts to the dry skillet. Watch them carefully and toss every 30 seconds. Continue until they become fragrant and lightly browned, approximately 5 minutes. This works best when you need to toast less than 1 cup of nuts.
Oven method- For large batches, anything over 1 cup use the oven. Preheat oven to 400 degrees then spread nuts out into a single layer on a rimmed baking sheet. Toast for about 10 minutes, flipping halfway through.
Storage & Freezing Cranberry Pistachio Cookies
Like most cookies, these are best kept at room temperature in a cool, dry place in an airtight container. I find them to be best enjoyed within 5 days of baking or thawing.
The baked cookies can also be frozen for up to 3 months if you are planning to bake ahead. I recommend not drizzling with icing if you intend to freeze. Skip this step and do when they are thawed.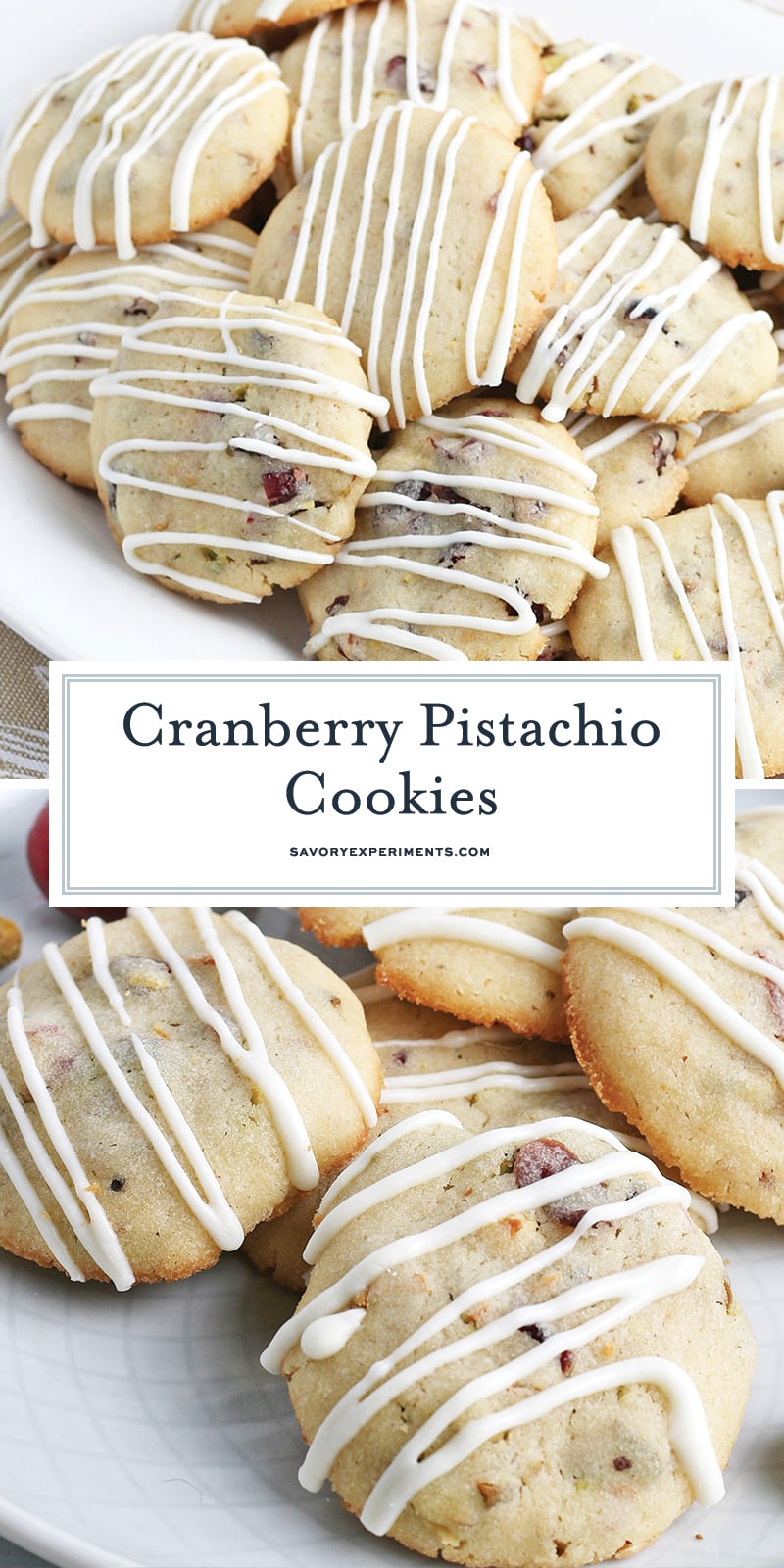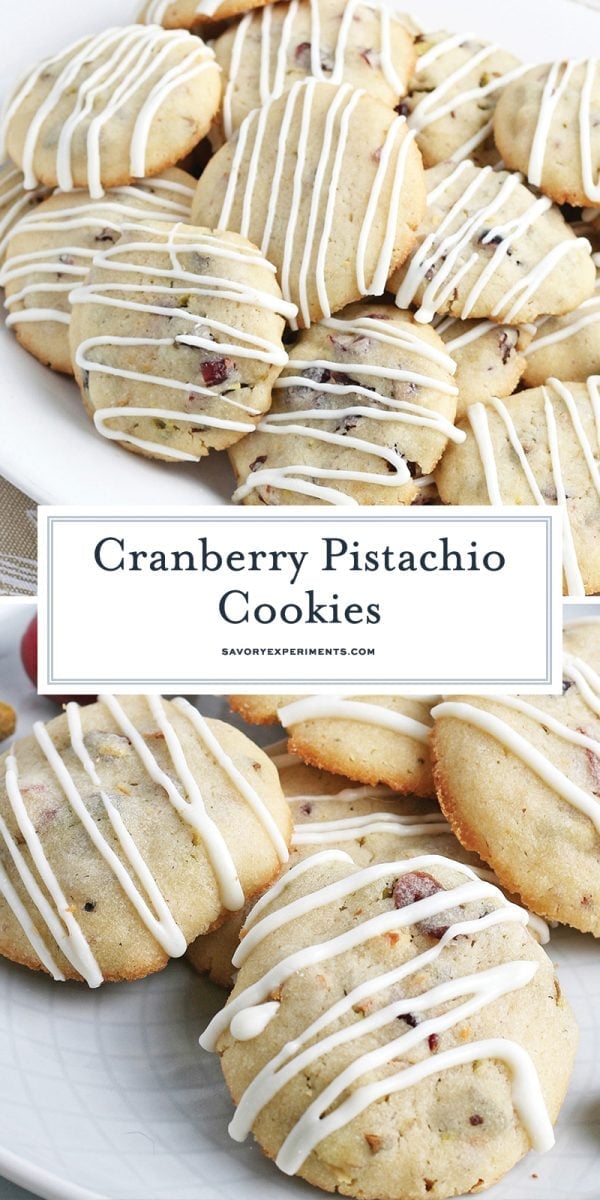 More Christmas cookies for your trays: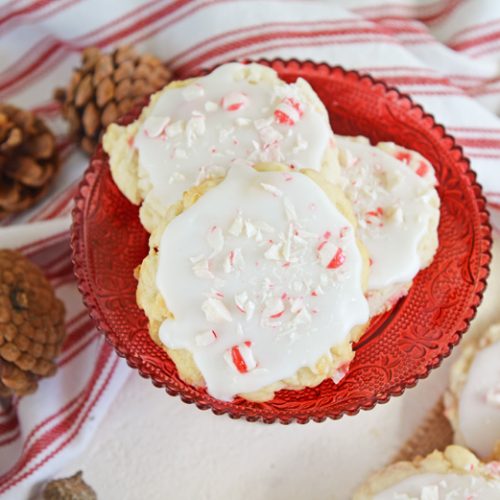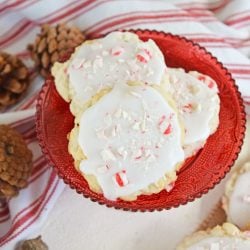 Peppermint Cake Mix Cookies
Peppermint Cake Mix Cookies only use 5 ingredients and are super soft and festive!
View this recipe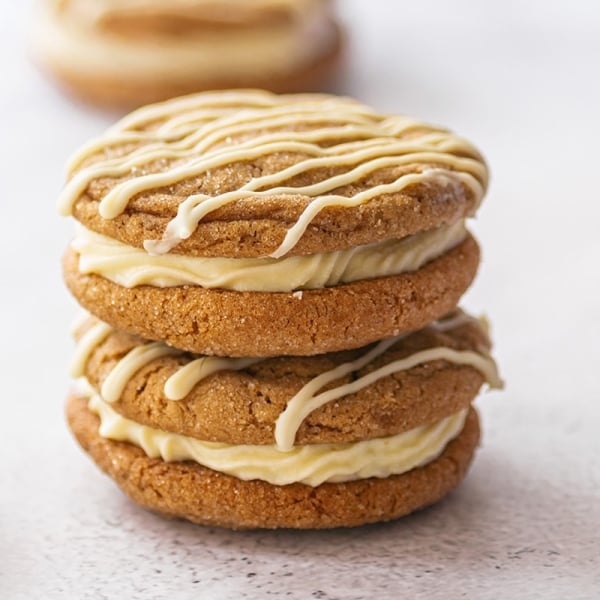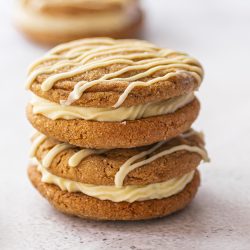 Molasses Cookie Sandwiches
Homemade soft & chewy molasses cookie sandwiches with a silky-smooth cream cheese filling take minutes to make and will become a family favorite!
View this recipe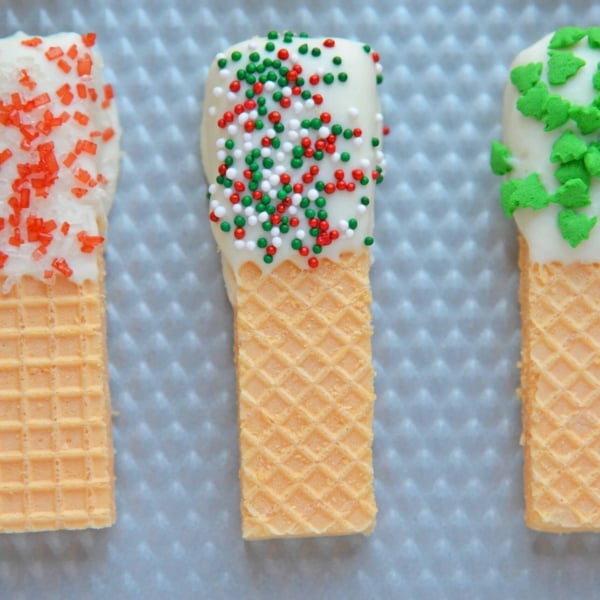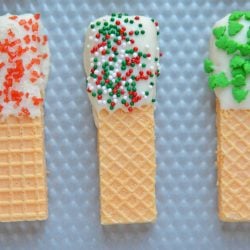 Chocolate Covered Sugar Wafers
These Chocolate Covered Sugar Wafers are a simple no bake cookie that doubles as an easy Christmas cookie recipe. Quick, easy and festive you'll want to make these for every holiday party and cookie platter!
View this recipe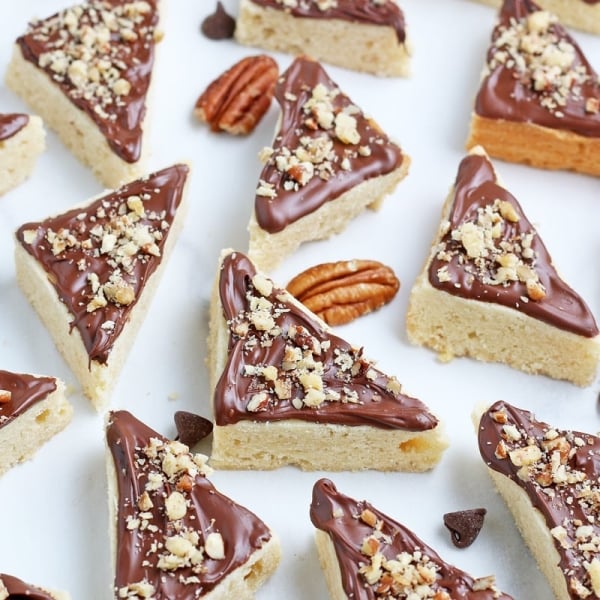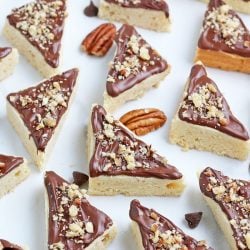 Chocolate Pecan Cookie Bars
With pecans, chocolate and a delicious cookie layer, these Chocolate Pecan Cookie Bars are great for Christmas and all year round!
View this recipe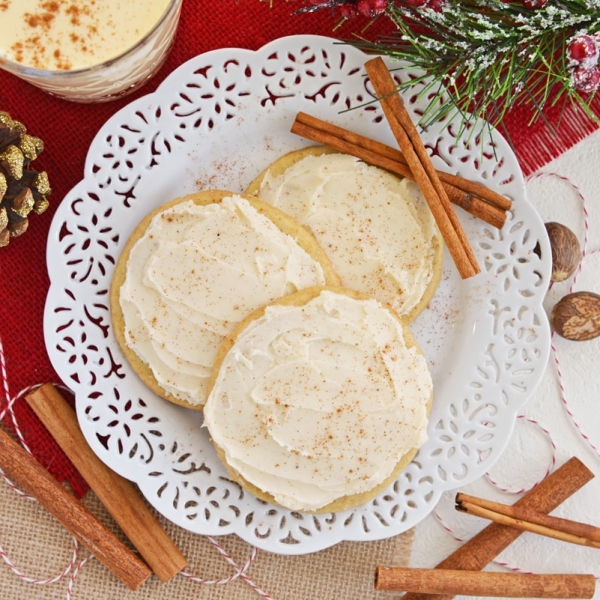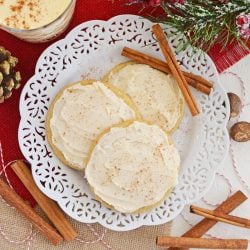 Eggnog Cookie Recipe
Eggnog Cookies are luscious, full of flavor and have eggnog mixed into the cookies and frosting. These cookies come straight from the North Pole and are the best way to use leftover eggnog!
View this recipe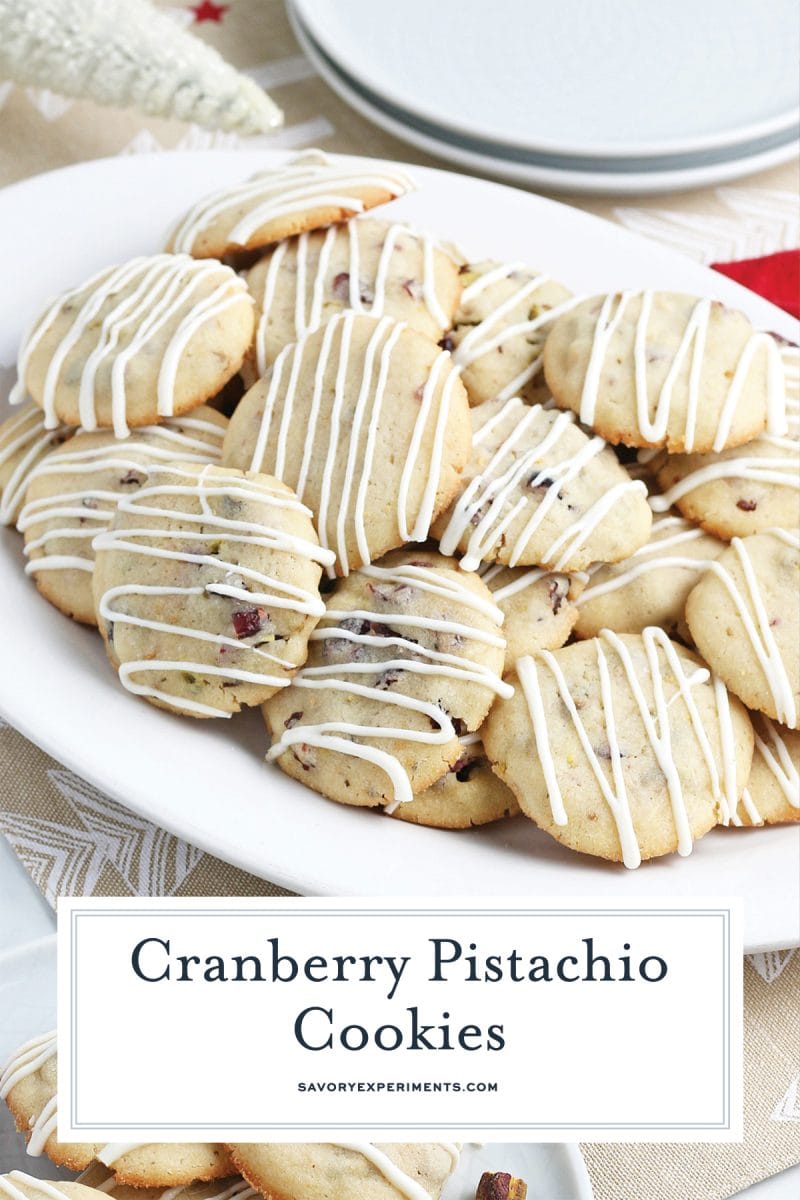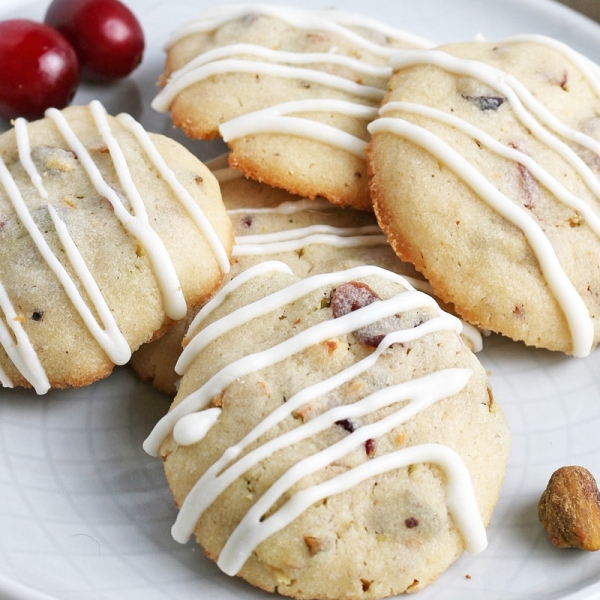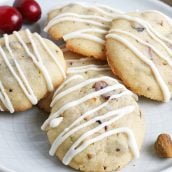 Cranberry Pistachio Cookies
With classic Christmas colors of red & green, these Cranberry Pistachio Cookies are great for the holidays! Add them to your cookie trays!
Instructions
Preheat oven to 350 degrees and line a baking sheet with parchment paper.

Sift together flour and salt. Set aside.

In a the bowl of a stand mixer fitted with the paddle attachment or a large bowl with an electric hand mixer, beat the butter until fluffy and light.

Add sugar, creaming well. Beat in the egg, vanilla and almond extracts until well combined.

Roll into 1-inch balls or use a 2 tablespoon cookie scoop and place on prepared baking sheet 2 inches apart.

Bake for 8-10 or until edges are set and slightly golden brown, centers might still look shiny.

Cool on baking sheet for 3-4 minutes before transferring to a wire rack to finish cooling.

When cooled, whisk together powdered sugar and milk until a paste forms. Place into an airtight plastic bag and snip the corner.

Drizzle cookies with icing.

While icing is tacky, sprinkle very lightly with fleur de sel or other coarse salt.

Let set for 5-10 minutes to set.

If you've tried this recipe, come back and let us know how it was in the comments or ratings!
Nutrition
Calories:
116
kcal
,
Carbohydrates:
13
g
,
Protein:
1
g
,
Fat:
7
g
,
Saturated Fat:
4
g
,
Cholesterol:
18
mg
,
Sodium:
36
mg
,
Potassium:
28
mg
,
Fiber:
1
g
,
Sugar:
7
g
,
Vitamin A:
171
IU
,
Vitamin C:
1
mg
,
Calcium:
5
mg
,
Iron:
1
mg