I love brunch and happen to be a hollandaise fanatic and being a Marylander has given me an intense love for all things crab. One day it hit me, what would happen if I drizzled hollandaise over crab cakes?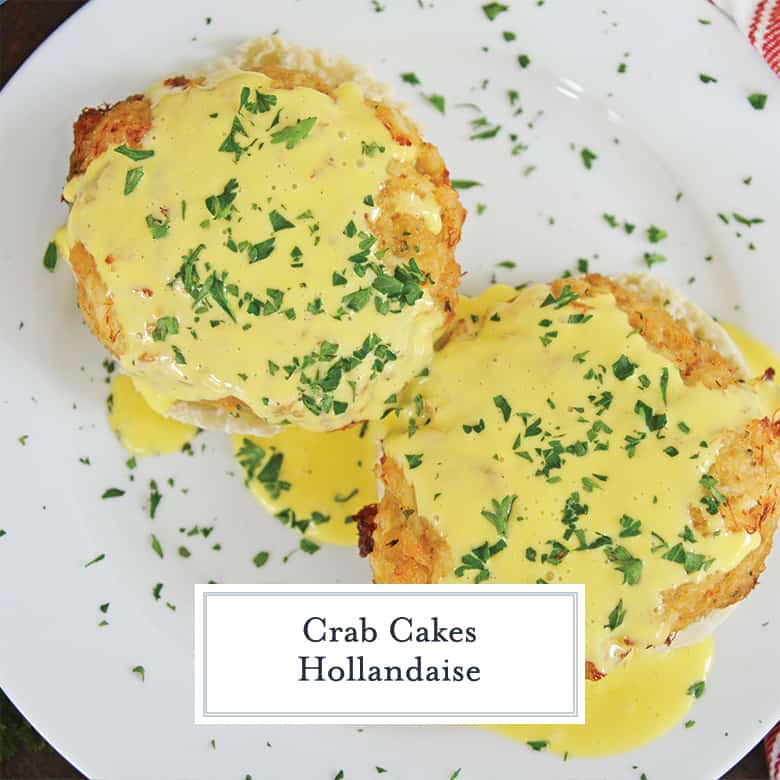 Crab Cakes Hollandaise is a decadently delicious dish that is perfect as an entree or as an appetizer. It is certain to wow your guests.
The answer to that question is an all-out, flipping amazing party for your tastebuds. Seriously, it is absolute heaven. The sweetness of the crab and the crisp exterior or the cake itself pairs perfectly with this rich and citrusy sauce.
Crab Cakes
For those of you who have not made crab cakes before, welcome to a new and wonderful club. As a Marylander, I will give you a few general rules we abide by here:
There are no veggies allowed. Not even the red pepper people try to sneak in. If you want veggies, make a side dish or a salad.
Fillers are a no go. You will, of course, need something to bind the crab meat together to form the cake, but some people go overboard. There is no need to have anything more than what is absolutely necessary.
A little seasoning is fine. A lot of seasoning is blasphemy. You are here to enjoy the flavor of the crab meat, not the seasoning.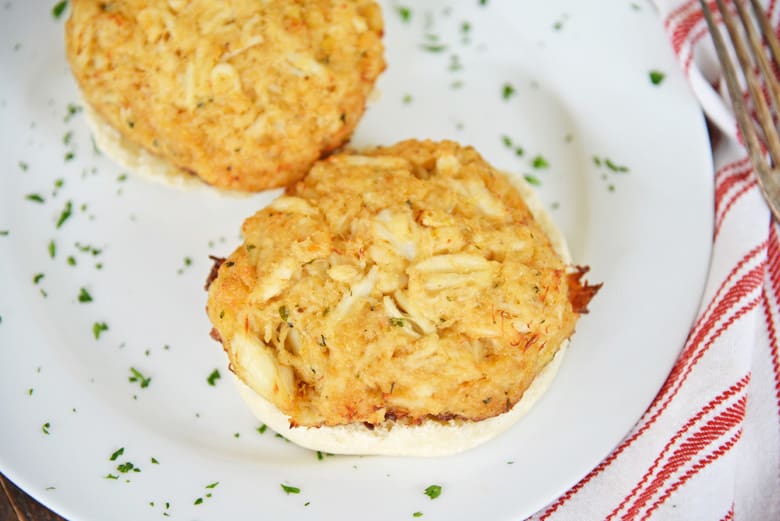 Crab Meat
Generally speaking, you will have a few choices when it comes to meat. If you are unfamiliar with crab meat, here is a basic outline of the different types you might see:
Claw – dark meat that comes from the claw, a little more stringy than other varieties.
Special – smaller pieces, comes from small little crevices or the "special" sections of the crab, good for flavoring and dips.
Backfin – some larger lumps coming from, you guessed it, the back of the shell, whiter meat does well in crab cakes, feathery texture.
Jumbo lump – large, lumps of meat, the beauty is the large pieces used for crab meat cocktails or delicious to pop in your mouth plain, very tasty and moist.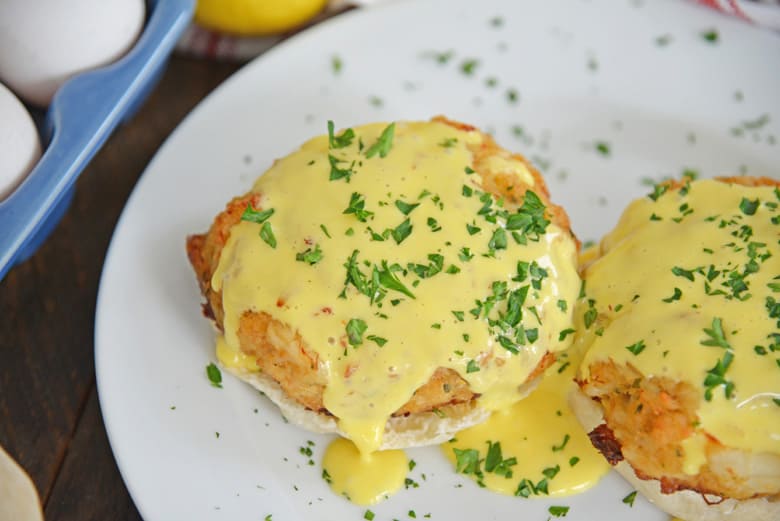 Most people will agree that jumbo lump, while more expensive, is the best way to go when it comes to crab cakes and with the hollandaise sauce, it is really over the top.
That said, it is expensive and if it is putting too much strain on your wallet, go with a blend that includes it.
Hollandaise Sauce
We've talked crab cakes, let's talk sauce. So what is hollandaise anyway?
This thick and rich sauce originated in France. At its core, it is a simple, emulsified mixture of two ingredients: butter and raw egg yolks.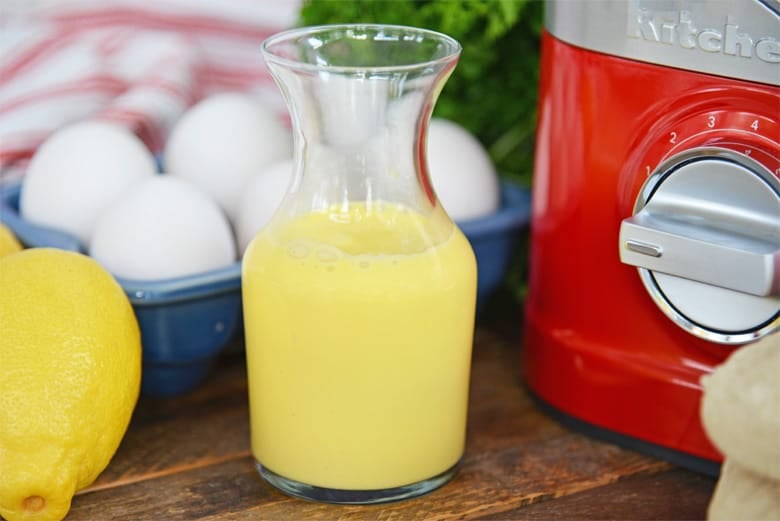 It can be seasoned and doctored up all sorts of ways based on preference. Popular additions include salt and pepper, cayenne, hot sauce, lemon juice, dijon mustard, and more. It is delicious on eggs benedict of course, but also things like asparagus, steak, and delicate poached fish.
Why does hollandaise have a bit of a reputation? While this sauce seems luxurious and hearty, it is actually a challenge to make because of the delicate balance of emulsion and temperatures.
If you don't get it right, the sauce can separate and getting it to come back together from the brink is no easy feat. Should the heat be too hot, you can start cooking your eggs and get a lumpy sauce. Too cold, and the emulsion won't hold.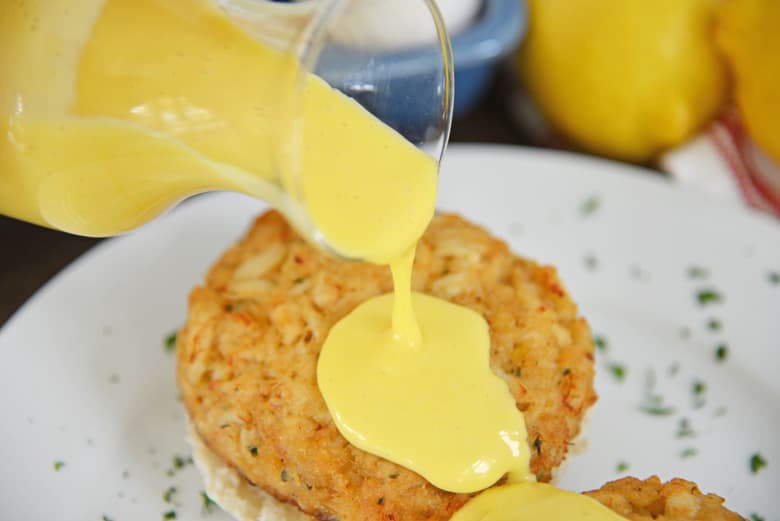 The old school way of making it is by whisking it quickly in a bowl set over a pot of boiling water or a double boiler. I skip that step and move to a foolproof way of getting these ingredients to come together – the blender!
The motor ensures "whisking" is even and vigorous enough to bring everything together. Once together, be sure to keep your sauce warm. If it is too hot, it will break. If it is too cold, it will also break.
Can I freeze hollandaise sauce? I don't suggest freezing hollandaise sauce since it does use raw eggs and is an emulsion. It will separate and be yucky when thawed with a much higher chance of potential foodborne illness.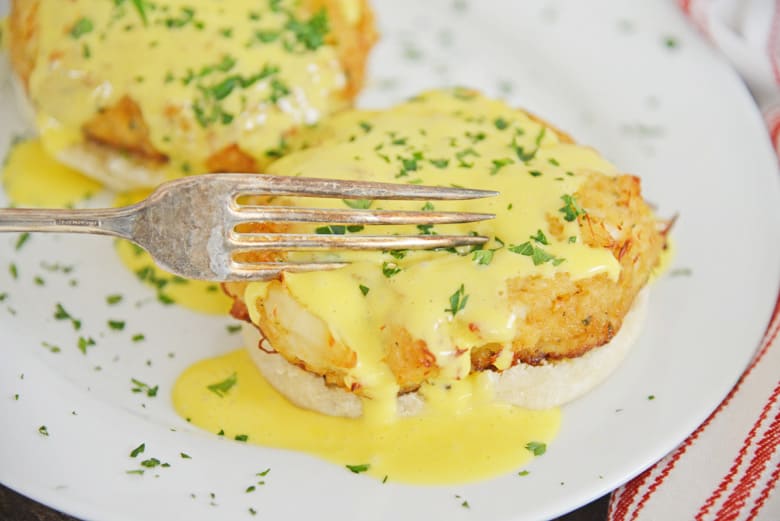 Crab Cakes Benedict
You can easily transform this recipe into a crab cakes benedict by adding a toasted English muffin or buttery biscuit and a poached egg.
Essentially the crab takes the place of ham. You can add ham too if you want to be "extra" as the kids say…
The layering goes like this: English muffin, crab cake, poached egg and hollandaise sauce. I also like to top it with chopped chives or parsley.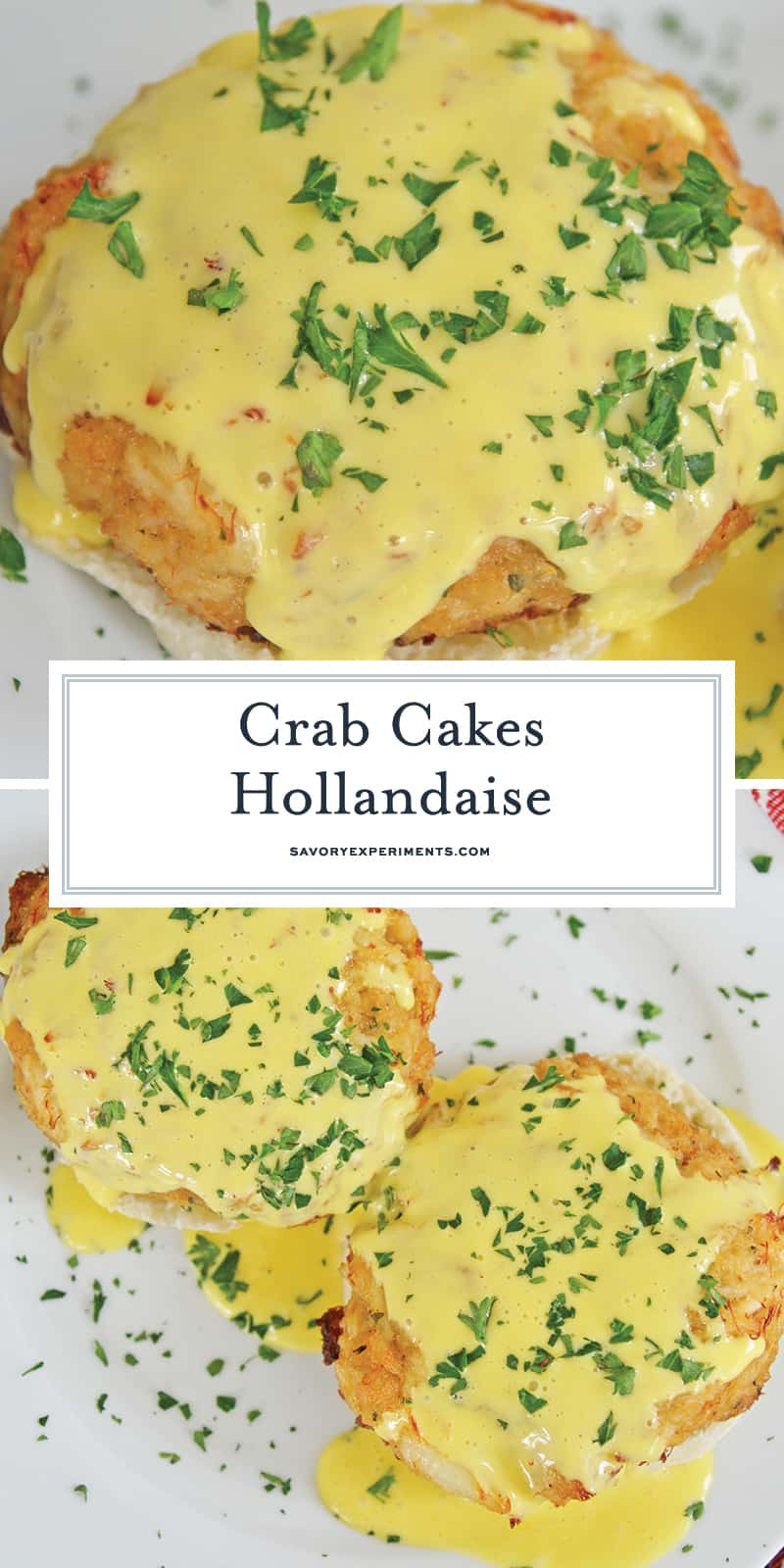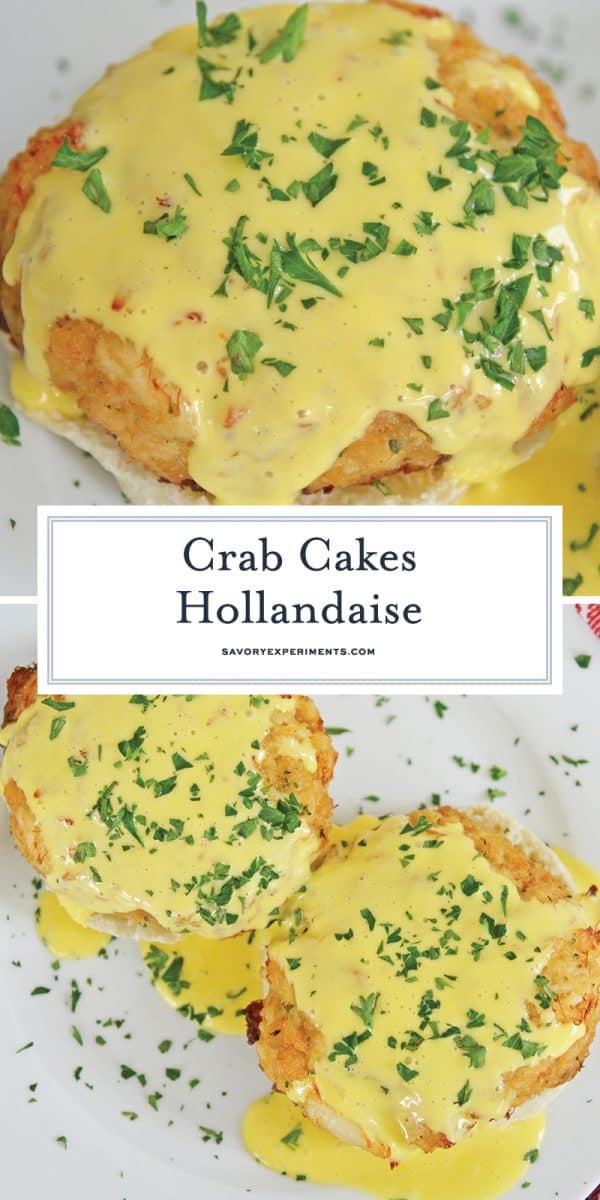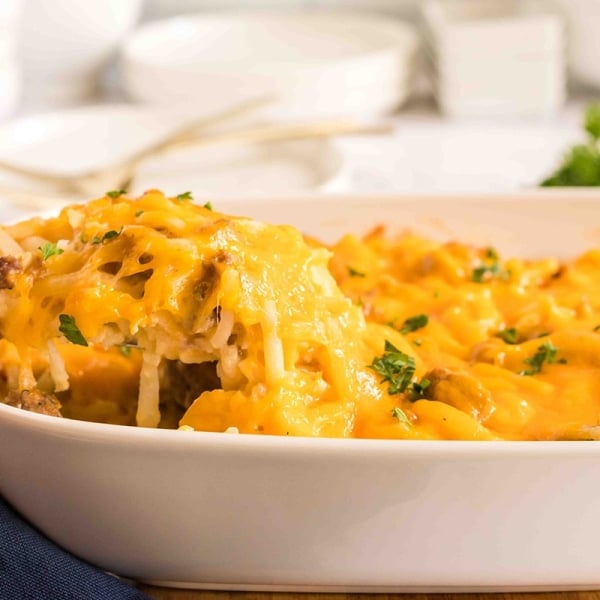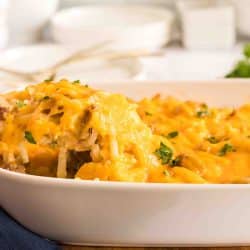 Sausage Hash Brown Casserole
This Sausage Hash Brown Breakfast Casserole is loaded with delicious breakfast sausage, hash browns, and lots of cheese. One of the best breakfast casserole recipes for holiday breakfasts, Sunday brunch, or any other occasion.
View this recipe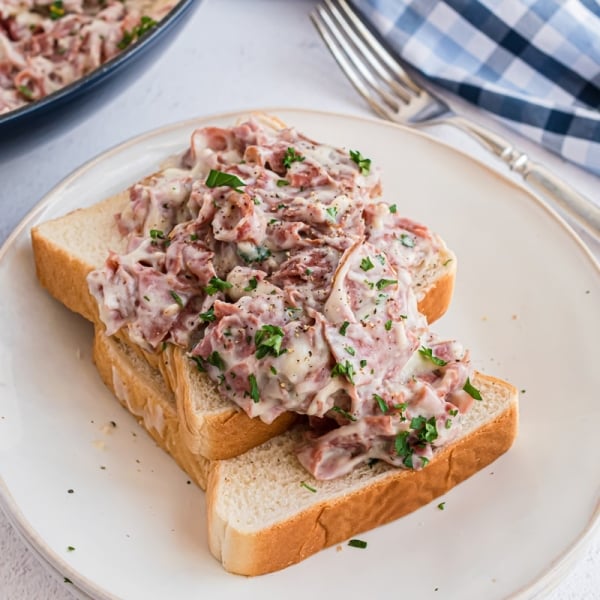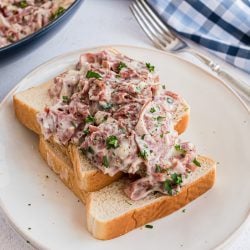 Creamed Chipped Beef Recipe
Creamed Chipped Beef, also known as SOS, consists of thinly sliced beef in a velvety creamy gravy. This easy recipe is the BEST!
View this recipe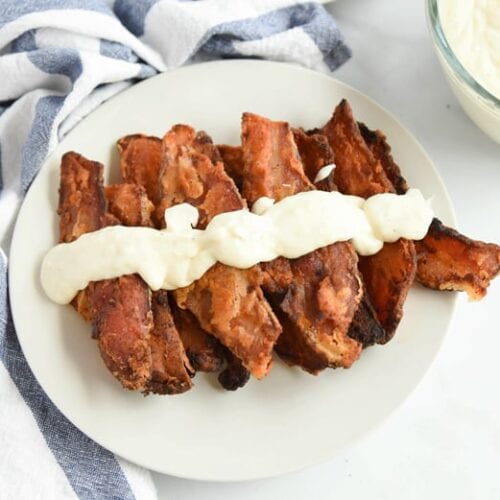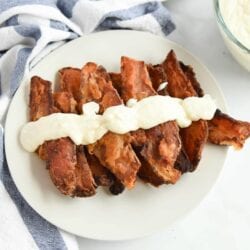 Chicken Fried Bacon
Chicken Fried Bacon is thick cut bacon dredged in seasoned flour and egg, like chicken fried steak, and then fried to a golden brown and served with Cream Gravy.
View this recipe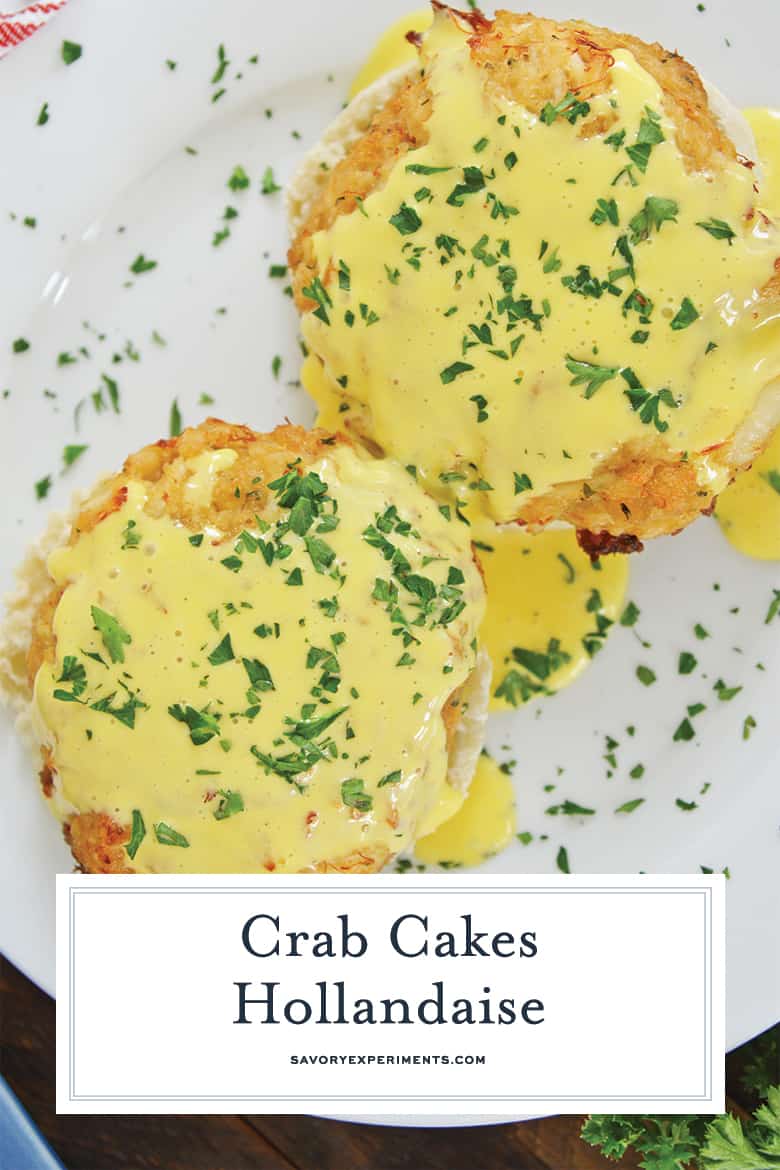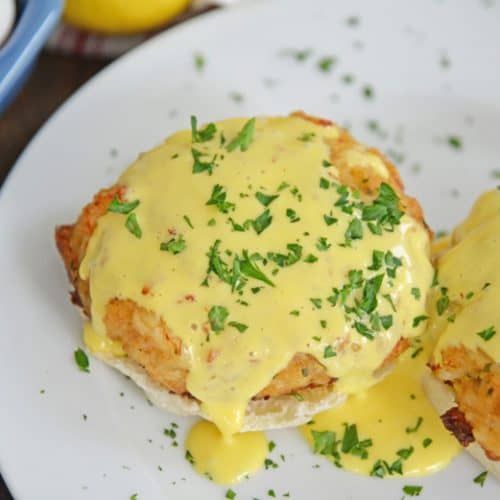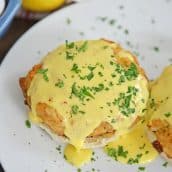 Crab Cakes Hollandaise
Crab Cakes Hollandaise is a decadently delicious dish that is perfect as an entree or as an appetizer. It is certain to wow your guests.
Instructions
Crab Cakes:
Dab crab meat with paper towels to get out excess moisture. Try not to break apart any of the large crab meat lumps.

In a medium bowl, whisk together mayonnaise, Worcestershire sauce, Dijon mustard, Old Bay and lemon juice.

Add crab meat, panko and lightly beaten egg. Toss lightly using your fingers until just moist, again, trying to not break apart any crab meat lumps. If it isn't sticking, add more panko slowly until it binds. Carefully form 8 jumbo crab cakes or 16 crab balls.

Line a rimmed baking sheet with aluminum foil and lightly grease. Place crab cakes on baking sheet.

Preheat broiler to high heat. Place 4-5 inches from heating element. Broil until lightly brown on top, approximately 7-8 minutes.

Remove, transfer to toasted English Muffins using a spatula and top with hollandaise sauce.
Hollandaise Sauce:
Combine egg yolks, Dijon mustard and lemon juice in a blender. Cover, and blend on high for 1-2 minutes. The mixture will blend and start to lighten.

Reduce blender speed and take out the middle stopped in the center of the lid. Slowly pour in butter in a steady stream while the blender is running. You might get a few spits and splatters.

Continue to mix until sauce has thickened, which will happen within 1 minute.

Add salt and optional hot sauce or white pepper, pulse to blend.

Sauce will be semi-warm from agitation in the blender, but you can heat further by setting the whole blender in large bowl of hot water or place sauce in a double boiler saucepan on low heat, stirring constantly.

If you've tried this recipe, come back and let us know how it was!
Notes
To make into a Crab Cakes benedict top with a poached egg and chives.
You can also add a flavored cream cheese to the English muffin for a fun twist!
Nutrition
Calories:
614
kcal
,
Carbohydrates:
13
g
,
Protein:
47
g
,
Fat:
41
g
,
Saturated Fat:
18
g
,
Cholesterol:
357
mg
,
Sodium:
2157
mg
,
Potassium:
524
mg
,
Fiber:
1
g
,
Sugar:
2
g
,
Vitamin A:
1049
IU
,
Vitamin C:
19
mg
,
Calcium:
172
mg
,
Iron:
3
mg