Filled with your favorite holiday spices like cinnamon, nutmeg and cloves, this Hot Buttered Rum is a cocktail you will want to enjoy all season long!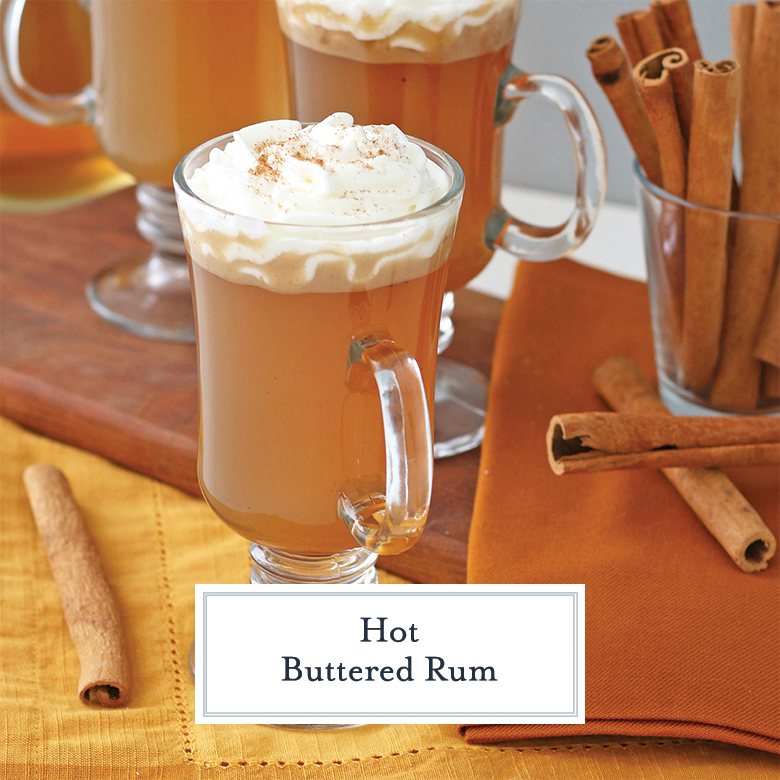 Are you looking for a hot cocktail that's perfect for the colder weather heading our way? Hot Buttered Rum can be prepared right in your own home with ingredients you can grab from the kitchen.
I would describe Hot Buttered Rum as being creamy and comforting with a toasty caramel flavor. It is literally a seasoned butter mixed with spiced rum and hot water.
In fact, if you've ever been to Universal Studios in Orlando, the flavor is quite similar to Harry Potter's "butterbeer!" Without the spiced rum for kiddos, of course.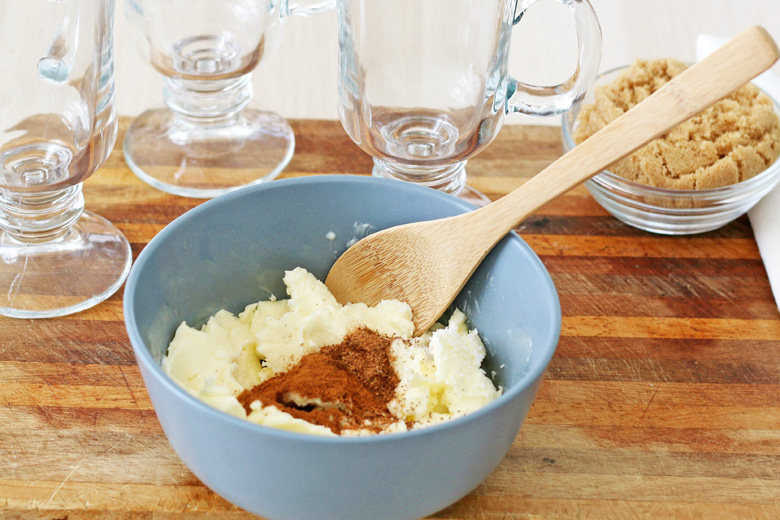 This cocktail originated in the early settlement of America, colonial times. Which means it's been around for a long time for people to enjoy! It is said that early Americans believed that rum was nutritious and had body strengthening properties.
Rum originated in the New World and has become a favorite even in the 21st century. It is created when molasses is fermented and distilled. DELICIOUS! Spiced rum has additional spices.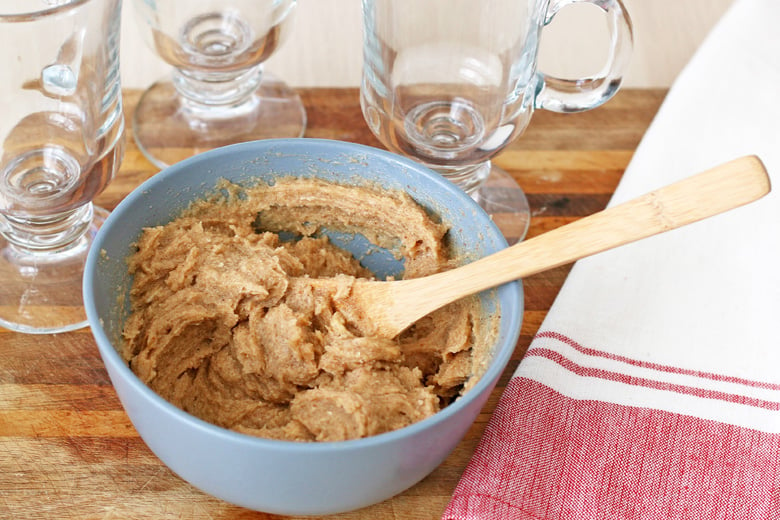 Some of these Hot Buttered Rum ingredients (perhaps all of them) are probably in your fridge and pantry already. We are talking about ingredients like:
butter
brown sugar
cinnamon
nutmeg
water (I sure hope you have water!)
I have been making this cocktail for years. I made it for a Christmas party one year, and it has been requested at every single one since! And because it's so easy to make and can be made ahead, it's ideal.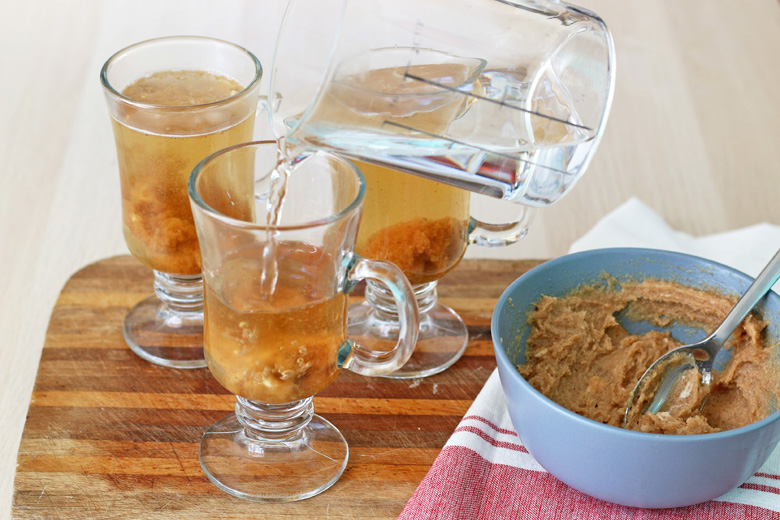 When not making it for parties, Hot Buttered Rum is easily enjoyed at any time of the day, although I prefer it in the evening after a long day of work.
PRO TIP: Grating whole spices will give you a more intense flavor than using pre-ground.
A picturesque roaring fireplace with a faux fur rug, pine cones, garland… and hot butter rum. YUM!
Whether you serve it at an elegant dinner party, or even just as a warm cocktail while you have everyone over to make Christmas cookies, this cocktail is sure to be a hit.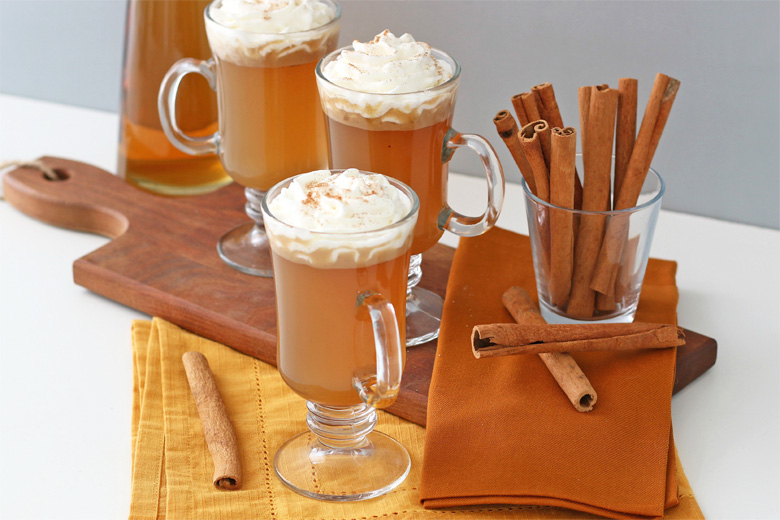 Consider making a larger batch than you think you'll need. In addition to possibly wanting seconds, it can be stored in the fridge and reheated when those unexpected guests arrive.
PRO TIP: Butter can absorb strong flavors around it while being stored in the fridge. Make sure to cover it well or store it in the butter section of your fridge. In fact, this is why there is a butter section in the first place!
To start making this Hot Buttered Rum, you will need to make the butter mixture. Simply combine the softened butter, sugar, cinnamon, nutmeg, cloves, vanilla and salt in a mixing bowl.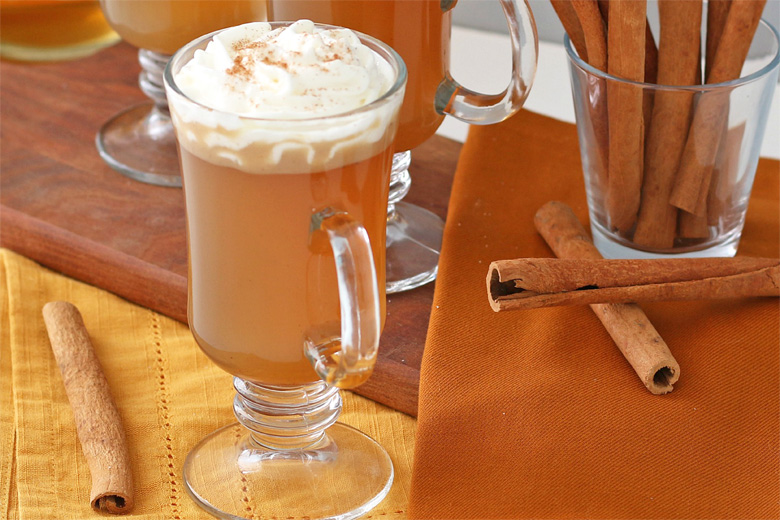 Once the butter mixture is made, add a heaping spoonful to your mug. Next, add in your rum and boiling water. Stir until the butter mixture is completely melted and dissolved.
PRO TIP: Hot Buttered Rum is best enjoyed right after mixing. Spices can settle to the bottom of the glass.
Now on to the toppings! If you want to be really festive or if you are serving this Hot Buttered Rum at a holiday party, garnish with a cinnamon stick.
If you are just indulging in an evening cocktail after dinner, put a scoop of vanilla ice cream on top. Of course, a dollop of whipped cream is always good too.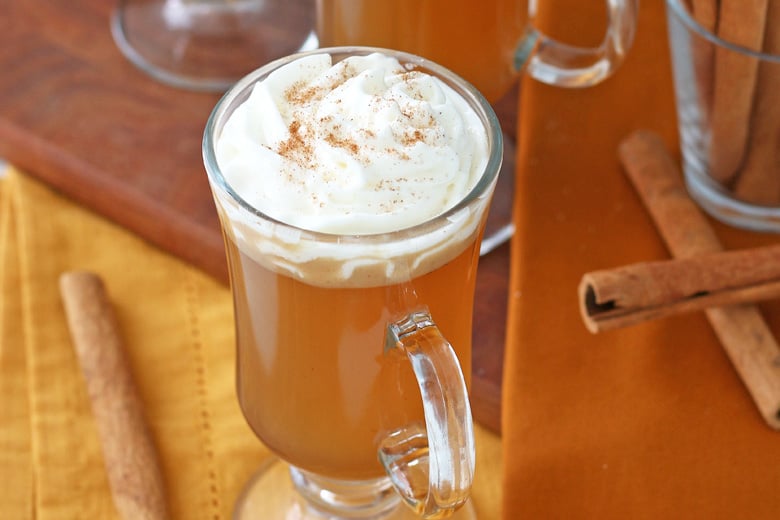 As I mentioned before, this is a great cocktail to serve at holiday parties, and you can certainly make it up ahead of time. You can store just the butter mixture or the whole beverage. But butter alone will last longer than the mixed beverage.
If you liked this warm Christmas cocktail, check out these other cocktails that would be great for the holidays:
Homemade Hot Chocolate Mix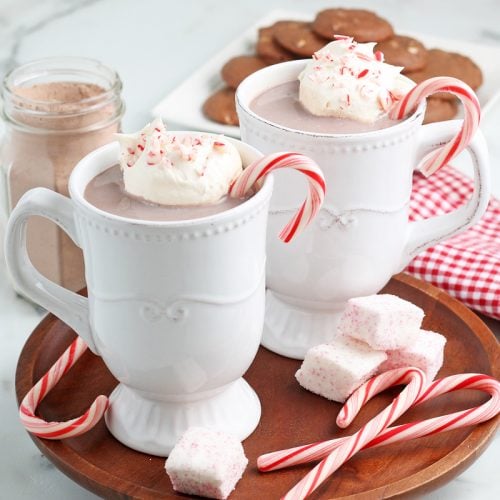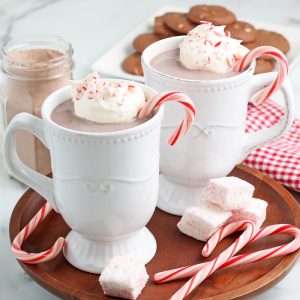 Easy homemade hot chocolate mix. Just add hot milk or water, stir and top with your favorite toppings. Great as a gift!
Holiday Cranberry Punch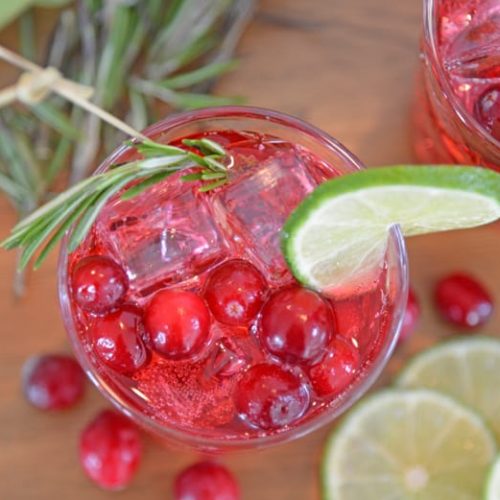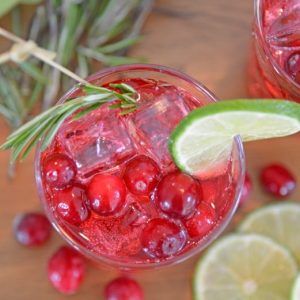 Holiday cocktails don't get any better than this Holiday Cranberry Punch! Garnished with rosemary sprigs and cranberries, it's super festive and fun.
Champagne Float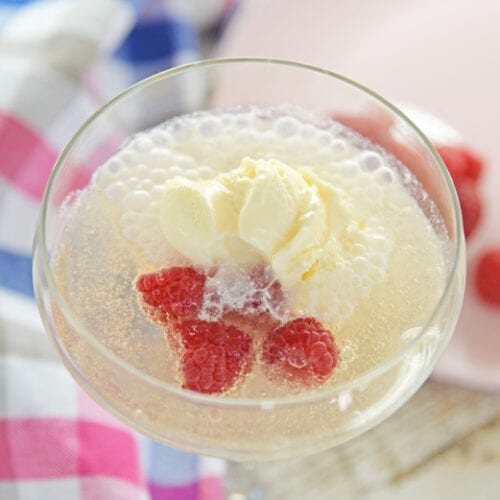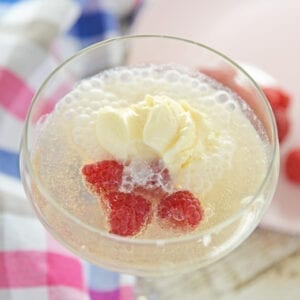 Champagne Float, with ice cream and fresh fruit, is a festive and tasty drink to celebrate any occasion. Can also be made into a sparkling cider float for the kids!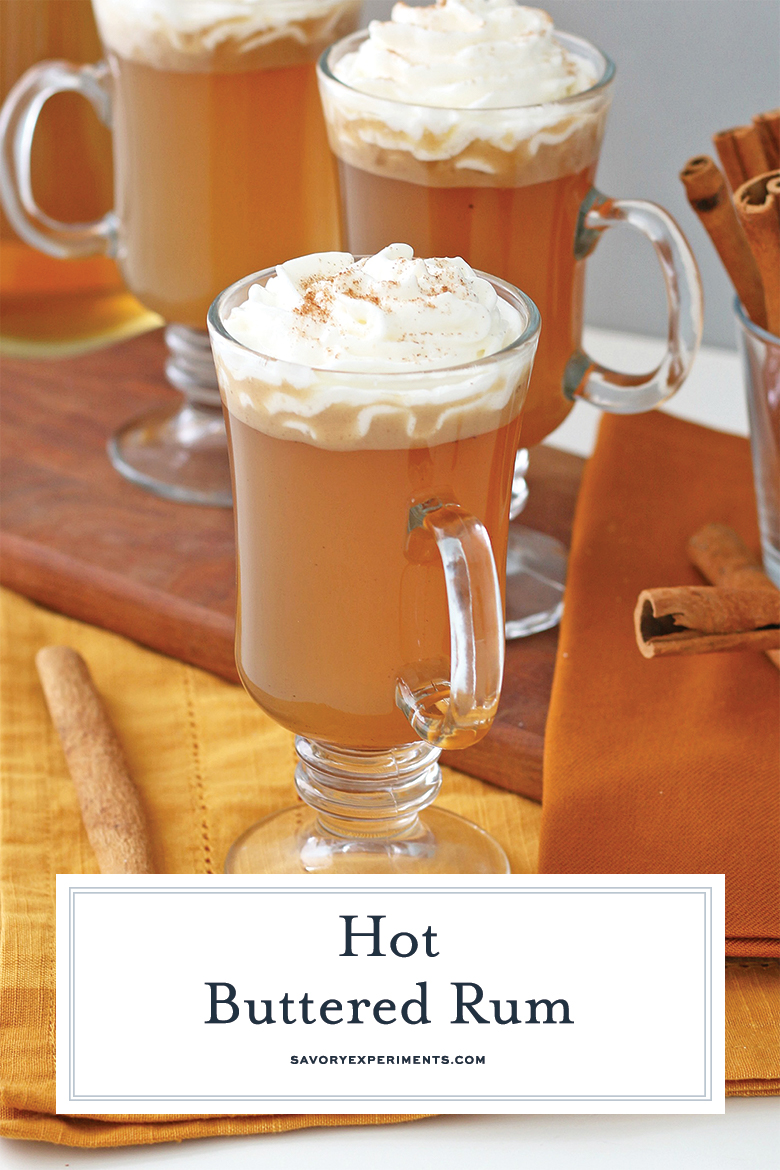 Questions you might have about how to make hot buttered rum:
How do I reheat hot buttered rum? As I mentioned before, you can store the made beverage in the fridge. Reheat it over low heat in a saucepan. Putting it over too high of heat will cause the spices to separate and kill off alcohol from spiced rum. Then remove from heat and pour into your glasses.
You can also add a small amount of boiling water to cold glasses, but not too much otherwise it will dilute all of the delicious flavors.
Can I make it with other alcohol? You can also make Hot Buttered Whiskey. Use the same recipe, just substitute whiskey for rum.
Can I freeze hot buttered rum? You can freeze the spiced butter mixture, but I do not recommend trying to freeze the made beverage. Alcohol doesn't freeze.
How to make Hot Buttered Rum with cider? If you want to add even more flavor, you can certainly use cider. Simply swap out the hot water for hot cider, and your hot buttered rum will be bursting with cinnamon flavor!
Can I make a large batch of hot buttered rum? I suppose you can, but I prefer to make a large batch of the spiced butter and then prepare each cup individually. It tends to mix better this way.
Can I make this in a crockpot? You can put hot buttered rum in a slow cooker for a party and serve with a ladle. However, I would caution that you need to stir it every so often so the spices don't settle.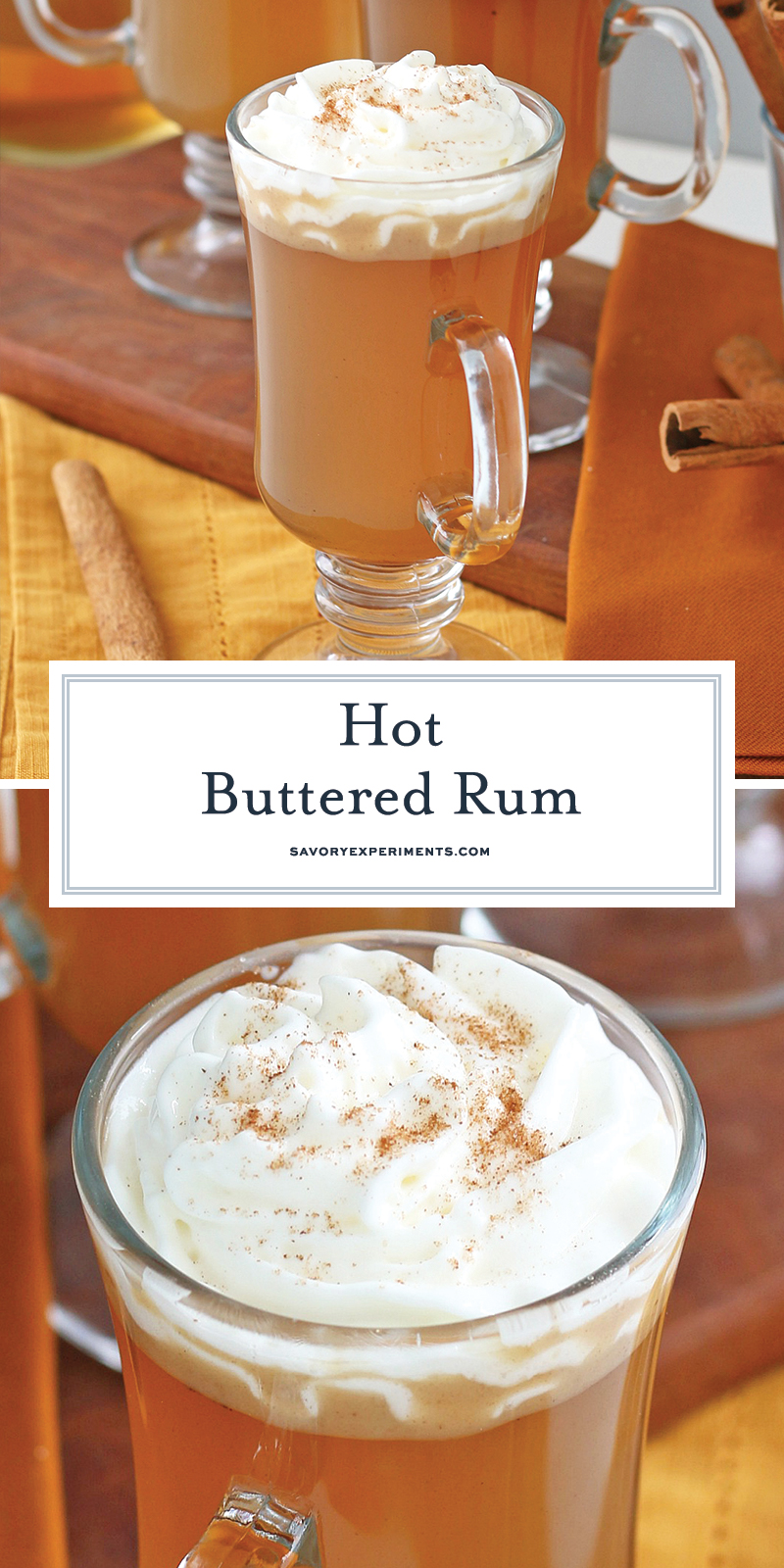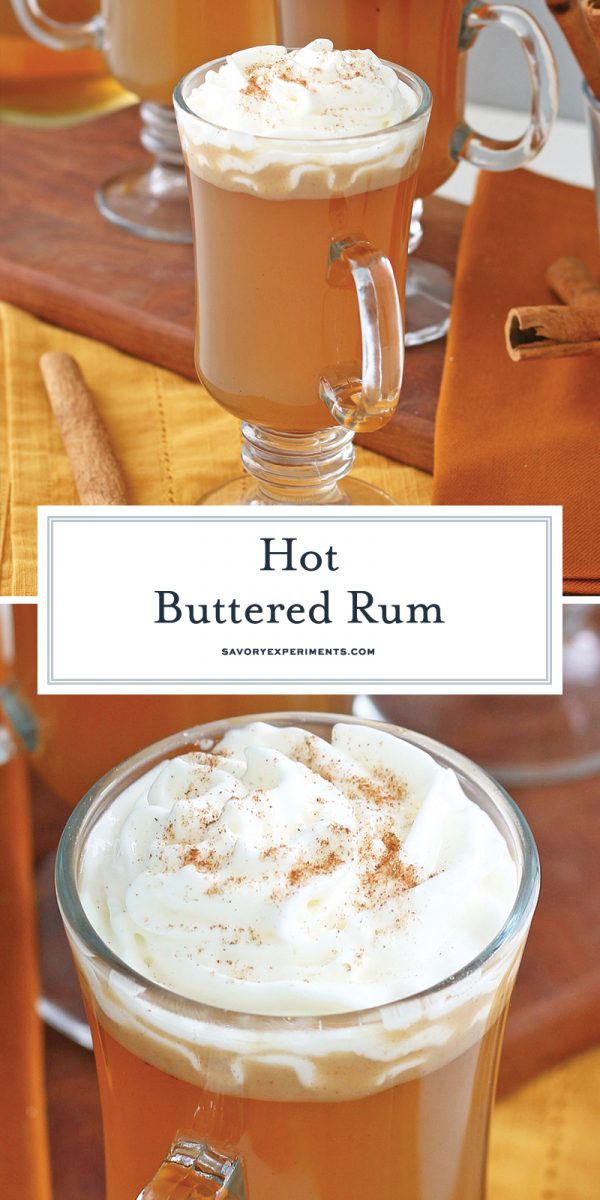 ---
---
Hot Buttered Rum
Are you looking for a hot cocktail that's perfect for the colder weather heading our way? Hot Buttered Rum can be prepared right in your own home with ingredients you can grab from the kitchen.
Instructions
In a medium bowl, combine butter, brown sugar, cinnamon, nutmeg, cloves, vanilla extract and salt until well combined.

Add a heaping tablespoon of the butter mixture to your mug.

Add rum and boiling water, stir until butter mixture dissolves and well combined

Serve hot with cinnamon stick, vanilla ice cream or whipped cream, if desired.
Nutrition
Calories:
277
kcal
|
Carbohydrates:
18
g
|
Protein:
1
g
|
Fat:
15
g
|
Saturated Fat:
10
g
|
Cholesterol:
41
mg
|
Sodium:
60
mg
|
Potassium:
24
mg
|
Fiber:
1
g
|
Sugar:
18
g
|
Vitamin A:
473
IU
|
Calcium:
22
mg
|
Iron:
1
mg