A Cold Chicken Salad recipe is one that every home chef should have in their recipe box! Let me show you just how easy it is to make!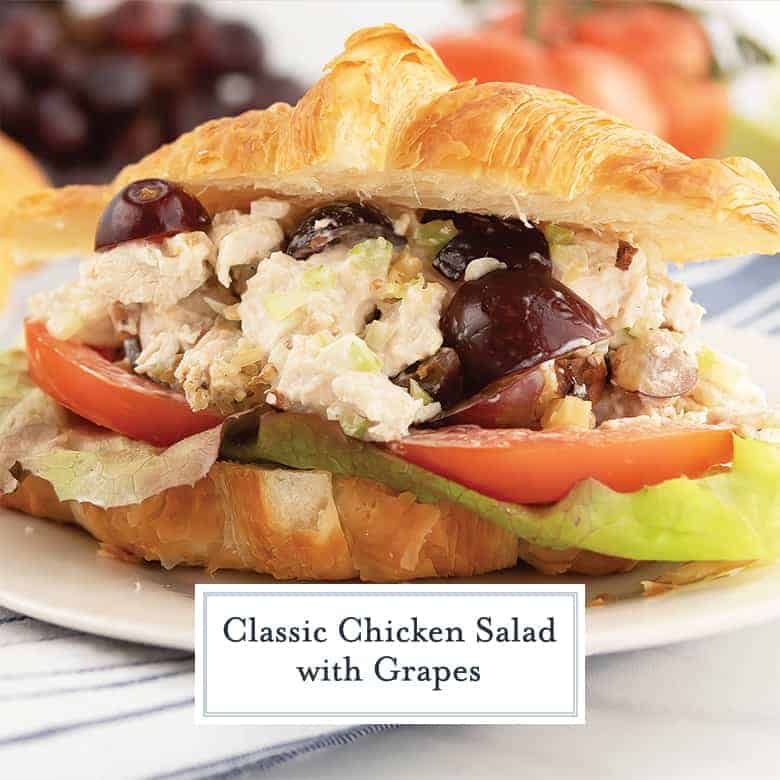 This Chicken Salad with Grapes Recipe may just be the BEST chicken salad recipe EVER
Chicken salad is one of those recipes I didn't eat until I was an adult. That and Shrimp Salad… I know, I know! Even beyond adult… closer to middle aged. I don't know, it always seemed like a recipe that my grandmother served playing bridge. And there are so many versions of chicken salad recipes to pick from!
Just kind of old school and boring. It was also full of mayonnaise and it took me until my 30's to realize that I preferred homemade mayonnaise to jarred.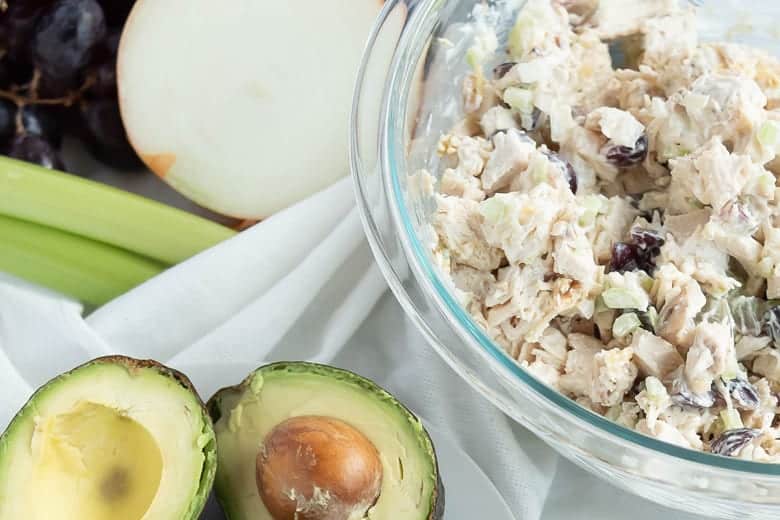 But then I realized why recipes like traditional chicken salad recipes stand the test of time. They are easy to prepare, budget friendly and taste amazing!
Savory chicken, juicy grapes, crunchy walnuts and smooth mayonnaise make for an excellent base. This chicken salad filling can be loaded into pita bread halves, onto brioche rolls for a chicken salad sandwich recipe, slider rolls for appetizers, pita halves for a picnic or even into avocado halves for low calorie and low carb options.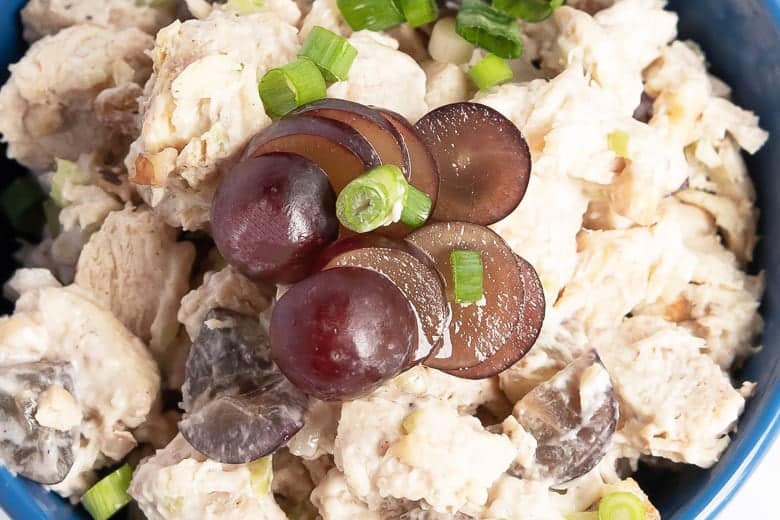 What you'll need for this Chicken Salad with Grapes Recipe
Mayonnaise– Some folks prefer miracle whip or even plain Greek yogurt to reduce a few calories. The basics are that you want something creamy to hold the blend together.
Cooked Chicken- This can be leftover chicken from another dish or make my easy baked chicken breasts. If you don't have chicken on hand, grab a rotisserie chicken or canned chicken.
Celery and Sweet Onion– The veggies used are crispy and complement other flavors. Sweet onion can be swapped for a red onion for more color and onion punch. Carrots are sometimes also used.
Red Grapes– Red grapes are often used in chicken salad to provide a sweet and juicy burst of flavor that contrasts with the savory elements of the salad.
Walnuts- Adding nuts is optional. They provide a great crunch and textural element. People seem to be very divided on whether nuts belong in a chicken salad or not. Pecans are another delicious option.
Lemon Juice- This splash of acid gives it a fresh burst.
Dijon Mustard– Also an acid, it gives it a signature flavor. Use a gourmet flavored mustard to customize.
Salt & Ground White Pepper – I used fine sea salt and white pepper for milder flavors that dissolved easily in this no-cook chicken salad. Black pepper can be used, as can coarse kosher salt.
Bibb or butter lettuce– Used to build sandwiches, they are hearty leafy greens perfect for this purpose.
Fresh tomato– Also for sandwiches and optional.
Rolls , pita bread or avocados- use whatever bread you enjoy or scoop it out on top of a leafy green salad or avocado halve for a low carb option.
Chicken salad secret ingredient
My secret to making an out-of-this-world easy chicken salad recipe is using both Dijon mustard and lemon juice to brighten up the mix. Nearly every family has a "secret ingredient" and we'd love to hear yours in the comments!
Chicken Salad Recipe with Grapes variations
Can I use canned chicken?
You can, but make sure to drain it well.
Can I omit the walnuts or grapes?
Sure you can. You can omit basically any of the ingredients except mayonnaise or chicken because those basically make the recipe.
Can I use green grapes?
Of course! I just like the color that red adds. You can even use half red and half green!
Chicken Salad with Grapes Recipe pro tips
One of my biggest kitchen hacks is using rotisserie chicken from the grocery store for any recipe that includes cooked chicken. And although it might seem slightly daunting, I can show you exactly how to cut a whole chicken with ease!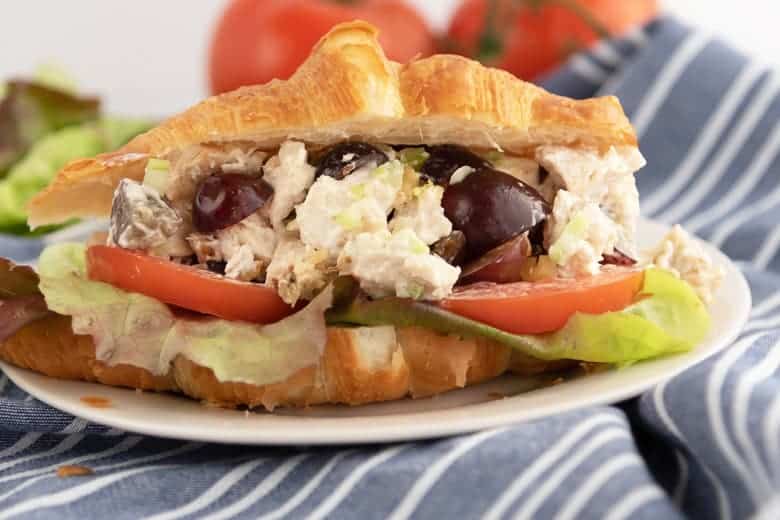 You can gerneally get it for less than it would cost to buy 2 chicken breasts or even a whole roast chicken. It is already cooked and loaded with flavor. All of this saves you oodles of time in the kitchen.
Even if I don't use the whole chicken I just shred the rest and place it in freezer bags to use in something else.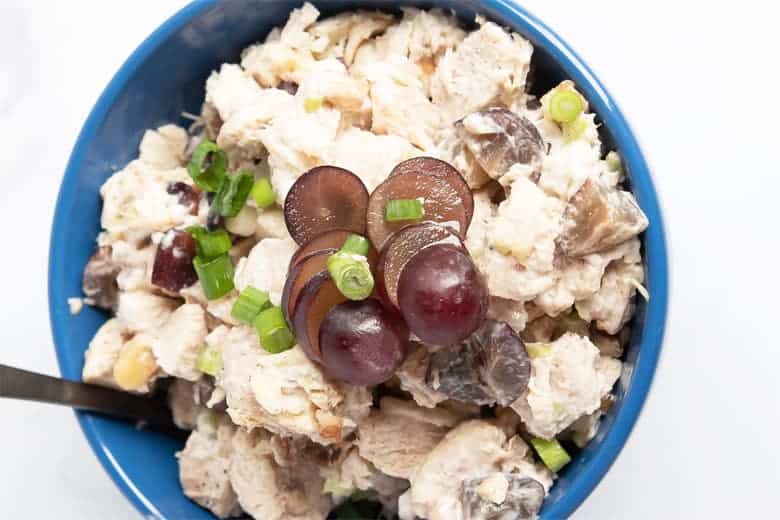 Here are some options to use up your leftover rotisserie chicken: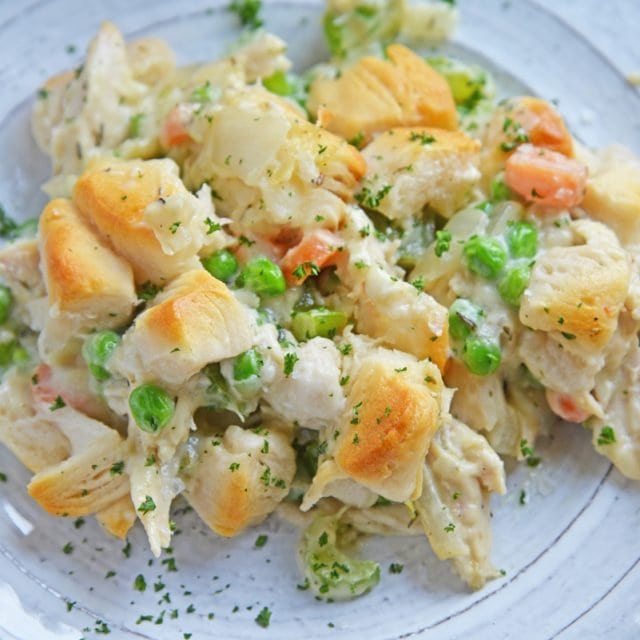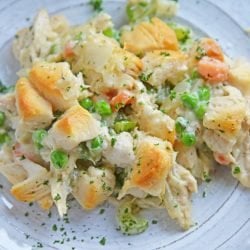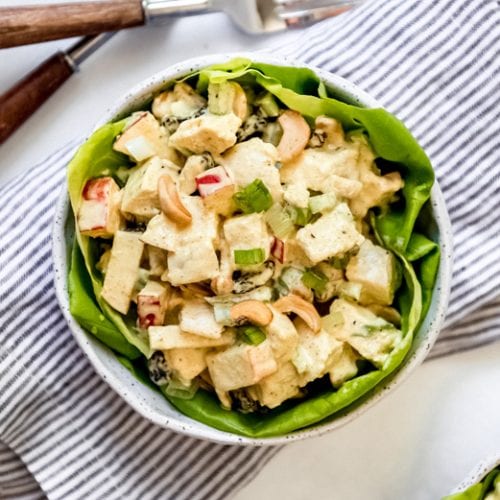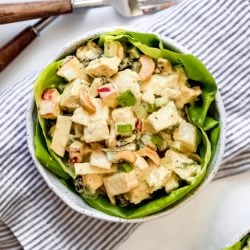 Curry Chicken Salad
A creamy, sweet & savory sauce coats tender bites of chicken in this Curry Chicken Salad. Chunks of crisp apples and celery, chewy raisins, and crunchy cashews are in every bite!
See The Recipe!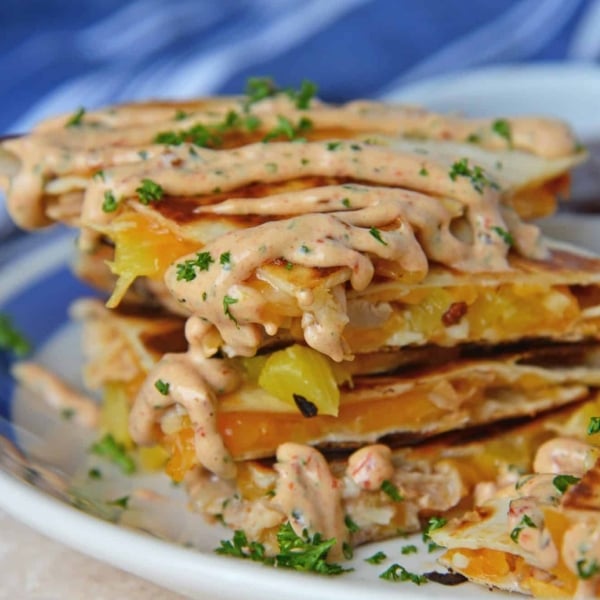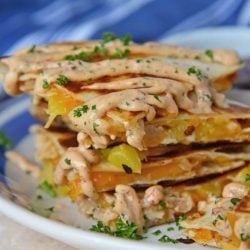 How to make Chicken Salad with Grapes
One of my favorite parts about this recipe is how easy it is, especially if you use a store bought rotisserie chicken like I mentioned before!
You need to start by chopping your chicken into small cubes. Or if you prefer, you could even use shredded chicken for a different texture.
Then it's as simple as mixing all of the ingredients in a large bowl, and serving!
I like an element of sweet to my chicken salad recipe. To accomplish this, you can use raisins, dried cranberries, or even apples, but I chose to make this chicken salad with grapes.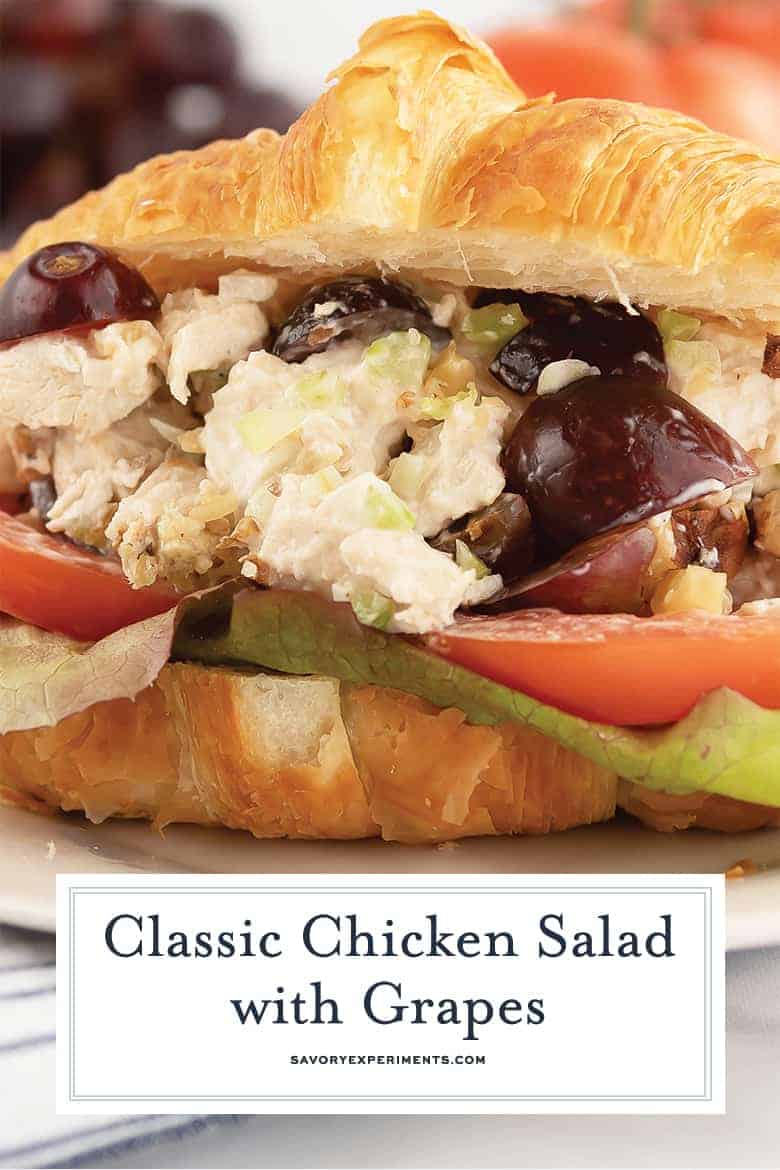 How to serve Chicken Salad with Grapes and Walnuts
What's good to eat with chicken salad?
Chicken salad is commonly enjoyed with options like crackers, bread, croissants, lettuce wraps, or as a topping on salads.
Should chicken salad be warm or cold?
Chicken salad is typically served cold or at a chilled temperature. The ingredients are usually pre-cooked and chilled before being mixed together, resulting in a refreshing and cool dish.
Storing this recipe for Chicken Salad with Grapes
How long is homemade chicken salad good for?
Homemade chicken salad can generally be stored in the refrigerator for about 3 to 4 days. Make sure to keep it in an airtight container to maintain freshness. Re-season with salt and pepper, cold salads often become muted and needed to be reseasoned.
Does chicken salad with grapes freeze well?
Freezing chicken salad with grapes is not recommended, as the grapes can become mushy and lose their texture upon thawing. The water content in the grapes may cause them to change in consistency and affect the overall quality of the salad.
What makes chicken salad go bad?
Chicken salad can go bad due to factors like improper storage (such as leaving it at room temperature for too long), the breakdown of ingredients over time, and the potential introduction of contaminants during preparation or serving. Ingredients like mayonnaise are what will go bad faster.
Can I make the chicken salad filling ahead of time?
You sure can, but I wouldn't make it more than a day before you plan to serve it.
Make sure to taste and correct seasoning before serving. Chilled foods might need a little more brightening from lemon juice or salt to revive them.
Best Chicken Salad Recipe with Grapes FAQs
How long can I leave classic chicken salad out?
The CDC recommends no longer than 2 hours.
Why does my chicken salad get watery?
Many of the ingredients in chicken salad have high water content and will start to leak liquid while sitting, making it more watery the longer is sits.
Where did chicken salad with grapes come from?
The exact origin of chicken salad with grapes is not well-documented, but the combination of sweet and savory flavors in salads has been a part of culinary traditions for centuries. The inclusion of grapes in chicken salad likely developed as a way to add a refreshing burst of sweetness and a contrasting texture to the dish. Over time, variations of chicken salad with grapes have become popular in various cuisines and cultures.
How do you cut grapes for salad?
Using a serrated knife can aid in the cutting of grapes. I like to cut mine lengthwise into quarters so they are the perfect size for taking a bite and getting all the other flavors.
Why does my chicken salad taste bland?
This can be due to several factors. The first is the quality of ingredients and flavor of the chicken. The second is being understood- try adding more salt or stronger black pepper. The third is leftover chicken salad, which can lose flavor when chilled. Reseason and give it a good stir. Adding another spritz of fresh lemon juice and also brighten it up.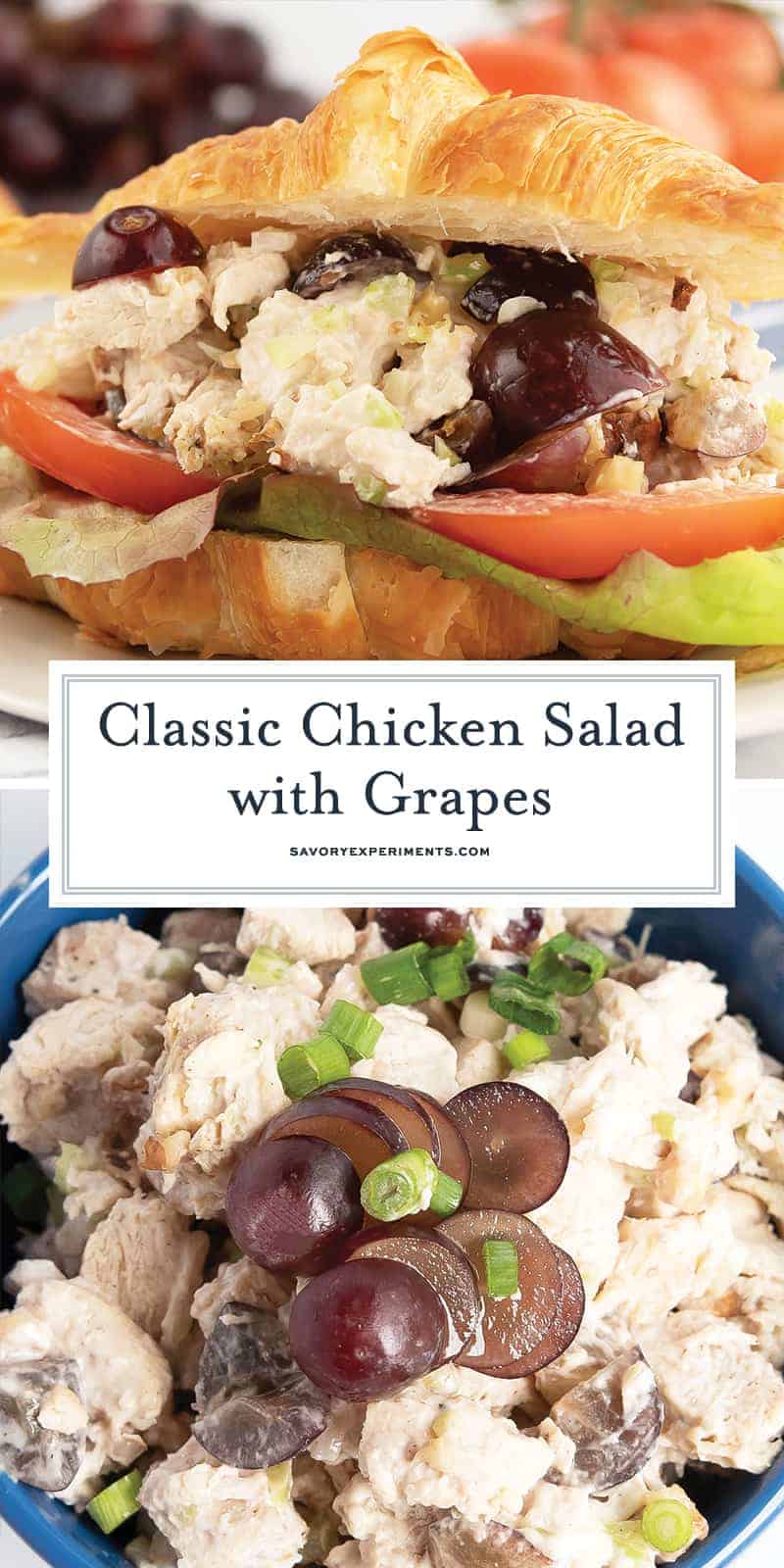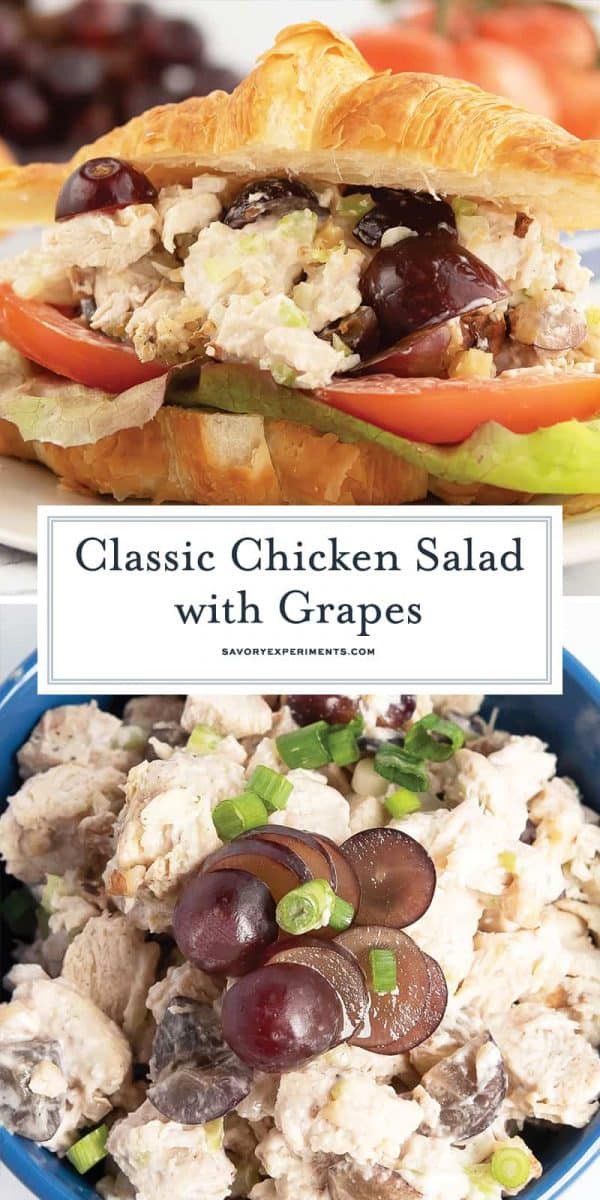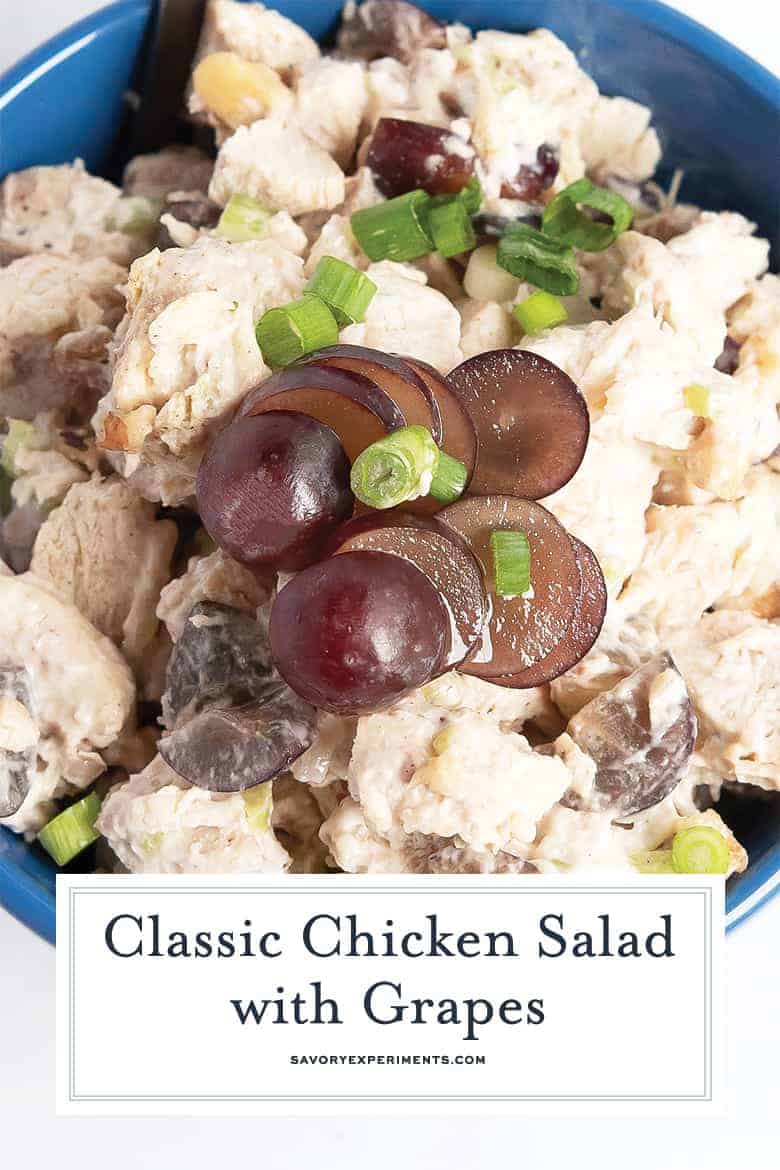 Chicken Salad is one of those recipes that can be personalized so many ways. We'd love to hear about your variations or any nostalgic memories you have of chicken salad at your home in the comments!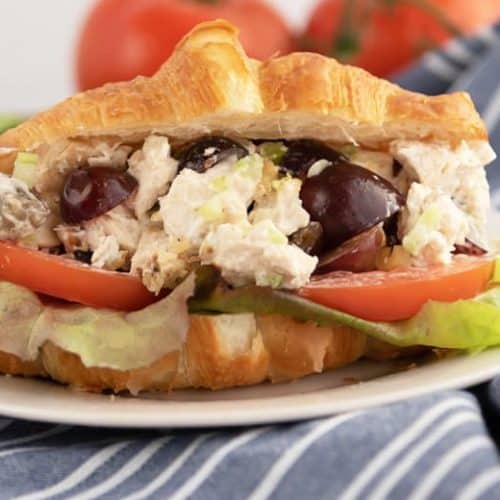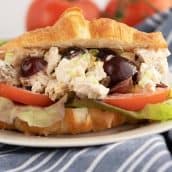 Chicken Salad with Grapes and Walnuts
I've finally made the best chicken salad recipe! With grapes, celery, onions and walnuts, this Classic Chicken Salad recipe is perfect for a light lunch.
Instructions
Combine mayonnaise, cooked chicken, celery, sweet onion, grapes, walnuts, lemon juice, Dijon mustard, fine sea salt and white pepper in a large mixing bowl. Stir to combine.

Serve on your choice of bread with lettuce and freshly sliced tomato.

If you've tried this recipe, please come back and let us know how it was!
Notes
Nutrition is without bread.
Chicken salad can also be served on pita bread, tomato halves or avocado halves for a healthier or low carb option.
Nutrition
Calories:
166
kcal
,
Carbohydrates:
2
g
,
Protein:
1
g
,
Fat:
17
g
,
Saturated Fat:
2
g
,
Cholesterol:
8
mg
,
Sodium:
229
mg
,
Potassium:
44
mg
,
Fiber:
1
g
,
Sugar:
2
g
,
Vitamin A:
31
IU
,
Vitamin C:
1
mg
,
Calcium:
6
mg
,
Iron:
1
mg