These easy Chicken Salad Pitas make for a perfect light lunch on a warm day! It takes your classic chicken salad up a notch!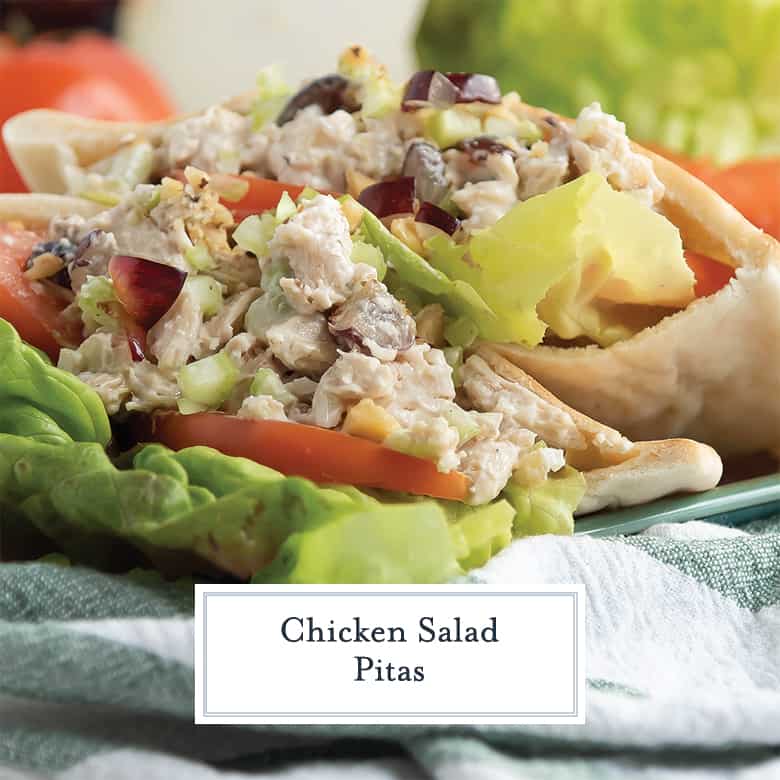 Summer Lunches
During the warmer months, cold salads are what I crave every day for lunch. I think salads get a bad rap of being boring and tasteless.
But I am here to tell you that salads are anything but boring! With the right combination of vegetables, flavors and a good dressing, I'm sure you till agree with me too!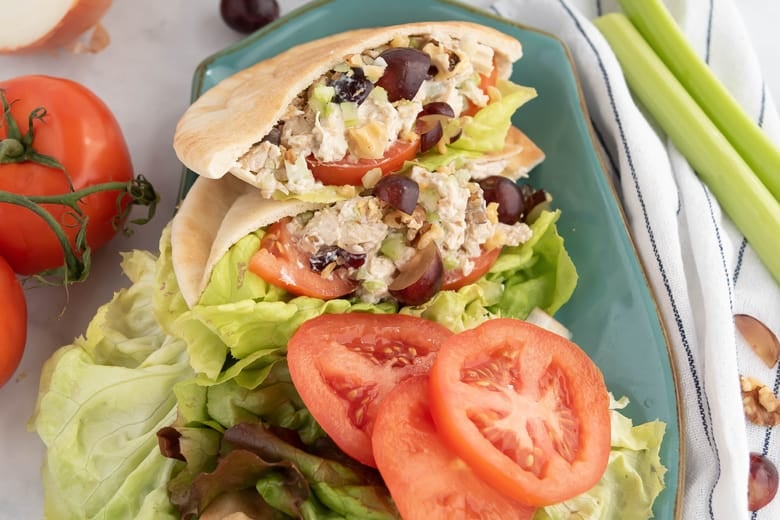 You can't go wrong with a leafy green salad, but there are also pasta salads, fruit salads or even cold meat salads (like tuna, chicken and ham.) That's where this Chicken Salad Pitas recipe comes in.
If you've never had pitas, they are magical! They are like little "pockets" to stuff all kinds of sandwich goodness into. Because they are so thin, they are lower in carbs than the big fluffy croissant or regular slice of bread that you might usually make a chicken salad sandwich with.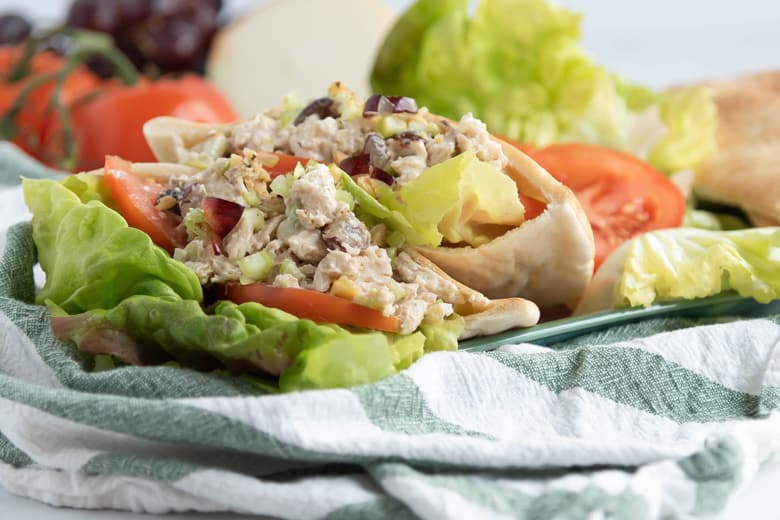 Chicken Salad Pita Ingredients
The actual chicken salad part of this recipe is the same as my Classic Chicken Salad with Grapes. Here are the ingredients I like to use in mine:
mayonnaise
cooked chicken
celery
onion
red grapes
walnuts
lemon juice
dijon mustard
sea salt
ground white pepper
PRO TIP: To save even more time in the kitchen, use a mini food processor to finely mince the celery and sweet onion.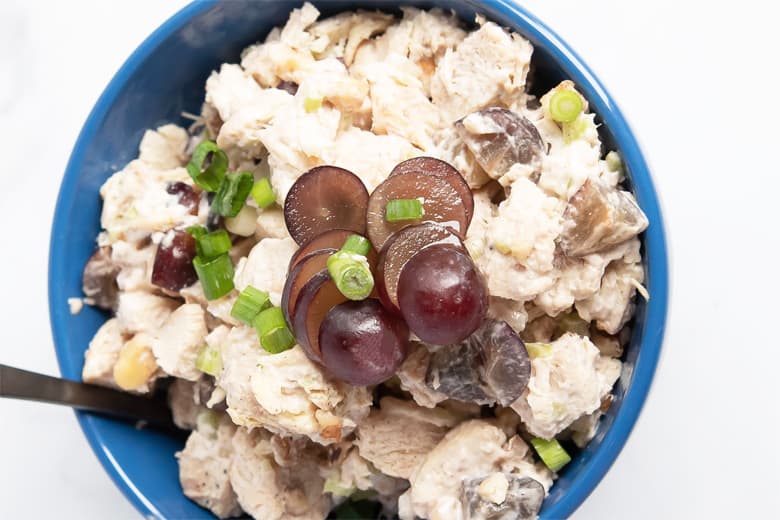 My secret to making this out-of-this-world easy Chicken Salad Pitas recipe is using both Dijon mustard and lemon juice to brighten up the mix. Nearly every family has a "secret ingredient" and we'd love to hear yours in the comments!
Light Chicken Salad
Traditional chicken salad uses mayonnaise, which tastes great but has a lot of fat and calories. If you are watching your figure, plain Greek yogurt is an excellent sub for mayo when making these light Chicken Salad Pitas. You can also use super ripe and mashed avocados or a mix of the two.
For the chicken, you can use leftover chicken chopped up, canned chicken, store bought rotisserie chicken or even deli chicken. Some people have subbed in canned tuna or even salmon.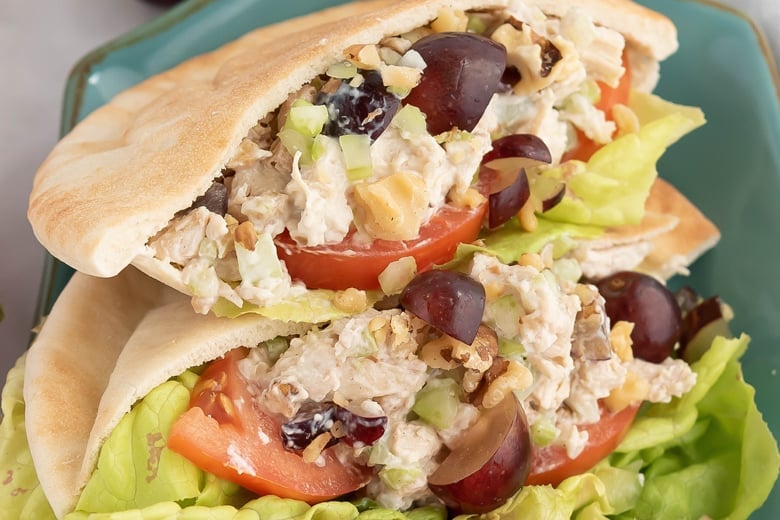 How to make Chicken Salad Pitas
This recipe really could not be simpler. And when you have kids to entertain and sun to soak up this summer, easy lunches are a must!
After you've cooked your chicken (or opened the can, or cut up the store bought rotisserie,) combine it with the rest of the ingredients in a large mixing bowl.
Next, cut up the vegetables you'd like to put on your sandwich. I like using sliced tomatoes and lettuce, but sliced red onions or even pickles would be great too.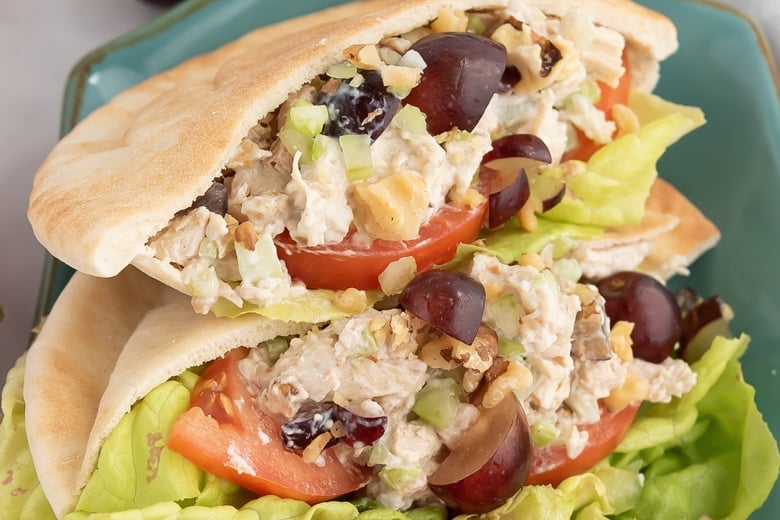 Put those vegetables in side of your pita pocket, and then add in the chicken salad. You will be surprised at how much goodness fits into those pockets!
And that's it! It's easy peasy, light and refreshing, and totally delicious. It might just be your new go to summer lunch.
Be sure to come back and leave a comment letting us know how you enjoyed your Chicken Salad Pitas! You can also make these low carb by using avocado or tomato halves or even stuff them curried chicken salad.
What You'll Need
Wood cutting board – wood won't dull your knives like plastic and if treated properly, has natural antimicrobial properties.
Good knife – Global is my favorite! They are worth the price, I promise. I am kind of obsessed with them and store them tucked away so no one else can use them. Including hubby. Hands off my good stuff!
Large Mixing Bowl– Use a mixing bowl a little larger than you think you'll need. There is less pressure to keep it in the bowl. You can always transfer it to a smaller serving bowl later. I personally look for ones with lids so I can cut down on plastic wrap and aluminum foil waste.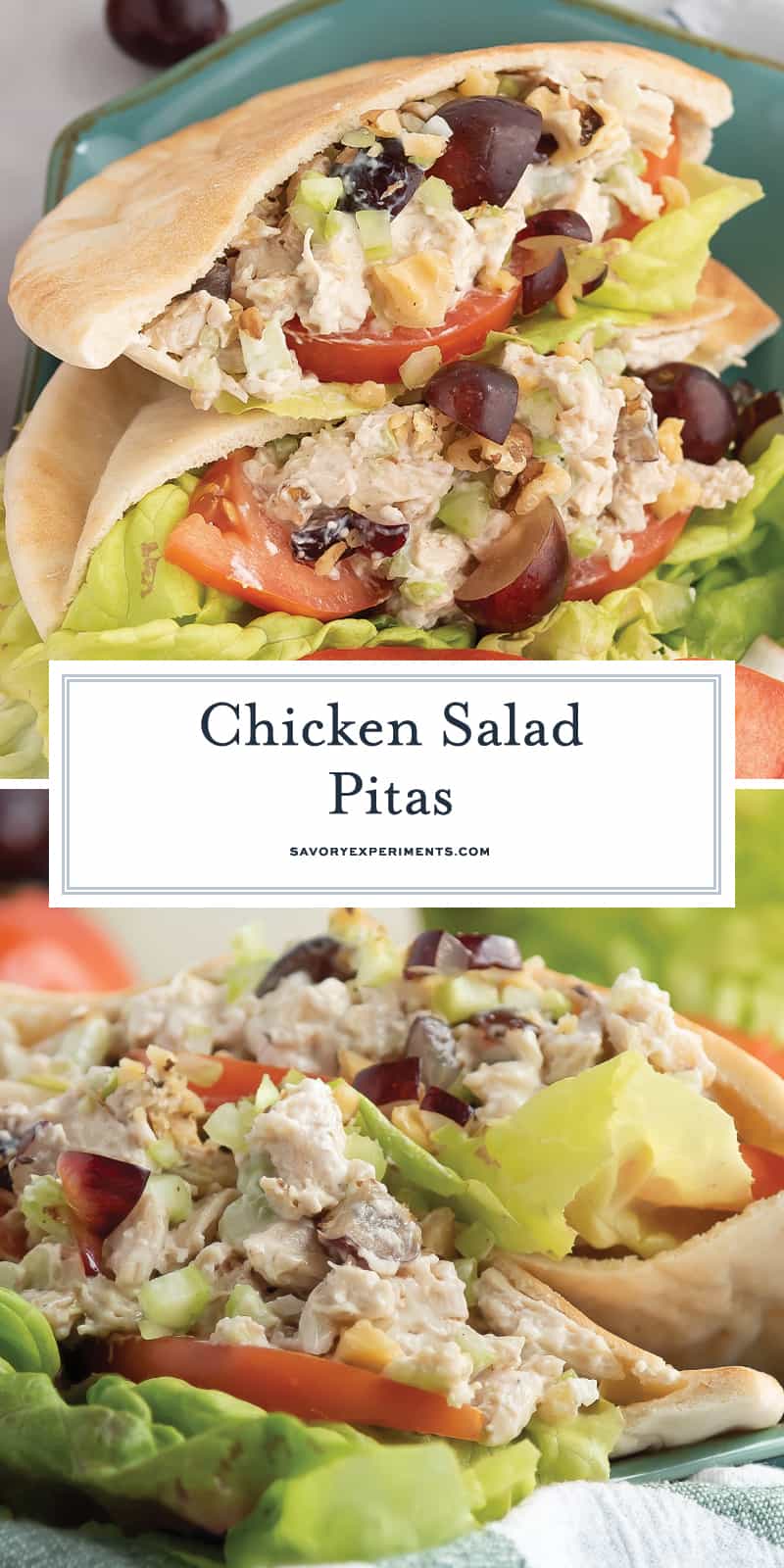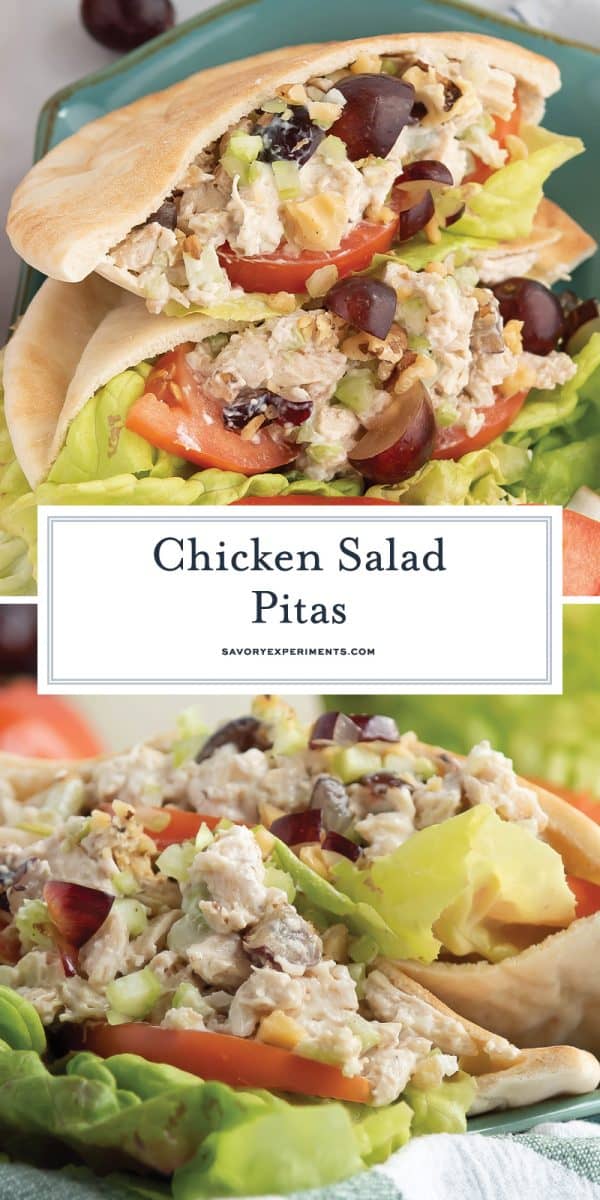 More salad recipes you'll enjoy this summer: