Melt in your mouth Meringue Christmas Trees that are so easy to make and look amazing on the Christmas table. Not only are these cookies extra light, but they're also crunchy and delicious!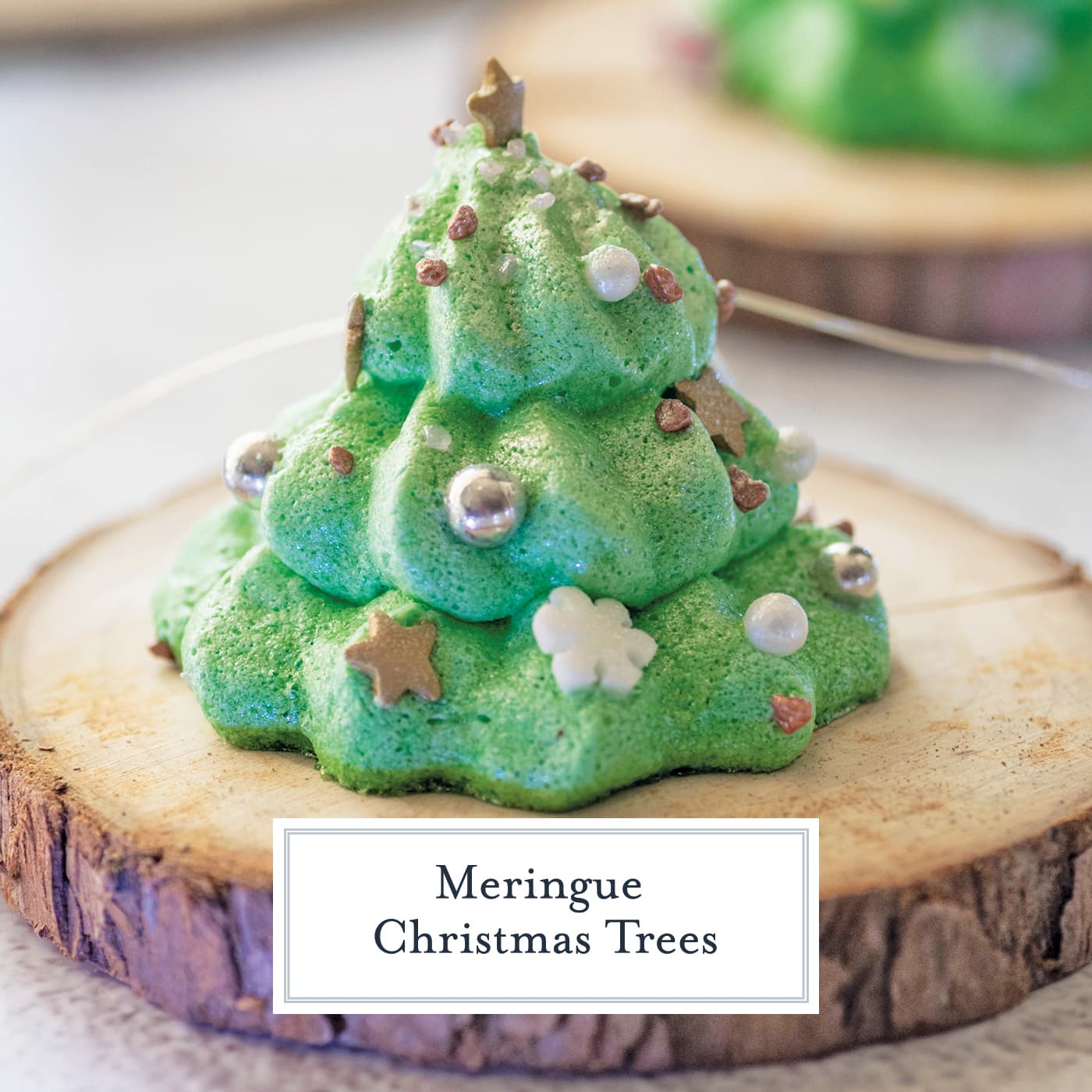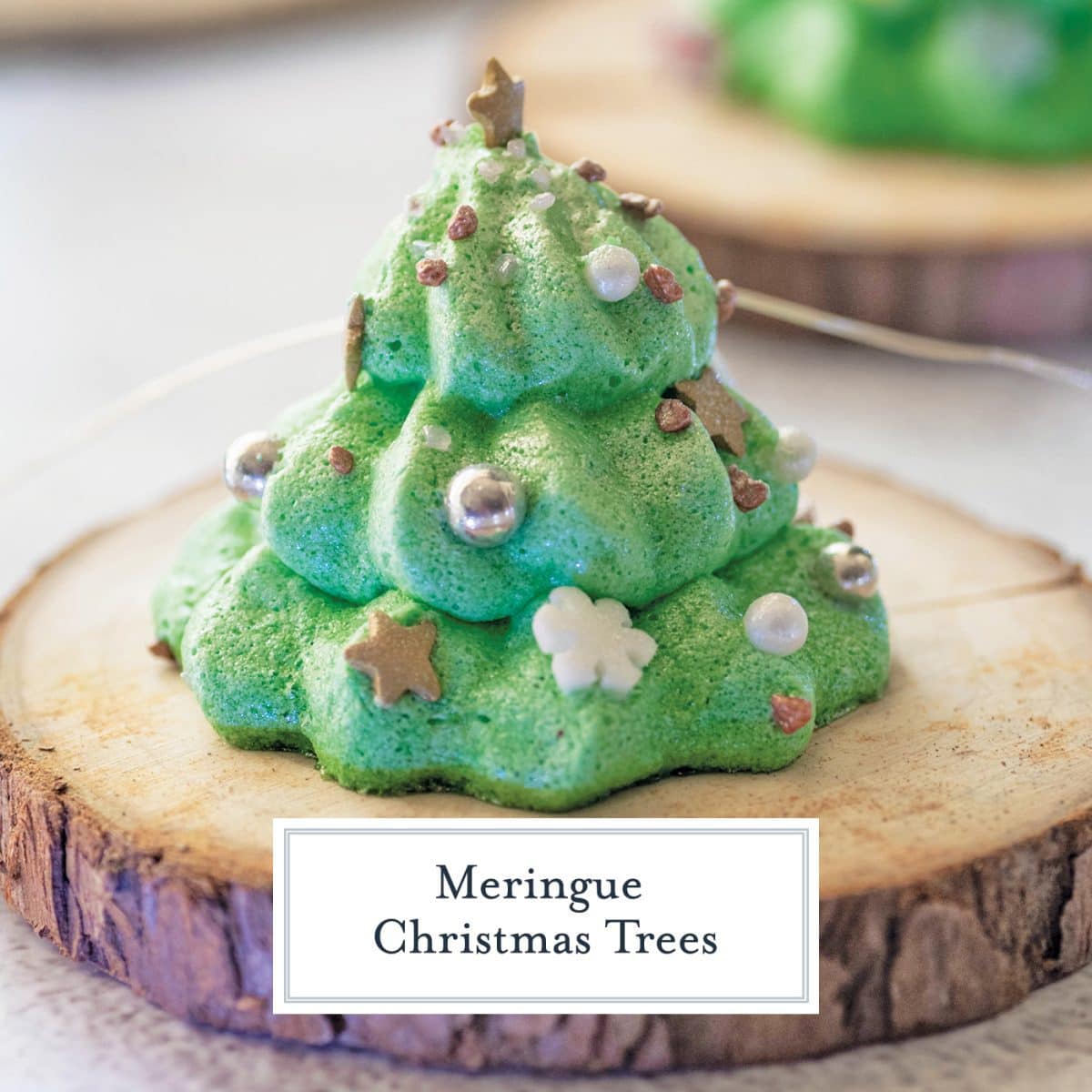 We all love going over the top on Christmas Day and preparing delicious treats for everyone to enjoy. These meringue Christmas tree cookies are really easy to make and can be a fun activity to make with the kids. These meringue cookies will look super cute and add a touch of magic to your Christmas table!
Meringue cookies are incredibly easy to make and only require a bit of patience and lots of sprinkles. Making Meringue Christmas Trees requires only 5 ingredients and preparation takes 10 minutes.
Are you ready to kick the festive spirit up a notch?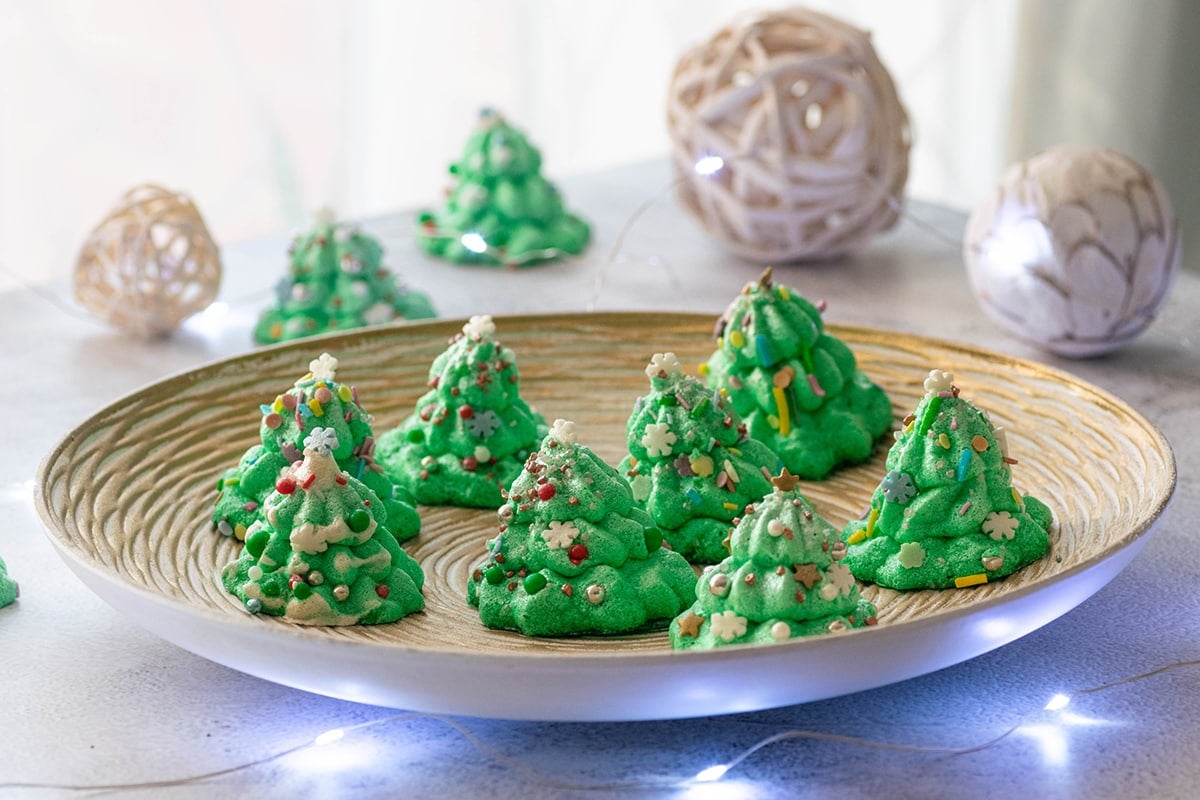 How to Use Meringue Christmas Trees
I love using meringue Christmas trees all over my Christmas table. These meringue cookies are so cute that they can be a decoration by themselves, or you can add them to your bakes. Here's how I like to use them on Christmas Day:
Tablescape decoration (also doubled as a snack)
Served as a pre-dinner snack
On top of the Christmas cake
Cupcake toppers
Stocking filler
On top of hot chocolate
Sweet treat inside gift bags
DIY Christmas gift in a jar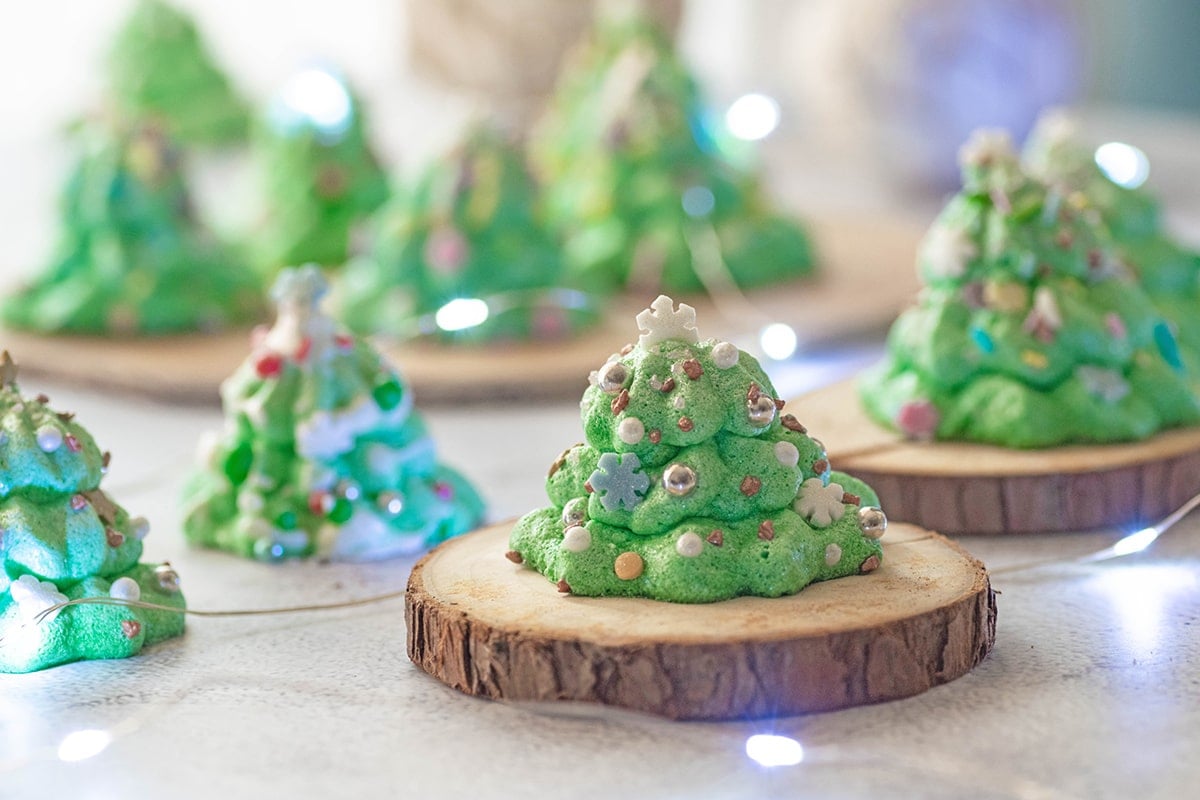 Ingredients
The best part about making these meringue Christmas trees is that you only need ingredients from your pantry. Let's have a look:
Egg whites: I recommend using fresh, large eggs for an extra fluffy meringue. As we are only using the egg whites, you can also use egg whites in a carton. As the meringue cookies will be baked, there is no need to use pasteurised eggs. Whichever one you use, make sure they are at room temperature.
Sugar: it's important to use white sugar for this recipe, to maintain the brilliant white colour of the meringue. I recommend using caster sugar or even icing sugar for a smooth meringue.
Cream of tartar: although this ingredient is optional, I strongly recommend using it. Cream of tartar helps make a fluffy meringue, that holds it shape well and makes for a crispy meringue cookie. You can also substitute cream of tartar with 1 teaspoon of lemon juice.
Flavouring: add extra flavour to your meringue cookies by using vanilla extract or a vanilla bean paste. You can also get creative with your flavours and try peppermint, strawberry, lemon or orange.
Food colouring: I recommend using gel food colouring for vibrant colours. This recipe only calls for green food colouring, but you can get creative and use any colours you like.
Sprinkles: Decorate your Meringue Christmas Trees with sprinkles and any other sugar decorations you like. Do not use any chocolate decorations, as these will melt in the oven.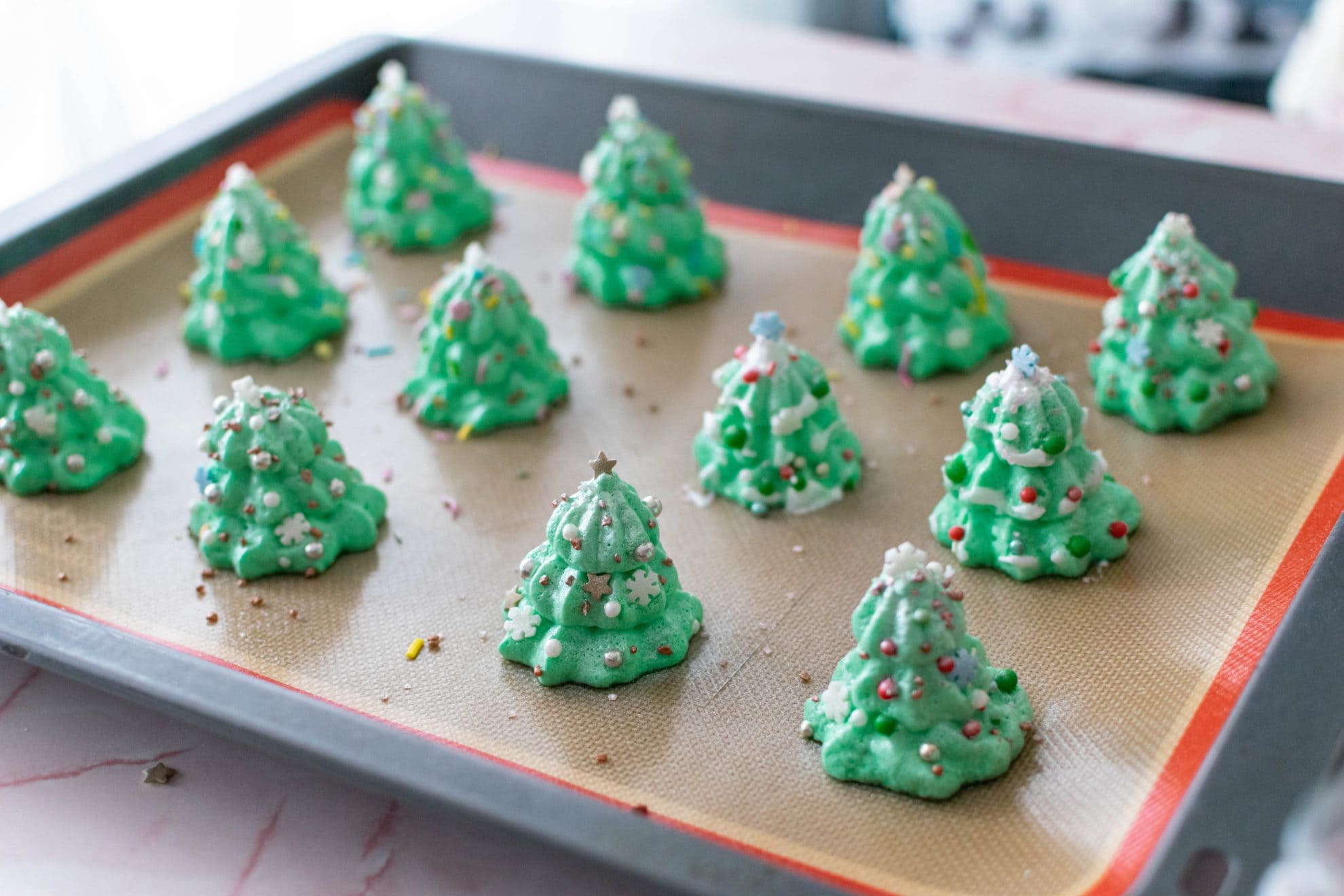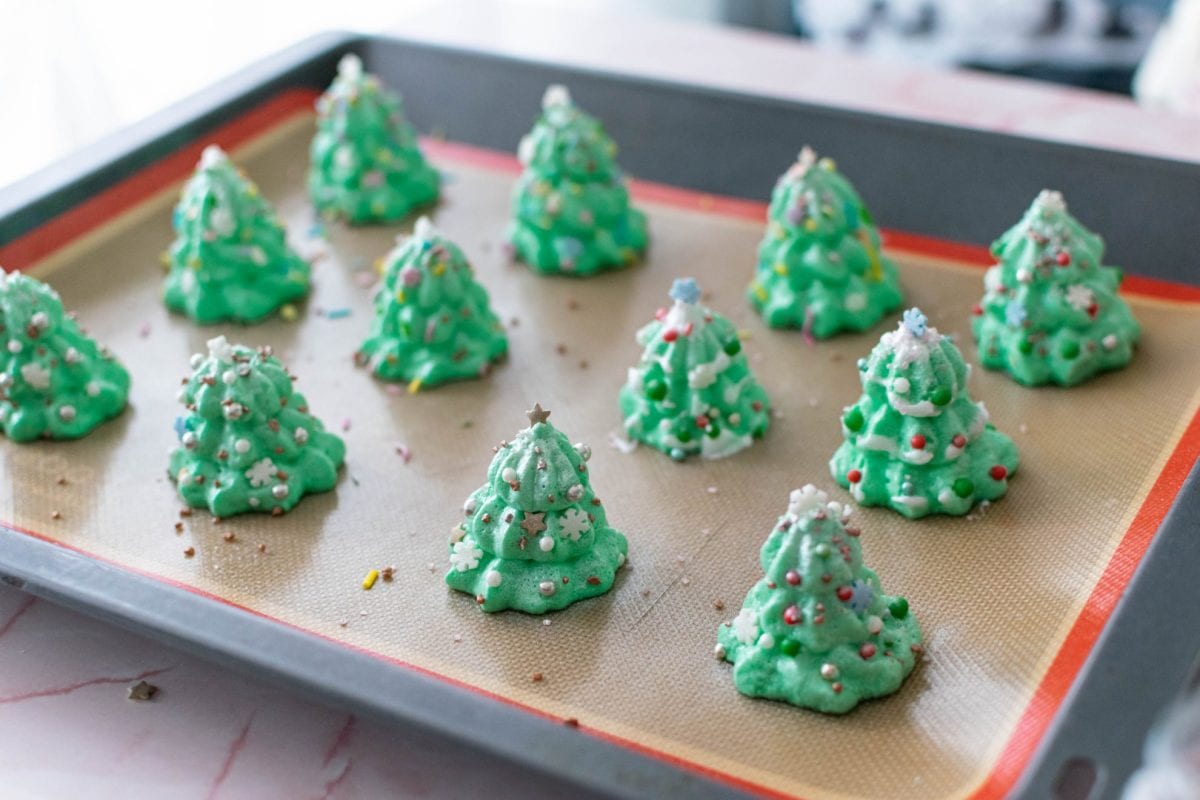 Tips for the perfect meringue
Ensure the bowl is completely grease-free and dry. Even the smallest amount of grease will prevent the egg whites from whisking up properly.
Be careful when you crack the eggs as to not puncture the egg yolk. Egg yolks contain fat, which will prevent the egg whites from whisking up nicely. I recommend cracking the eggs in a separate bowl, as to not have any egg yolk in the egg whites.
Egg whites need to be at room temperature, so take them out of the fridge at least 30 minutes before whisking.
Make sure the egg whites are already frothy before you add any sugar. Once the egg whites are foamy, start adding the sugar gradually. Adding all the sugar at once can cause the egg whites to deflate and you will need to start again.
Be patient when whisking the egg whites and do not stop until you reach stiff peaks. The meringue should be able to hold its shape perfectly, without any folds. This can take up to 8-10 minutes when using a hand mixer.
Don't go overboard. Once the meringue has reached stiff peaks, stop mixing.
Be patient when baking. These meringue Christmas trees are fairly large, so they need a long time in the oven. If they still seem soft after 2 hours, bake for extra 10-20 minutes. Always keep an eye on the meringue cookies so they don't start to brown!
After baking, leave the meringue cookies inside the closed oven for a minimum of 1 hour. The remaining heat will allow the cookies to cool down slowly and give them an extra crispy shell.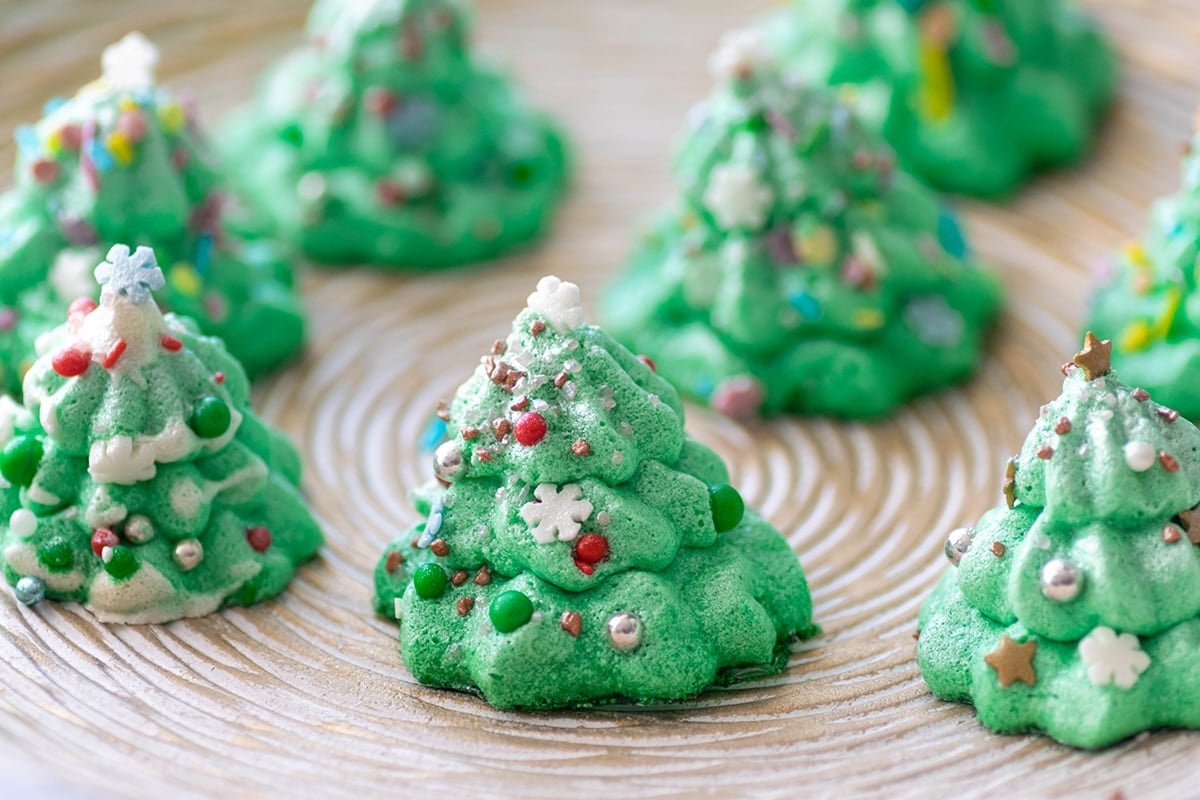 How to Make Meringue Christmas Trees
The first step in making the meringue Christmas trees is preparing the meringue batter. I recommend using a hand mixer, as it gives you more control over the process.
Add the egg whites and cream of tartar to a large, clean bowl. Whisk the eggs on medium speed using a hand mixer for about 2 minutes, or until frothy.
Once the egg whites look like a foam, add one quarter of the sugar. Whisk continuously for another 1-2 minutes until the meringue reaches soft peaks.
Keep adding the remaining sugar gradually until fully incorporated. Take your time at this stage, whilst mixing on medium speed.
Add the flavour and mix on high speed for 4-5 minutes or until the meringue reaches stiff peaks.
Finally, add the gel food colouring and combine until uniform. Be careful to not overmix the meringue.

Pro Tip: to check if the sugar has dissolved properly, pinch a bit of batter and rub it between your fingers. If the batter feels grainy, you need to keep whisking. Once it feels smooth, it's ready to go.
Once the meringue is ready, we can begin piping the meringue Christmas Trees:
Place the meringue in a large piping bag fitted with a ½ inch star nozzle.
Pipe a large dollop of meringue as the base of the Christmas Tree, trying to keep it flat.
Next up, pipe a second smaller dollop of meringue on top of the base.
Finally, pipe the smallest dollop on top, dragging out the nozzle at the top to create an elongated tip.
Lastly, decorate with sprinkles and other edible decorations to make the cookies look like Christmas Trees.

Pro Top: no piping bag? No worries, use a ziplock bag and cut out one corner. Although you will not get the star shape, you can still get amazing Christmas Tree cookies.
Storage
Meringue Christmas Tree cookies need to be stored away from any kind of moisture. Once fully cooled, place them in an airtight container or ziplock bag. The meringue cookies will stay fresh up to 2 weeks if stored immediately.
Do not store the meringue cookies in the fridge, as the moisture will make them go gooey and soft.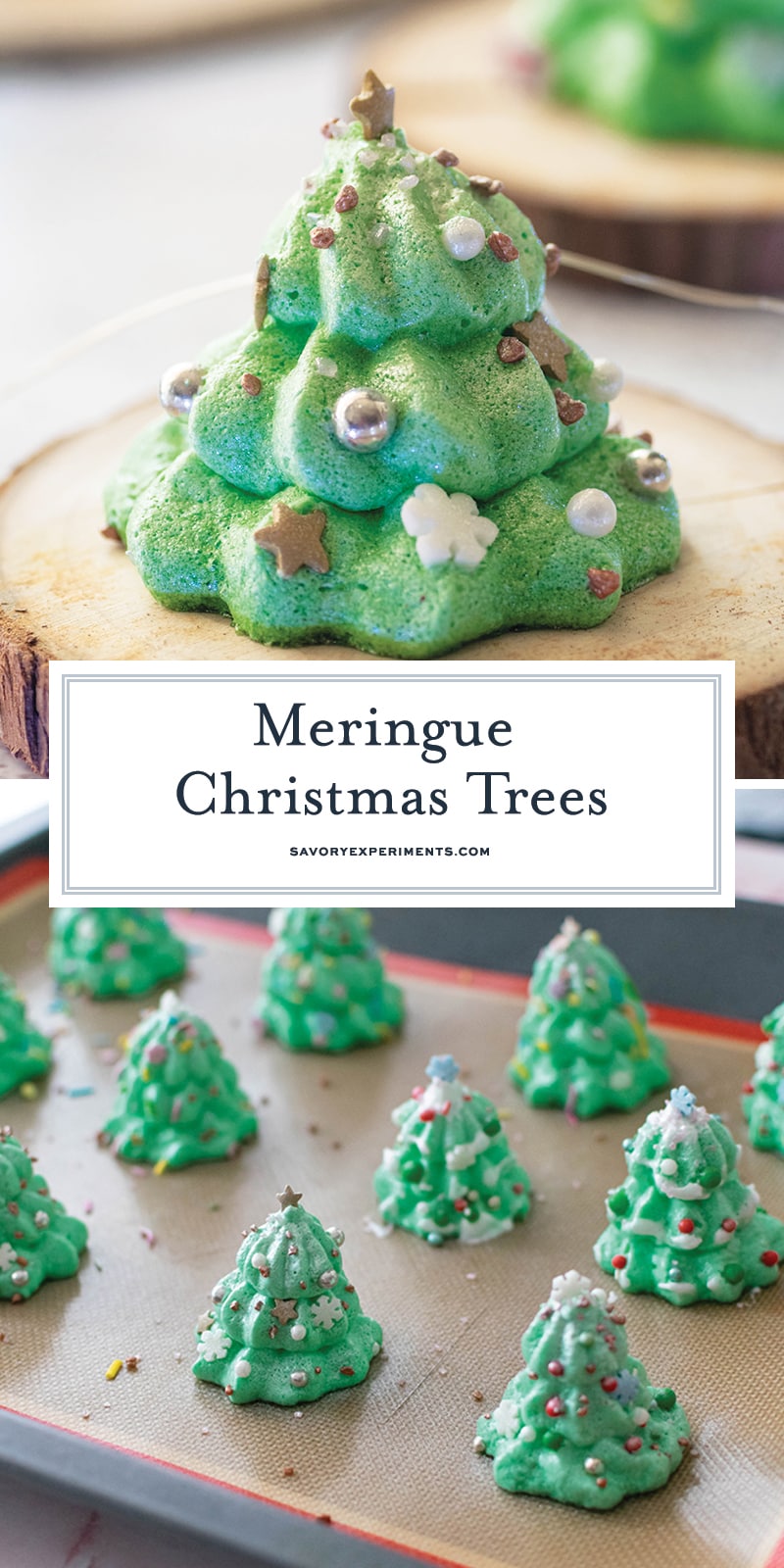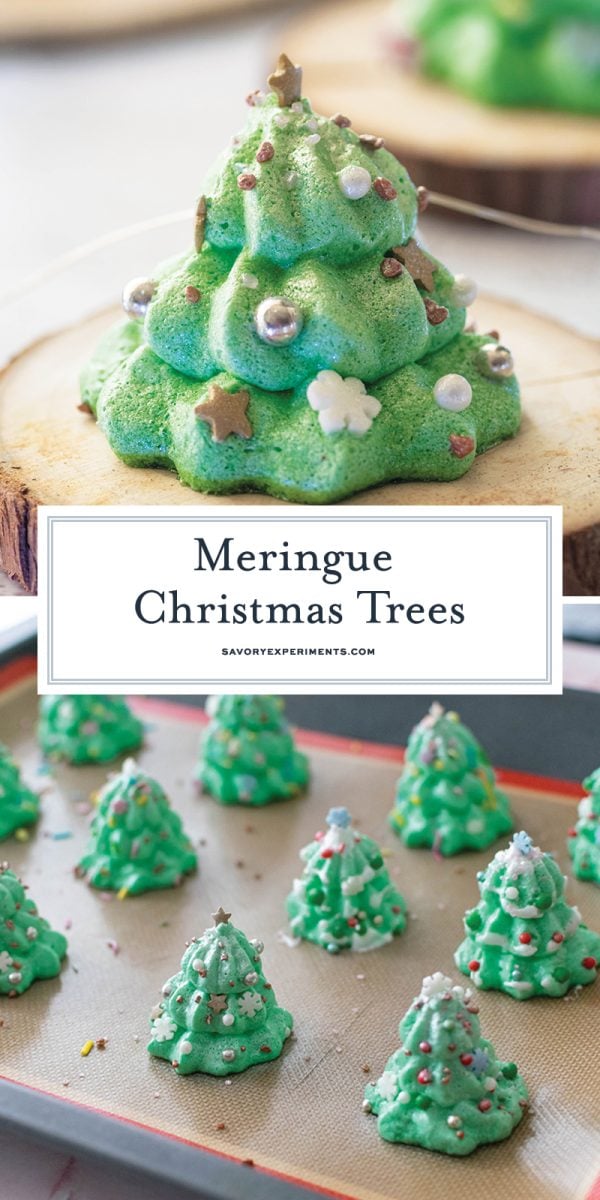 More Christmas Treats: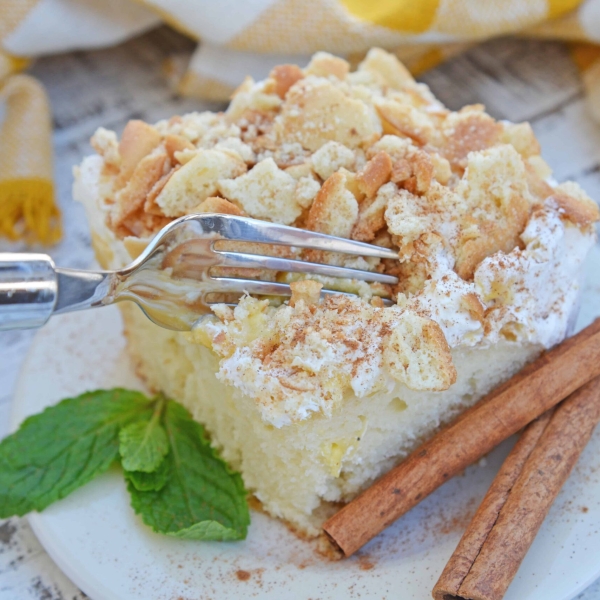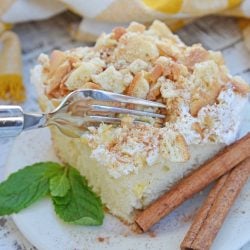 Eggnog Poke Cake
This Eggnog Poke Cake recipe is an easy pudding poke cake made with box cake mix and instant vanilla pudding, with delicious eggnog flavor.
See The Recipe!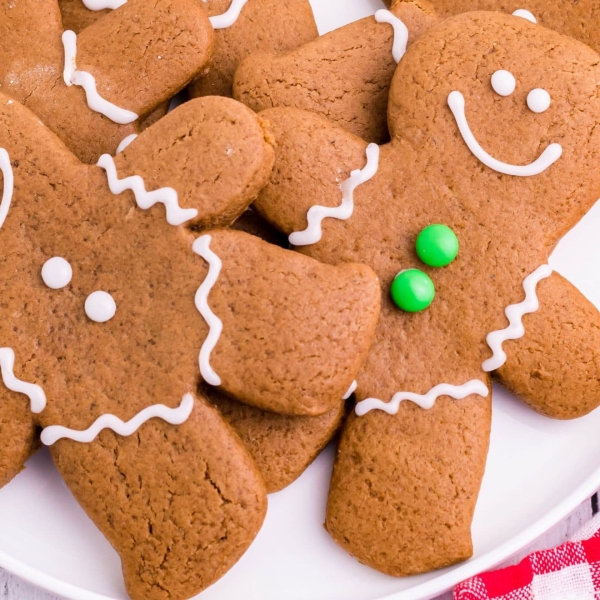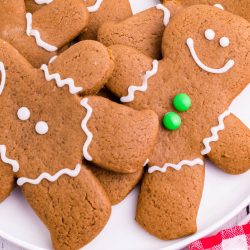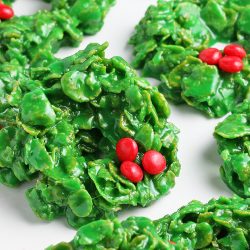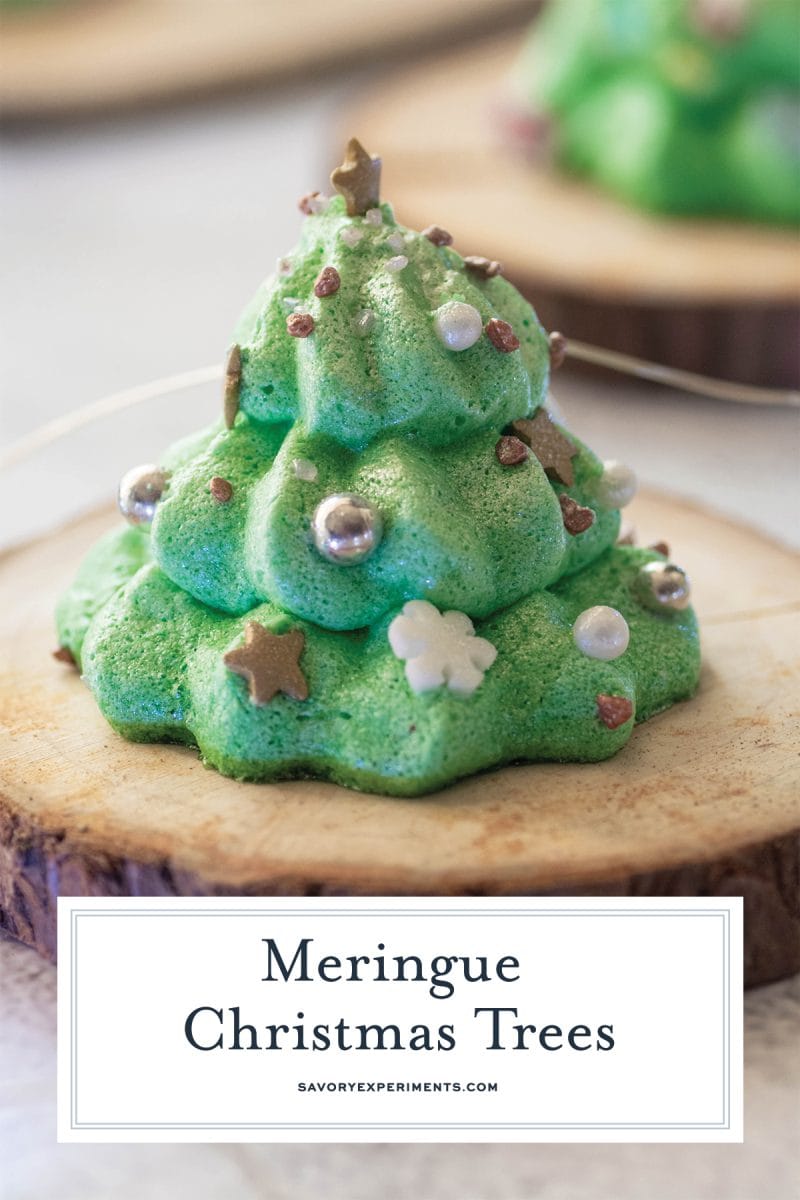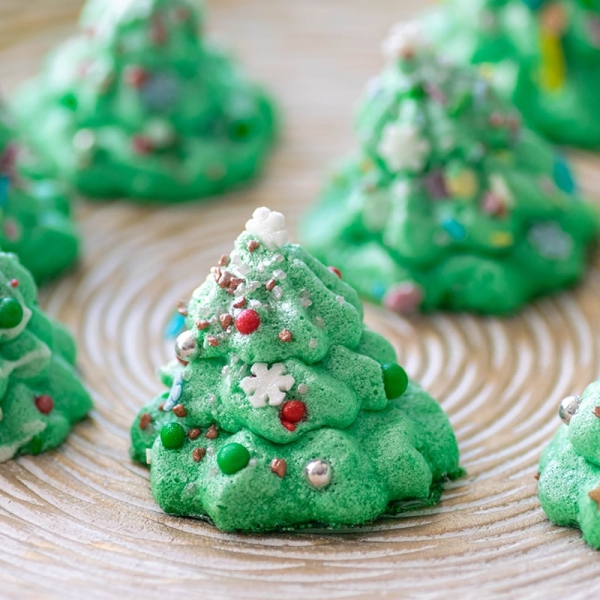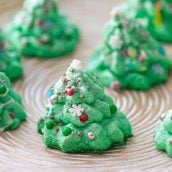 Meringue Christmas Trees
Melt in your mouth Meringue Christmas Trees are so easy to make and look amazing on the table. Extra light, crunchy and delicious!
Instructions
Preheat the oven to 225°F (100C) and line the baking tray with parchment baking paper.

Pour the egg whites into a large, grease-free, dry bowl. Add in the cream of tartar, then start whisking the eggs. Mix at medium speed until frothy for about 2 minutes.

Add ¼ of the sugar, whilst mixing continuously for another 2 minutes or until the meringue reaches soft peaks.

Start adding in the remaining sugar gradually, whilst mixing over the course of 1-2 minutes. Once the sugar has been fully incorporated, add the flavoring.

Mix on high speed until the meringue reaches stiff peaks, around 2-3 minutes. Stop mixing once the meringue holds its shape well.

Add in the green gel food coloring, adjusting the color as desired. Mix to combine, then place the meringue into a large piping bag fitted with a ½ inch star nozzle.

Pipe a larger dollop of meringue as the base of the tree, keeping the nozzle close to the surface of the baking tray.

Next, pipe a second smaller dollop of meringue on top of the larger one.

Pipe a smaller dollop on top of the middle one, lifting the nozzle at the end to create an elongated treetop.

Decorate with sugar sprinkles, then bake for 2 hours. Once baked, turn off the oven and let the Meringue Christmas Trees cool down inside the closed oven for 1-2 hours.

If you've tried this recipe, come back and let us know in the comments or ratings.
Notes
Cream of tartar – optional and can be replaced with lemon juice. See Ingredient notes in post.
Vanilla extract – can be replaced with other flavors, see Ingredient notes in post.
Nutrition
Calories:
27
kcal
,
Carbohydrates:
6
g
,
Protein:
1
g
,
Fat:
1
g
,
Sodium:
8
mg
,
Potassium:
14
mg
,
Sugar:
6
g
,
Calcium:
1
mg
,
Iron:
1
mg