Calling all potato lovers! These Chipped Beef Stuffed Potatoes are going to be your new obsession. Creamy, flavorful beef stuffed inside a hot and soft potato. What could be better?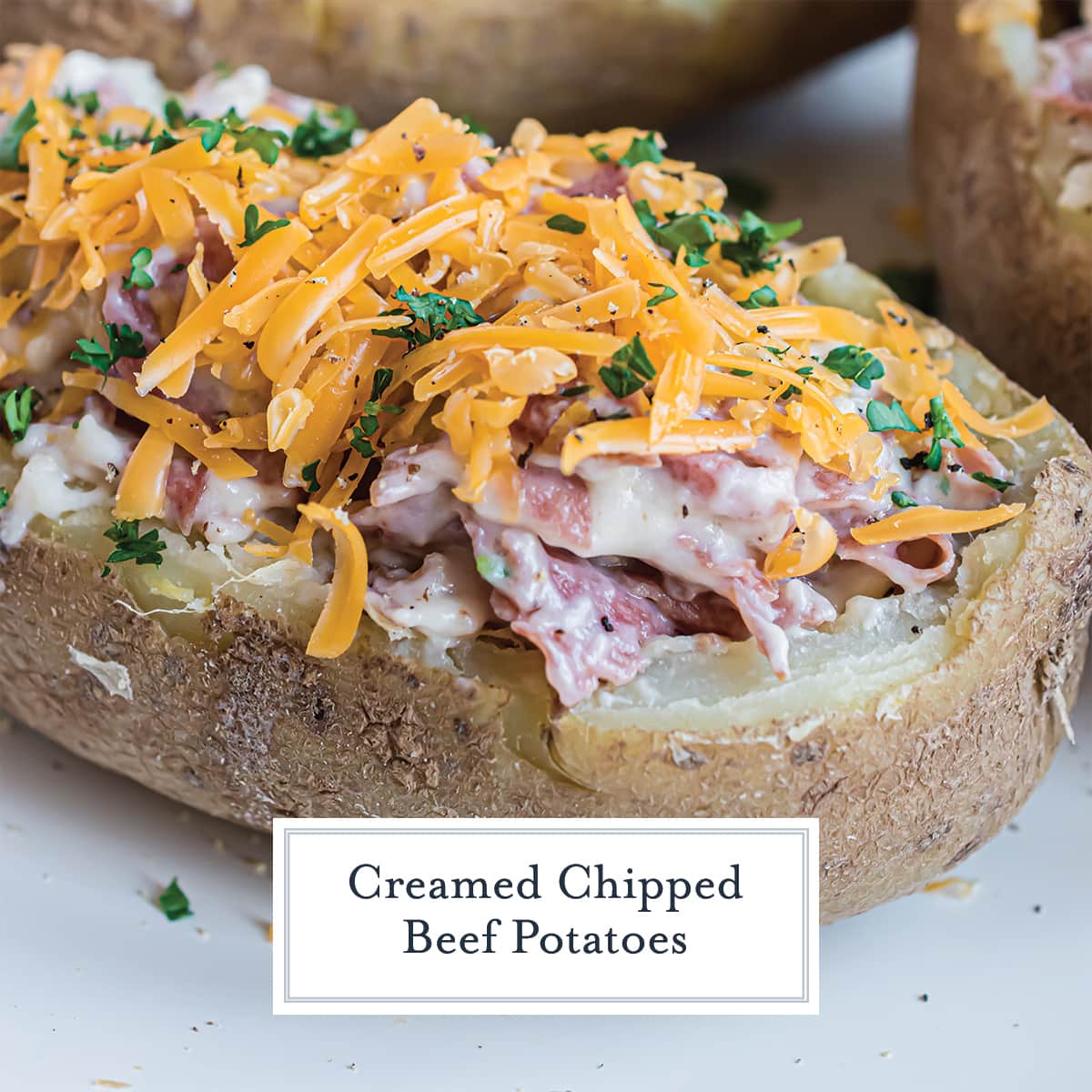 Creamed chipped beef is a meal that my husband loves, but I rarely make. It is more of an "order it out" type of thing, but I recently came up this fabulous and slightly elevated version… stuffed into potatoes!
Chipped Beef Stuffed Potatoes
Potatoes are like a blank canvas waiting to be painted and you can virtually make any into a gourmet twice baked potato. In this case, a creamed chipped beef twice baked.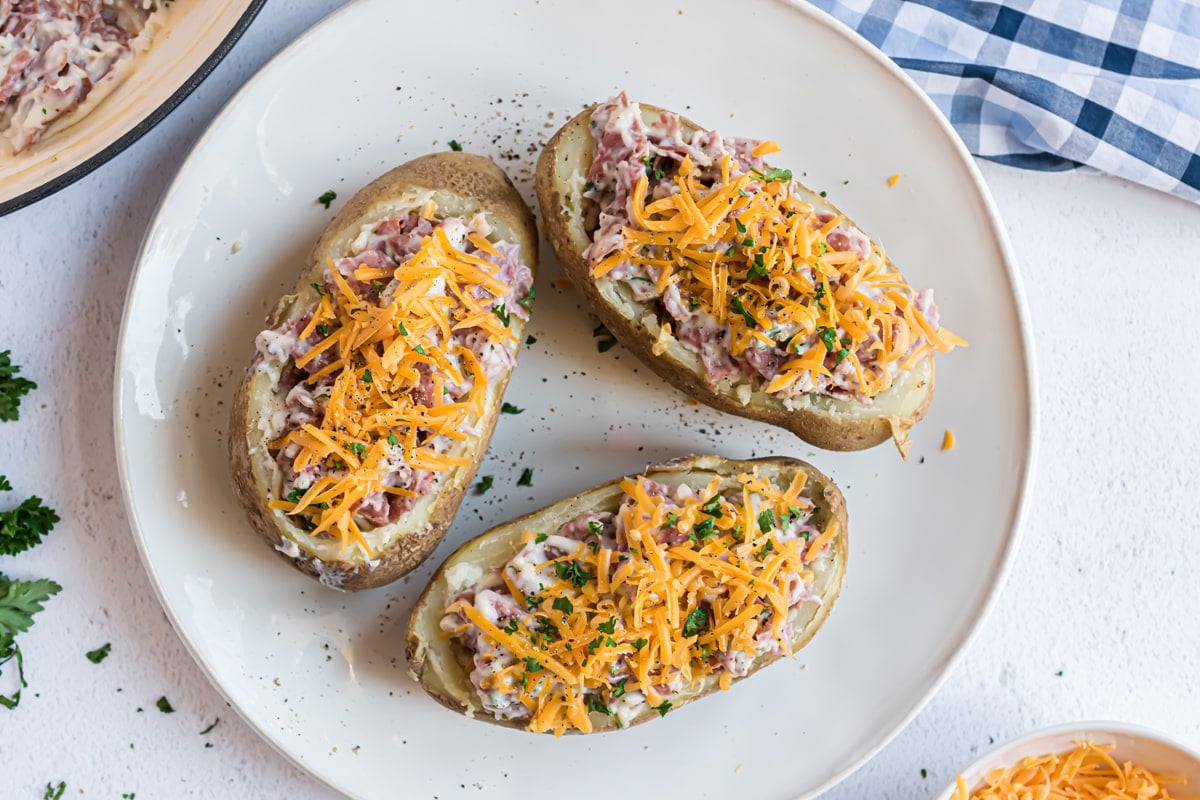 To best make these Chipped Beef Stuffed Potatoes, look for large potatoes that are long and oval shaped. Russets are best because their skin is thick and hearty, making the perfect edible bowl.
Make them in the oven, microwave, Instant Pot or even Air Fryer. Let them cool slightly so you don't burn your hand, but also so the flesh is a little less fluffy and soft. It makes it easier to work with. You can even make the day before and use cold potatoes.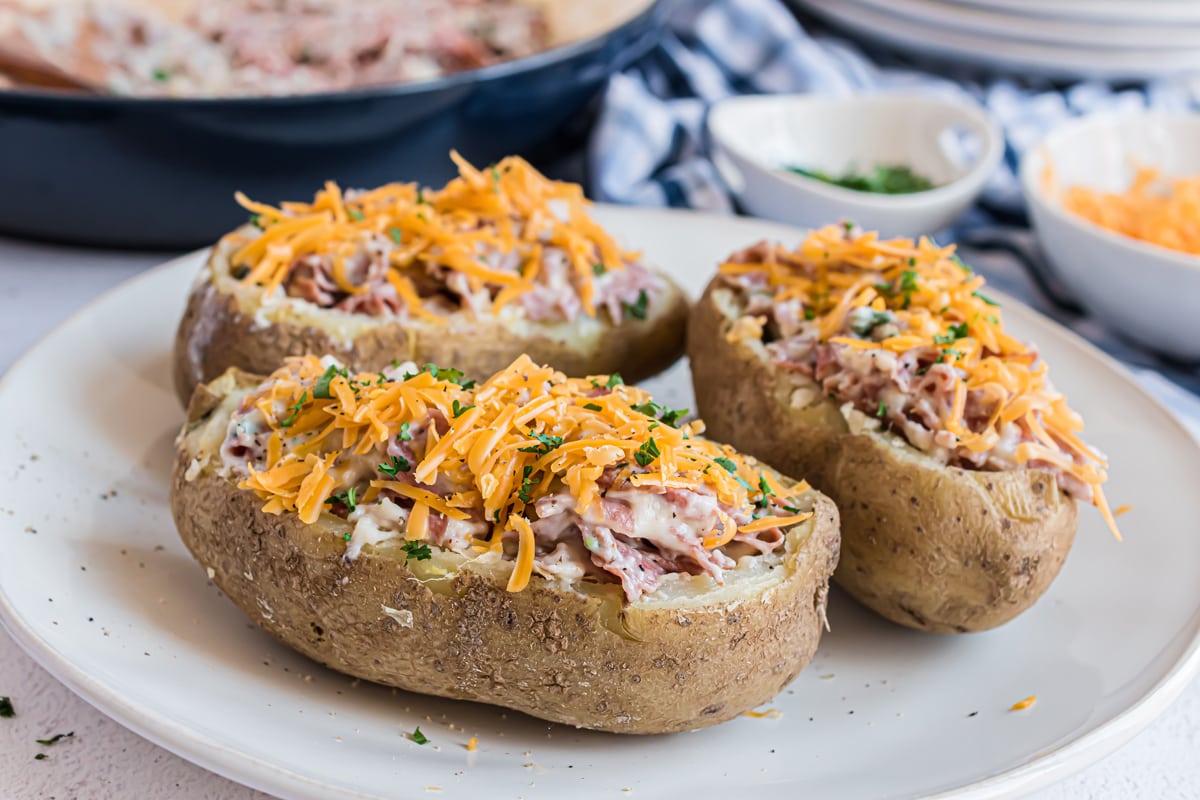 Potato Insides
You might be stressing about all that goodness from the inside going to waste. But don't worry, I never let a potato go to waste! The inside is arguably the best part, so I always set mine aside to use for later.
You can use the potato insides to make mashed potatoes or crispy home fries. I usually just top with a pad of butter, salt and pepper and eat them for lunch.
Creamed Chipped Beef
Creamed chipped beef goes by several names that all revolve around the acronym SOS. If you were in the service, you probably lovingly call is Sh*t on a Shingle, others called is Stuff on Stuff or Same Old Stuff.
It all comes down to three elements: thinly sliced beef, some sort of starchy base and a velvety cream gravy and is most frequently served on a thick piece of toast, but in this case the starch is potato. Some folks even use egg noodles or rice.
The Beef
Beef is the star of the show in creamed chipped beef so it seems like a good place to start. Traditionally, the dish uses a jarred or canned dried beef.
You can find it near canned tuna and Vienna sausages at the grocery store. It is shelf stable for long periods of time, so it is no wonder it became a popular meal during difficult times.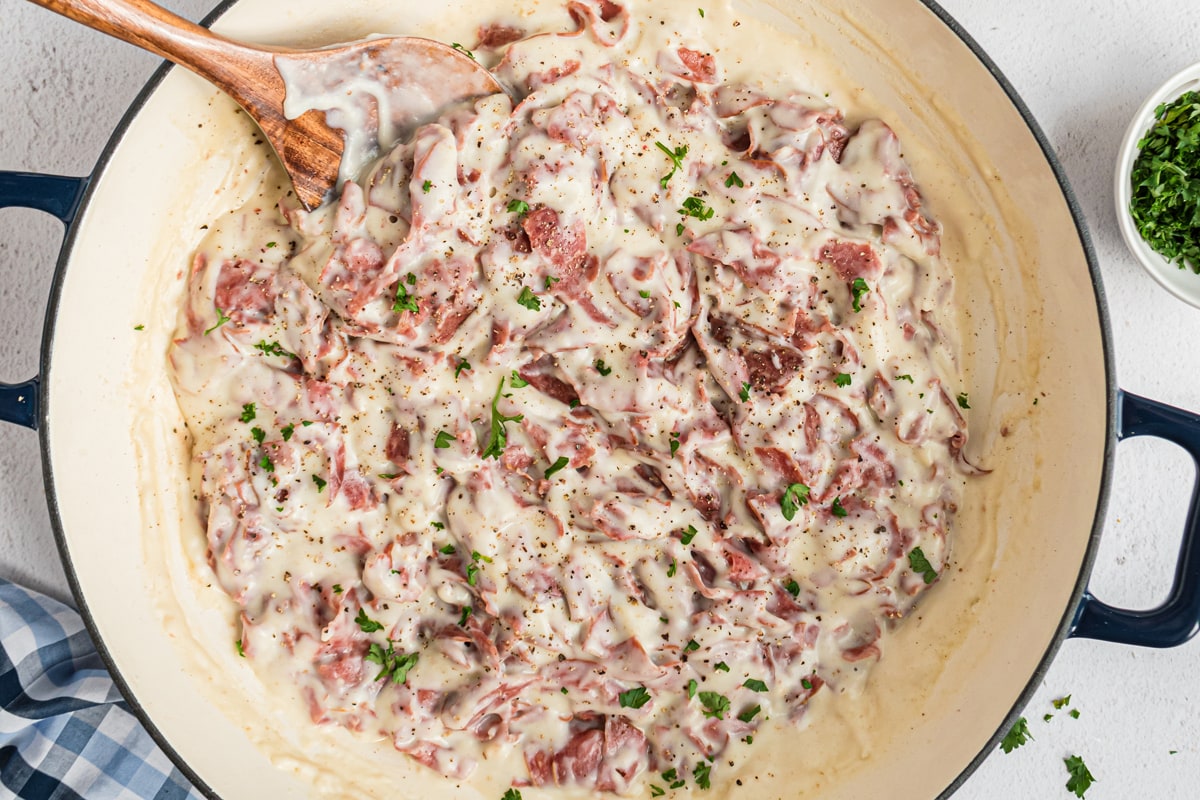 The most popular brands are Armour and Hormel and it will be labeled "dried sliced beef". It is thinly sliced dried beef in a salty brine. If you use the jarred version, you'll need to not only drain, but rinse and soak the beef before using.
I am a salt lover and it is way too much for me. I'd rather have it be under seasoned and add salt at the end than have it be unrecoverable and too salty.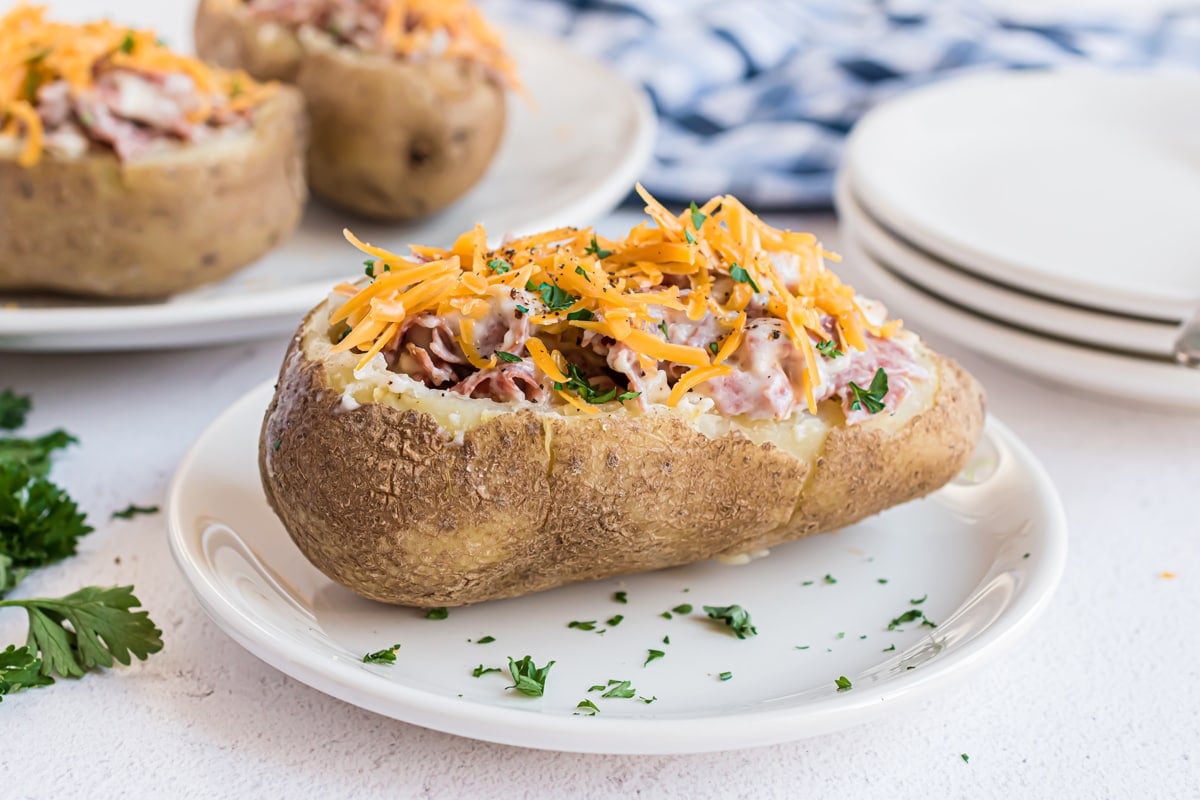 The other option for beef is a deli meat version made by Cubb or other generic brands. This meat is also a dried beef, but not stored in brine so not as salty. Taste test it before cooking. I've had some folks still say it needed to be rinsed, but not soaked.
Others who don't care for dried beef can use fresh, thinly sliced roast beef from the deli or even ham or cooked and drained ground beef for their chipped beef stuffed potatoes.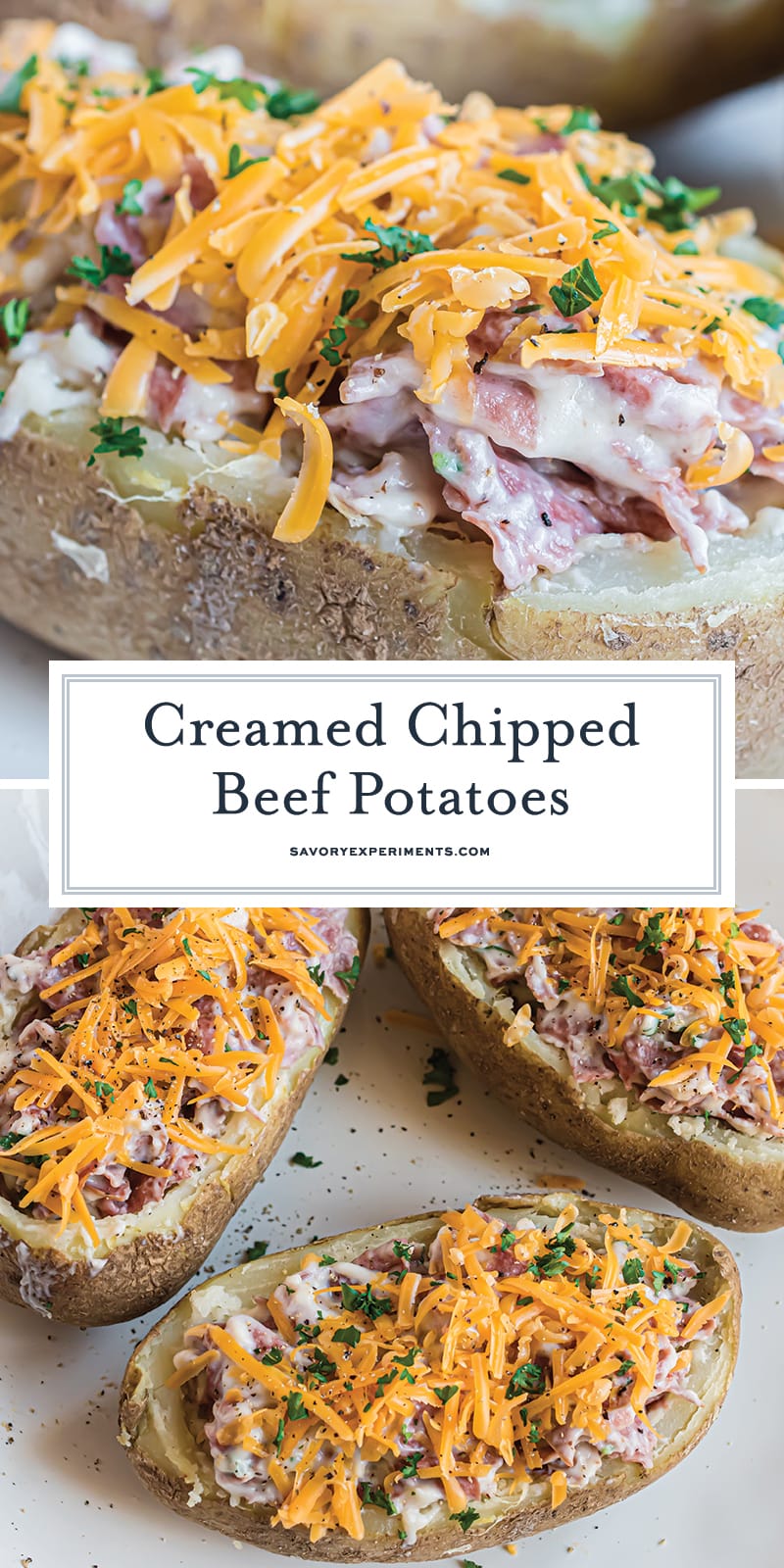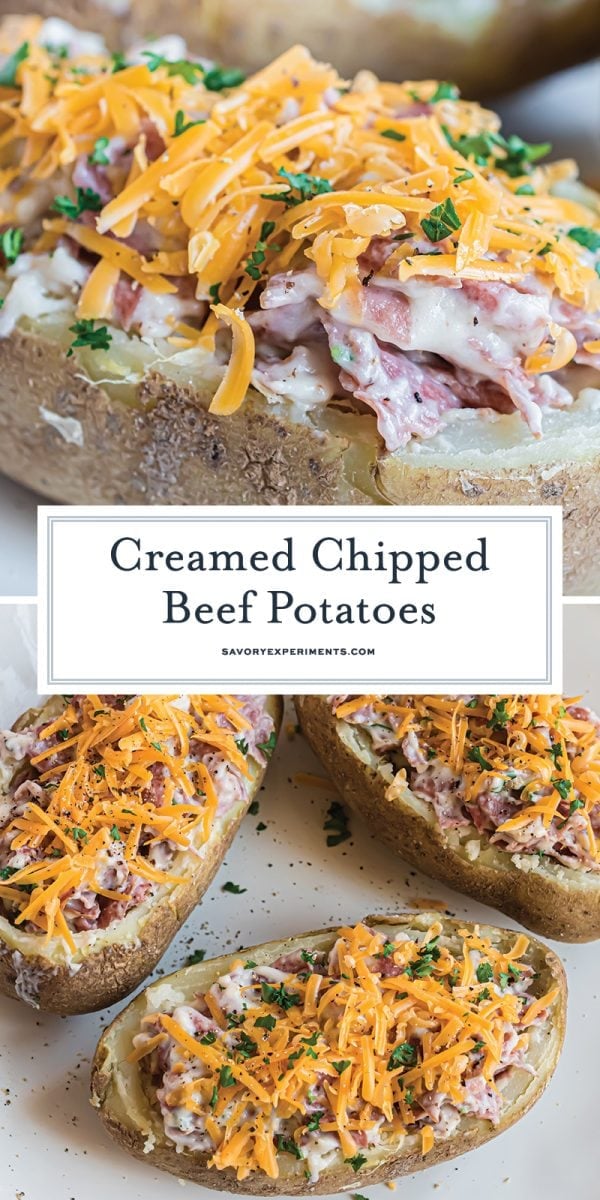 More potato recipes you will love: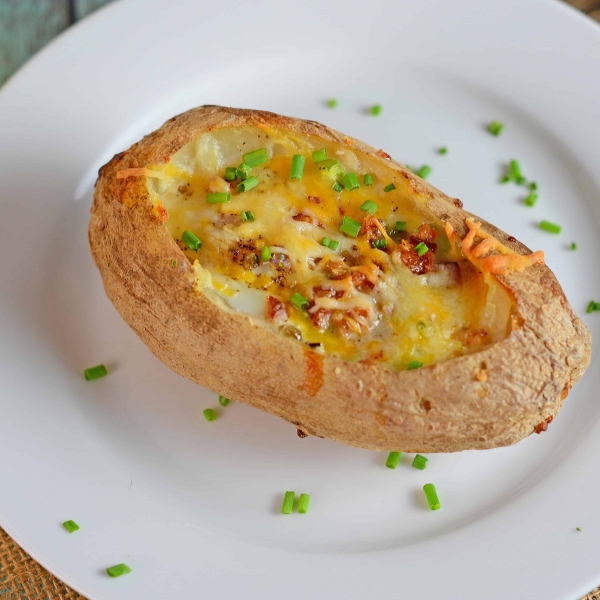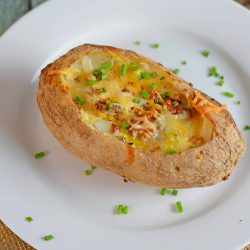 Stuffed Breakfast Potatoes
Potato boats stuffed with bacon, eggs, cheese and anything else you can pit into them!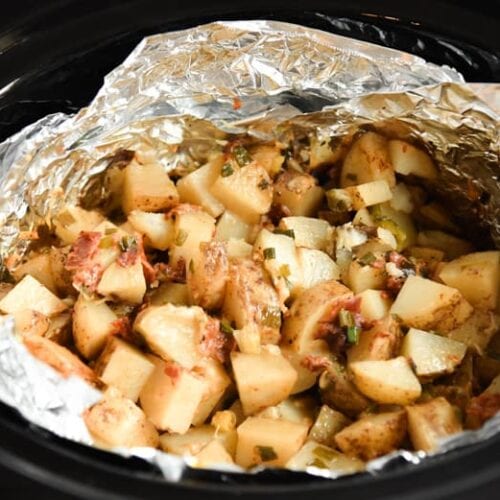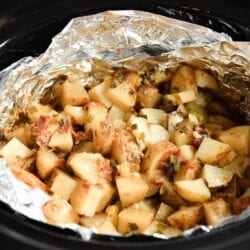 Slow Cooker Cheesy Potatoes
Slow Cooker Cheesy Potatoes stay super moist while cooking and are topped with loads of ooey, gooey CHEESE, bacon and seasoning.
View this recipe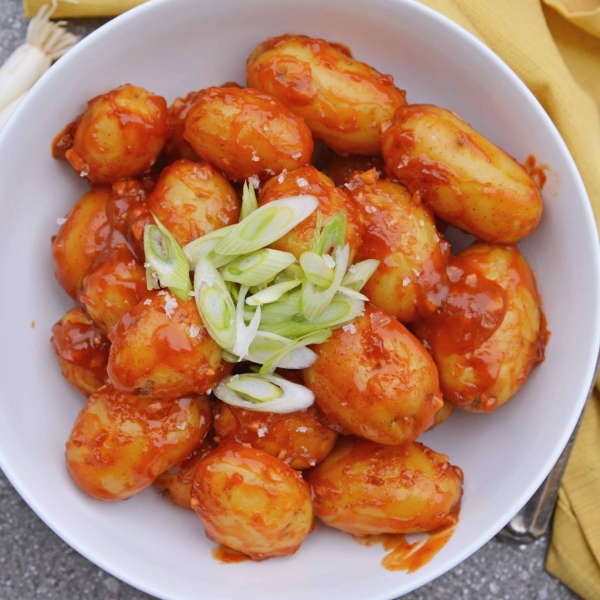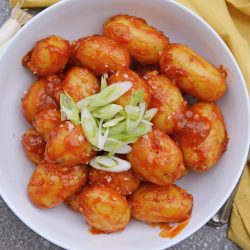 Chile Garlic Potatoes
Chile Garlic Potatoes are an easy potato side dish using baby potatoes in a sweet and spicy sauce.
View this recipe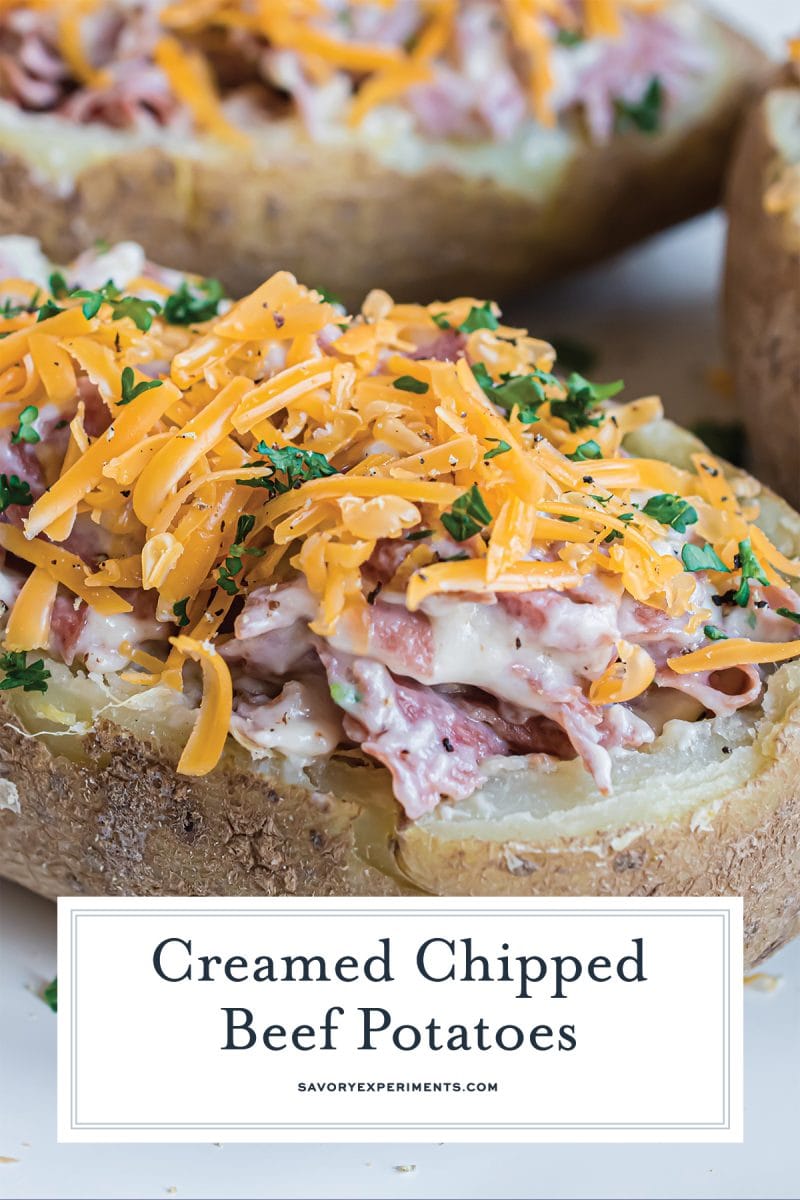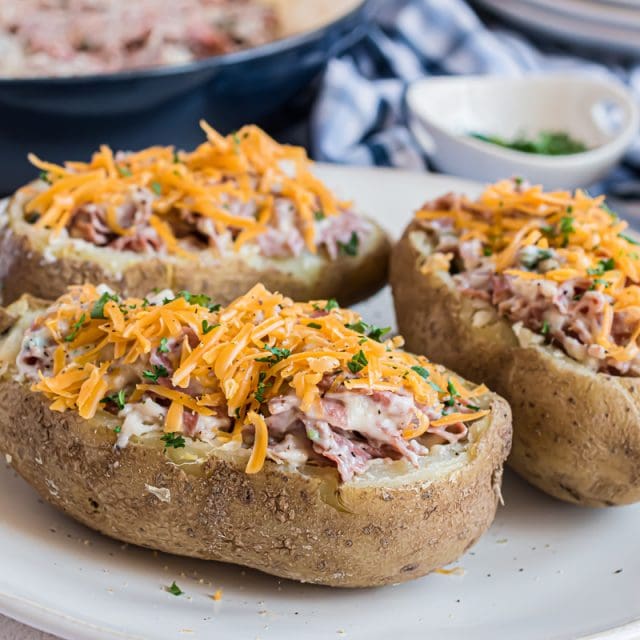 Chipped Beef Stuffed Potatoes
Chipped Beef Stuffed Potatoes will be your new obsession. Creamy, flavorful beef stuffed inside a hot and soft potato. What could be better?
Instructions
Drain and rinse dried beef. Soak in cold water for 10 minutes, drain and rinse again.

Melt 2 tablespoons unsalted butter in a large skillet over medium heat. Add drained and rinsed beef, tearing into smaller pieces as you add it.

Sauté for 3-4 minutes until browned.

Remove to a plate, set aside.

Add remaining 2 tablespoons of butter, melting and adding flour. Whisk to make a roux. Allow to lightly brown, approximately 4-5 minutes.

Whisk in whole milk, whisking until all lumps are dissolved and mixture starts to thicken. Season with a dash of Worcestershire sauce and Dijon mustard.

Taste test the cream sauce and if needed, add a small amount of seasoned salt. Depending on how well you drained and rinsed the beef and your salt preferences this may or may not be needed.

Cut the top off a baked potato lengthwise, scoop out inside, making a potato boat.

Fill with creamed chipped beef and top with a sprinkle of shredded cheddar cheese. The hot filling should be enough to melt your cheese and keep the potato hot, but if not, you can pop them in the oven at 350 degrees for about 5 minutes to heat through.

If you've tried this recipe, come back and let us know how it was in the comments or ratings!
Nutrition
Calories:
527
kcal
,
Carbohydrates:
50
g
,
Protein:
20
g
,
Fat:
28
g
,
Saturated Fat:
14
g
,
Cholesterol:
85
mg
,
Sodium:
276
mg
,
Potassium:
1245
mg
,
Fiber:
5
g
,
Sugar:
9
g
,
Vitamin A:
589
IU
,
Vitamin C:
42
mg
,
Calcium:
206
mg
,
Iron:
3
mg