I love how syrup seeps out the sides of my Cherry Hand Pies. One of those things that are perfect in their imperfection. Also known as Toaster Strudels and a homemade Pop Tart, if you will.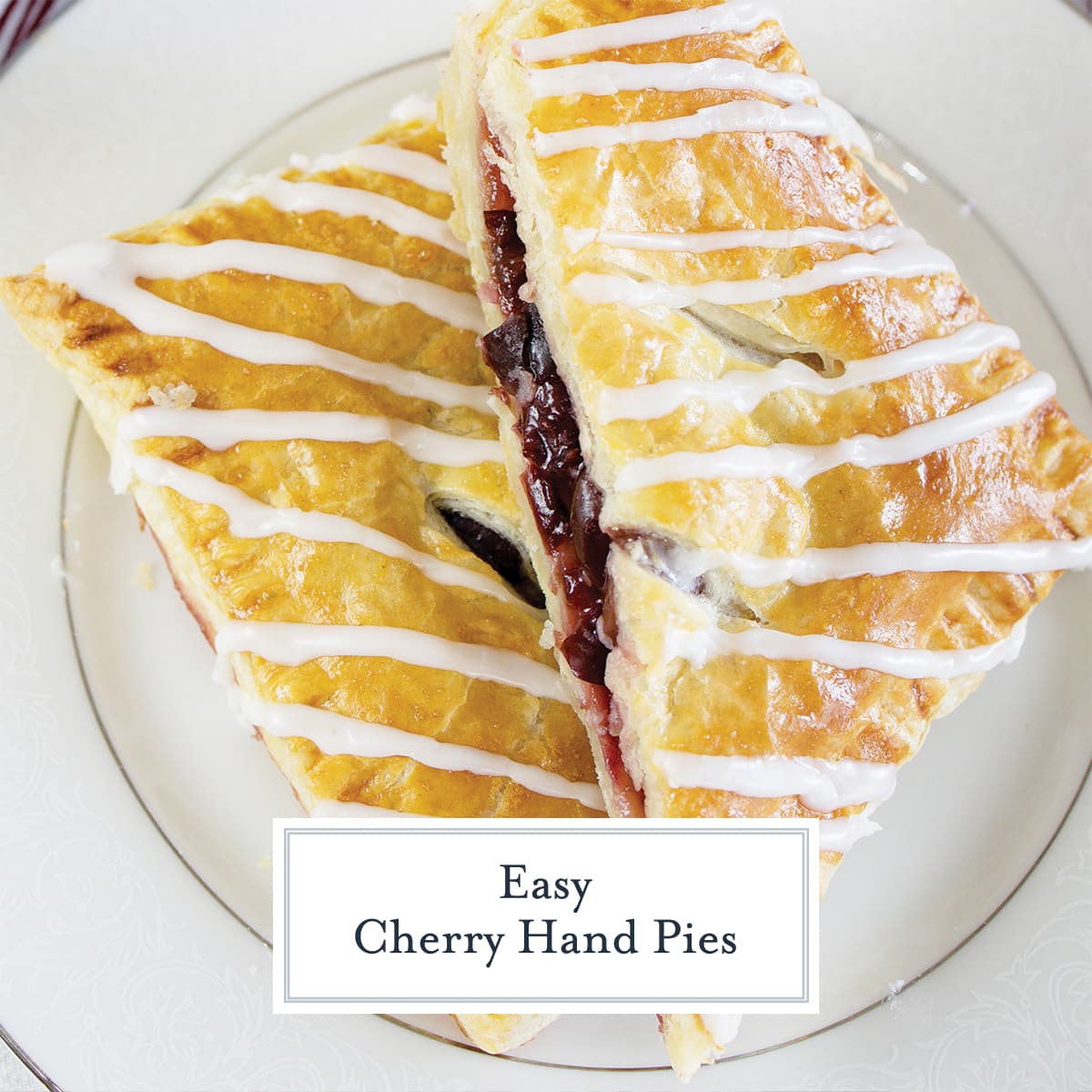 Cherry Hand Pies use 6 easy ingredients to make a quick and delicious cherry dessert. Can be made with fresh or frozen cherries and served for breakfast, a snack or dessert- paired with a scoop of vanilla ice cream, of course.
What Are Hand Pies?
Hand pies are just a fun term for mini cherry pies that easily come together with nothing but the use of your hands.
I like using an all-butter puff pastry for flakey deliciousness and the shape; it makes it easy to cut 6 equal rectangles since it comes in a larger rectangle. Feel free to use pie dough too, but you might need to make half moons, like my mini chicken pot pies.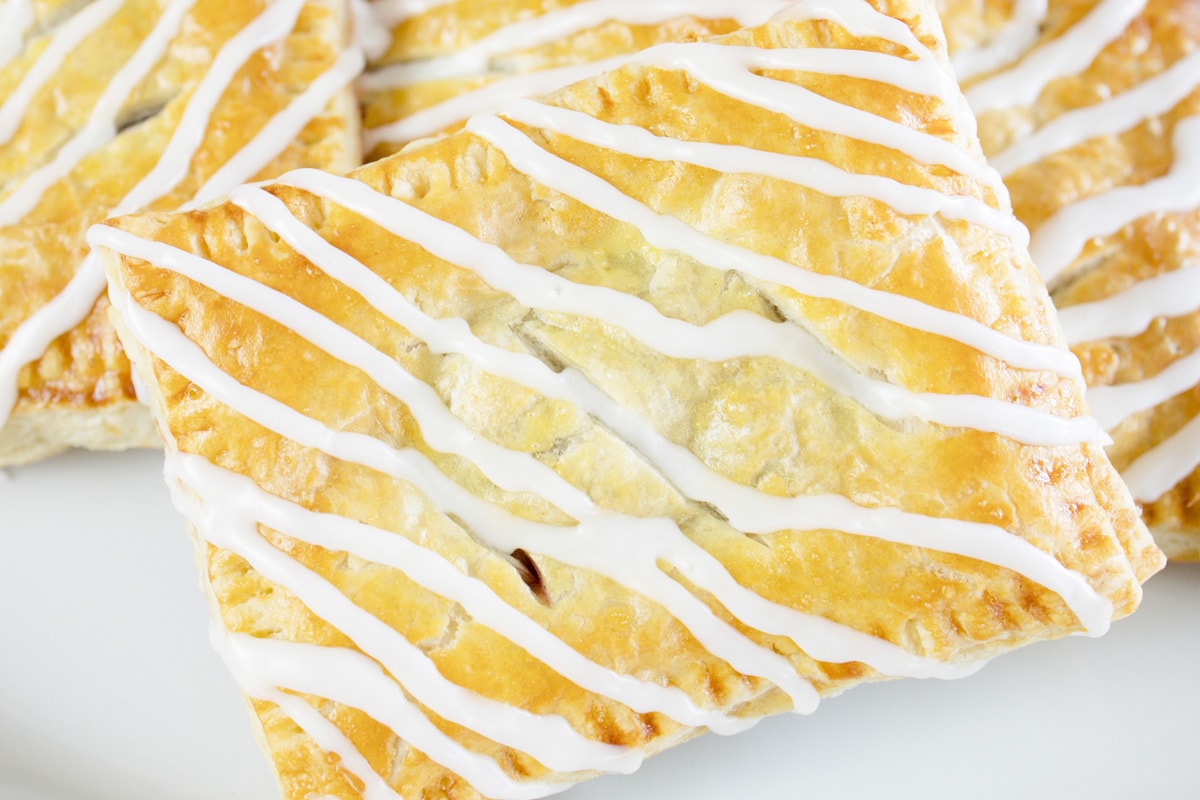 It really just depends on what type of crust you are aiming for.
Whatever you use for your hand pie recipe, the uneven edges with fruit oozing out are what make them so unique and fun so don't focus on making them picture perfect.
Homemade Cherry Pie Filling
For my hand pies, I used frozen cherries. It is winter, of course. I am a lover of summer fruits and cherries are at the top of my list, but fresh cherry pie filling is also fabulous if you can get your hands on it!
I have literally eaten a couple pounds in day for breakfast and lunch. While frozen cherries aren't that great to eat merely defrosted, I can still get my cherry fix by baking them in buttery pre-made pastry, a little lemon juice, sugar and cornstarch to thicken up the natural juices.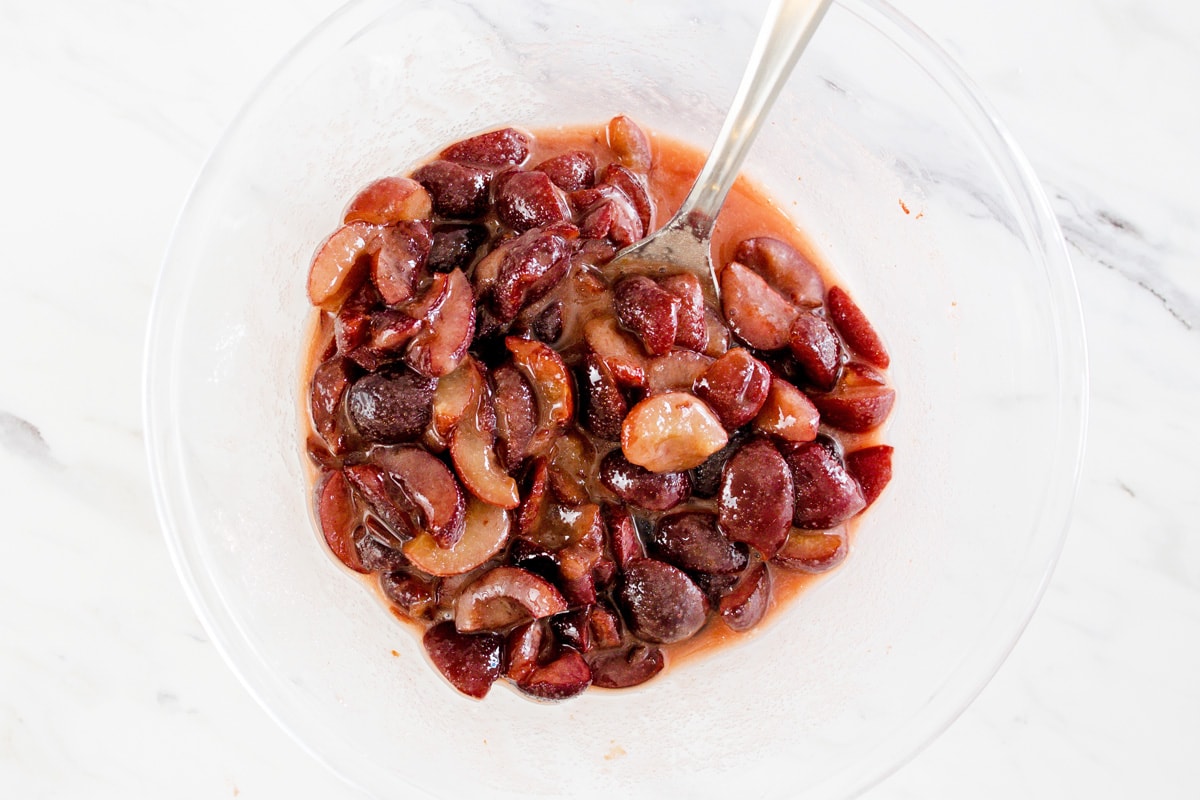 In the summer, feel free to use fresh cherries without having to modify the recipe at all. That is, if you can save them instead of eating them all.
Two things to keep in mind when making Cherry Hand Pies. Frozen cherries are sometimes labeled as "bitter" and might require additional sugar. I try to find the sweet cherries.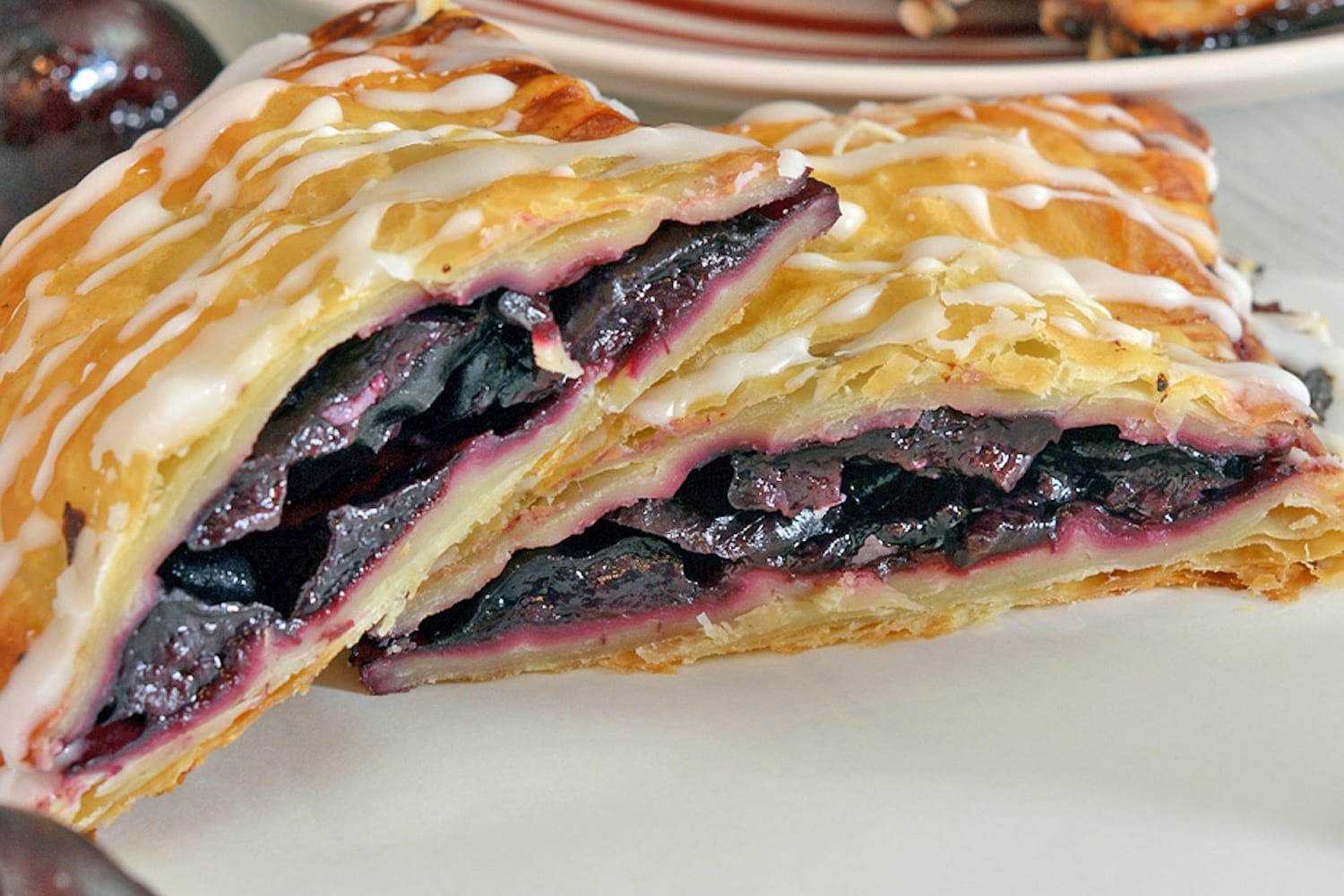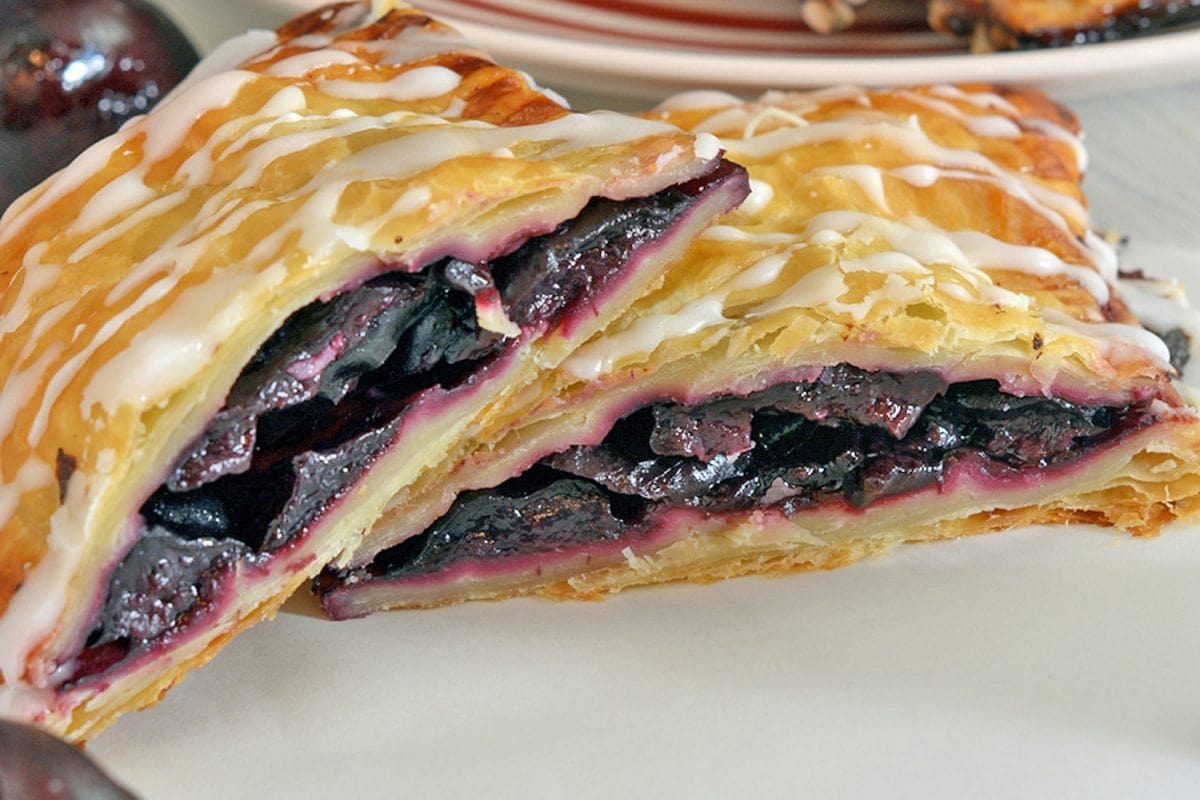 How to Make
You don't need much to make mini cherry pies, aka hand pies.
Puff Pastry– You'll need two sheets and lucky for you, the box comes with two sheets! Make sure they are thawed and use them in the same shape they are when unfolded, no need to more rolling.
Cherries– fresh or frozen and defrosted.
Sugar- Cherries are generally a tad bitter and need to be brightened, if using bitter cherries, you might need an additional tablespoon.
Cornstarch– This thickens the natural juices so you don't end up with a juicy cherry mess!
Lemon juice- You know me and my acids! Citrus juice is common in many baked goods using fruit to brighten and amplify the flavor profile.
Egg- The egg wash helps get a nice, shiny golden brown on top and is optional.
Make the filling by tossing together the cherries, cornstarch sugar and lemon juice.
Cut each pastry sheet in 6 equal sizes and spoon filling evenly into 6 of them. Top with the other 6.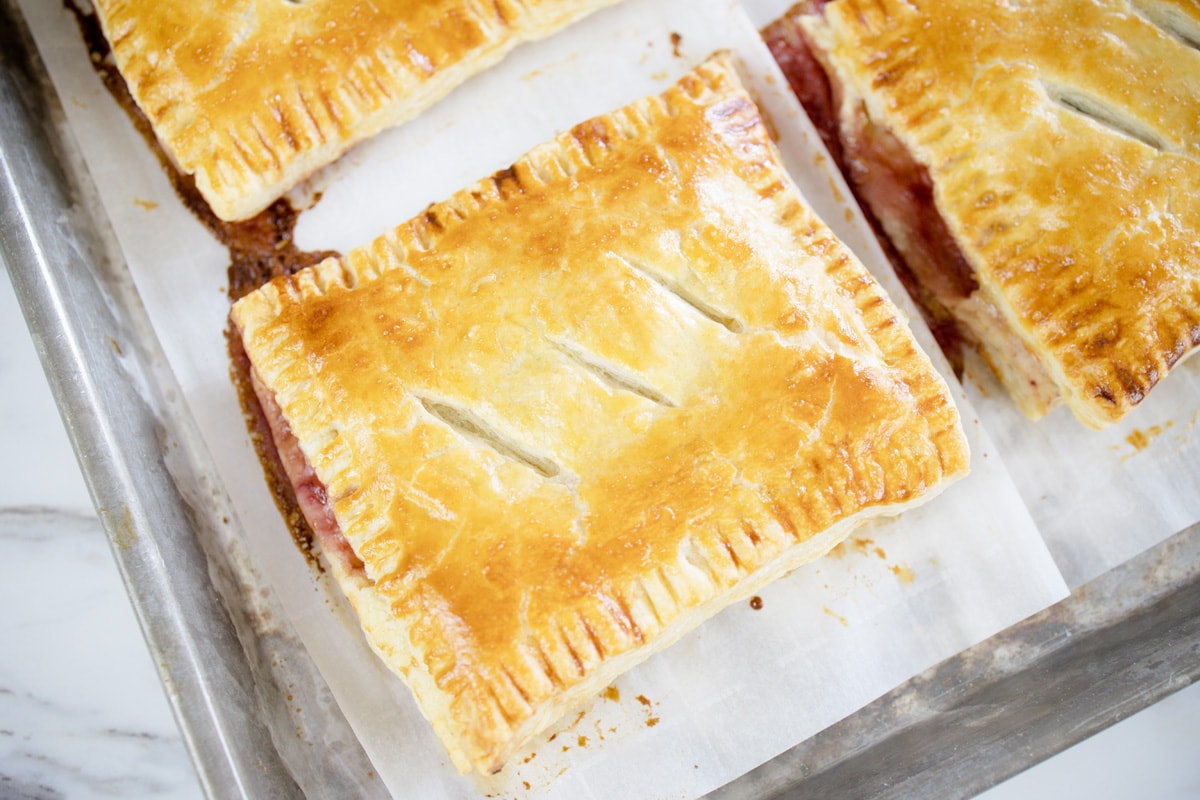 Crimp the edges of your mini pies with a fork or pinch with your fingers. Make sure you get a good connection so the filling doesn't seep out too much. Some is unavoidable.
Whisk the egg and combine with water, lightly brushing the tops. This gives them a nice shine and the ability to brown nicely.
Using a super sharp knife, so you don't totally tear them open, cut slits in the tops of each. This lets steam release so the pastry can crisp up and not get soggy. Also allowing moisture to release and the filling to thicken.
From here the glaze is optional. Alternatively, you can do a sprinkle of coarse sugar like turbinado.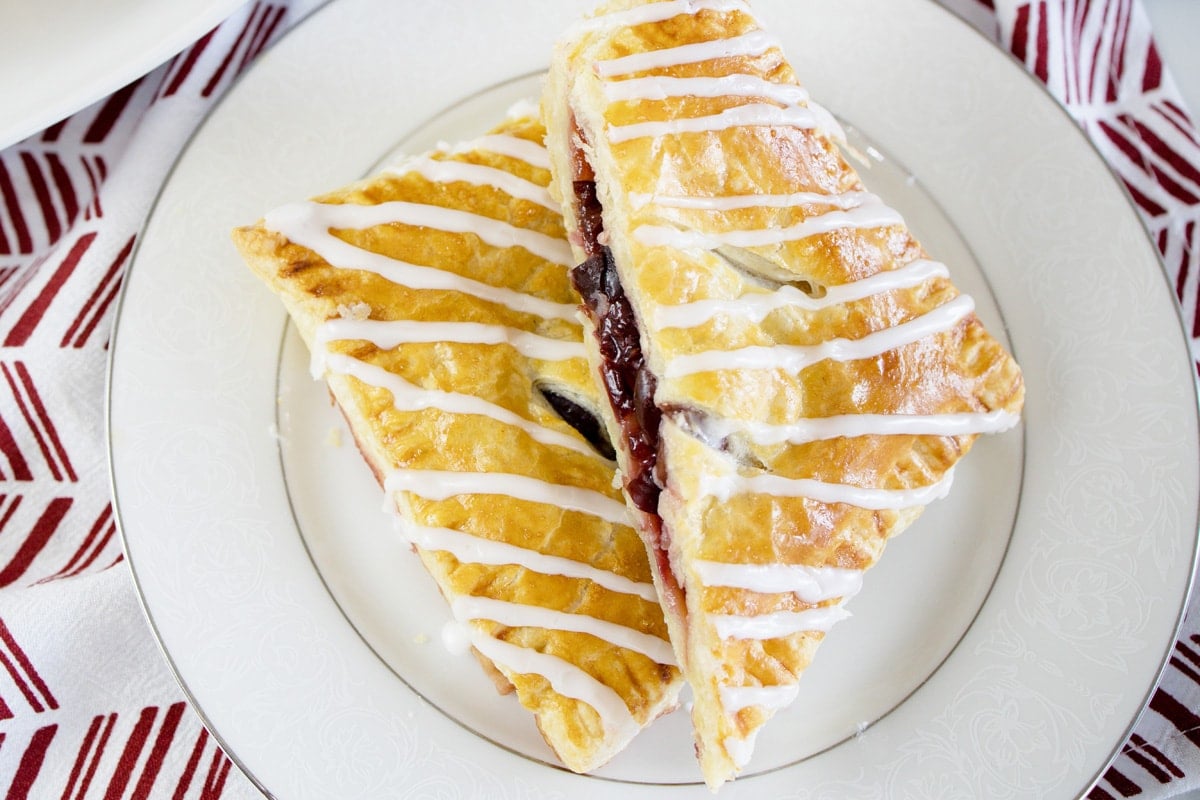 Powdered Sugar Icing
The glaze is optional. Picking up a packet of sugar cookie icing is another perfectly acceptable options.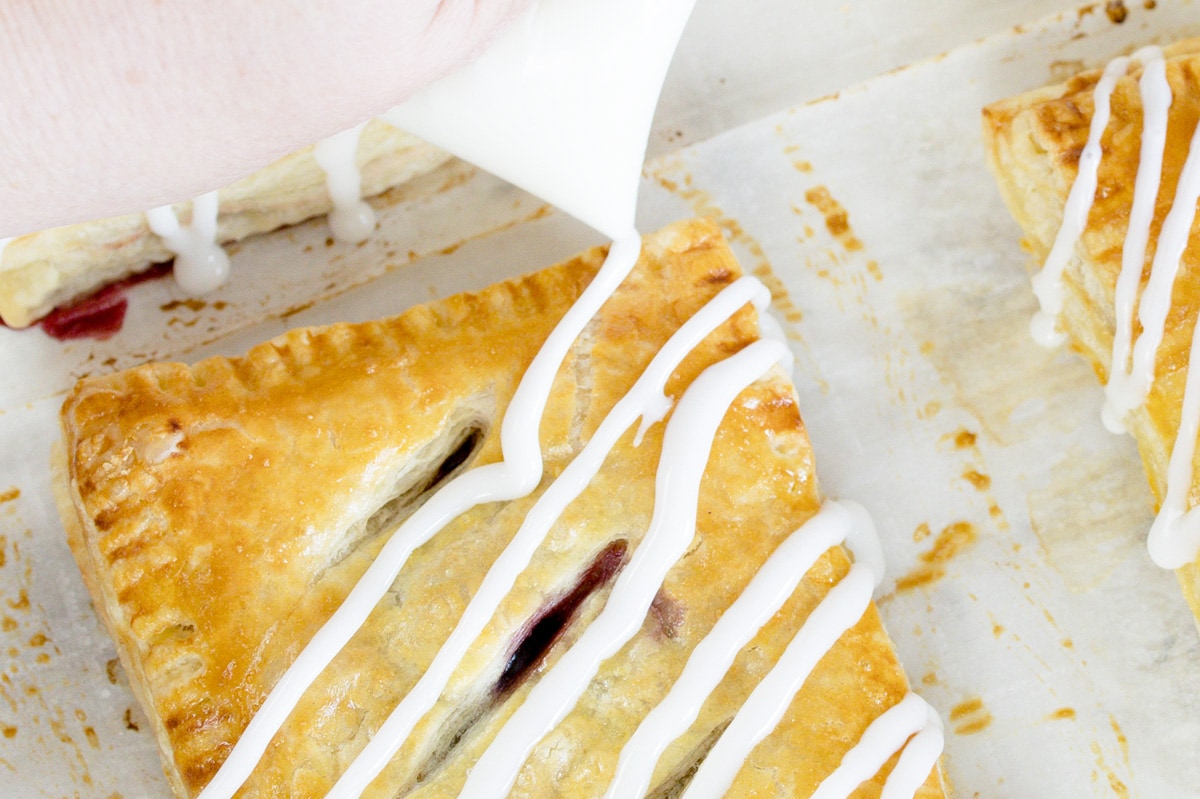 Powdered Sugar– The glaze is optional, but who doesn't love a good drizzle of icing?
Milk- I mix my glaze with milk (skim, reduced fat or whole) but you can also use water or milk alternatives.
Vanilla Extract– Also optional, I like my glaze to taste like a little more than just sugar. Almond extract is another good alternative.
Whisk it all together when you take the pies out of the oven. Too soon and it will start to harden, too late and it will be too loose. About 3-4 minutes of sitting time is perfect to get the ideal drizzle.
Consider place it in a small plastic baggie and snipping the corner to create an at-home frosting bag on-the-fly.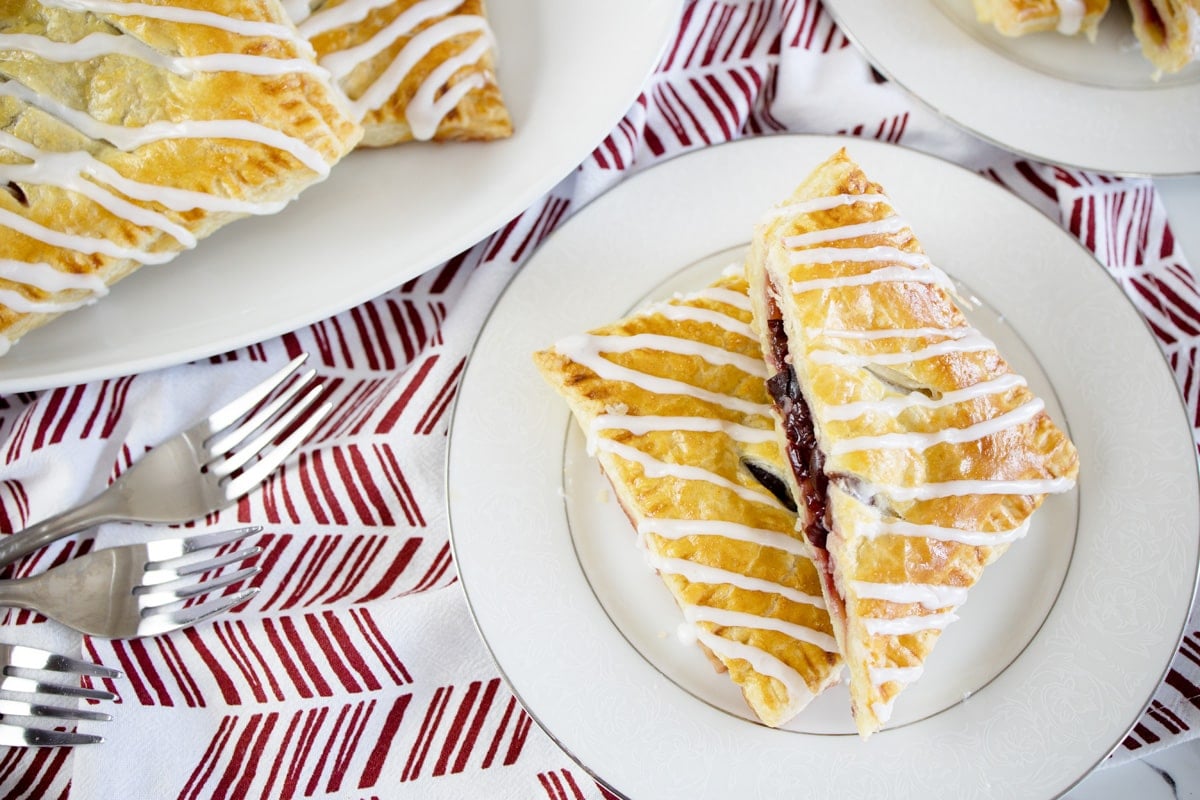 Make Ahead & Storage
Cherry hand pies aren't great made ahead, they are best enjoyed freshly out of the oven. However, you can make the filling ahead of time and just assemble and bake when needed.
Store in an airtight container at room temperature for up to 3 days.
Reheat in the oven to prevent them from exploding (microwave issues).
After baking they are also good for freezing. To thaw, place in a hot oven (350°) while totally frozen and reheat for 8-10 minutes.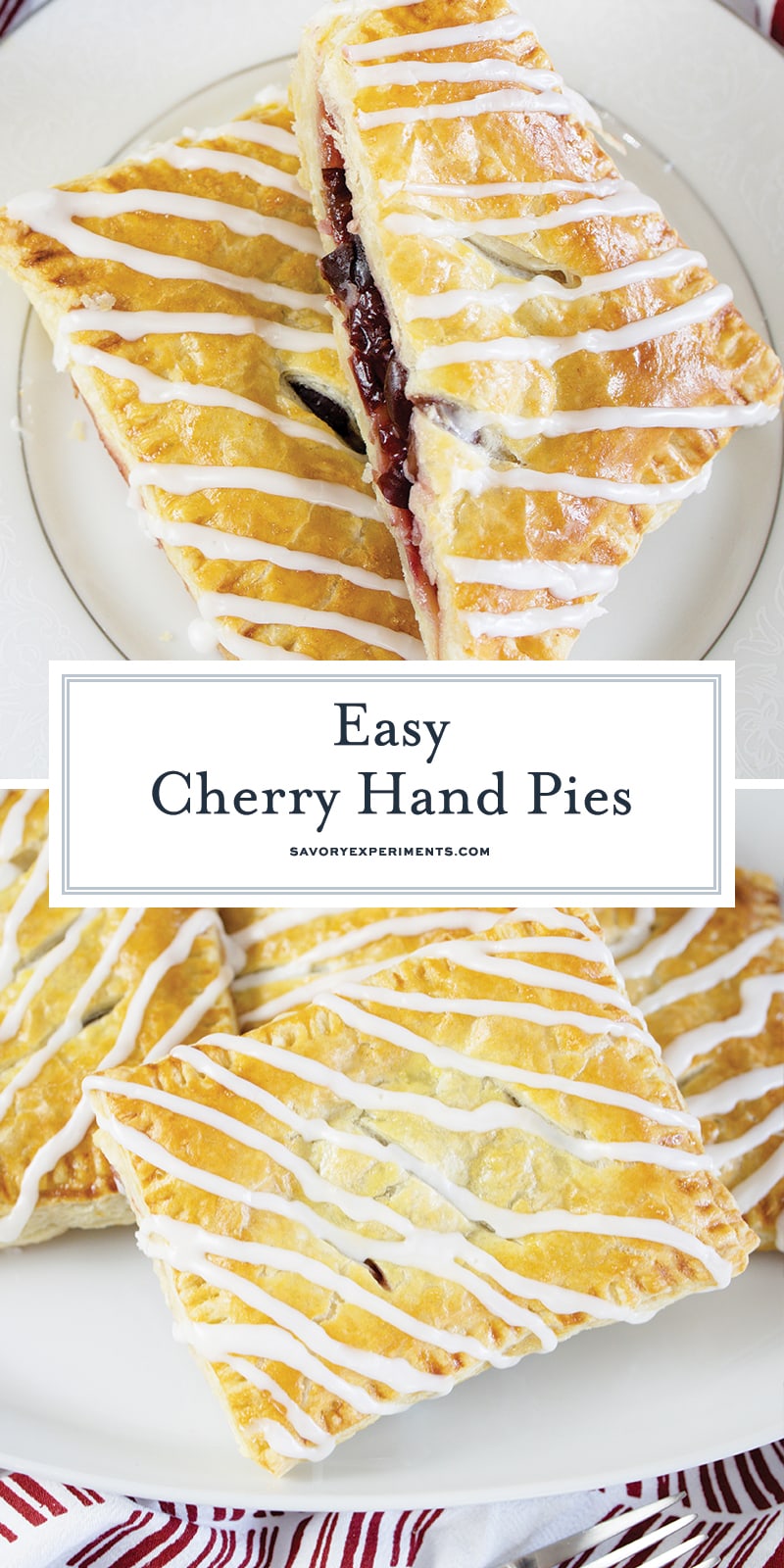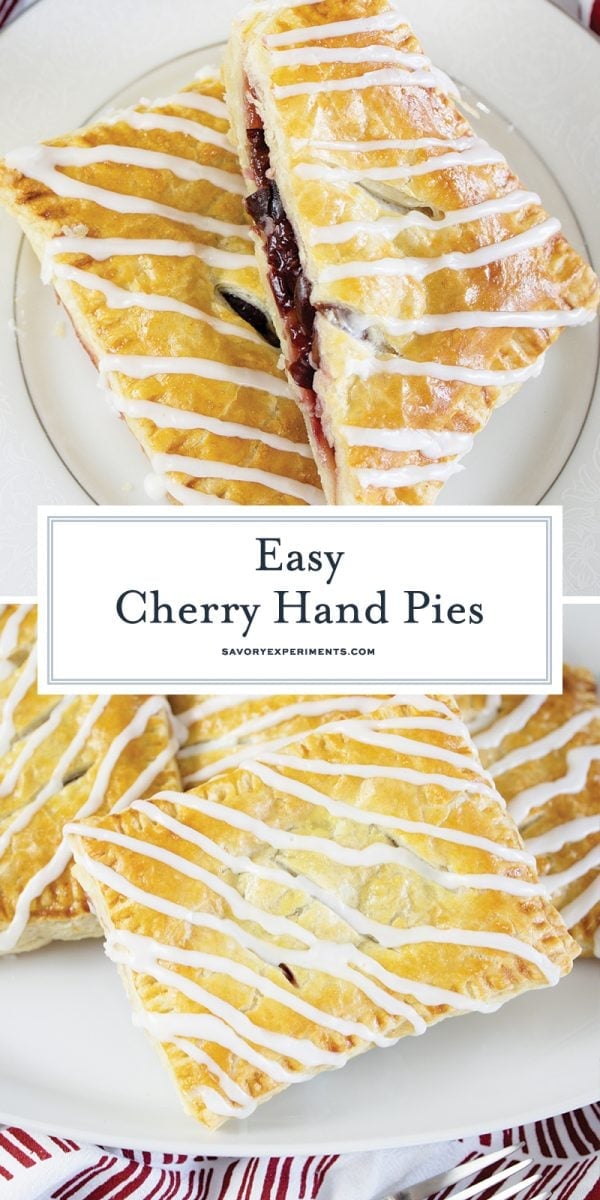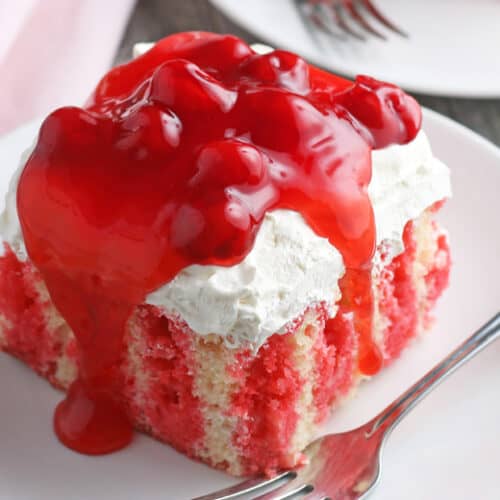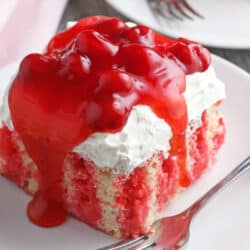 Cherry Poke Cake
Poke cakes are so fun, and this Cherry Poke Cake is no exception. Easier to make than just a white cake with cherry filling, and more delicious too!
See The Recipe!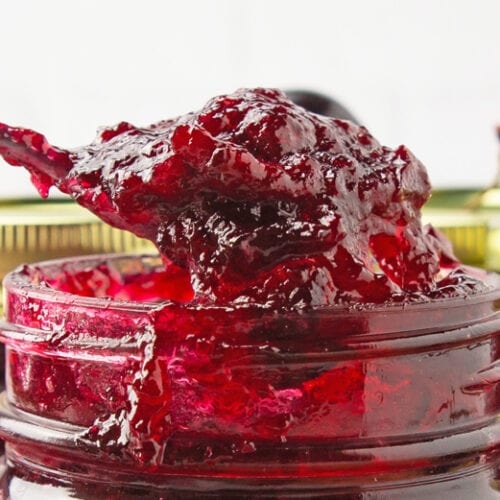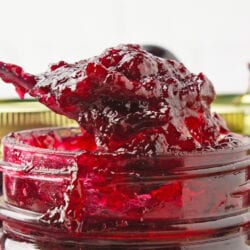 Sweet Cherry Jam Recipe
Whether you're a seasoned pro or learning how to make homemade jam, this cherry jam recipe is easy and addictive. With canning instructions included you can whip up a batch and be enjoying a vanilla infused sweet cherry jam in 45 minutes.
See The Recipe!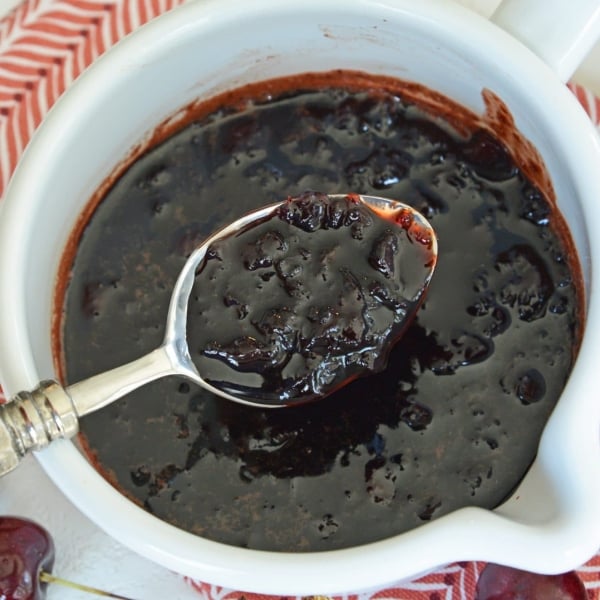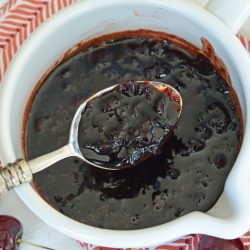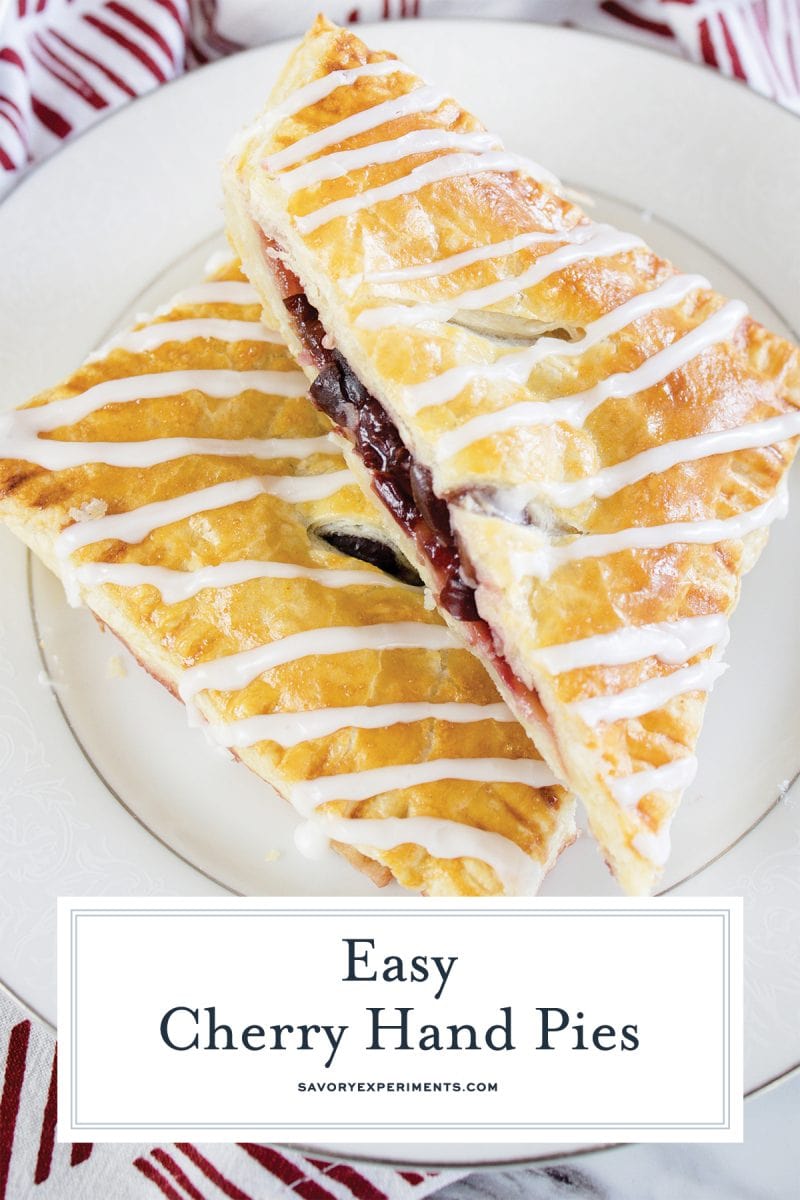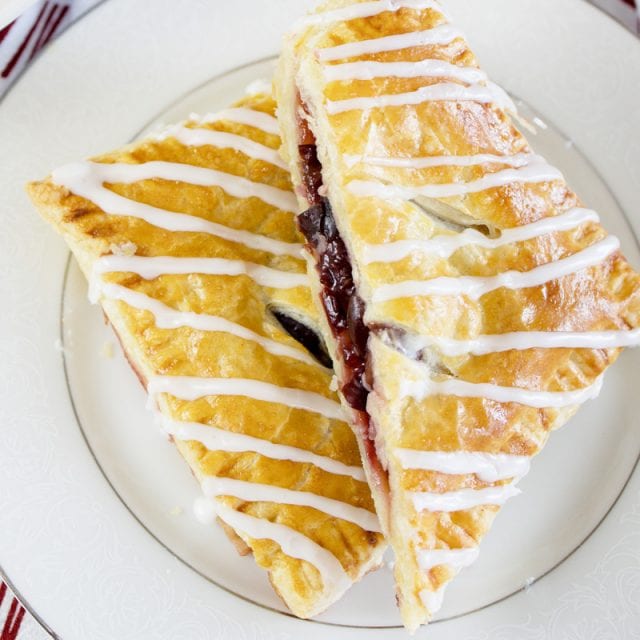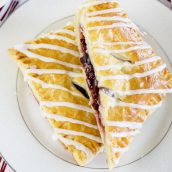 Cherry Hand Pies
Cherry Hand Pies use 6 easy ingredients to make a quick and delicious cherry dessert. Can be made with fresh or frozen cherries.
Instructions
Preheat oven to 375°F. In a medium bowl, toss cherries, sugar, cornstarch and lemon juice. Set aside.

Unroll puff pastry sheets and cut each into 6 equal rectangles. Equally spoon filling into the 6 of the rectangles, heaping it on there, but leaving edges free.

Top with remaining 6 puff pastry rectangles and press together using the edge of a fork or pinching with your fingers.

Transfer to a rimmed baking sheet lined with parchment paper to prevent sticking. I highly recommend using parchment and not cooking spray.

Whisk egg in a small bowl with 1 tablespoon water and lightly brush onto tops. With a sharp knife, cut 3 slits in each hand pie so steam can release.

Bake for approximately 20 minutes, although times can vary depending on the brand of puff pastry you purchase so keep a watchful eye.

Remove and allow to cool slightly.
For Powdered Sugar Glaze:
Whisk together powdered sugar, milk and vanilla in a small bowl. Wait to do this until about 3-4 minutes before you are ready to drizzle, so while the pies are cooling.

Drizzle glaze over cherry hand pies. Eat immediately or serve room temperature with a scoop of ice cream.

If you've tried this recipe, come back and let us know how it was in the comments or ratings!
Nutrition
Calories:
603
kcal
,
Carbohydrates:
72
g
,
Protein:
7
g
,
Fat:
32
g
,
Saturated Fat:
8
g
,
Trans Fat:
1
g
,
Cholesterol:
28
mg
,
Sodium:
217
mg
,
Potassium:
147
mg
,
Fiber:
2
g
,
Sugar:
33
g
,
Vitamin A:
71
IU
,
Vitamin C:
3
mg
,
Calcium:
23
mg
,
Iron:
2
mg