Fogo de Chao Bread is actually Brazilian Cheese Bread or pão de queijo. Once a year for his birthday my husband drags me to Fogo de Chao, a Brazilian restaurant. If you are not familiar with the name please allow me to explain.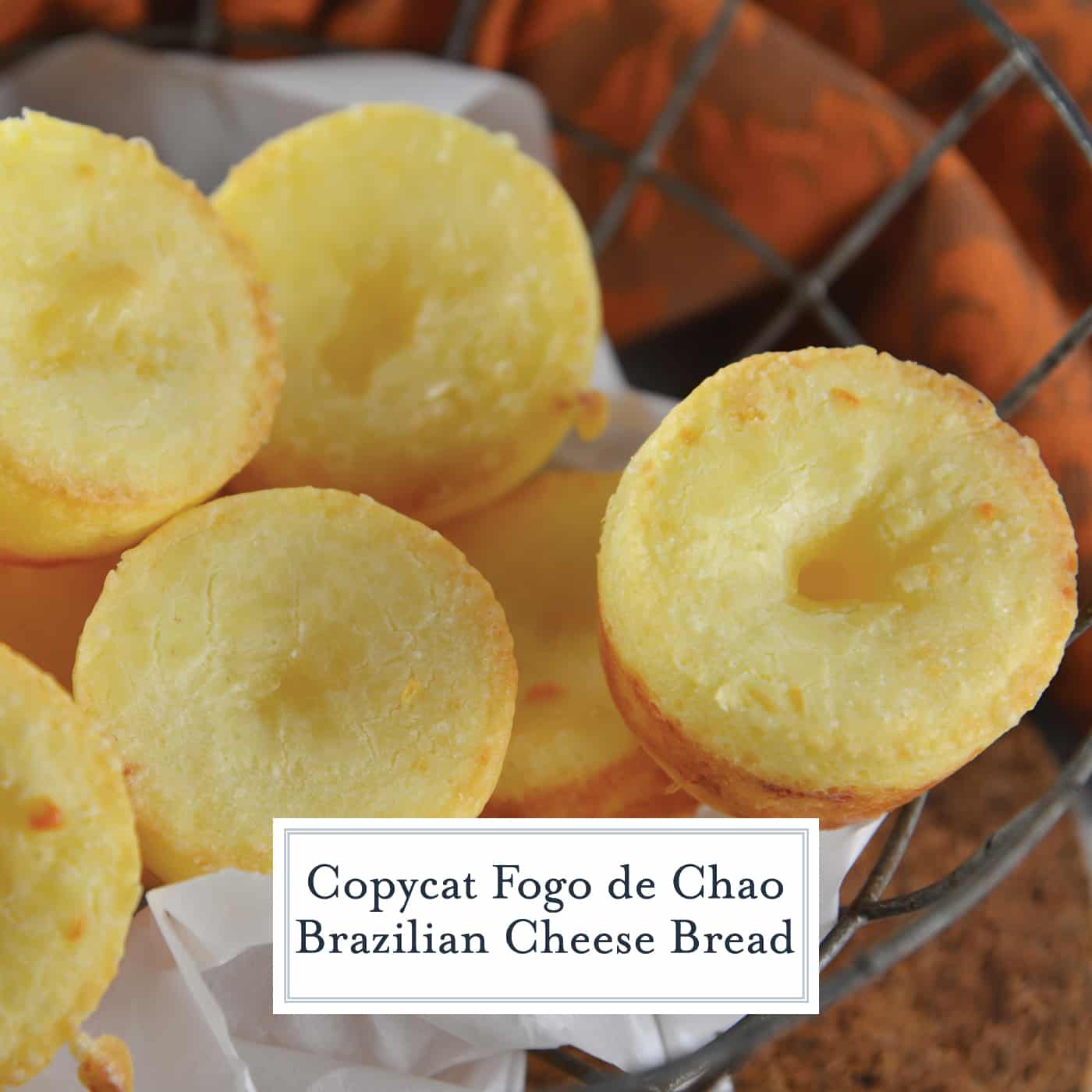 Fogo de Chao Bread, also known as Brazilian cheese bread or Pao de Queijo, are easier to make at home than you think. This gluten-free bread is also yeast free and only takes 30 minutes!

Men running around with meat on sticks using swords to swiftly cut a slab direct to your plate. While I am a fan of meats, I am not a huge fan of the experience and atmosphere.
I say men and not "women" because gacho are traditionally male. I have personally never seen a female gacho, but I suspect they do exist!
I find it anxiety provoking, busy and noisy, which is why it only happens once per year. For a meat-eatin' person it is heavenly. Unlimited meat in the most manly of styles, on a skewer.
Although, Fogo has certainly changed a few things about their ambiance and I now enjoy it more than I used to!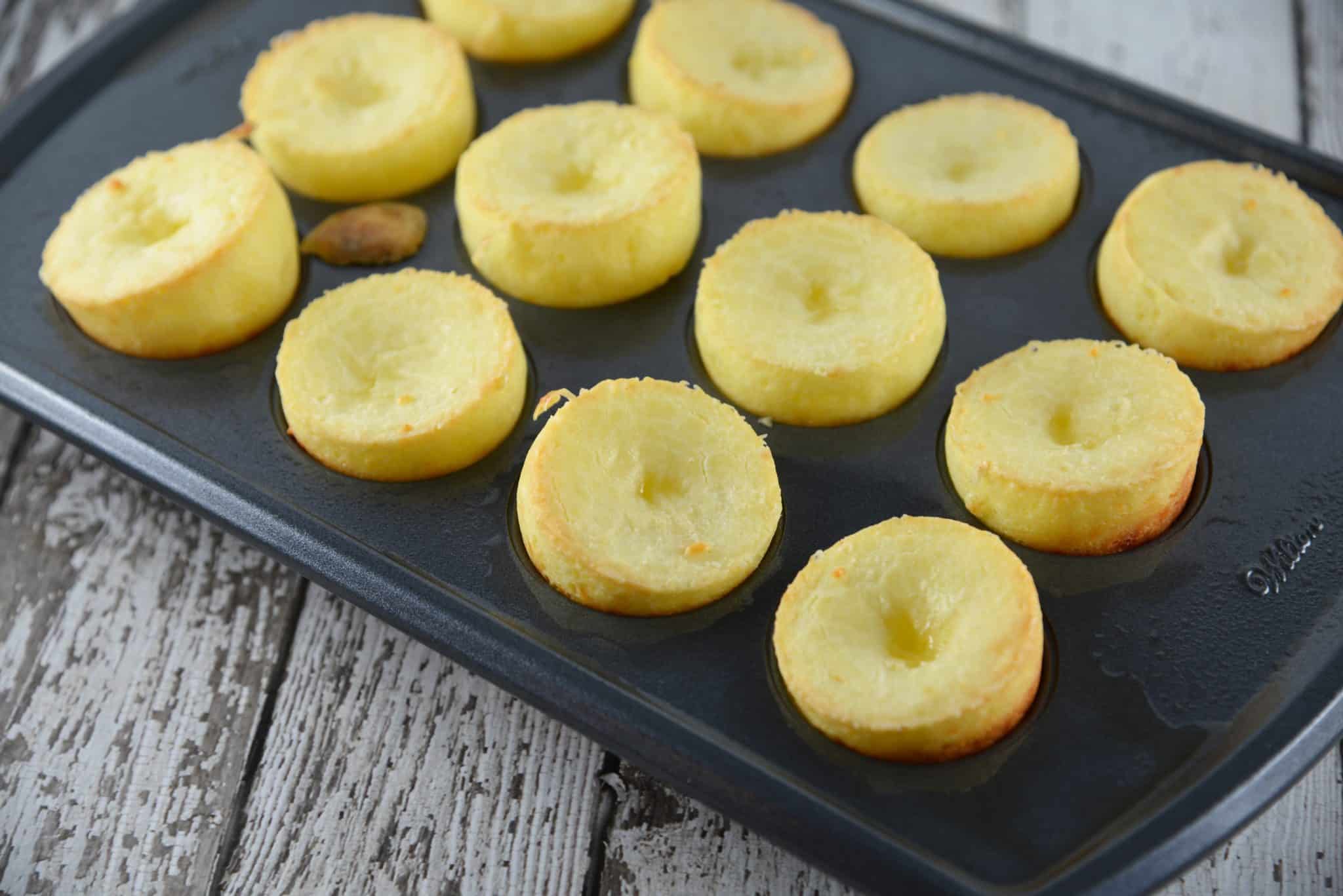 In an attempt to not be totally put off by his birthday wishes I try to focus on the positive. In this case it is the Cheese Puff Bread, market table and the famous Fogo de Chao Bacon. These little nuggets are my version of Fogo de Chao Brazilian Bread.
I researched recipes and found numerous variations. Many had ingredients difficult to find in the states or at least in Baltimore City. Below is the closest I could make with local and easy to find items.
The most obscure will be the tapioca flour (usually easy to find in the baking aisle and sometimes labeled tapioca starch) and maybe Cotija cheese, which I was able to easily find at Whole Foods.
Both have become mainstream food trends and are available at more and more general grocers.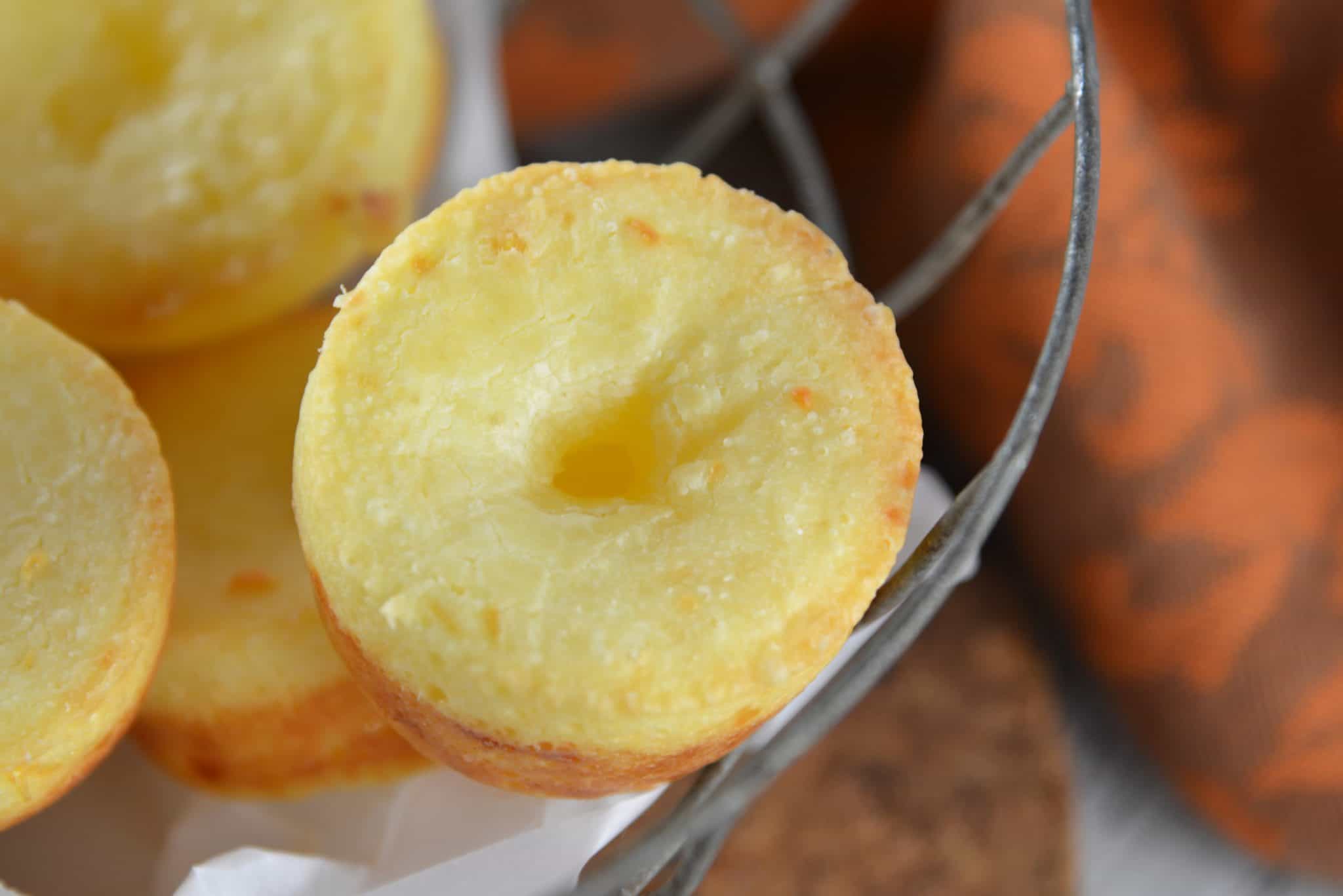 Most people believe the chewy center is melted cheese and to some extent they are correct. It is cheese and uncooked dough. Basically you under cook to produce a doughy center. My cookie dough lovers will love this aspect!
They do get to a high enough temperature to eliminate potential raw eggs issues. Another plus?
These golden nuggets require no yeast, therefore no rising, which results in a homemade dinner roll in under 30 minutes! No yeast bread, foodie friends!
And this is a gluten-free bread! Please indulge in these buttery, two bite cheesy heaven poppers. You'll thank me!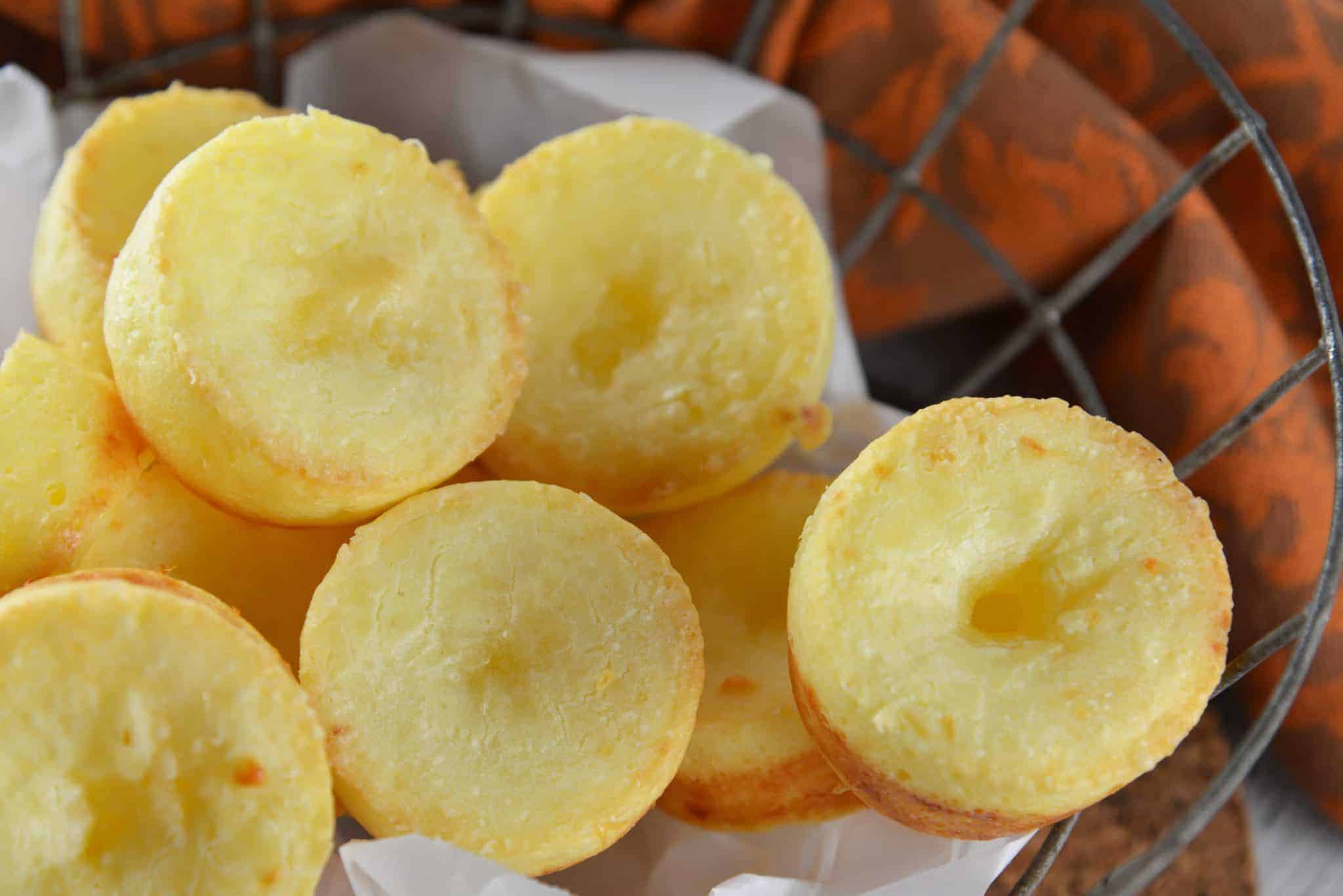 Also check out my other CopyCat Recipes:
Tools for making Brazilian Cheese Bread:
Heavy Bottom Sauce Pan– this will be one of your most used kitchen tools. Having something that is heavy bottom will distribute heat better and prevent burning whether you are using an electric or gas range.
Muffin Tins– Muffin tins are for more than making muffins! Use them to make mini meatloaf, cupcakes and more!
Good Extra Virgin Olive Oil– A good olive oil will taste like, well, olives, while a poorly made one will taste like vegetable oil. Gross. While people tend to favor Italian and Greek olive oils, I prefer to buy mine domestically.
There are some great ones out there from all over the world, but the reporting of ingredients isn't always the same and you could find that your super expensive olive oil was actually cut with vegetable oil.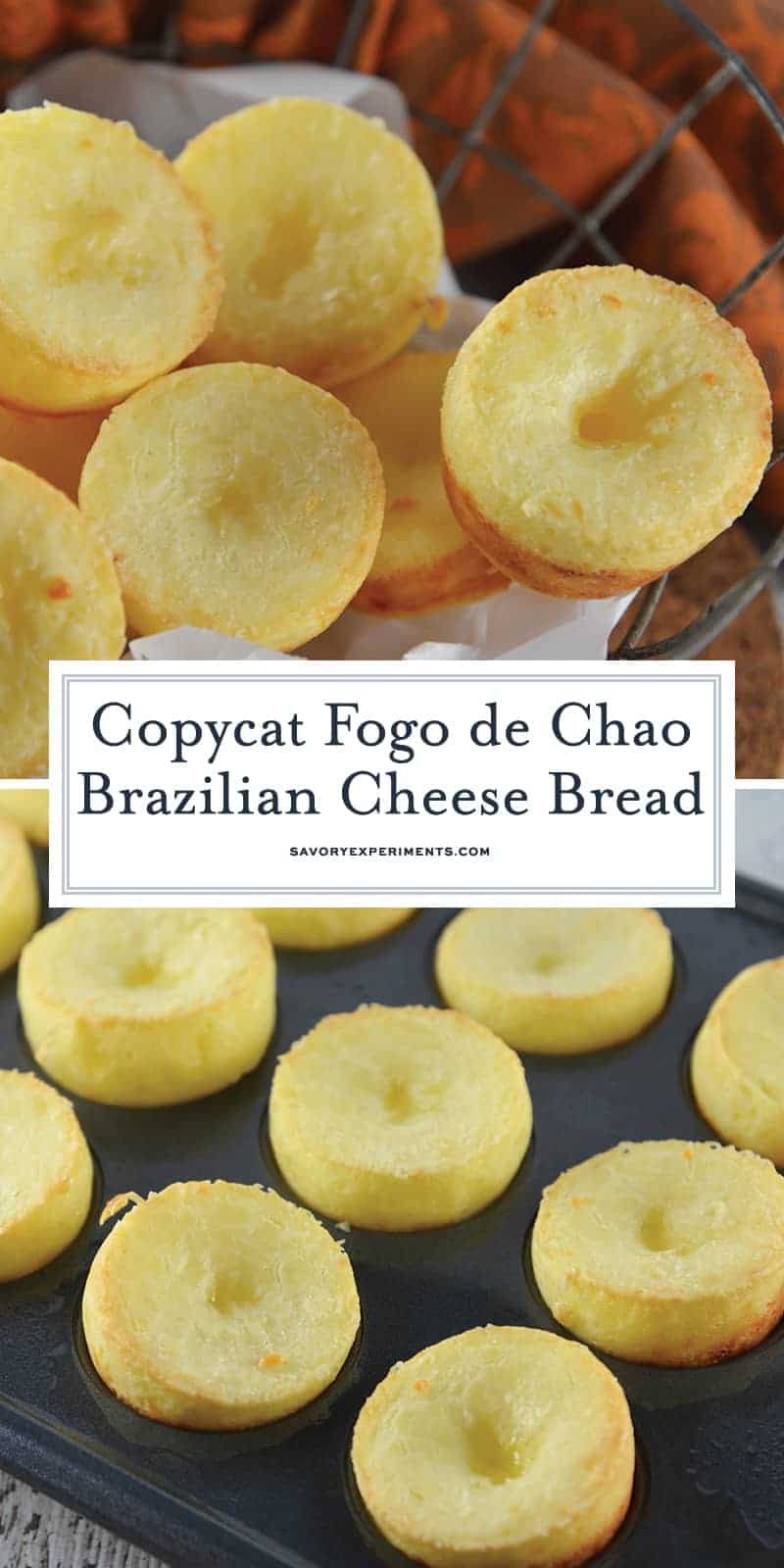 Questions you might have about how to make Brazilian Cheese Bread:
Can you freeze pao de queijo? You can freeze baked cheese puff bread. Simply place them in airtight plastic bags and squeeze out as much air as possible. Freeze for up to 6 months.
Can you make Brazilian cheese bread with regular flour? You can certainly try, but it won't have the same fluffy texture.
Can you make Brazilian cheese bread with almond flour? Same answer as above.
How do you store Brazilian cheese bread? If you have any leftovers, you can store at room temperature in an airtight plastic container. You don't have to refrigerate, but if you prefer to do so, you can.
How do you reheat Brazilian cheese puff bread? Like most breads, it will get gummy and chewy if reheated in the microwave. Even though it takes a few extra minutes, I suggest wrapped in aluminum foil and reheating in an oven preheated to 350 degrees for about 5-10 minutes.
What cheese can be substituted for cotija? You can use many hard cheese, like Pecorino or Parmesan cheese.
The batter is hard to mix in the sauce pan, how else can I mix it? Feel free to transfer the batter to a stand mixer, large bowl or even a blender to get it good and well blended. I just don't like to make more of a mess than needed.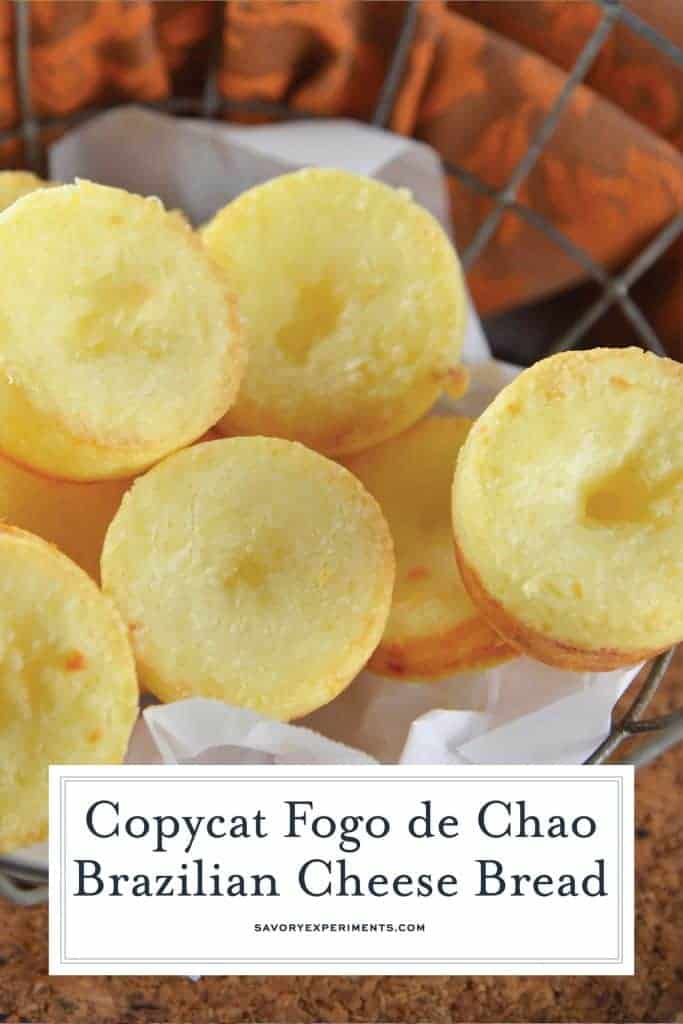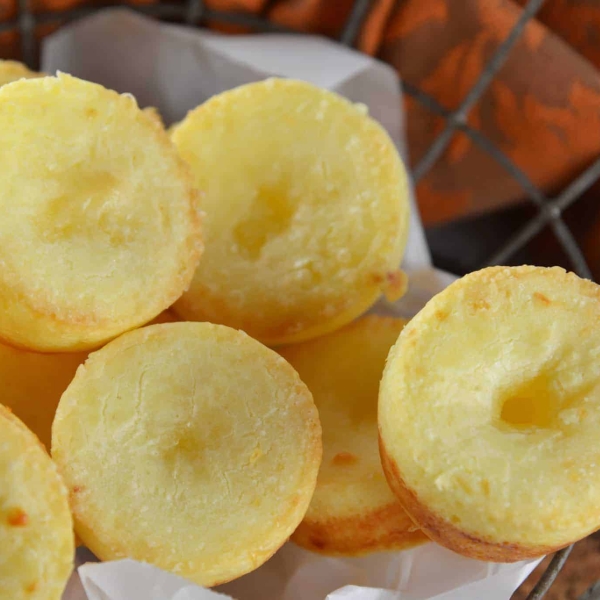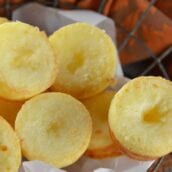 Cheese Puff Bread Recipe- Copy Cat Fogo de Chao Bread
Copy cat Fogo de Chao Brazilian Cheese Puff bread- No yeast cheesy bread puffs ready in 30 minutes!
Instructions
Preheat oven to 350 degrees. Grease the inside of a mini muffin tin with cooking spray.

In a medium sauce pan, combine butter, salt and milk. Bring to a low boil.

As soon as mixture boils, transfer it to a mixing bowl. Using an electric hand mixer or stand mixer, slowly add in tapioca flour. Be very careful because the mixture can spit out and it is hot!

Add in cheese, eggs, sugar and oil. Mixture will be the consistency of a wet bread dough. It is very sticky and moist.

Spoon dough into individual muffin tins to about 2/3 full.

Bake for 20 minutes. Puffs will start to puff right out of the tin and be golden brown on the tops.

Serve while warm. Enjoy!

If you've tried this recipe, please come back and leave us a comment!
Nutrition
Calories:
100
kcal
,
Carbohydrates:
9
g
,
Protein:
1
g
,
Fat:
6
g
,
Saturated Fat:
3
g
,
Cholesterol:
30
mg
,
Sodium:
172
mg
,
Potassium:
24
mg
,
Sugar:
1
g
,
Vitamin A:
180
IU
,
Calcium:
44
mg
,
Iron:
0.2
mg