Sesame Crusted Tuna with Wasabi Whipped Cream might sound like an item you would only want to order at a fancy Asian restaurant, but to be honest, it is super easy, super-fast, and one of my go-to weeknight meal recipes.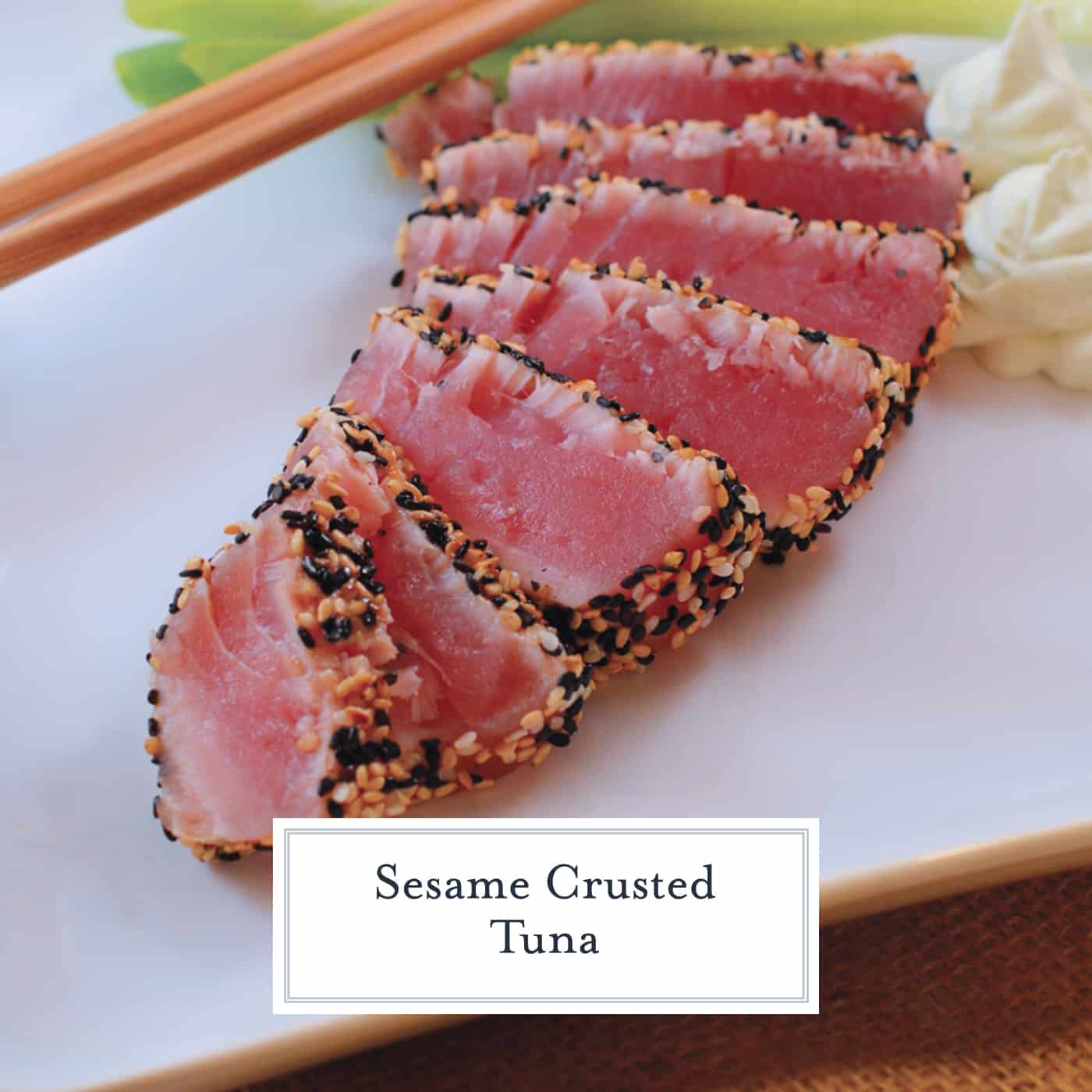 Sesame Crusted Tuna with Wasabi Whipped Cream is an easy and healthy meal that comes together in 15 minutes.
I buy tuna steaks at a very reasonable price in individually sealed, frozen packages at Costco. This makes it super convenient to take out only what I need for the number of people I am cooking for. Scale the recipe from one to 4 if friends are coming over easily.
Tuna steaks are much like regular steaks. They can be served rare to well done. For this recipe, rare is the way to go.
I find that people are generally a little skittish when it comes to cooking tuna steaks at home or at the very least serving them rare.
Don't fret. If you are getting great quality fish, there is nothing to worry about. It will be so easy you will wonder why you hadn't done it sooner.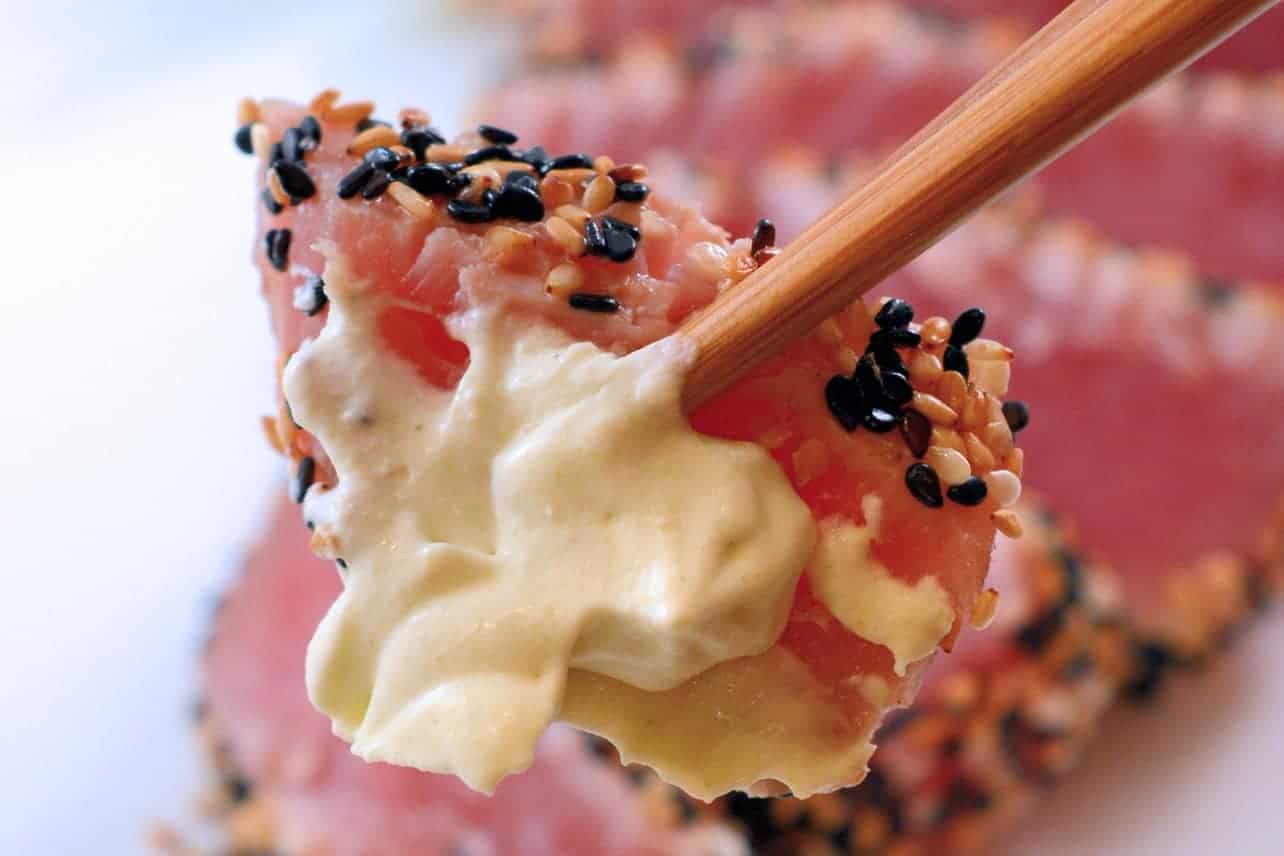 The truth is that using a frozen tuna steak actually kills some bacteria that grow and cause illness. I can't claim that it gets rid of everything, but it does a good job with a good bit of them. You can easily use non-frozen tuna steaks for this recipe as well.
There also seems to be an assumption that if fish is in the seafood case that it is fresh. Don't fall into that trap. For most seafood case fish, it was previously frozen or flash frozen and is now sitting in front of you thawed.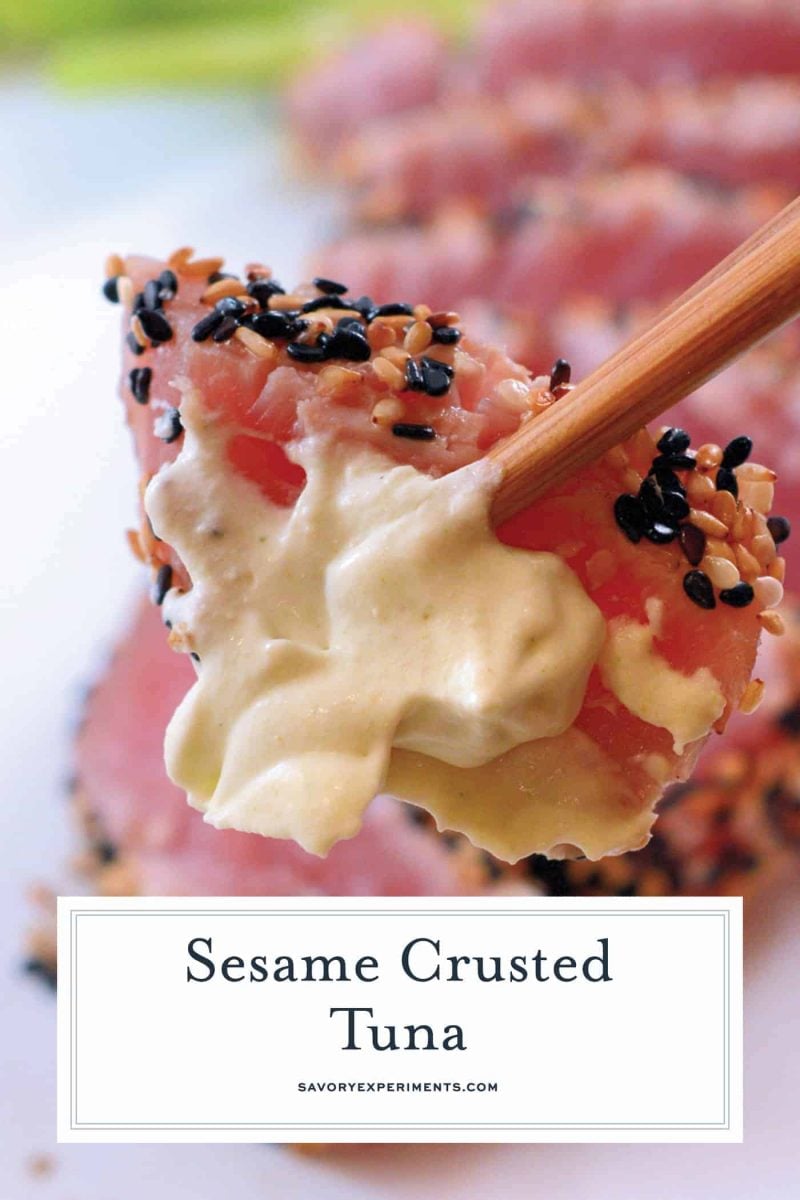 How long it may have been there is anyone's guess. That said there are some things that will help you determine a great piece of tuna. Look for tuna that is still in the loin vs. cut into steak form.
If it is already cut into steaks, look for meat that is moist, but not wet or weeping. It should almost be shiny. It should be relatively uniform in color and firm. Dry, flaky, or brown tuna is a sign that it is past its prime.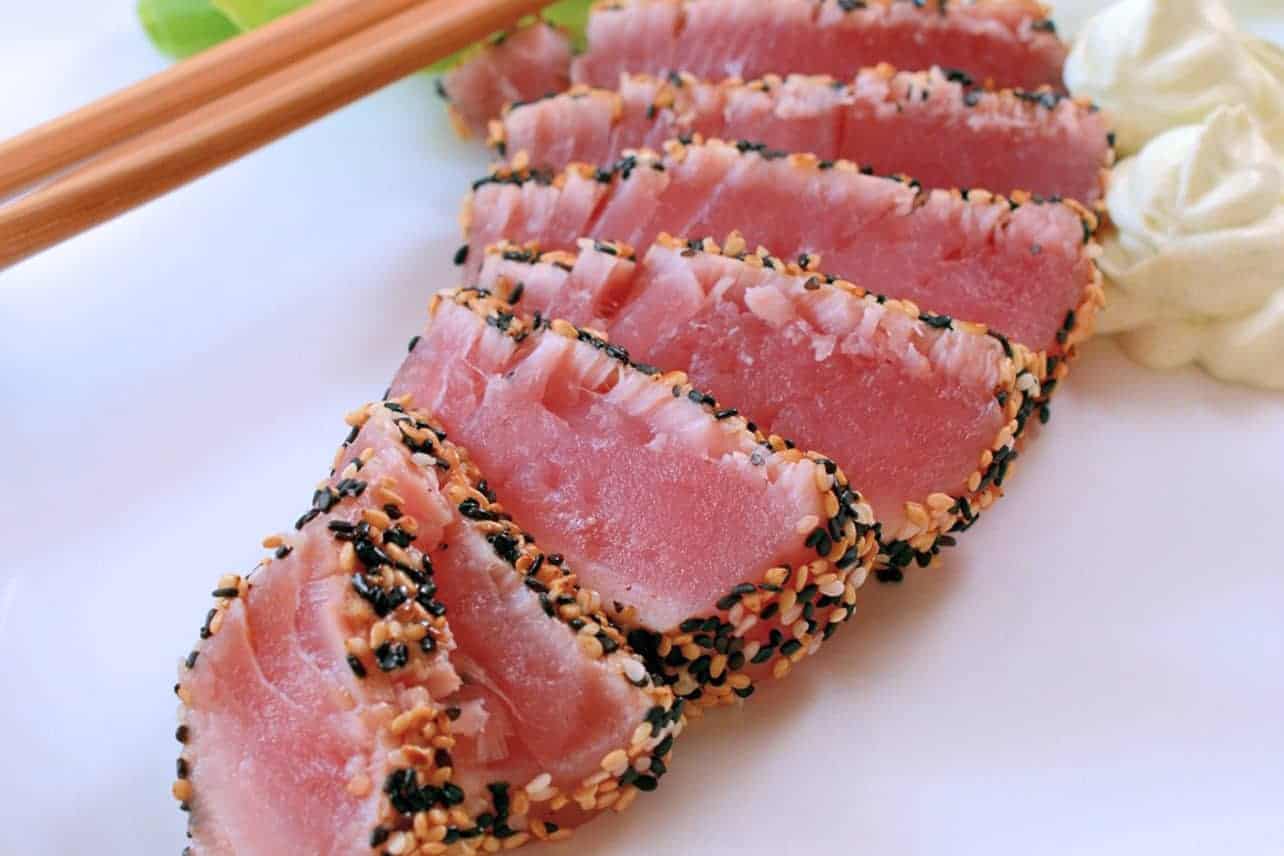 For this recipe, I gently pressed each steak into a blend of regular and black sesame seeds to add to visual, flavor, and textural appeal. Each seed has it's own unique flavor.
In my humble opinion, no tuna steak should ever be without some sort of wasabi. I choose to whip mine into frothy whipped cream. It makes it that much more luxurious and will make your friends think you have a culinary degree.
Ta-da: Sesame Crusted Tuna with Wasabi Whipped Cream.
If you want to learn more about tuna, check out my Japanese tuna sushi guide!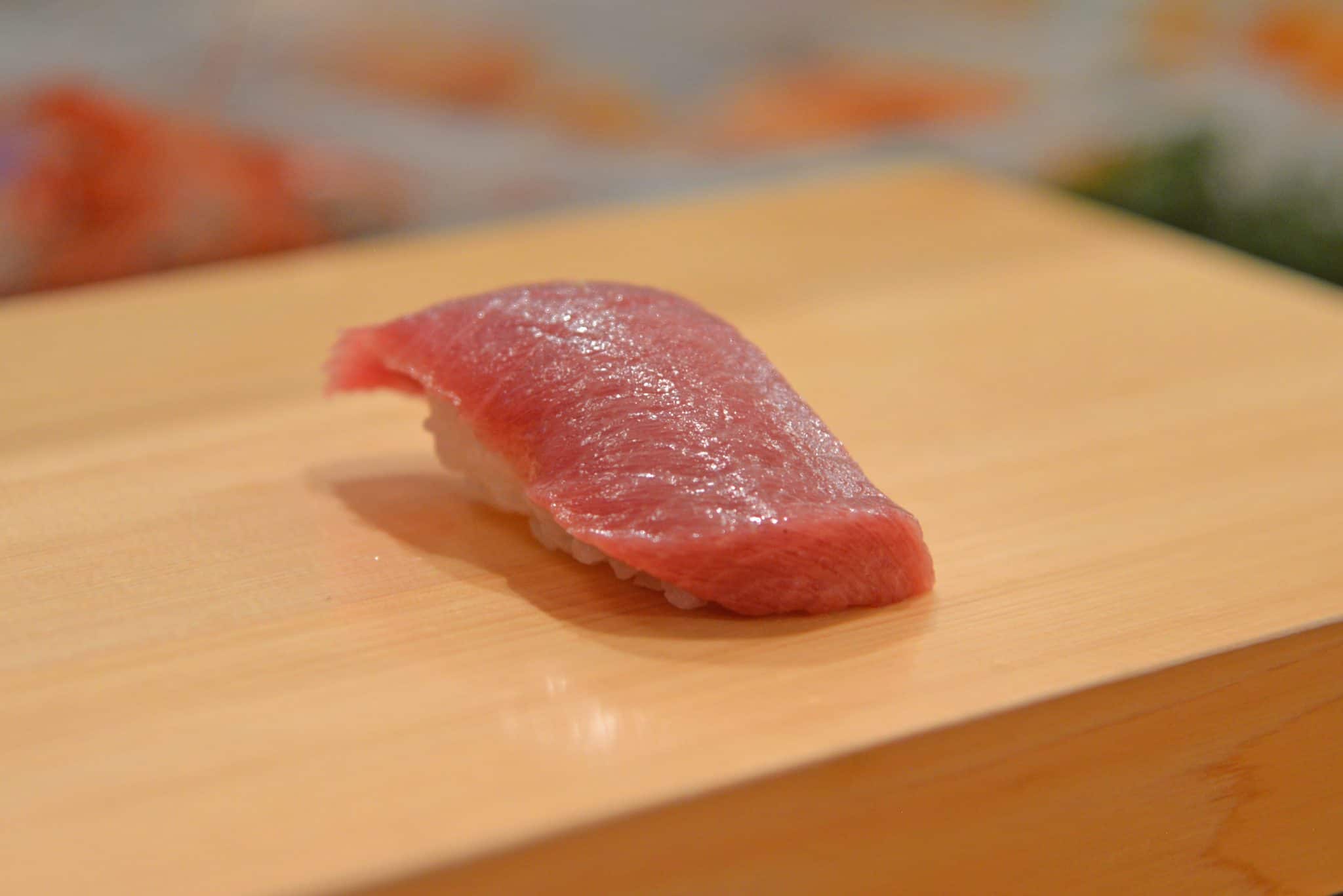 If you like this fish recipe, you might also enjoy these: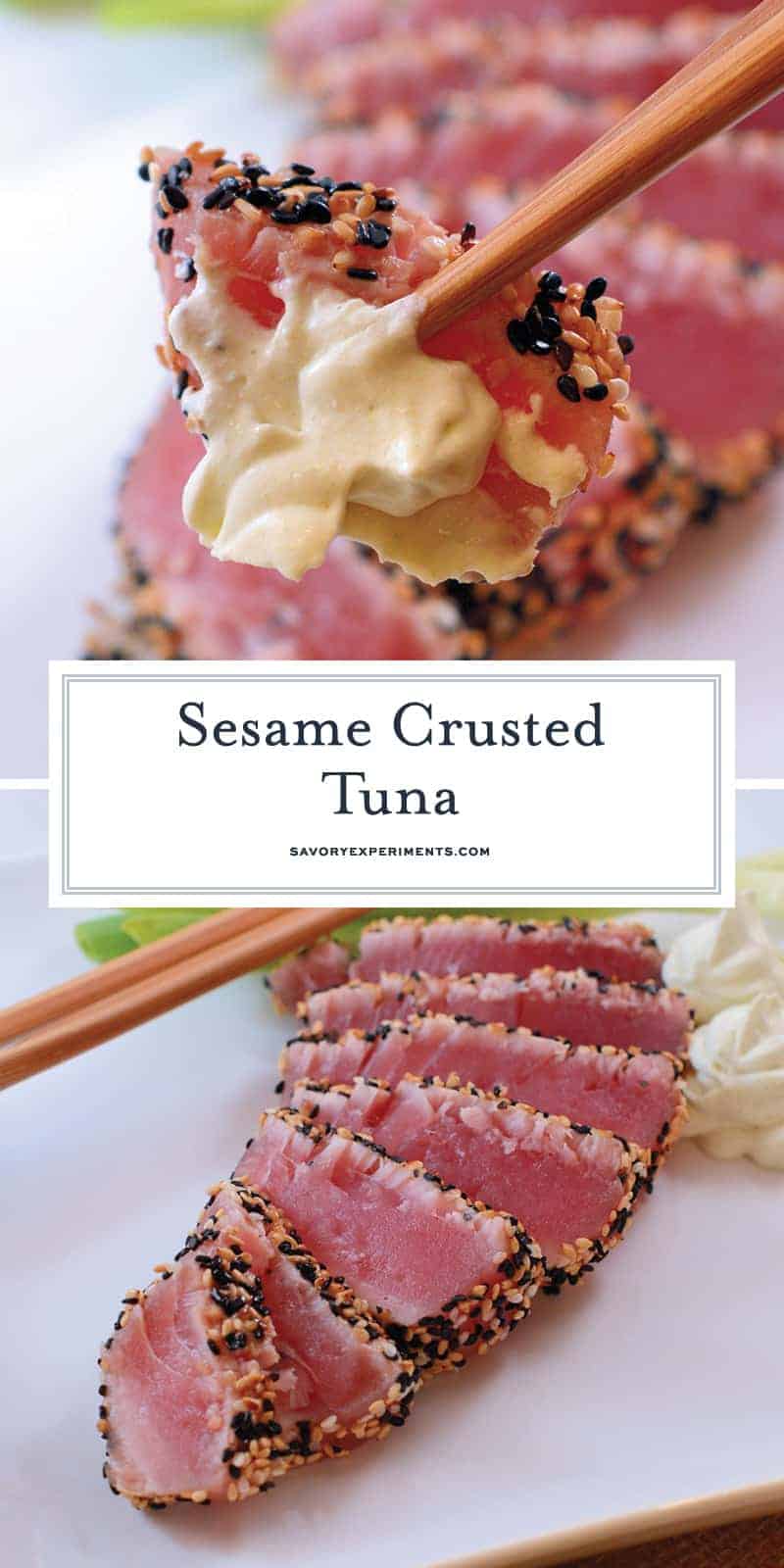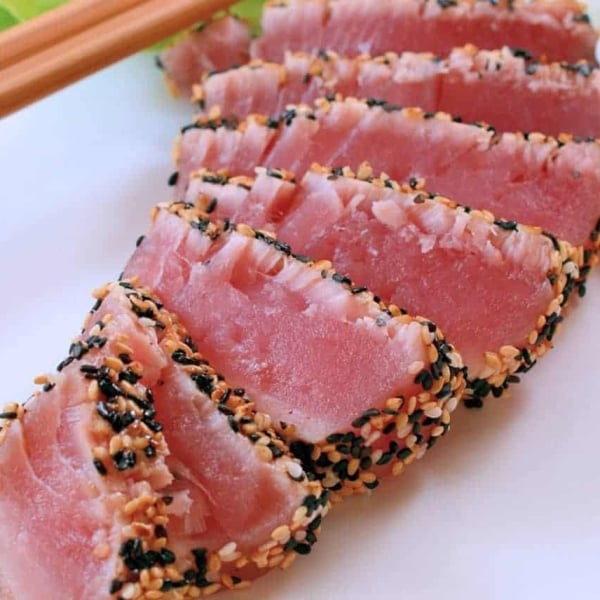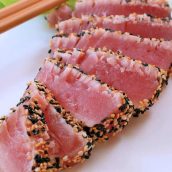 Sesame Crusted Tuna Recipe with Wasabi Whipped Cream
Sesame Crusted Tuna with Wasabi Whipped Cream is an easy and healthy meal that comes together in 15 minutes.
Ingredients
For Wasabi Whipped Cream:
Instructions
Start with wasabi whipped cream, as it will actually take longer than the tuna steaks. In a medium mixing bowl, whip heavy whipping cream using a hand mixer until stiff and bodied, approximately 3-4 minutes. Add wasabi powder and salt, continuing to whip. Set aside.

Combine both types of sesame seeds in a shallow plate, dredge and press both sides of tuna steak into seeds.

Heat 1 tablespoon vegetable oil in a medium skillet over medium heat. Sear both sides of each tuna steak, approximately 2-3 minutes for rare.

Remove and top with wasabi whipped cream.

If you've tried this recipe, come back and let us know how it was!
Nutrition
Calories:
315
kcal
,
Carbohydrates:
4
g
,
Protein:
2
g
,
Fat:
33
g
,
Saturated Fat:
19
g
,
Cholesterol:
81
mg
,
Sodium:
24
mg
,
Potassium:
82
mg
,
Fiber:
1
g
,
Vitamin A:
875
IU
,
Vitamin C:
1.1
mg
,
Calcium:
117
mg
,
Iron:
1.2
mg