These soft and moist Applesauce Cookies are perfect as a sweet snack. They get most of their sweetness from the tangy applesauce, so they're also healthier.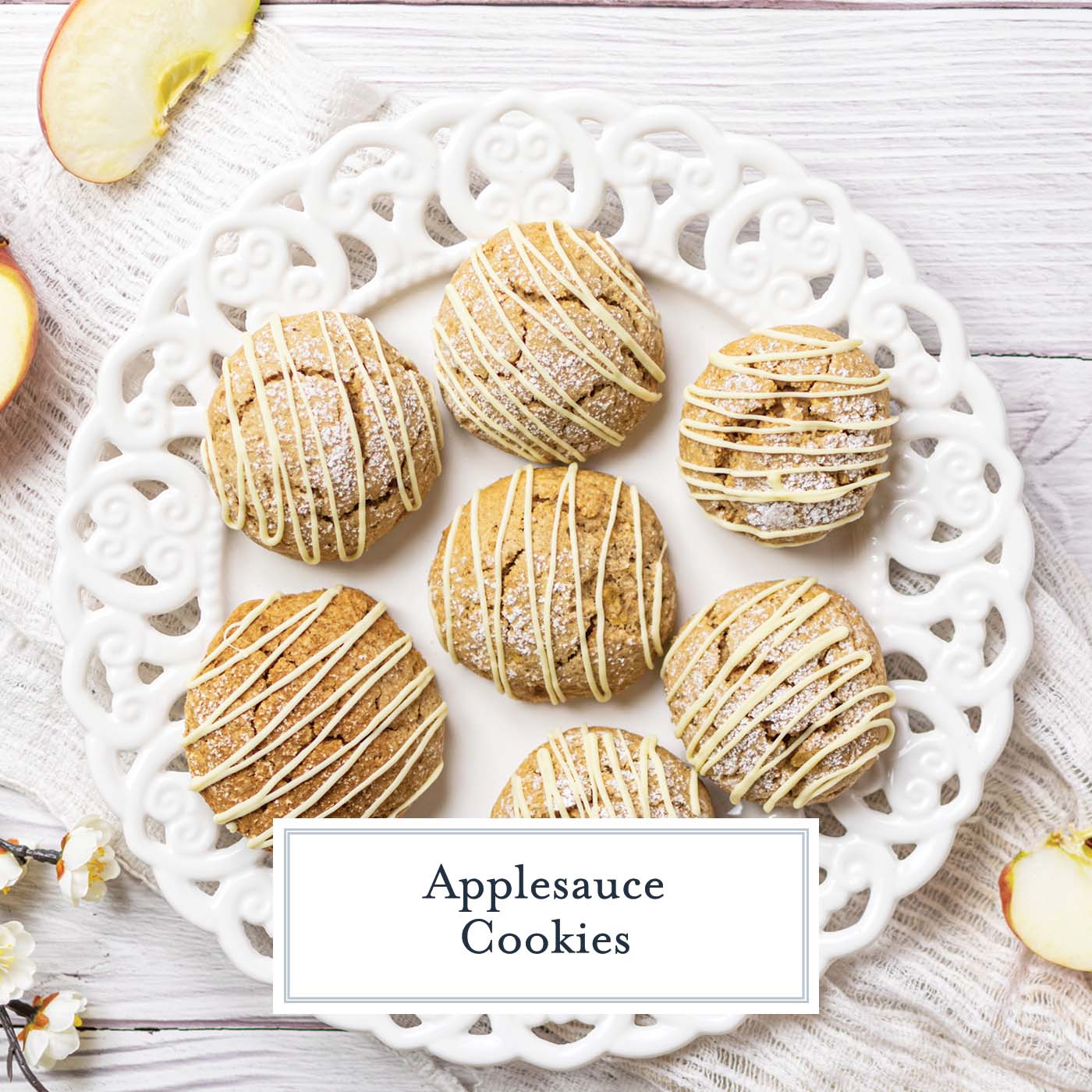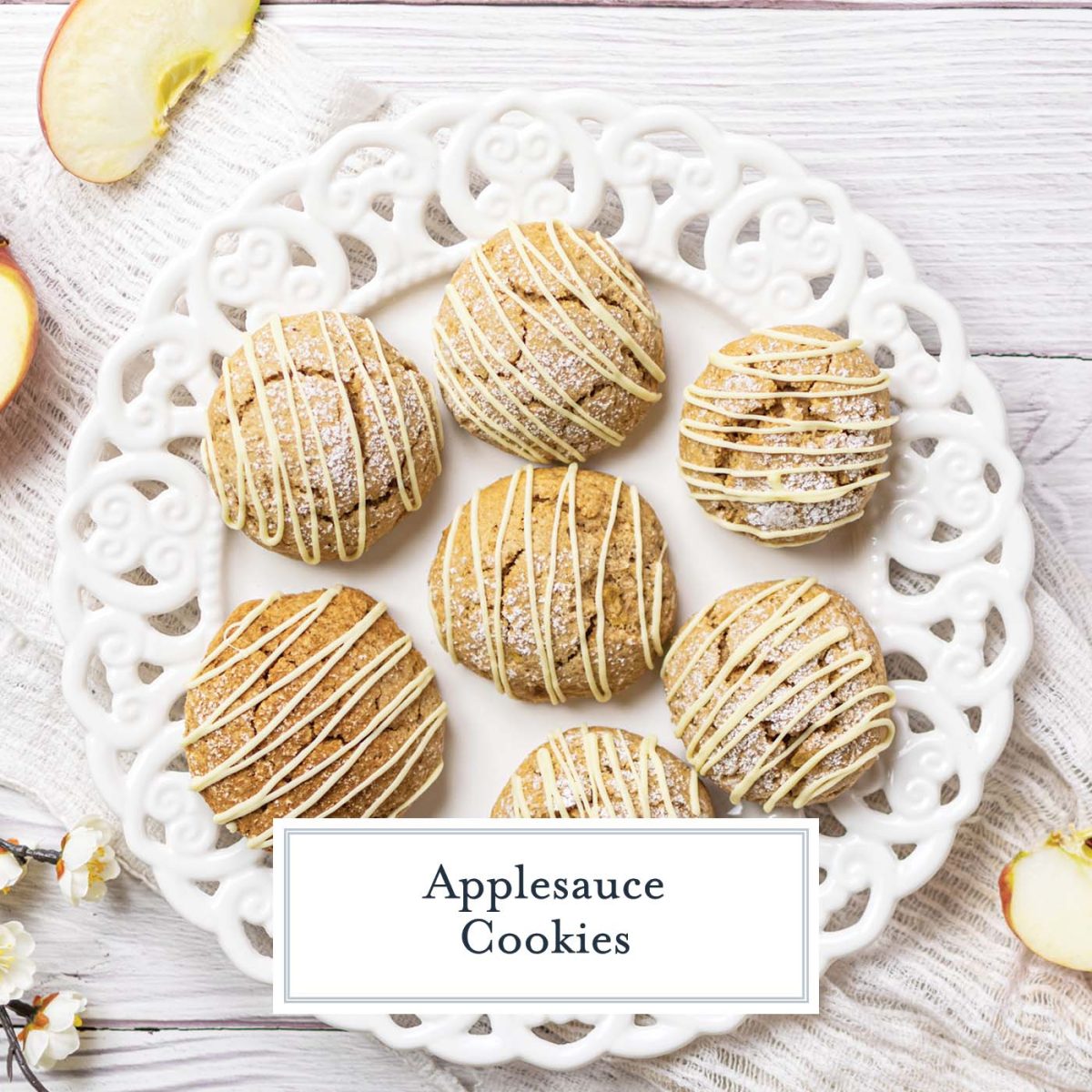 Recently I've been experimenting with all things applesauce. My homemade applesauce recipe is so delicious that I've started putting it into everything.
Applesauce is a great sweetener for sweet treats and is also a lifesaver in a lot of vegan recipes (not that we make many of those). It's also a super easy cookie recipe, so it is a good one to do with the kiddos.
Using applesauce in cookies makes them healthier due to the reduced sugar, but also reduced fat. The homemade applesauce adds moisture to cookies, so you won't need as much fat (butter or oil). Some versions use none of either, but I find still using a small of butter gives them better texture.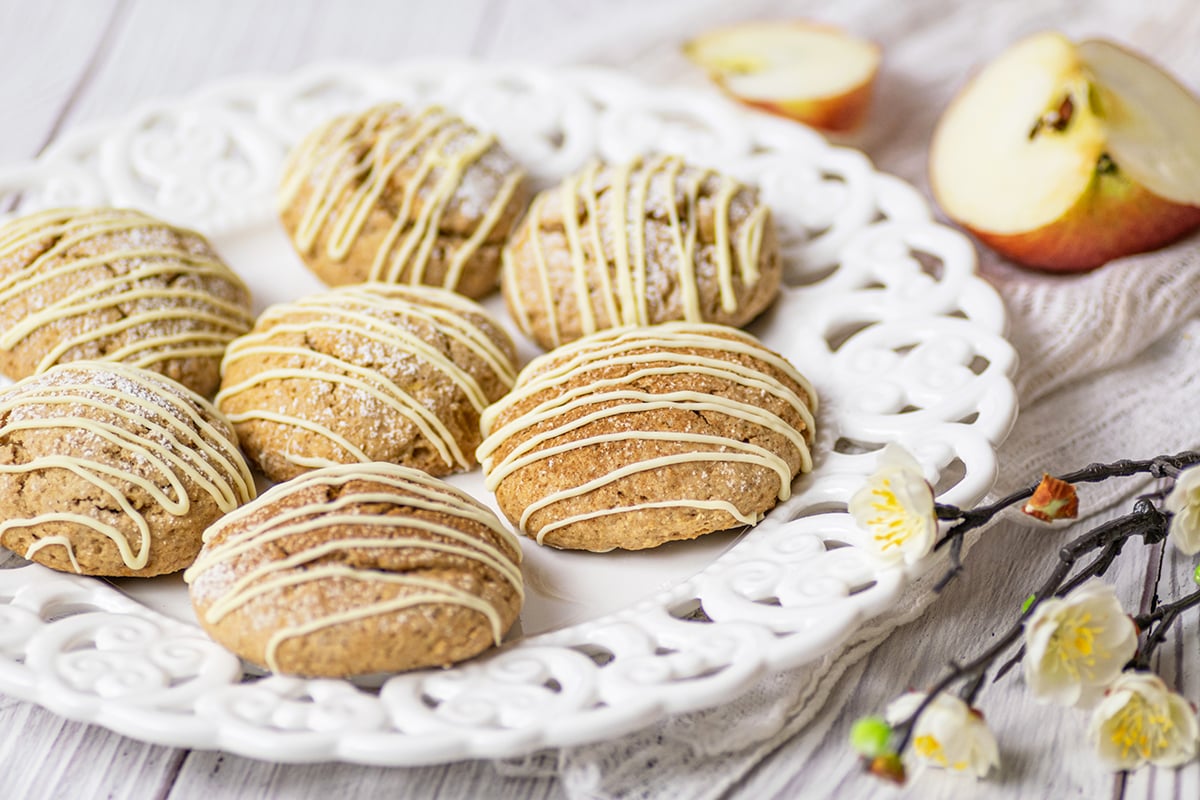 These applesauce cookies make for a great snack. They are spiced to perfection, fragrant and incredibly moist. I love having them with coffee, tea or on their own when I'm craving something yummy.
Applesauce Cookies
Once you make these old school applesauce cookies, they will become a family favorite. I love these cookies because they are:
Easy to make and takes only 5 minutes to prep
Healthier, lower in sugar and fat
Can be made with homemade or store-bought applesauce
Incredibly moist and soft
Sweet and fragrant
Perfect for fall
Great for children
Spiced to perfection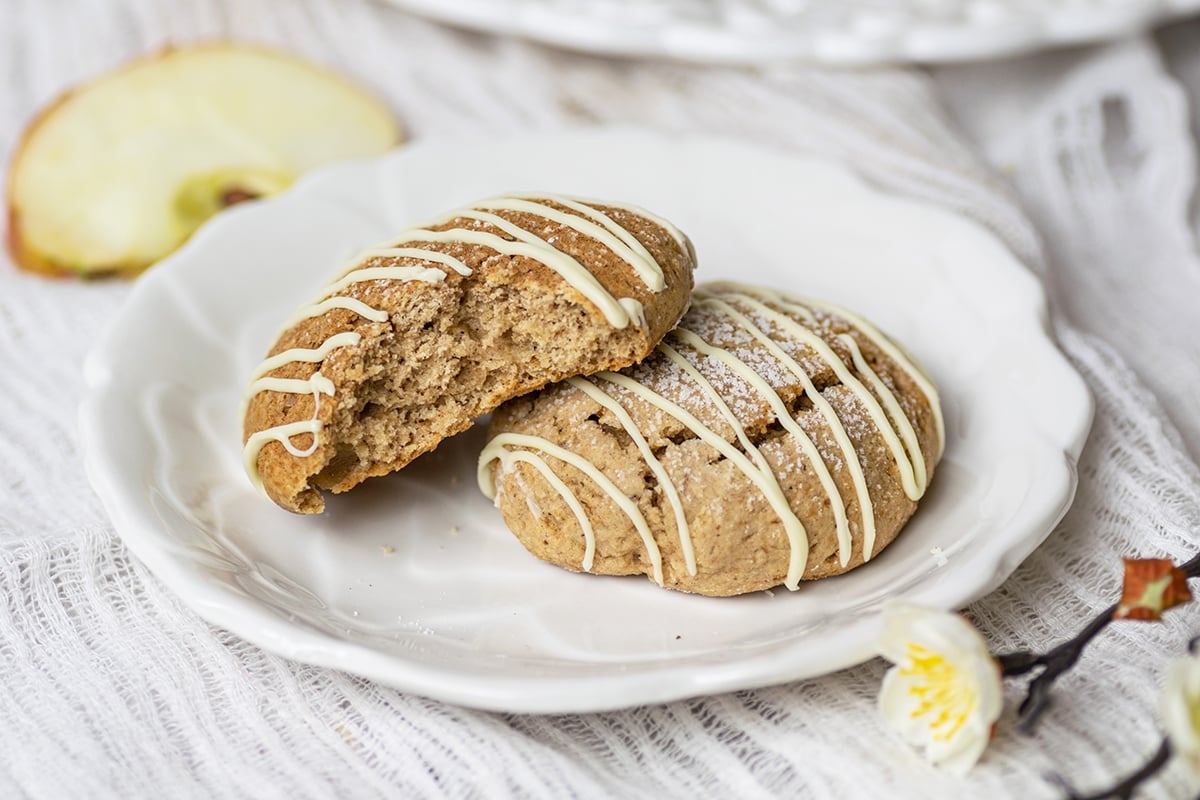 Ingredients
Apart from the applesauce, all ingredients used in this recipe can be found in most households.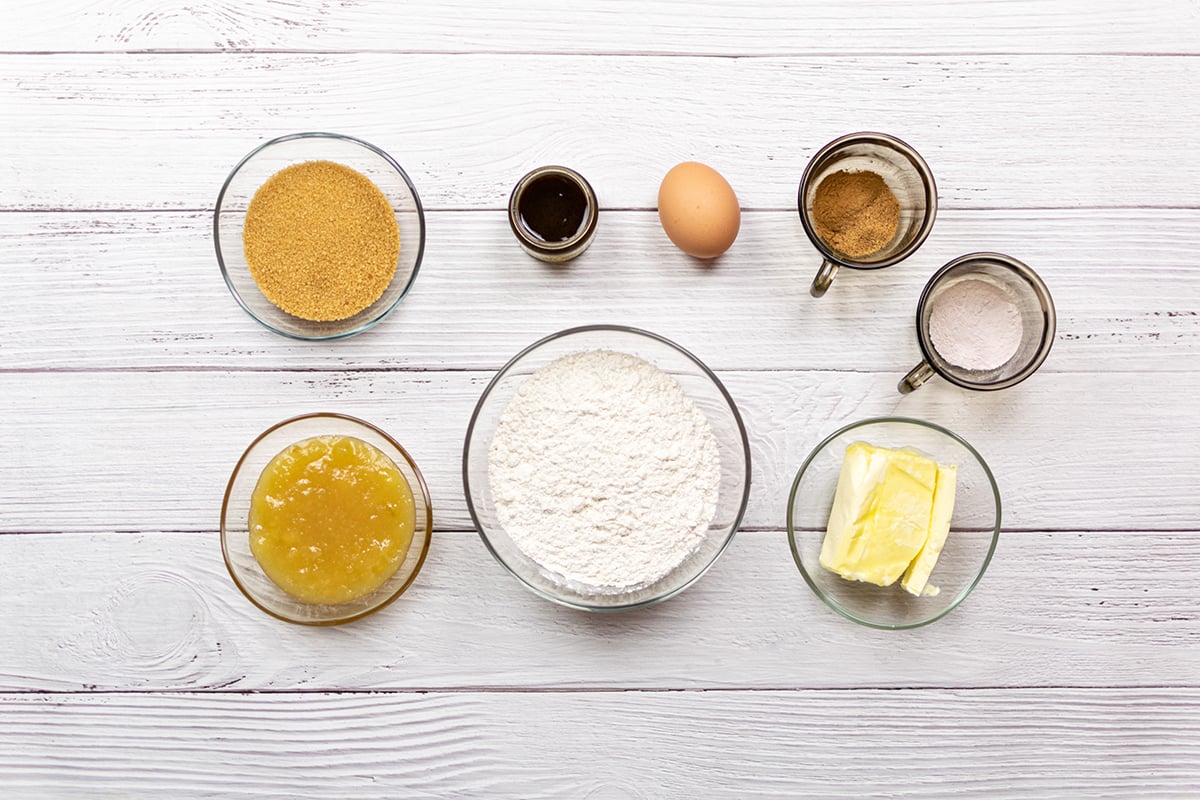 Applesauce – the main ingredient in this recipe. You can use either store-bought or homemade applesauce. For more fragrant cookies, I recommend using my homemade applesauce. If using store-bought applesauce, choose a variety without added sugar. You can even try using pear sauce or cranberry apple sauce instead of applesauce.
Butter – unsalted works best for this recipe. Ensure the butter is softened before using in the recipe by leaving it at room temperature for 2-3 hours.
Brown sugar – adds a deeper, caramelized flavor to the applesauce cookies. You can also use granulated sugar instead.
Egg – large, organic eggs work best. Ensure the egg is used at room temperature.
Vanilla – adds flavor to the cookies. You can use either vanilla extract or vanilla bean paste.
Flour – all-purpose flour works best. Do not use self-rising, as we will be adding separate raising agents.
Baking powder – the main rising agent in the cookies.
Baking soda – used to make the applesauce cookies soft and keep them moist.
Spices – cinnamon and nutmeg powder add a spiced flavor that works best with the apple flavor. You can also add cloves powder, allspice or ginger.
How to Make Applesauce Cookies
Apart from their deliciousness, the best part of these applesauce cookies is how easy they are to make. All you need is one bowl to mix everything.
Cream the butter and sugar until fluffy, then mix in the egg and applesauce. Get things good and combined at this point. After adding the dry ingredients, you don't want to mix more than you have to.
Sift or whisk together the dry ingredients so they are evenly distributed. This will prevent pockets of salt or leavener in your cookies. Add the flour mixture to wet ingredients until just mixed. Overmixing makes tough cookies.
Place small scoops of dough onto the cookie sheet lined with parchment paper and pat down.
Bake until golden brown.
Remove and allow to cool on the cookie sheet for 5 minutes before moving to a wire rack. Moving them too soon runs the risk that they will break. But allowing them to cool on the sheet can run the risk of overcooking.

These cookies are fuss free and they look rustic – that's their charm! I like to decorate mine with melted white chocolate or dust with cinnamon and icing sugar.
Variations
Applesauce cookies are very versatile, so you can experiment and customize them as desired.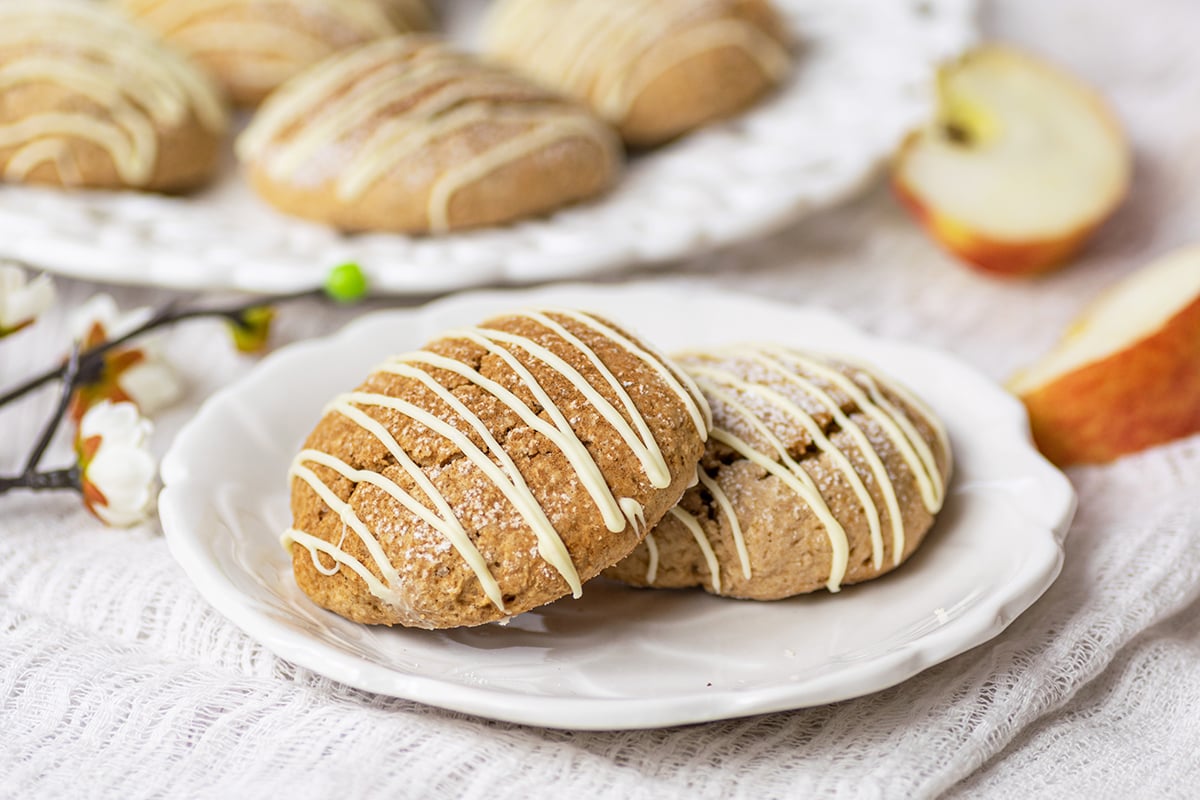 Add extra spices for a signature fall flavour: allspice, ginger, cloves or star anise.
Extra texture with candied or dried fruit: citrus, ginger, berries, golden raisins and more.
Nuts for days: walnut, pistachio, hazelnut or almond are only a few choices.
Extracts can take you the extra mile: adding a bit of almond extract will make the cookies taste more Middle Eastern. A bit of citrus extract can make the applesauce cookies fresher and more summery.
Drizzle or icing: anything from white chocolate, dark chocolate or salted caramel can change the flavour of your applesauce cookies.
Deeper flavours – replace the vanilla extract in the recipe with a dash of maple syrup, golden syrup or even molasses for a richer, deeper flavour.
Chips– add chocolate chips or caramel chips, anywhere from 1/2 cup to a full cup.
How to Store
These old school applesauce cookies are best stored at room temperature. Place in an airtight container and store in a dry place for up to 3 days. Although these cookies can last for longer, they can taste stale after 3 days.
For longer storage, you can also freeze applesauce cookies. Place in an airtight container and freeze for up to 3-4 months. Thaw at room temperature for 10-15 minutes. You can also wrap in a paper towel and heat in the microwave for 15 seconds to get them warm and gooey again.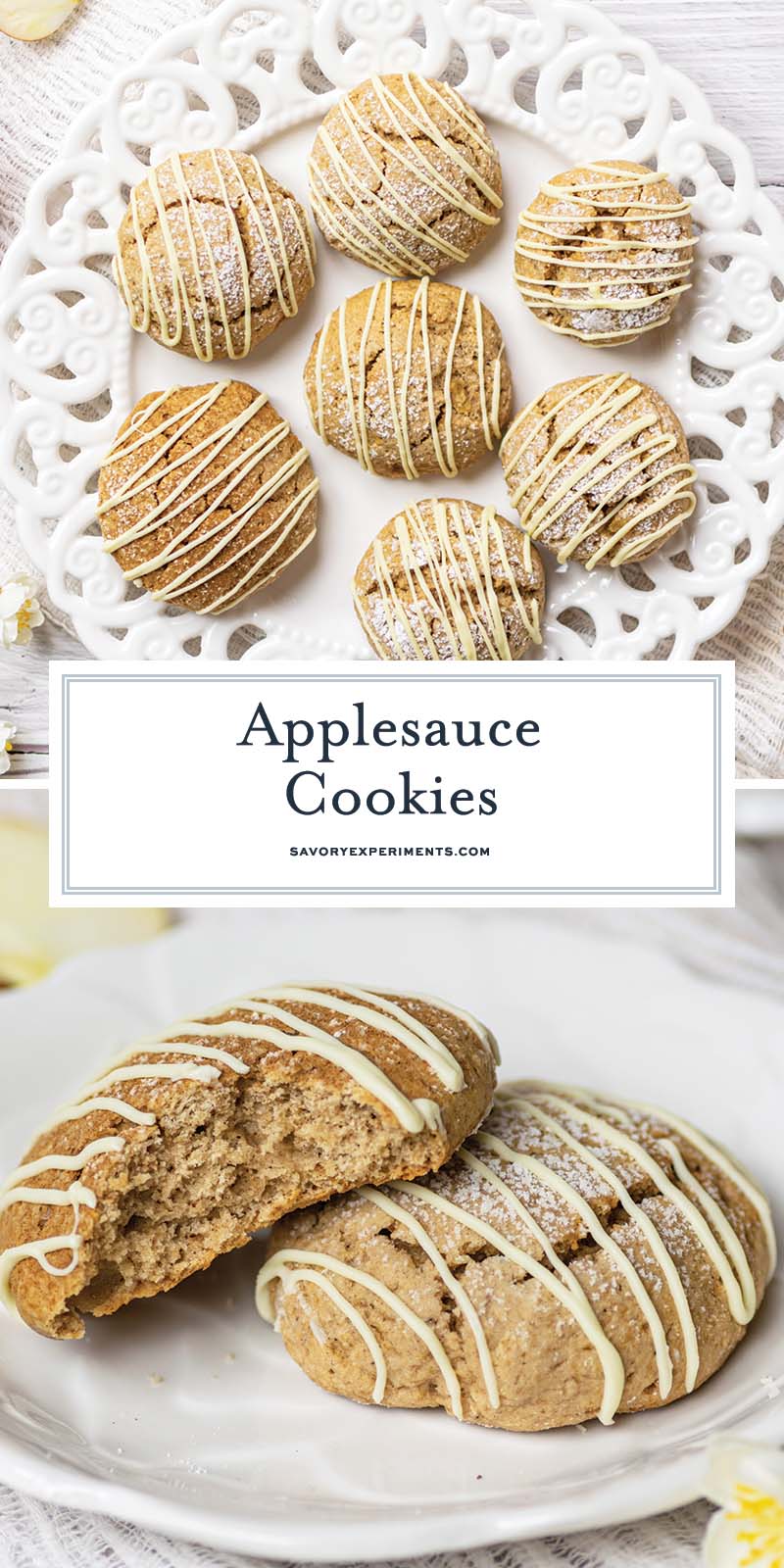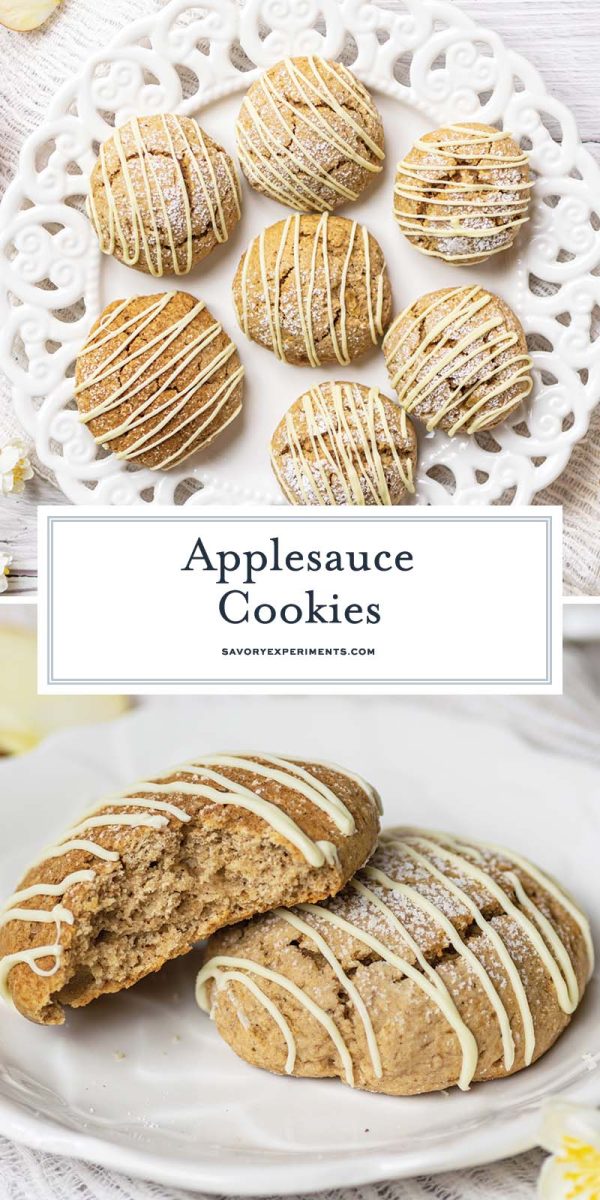 More delicious apple desserts: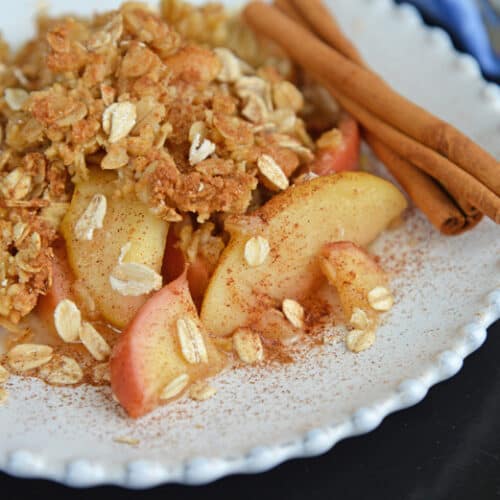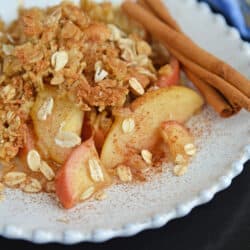 Easy Apple Crisp
Traditional Easy Apple Crisp made with an oat topping. Recipe includes regular and gluten free options! Serve vanilla ice cream or caramel sauce.
See The Recipe!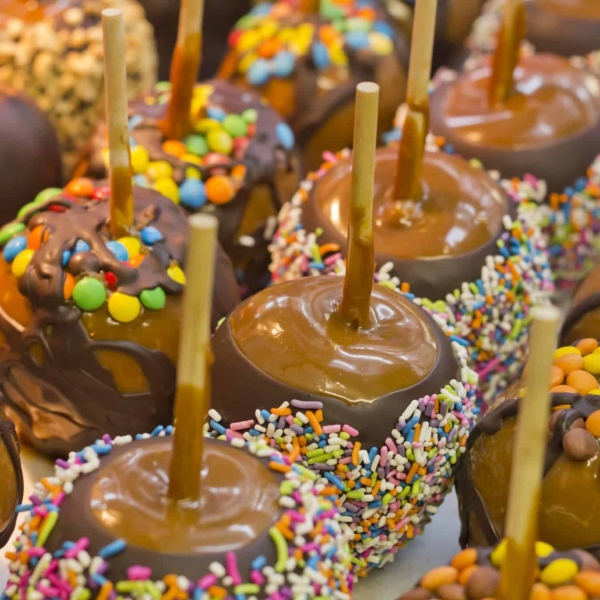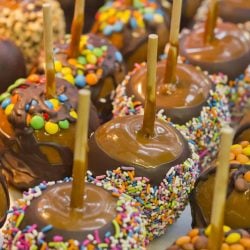 Classic Caramel Apples
Classic Caramel Apples recipe with 20+ ideas to roll them in. Perfect for fall parties or a Halloween treat!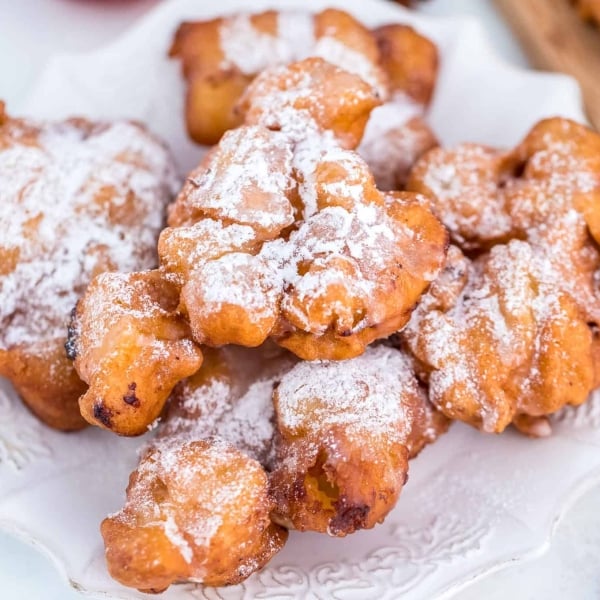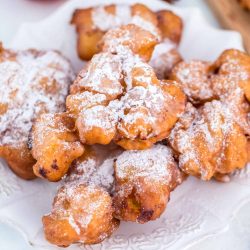 Homemade Apple Fritters
Homemade Apple Fritters have never been easier than with this apple fritter recipe! Surrounded by a cakey batter and drizzled with glaze, they're perfectly sweet and delicious!
See The Recipe!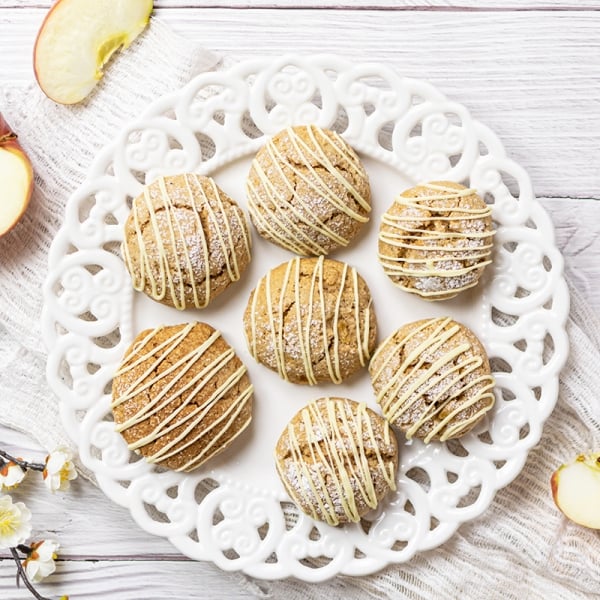 Applesauce Cookies
These soft and moist Applesauce Cookies are perfect as a sweet snack. They're also healthier than full-sugar cookies, so eat up!
Equipment
Heat Resistant Rubber Spatula
Instructions
Preheat the oven to 350°F and line a large cookie sheet with parchment paper.

Cream the butter with the sugar until fluffy, approximatelyt 2-3 minutes.

Add the egg, then mix again to combine. Pour in the applesauce and mix once more to fully incorporate.

Separately, whisk or sift the flour, salt, baking soda, baking powder, cinnamon and nutmeg.

Using a spatula, combine the dry and wet ingredients, mixing until just combined.

Using a cookie scoop or a tablespoon, place the cookie dough onto the cookie sheet and pat down to flatten. Leave 1 or 2 inches spaces between the cookies, as they will spread when baking.

Bake for 10 minutes or until the surface looks golden. Let cool on the sheet for 5 minutes, then transfer to a wire rack to cool completely.

Once cooled, drizzle with melted white chocolate.

If you've tried this recipe, come back and let us know how it was in the comments or ratings!
Nutrition
Calories:
121
kcal
,
Carbohydrates:
18
g
,
Protein:
2
g
,
Fat:
5
g
,
Saturated Fat:
3
g
,
Polyunsaturated Fat:
1
g
,
Monounsaturated Fat:
1
g
,
Trans Fat:
1
g
,
Cholesterol:
17
mg
,
Sodium:
67
mg
,
Potassium:
50
mg
,
Fiber:
1
g
,
Sugar:
8
g
,
Vitamin A:
131
IU
,
Vitamin C:
1
mg
,
Calcium:
20
mg
,
Iron:
1
mg