Non-Creamy Caesar Salad Dressing is an easy and delicious homemade salad dressing that takes little to no effort to make right at home. Just shake, shake, shake and you are done!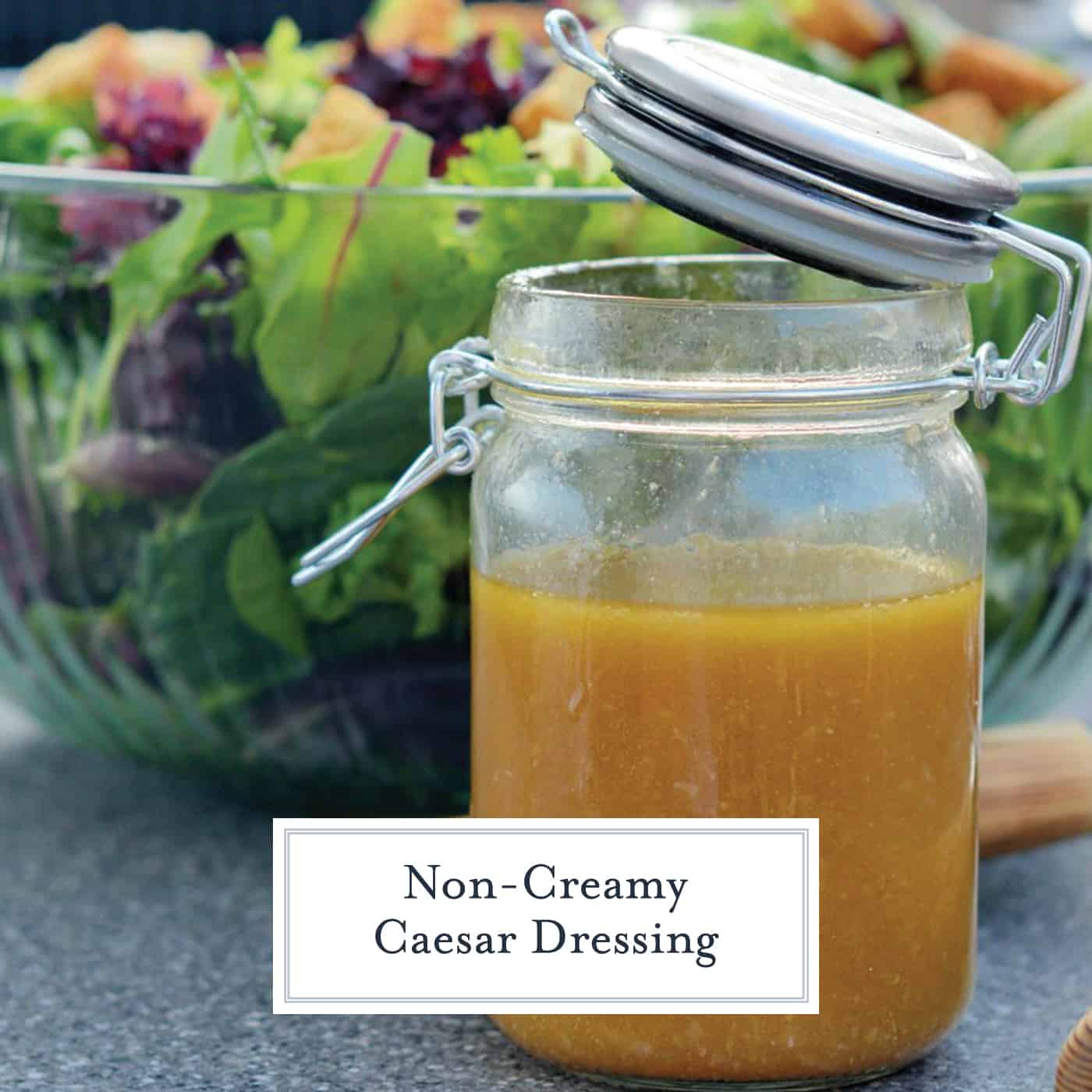 This Non-Creamy Caesar Salad Dressing is a lighter version of the creamy favorite, is made with no anchovies or raw eggs and is ready in 10 minutes!
I love a good classic Caesar dressing, but I don't always want the thick, creamy and heavy type. This is my mother's recipe for Non-Creamy Caesar Salad Dressing.
Heavy on the garlic cloves, but light on the cream. And for those that turn their noses up to the little fishies, this is a caesar dressing with no anchovies!
Christine says: "What an absolutely stellar idea. The typical Caesar is probably the one salad dressing I really don't like because it has such an odd consistency. This, however, is right up my alley."
Typical Caesar salad ingredients include anchovies, raw eggs, garlic, Dijon mustard, lemon juice and Parmesan cheese. Pair it with homemade croutons and grilled chicken for a full meal.
The ingredients for my light Caesar dressing still use Dijon mustard, garlic, worcestershire sauce and lemon juice, but add vinegar to replace to tang of anchovies and olive oil for the creamy egg yolk. You can even give it a few shakes of black pepper if you'd like.
Tina says: "It was divine. Thanks for sharing."
You can serve this easy Caesar dressing on a traditional bed of romaine lettuce, on grilled romaine heads or toss it on your favorite grilled or roasted veggies. It is also great for marinating proteins like chicken, salmon or even pork.
Don't limit yourself to the traditional. It will be perfect on salad concoction.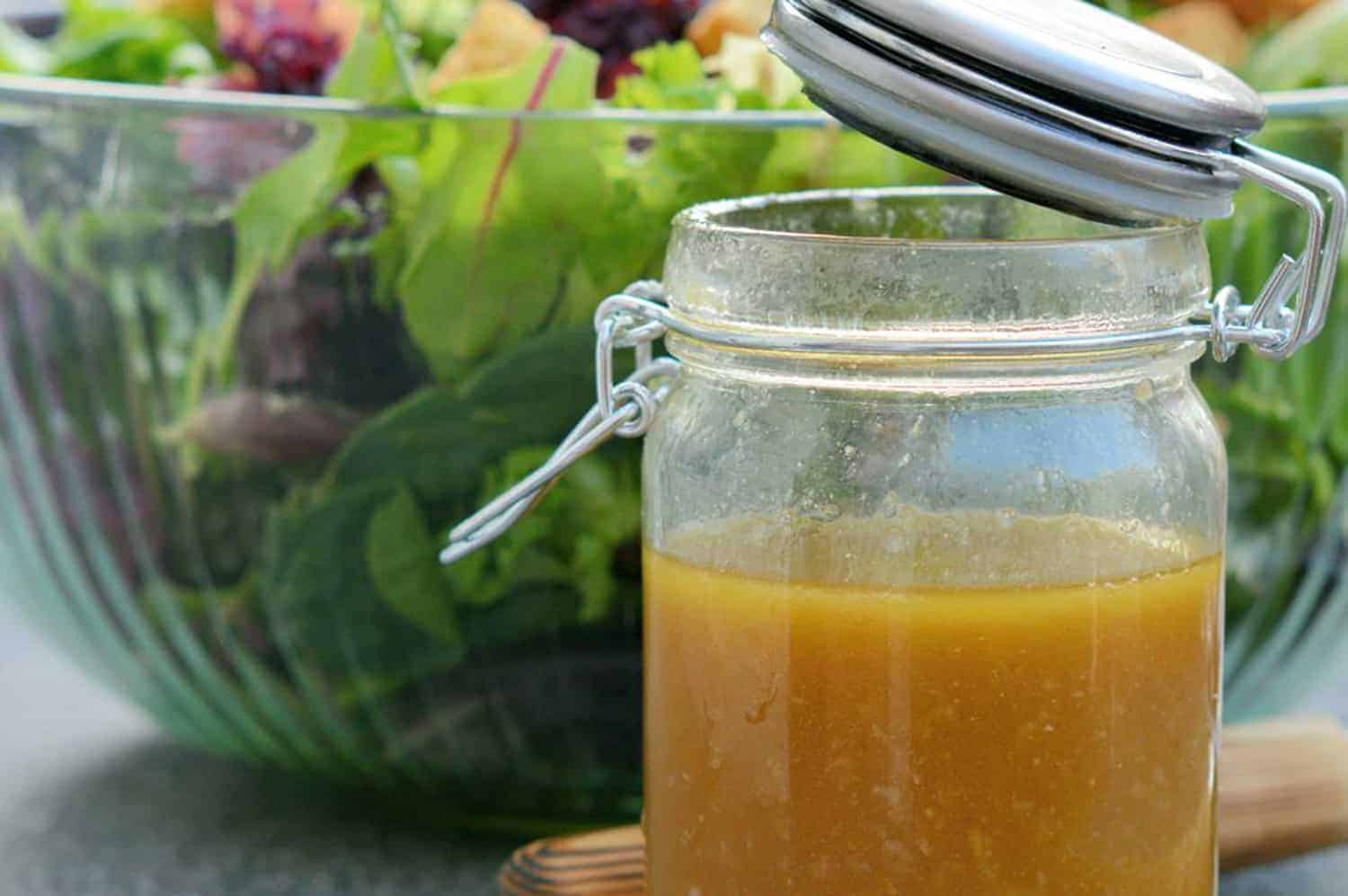 Where was Caesar salad invented? It was invented by an Italian immigrant in Mexico, Tijuana and then San Diego to be exact.
The salad was only invented in 1924, so it is a relatively young salad. Many think it was invented by Julius Caesar, but really it was Caesar Cardini.
Susan says: "I actually prefer the non creamy caesar! Definitely feel better when this is tossed on my salad."
For a traditional Caesar salad, add croutons, freshly grated Parmesan cheese and hand-torn romaine lettuce.
Make sure you check out my 7 tips for more interesting salads before you starting chopping!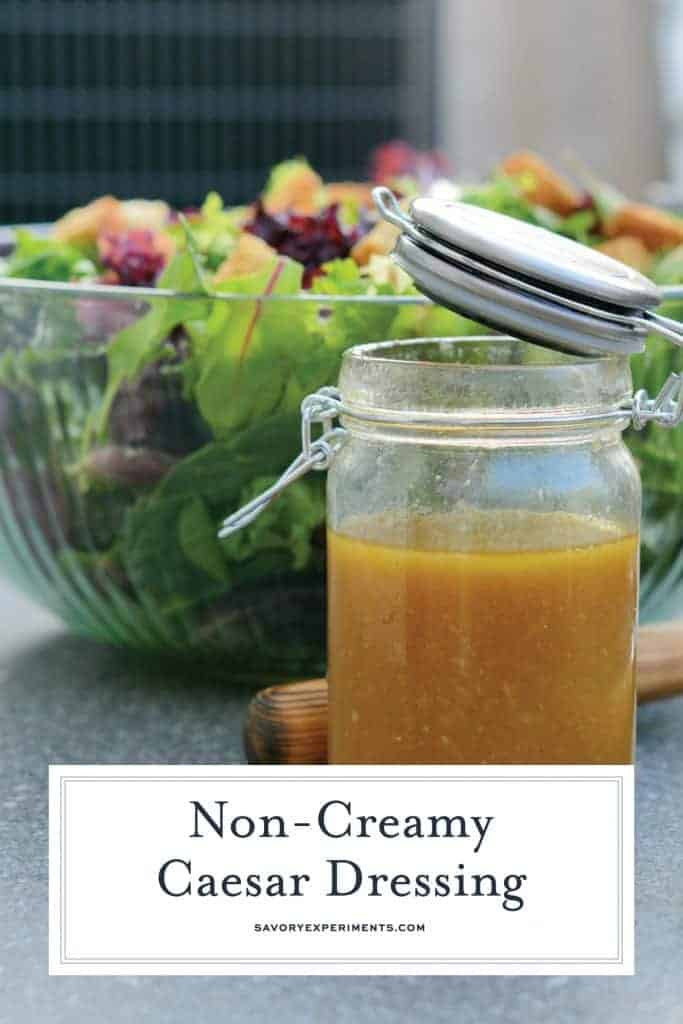 C
heck out these easy dressings:
Tools for making Caesar Salad Dressing:
Make sure to get a great salad dressing container to shake, shake, shake and store.
Mini Food Processor– I use this thing daily! It is by far my most used kitchen appliance, it is small and I throw all the parts into the dishwasher, well except the base and cord, of course!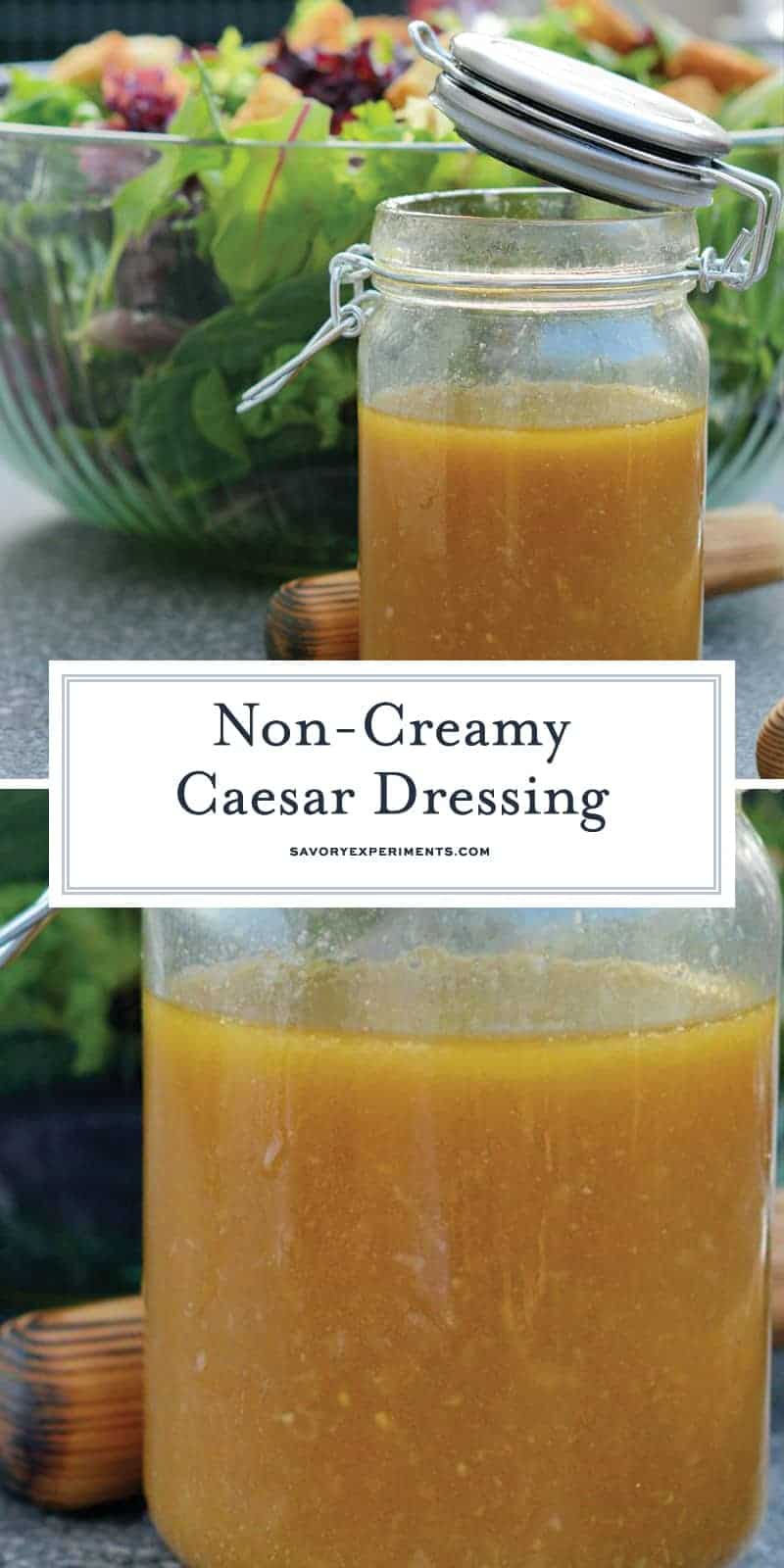 Questions you might have about how to make caesar salad dressing:
Is caesar dressing low carb? I can't speak for all caesar dressing recipes, but my version is low carb and gluten free.
Is caesar dressing dairy free? Traditional Caesar ingredients including Parmesan cheese, which is dairy. However this recipe is dairy free with grated Parmesan cheese being optional.
Can Caesar dressing be made without anchovies? Yes.. this recipe is made with no anchovies. But don't dis the little suckers, anchovies are actually quite delicious and add flavor to some sauces that you might not even know contain them. When filleted and sauteed in olive oil they literally disintegrate.
How long does homemade caesar dressing last? This homemade Caesar dressing doesn't include all of the additives and preservatives, so it doesn't have the same shelf life as store-bought, but if kept refrigerated, it will last up to a week.
Isn't that the beauty of homemade salad dressing though? You can constantly make something new and fresh?
Does Caesar dressing have mayo? Well, kind of… traditional Caesar dressing uses eggs and oil, which is technically mayo. However my recipe is an egg free, mayo free Caesar dressing.
How long can I leave this dressing out of the fridge? Because my dressing recipe doesn't use raw eggs or anchovies, you don't need to be as cautious about keeping it refrigerated, however it is best kept cold. I would say no longer than 1 hour.
How is Caesar dressing made? Both the traditional version and my version are made from emulsifying the ingredients together. Emulsion is, and I quote, "a fine dispersion of minute droplets of one liquid in another in which it is not soluble or miscible."