This time of year I am all for saving time on meals whether that be throwing it all on the grill, an Instant Pot or even the Air Fryer. But sheet pan meals are often not thought of as time saving.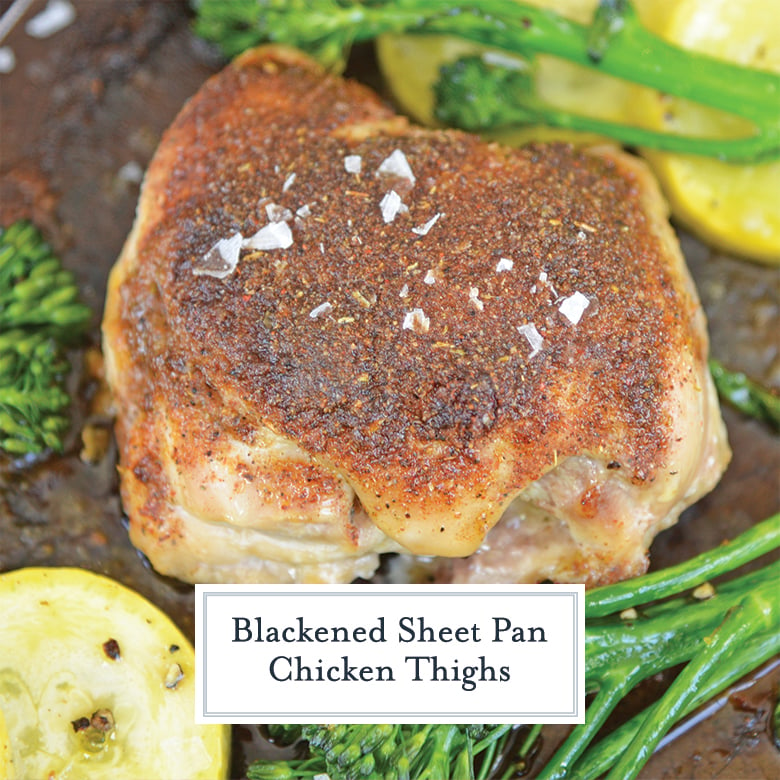 This blackened sheet pan chicken thigh recipe is about to be your new weeknight favorite!
Chicken Pieces
When it comes to chicken pieces I feel like everyone gravitates towards boneless skinless chicken breasts. And while they are good and also lean, they have the highest chance of getting dry and are quite thick, so they need more TLC to gather up flavor from rubs and marinades.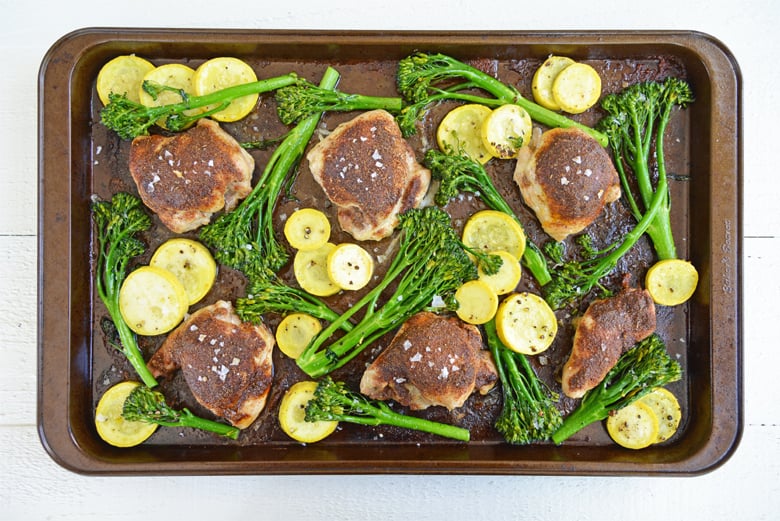 Instead, my favorite cut is the chicken thigh. Thighs are more flavorful on their own and also juicy because they are dark meat. Yes, this means they have a little more fat than breasts, but it is the good fat. You can get chicken thighs with or without the bone.
The American Heart Association recommends that people consume monounsaturated fat. This "good fat" has been linked to reduction in heart disease, lowered cholesterol, aided in weight loss and it tastes good!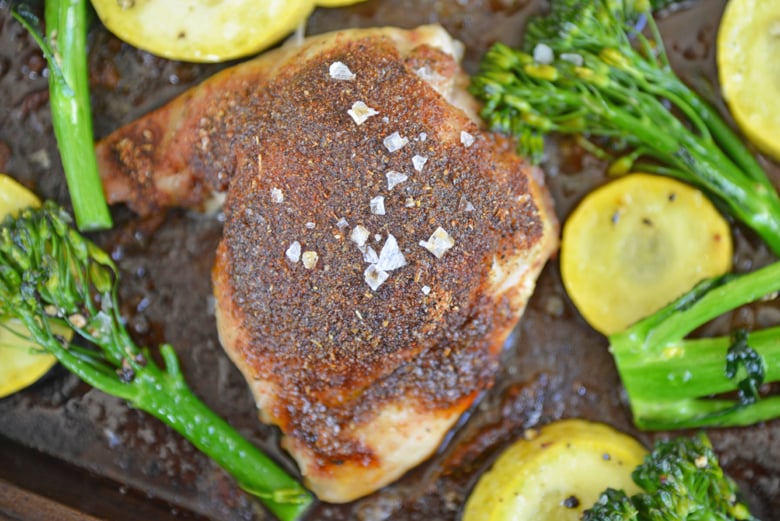 You can also use chicken legs or wings, I prefer the drumsticks myself. This recipes can work with any of the cuts and you can also use a variety, just make sure you take an internal temperature since dark meat tends to not cook as fast as white meat.
Sheet Pan Chicken Thigh Dinner
Thighs are also great for the grill, in a pan, but also in the oven. Making them on a sheet pan along with other veggies means that all of the juices are going to flavor the other elements.
For my blackened chicken I paired it with broccolini and yellow summer squash. Colorful and both cook fairly quick but are forgiving.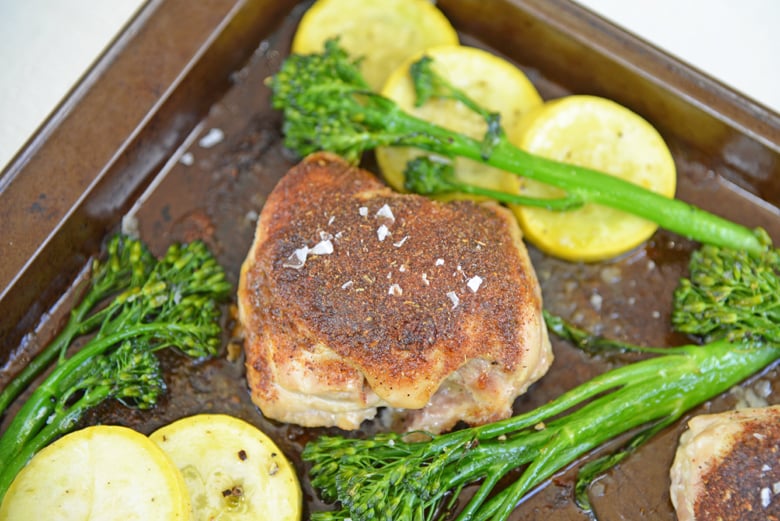 You can use bone-in or boneless thigh fillets, your choice. If you use boneless fillets, you'll still wrap the fillet meat around like the bone was intact. This helps them bake up juicy and moist instead of being flat, uneven and drying out.
Blackened Seasoning
The seasoning is what really send these Blackened Sheet Pan Chicken Thighs over the top! There isn't really mystery surrounding blackened seasoning. It is a simple blend of spices that you most likely already have in your cabinet.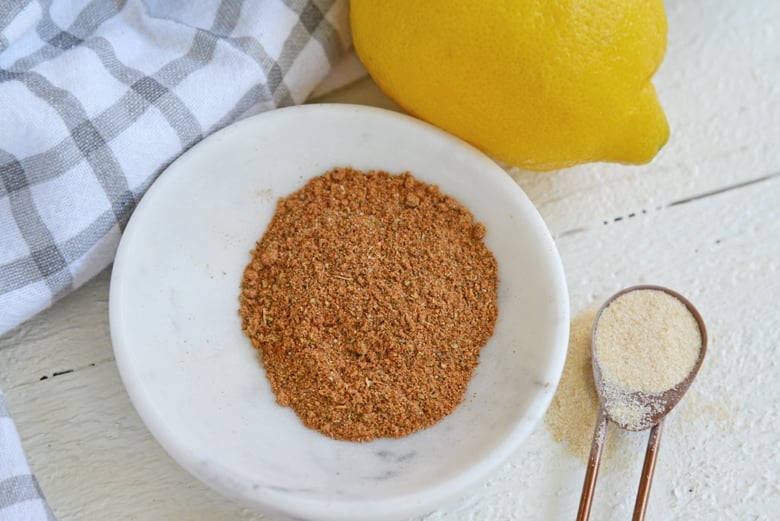 You can purchase a pricey proprietary blend bottle, but chances are whatever the secret ingredient is, you also have in the pantry. Just look at the label.
Make your own with these ingredients:
smoked paprika
cayenne pepper
chipotle pepper
onion powder
garlic powder
ground black pepper
dried basil
dried oregano
kosher salt
dried thyme
If you don't want (or have) the dried herbs, simply use 2 teaspoons of Italian Seasoning. After you've made the blend once or twice, you can adjust based on your preferences.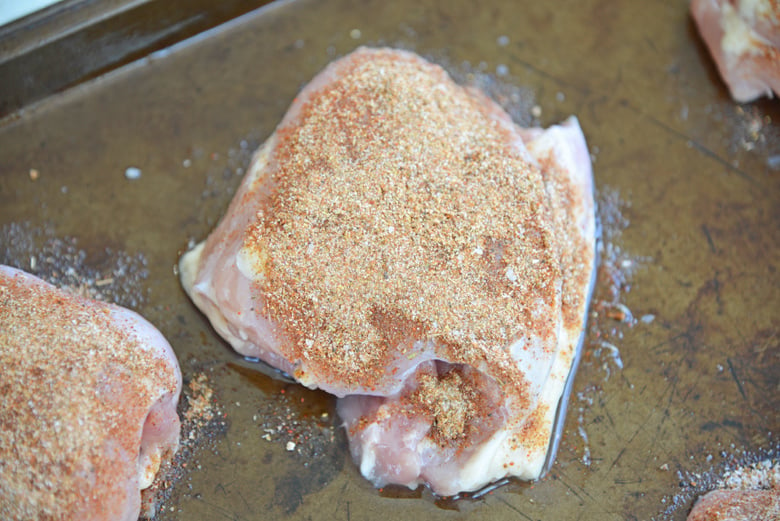 Leftover seasoning can be used to make my super easy Blackened Shrimp recipe.
Sauces
Blackened seasoning doesn't really need much to make it taste better, but it might need something to tone down the heat. This really depends on how much cayenne or chipotle powder you use and how hot you like it.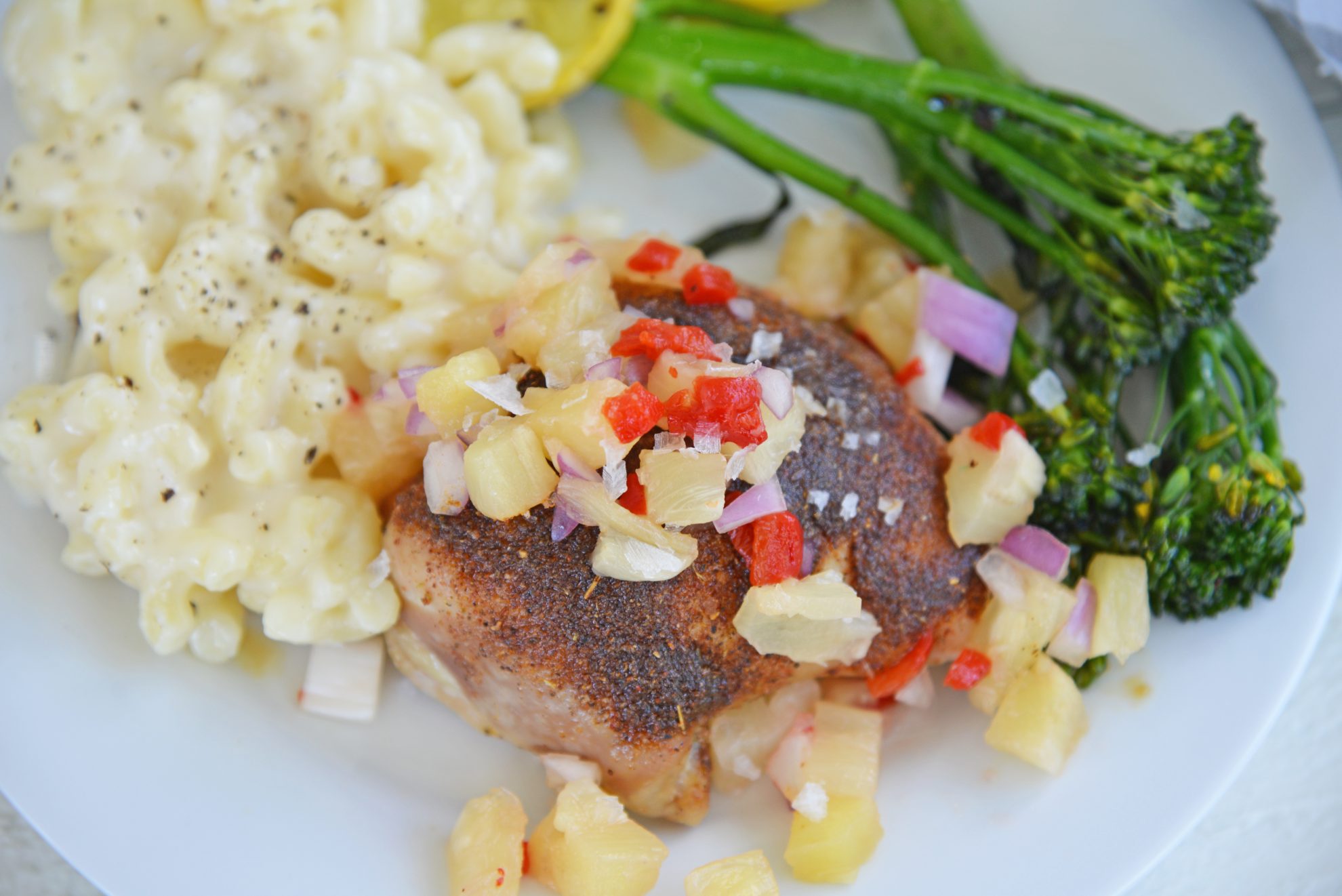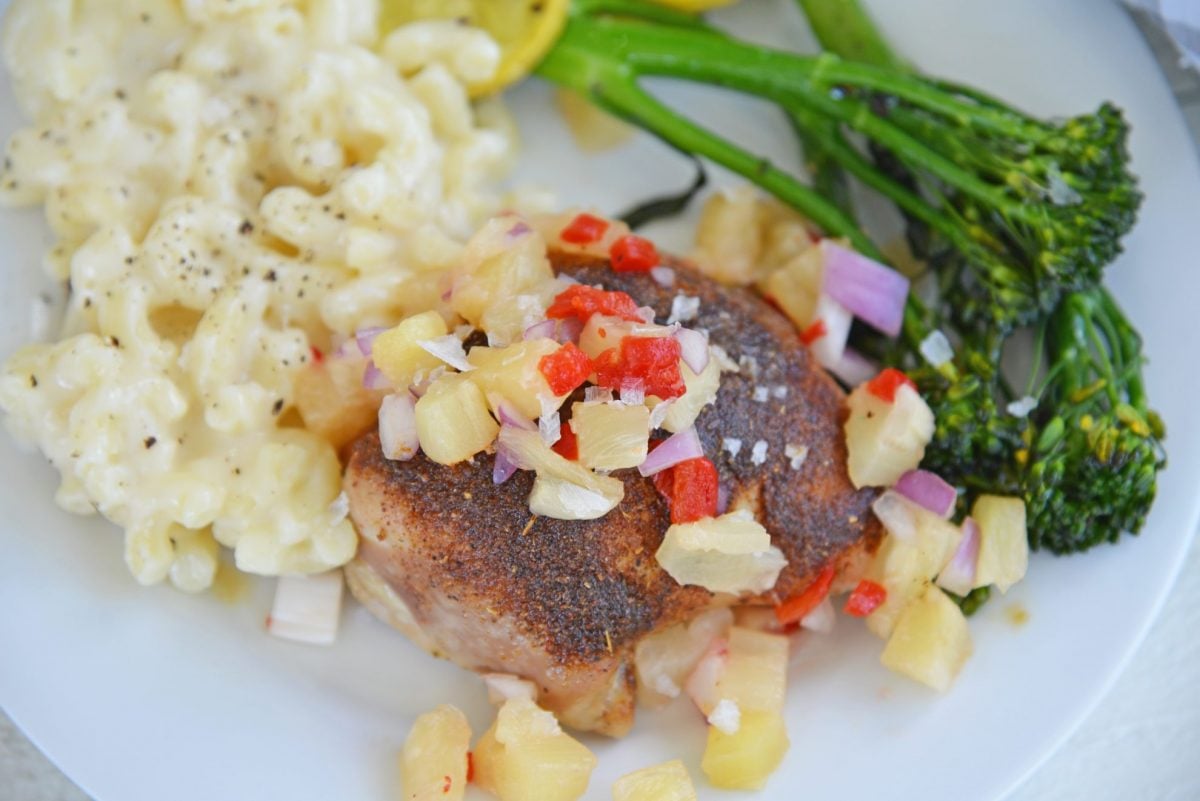 I like to serve my sheet pan chicken thighs with fresh lemon wedges, but pineapple salsa and even strawberry salsa are also good bets. Some people even like a creamy sauce like alfredo.
Sheet Pan Vegetables
Picking the right vegetables for your sheet pan meal might be the most important part. Secondary to picking the right vegetables is knowing when to add them to the try.
Since dark meat take a little longer to cook, I cook my chicken for about 15 minutes before adding the vegetables to the tray. This leaves them tender, but still with a little snap.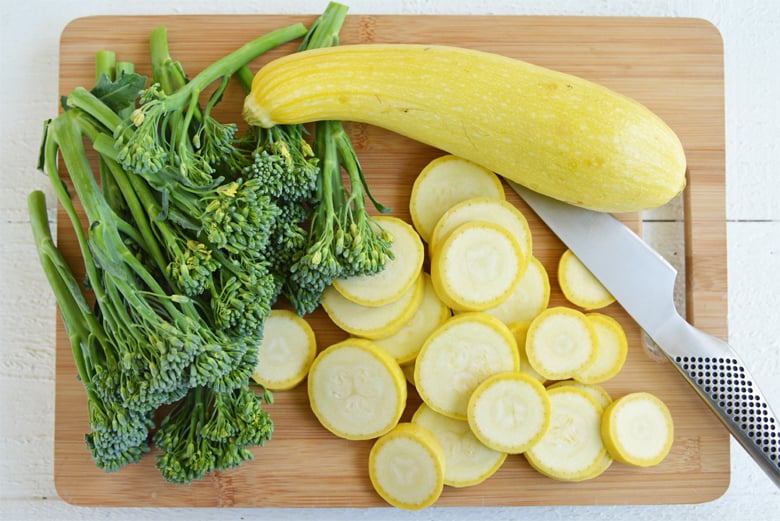 Broccolini might be my all-time favorite vegetable. I like it more than actual broccoli. I encourage you to give it a try if you have already. Pick 2-3 veggies for your meal, but make sure they are in a single layer and you don't crowd the pan so they have enough room to cook without steaming.
Other veggies that would do well on a sheet pan are:
Mushrooms
Onions
Broccoli
Cauliflower
Green Squash
Carrots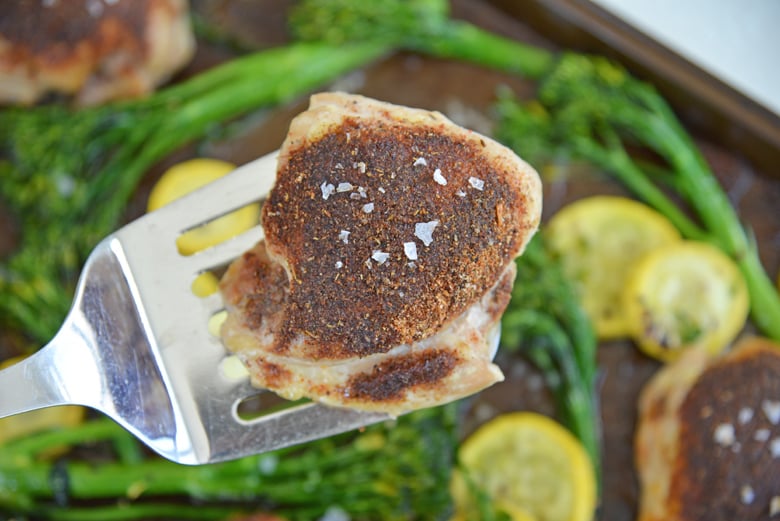 Sheet Pan Chicken Thighs Temperature
What temperature does chicken need to be?
Chicken doesn't have a range like beef, lamb or even pork. If needs to be fully cooked, but the number one mistakes of many home chefs is overcooking it. This results in dry, rubbery chicken.
While dark meat thighs are a little more forgiving in this arena, you still want them to be just perfect, so do yourself a favor and use an instant read meat thermometer.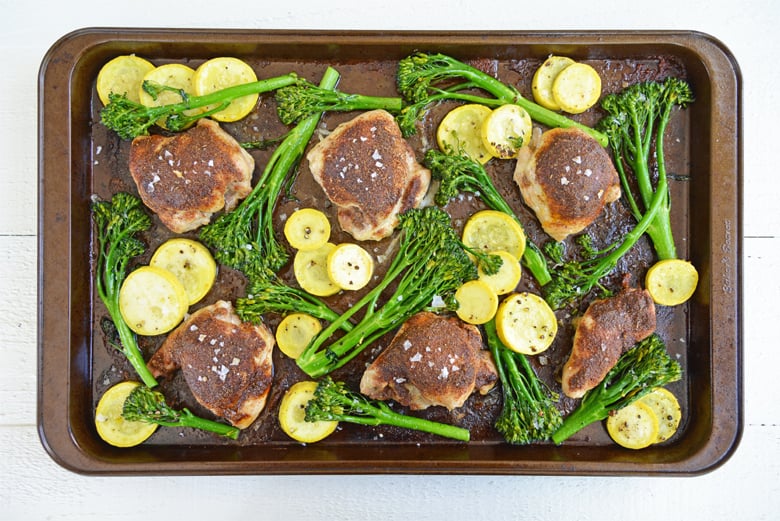 Chicken needs to be 165 degrees, but you'll remove it from the oven at about 155-160 degrees. The meat will continue to increase in heat on the baking sheet while resting.
And don't skip resting! You want all those delicious juices to stay put!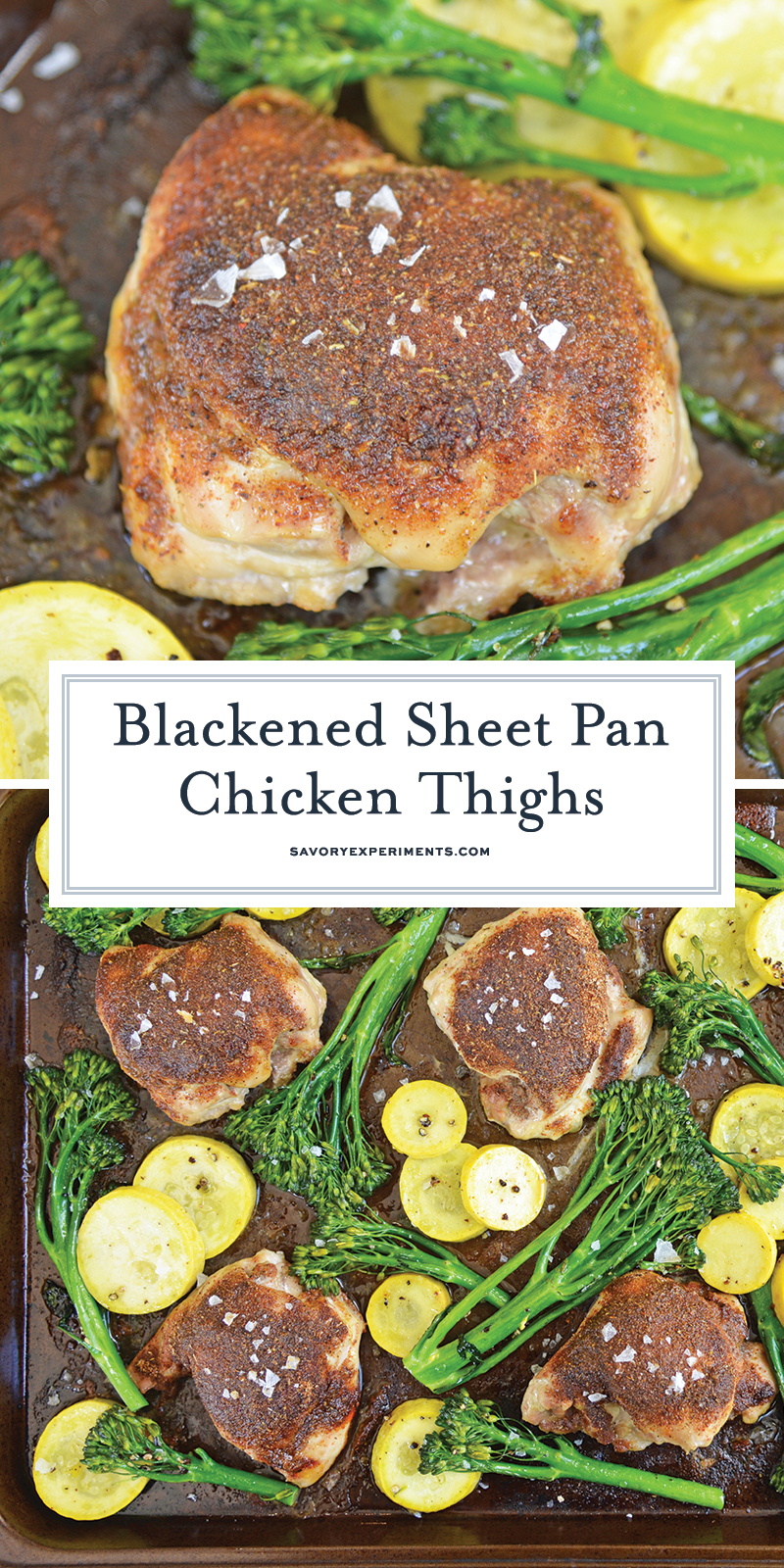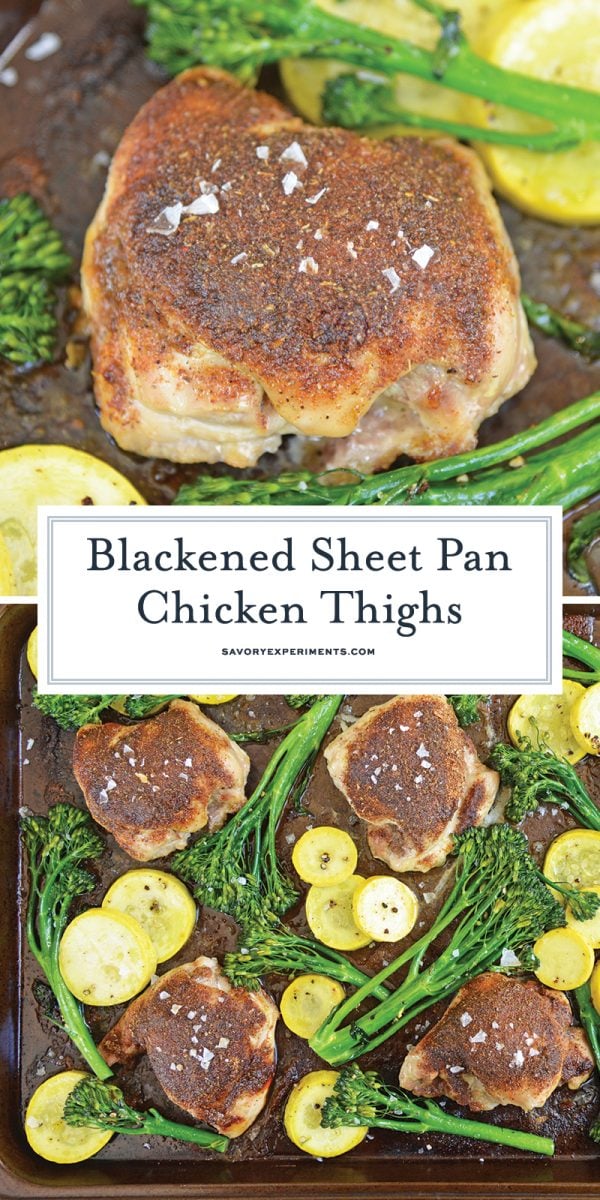 What to Serve with Sheet Pan Chicken Thighs
If you are eating low carb, this dish is fine on its own, but if you need a starch, here are my favorites:
More chicken thigh recipes: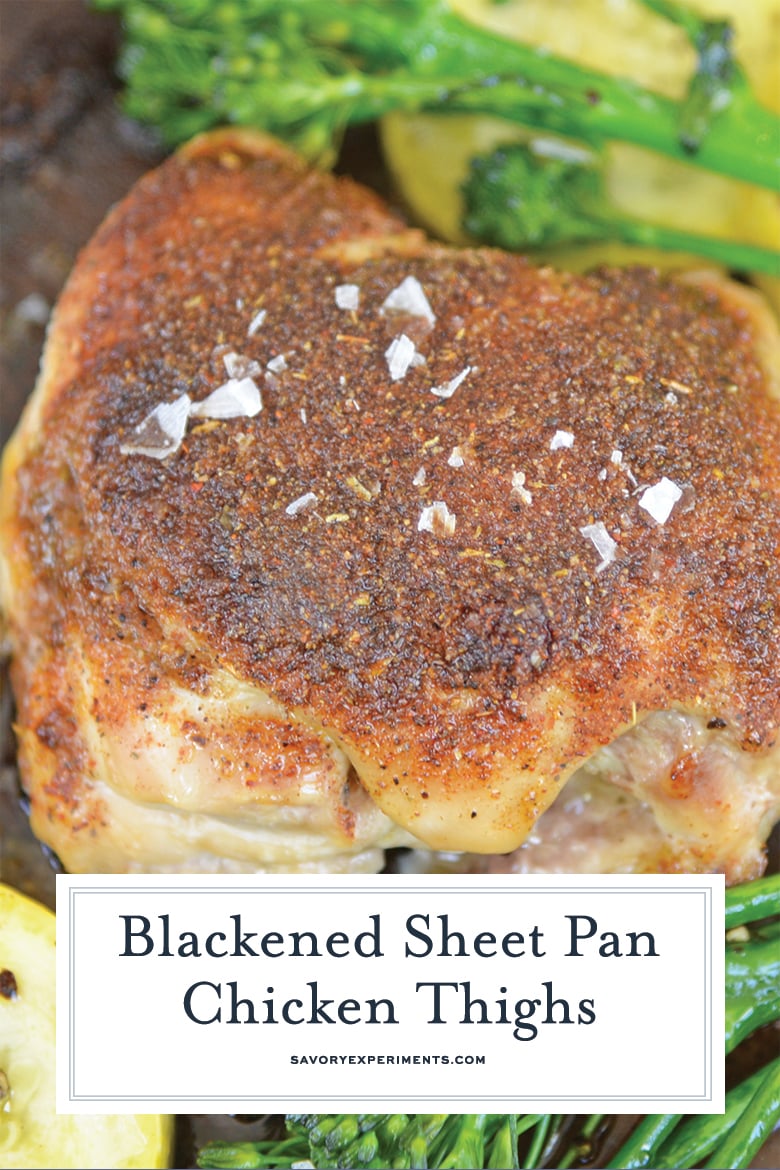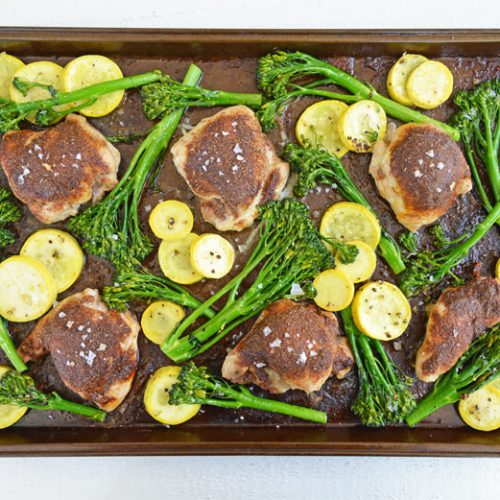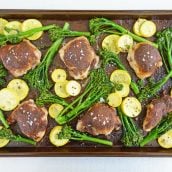 Blackened Sheet Pan Chicken Thighs
I am all for saving time on meals, and one pan meals are the best. This EASY Blackened Sheet Pan Chicken Thigh recipe is about to be your new favorite!
Instructions
Preheat the oven to 400 degrees. If you want to make cleanup even easier, line a large rimmed baking sheet with aluminum foil. Spray with cooking spray or lightly baste with olive oil.

Rinse and trim any excess fat from fillets (you can leave a little, just remove large, offensive pieces). Pat dry with a paper towel.

Space evenly on baking sheet. Wrap meat around into a little bundle so it looks like it still has the bone.

Bake for 15 minutes.

Meanwhile, toss broccolini and sliced squash in a large mixing bowl with olive oil, kosher salt and freshly ground pepper.

At 15 minutes, add veggies to the baking sheet, leaving excess oil in the mixing bowl and discarding.

Continue to bake for 15 minutes.

Remove and allow to rest for 5 minutes before serving. I like mine with pineapple salsa.

If you've tried this recipe, come back and let us know how it was in the comments or ratings!
Nutrition
Calories:
567
kcal
,
Carbohydrates:
8
g
,
Protein:
40
g
,
Fat:
41
g
,
Saturated Fat:
11
g
,
Cholesterol:
222
mg
,
Sodium:
1308
mg
,
Potassium:
722
mg
,
Fiber:
2
g
,
Sugar:
3
g
,
Vitamin A:
1373
IU
,
Vitamin C:
69
mg
,
Calcium:
73
mg
,
Iron:
2
mg