Yay! It is finally summertime and time for delicious, luscious spring berries and fruit. Finding new ways to incorporate these ingredients into everyday meals is always my objective.
Today I bring you Strawberry Salsa.

This Strawberry Salsa recipe uses sweet strawberries with cooling cucumber, red onion, basil and zesty white wine vinegar for a juicy dip or condiment.
I know what you asking yourself. You are thinking that sound SOOOO good, but what do I put Strawberry Salsa on?
Lots of things! You can use it on yogurt or vanilla ice cream, as a dip for cinnamon and sugar pita chips, on a salad, use it on tropical tacos, top grilled fish or seafood or even on my Strawberry BBQ Chicken!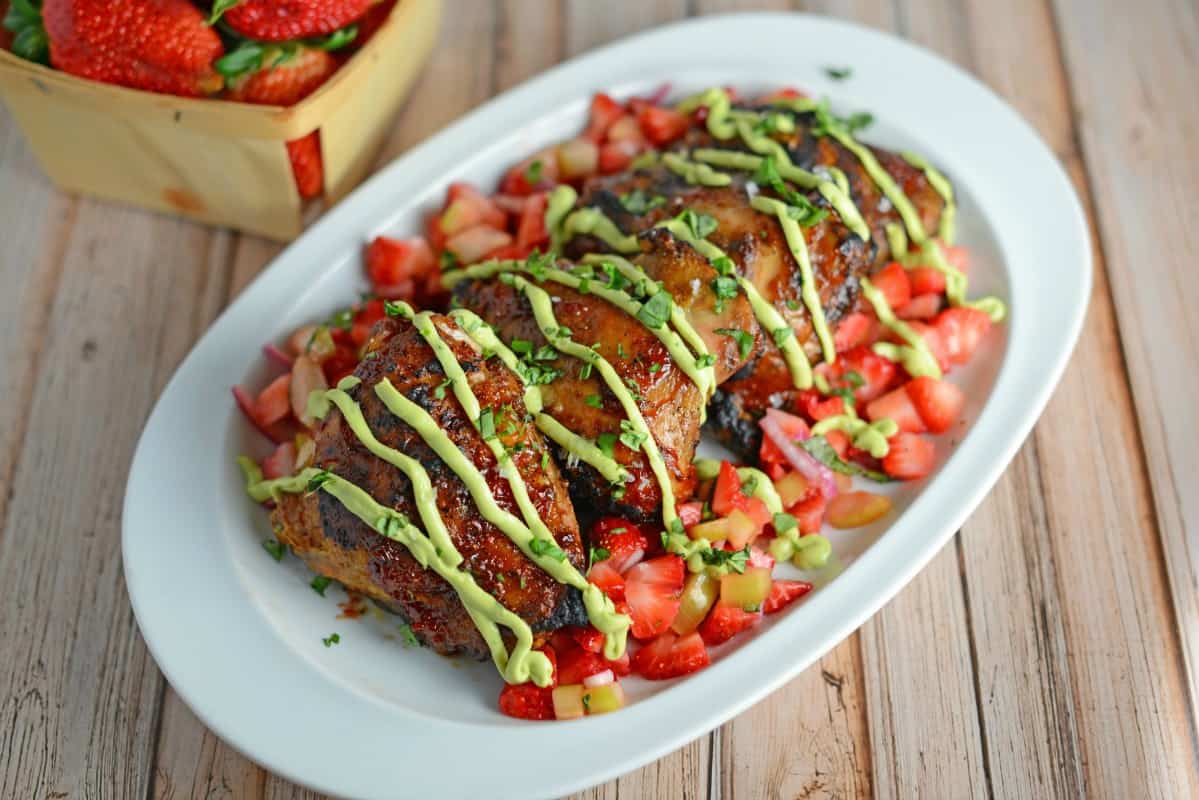 The possibilities are really endless!
Let's answer the first question most people have… I thought salsa was made with tomatoes?
The term salsa means chopped up veggies and fruits, but is most commonly associated with a tomato base. Fruit salsas are all the rage right now in food trends, so you should totally jump on this train.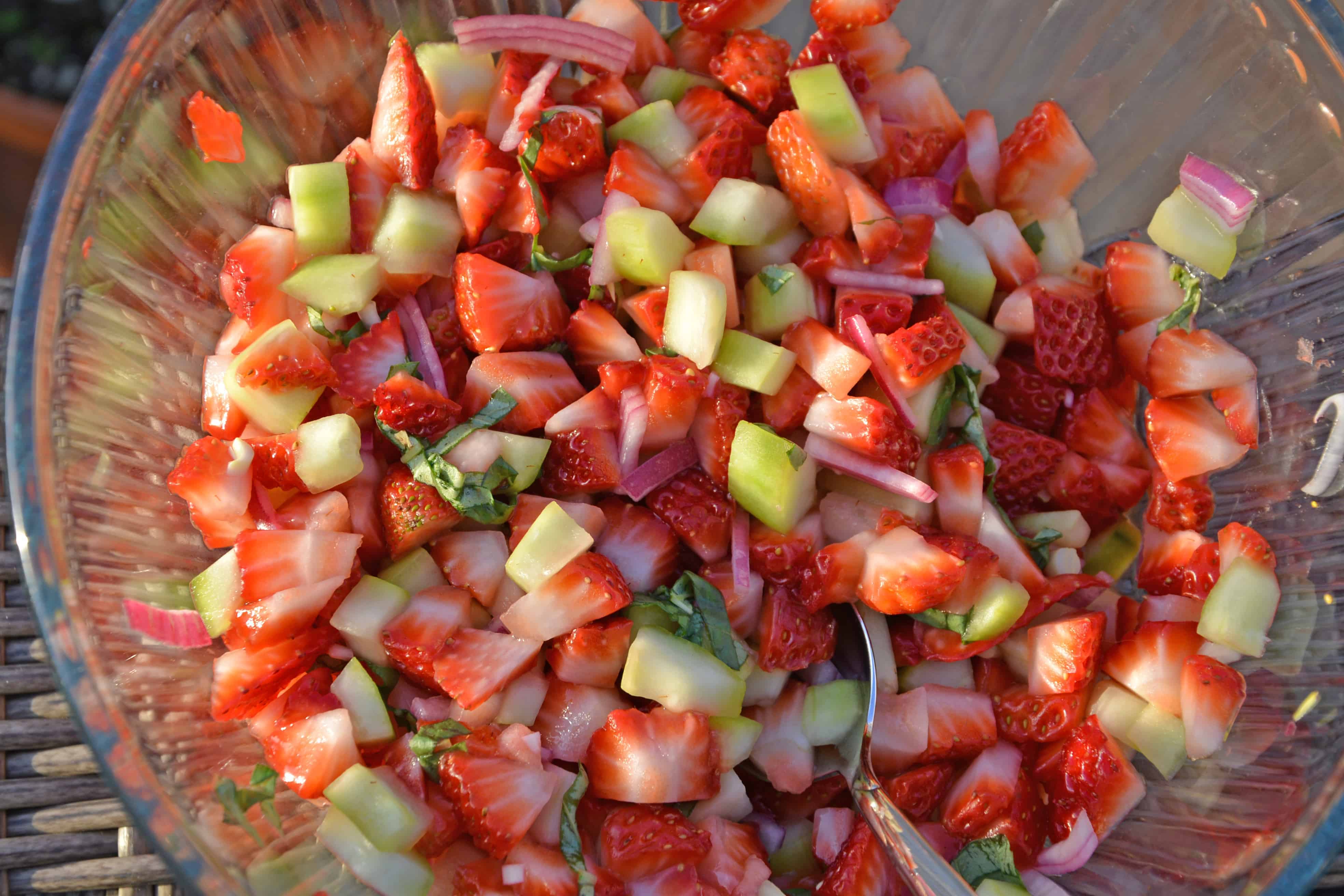 The only constant with salsas is that there is acidity. For this strawberry salsa , that is the white wine vinegar.
It is bright, sweet and a little spicy with the tang of vinegar. What could be better?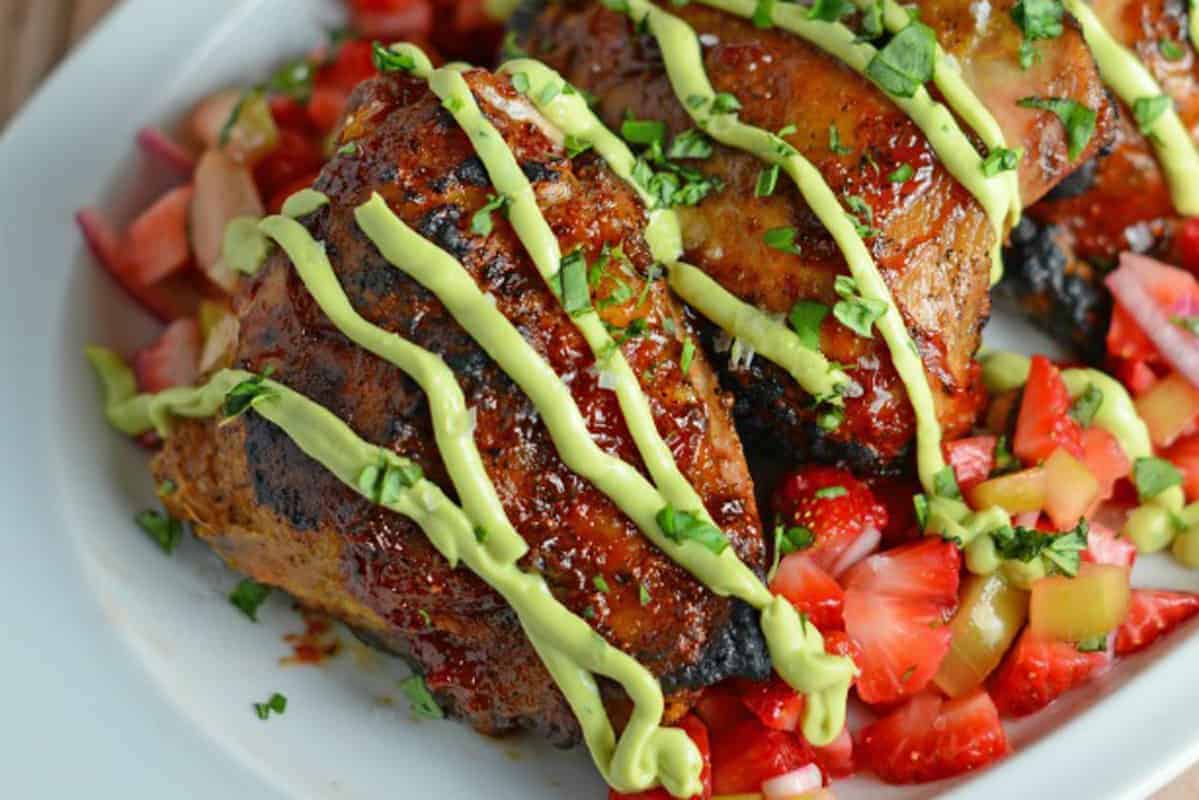 While I love strawberries so much that I just eat them raw right out of the container, I generally have a batch of Strawberry Salsa ready in the refrigerator. It is perfect for drop-by guests or even a late afternoon snack.
Here are a few tips on how to buy the best strawberries for your strawberry salsa:
ONE. Try to buy local. If berries come from far away, they have to be picked before they're ripe and have traveled further, so they are older.
TWO. Strawberries bought in season are great and delicious, but if I learned anything while we were in Japan, it was that hot house strawberries are just as delicious!
THREE. Look for bright red strawberries. I vibrant hue is often (but not always) an indicator of a good strawberry.
FOUR. Fruits don't need to be the ideal shape to be delicious. Don't worry about the shape.
FIVE. This is a time when size doesn't matter. Some of the best strawberries are smaller. Don't worry about the size.
SIX. Give them a sniff. Good, ripe strawberries are going to smell sweet and fresh.
SEVEN. Inspect those suckers! If they are packaged, feel free to open the package and poke around a little. Make sure the strawberries on the bottom aren't all gross and rotting.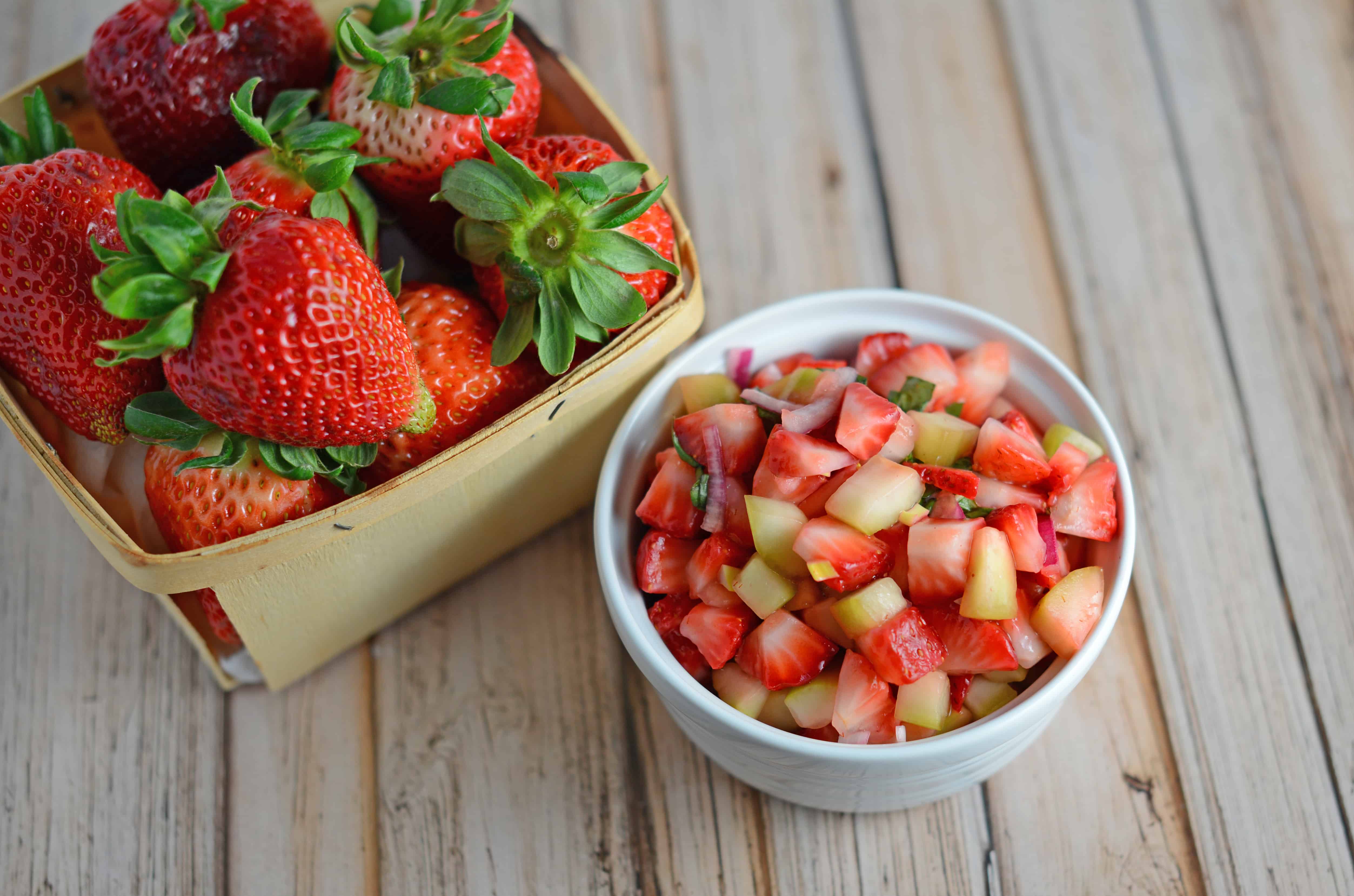 Since Strawberry Salsa is so unique and colorful, your guests and family are sure to love it, rave and ask you for the recipe! Make sure you send them back here. LOL.
If you liked this homemade salsa recipe, you might also like these fruit salsa recipes: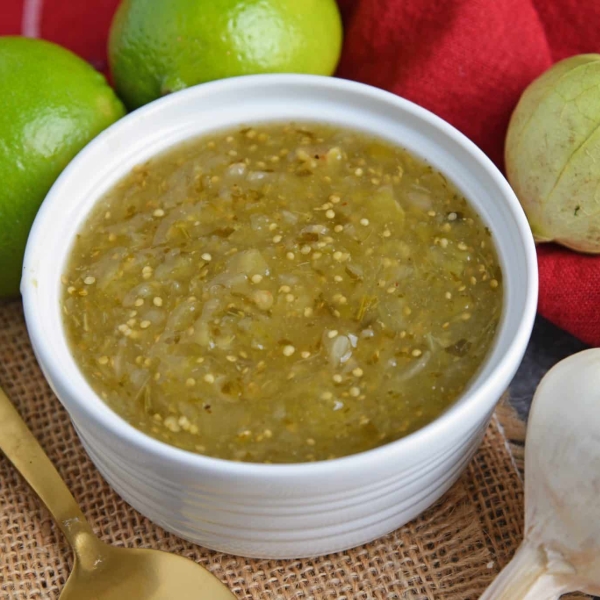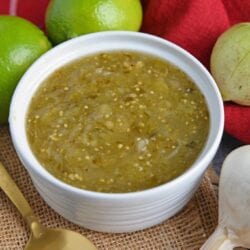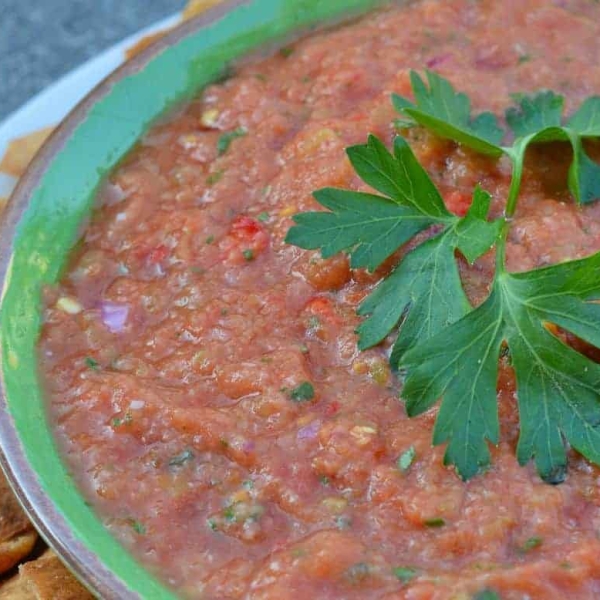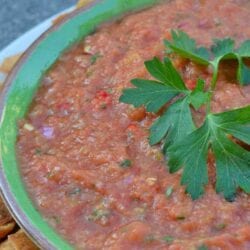 3-Minute Salsa
This easy Homemade Salsa recipe is ready in just 3 minutes using a blender. A blend of tomatoes, jalapenos, garlic, onion, cilantro and green chile.
See The Recipe!
Tools for making Strawberry Salsa:
Strawberry Huller– I never thought I needed one until I got one. Now I can't love without it.
Wood cutting board – wood won't dull your knives like plastic and if treated properly, has natural antimicrobial properties.
Good knife – Global is my favorite! They are worth the price, I promise. I am kind of obsessed with them and store them tucked away so no one else can use them. Including hubby. Hands off my good stuff!
Mixing Bowls– make sure to check out my article on Using the Right Mixing Bowl, you'd be surprised how many people aren't!
PRO TIP: Using a metallic mixing or storage bowl could give your fruit salsas a metallic taste. The prevent this, use plastic or glass bowls.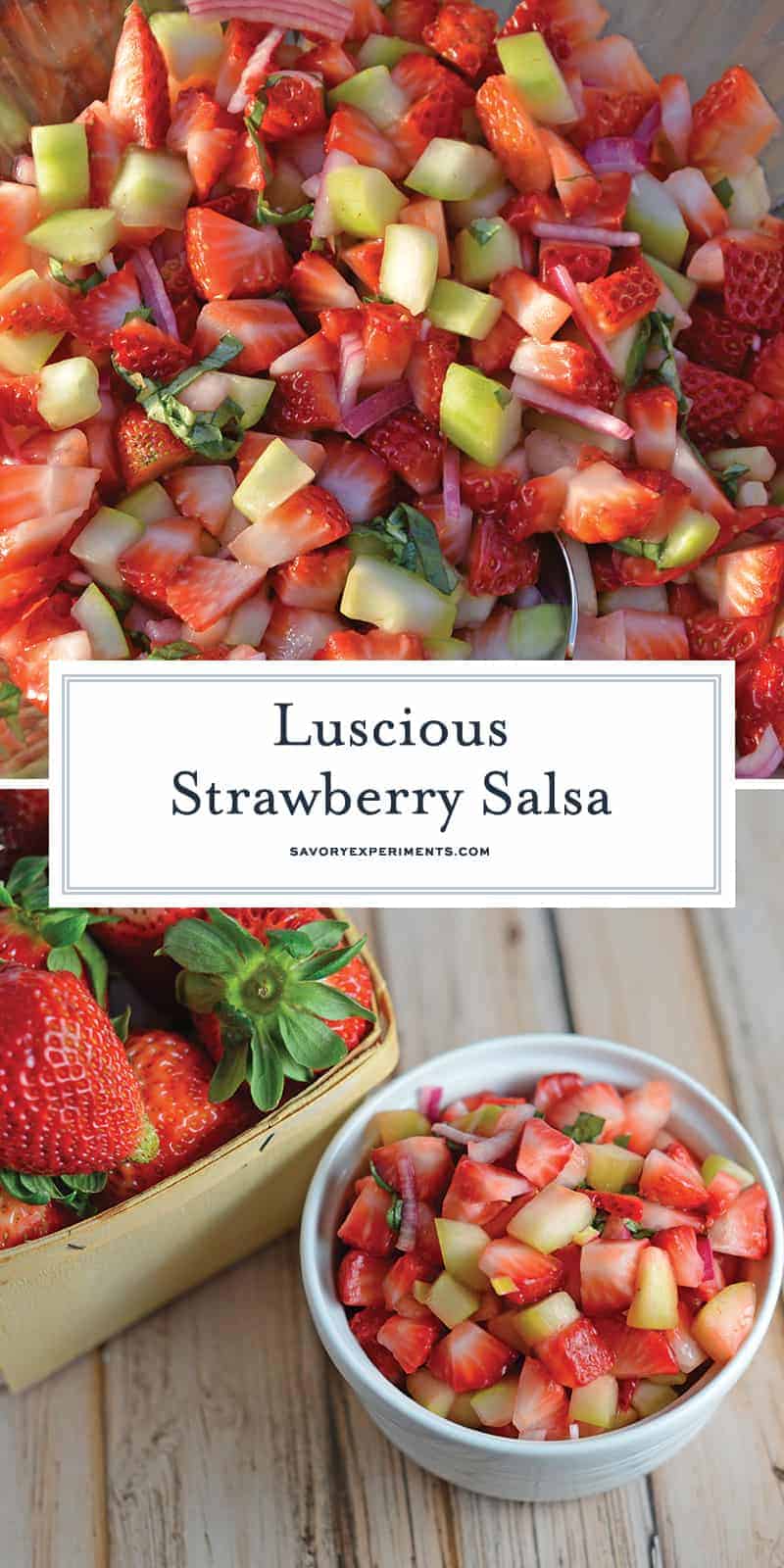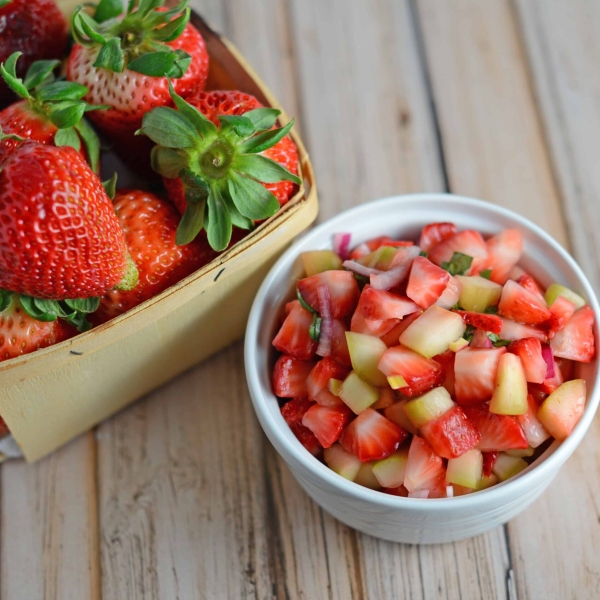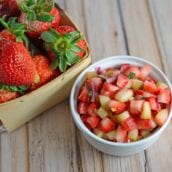 Fresh Strawberry Salsa Recipe
This Strawberry Salsa recipe uses sweet strawberries with cooling cucumber, red onion, basil and zesty white wine vinegar for a juicy dip or condiment.
Instructions
Combine all in a medium bowl, adding more or less sugar to taste based on sweetness of strawberries. Toss, cover and refrigerate for 1-24 hours.

If you've tried this recipe come back and let us know how it was!
Nutrition
Calories:
70
kcal
,
Carbohydrates:
15
g
,
Protein:
1
g
,
Sodium:
779
mg
,
Potassium:
367
mg
,
Fiber:
3
g
,
Sugar:
10
g
,
Vitamin A:
160
IU
,
Vitamin C:
92.6
mg
,
Calcium:
38
mg
,
Iron:
0.8
mg