Fall is full of a beautiful bounty of produce, but sometimes you want to do more than just roast them. This Quinoa Stuffed Acorn Squash recipe is simple and easy and solves that exact problem.
Quinoa Stuffed Acorn Squash is an amazing fall entree or side dish. Chicken sausage, cranberries, pepitas, and feta cheese make this recipe a winner.
It is that time of year again – squash is in season! With so many varieties, it can be hard to choose. I love acorn squash because of its earthy flavor and because it's relatively easy to work with.
Typically, I make my Maple Acorn Squash, but my friend Tiff brought over her Quinoa Stuffed Acorn Squash for Sunday dinner and it opened up my eyes to the squash-abilities. (I went there.)
Quinoa Stuffed Acorn Squash is fantastic because it can be served as a side dish, but it is hearty enough to make a full-blown entree as well.
Quinoa is a whole grain that comes from the amaranth plant. Technically, quinoa is the seed of the plant. It is packed with minerals, vitamins, and fiber and is naturally gluten-free.
To make the Quinoa Stuffed Acorn Squash, you roast acorn squash in the oven. While that is getting all toasty and delicious, you prepare the stuffing mixture on the stovetop.
You can also prepare the stuffing ahead of time if you need time to work on other dishes. It is a mix of quinoa, chicken sausage, mushrooms, dried cranberries, bell peppers and more.
I top it with crispy, salt pepitas and creamy feta cheese for the ultimate bite. Feel free to add any other toppings your family would like to customize it. Enjoy!
Three Bean Salad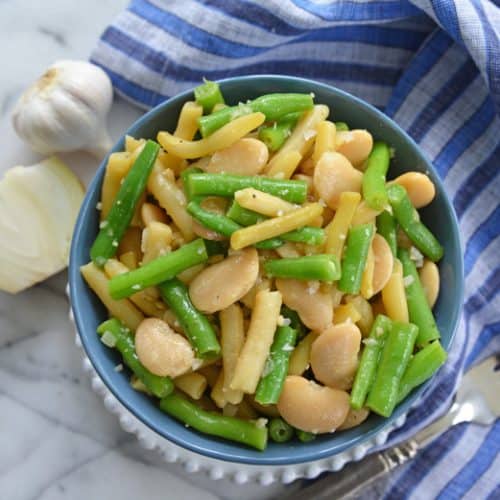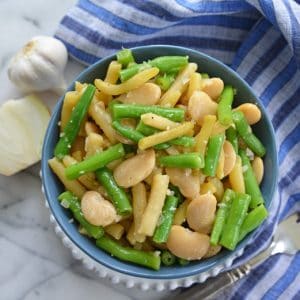 Classic Three Bean Salad is the perfect BBQ side dish. This easy, make-ahead dish is always a hit and perfect for potlucks too!
Pickled Asparagus Salad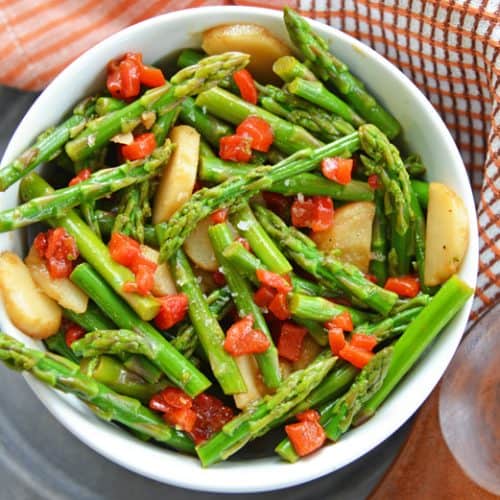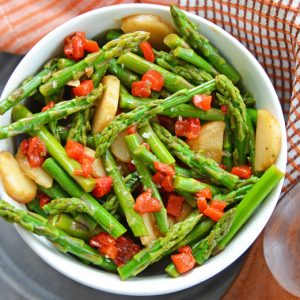 Pickled Asparagus Salad is made with blanched asparagus marinated in a vinaigrette and tossed with water chestnuts and roasted red pepper.
---
Get our FREE 8 Day E-Course on How to Be a Better Home Cook. Sign up HERE!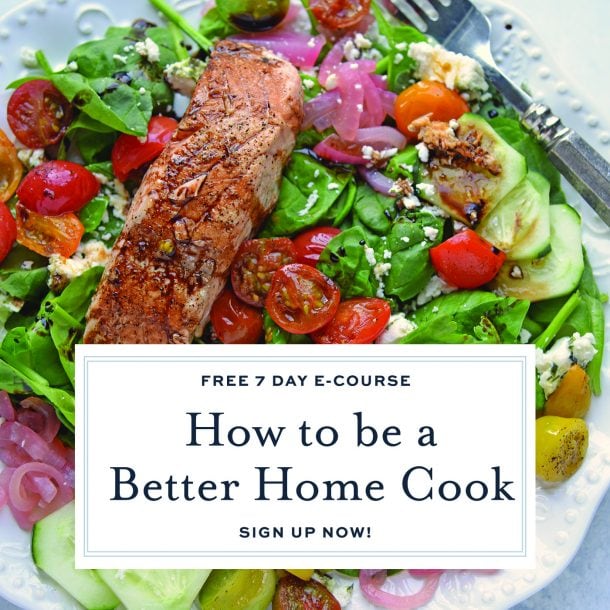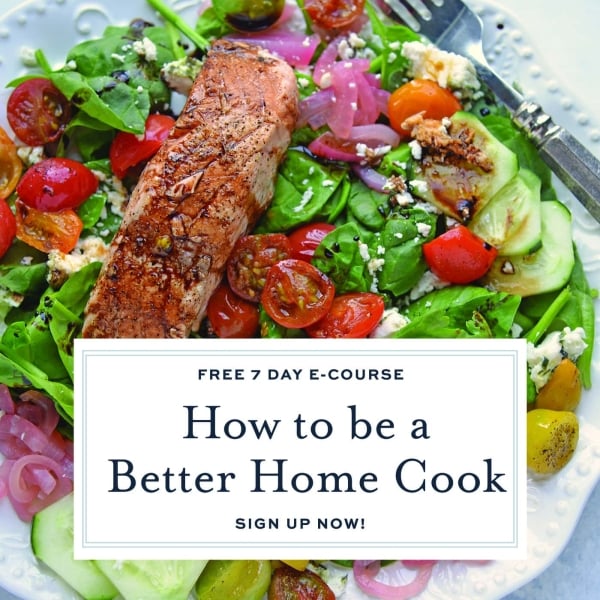 CONNECT WITH SAVORY EXPERIMENTS!

Be sure to follow me on social media, so you never miss a post!

Facebook | Twitter | Youtube 
 Pinterest | Instagram 
---
Quinoa Stuffed Acorn Squash
Quinoa Stuffed Acorn Squash is an amazing fall entree or side dish. Chicken sausage, cranberries, pepitas, and feta cheese make this recipe a winner.
Instructions
Preheat the oven to 375 degrees.

Cut the bottoms of each squash to prevent rolling when served. Line a rimmed baking sheet with aluminum foil and lightly coat with cooking spray. Bake squash, flesh side down for 30-40 minutes or until they are easily pierced with a fork.

Meanwhile, make the filling by heating olive oil in a medium skillet. Add shallot, saute for 2-3 minutes and then add green bell pepper until soft. Lastly, add mushrooms, white wine, and rosemary. Continue to cook until liquid has reduced significantly. Take off the stove and add spinach, toss until wilted. Transfer all to cooked quinoa, also adding cooked chicken sausage, pine nuts, and dried cranberries.

When the acorn squash is done, flip over and spoon quinoa mixture evenly into each. Top with crumbled feta cheese and pumpkin/squash seeds. Serve hot and enjoy!

If you've tried this recipe, come back and let us know how it was!
Notes
To use acorn squash seeds for garnish, rinse to remove all flesh. Spread out evenly on a baking sheet and toss with a drizzle of olive oil. Season with fine sea salt and ground black pepper. Roast in the same oven as the acorn squash for 20-30 minutes, but flip often to prevent burning.
Nutrition
Calories:
849
kcal
|
Carbohydrates:
113
g
|
Protein:
30
g
|
Fat:
34
g
|
Saturated Fat:
6
g
|
Cholesterol:
61
mg
|
Sodium:
883
mg
|
Potassium:
1573
mg
|
Fiber:
13
g
|
Sugar:
24
g
|
Vitamin A:
1925
IU
|
Vitamin C:
52.5
mg
|
Calcium:
231
mg
|
Iron:
7.9
mg