This is a sponsored post written by me on behalf of Holland House Cooking Wines.
Easter is around the corner and for many that means dressing the table with ham, lamb and sausages, a notable time of the year when these meat proteins make an appearance.
White Wine Couscous with Garlic and Mint is the perfect spring side dish for pairing with lamb, chicken, seafood and fish. This mild and fresh couscous recipe can't be beat!
It is usually the only time mint jelly makes an appearance as well. Served with lamb, mint jelly offers sweetness to counterbalance the sometimes-gamey taste of lamb.
This year, instead of plopping down a serving dish of green goo (no offense to mint jelly, I still love you) I decided to have mint make an appearance in a different dish: White Wine Couscous.
Holland House Cooking Wines are my go-to brand for quality cooking wines. They use wine blended with seasonings that offer a bold zing of flavor.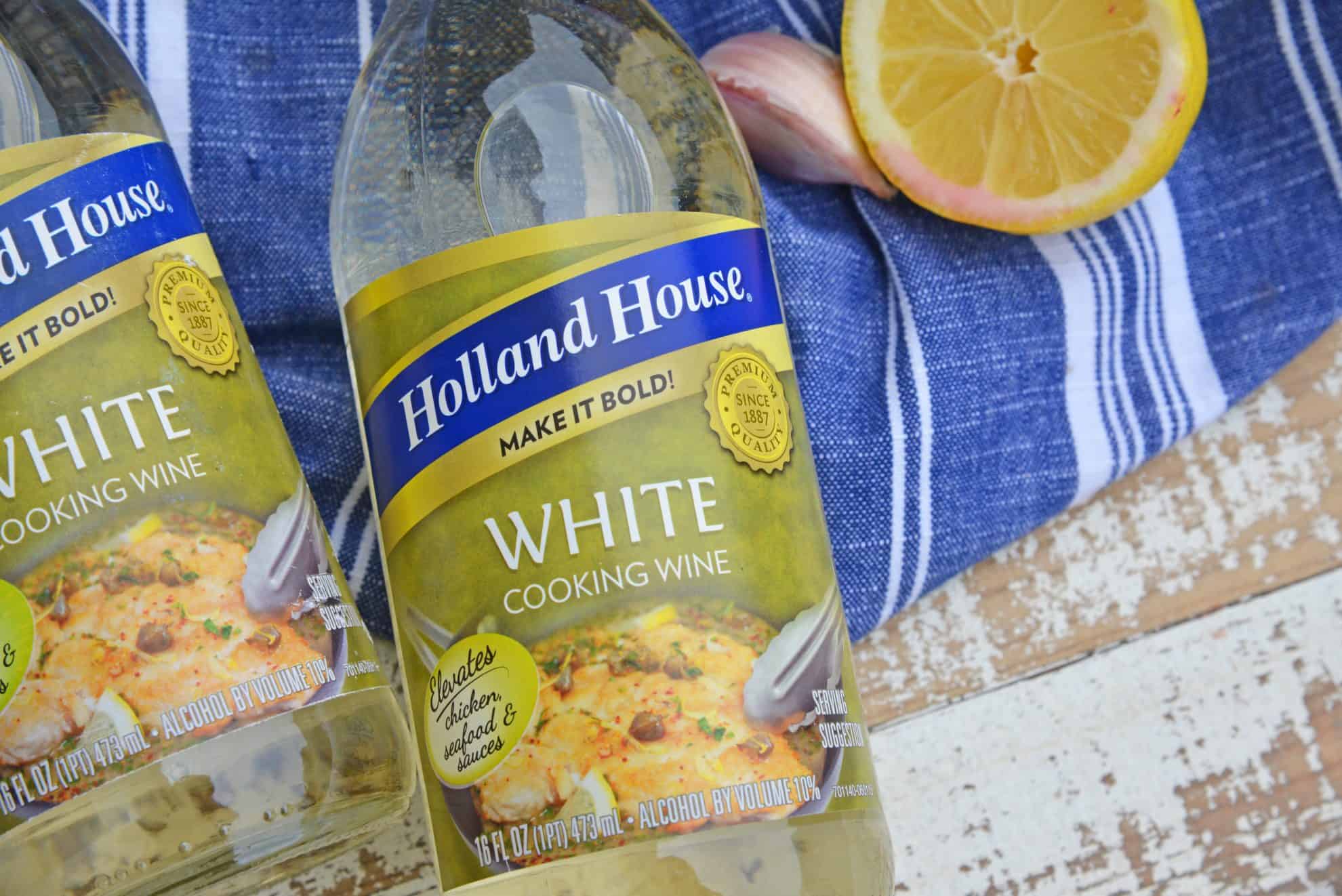 White Cooking Wine offers a crisp aroma and a slightly dry flavor, perfect for pairing with lighter dishes or sides. I love it in couscous recipes, but here are a few more ideas on how to use white wine in your cooking:
Add a splash at the end of cooking cream sauces or creamy soups.
Use to simmer poultry.
Balance spicy recipes or reduce heat by adding a splash of white cooking wine.
A natural complement to any fish or seafood.
For added flavor in rice and pasta dishes, substitute 1/3 of water or other cooking liquid with white cooking wine.
Even though couscous is a small pasta that hails from Northern Africa, many believe it is a type of rice because of the small size, it is actually a pasta. And not a pasta popular in Italy.
Mediterranean flavors accompany lamb quite frequently because in that area of the world lamb is served more often than some of the other proteins we see in the states.
If you dared to ask for a side of mint jelly I doubt they would even know what you were talking about. But if you asked how frequently they cooked with white wine, the answer would be "in nearly every dish!"
Made from semolina granules and crushed durum wheat, the most commonly type of couscous is very small. There are other varieties, like Israeli couscous, sometimes known as pearl couscous, that is larger and almost resembles tapioca balls.
One of the benefits of couscous is how fast it cooks. In literally five minutes, you can have a flavorful side dish or base pasta for nearly any meal regardless of the origin.
Here are a few tips for how to make fluffy couscous that can be applied to any couscous recipe:
Brown dry couscous in butter or olive oil before adding liquid. This brings out a nutty flavor.
Never use plain water. A mix of Holland House White Cooking Wine and chicken broth will pack the most punch.
Fluff couscous with a fork to break up clumps, tossing rather than stirring.
Add fresh herbs, nuts or other produce at the very end.
White Cooking Wine Couscous uses all of these techniques for a side dish perfect for pairing with any lamb dish. It tastes fabulous with any dish like chicken, beef, pork and even seafood.
Holland House is available in five flavors, so I can always find one to help amplify my dishes.
Questions you might have about how to cook couscous:
Is couscous gluten free? Couscous is a pasta, so by nature it is not gluten-free.
Is couscous a starch? Yes, couscous is a pasta, so it is also a starch.
Can couscous be substituted for rice? Yes! By all means, yes! In fact, White Cooking Wine Couscous is the perfect substitution for rice. It cooks much faster, has better flavor and is also more foolproof than rice.
What does couscous taste like? Couscous is a pasta, so it is a blank slate. This couscous recipe is seasoned with delicious white cooking wine, so it has a mild, dry wine flavor complemented with fresh mint, garlic and a touch of lemon.
How do you store couscous? Dry couscous is fine in the pantry in an airtight container. Cooked couscous should be kept refrigerated in an airtight container.
How long does couscous stay good? I would eat this White Wine Couscous within 5 days of making. But who are we kidding… there won't be any leftovers, it is that good!
Can I make White Wine Couscous ahead of time? You sure can! I would recommend making it no more than 24 hours in advance, however the recipe is so simple, it is easy to prepare right before serving.
To reheat couscous, simply add another splash of white cooking wine (approximately 1 tablespoon) and microwave for 1-2 minutes, stirring once to heat evenly.
Here are some other delicious side dish recipes you might enjoy:
White Cooking Wine Couscous
White Cooking Wine Couscous with Garlic and Mint is the perfect spring side dish for pairing with lamb, chicken, seafood and fish. This mild and fresh couscous recipe can't be beat!
Instructions
In a small saucepan, heat olive oil over medium heat.

Add garlic, sautéing for 2-3 minutes.

Add dry couscous, stirring to coat. Brown for 3-4 minutes or until fragrant.

Reduce heat to low and stir in White Cooking Wine, Kosher salt, lemon juice, and chicken broth, breaking up any large pieces.

Cover and let sit for 5 minutes.

Fluff with a fork while incorporating in fresh mint.

If you tried this recipe, come back and let us know how it was!
Nutrition
Calories:
81
kcal
,
Carbohydrates:
6
g
,
Protein:
1
g
,
Fat:
3
g
,
Sodium:
593
mg
,
Potassium:
158
mg
,
Fiber:
1
g
,
Vitamin A:
630
IU
,
Vitamin C:
10.5
mg
,
Calcium:
52
mg
,
Iron:
1
mg
For even more delicious recipe ideas using Holland House, make sure to follow them on Facebook and Pinterest!