Do you ever get tired of the same old condiments? Tomato Jam is about to change your life!

Tangy and sweet, tomato jam is excellent on everything from grilled cheese to deviled eggs, adding a balanced acidity that will complement a wide variety of other foods.
While Tomato Jam is simple, you need to plan on being home for at least an hour and half. Cooking time will depend on how much liquid was in your tomatoes, so it can vary greatly. It isn't a challenging recipe, just time consuming.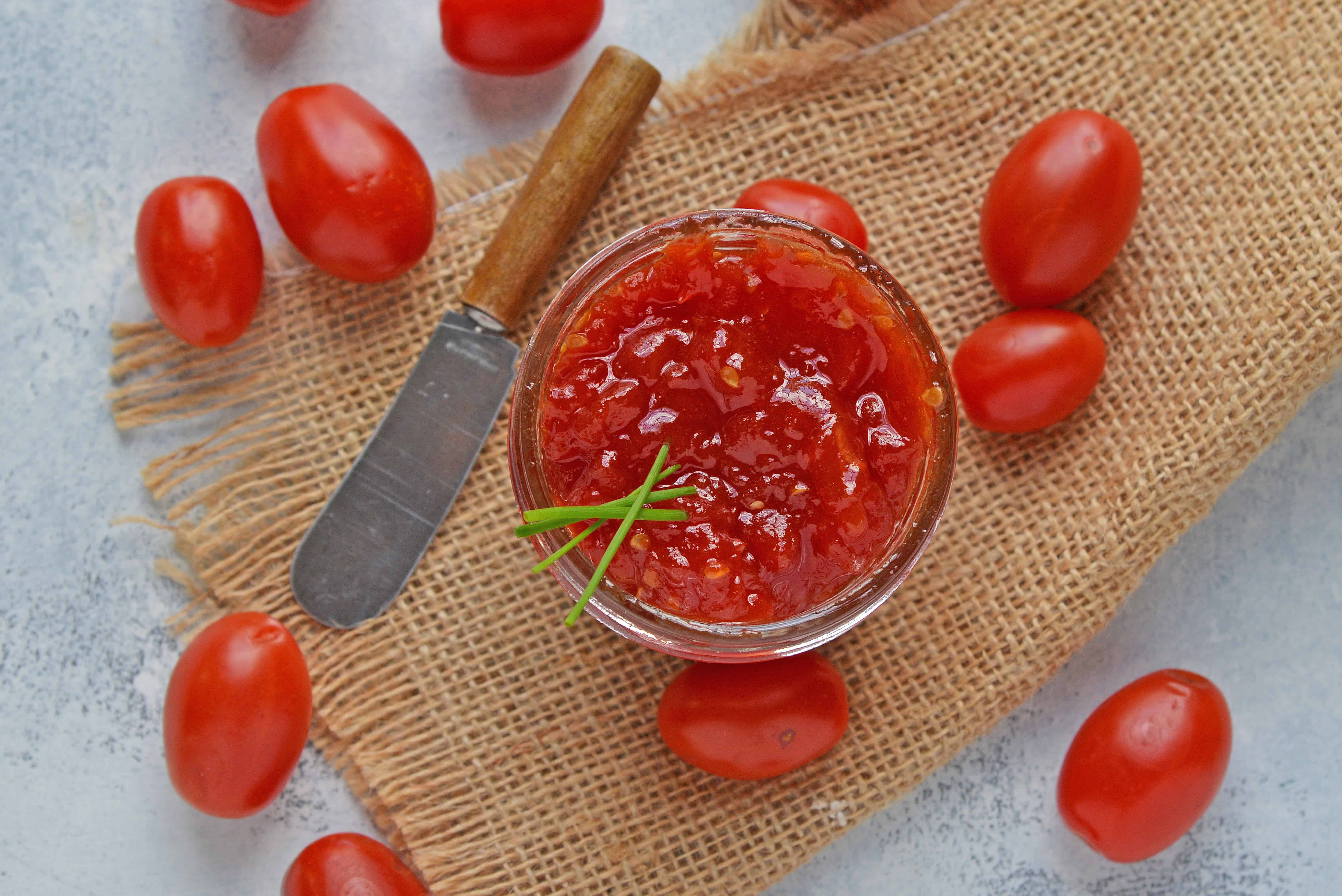 This is also not an "exact recipe", if you want a sweeter jam, add a little more sugar. Aiming for tart? Up the vinegar. And of course, I can't predict how your tomatoes will taste. Some are sweet, others a little bitter and some don't have much flavor at all.
I like using plum tomatoes because they have a mild acidity, robust flavor, and low moisture content. They are most commonly used in sauces and salsas because of these great characteristics. It also means that after adding vinegar, the jam stays sweet without getting to vinegary and it doesn't take as long to cook down.
Another variation includes adding black pepper, crushed red pepper flakes or fresh jalapeno for a sweet and spicy aftertaste. Cumin, smoked paprika and ginger are also popular. If you want a super sweet jam, substitute brown sugar for white sugar.
Tomato Bacon Jam also seems to be super popular, however I prefer to keep my Bacon Jam and Tomato Jam separate. Too many competing flavors. The point it that you have the ability to really make this Tomato Jam your own.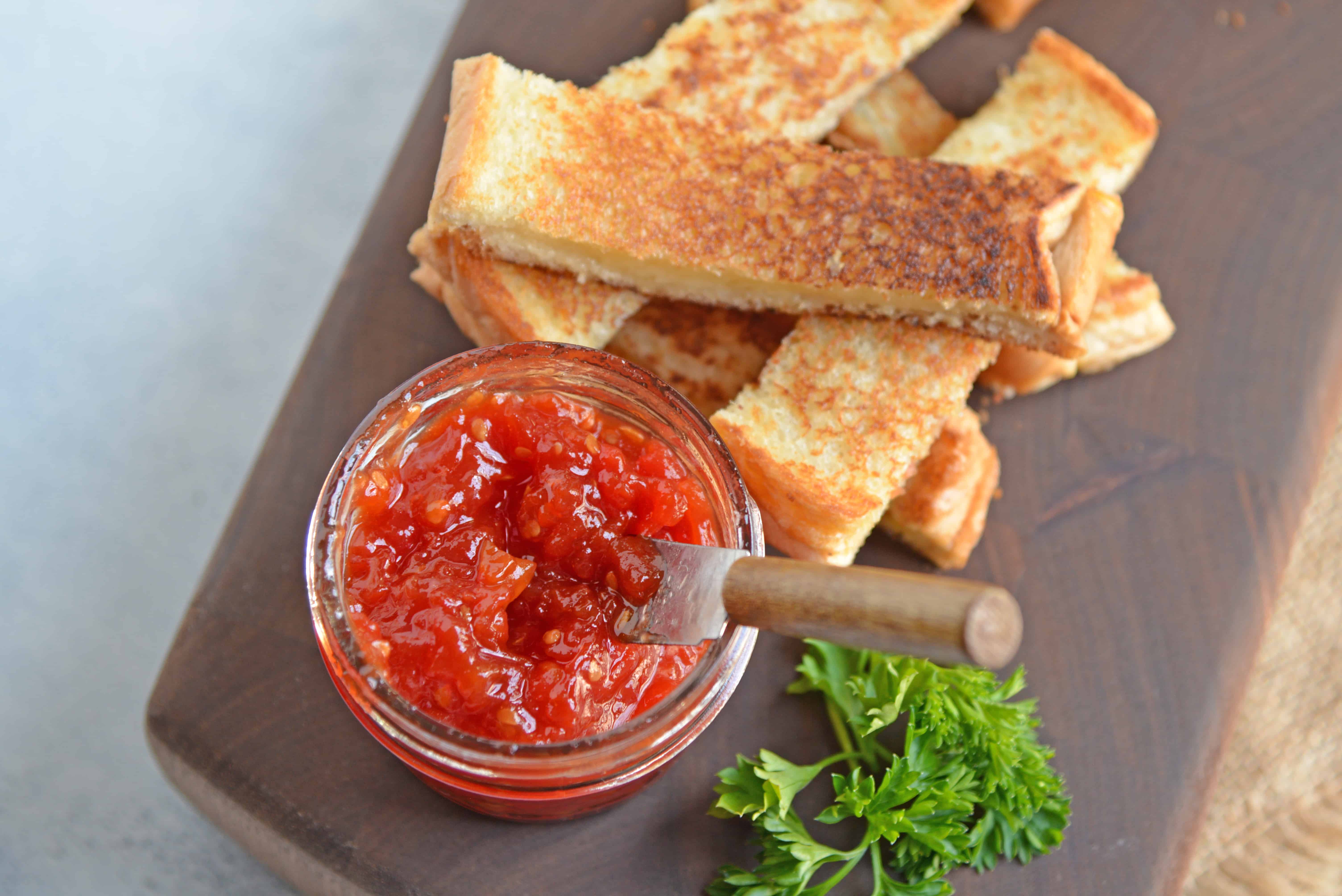 Tomato Jam is ideal for winter when tomatoes don't have as much flavor as the height of summer, but is also perfect for the end of tomato season to jar and keep tomatoes year round. It is also a fabulous homemade gift.
Tomato Jam can be canned, but I am not a canner and don't want to give out any wrong information and get someone sick. So I looked up the instructions with the canning experts, Ball. Check it out HERE!
If you don't can your tomatoes, tomato jam can be frozen. It works best in airtight plastic freezer containers due to expansion. Tomato Jam will stay fresh in referithgort for up to 2 weeks if kept in an airtight container, however let's be honest, it never seems to last that long in my house!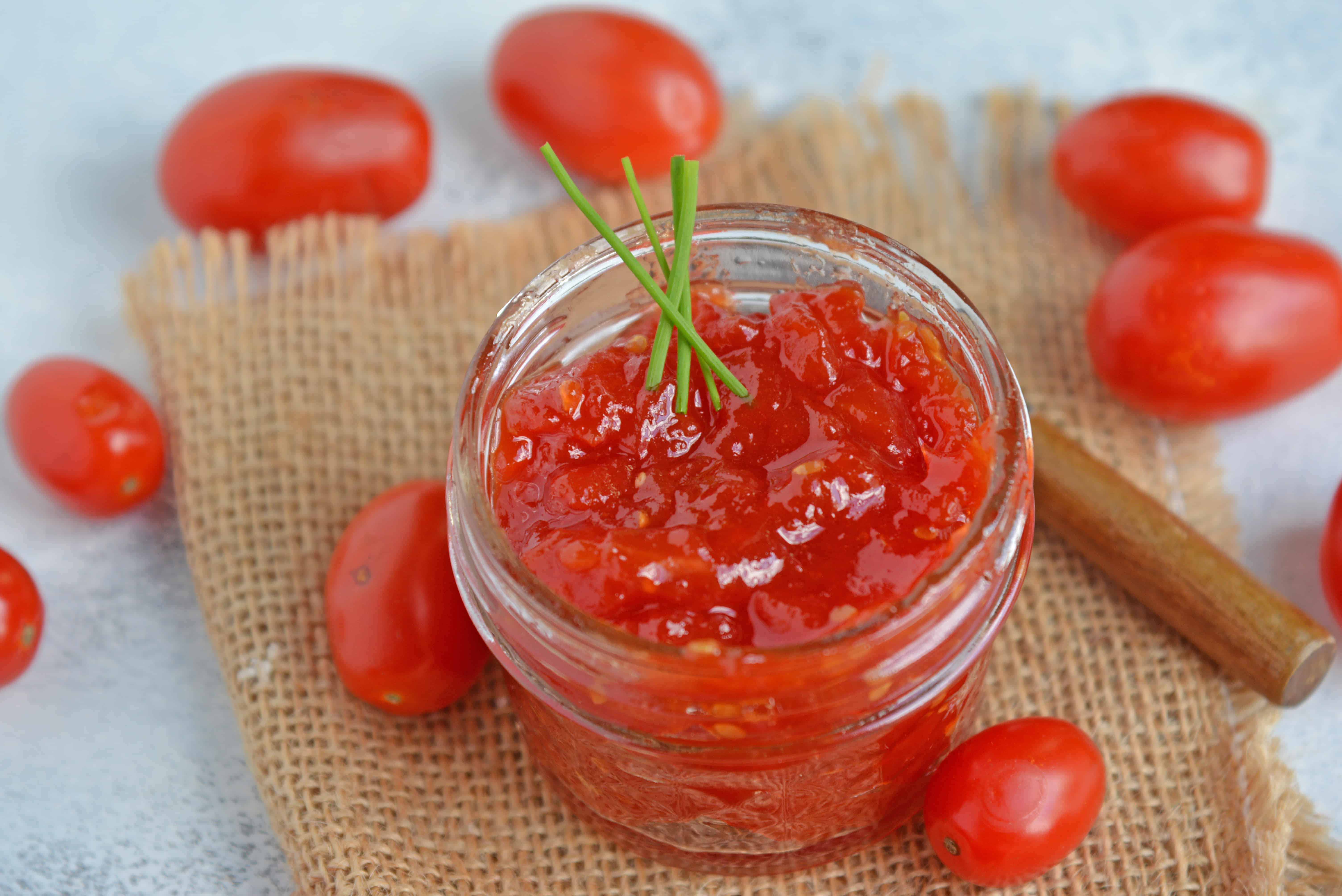 How to make Tomato Jam
How do you make tomato jam? Let me give you the quick run down.
Heat all the tomato jam ingredients including plum tomatoes, sugar, vinegar, water and salt in a medium or large pot (if you are making a double batch).
PRO TIP: Remove from heat right before it reaches the thick jammy texture. As it cools, it will continue to solidify and you run the risk of it getting too thick.
Bring to a boil over medium heat, then reduce heat and allow the natural tomato sugar to caramelize. Continue to cook until it reaches a thick jam consistency.
What do you use tomato jam on? Let me count the ways…
Condiment on burgers
Spread charcuterie board
Use instead of ketchup on anything that uses ketchup
On a BLT sandwich
Mix with avocado for a quick, sweet guacamole
Stir into soups for an extra zing
More homemade condiments:
Homemade Cherry Jam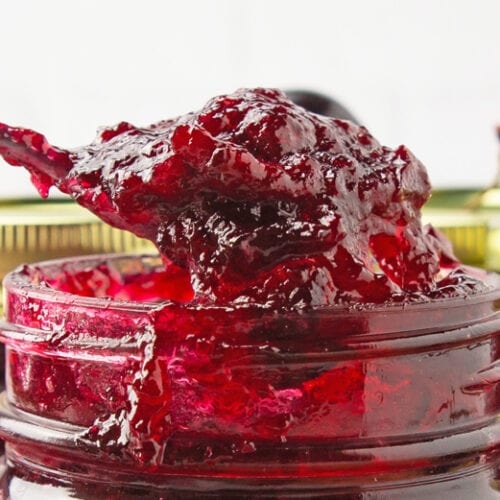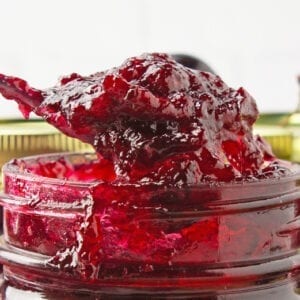 Whether you're a seasoned pro or learning how to make homemade jam, this cherry jam recipe is easy and addictive. With canning instructions included you can whip up a batch and be enjoying a vanilla infused sweet cherry jam in 45 minutes.
Homemade Butter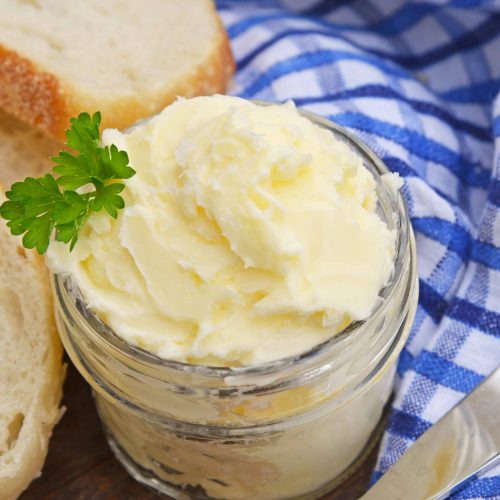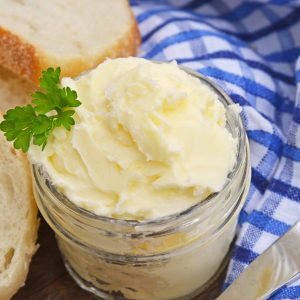 This Homemade Butter Recipe is ready in just 5 minutes using your blender, heavy cream, ice water and salt. You'll wonder why you never made butter at home before!
Tools for making the best tomato jam recipe:
Heavy Bottom Saucepan
– don't underestimate the importance of good cookware. A heavy bottom saucepan is essential regardless of whether you are cooking on gas, electric or induction. The bottoms are usually layered with different metal conductors and distribute heat better resulting less hot and cold spots, even cooking of food and less chance of scorching.
I love my All Clad
Tri Ply, but I understand this is quite expensive (it lasts FOREVER), I also like the KitchenAid saucepan
. If you are in the market for a whole new set, the All Clad set
is expensive, yes, but well worth the money and you'll never have to buy a pan again.
Wooden Spoons
– Ideal for mixing sticky concoctions and also for preventing nicks and scratches on your previous metal pots and pan. I buy them in bulk and just throw them away when they start to getting yucky. Don't let them sit in water and hand wish only for the longest life!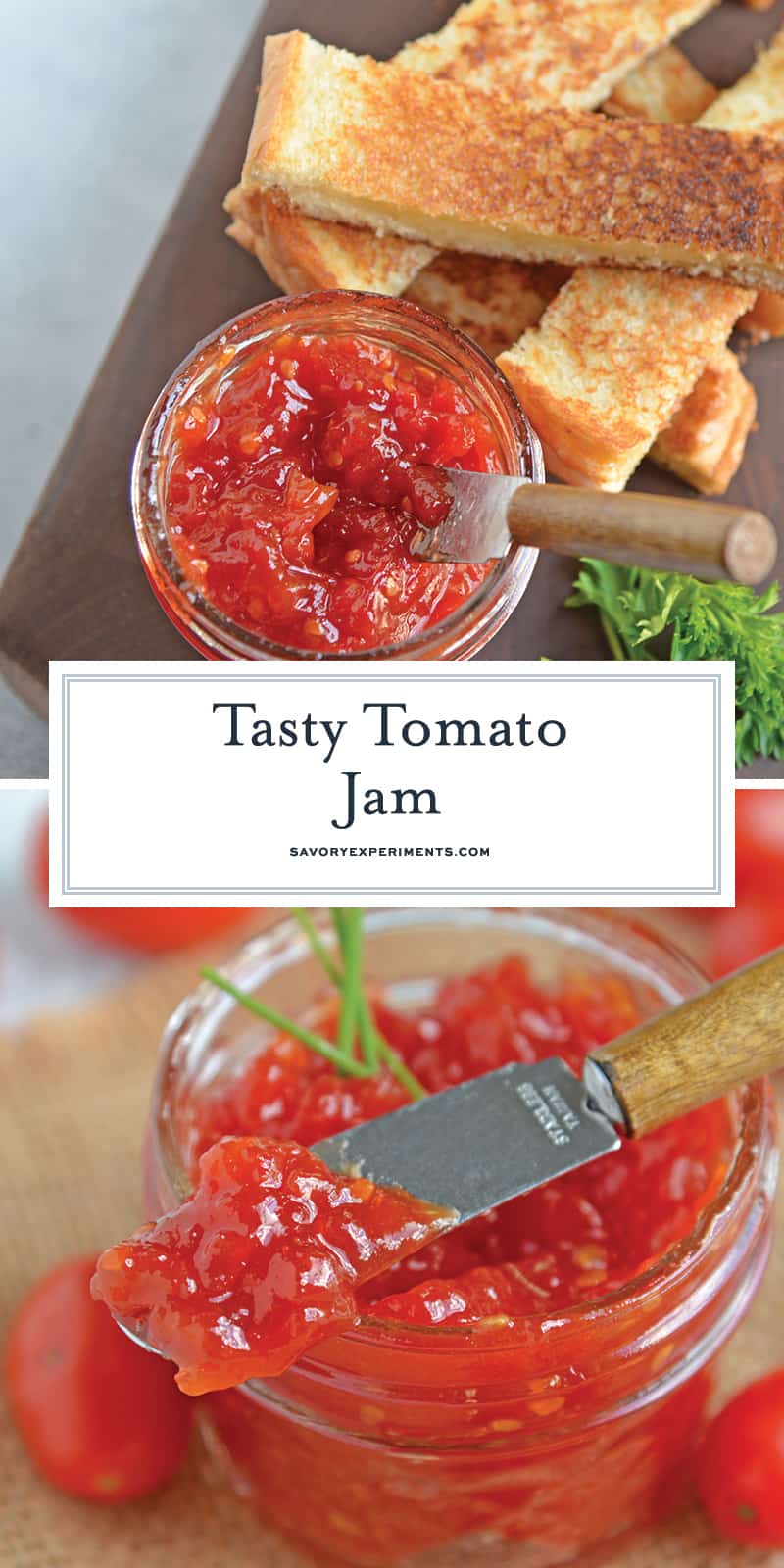 Questions about how to make tomato jam:
Other than plum tomatoes (roma tomatoes) what kind of tomato can I use to make tomato jam? Grape tomatoes would be the next best bet. You can also green tomatoes and make green tomato jam, another family favorite!
What can I substitute for vinegar in tomato jam? Lemon juice is the next best bet for an acidic element in jam. If you are looking for a lemony element you know also add a little lemon zest.
What if my tomato jam is too thick? Reheat tomato jam in a small saucepan or in the microwave for about 30 seconds, stir in additional water slowly until it reaches the correct texture.
Refrigerated tomato jam will be thick and sticky anyhow. Allow it to come to room temperature before evaluating whether it needs to be thinned.
What is my tomato jam is too runny? Chances are you probably didn't cook it long enough to let the water evaporate. Continue to let it cook over very low heat.
Keep in mind that it will continue to solidify after you take it off the heating element, so remove it right before you think it reached the correct texture.
Tangy and sweet, tomato jam is excellent on everything from grilled cheese to deviled eggs, hamburgers and charcuterie boards. Click to Tweet
---
---
Tomato Jam
Tangy and sweet, tomato jam is excellent on everything from grilled cheese to deviled eggs, adding a balanced acidity that will complement a wide variety of other foods.
Instructions
Combine all ingredients in a small sauce pan. Heat over low heat, stirring every so often, for 60-90 minutes. Tomato jam is ready when liquid has evaporated and tomatoes are sticky.

If you've tried this recipe, come back and let us know how it was!
Notes
This recipe is more simple, but will have splinters of tomato skin. If you wish to have no skin, dip whole tomatoes in boiling water for 30 seconds, transferring to an ice bath immediately. Skins should peel easily.
Nutrition
Calories:
362
kcal
|
Carbohydrates:
85
g
|
Protein:
4
g
|
Sodium:
31
mg
|
Potassium:
1175
mg
|
Fiber:
5
g
|
Sugar:
79
g
|
Vitamin A:
4130
IU
|
Vitamin C:
68
mg
|
Calcium:
50
mg
|
Iron:
1.3
mg