When it comes to non boring side dishes, I have a secret weapon: Red Bean Salad! Easy to make with pantry staples, and great for a weeknight dinner or potluck!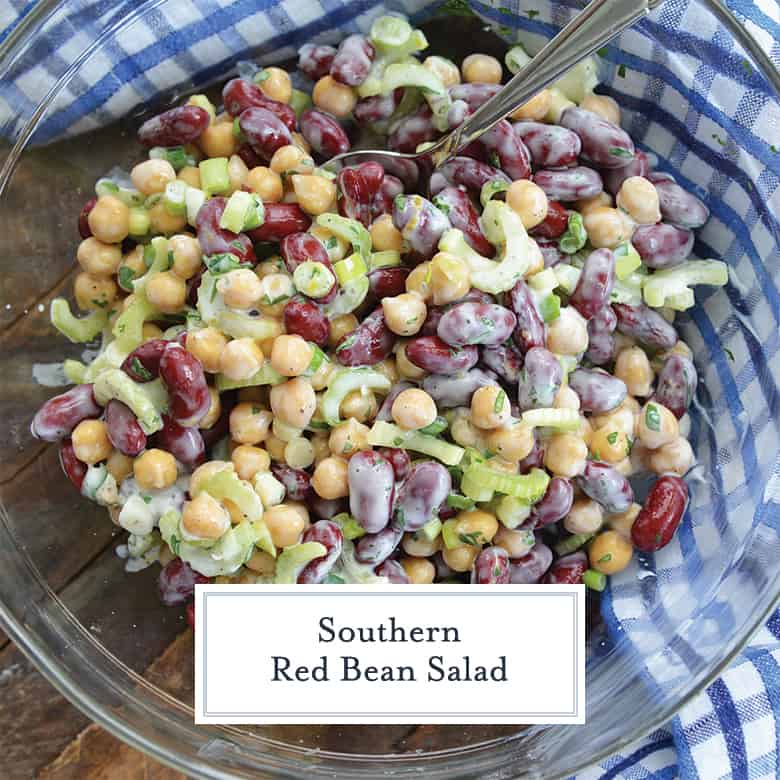 Red Bean Salad is dish that came about in the 1950s and is historically southern. It is easy to make and requires little time to assemble. It can be served chilled or room temperature so it is perfect for bringing to outside events.
I have made a few adaptations over the years to make it lighter and also just use what I have on hand. This recipe, as written, is my favorite version.
Red Bean Salad Ingredients
Red Kidney Beans– The original recipe calls for ALL red kidney beans, hence the name. I switched up and use two varieties.
Chickpeas– Chickpeas are also called garbanzo beans or in Italian food, sometimes chi-chi beans. There is a broad range for the texture of canned chick peas, so taste test brands before finding one you like.
You are looking for beans that are easily smashable between two fingers and have a buttery texture opposed to hard or grainy. Do your research, it is worth it!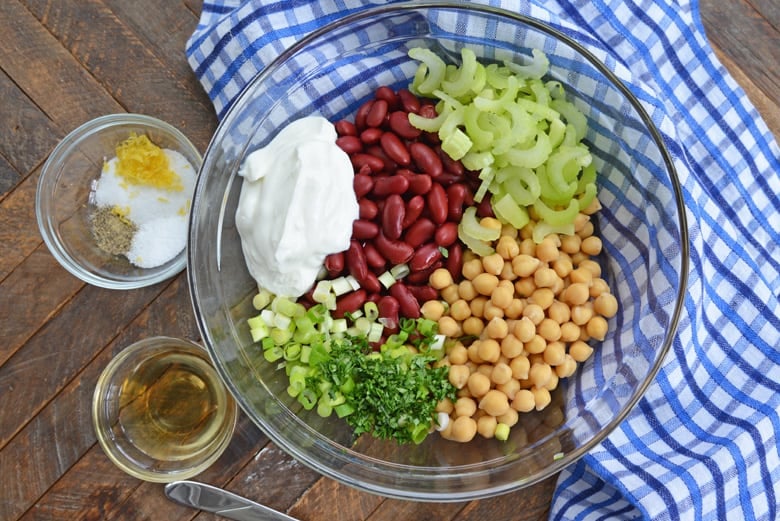 Scallions/Green Onions- I like the color these provide, but you can also use chives or minced red onion or sweet onion. You'll want the bits to be really small.
Celery- Adds crunch and flavor. Celery juice will adds flavor to the yogurt. YUM!
Plain Greek Yogurt- This used to be mayonnaise, but it was thick and I didn't like the idea of leaving a raw egg product out on a table at a BBQ, so I changed my Red Bean Salad recipe to have plain Greek yogurt and I actually like it better!
Apple Cider Vinegar– This is an acid and adds a little bite to the mix.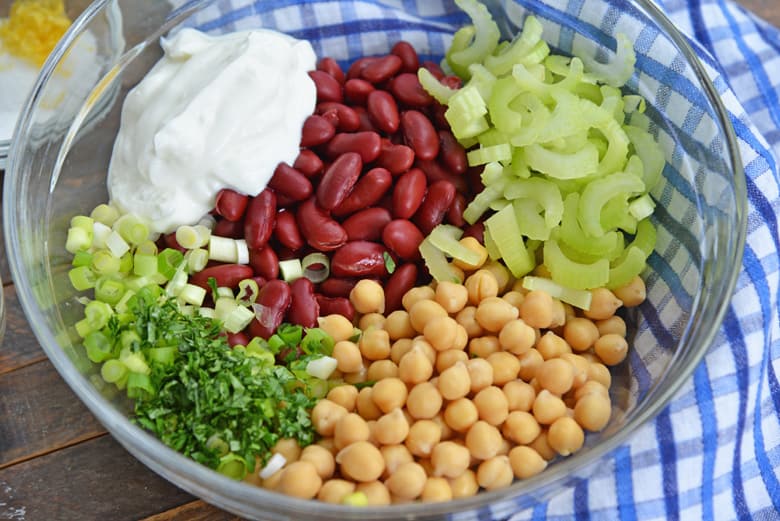 Lemon Zest– I like using zest opposed to juice because it won't thin out the yogurt. You can omit zest if you don't have any fresh lemons.
Sugar– Sugar balances the acids and gives a slightly sweet aftertaste. This too can be omitted, but helps make the dish a little more sophsiticated in the flavor profile.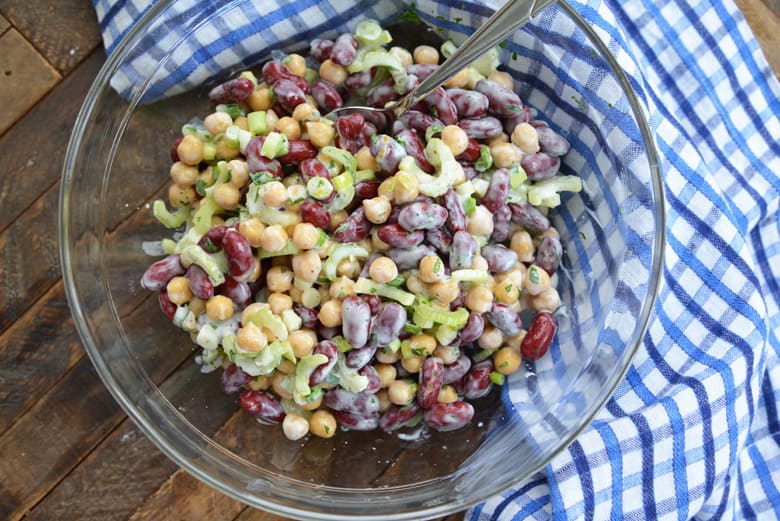 Parsley– Use a flat leaf Italian parsley opposed to curly parsley. Curly is best for garnishes, doesn't have as much flavor and is harder to chew due to texture. Flat leaf gives more flavor and is easier to chew.
Seasoning– Coarse sea salt and freshly ground black pepper are all you need! I like using a coarse salt because they add a milder salty flavor. Do not use iodized salt, as it will taste metallic. If you use a fine sea salt, halve the amount to just 1/2 teaspoon.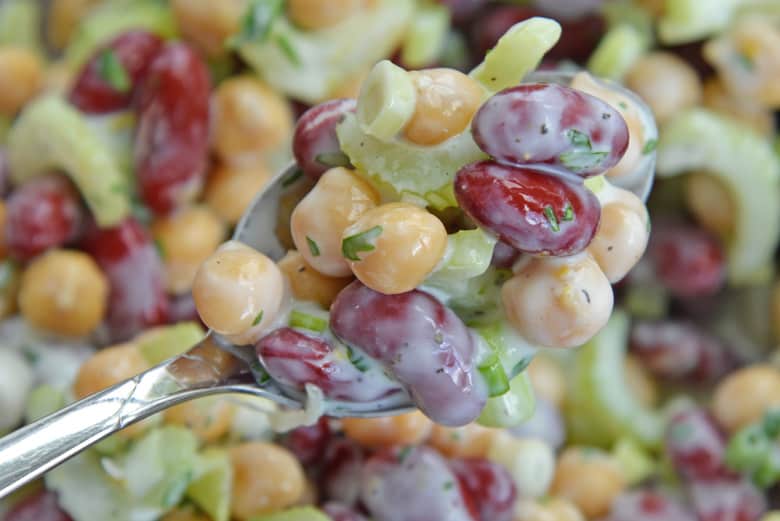 Freshly ground pepper always has more flavor than pre-ground. Both are acceptable.
How to Make Red Bean Salad
It is easy! Simply rinse and drain your beans, chop the fresh ingredients and toss together! The biggest piece of advice I can give you is to make sure your beans are DRY.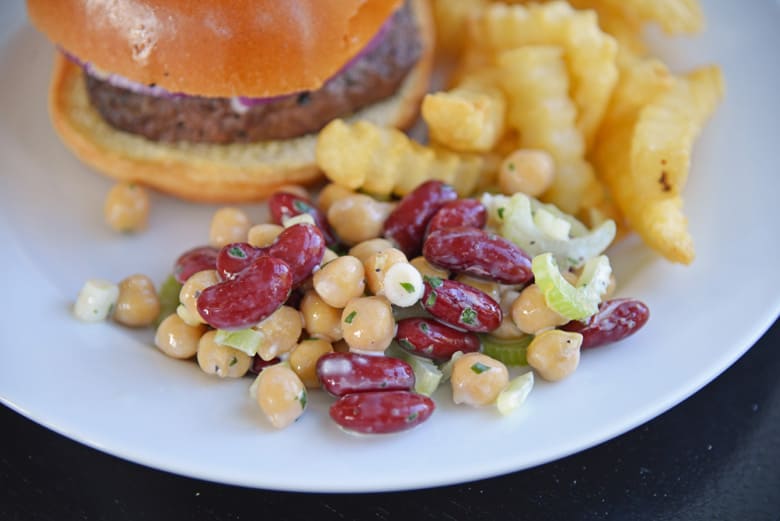 Rinse them and drain them. Put then in the fridge to dry fully before adding to the mix if you have time. If not, roll on some paper towels. If they have too much water, it will thin out the yogurt and it won't stick to the beans.
You'll want to make it at least 1 hour in advance to allow the flavors to marry and marinate. Toss to freshen up the mix before serving.
Red bean salad will stay good in the fridge for about 5 days. It can sit at room temperature for 2 hours, according to the CDC. But I do not recommend freezing it.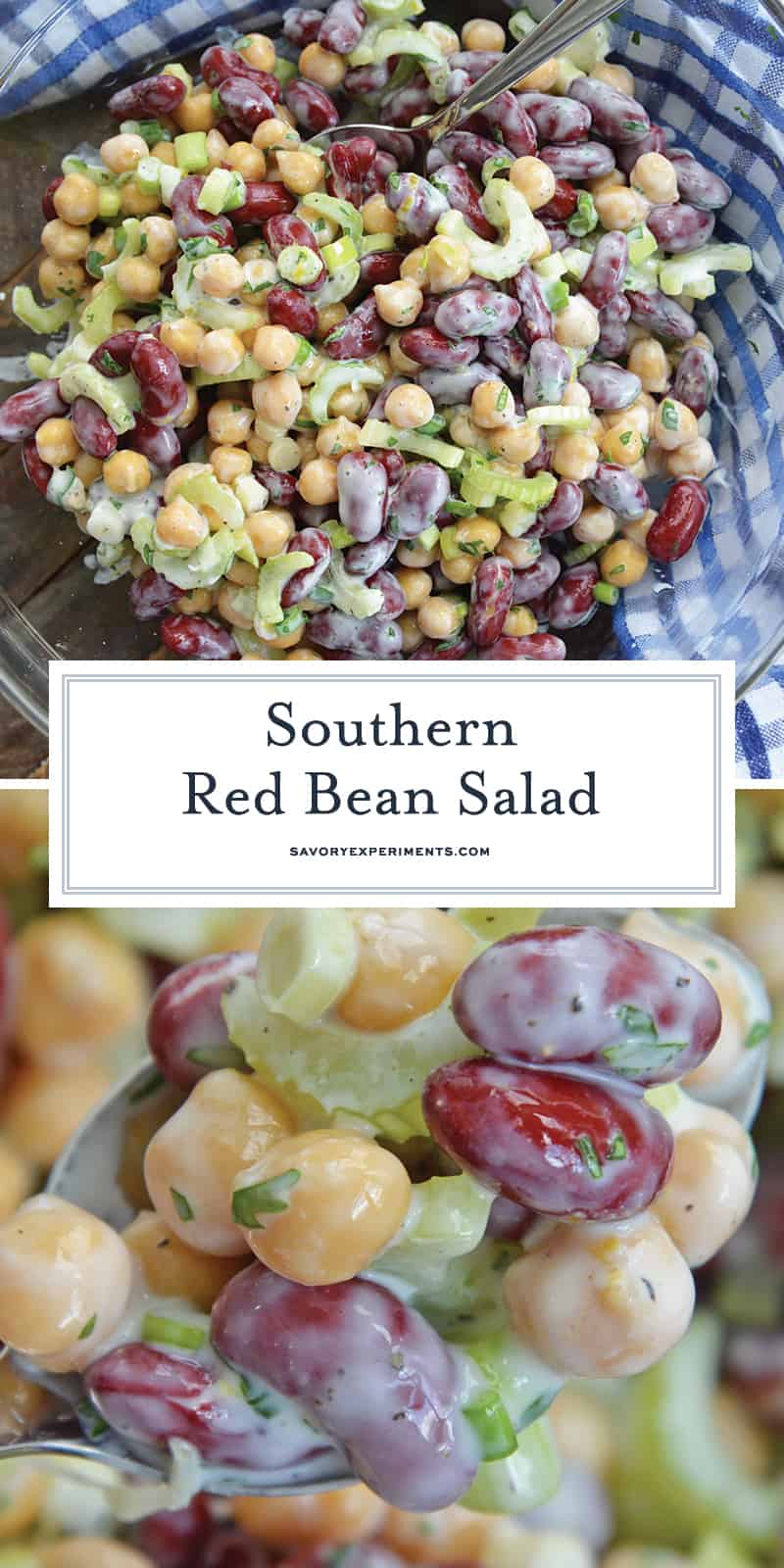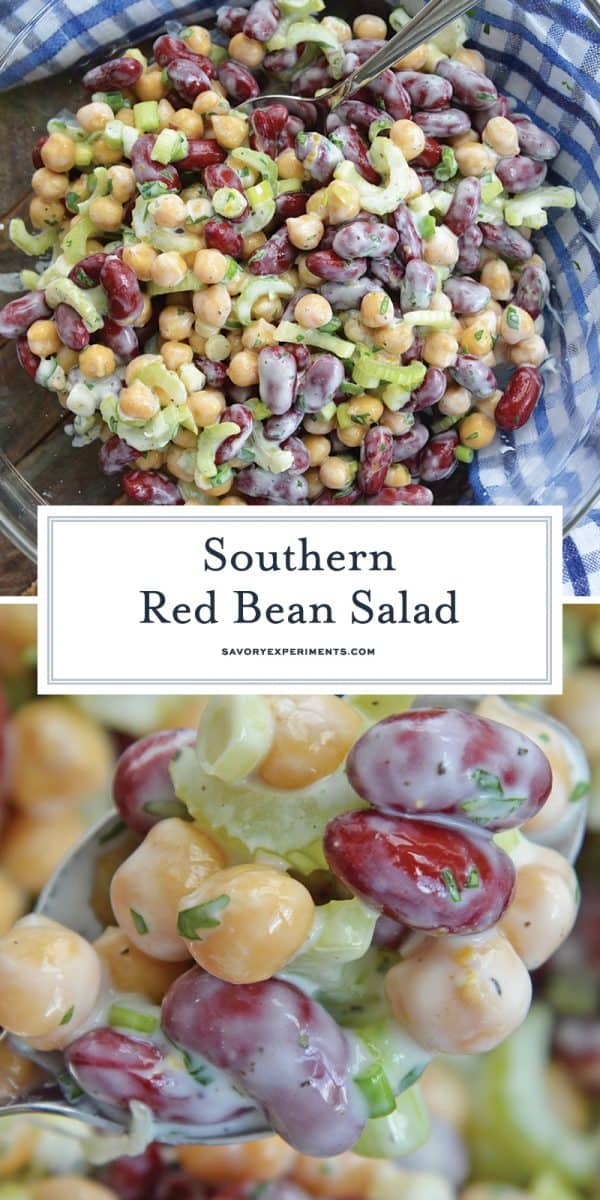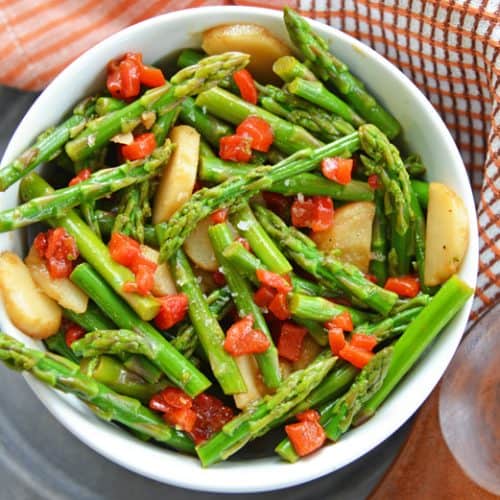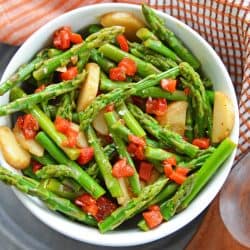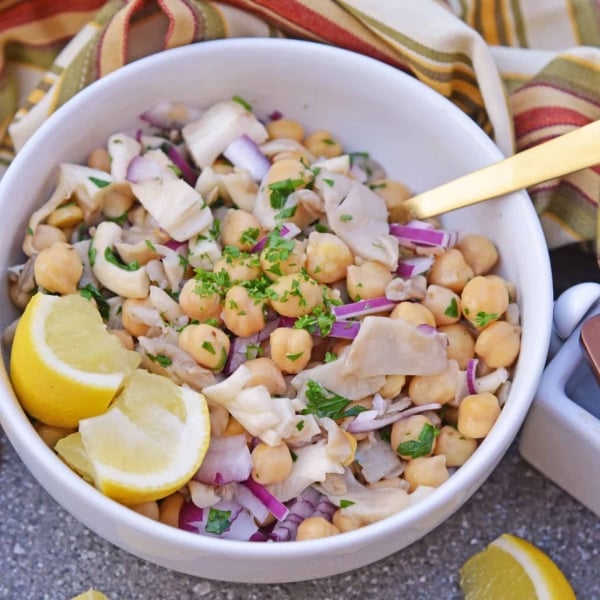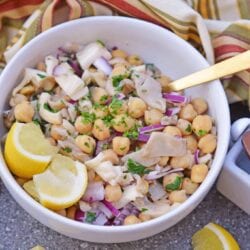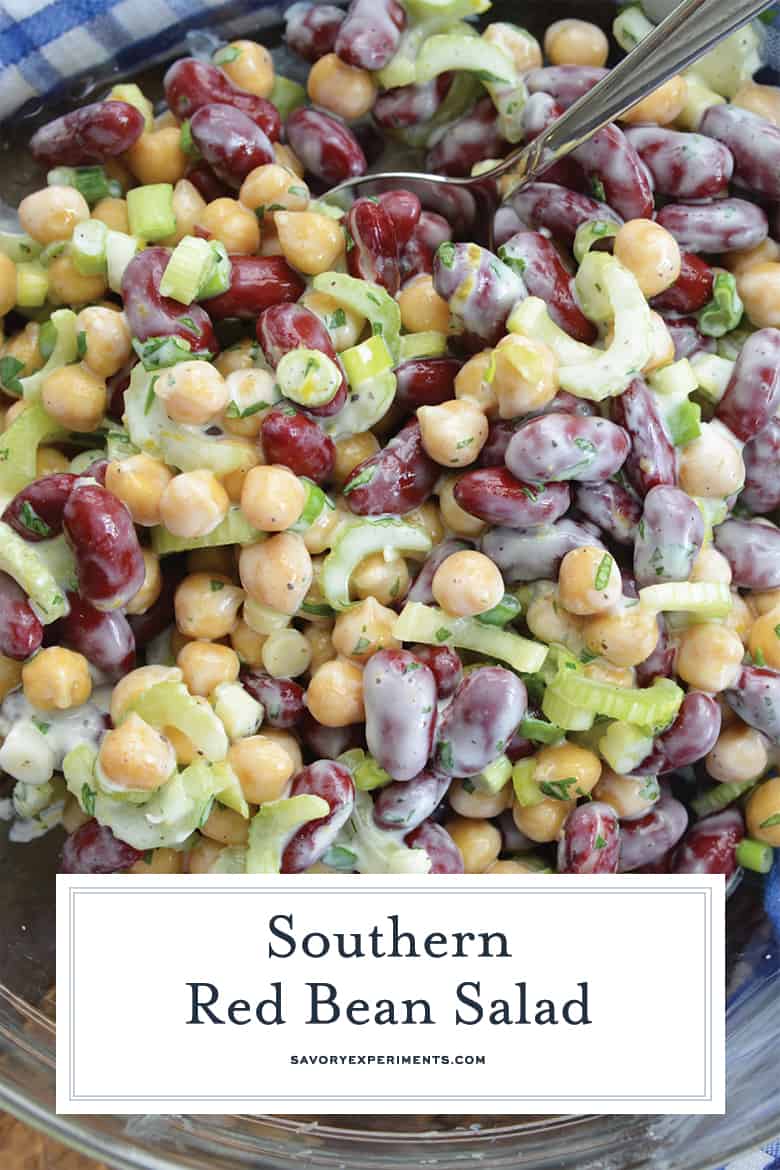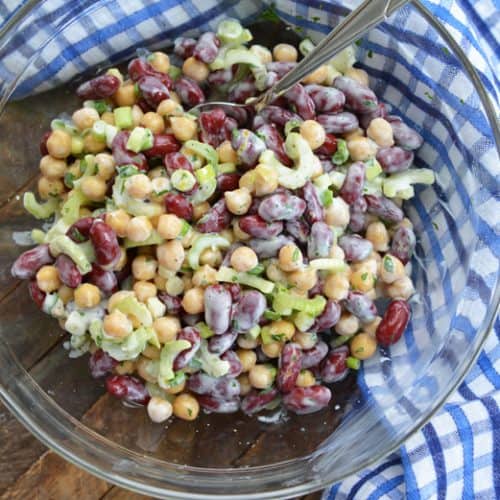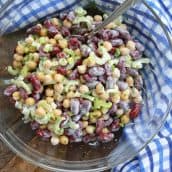 Red Bean Salad
Looking for a non boring side dish? Check out this Red Bean Salad recipe! EASY to make with pantry staples, and great for a weeknight dinner or potluck!
Instructions
Make sure your wet and rinsed ingredients are dry before using.

In a medium mixing bowl, whisk together Greek yogurt, apple cider vinegar, lemon zest, sugar, parsley and salt and pepper.

Add drained and dried kidney beans and chickpeas, scallions and celery. Toss to combine.

Cover and refrigerate for 1 hour or up to 24 hours.

Toss to combine before serving chilled or at room temperature.

If you've tried this recipe, come back and let us know how it was!
Nutrition
Calories:
111
kcal
,
Carbohydrates:
18
g
,
Protein:
7
g
,
Fat:
1
g
,
Saturated Fat:
1
g
,
Cholesterol:
1
mg
,
Sodium:
602
mg
,
Potassium:
291
mg
,
Fiber:
6
g
,
Sugar:
3
g
,
Vitamin A:
163
IU
,
Vitamin C:
3
mg
,
Calcium:
58
mg
,
Iron:
1
mg