Have you ever wondered how to make garlic butter? Well, I've got you covered with something even better – Herbed Brandy Garlic Butter!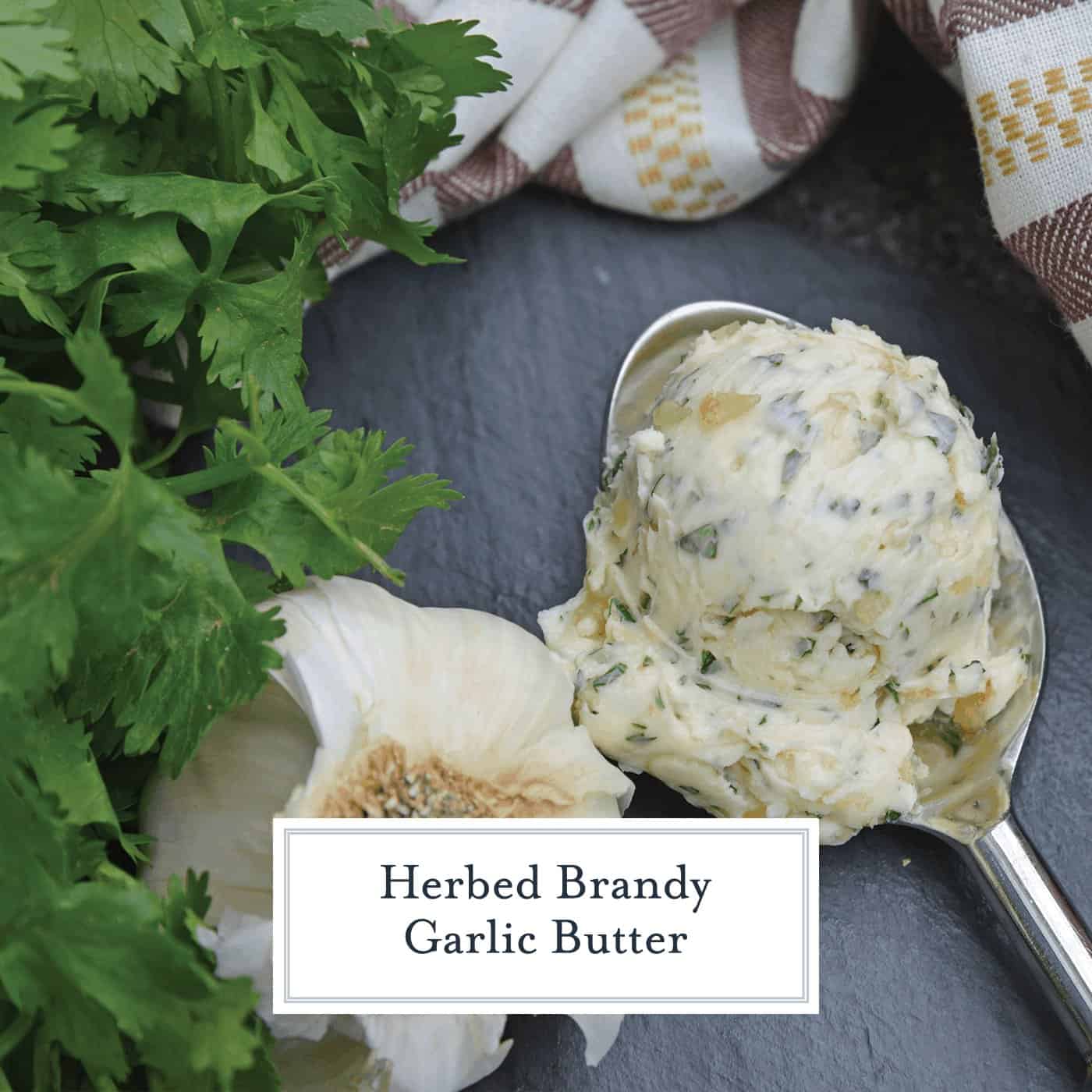 Brandy Garlic Butter is the only garlic butter recipe you'll ever need! It tastes SO good on steak!
Garlic butter steak is one of my favorite dishes to make when I want to have friends over for a nice meal or I want to make myself a special, slightly-fancier-than-normal dinner….even though (spoiler alert) garlic butter steak is much easier to make than you may think.
When it comes to making garlic butter steak, the most important thing is not getting the most expensive cut of steak – the most important thing is the garlic butter.
I love butter. Have I told you that before?
That's why you'll never find me using anything but homemade garlic butter – in particular, this Brandy Garlic Butter.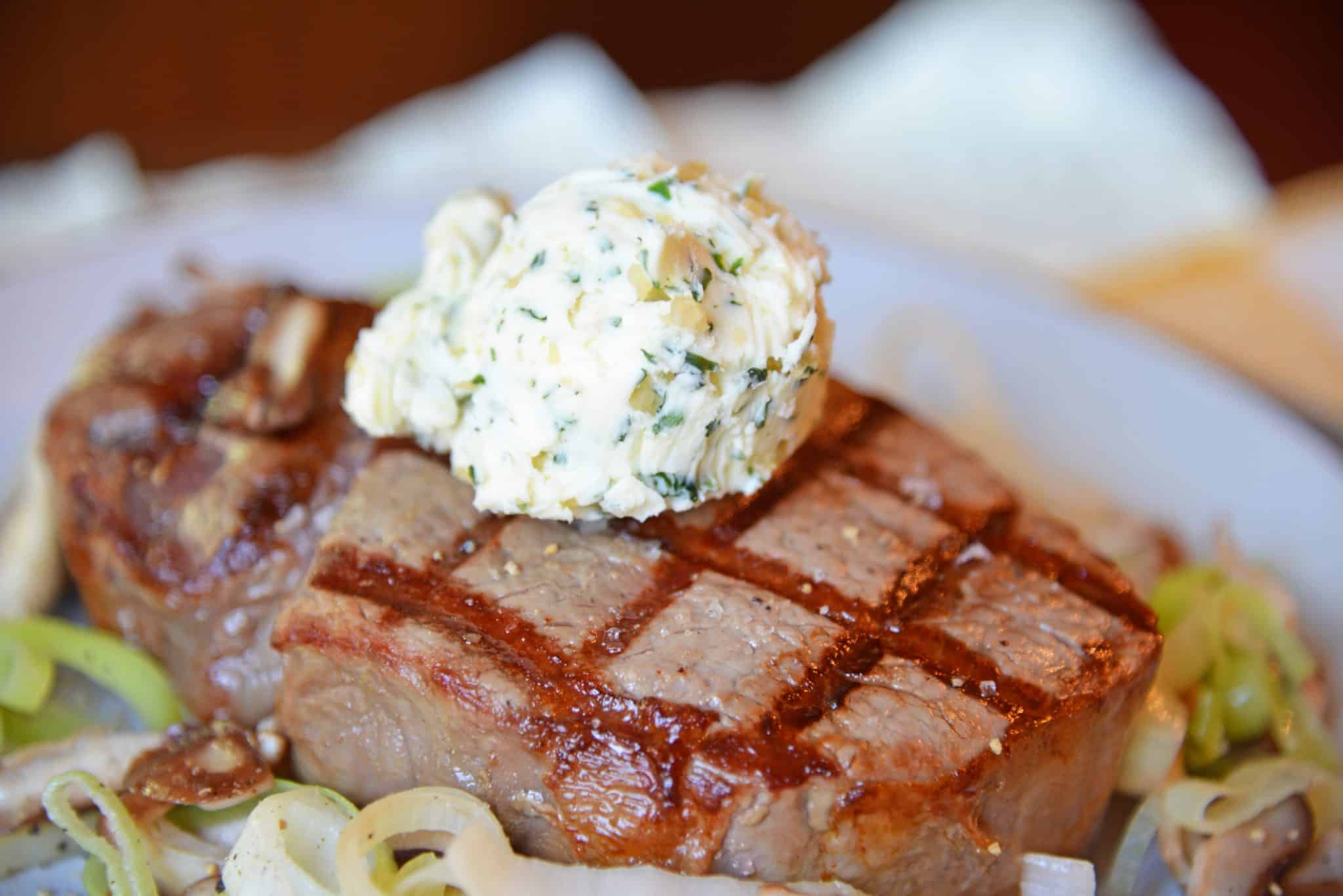 Luckily, making homemade garlic butter is simple and only takes a few ingredients and a few minutes of prep. I add brandy for extra flavor and even a small amount spikes the butter enough to taste.
PRO TIP: Cover butter with plastic wrap or another plastic material, as butter takes on many flavors, it can taste metallic if you use aluminum foil or place it in an aluminum bowl.
Compound butters are an easy way to add loads of flavor to any dish. Depending on the ingredients, they also look fancy. Compound butter is just a fancy word for flavored butter.
Note that since the brandy does not get cooked, this is not a suitable garlic butter recipe to serve to anyone who doesn't drink alcohol, children or pregnant women.
You can always leave out the brandy and still have a delicious parsley garlic butter, which is basically a Maitre d'Hotel Butter.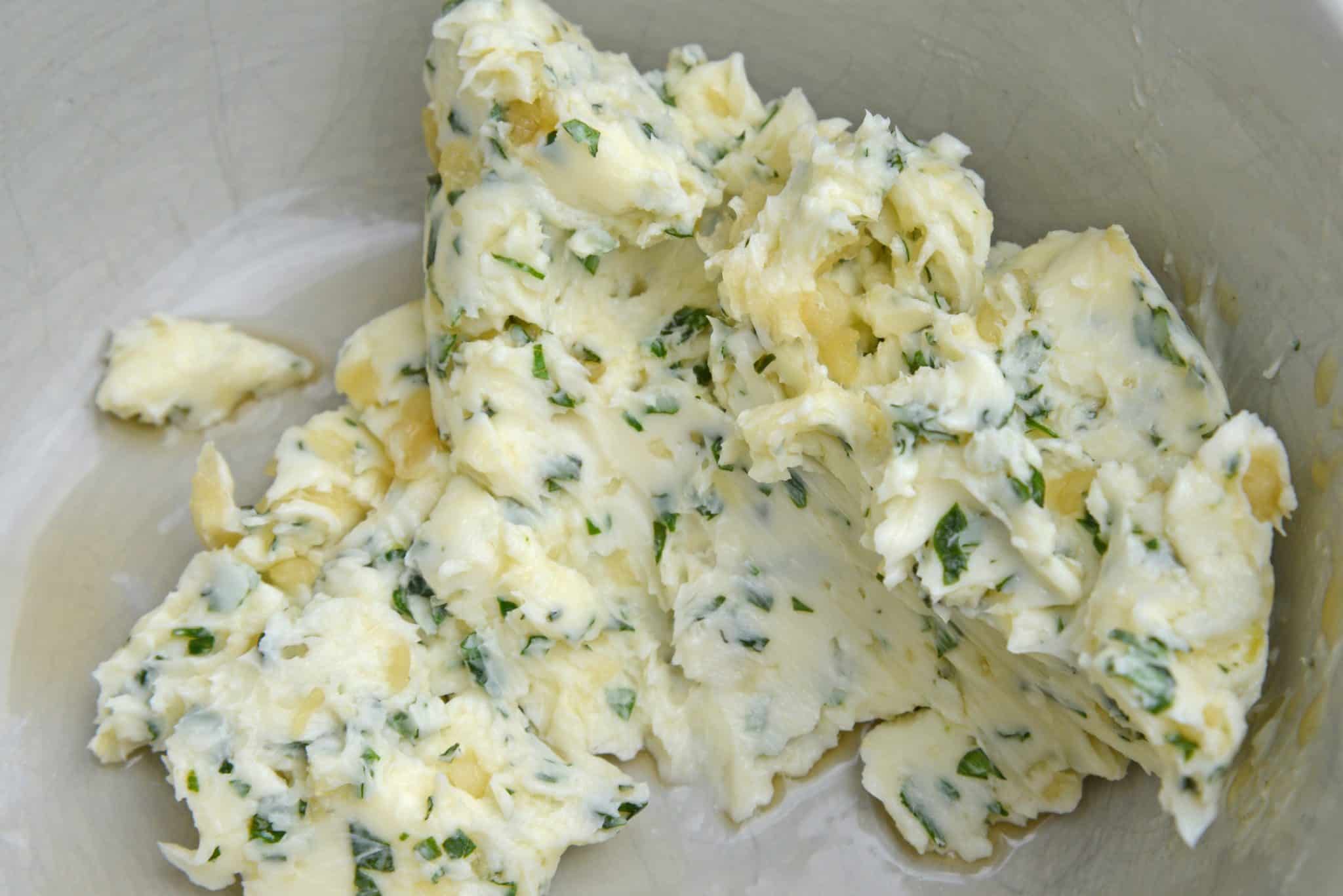 While I obviously find this steak butter to be drool-worthy on top of steak, you can use it on so many other things too. Homemade garlic bread or used instead of regular butter on mashed potatoes or vegetables for pizzazz.
PRO TIP: Use fresh garlic whenever possible. Bottled garlic is sweeter and doesn't have the same flavor profile as fresh garlic.
Garlic also happens to be one of my favorite ingredients, so naturally they just go together. Minced garlic can be a pain or one extra step, so you can also use a garlic press or mini food processor.
I LOVE GARLIC!!!!
Did you know that not all butter is created equal and is graded based on several factors? Grades of butter are established and awarded by the United States Department of Agriculture (USDA).
All butter sold in the United States must contain a minimum of 80% milkfat, the white, frothy stuff that comes up when it is heated. Grades, ranging from the best grade AA to grade B, are based on flavor, body, color and salt and water content.
PRO TIP: For compound butters with heavy flavors, you can use a top grade or middle grade. It depends on how much you like your guests. LOL.
For just bread and butter, or something where the dish is butter-forward with uncooked butter, splurge for the AA grade. If you plan to mix it, clarify it or use it minimally, opt for a lower grade. I keep 3 types of butter in my house.
The good stuff for bread, toast and bagels. It is typically already salted. A middle grade for basic cooking, also usually salted. And unsalted middle grade for baking.
PRO TIP: Compound butters work best when room temperature. It makes them easier to mash. And if you don't feel like hand mashing, use a food processor.
Unless I am making a butter cake, butter cookies or something else that it butter-forward, a middle grade works best. Unsalted is best for baking because it won't dry things out and allows you to control the saltiness of the dish.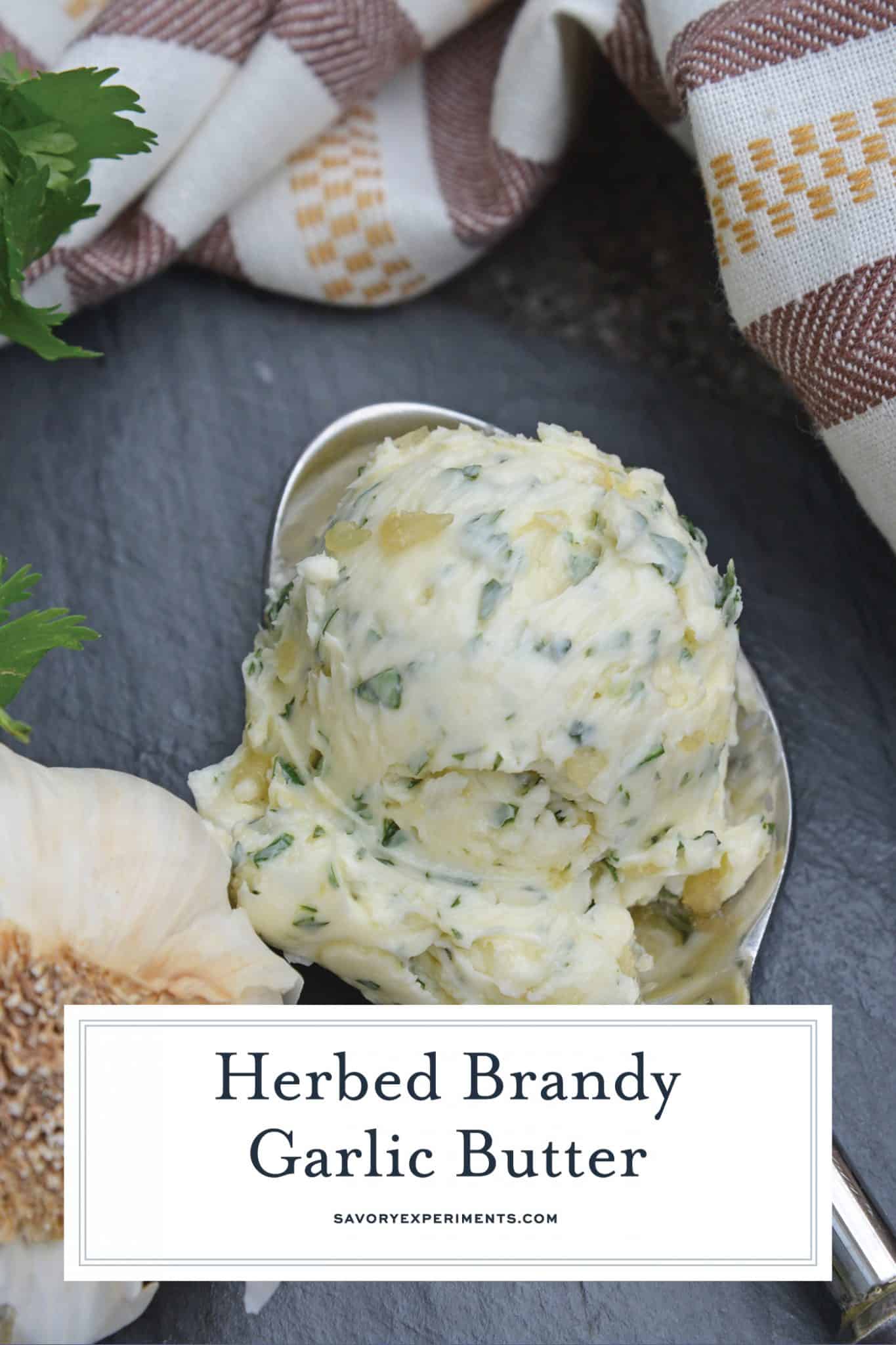 Since you like this homemade butter recipe, you may also like these other easy recipes with garlic: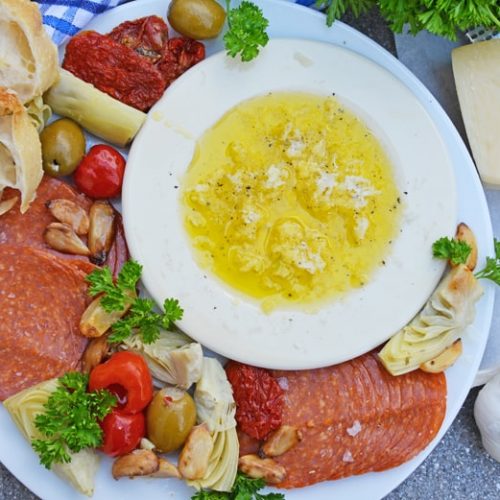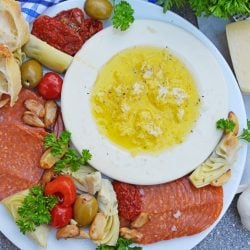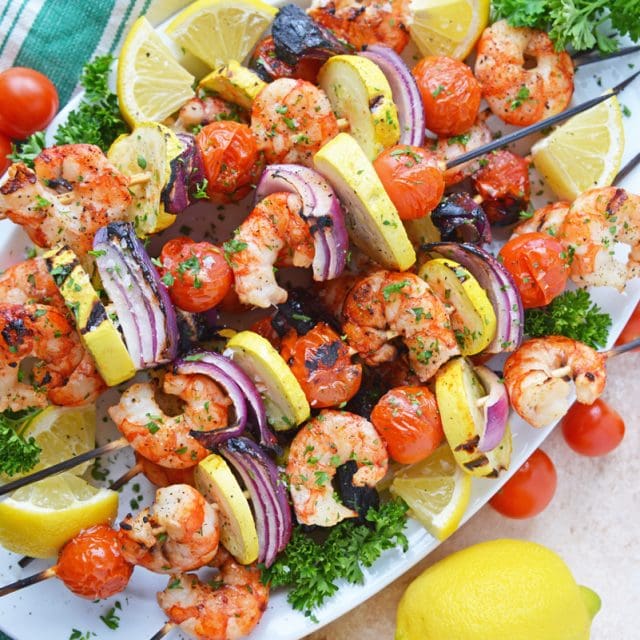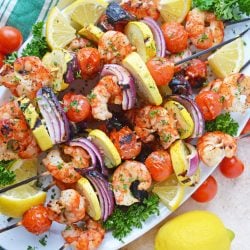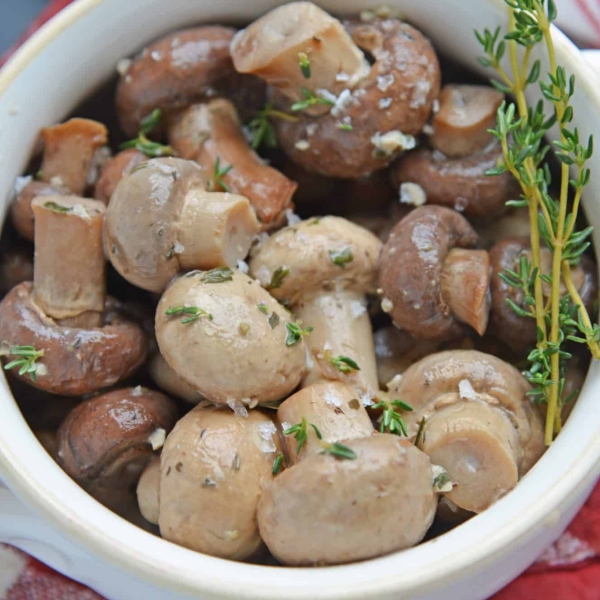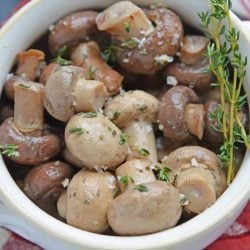 Tools for making Steak Butter:
Wood cutting board – wood won't dull your knives like plastic and if treated properly, has natural antimicrobial properties.
Good knife – Global is my favorite! They are worth the price, I promise. I am kind of obsessed with them and store them tucked away so no one else can use them. Including hubby. Hands off my good stuff!
Garlic Press- Get the most flavor out of garlic by using a press.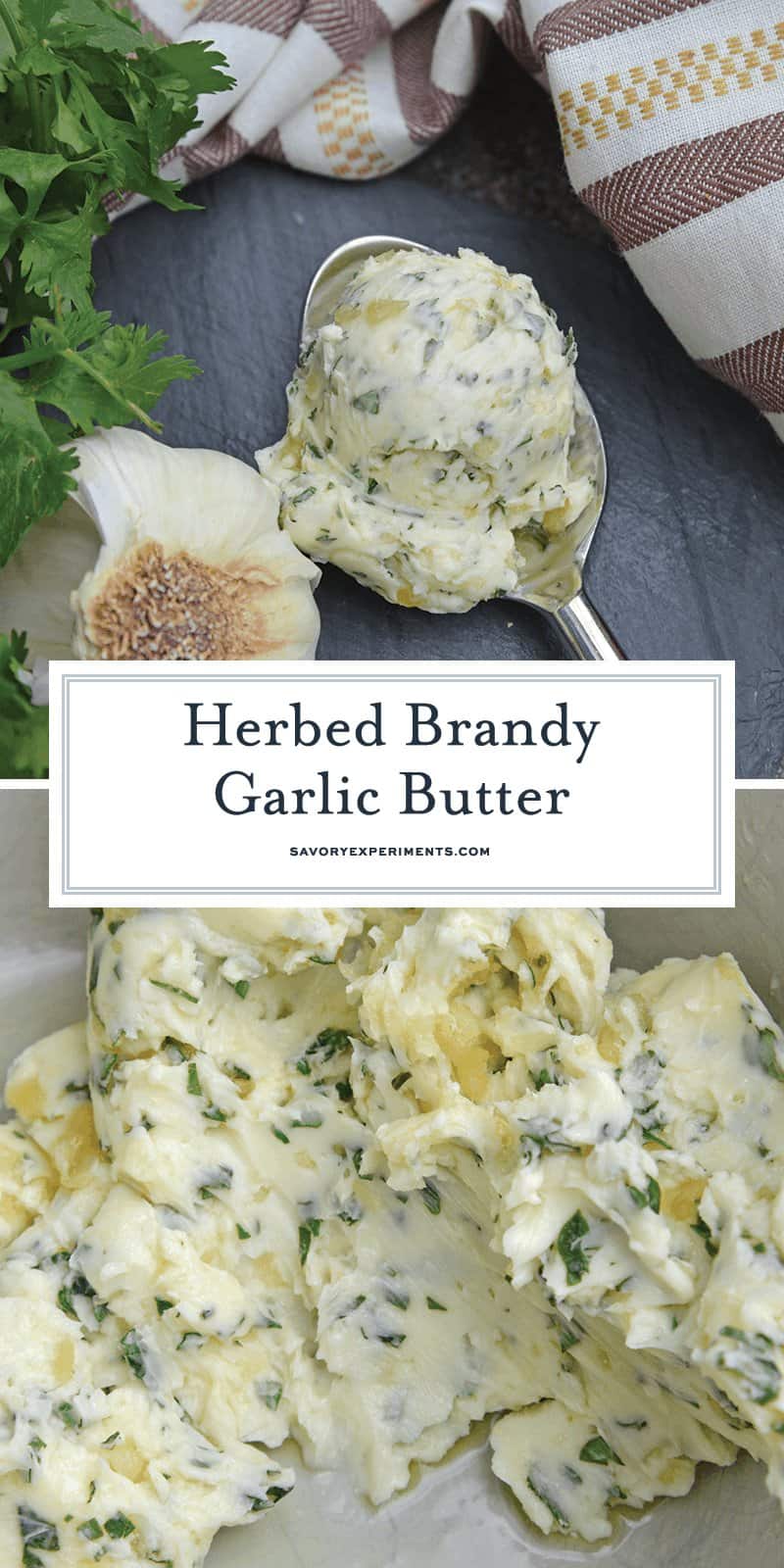 Questions you might have about how to make garlic butter:
Can I make compound butter in advance? Yes! By all means. In fact, it tastes best when made at least a few hours in advance so the flavors have time to marry. You can make it up to 5 days in advance.
How long does it last for? I like to keep my compound butters for up to 1 week. While it is just regular butter, which would last for longer, after blending it you've now exposed it to other bacteria that could lurk or grow.
And if you've made homemade butter, it doesn't contain the same amount of preservatives.
Can I use store bought butter instead of homemade butter? Store bought butter is fine and will cut out a small amount of time. Be mindful that not all butters are created equal and are often graded.
I prefer European butters, milky and creamy, the cows are fed different grains leaving the butter a deeper, rich yellow hue. These typically have less water content for richer flavor.
Can I freeze garlic butter? Yes, you can freeze butter. Wrap butter tightly in heavy-duty aluminum foil or plastic freezer wrap, then put it in a freezer bag, squeezing out as much air as possible.
Frozen salted butter will keep for up to 12 months, unsalted butter for about 6 months. Keep in mind these times are for a deep freezer. Anything placed in a freezer unit that is opened frequently, like the everyday fridge in the kitchen, will cut the amount of time they are good for in half.
Can I omit the brandy? Sure- you'll just have garlic butter, but there is no shame in that!
Can I use garlic powder instead of fresh garlic? Garlic and brandy really define this butter, so I highly recommend using fresh.
Are there other flavors that pair well? Salt and pepper, obviously, especially if the butter is unsalted, you'll want to further season with salt. Parmesan cheese, lemon juice or lemon zest and a dash of smoked paprika are all other great flavor pairing.
Make sure to check out all of our 19+ compound butters!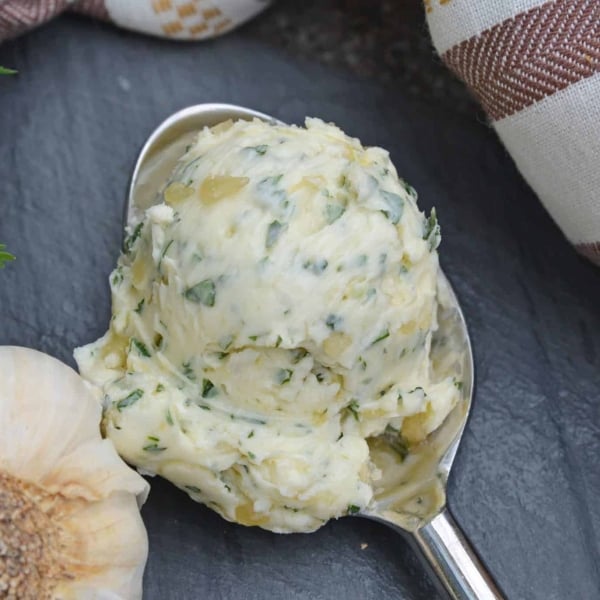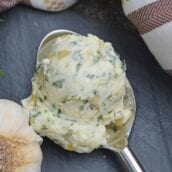 Brandy Garlic Butter Recipe
Brandy Garlic Butter is the best homemade garlic butter ever! Easy to make and SO yummy on garlic butter steak!
Ingredients
6

tablespoons

salted butter

3

tablespoons

freshly parsley

, chopped

2

cloves

garlic

, finely minced

1 1/2

tablespoons

brandy
Instructions
In a small bowl, combine butter, parsley, garlic and brandy.

Using a fork, mash together until well combined.

Place in the refrigerator until ready to serve.

If you've tried this recipe, please come back and give us a rating!
Nutrition
Calories:
110
kcal
,
Fat:
11
g
,
Saturated Fat:
7
g
,
Cholesterol:
30
mg
,
Sodium:
100
mg
,
Vitamin A:
350
IU
,
Vitamin C:
0.3
mg
,
Calcium:
5
mg