Chimichurri Lemon Mahi Mahi is a great recipe to make any day of the week. Don't be intimidated when it comes to cooking fish, this recipe will show you exactly the steps to take to have perfect mahi mahi every time.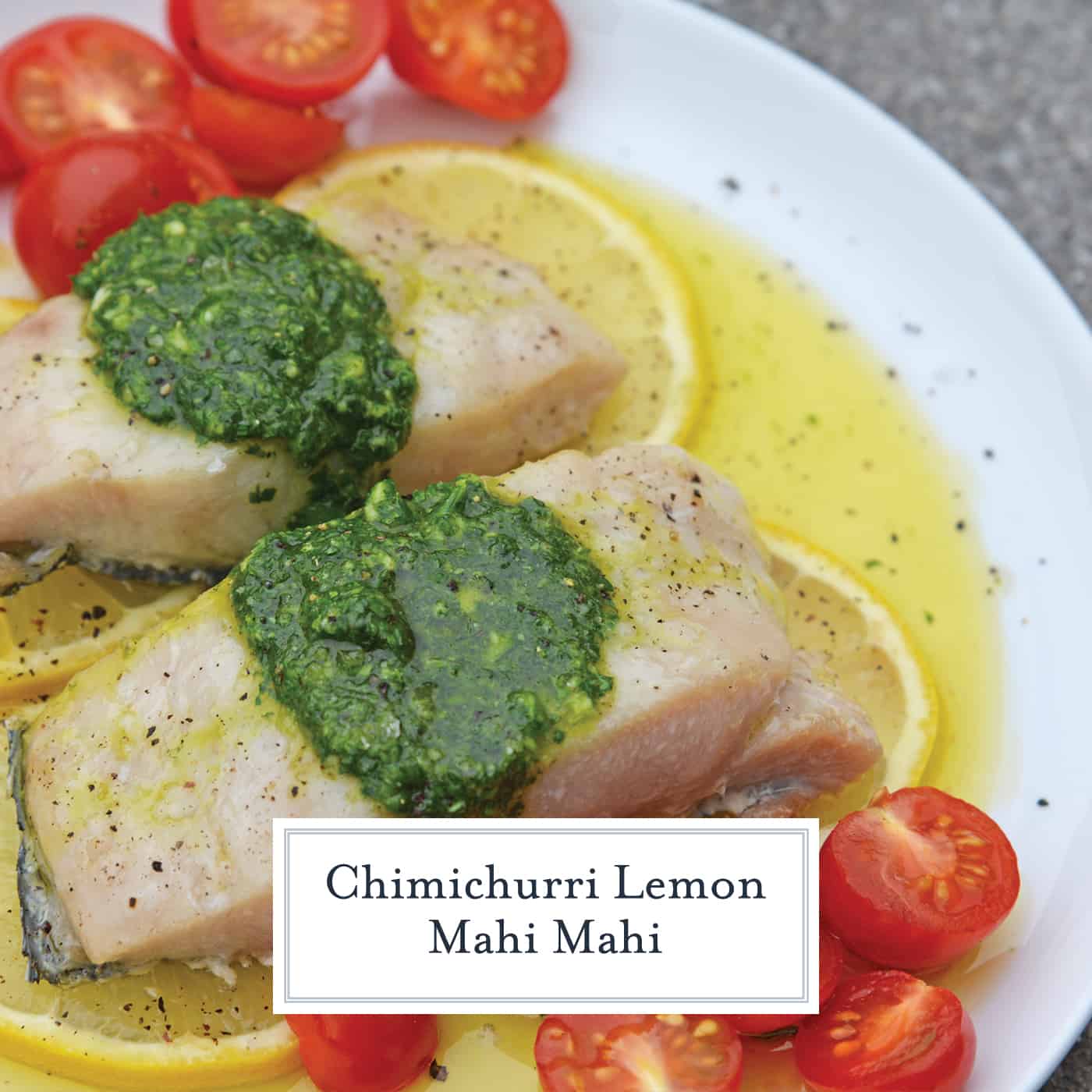 Chimichurri Lemon Mahi Mahi is a deliciously light and flaky mahi mahi recipe. This baked mahi is a easy and simple seafood dish to prepare in only 20 minutes!
My friend Nicole asked me to teach her how to cook different types of fish. I think her fear of handling and preparing fish is commonly shared.
On this date, I took her to Wegmans (local grocer with a fabulous seafood department) and we selected three types of seafood: squid, Mahi Mahi and head-on prawns. We fried, baked and pan cooked three different types of seafood on a Sunday afternoon.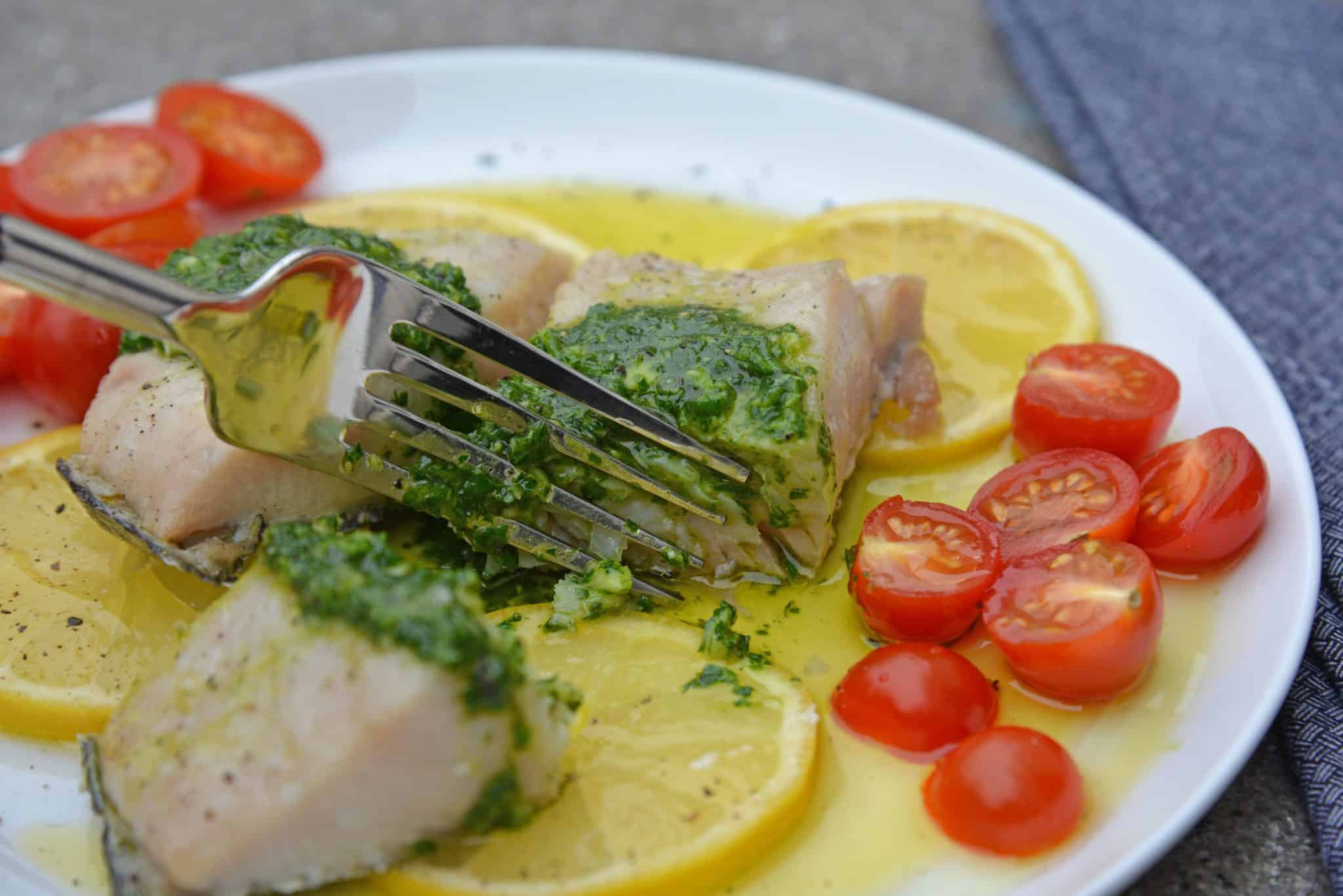 A general rule of thumb is that nearly everything can be cooked at 350 degrees with varying times of course. So if you don't have a recipe, start there.
Fish times are based on thickness and whether it is a fish that needs to be heated fully (tilapia) or partially (tuna). White fishes will transform from raw and opaque to a pearly white and flake easily with a fork. Colors generally will darken upon heating.
PRO TIP: Don't be turned off by frozen or previously frozen fish. In fact, freezing can kill common bacteria making it safer to eat. Most fish in the seafood case was previously frozen in transit. It is rare to get really fresh fish unless you are on a coast and the fish is local.
Most fish doesn't need a lot of seasoning. The fish itself will provide flavor. There are some fish that serve as a blank canvas, much like chicken. Most grocers will have a chart displaying the degree of flavor.
Mahi mahi is also known as dolphinfish and is typically found in the tropics. Its very mild and light in flavor and therefore calls for a kick, but not anything to overpower its light, flaky consistency.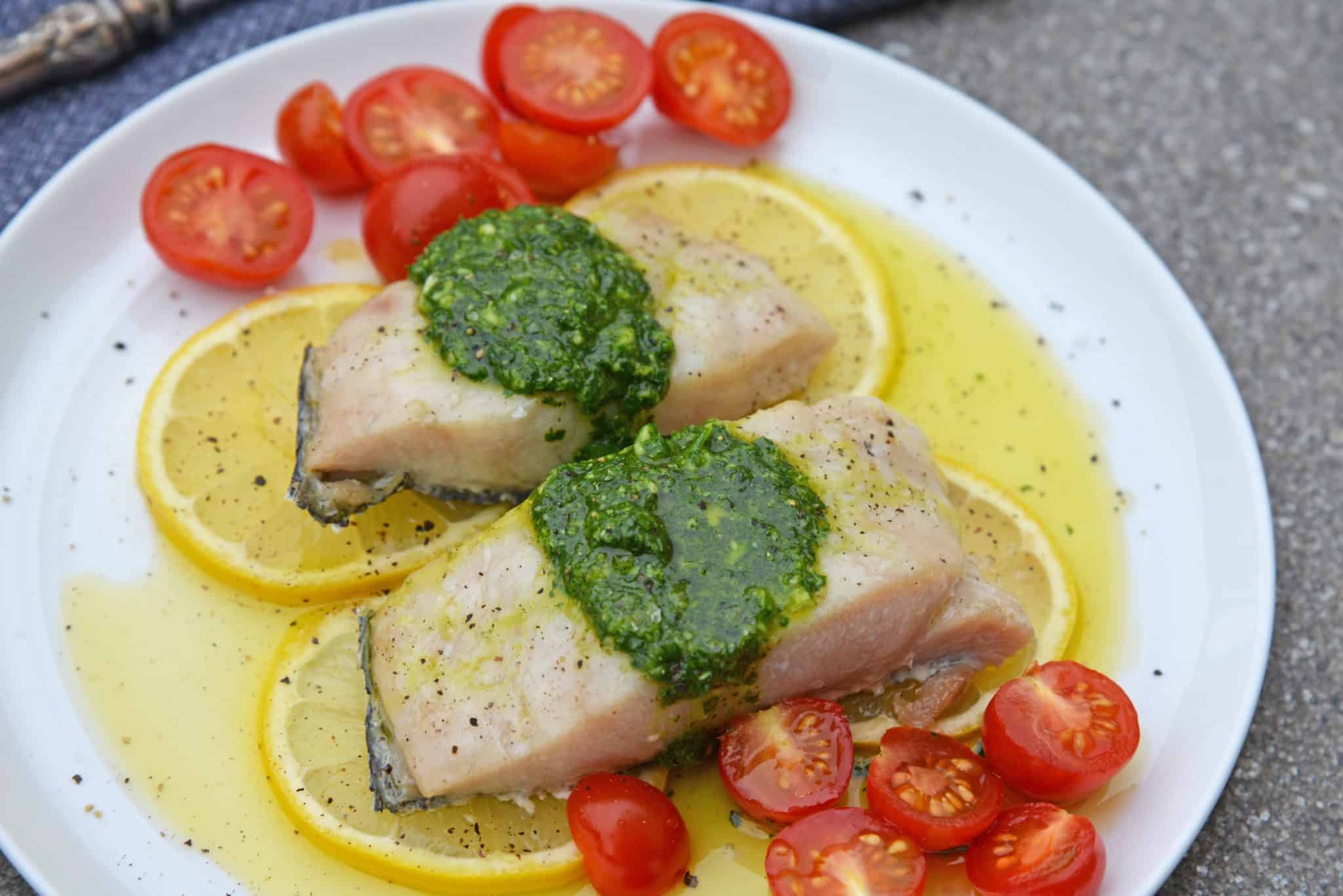 Blackened mahi mahi is the most popular, closely followed by grilled mahi, but I prefer to bake mine. Nearly all fish pairs well with citrus, fresh herbs, sea salt and pepper. When in doubt, these are a go-to for all seafood.
PRO TIP: Always use fresh lemon juice. It packs much more of a punch than bottled lemon juice which can be muted.
Nicole and I decided to cook the fish on a bed of lemons to prevent dry-out and topped it with a generous helping of freshly made Chimichurri Sauce that we originally prepared for Calamari. Here are even more chimichurri recipes to enjoy!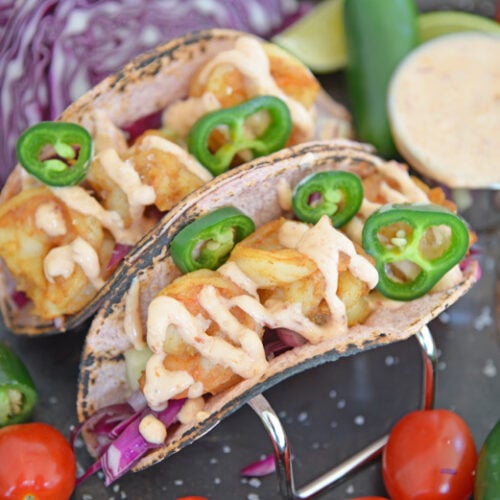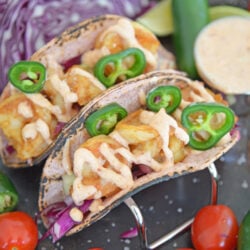 BOMB Shrimp Tacos
Easy shrimp tacos don't get any better than these Shrimp Tacos with Cabbage Slaw! Taco Tuesday will never be the same! Full of fresh flavor and seasoning!
View this recipe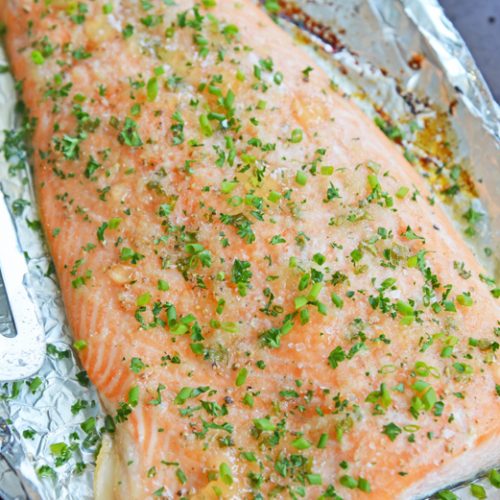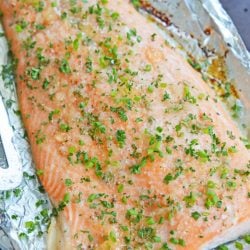 Apple Glazed Baked Salmon Recipe
Moist and quick baked salmon with an apple and horseradish glaze. Sweet and savory for the perfect weeknight dinner idea!
View this recipe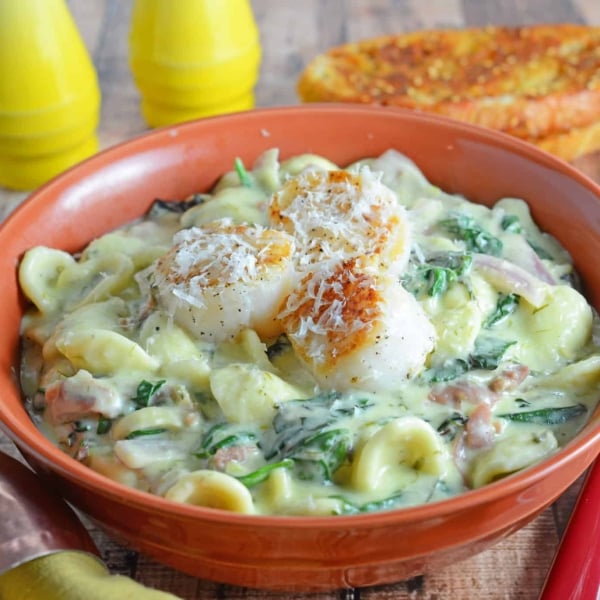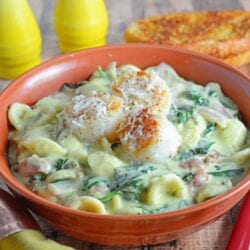 Scallion Pesto Pasta Recipe
Scallion Pesto Scallop Pasta is a restaurant quality dish, creamy pasta sauce with garlic, Swiss chard, prosciutto and seared scallops.
View this recipe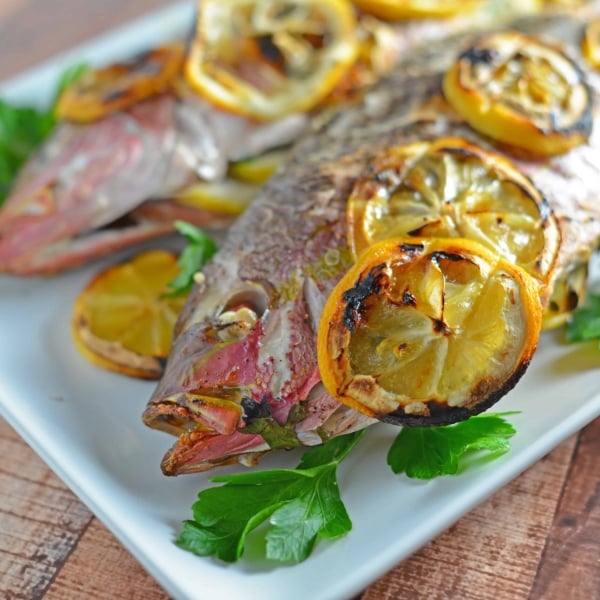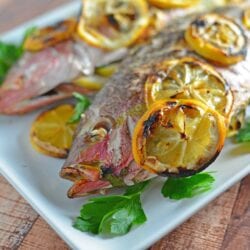 Grilled Red Snapper Recipe
Grilled Red Snapper- how to prepare and grill whole fish with fresh herbs and lemon, Mediterranean style fish at home! You won't believe how easy it is to make your own whole fish!
View this recipe
Tools for making this mahi mahi recipe:
Wood cutting board – wood won't dull your knives like plastic and if treated properly, has natural antimicrobial properties.
Good knife – Global is my favorite! They are worth the price, I promise. I am kind of obsessed with them and store them tucked away so no one else can use them. Including hubby. Hands off my good stuff!
9 x 13 Glass Baking Dish– an absolute essential for any kitchen! Use it for baking, marinating or storing. Get one with a lid, you'll thank me later.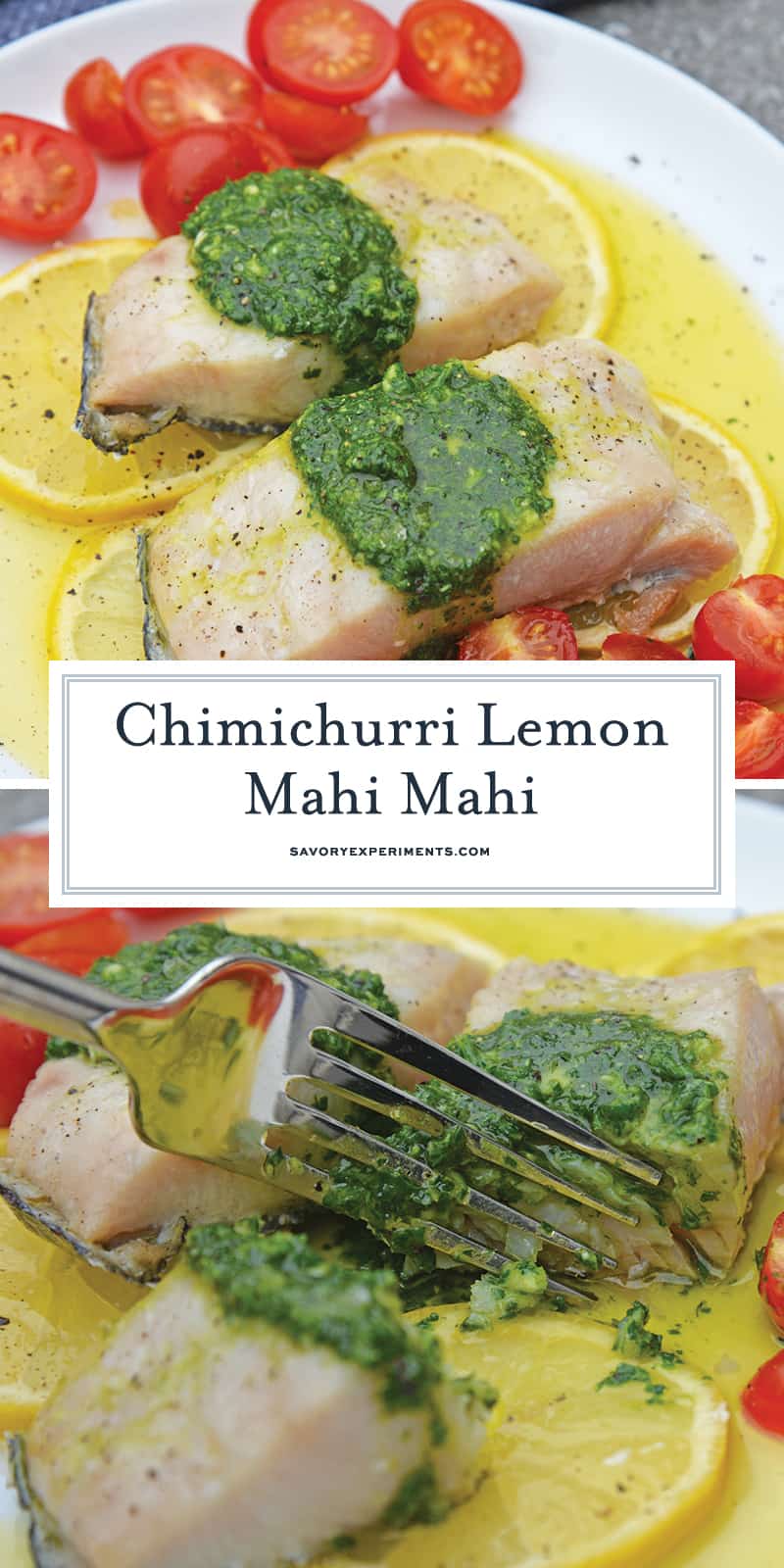 Questions you might have about how to make mahi mahi:
What is mahi mahi fish? Mahi is an edible fish that prefers warm water. They are silver and bright blue or green coloration when alive. Mahi fillets are white with a meaty texture and mild flavor making them ideal for pairing with sauces or serving with fresh herbs and citrus.
What is chimichurri sauce? A piquant sauce hailing from South America and Mexico used on grilled meat and fish. The most tradition of recipes contains parsley, garlic, vinegar, olive oil, and flakes of chili pepper.
How do I know when mahi is done? Since mahi fillets can vary greatly in size, it is nearly impossible to give exact cooking times. Your fillets should start to seperate at the fibers when gently pressed with on top with a fork.
You can also use a meat thermometer, mahi is done when it reaches an internal temperature of 137 degrees.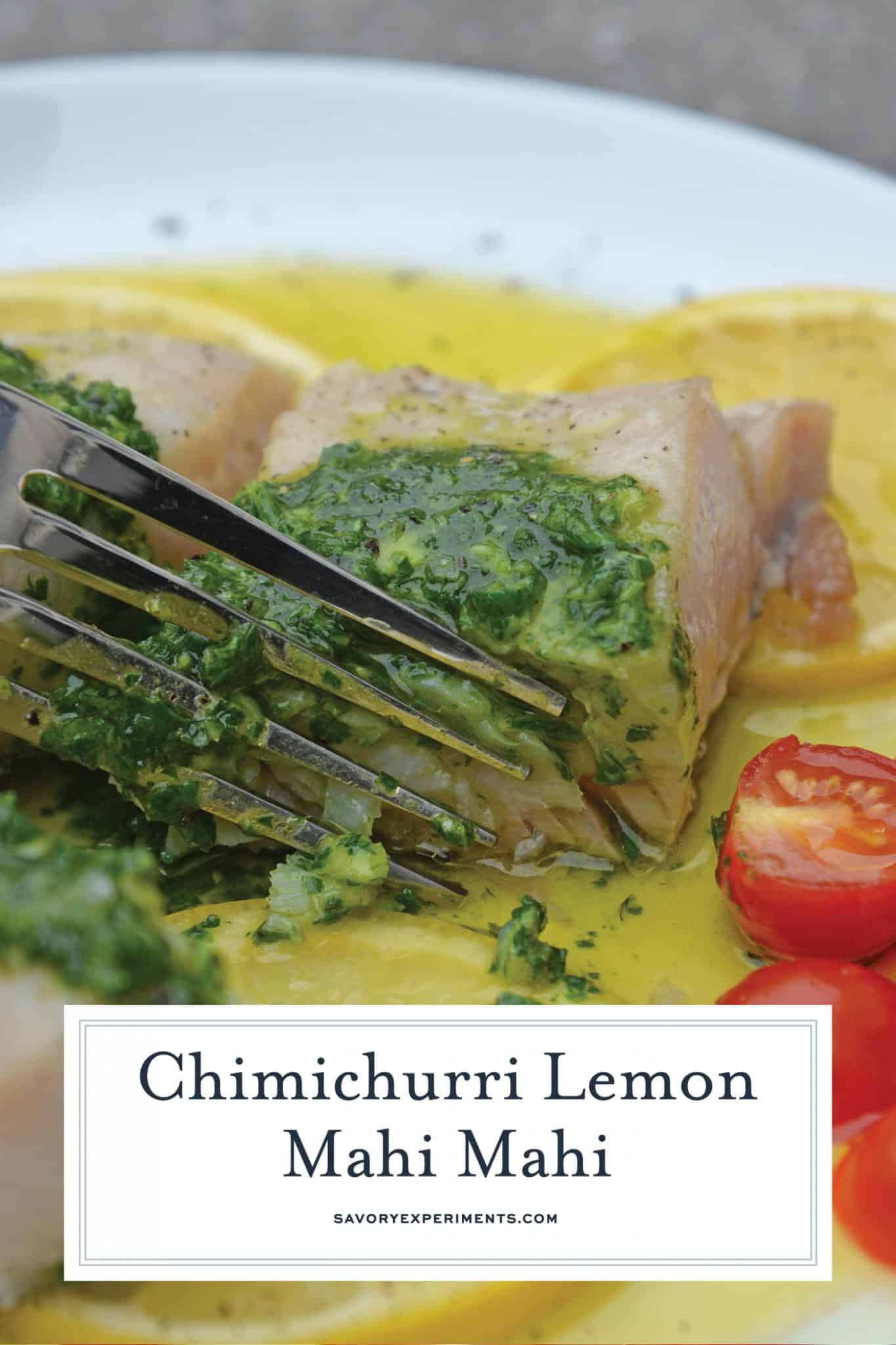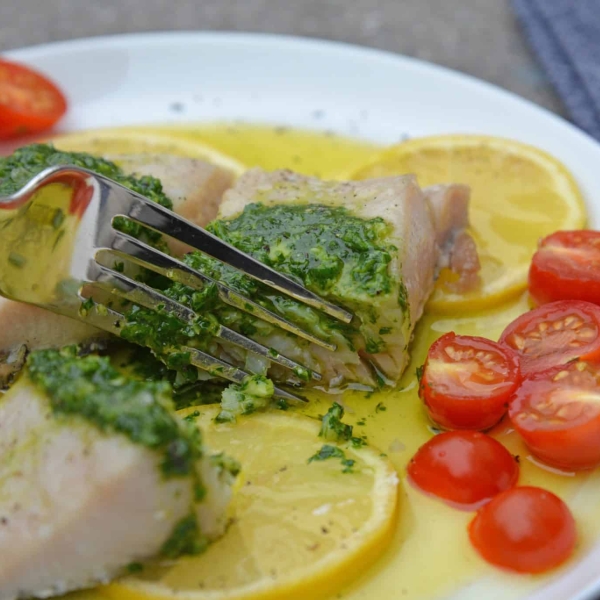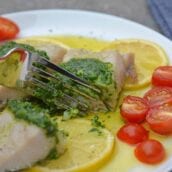 Chimichurri Lemon Mahi Mahi Recipe
Mahi mahi fillets using fresh lemons with a tangy chimichurri sauce.
Instructions
Preheat your oven to 350 degrees. Lightly coat the bottom of a glass baking dish with cooking spray.

Line dish with lemon wheels as a base. This serves three purposes, it provides flavor, prevents the fish from drying and elevates the fish allowing hot air to circulate around the fillet and cook evenly.

Pour 1 tablespoon lemon juice over each fillet and season to taste with fine sea salt and freshly ground black pepper.

Bake for 15 minutes, or until fish is pearly white and flakes easily with a fork.

Remove and top with Chimichurri sauce. Enjoy your Lemon Mahi Mahi with Chimichurri Sauce!
Nutrition
Calories:
179
kcal
,
Carbohydrates:
11
g
,
Protein:
32
g
,
Fat:
1
g
,
Cholesterol:
124
mg
,
Sodium:
151
mg
,
Potassium:
871
mg
,
Fiber:
3
g
,
Sugar:
3
g
,
Vitamin A:
330
IU
,
Vitamin C:
63
mg
,
Calcium:
54
mg
,
Iron:
2.6
mg