Chimichurri Lemon Mahi Mahi is a great recipe to make any day of the week! Don't be intimidated when it comes to cooking fish, this recipe will show you exactly the steps to take to have perfect mahi mahi every time!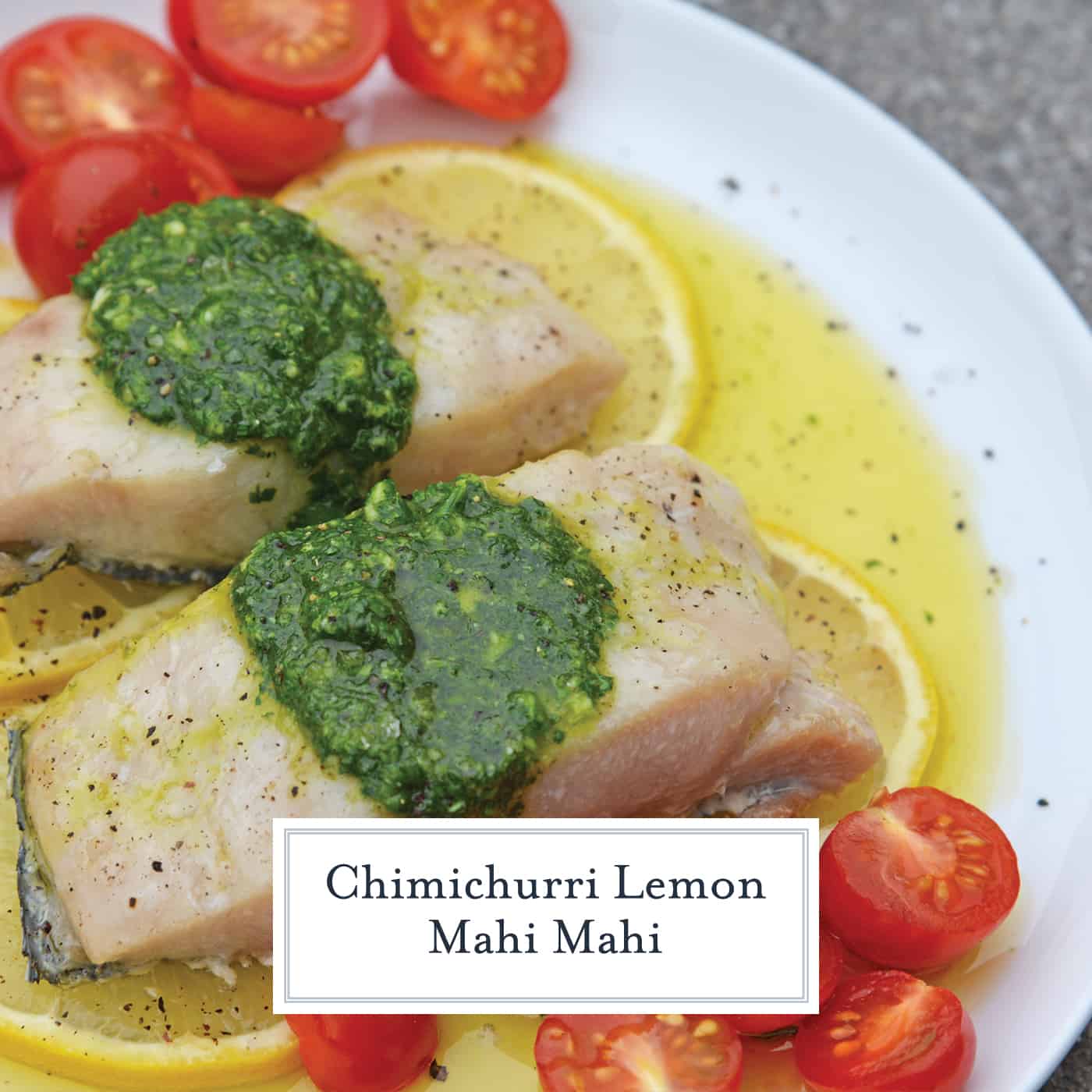 Chimichurri Lemon Mahi Mahi is a deliciously light and flaky mahi mahi recipe. This baked mahi mahi is a easy and simple seafood dish to prepare in only 20 minutes!
My friend Nicole asked me to teach her how to cook different types of fish. I think her fear of handling and preparing fish is commonly shared.
On this date, I took her to Wegman's (local grocer with a fabulous seafood department) and we selected three types of seafood: squid, Mahi Mahi and head-on prawns. We  fried, baked and pan cooked three different types of seafood on a Sunday afternoon.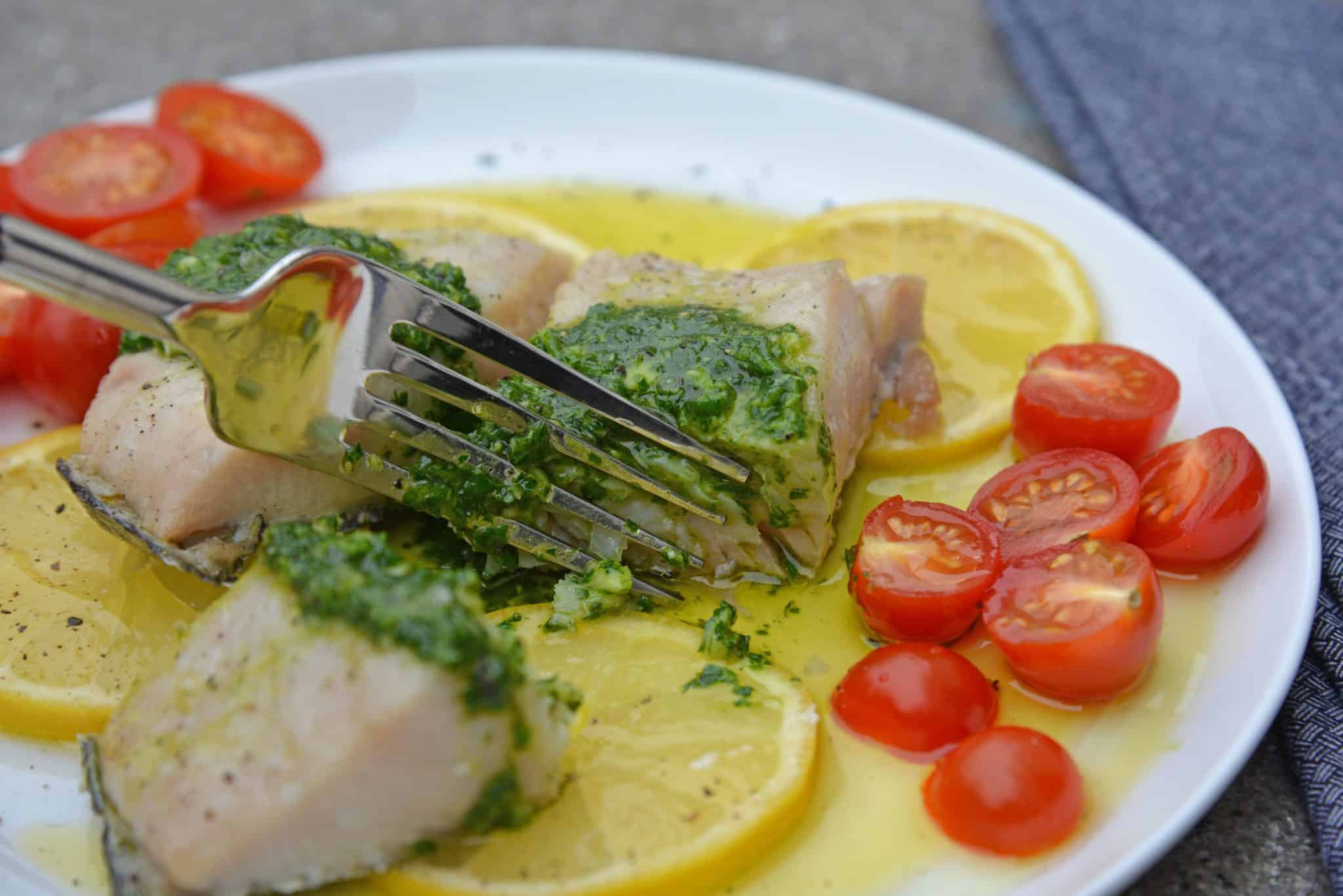 A general rule of thumb is that nearly everything can be cooked at 350 degrees with varying times of course. So if you don't have a recipe, start there.
Fish times are based on thickness and whether it is a fish that needs to be heated fully (tilapia) or partially (tuna). White fishes will transform from raw and opaque to a pearly white and flake easily with a fork. Colors generally will darken upon heating.
Most fish doesn't need a lot of seasoning. The fish itself will provide flavor. There are some fish that serve as a blank canvas, much like chicken. Most grocers will have a chart displaying the degree of flavor.
Mahi mahi is also known as dolphinfish and is typically found in the tropics. Its very mild and light in flavor and therefore calls for a kick, but not anything to overpower its light, flaky consistency.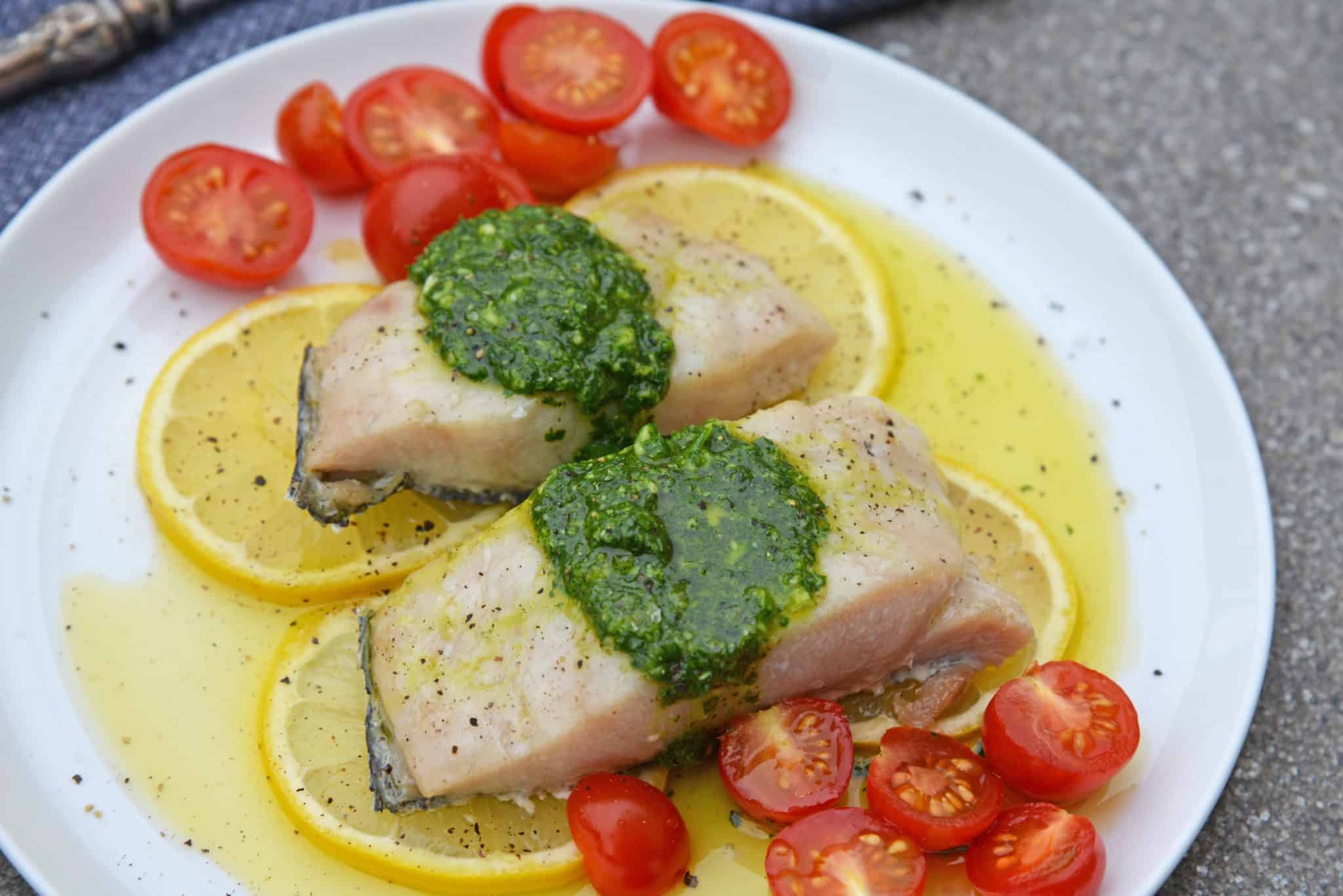 For example, you wouldn't throw a cream based sauce over it. Nearly all fish pairs well with citrus and fresh herbs. When in doubt, these are a go-to for all seafood.
Nicole and I decided to cook the fish on a bed of lemons to prevent dry-out and topped it with a generous helping of freshly made Chimichurri Sauce that we originally prepared for Calamari Curls.
Nicole has overcome her hesitations for cooking seafood and I hope with this brief tutorial, you feel more confident in your abilities as well.
If you loved this Mahi Mahi recipe, check out these other easy seafood recipes: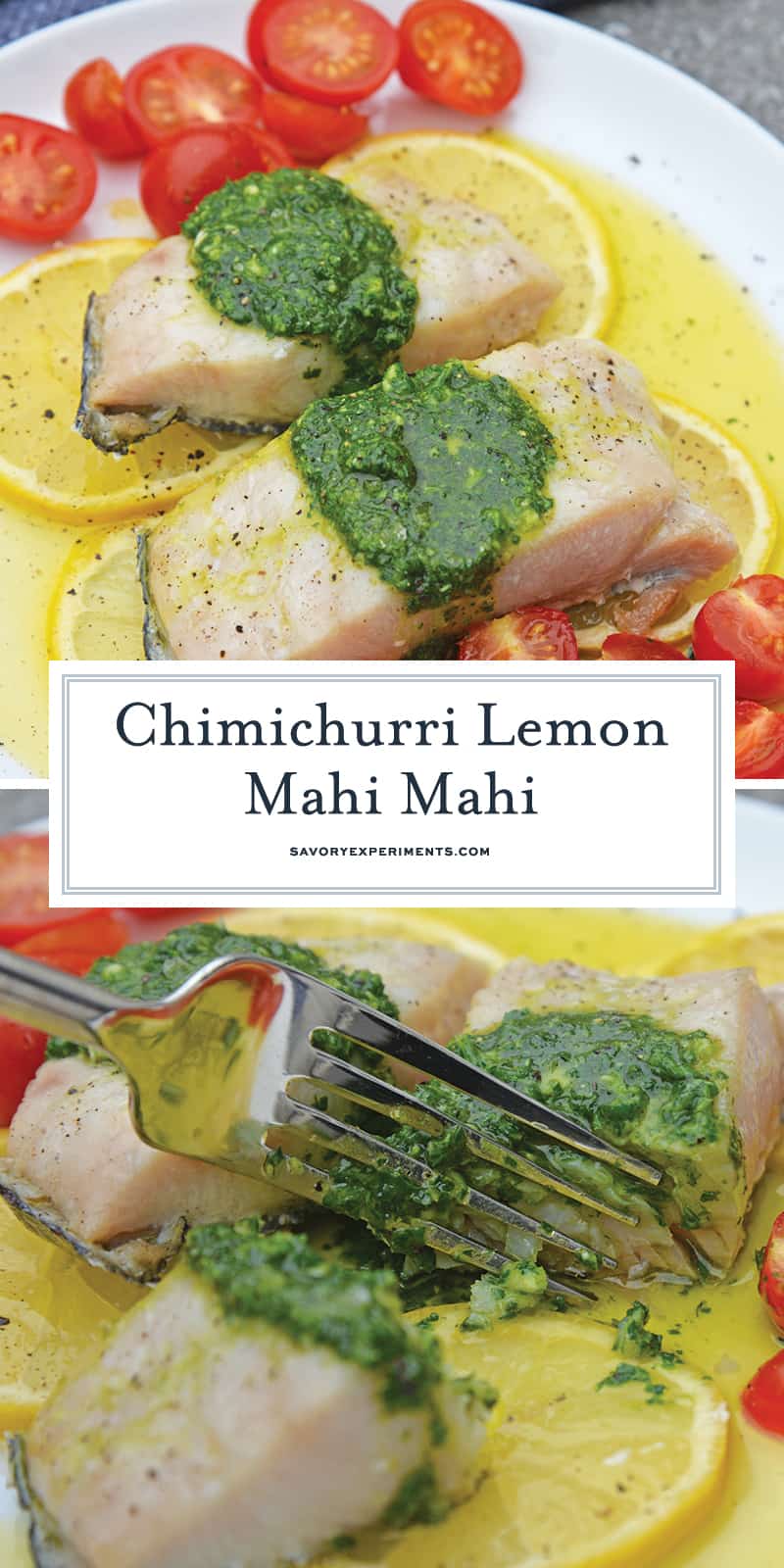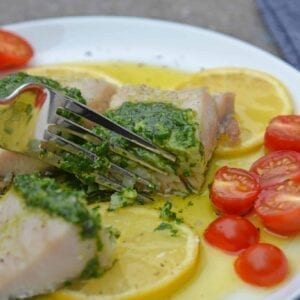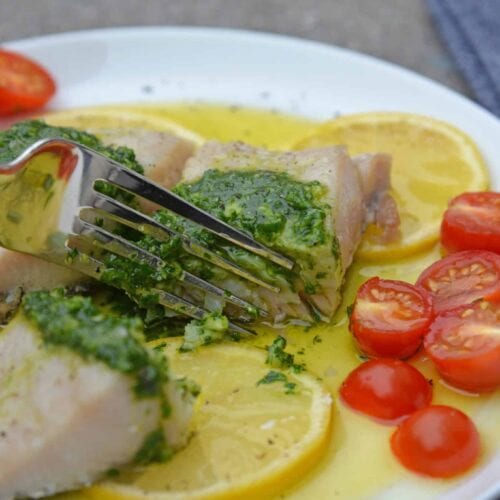 Chimichurri Lemon Mahi Mahi
Mahi mahi fillets using fresh lemons with a tangy chimichurri sauce.
Keyword:
mahi mahi recipe
Ingredients
4

Mahi mahi fillets

4

Lemons

thinly sliced into wheels

4

tbsp

Lemon juice

Fine sea salt

Freshly ground pepper

Cooking spray
Instructions
Preheat your oven to 350 degrees. Lightly coat the bottom of a glass baking dish with cooking spray.

Line dish with lemon wheels as a base. This serves three purposes, it provides flavor, prevents the fish from drying and elevates the fish allowing hot air to circulate around the fillet and cook evenly.

Pour 1 tablespoon lemon juice over each fillet and season to taste with fine sea salt and freshly ground black pepper.

Bake for 15 minutes, or until fish is pearly white and flakes easily with a fork.

Remove and top with Chimichurri sauce. Enjoy your Lemon Mahi Mahi with Chimichurri Sauce!
Nutrition Facts
Chimichurri Lemon Mahi Mahi
Amount Per Serving
Calories 179
Calories from Fat 9
% Daily Value*
Total Fat 1g 2%
Cholesterol 124mg 41%
Sodium 151mg 6%
Potassium 871mg 25%
Total Carbohydrates 11g 4%
Protein 32g 64%
* Percent Daily Values are based on a 2000 calorie diet.