Authentic Chimichurri Sauce is easy to make in a small food processor. Chop up these fresh and delicious ingredients and you instantly have a sauce or chimichurri marinade!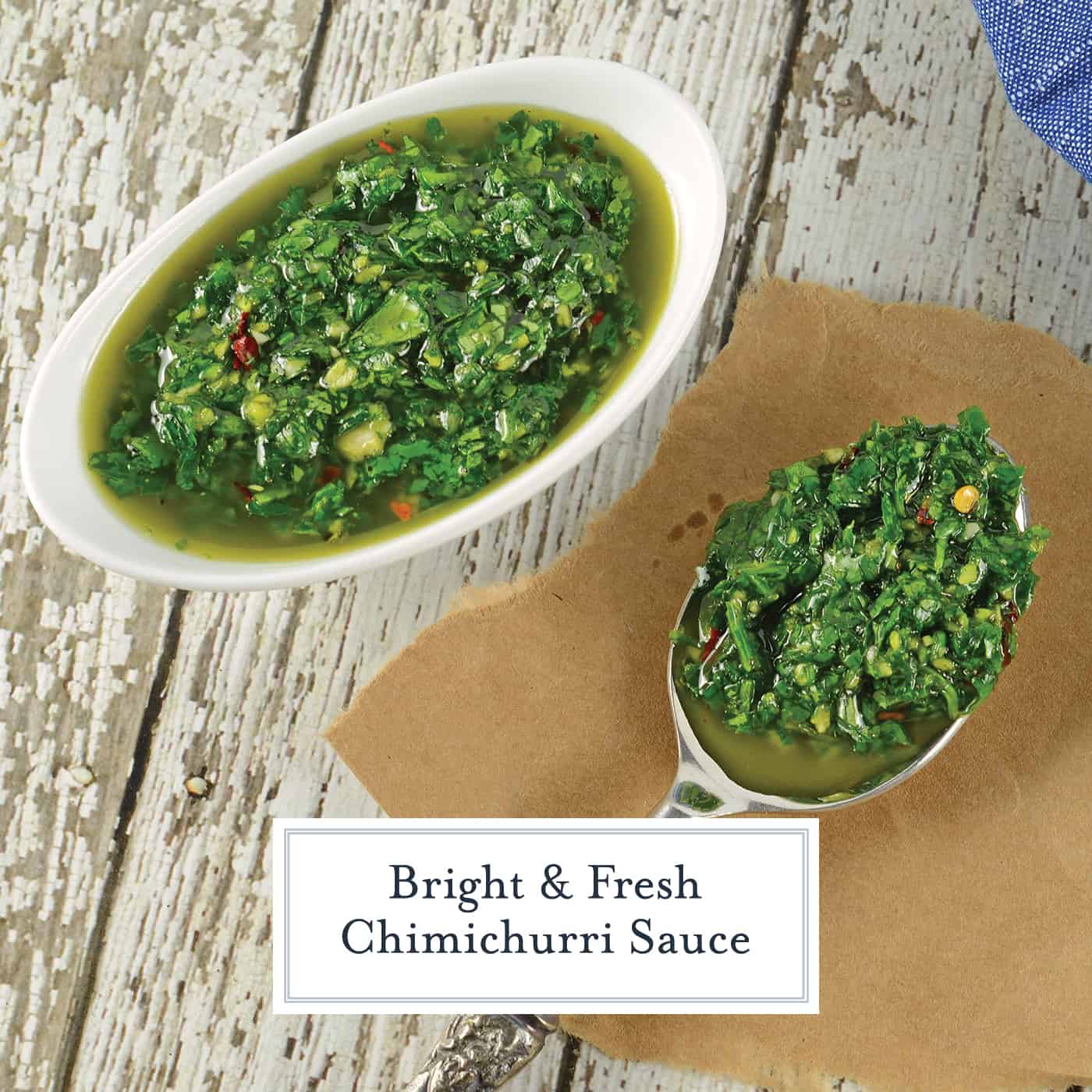 Authentic Chimichurri Sauce is easy to make and doubles as a marinade and sauce. Traditional chimichurri ingredients will flavor any dish!
Traditional Chimichurri Sauce is on Argentinian descent. This herby, garlicky and very green condiment is great on all kinds of grilled meats and seems to be taking American menus by storm!
Steak with chimichurri sauce seems to be the most popular, but really it tastes great on other grilled meats, vegetables, salads and even as a breakfast condiment! Check out this Chicken Chimichurri Pasta!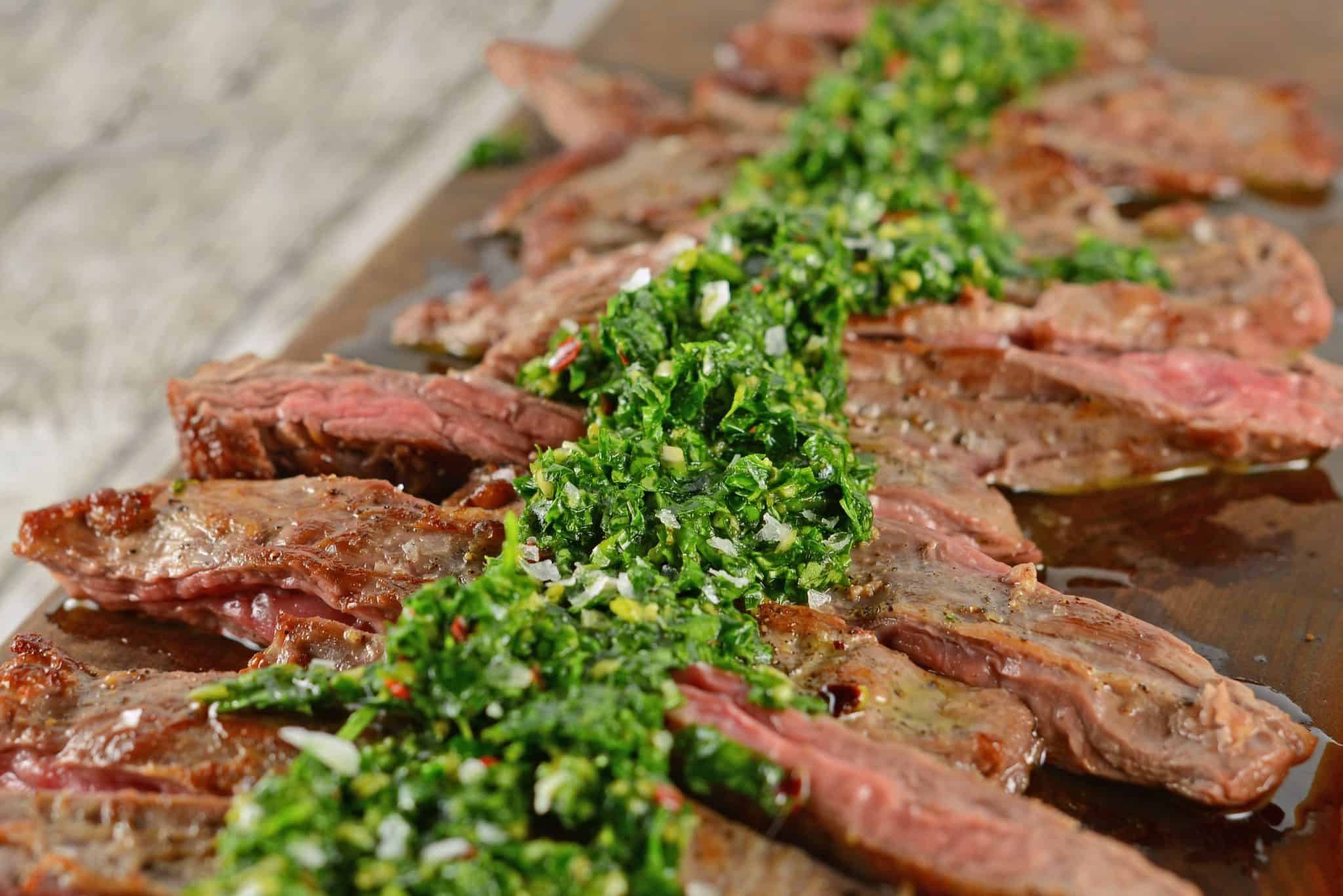 This chimichurri sauce recipe is fairly basic. Like Italians to Sunday sauce, there are many variations that are special from family to family. My recipe is basic, but can easily be modified to accommodate your tastes.
Even more delicious chimichurri recipes!
How do you make chimichurri? Old school purists will tell you with a mortar and pestle, but new school folks like myself will tell you a mini food processor is the way to go.
PRO TIP: Chimichurri is a piquant sauce blend of parsley, cilantro, garlic, vinegar, olive oil, and flakes of chili pepper.
Variations for chimichurri recipes include adding cumin, spicy peppers such as jalapeno, serrano or even habanero, fresh oregano, shallot or red onion, even cayenne pepper. Lemon juice and lemon zest is also a popular add-in.
Finely chopped herbs, including parsley, oil and vinegar are the only ingredients you can't go without.
If you are one of those people who has the "I hate cilantro" taste bud, don't worry. You can leave it out altogether and still have a fine chimichurri sauce. I would, however, recommend using oregano to punch it up a little.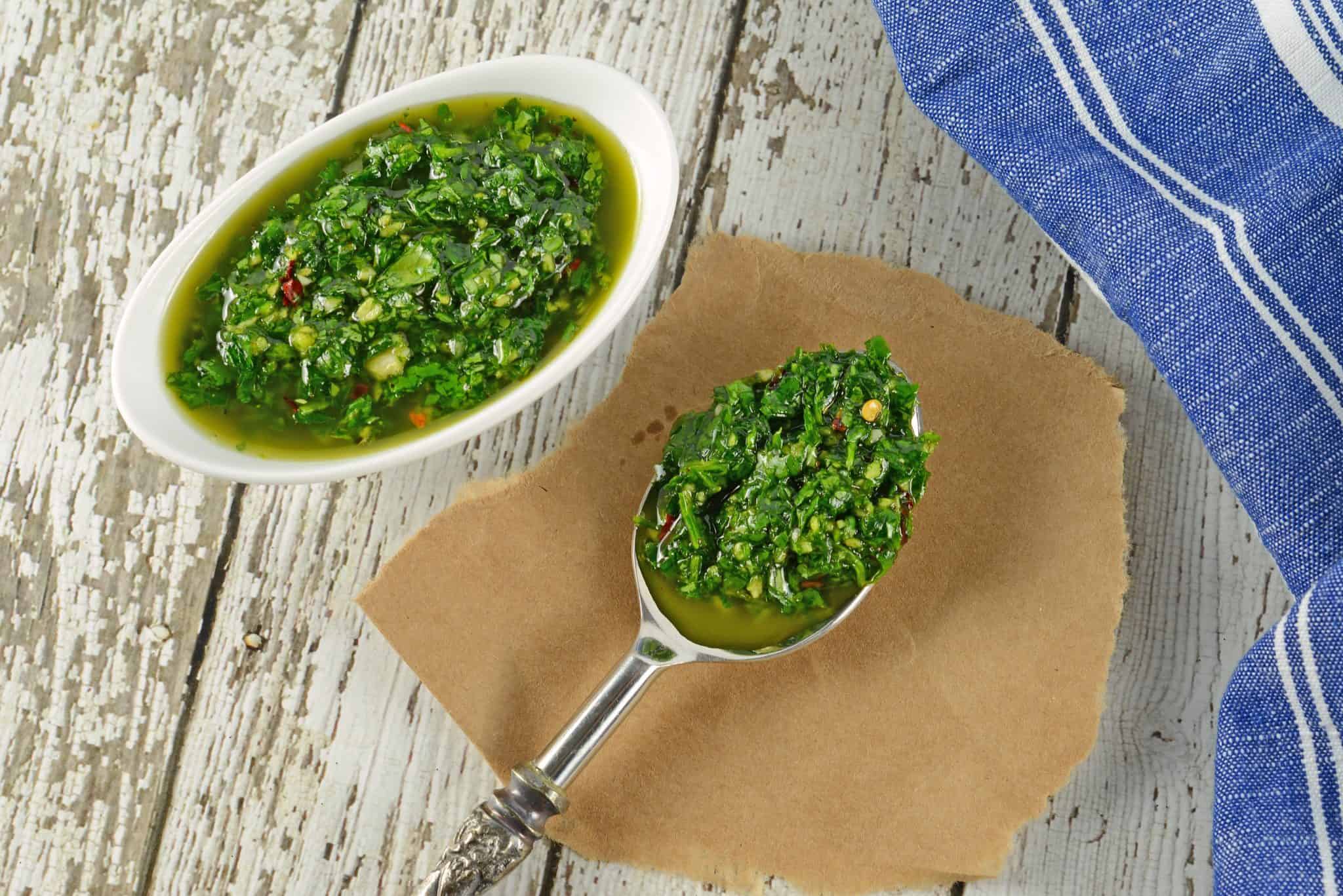 You can also play around with the vinegar. While I like using a basic red wine vinegar, you can also substitute white, sherry, champagne, white wine vinegar any other type of vinegar that strikes your fancy.
I would also use a high quality olive oil for traditional chimichurri.
PRO TIP: Don't skimp on olive oils used in sauces and dressings. Buy a high quality oil with a good taste. Use the lesser, second press oils for actual cooking and marinades.
A good olive oil will taste like, well, olives, while a poorly made one will taste like vegetable oil. Gross. While people tend to favor Italian and Greek olive oils, I prefer to buy mine domestically.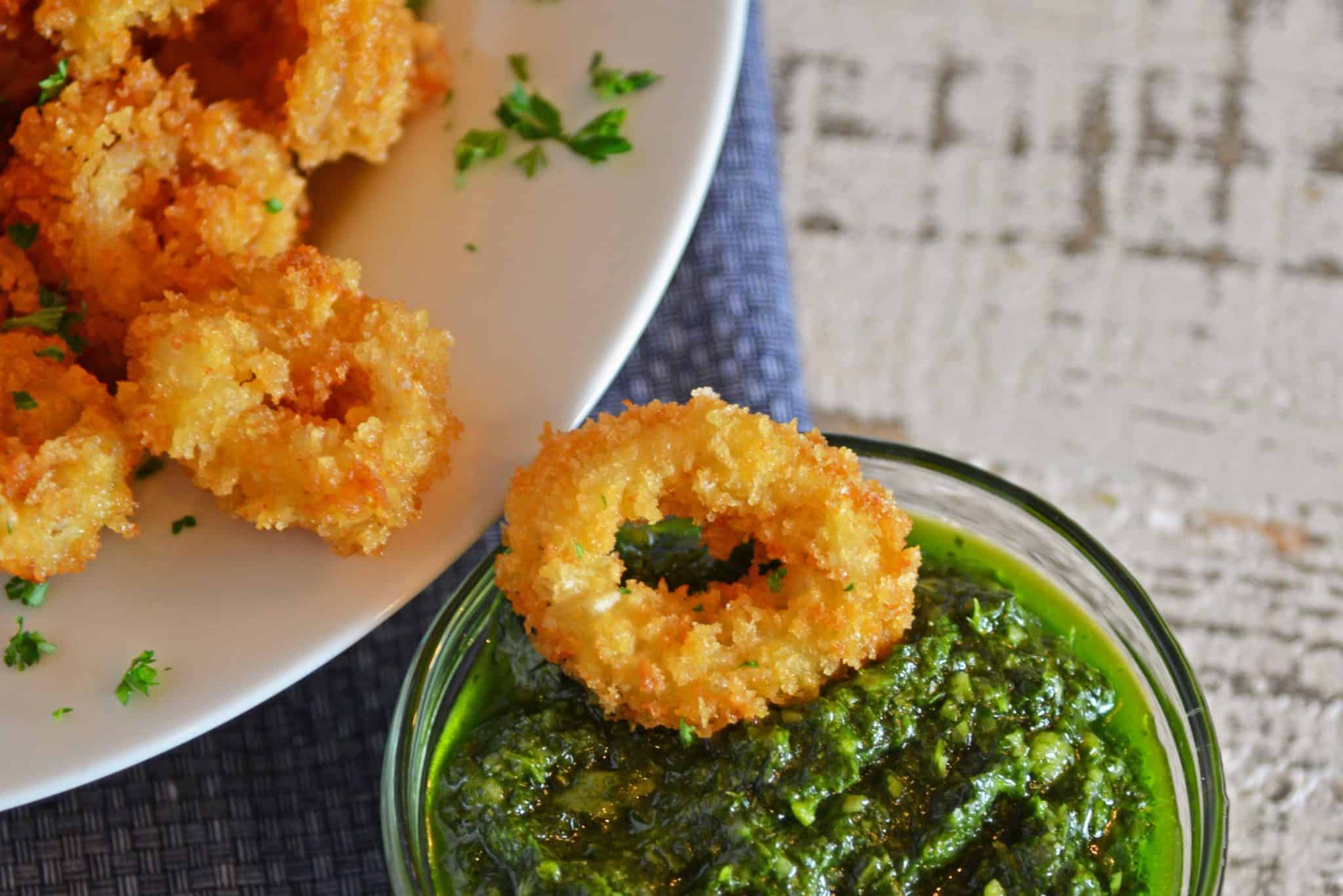 They are some great ones out there from all over the world, but the reporting of ingredients isn't always the same and you could find that your super expensive olive oil was actually cut with vegetable oil.
Tools to Make an Authentic Chimichurri Sauce Recipe:
Good Extra Virgin Olive Oil– See my note above!
Mini Food Processor– I use this thing daily! It is by far my most used kitchen appliance, it is small and I throw all the parts into the dishwasher, well except the base and cord, of course!
Wood cutting board – wood won't dull your knives like plastic and if treated properly, has natural antimicrobial properties.
Good knife – Global is my favorite! They are worth the price, I promise. I am kind of obsessed with them and store them tucked away so no one else can use them. Including hubby. Hands off my good stuff!
Pestle and Mortar– These tools might seem outdated, but they will make your chimichurri into a whole different texture. Grinding parsley, garlic and salt together will make a smooth paste. It takes a little extra time time and elbow grease, but the magic that happens is transformative.
Even with that said, I use the food processor or finely chop my ingredients, most just for the time-saving factor. I do own these tools, but they serve more as pretty decorative pieces on my counter. LOL.
You are bound to love some of my other classic sauces!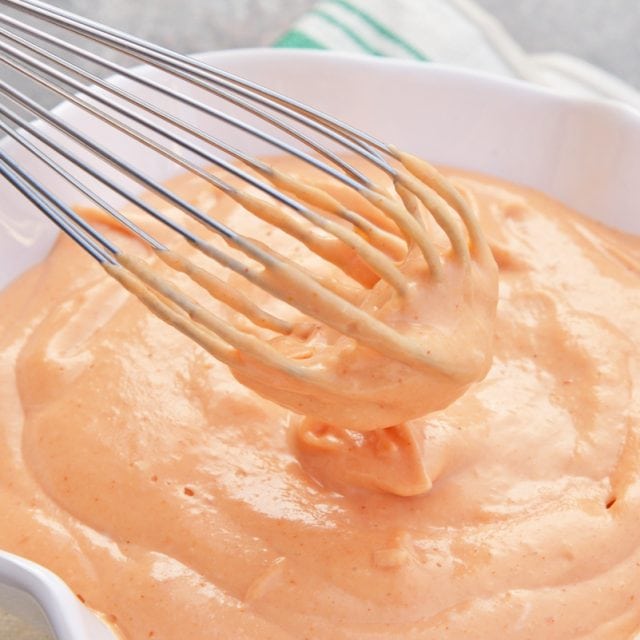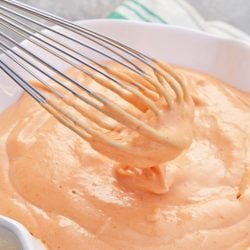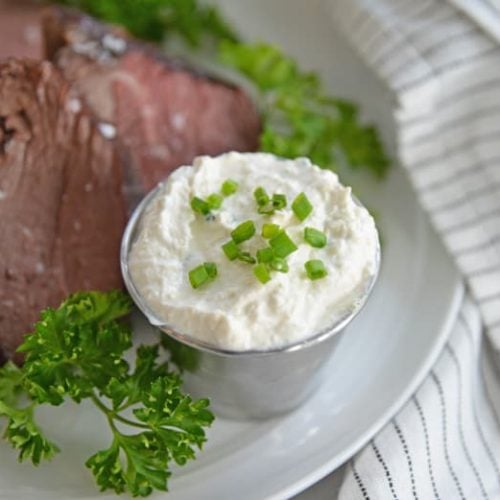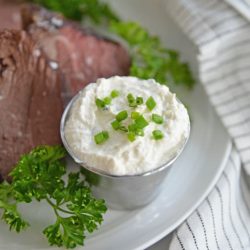 Creamy Horseradish Sauce
Creamy Horseradish Sauce comes together in less than 5 minutes with a sour cream base, tangy horseradish, this is a winner that will rival any steak sauce!
See The Recipe!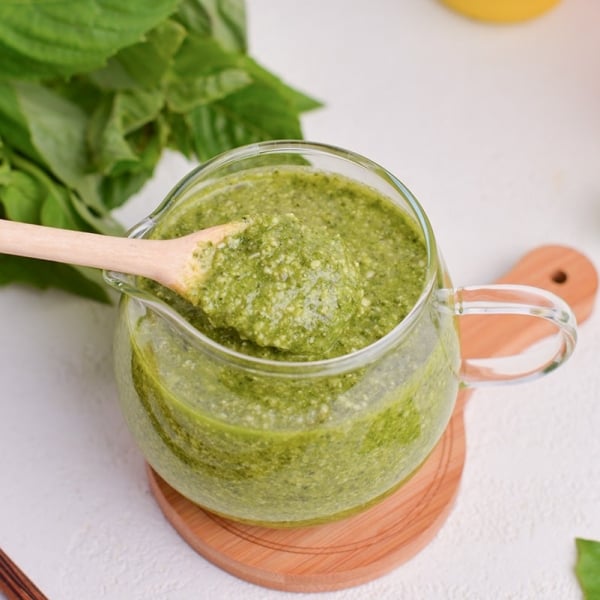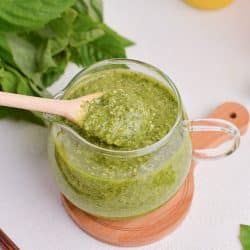 Basil Pesto Recipe
Pesto Sauce made with pine nuts, fresh basil and parsley is perfect as a pasta sauce, marinade, sandwich spread or even dipping sauce. Pesto Sauce also freezes well and can be canned.
See The Recipe!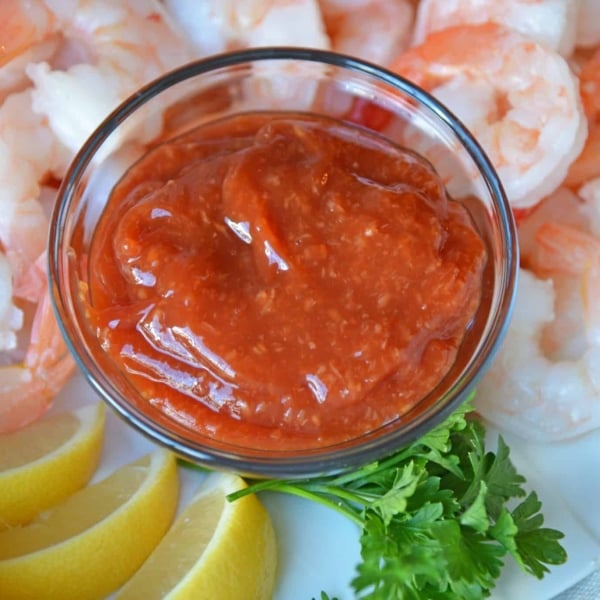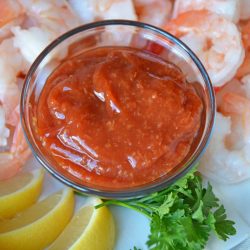 Best Cocktail Sauce
Classic Cocktail Sauce is more than just ketchup and horseradish. Come see how to make a spectacular, restaurant quality sauce in just 5 minutes!
See The Recipe!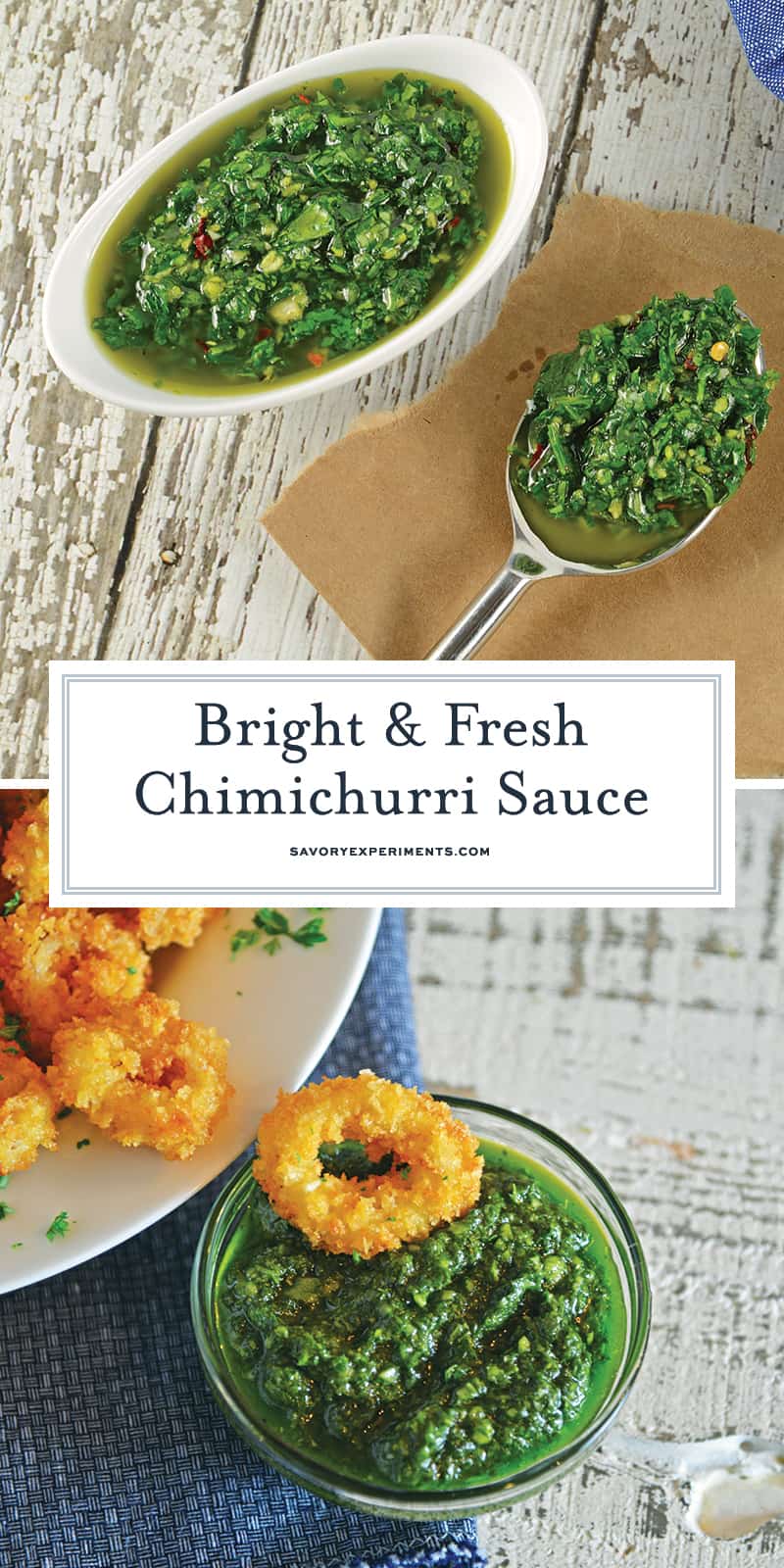 Questions you might have about how to make chimichurri sauce:
Can you freeze chimichurri sauce? You can freeze it in an airtight container for up to 4 months. Plastic airtight bags also work well.
Can I use dried parsley? For many recipes you can substitute dried herbs or fresh herbs, however since fresh parsley is the base of the sauce, I wouldn't recommend it for this recipe.
Is chimichurri sauce spicy? My recipe for chimichurri is a little spicy, but if you want to decrease the heat, omit or reduce the crushed red pepper flakes.
Is chimichurri gluten free? Yes, my chimichurri recipe is gluten free and carb free! I also beleive it is keto friendly, but I am not a keto expert. If you want to weigh on that, leave me a comment!
Can chimichurri sauce go bad? It sure can. Olive oil can go rancid, as can the fresh ingredients in the sauce. Since this is homemade and doesn't have any preservatives other than natural salt, it will keep in a refrigerated environment for up to 1 week.
How do you thicken chimichurri sauce? This isn't a thick sauce to begin with. The best way to get a chimichurri with some volume is to use a good quality olive oil, which will provide all the thickness you need. A first press is best.
Can I make chimichurri without a food processor? Your arms are about to get a fabulous workout! Just mince all the ingredients as small as you can. Traditionally speaking, it was made with a mortar and pestle, much like pesto sauce. It makes more of a smooth paste than a choppy sauce.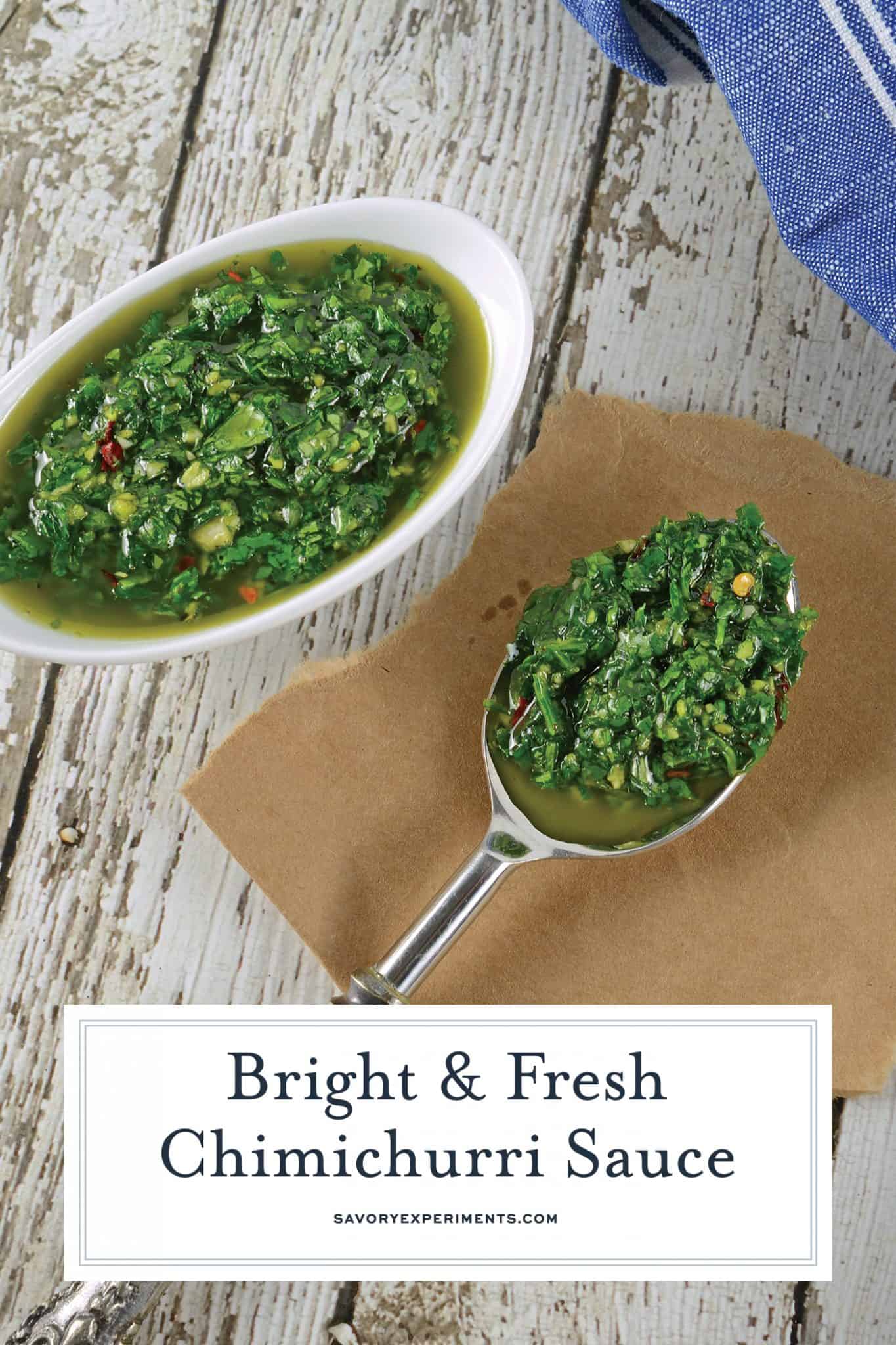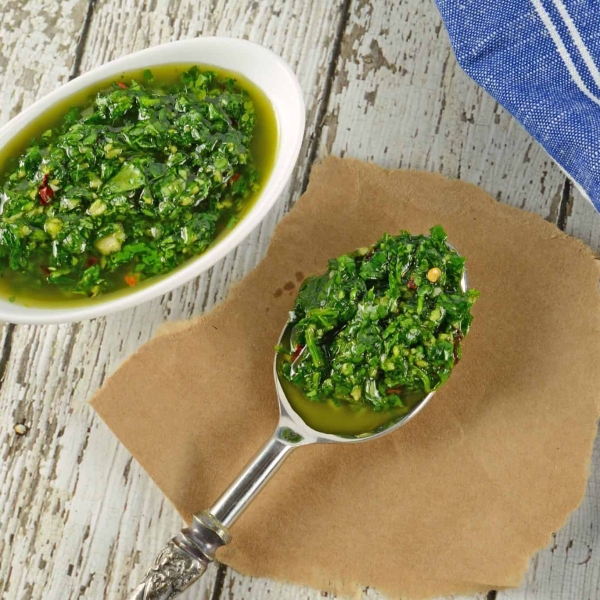 Chimichurri Sauce Recipe
Authentic Chimichurri Sauce is easy to make and doubles as a marinade and sauce. Traditional chimichurri ingredients will flavor any dish!
Instructions
In a small food processor chop parsley. Remove to a small-medium bowl.

Repeat with garlic and cilantro.

Add crushed red pepper, black pepper and olive oil to the same bowl. Stir.

Where is that easy button from Office Depot? THAT WAS EASY! Enjoy your Chimichurri Sauce!

If you've tried this recipe, come back and let us know how it was!
Nutrition
Calories:
506
kcal
,
Carbohydrates:
5
g
,
Protein:
2
g
,
Fat:
54
g
,
Saturated Fat:
7
g
,
Sodium:
619
mg
,
Potassium:
363
mg
,
Fiber:
2
g
,
Vitamin A:
5460
IU
,
Vitamin C:
82
mg
,
Calcium:
83
mg
,
Iron:
4.1
mg