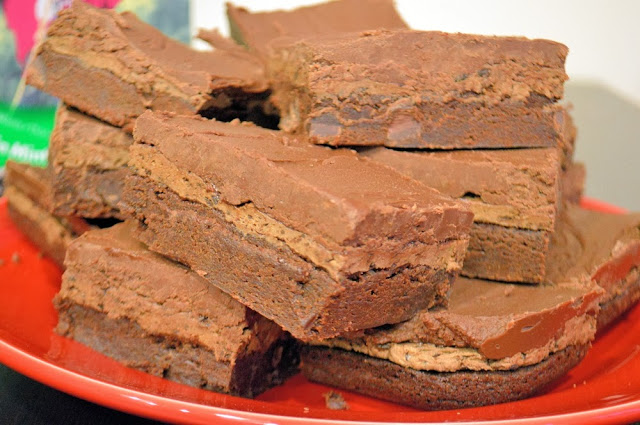 Combine two fabulous desserts: brownies with cookies! How did this come about? A co-worker brought me in a box of Thin Mint Girl Scout Cookies. I drove home with them in the car, went to the gym and by the time I got home they had heated ever so slightly and then stuck together. When I tried to pry them apart I got nothing but Thin Mint dust. I love Thin Mints and was not going to let this go to waste.
What to do, what to do? Mix into a cookie dough, make cookies out of cookies? Press into a pie crust? Or combine with brownies. I decided not to make the typical brownie batter and just fold it in, like my Junior Mint Brownies, but instead to make a thick, rich and chewy brownie bar. I based my recipe off Nestle Toll House Brownies and the rest is history! Cake-like brownies spread thick with a layer of heavenly cream cheese whipped with your favorite cookie crumbs and capped with a crunchy layer of chocolate.
You can use which ever cookie you want! Oreo's, Nilla Wafers, Grasshoppers- anything you can pulse into dust in a food processor!
Time: 1 hour 30 minutes
Yields: 16 bars
Ingredients for Layered Cookie Brownies
1 2/3 cups granulated sugar
3/4 cup butter, melted
2 tablespoons water
2 large eggs, room temperature
2 teaspoons vanilla extract
1 1/3 cups flour
3/4 cup Nestle Toll House Cocoa Powder
1/2 teaspoon baking powder
1/4 teaspoon salt
3 cups Nestle Toll House semi sweet chocolate chips, divided
1 10-ounce box of your favorite cookies
1 8-ounce block cream cheese, room temperature
2 tablespoons shortening
Cooking spray
1. Preheat oven to 350 degrees. Lightly coat a 9×13 inch baking pan.
2. Cream together sugar, butter and water in a stand mixer fitted with a paddle attachment or large mixing bowl with electric hand mixer. Add eggs and vanilla. Continue to blend until creamy.
3. In a separate bowl, sift together flour, baking powder and salt. Gradually add to wet mixture. Fold in 1 cup of semi sweet chocolate chips by hand.
4. Spoon into baking pan. Bake for 20 minutes or until it passes the toothpick test. Remove and allow to cool fully.
5. Either place cookies into a food processor and pulse into crumbs or place in a large airtight plastic bag and roll with a rolling pin. In a stand mixer fitted with a paddle attachment or a medium mixing bowl with an electric hand mixer, blend together cream cheese and cookie crumbs. Spread in an even layer over cooled brownies.
6. In the microwave or a double boiler, melt the remaining 2 cups of semi sweet chocolate morsels and shortening, stirring continuously. As soon as it reaches a spreadable consistency, pour over cream cheese layer. Spread out evenly and place into the refrigerator for 20 minutes to set.
7. Run a sharp knife under hot water to slice. Enjoy your Layered Cookie Brownies! Store refrigerated in an airtight container for up to one week.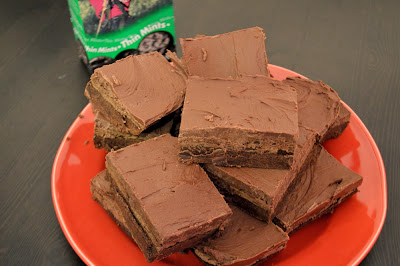 Now you want more, don't ya? Join me on
Facebook
for daily recipes and discussion, follow me on
Twitter
or see where I get some of my inspiration on
Pinterest
!