This Champagne Float is perfect for celebrating special occasions and can even be adapted to a sparkling cider float for the kids. Everyone will love this deliciously refreshing champagne cocktail ice cream float!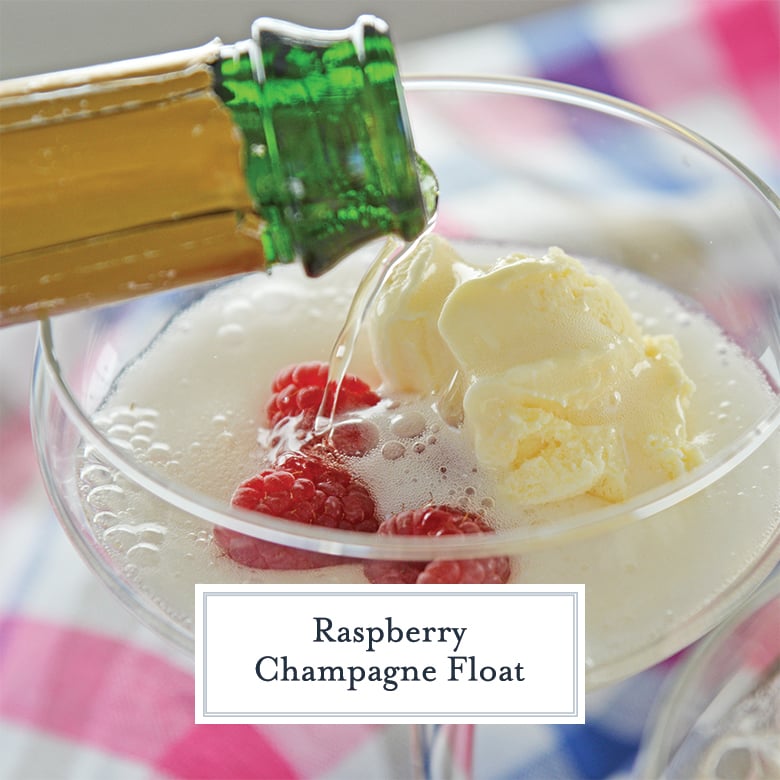 This Champagne Float is made with ice cream and fresh fruit! Perfect for special occasions, this Champagne Float spruces up your typical glass of champagne!
Champagne is known for its festive quality. The drink of choice for all of life's most important moments: weddings, birthdays, anniversaries, New Year's Eve and Valentine's Day.
I like to celebrate life's little moments, so I firmly beleive that champagne can be enjoyed everyday. Nothing wrong with the bubbly.
In fact, it is my wine of choice! Because it was my "everyday" drink, I needed to spruce it up for special occasions, so I landed on a Champagne Float!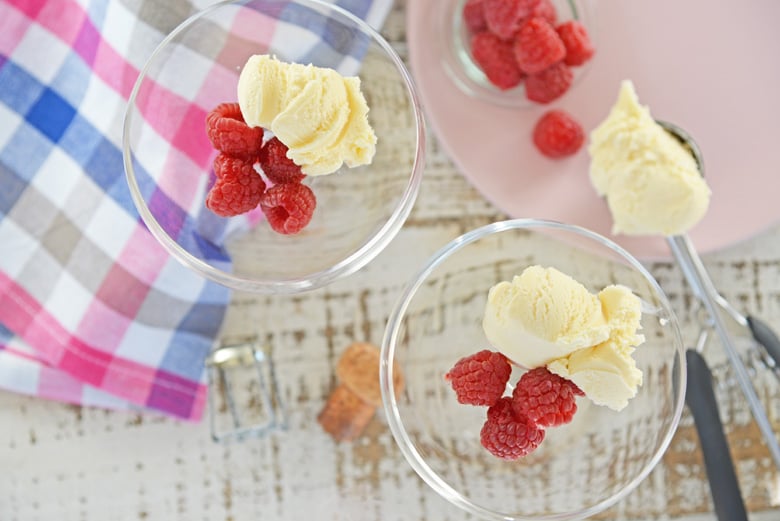 Truth be told, you will probably be making a sparkling wine float as opposed to an actual champagne float. Wine can only be called champagne when it comes from the champagne region of France.
When it is made in other areas, it is known as a methode champenoise, or put more simply, a sparkling wine.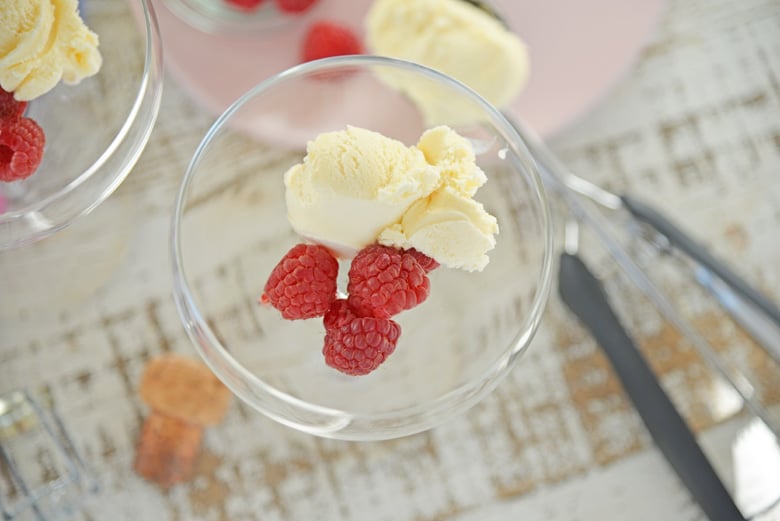 If it is made in Italy, then it is known as Prosecco.
Sparkling wines are made by allowing the last stage of fermentation to happen inside the bottle, resulting in a build up gases and making your wine, well, bubbly.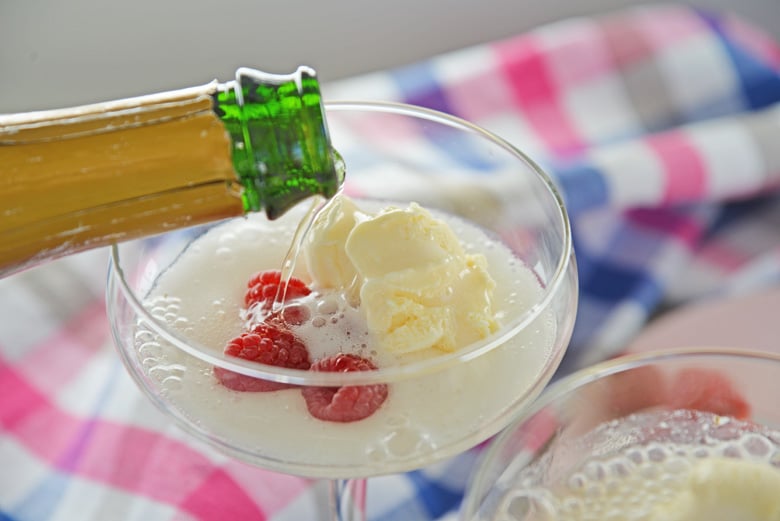 To learn more about wine, check out my Wine 101, which will also give you some fun party tricks for identifying the age and region of the wine you are drinking without actually knowing a thing. Then you can read Wine Pairing 101 to learn how to best match your wines.
PRO TIP: Use a cookie dough scoop instead of an ice cream scoop to get a smaller scoop perfect for cocktails!
For a Champagne Float, use any choice of ice cream, although I prefer a Vanilla Bean, and any fruit. Personally, I like raspberries and strawberries. Check out more fabulous drink recipes!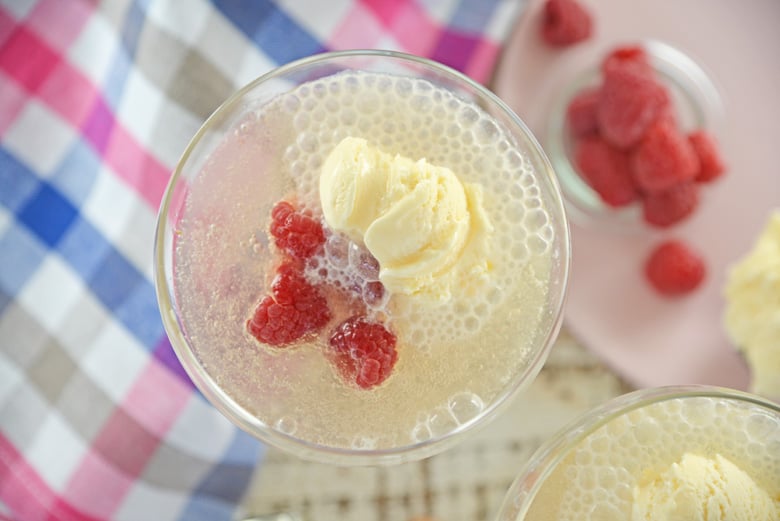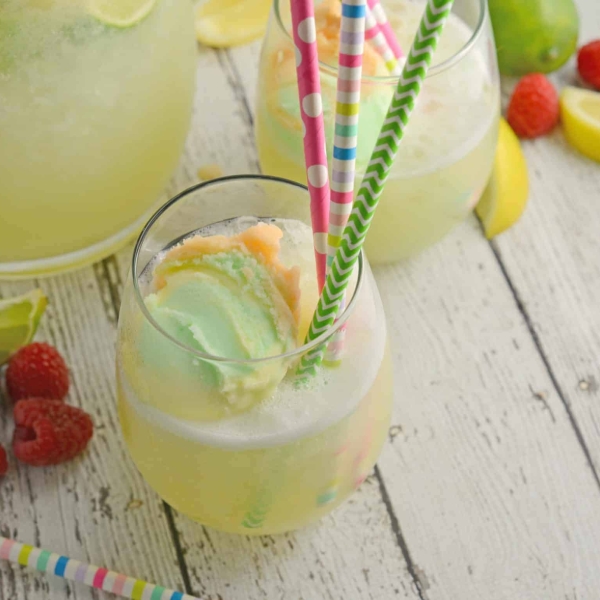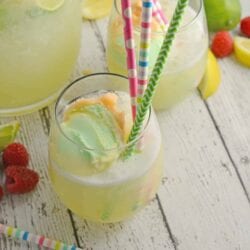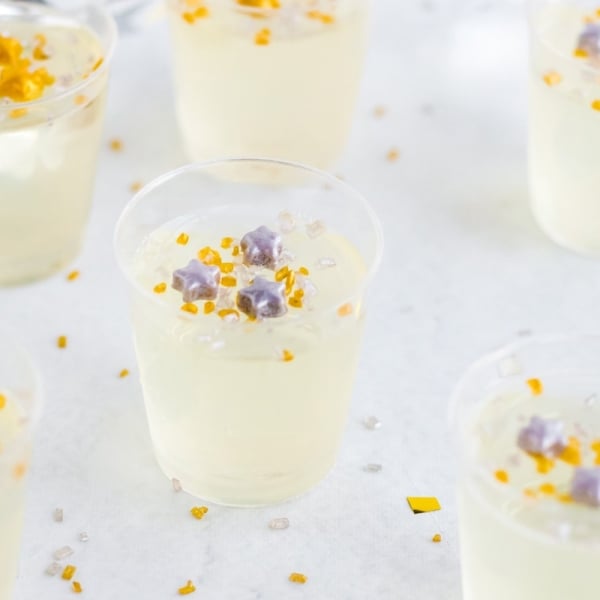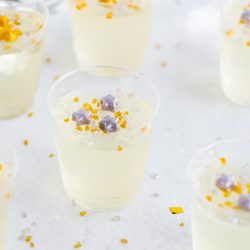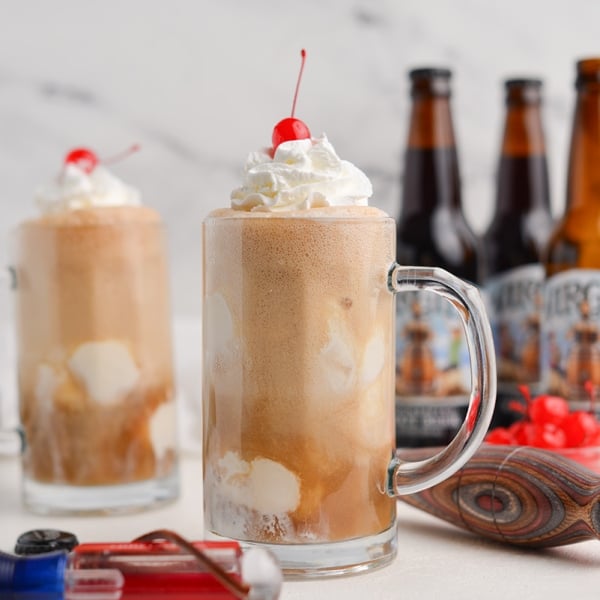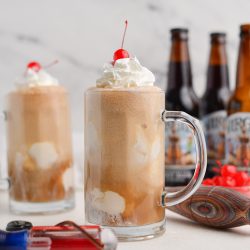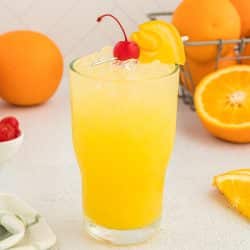 Questions you might have about how to make a Champagne Cocktail:
Can I use non-alcoholic sparkling cider? Yes, my, goodness, yes! I make some for me and some for the kiddos. It is perfect for New Year's Eve celebrations, Valentine's Day or to commemorate any other special event.
Can I use pink champagne? Oh, yes! Rose sparkling wine is so romantic and dreamy, making this champagne cocktail even better for those special occasions.
Pink champagne is typically made using one of these four grapes, but in the methode champenoise way to add carbonation.
Chardonnay
Pinot Noir
Pinot Meunier
Pinot Gris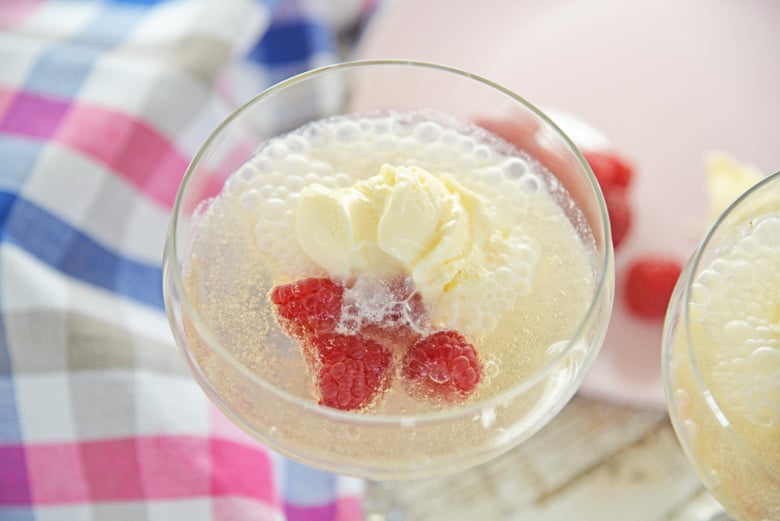 Can I use different fruit? As mentioned above, I prefer berries, but the fruit you can add is endless. Here are my other favorites:
Peaches
Blueberries
Plums
Lemon
Lime
Strawberries
Pears
Blackberries
How long is champagne good for? After opened, the experts say 2-5 days. I am going to call shenanigans. I've never met a bottle that still tasted good the next morning for mimosas let alone the next night for cocktails.
Can I add other flavors? Of my goodness, yes! Add a splash of raspberry liqueur or any fruit flavored liquor. Simple syrup is also a good choice.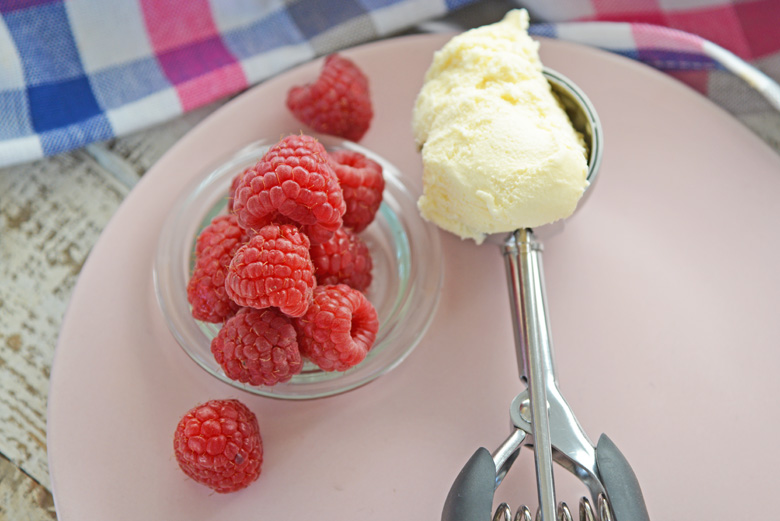 How do you store champagne? I've heard all sorts of funky techniques to keep champagne good and bubbly, even down to putting a spoon handle in the neck. It makes no sense.
Experts say to re-cork it and store it in the fridge, but I don't know if you've ever tried to stuff a champagne cork back in the bottle. It is nearly impossible. There are some that are screw-top nowadays, they are your best bet.
Otherwise, drink the bottle. It won't be too good the next morning. You might be able to use it for cooking, but not really for cocktails. But please enjoy responsibly…. I am not suggesting that you overdrink or indulge.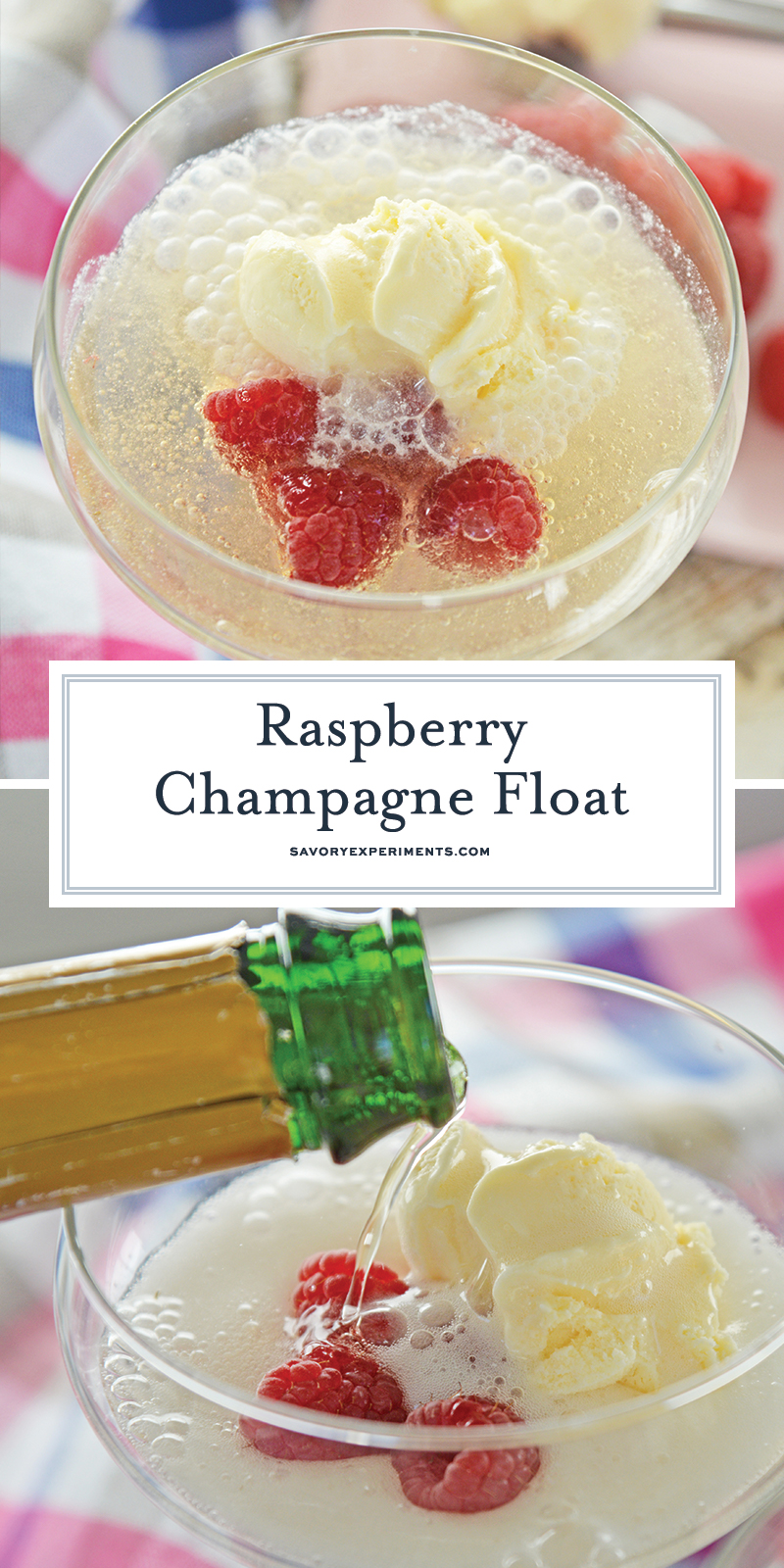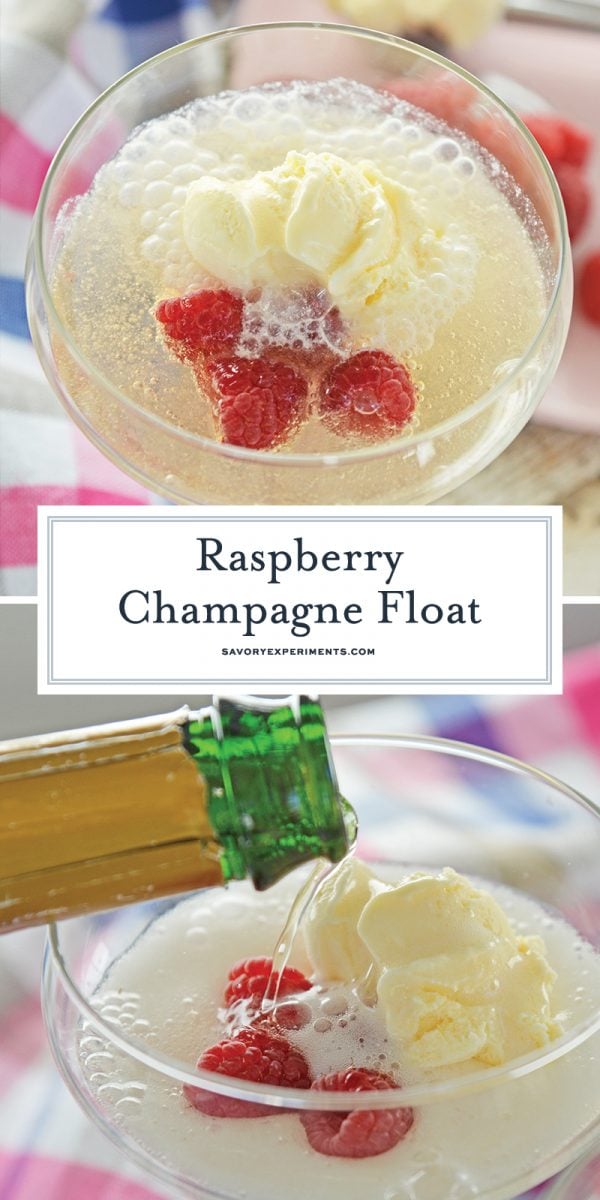 How do you know if champagne has gone bad? Generally speaking, the bubbles will be gone. It will also have a sour taste.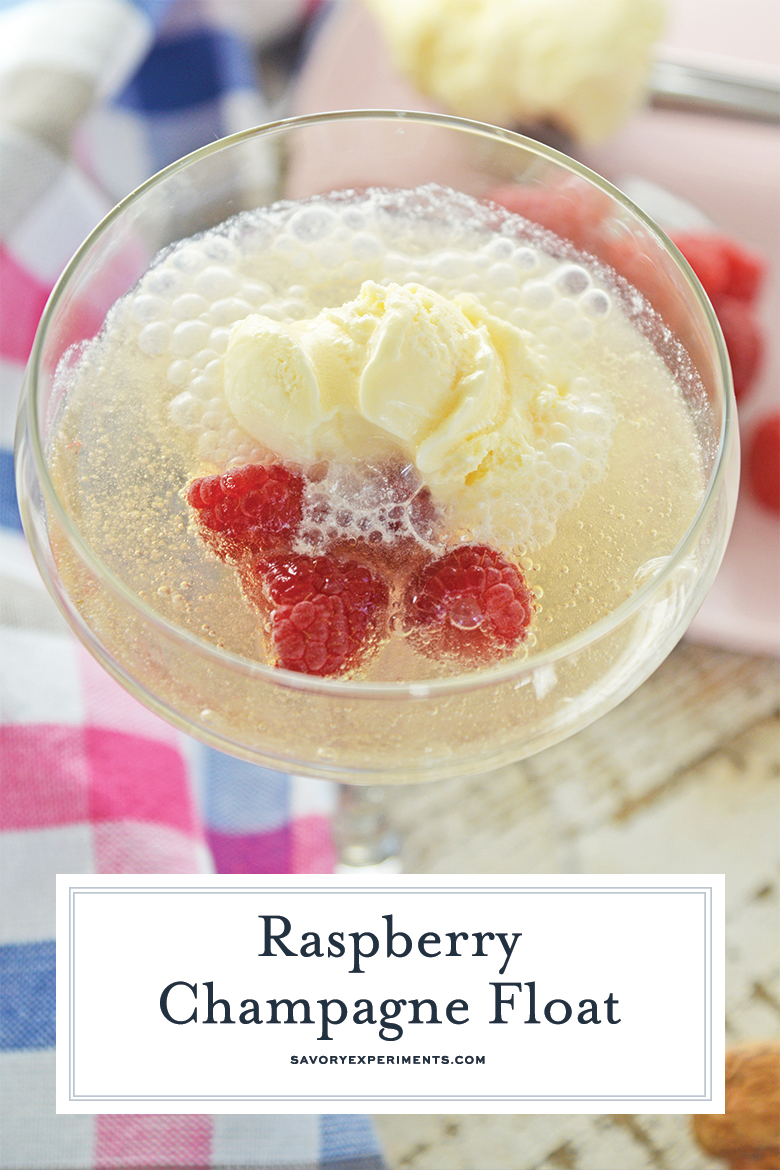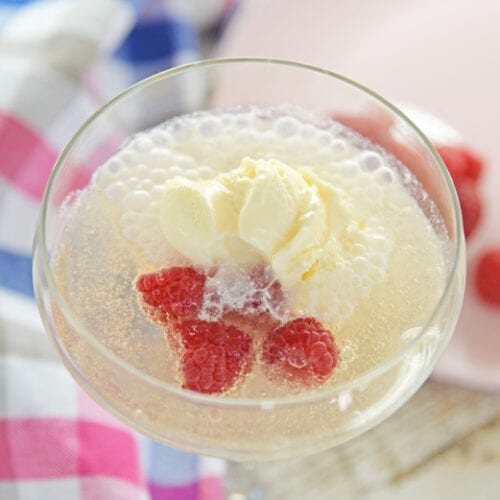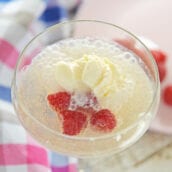 Champagne Float Recipe
Champagne Float, with ice cream and fresh fruit, is a festive and tasty drink to celebrate any occasion. Can also be made into a sparkling cider float for the kids!
Instructions
Evenly divide sparkling wine into 4 champagne flukes.

Spoon 1 tablespoon vanilla ice cream into each fluke.

Top with 2 raspberries each.

Drink immediately and enjoy!

If you've tried this recipe, please come back, give it a rating and let us know how you liked it!
Nutrition
Calories:
116
kcal
,
Carbohydrates:
5
g
,
Fat:
1
g
,
Saturated Fat:
1
g
,
Cholesterol:
6
mg
,
Sodium:
23
mg
,
Potassium:
179
mg
,
Sugar:
5
g
,
Vitamin A:
60
IU
,
Vitamin C:
1.1
mg
,
Calcium:
34
mg
,
Iron:
0.7
mg