I've been in love with everything seasoning for quite a long time. When I crave bagels it is usually for the seasoning, not necessarily the carbs.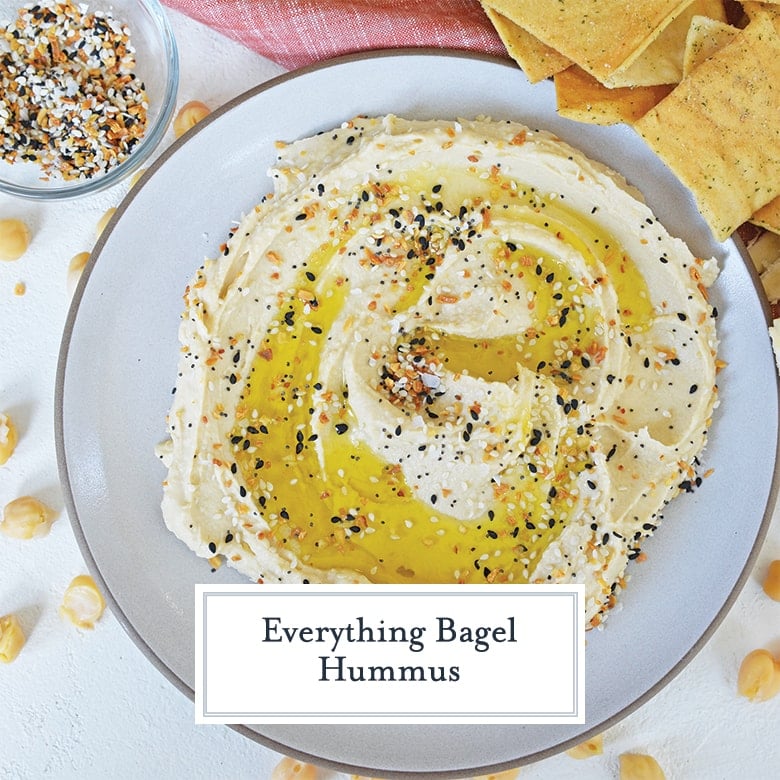 When I discovered I could just make the seasoning and add it to well, literally everything, it was life changing. And this Everything Seasoning Hummus is no exception!
Everything Seasoning Hummus
So when I spotted everything bagel hummus at the store I was in awe. Why hadn't I thought of it before?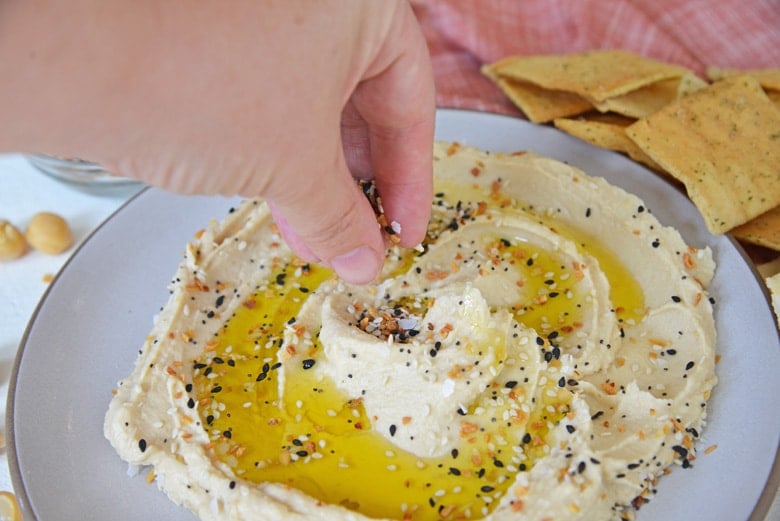 I came home, made me basic plain hummus recipe, and topped generously (my husband said it was an embarrassingly ridiculous amount) of homemade everything seasoning.
I ate hummus for lunch, snack and dinner that day. Serve it with pretzels, pita chips, carrots, radish slices, celery sticks or even slather it onto sandwiches, wraps or top on a salad.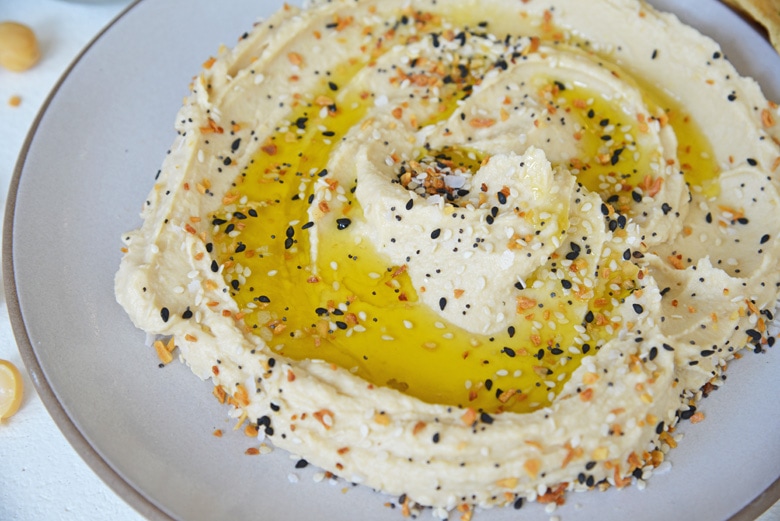 How to Make Everything Seasoning Hummus
Hummus is pretty easy to make. it consistents of chickpeas, olive oil, lemon juice, garlic, salt and tahini. I use canned chickpeas, as it is much faster to throw it all in a blender and press "blend".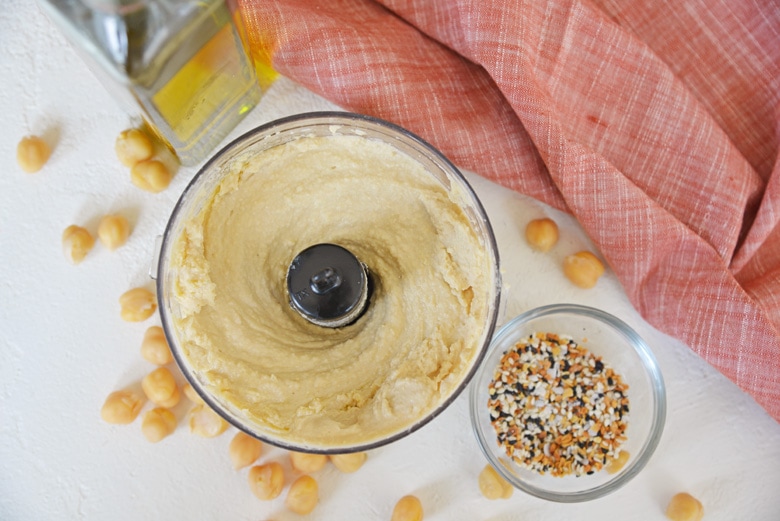 But not all canned chickpeas are the same. Some are harder and drier than others, so my advice is to experiment with a few before committing and then stick with that brand. My favorites are the store brand and Bush's.
The next step in making this everything seasoning hummus is optional, but can make the difference between velvety creamy hummus and a coarser mix. It involves taking off the waxy casing (membrane) on the outside. It is edible, but unsightly and doesn't blend as well.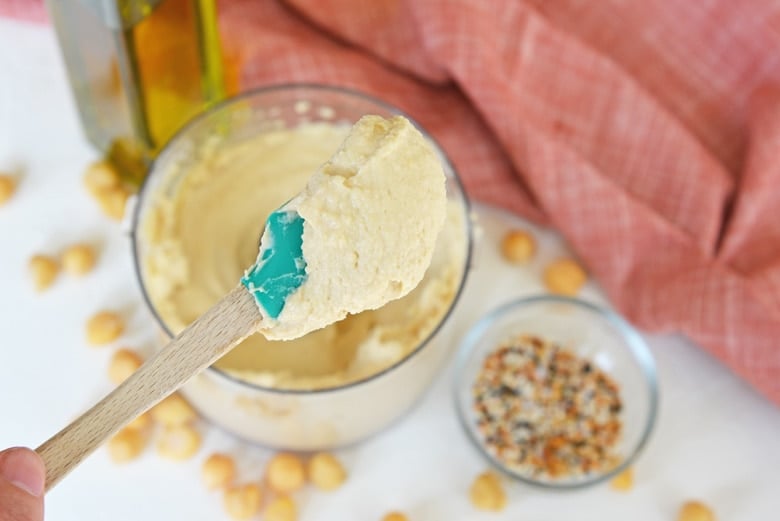 You can do this by working in batches and rubbing the chickpeas together between two paper towels. This will loosen the casing and you can easily pick it off. It doesn't take some time. Again, this step is optional.
Next, blend together the tahini and some of the olive oil until totally emulsified. Then add the chickpeas, garlic, lemon juice and salt. Drizzle in additional olive oil until it reaches the desired texture.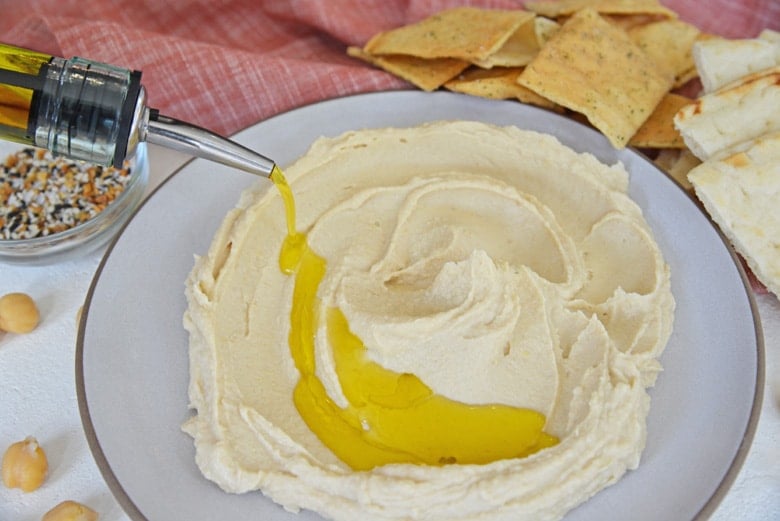 After putting on your serving dish, top with as much everything seasoning mix as you want- no judgement here!
Everything Seasoning
If you don't know what I am talking about, it refers to the seasoning used on everything bagels. You can find it premade at Trader Joes and in the spice aisle, but it is usually overpriced.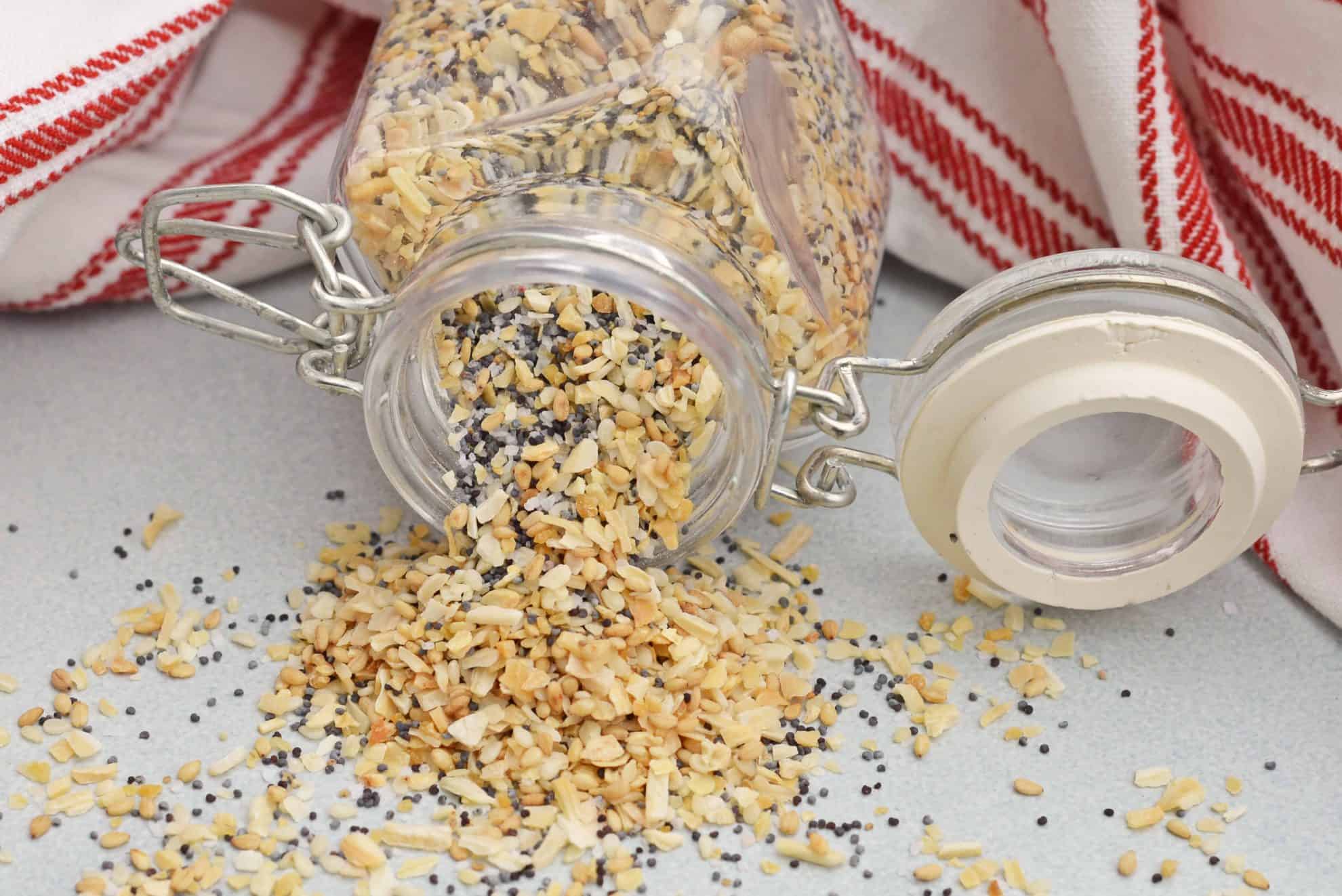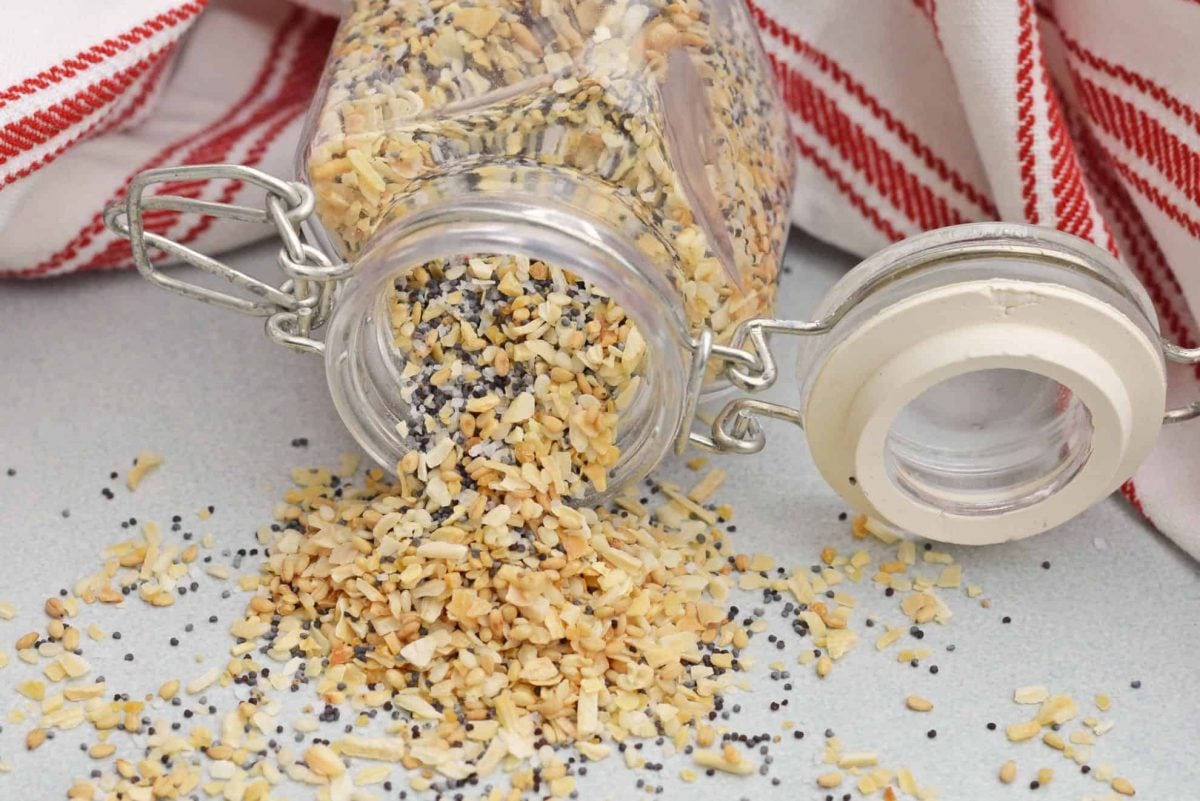 Making it yourself is quite easy and you probably already have the ingredients in your pantry. I make a big batch and then literally put everything seasoning on… well, everything. Here are some of my favorites: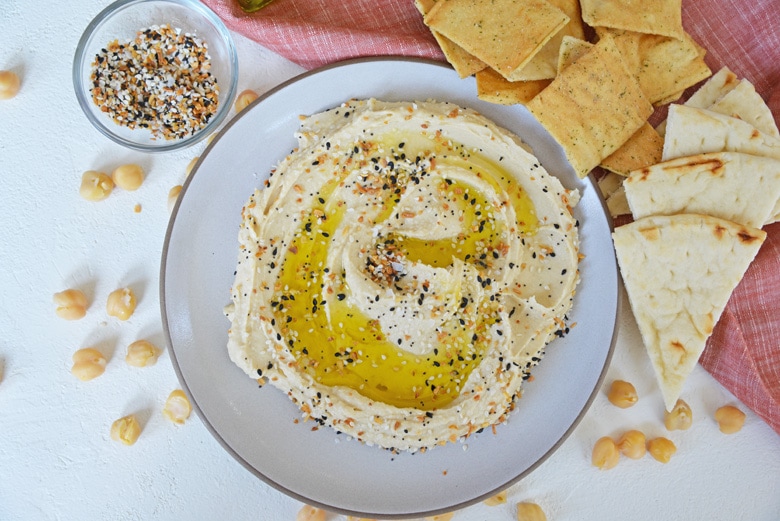 Tahini is a paste/sauce made from roasted sesame seeds. Find it near the peanut butter or in the International foods aisle. You can also make your own.
Tahini (like sesame seeds) can go rancid, so make sure you taste it before using. It tastes burnt and it unpleasant.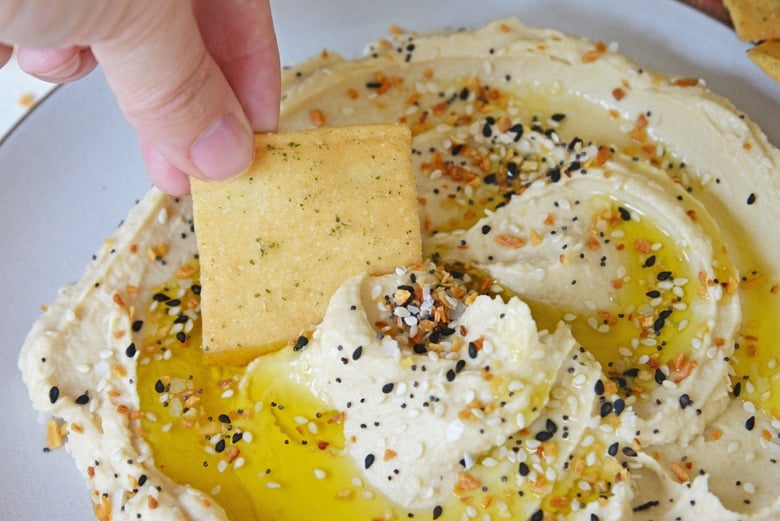 Looked for roasted tahini (not raw). This brings out the flavors from the sesame seeds. Raw can be bitter.
How to Cook Chickpeas From Scratch
I usually skip this step because quite frankly, I don't have the foresight to plan ahead 24 hours. But if you prefer to cook your own chickpeas (also known as garbanzo beans) for your everything seasoning hummus, be my guest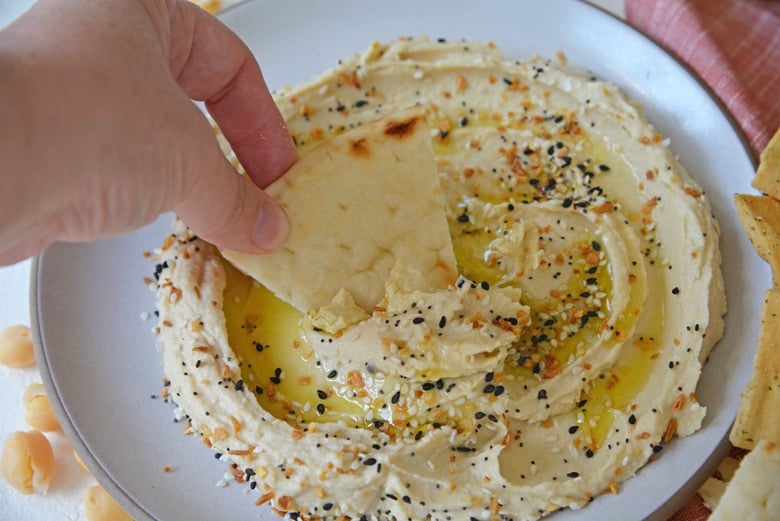 Place chickpeas in a large mixing bowl and cover with cold water to soften. Soak overnight or for at least 12 hours. (If you don't have time for this, cover with boiling water, top with a lid and sit for 2 hours.)
Drain well and transfer to a large saucepan. Cover again with fresh water and add 2 teaspoons of coarse Kosher salt.
Simmer for an hour or two on low heat, or until beans are soft and the outer membrane starts to peel.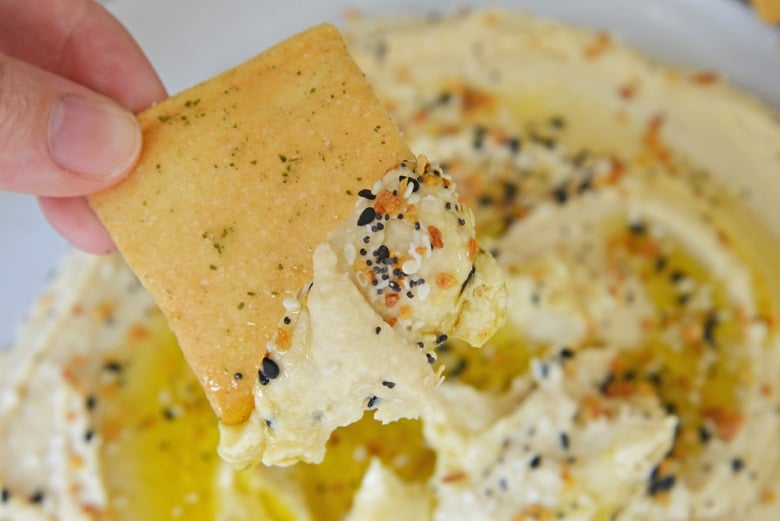 Storage & Freezing of Everything Seasoning Hummus
Homemade hummus stays good in the fridge for about a week. Give it a good stir to mix up the expelled water and other ingredients.
Hummus can be frozen, but the texture will be a little grainy and watery when thawed.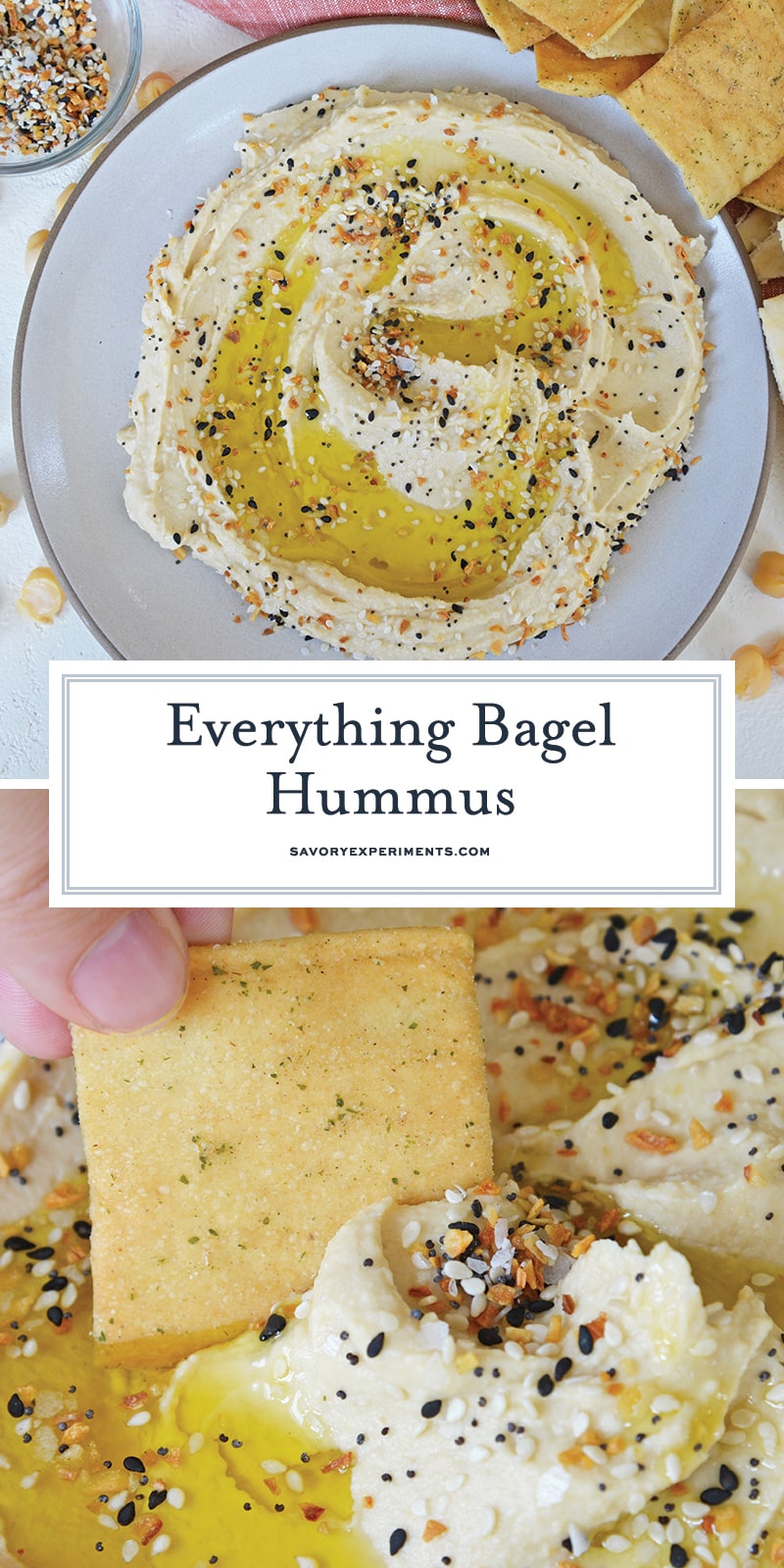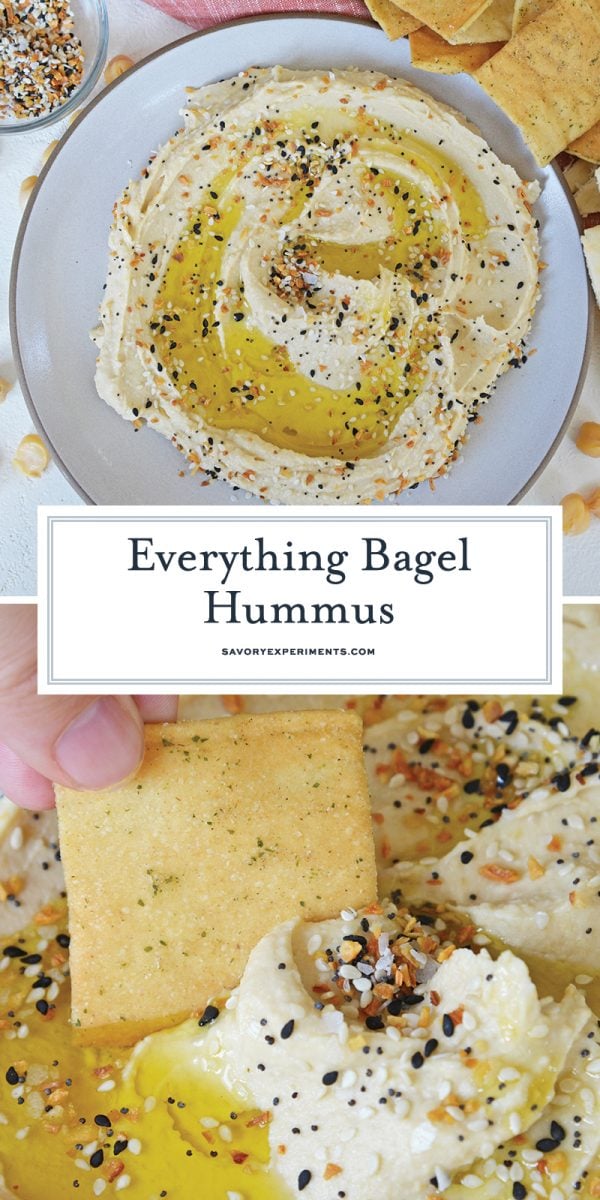 More hummus recipes: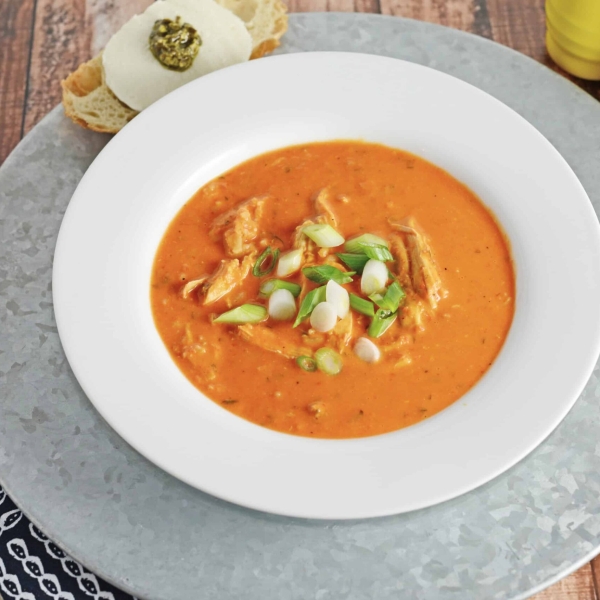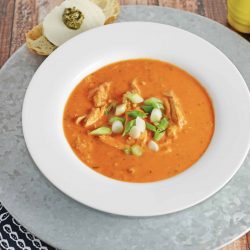 10-Minute Roasted Red Pepper and Hummus Soup
Gluten and dairy free soup made from pre-cooked items, only takes 10 minutes. Sub tofu for vegan version.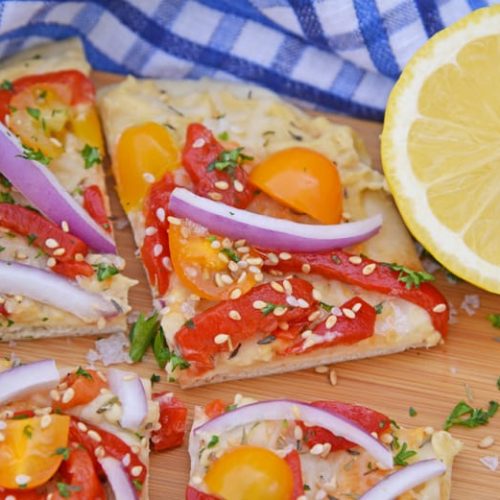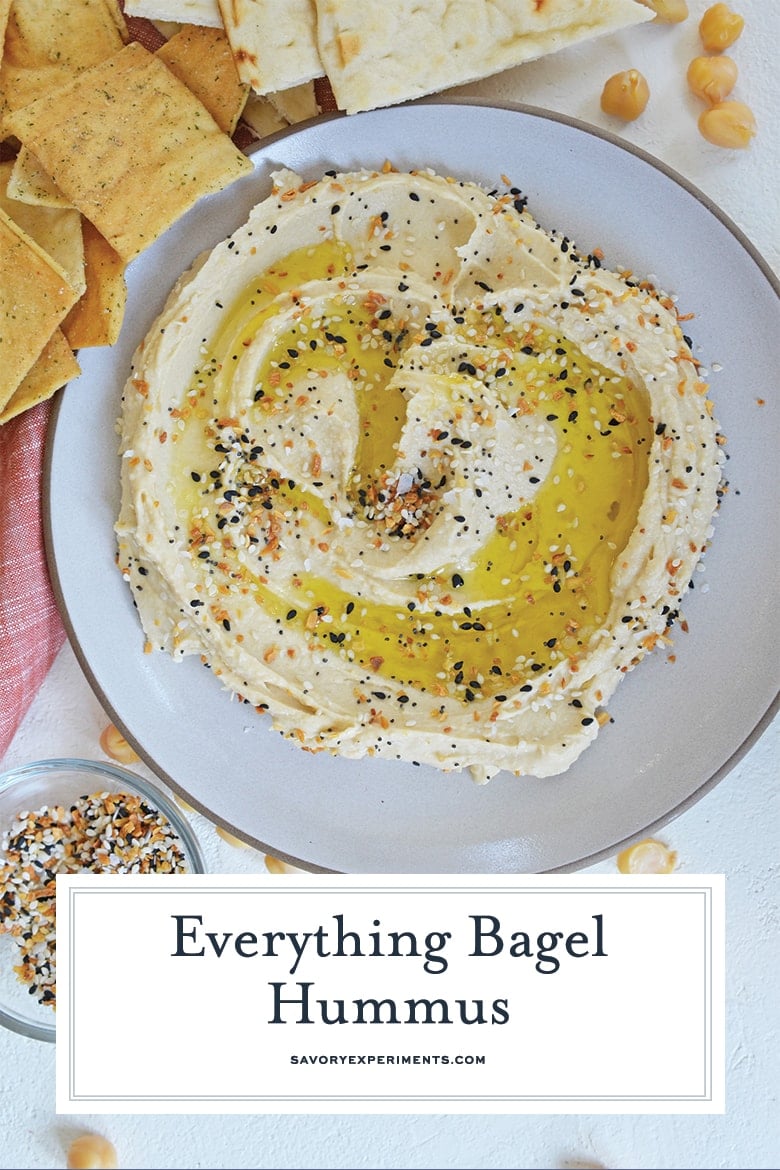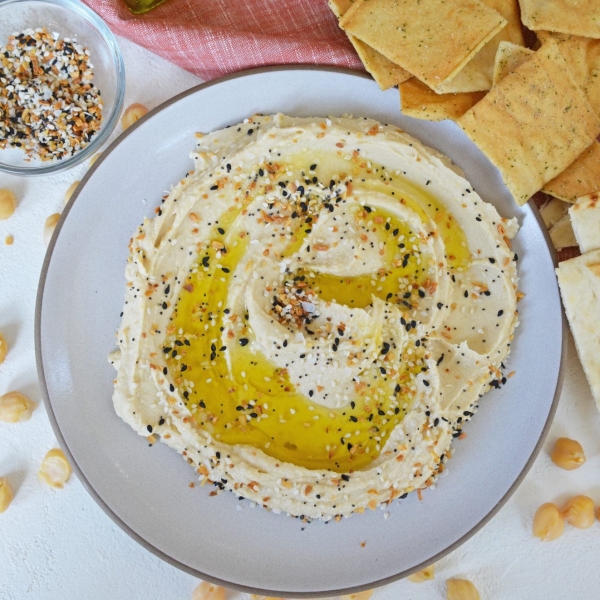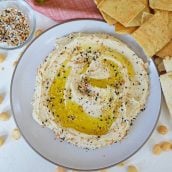 Everything Bagel Hummus
Grab your chips, this EASY Everything Seasoning Hummus will be your new favorite snack! Made with your favorite bagel seasoning!
Instructions
In a food processor, combine tahini and 1/8 cup olive oil. Blend well to emulsify.

Add chickpeas, garlic, lemon juice, water and coarse Kosher salt. Blend until smooth.

Slowly add remaining 1/8 cup olive oil until the desired consistency.

Remove to serve dish or bowl, top with Everything Bagel seasoning.

Serve with vegetables, chips or pretzels.

If you've tried this recipe, come back and let us know how it was in the comments or ratings!
Notes
If you want super creamy hummus, you'll want to remove the waxy outer layer of the chickpea. Working in batches, rub chickpeas together between two paper towels. This will loosen the casing and you can easily pick it off. It doesn't take some time. Again, this step is optional.
Nutrition
Calories:
244
kcal
,
Carbohydrates:
18
g
,
Protein:
8
g
,
Fat:
17
g
,
Saturated Fat:
2
g
,
Polyunsaturated Fat:
5
g
,
Monounsaturated Fat:
8
g
,
Sodium:
644
mg
,
Potassium:
231
mg
,
Fiber:
5
g
,
Sugar:
1
g
,
Vitamin A:
26
IU
,
Vitamin C:
4
mg
,
Calcium:
60
mg
,
Iron:
2
mg