This easy Butter Toffee recipe is one of my favorite holiday indulgences. I mean really, it is basically hardened caramel covered in chocolate. How could you go wrong?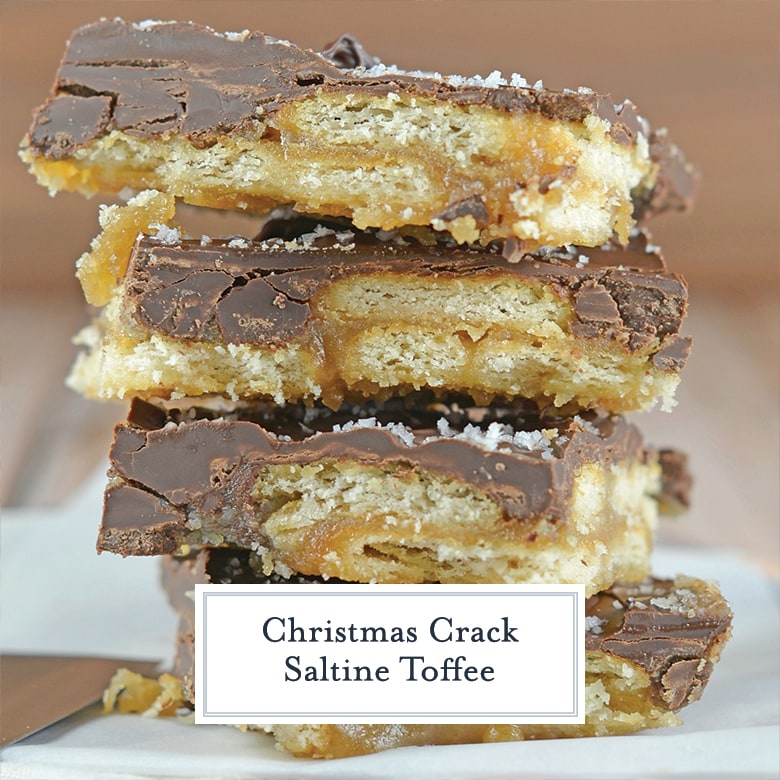 But this classic saltine toffee now goes by another name. Christmas Crack.
Christmas Crack Toffee
It got its name from being pretty cravable and then again from being made mostly at Christmas time. It was originally known as saltine toffee, but about a decade ago earned its street name, the slang Christmas Crack.
I have a love for toffee, crunchy, stick to my teeth toffee. Whether it be just plain, dotted with nuts or drizzled with melted chocolate, I love every type, but my love for the salty and sweet flavor affinity makes any type of saltine cracker toffee my absolute favorite.
Most recipes use plain old saltine crackers. Light and delicate, but covered in salt, these are the perfect base to be smothered in liquid gold butter toffee mix.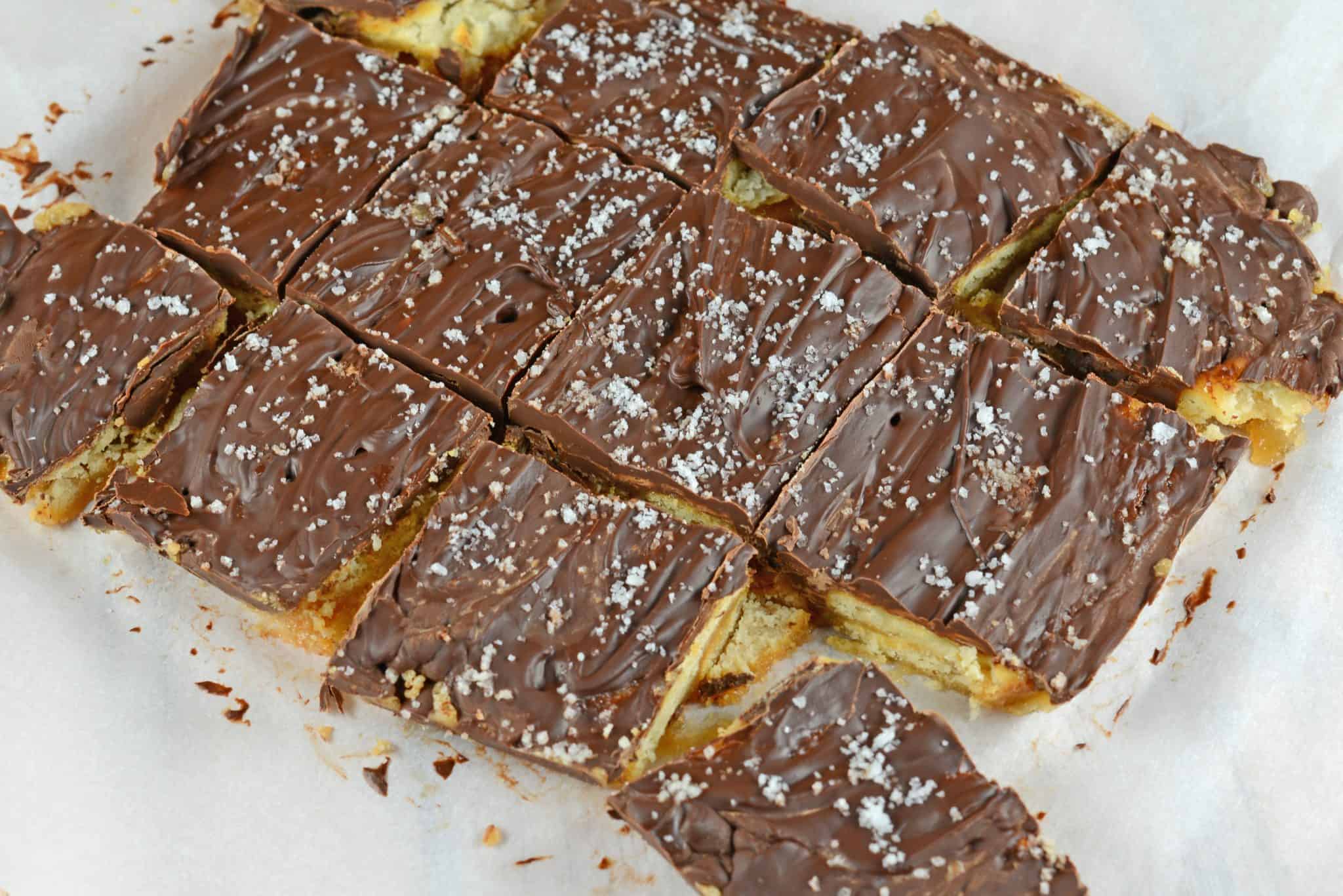 But I like using Ritz crackers. They are essentially a buttery version of saltine. Still flaky and salty, but with more flavor in the actual cracker. Why not add more butter?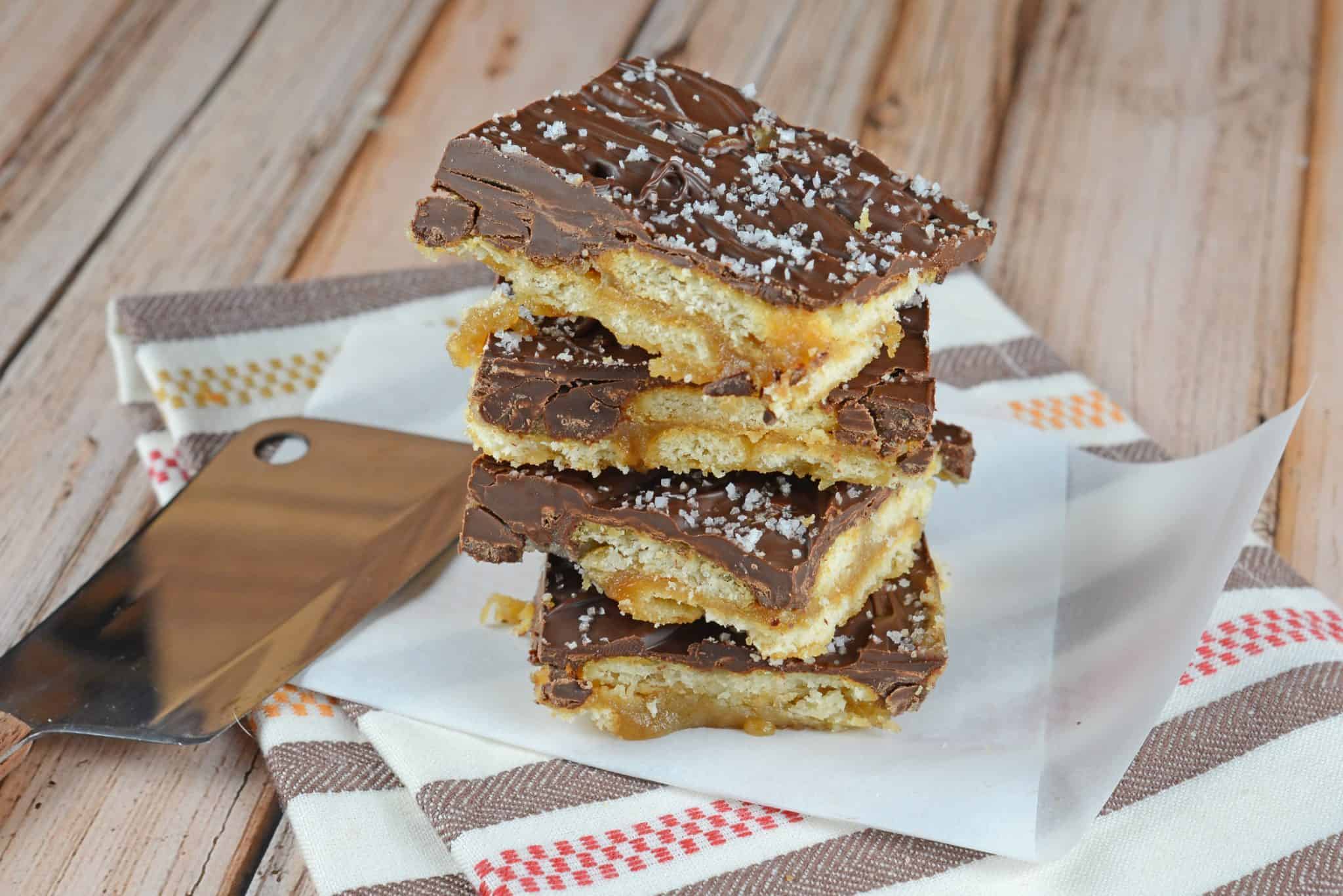 Christmas Crack has historically been stopped with shredded coconut or chopped nuts.
I like to top my saltine toffee off with a spread of chocolate, but you can make yours with or without. If you like this butter toffee, also check out my Candy Toffee and Bacon Chocolate Saltine Toffee.
Tips & Troubleshooting
Make sure your toffee mixture comes to 285 degrees using a candy thermometer. This ensures it has reached the correct temperature to chemically change and also evaporate enough water out of the mixture to set correctly. Toffee can be temperamental.
Avoid making toffee on humid days. Just like not enough water evaporating out, if it is a super humid day, it can impact setting.
Some folks reported their chocolate didn't soften enough to spread. If you want to give it a head start, melt chocolate at 50% power in the microwave and smooth over toffee while soft. Omit the step when you put it back into the oven.
Perfect Addition to the Cookie Tray
All the perfect addition to your cookie tray and ideal for making ahead and taking to potluck parties. People always go ga-ga over toffee! In fact, you might even hear it referred to as Christmas Crack around the holiday season.
Storage & Freezing
Christmas crack is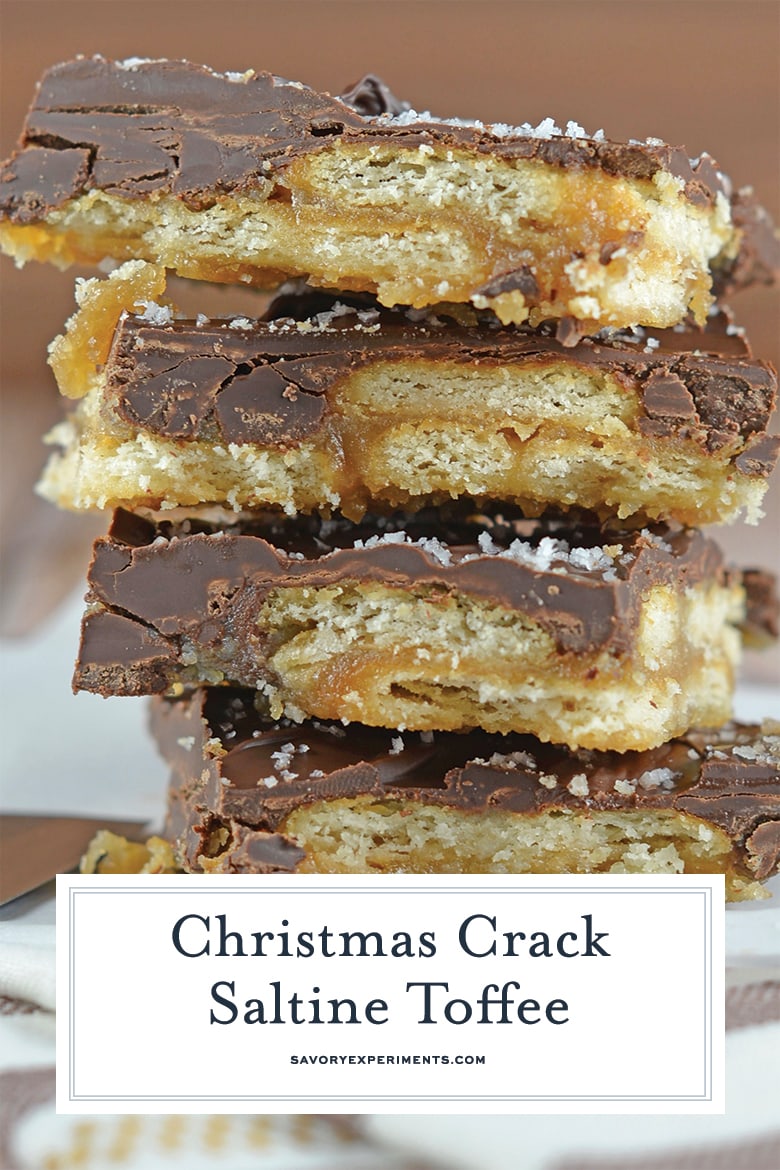 Tools:
9 x 13 Glass Baking Dish– an absolute essential for any kitchen! Use it for baking, marinating or storing. Get one with a lid, you'll thank me later.
Heavy Bottom Sauce Pan– this will be one of your most used kitchen tools. Having something that is heavy bottom will distribute heat better and prevent burning whether you are using an electric or gas range.
Offset Spatula – The best way to spread melted chocolate and frosting!
Chocolate Chip Cheese Ball
With soft flavored cream cheese, this Chocolate Chip Cheese Ball is so delicious, you'd think it was actual cookie dough!
Raspberry Cheesecake Cookie Cups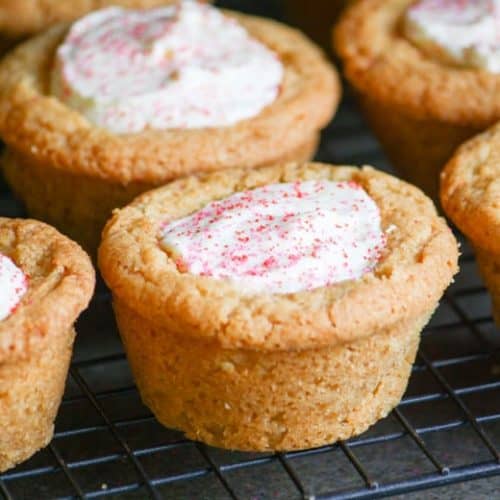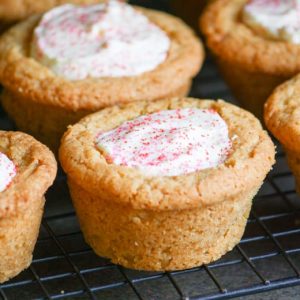 A delicious chewy sugar cookie filled with a dollop of raspberry jam. Topped with a silky no-bake orange flavored cheesecake.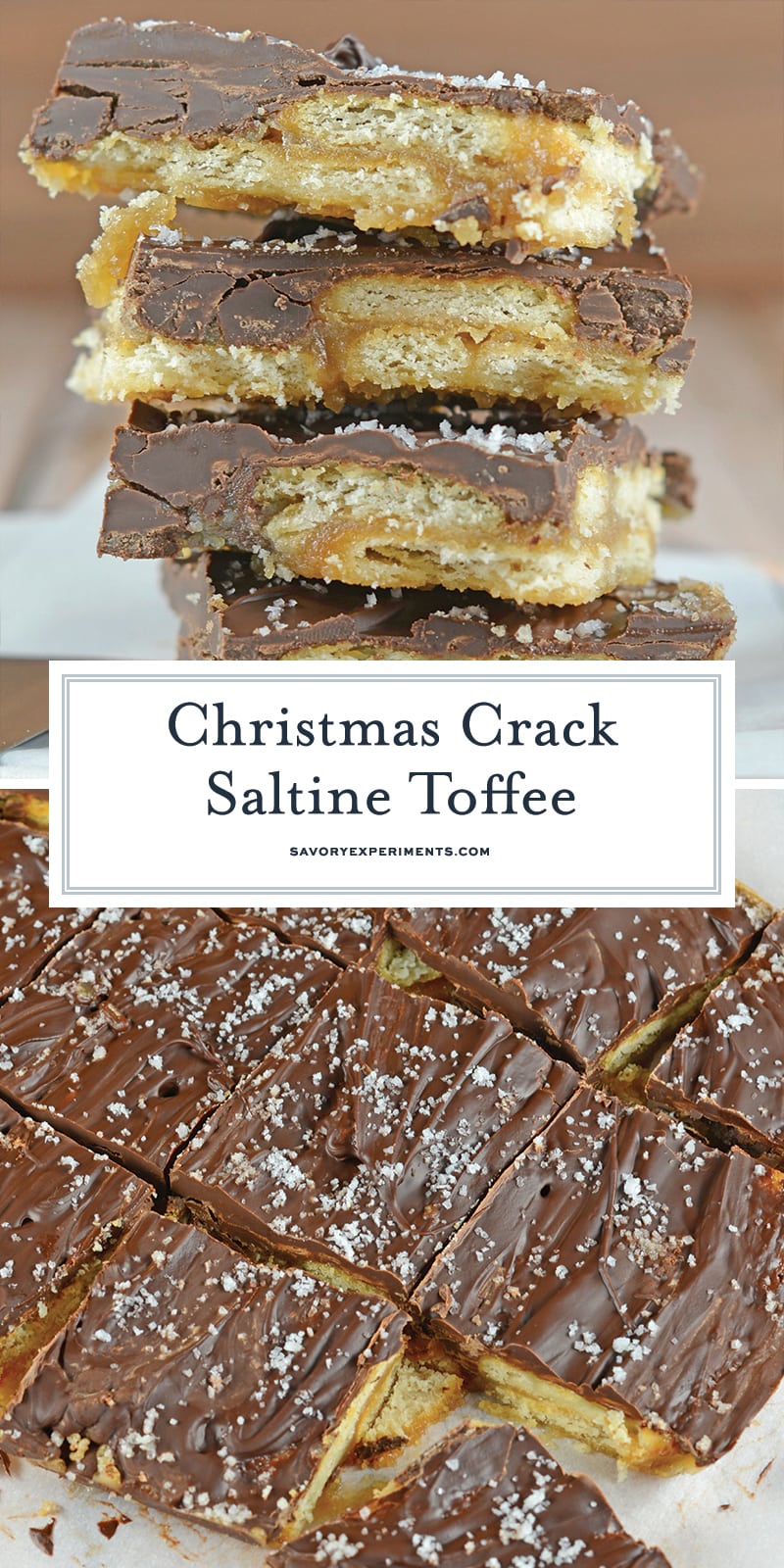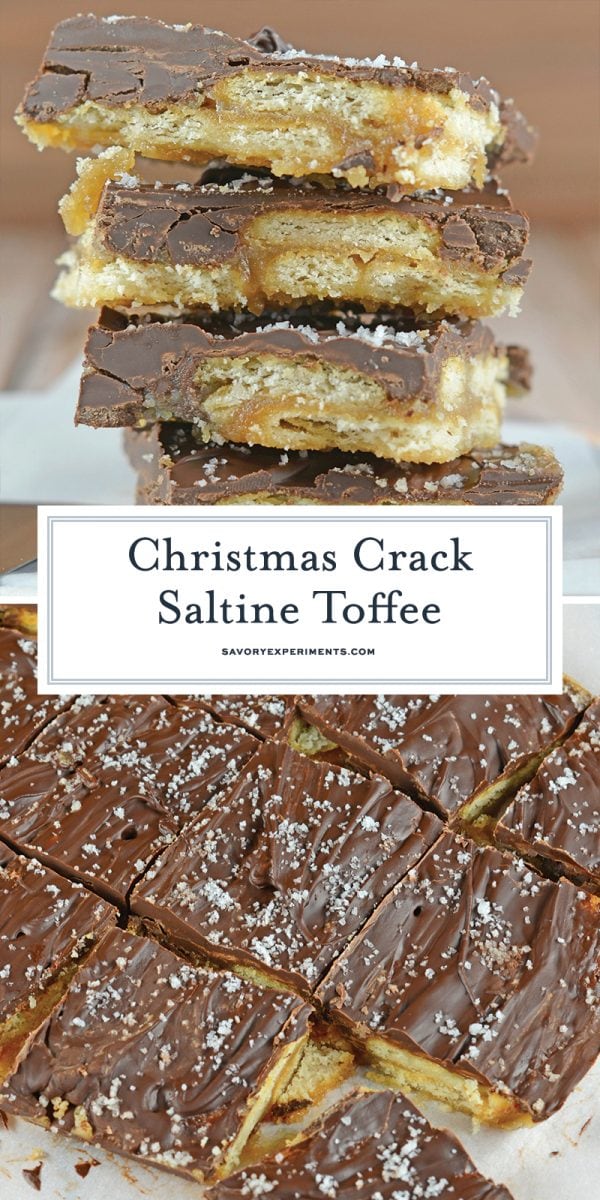 CONNECT WITH SAVORY EXPERIMENTS!

Be sure to follow me on social media, so you never miss a post!

Facebook | Twitter | Youtube
Pinterest | Instagram

Get our FREE 8 Day E-Course on How to Be a Better Home Cook. Sign up HERE!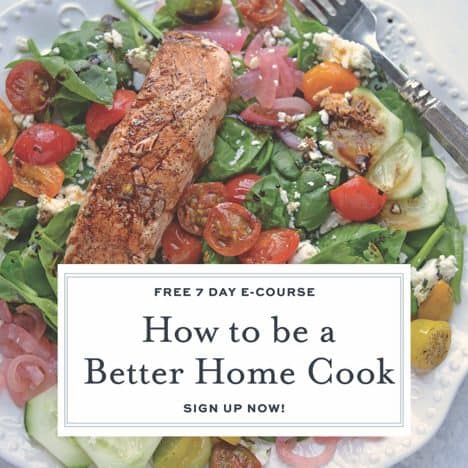 Christmas Crack Recipe
Saltine Cracker Toffee is a classic butter toffee on top of crunchy, buttery crackers. Make this classic holiday treat in just 20 minutes using 5 ingredients!
Instructions
Preheat oven to 400 degrees. Line a 9×13 baking dish with parchment paper, carefully folding the edges so you can easily lay the crackers flat.

Line baking dish with crackers.

In a medium saucepan, heat butter and brown sugar over medium heat, stirring frequently until fully combined and smooth. Do not boil, but allow it to reach 285 degrees using a candy thermometer. Pour evenly over crackers.

Bake for 8 minutes. Remove and turn off oven.

Sprinkle top with chocolate chips, then return to the warm oven (oven is off, but warm). Allow to sit for 1-2 minutes or until chocolate starts to glisten slightly. Using an offset spatula to smooth it out.

Remove, sprinkle with coarse sea salt, and allow to cool to room temperature.

Remove parchment paper and cut into squares.

If you've tried this recipe, come back and let us know how it was in the comments or ratings.
Nutrition
Calories:
440
kcal
|
Carbohydrates:
39
g
|
Protein:
1
g
|
Fat:
31
g
|
Saturated Fat:
19
g
|
Cholesterol:
62
mg
|
Sodium:
797
mg
|
Potassium:
170
mg
|
Fiber:
1
g
|
Sugar:
34
g
|
Vitamin A:
720
IU
|
Calcium:
44
mg
|
Iron:
1.6
mg