Noodles, vegetables and tender beef are tossed in a slightly sweet and spicy sesame sauce to make this easy Beef Lo Mein recipe! It is a complete meal that is ready in less than 30 minutes and this version is so much better than take-out.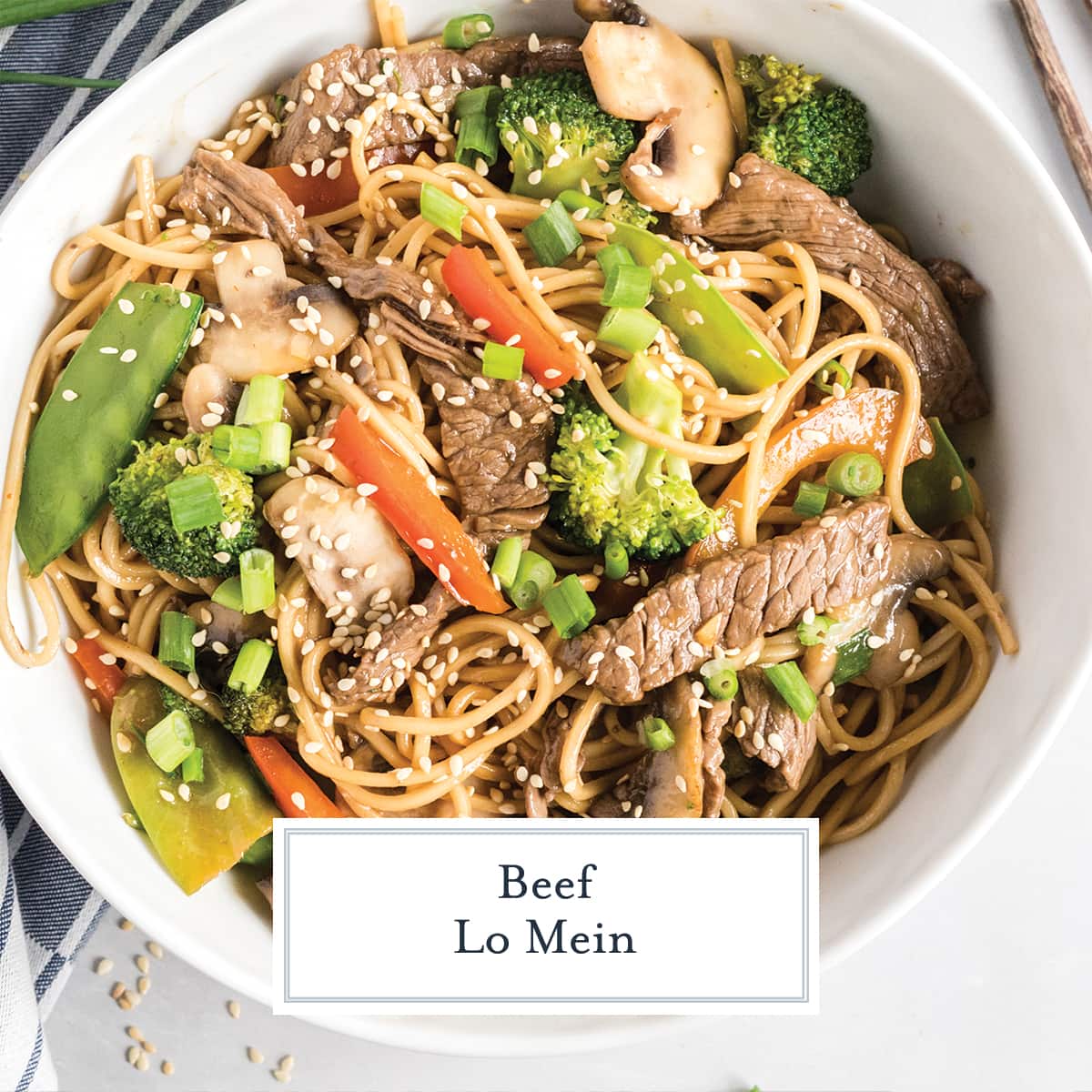 What is Lo Mein?
Lo Mein is a stir fried noodle dish that is mixed with vegetables and often some kind of protein. You can make it with beef (like this beef lo mein,) chicken, shrimp, or even tofu if you want to keep it vegetarian.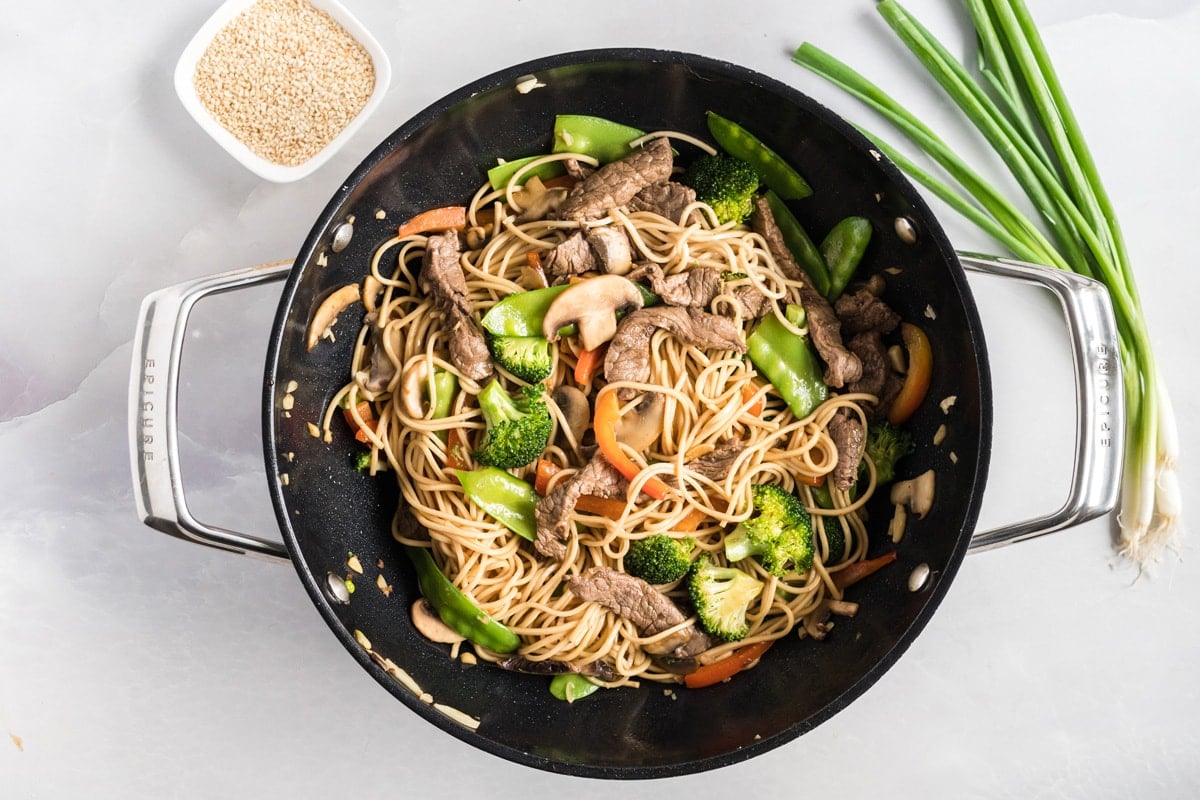 It is tossed in a light sauce, generally made of soy sauce, sesame oil and brown sugar. It is sweet and savory with a light sesame flavor. If you are a saucy person, feel free to double the sauce. The noodles will soak up a good bit and if you want to liven up the leftovers, then set some aside for tossing after you reheat.
Often there is garlic or ginger added, or a combination of both, which compliment the sauce perfectly. Feel free to add more or less of either of these if those flavors strike your fancy.
Because of the combination of noodles, vegetable, and protein it is a complete meal and it is easily customizable.
Ingredients
The great thing about this dish is how simple the ingredients are and how easy it is to switch things out based on what you have on hand.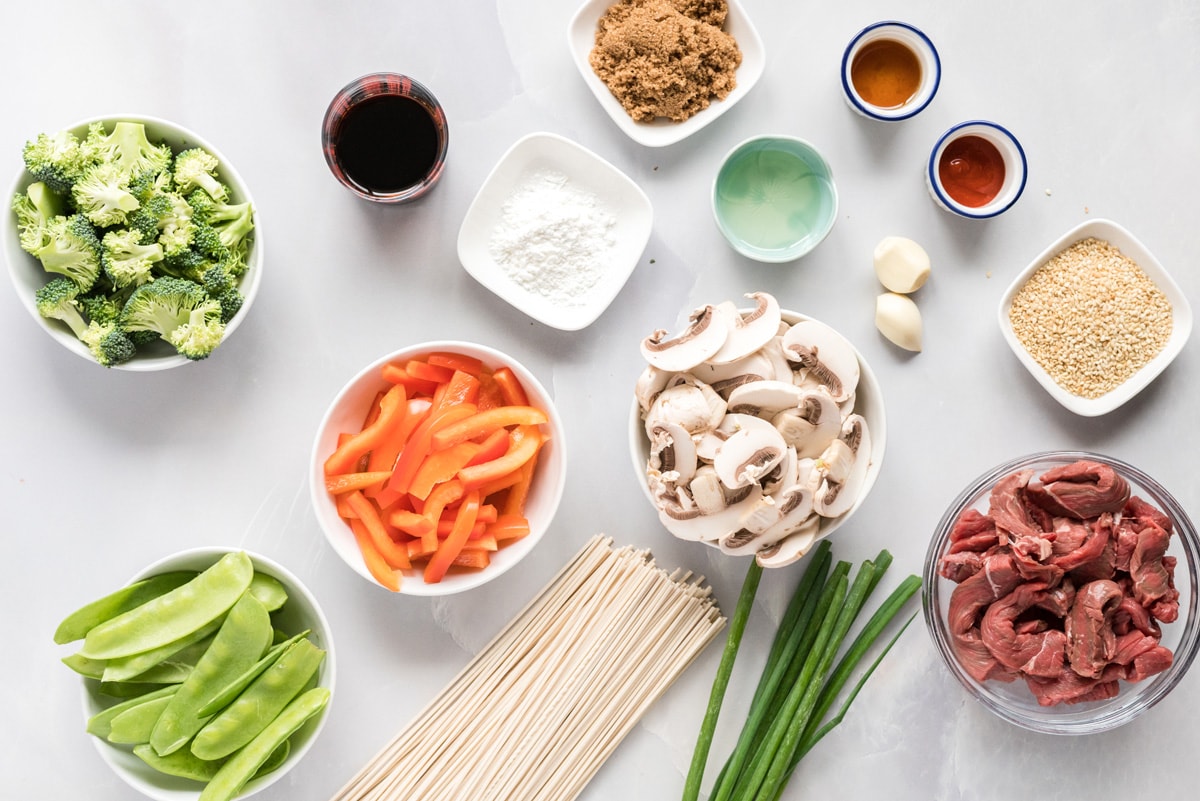 Even the sauce for this dish uses simple pantry ingredients that you likely already have in your refrigerator.
Beef – I use thinly sliced sirloin, but you can pretty much use whatever you like. I've use flank steak and even strip loin.
Noodles – Lo Mein is generally made with a Chinese egg noodle, but spaghetti noodles work just as well.
Vegetables – You can really use anything you like. Broccoli, bell peppers (red or green), snow peas, carrots, mushrooms and bean sprouts are all popular choices.
Lo Mein sauce – This is a simple sauce of soy sauce, brown sugar and sesame oil. You can also find bottled sauce in many grocery stores. Some add fish or oyster sauce as well, but I don't find them necessary as they just make it more salty.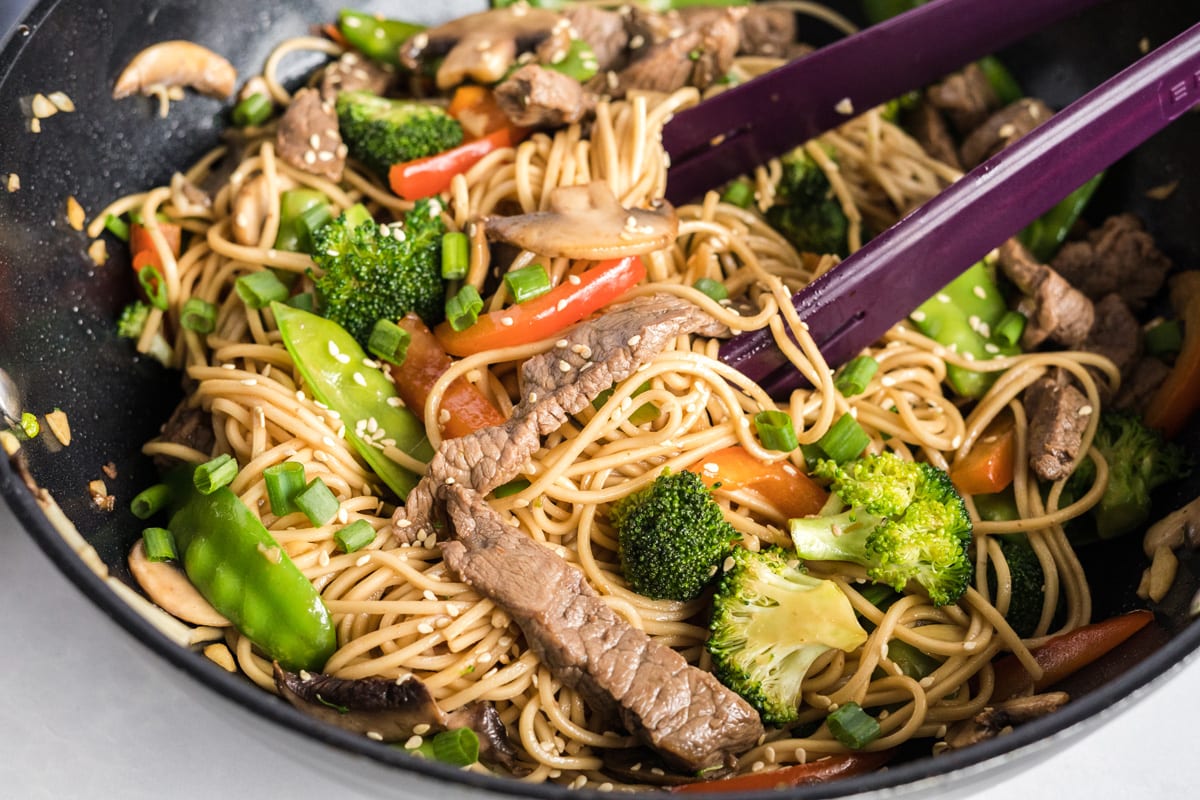 How to Make Beef Lo Mein
This dish is easy to prepare with only a few steps.
Start by thinly slicing your beef and dicing your vegetables. Then fill a large pot with water and set it on the stove. Bring it to a boil while you start cooking. Some have asked if you need to marinate the beef and I don't find this to be necessary.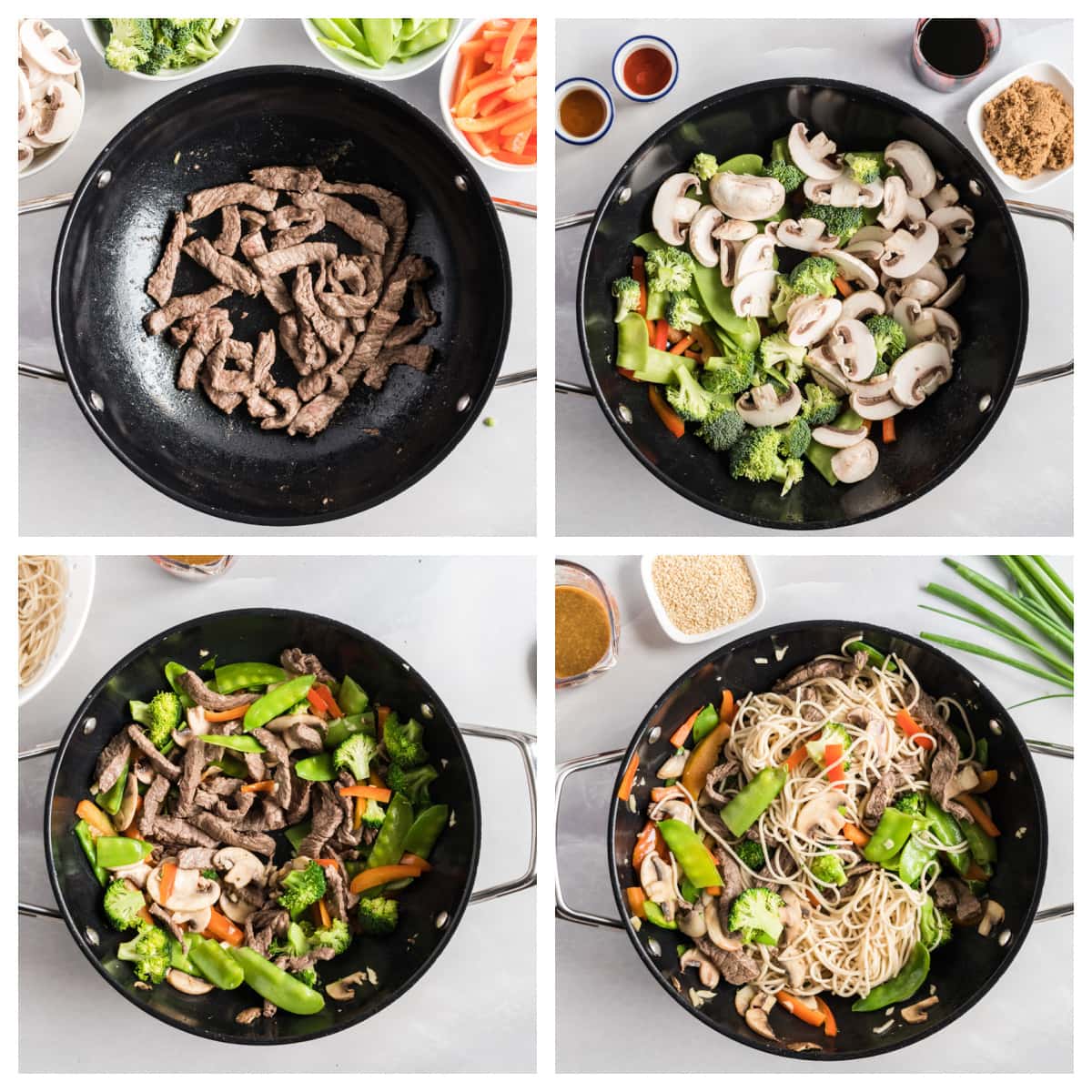 ONE. Add one tablespoon of vegetable oil to a wok or large skillet (make sure it is also deep). Heat over medium high heat and add the beef. Cook just until no longer pink then remove to a plate and cover with foil to keep warm.

TWO. Drain any liquid from the pan, then add 1 tablespoon of oil and the vegetables. At this time you can drop the noodles in the boiling water as well.

Cook the vegetables for about 5 minutes, just until they begin to soften. While they are cooking, mix the beef lo mein sauce.
THREE. Add the beef back to the pan, then drain the cooked noodles and add them to the pan. Toss to mix.
FOUR. Add the sauce, toss to combine all the ingredients and cook for about 2 minutes until the sauce has slightly thickened.
Serve garnished with sliced green onion and toasted sesame seeds.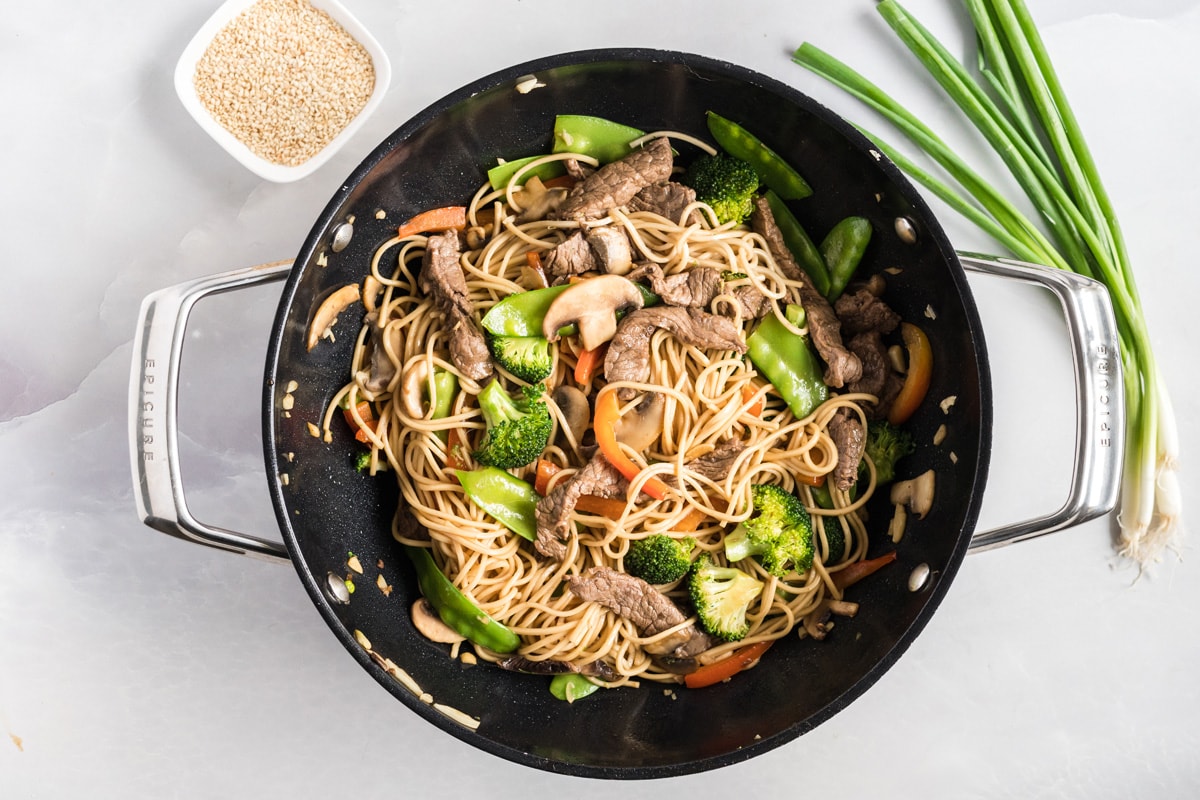 Lo Mein Noodles
Traditionally, Lo Mein is made with Chinese egg noodles, a soft, long strand Sometimes they are specifically marketed as Lo Mein noodles, sometimes they will just be labeled Chinese noodles.
These are long noodles that look similar to spaghetti noodles. They are usually found in the ethnic section of the grocery store where you can find all the Asian sauces. Sometimes you can find fresh ones in the produce aisle as well.
If you can't find Lo Mein noodles, go ahead and use spaghetti. It works just as well, has a similar texture, and is probably already in your pantry. I've also used rice noodles or cellophane noodles. Just make sure they stay soft. If they fry for too long you end up with crispy noodles and more of a chow mein.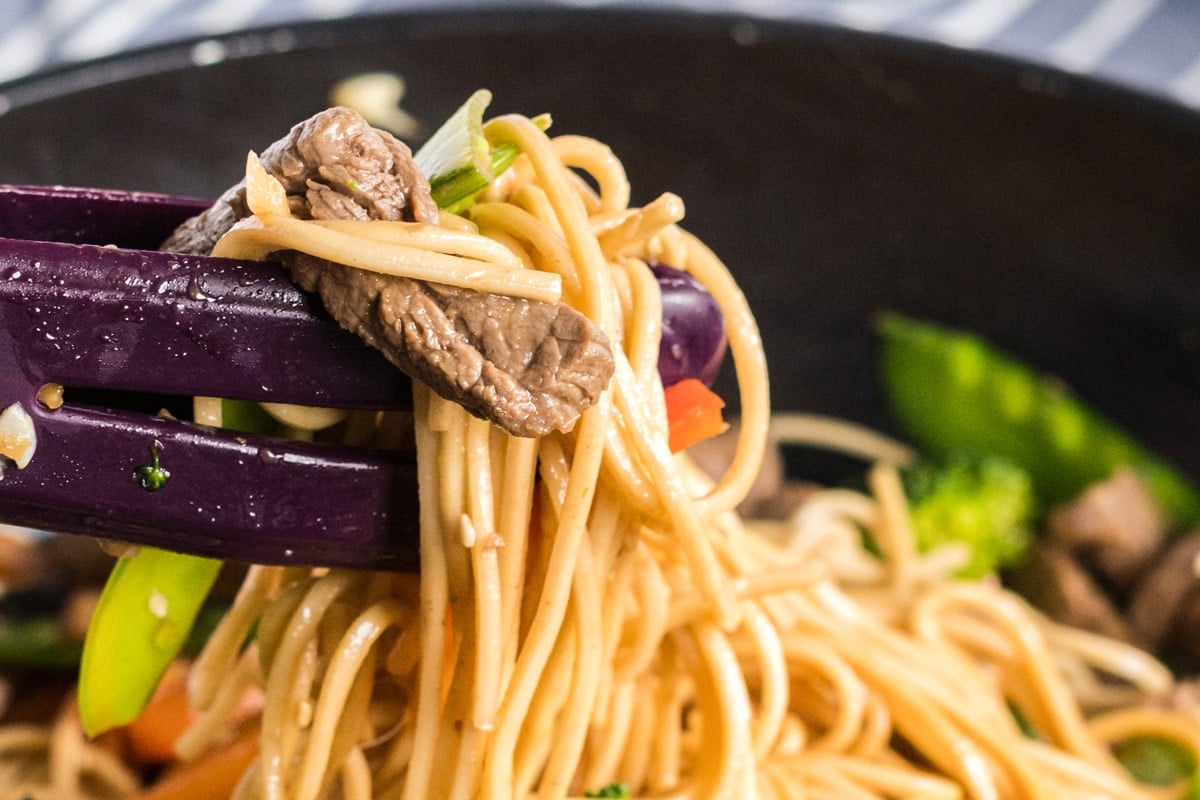 And if you have extra, these also taste great with Honey Walnut Shrimp.
What Meat Goes with Lo Mein?
And while this lo mein recipe was developed for beef , you can easily swap for chicken, pork, shrimp, or leave the meat out completely to make this a healthy vegan dish.
The volumes are also easily adjusted up or down. Or make it a combo!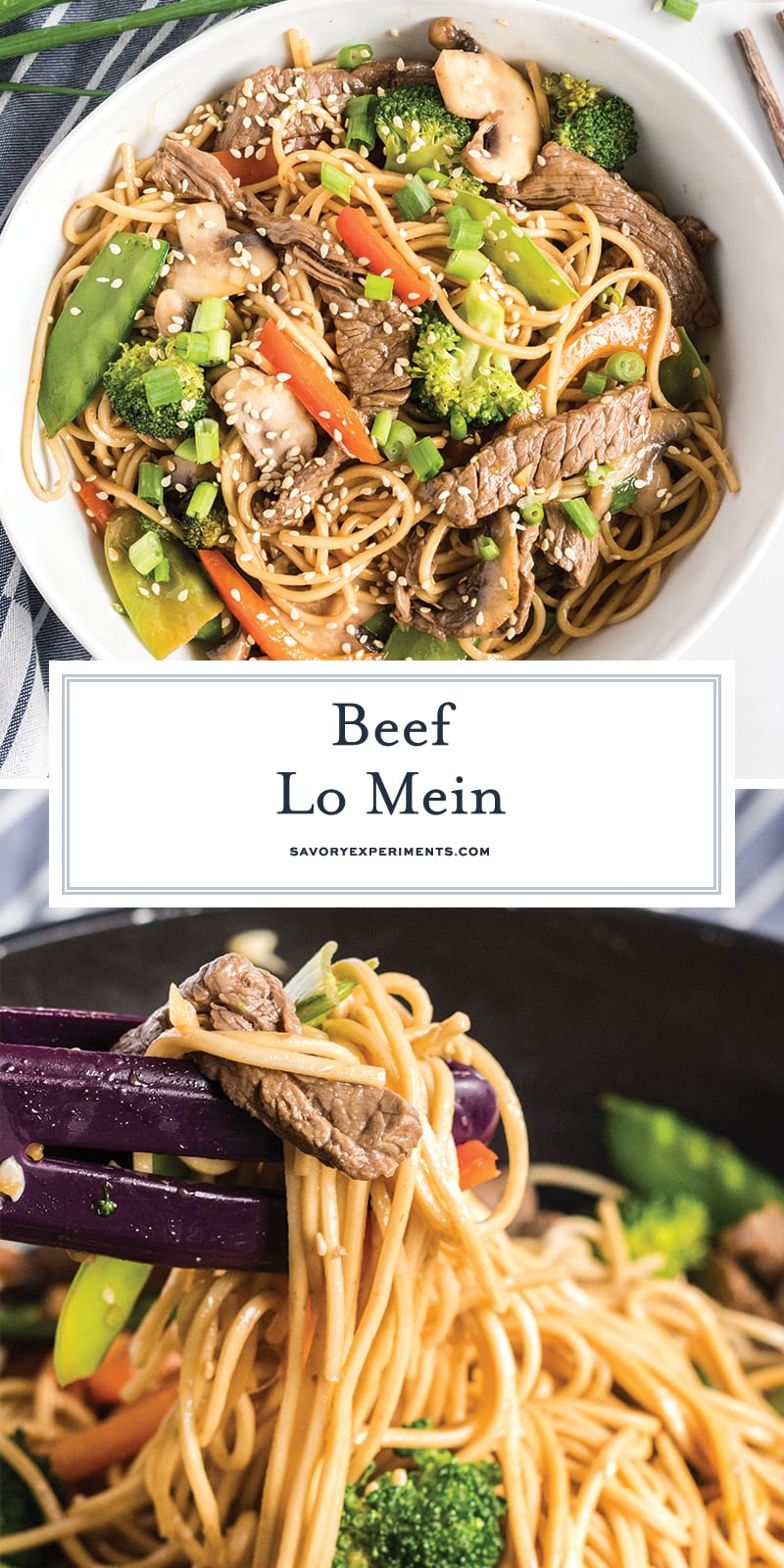 More beefy recipes: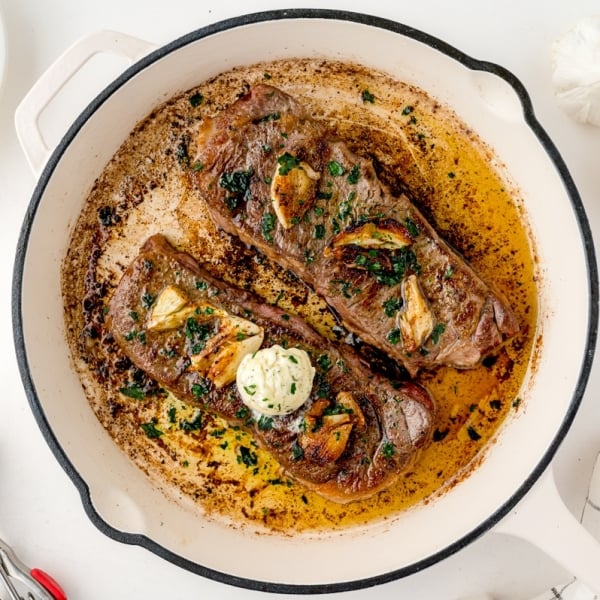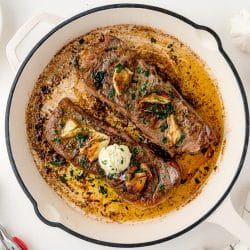 Pan Fried Steak
How to make a Pan Fried Steak at home is easier than you think with my step-by-step instructions and easy steak seasoning!
See The Recipe!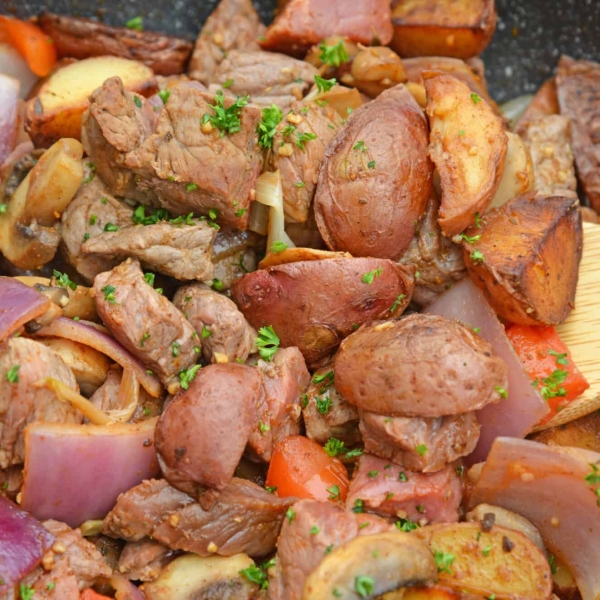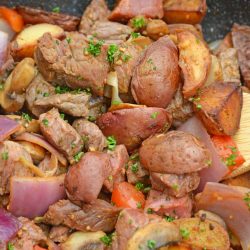 Steak Stir Fry
This Steak Stir Fry recipe is filled with lots of flavor and veggies. A beef stir fry makes a great meal for a busy weeknight!
See The Recipe!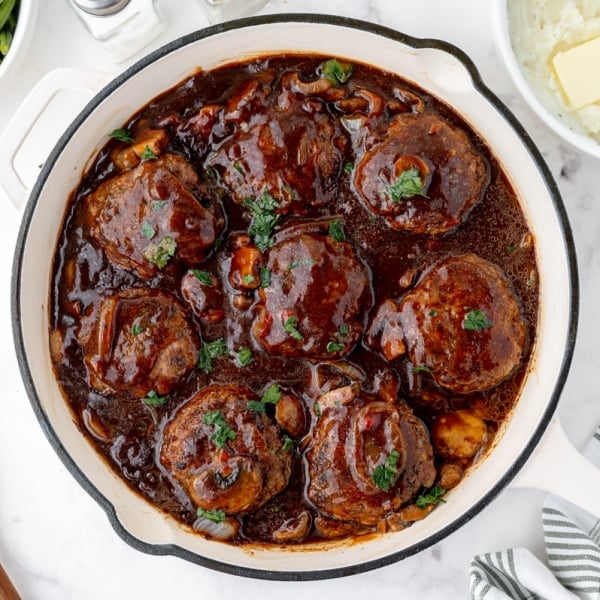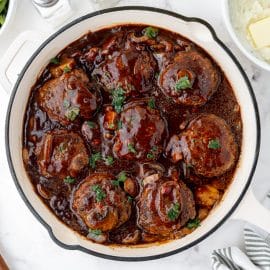 Salisbury Steak
Forget what you know about salisbury steak, this Homemade Salisbury Steak recipe is out of this world! Topped with a mushroom gravy, it's moist and delicious!
See The Recipe!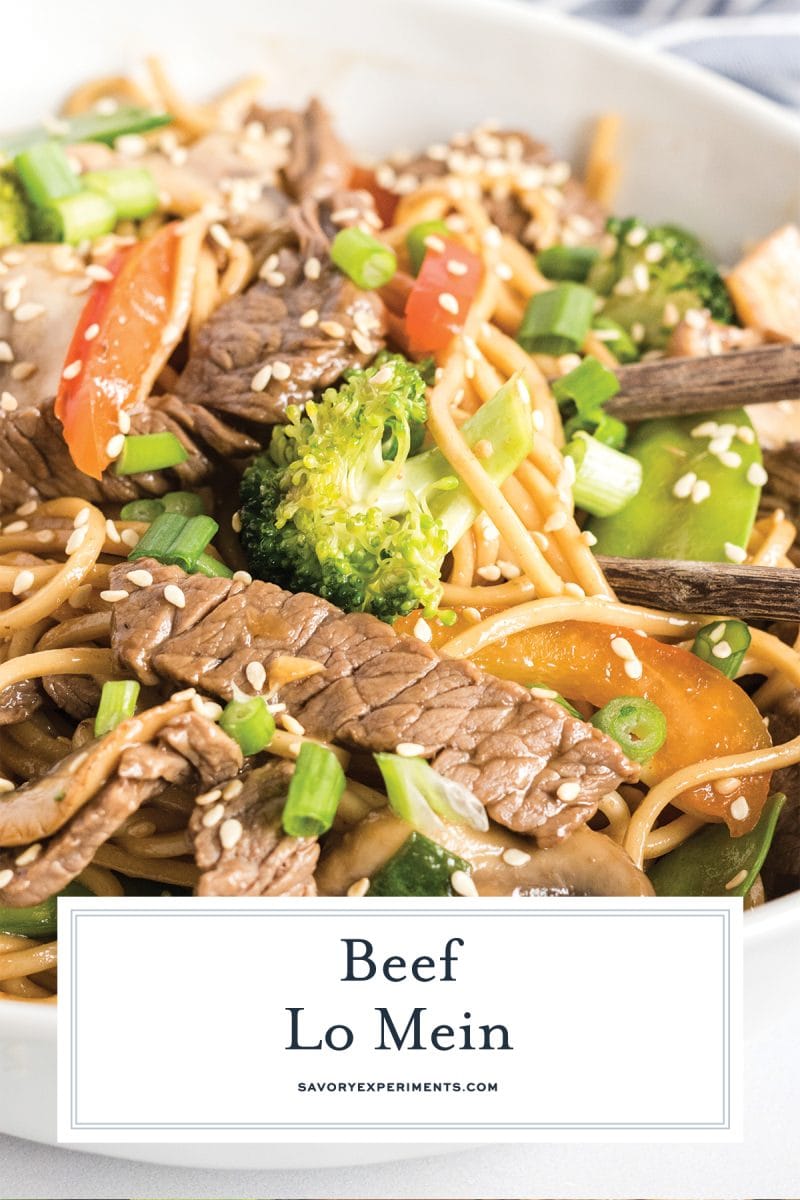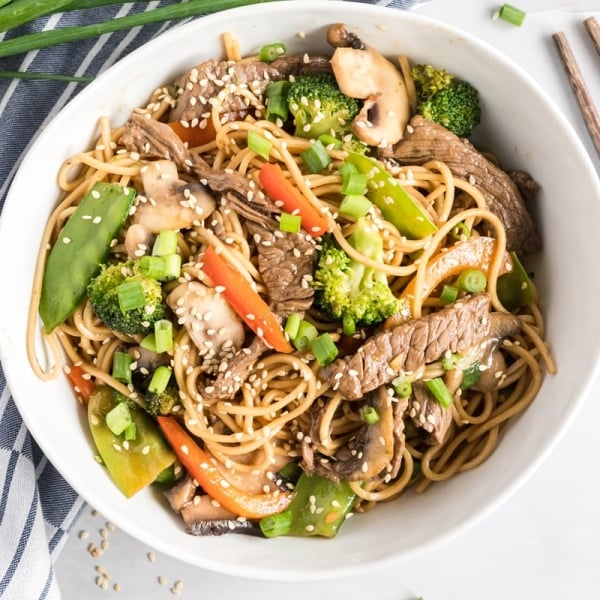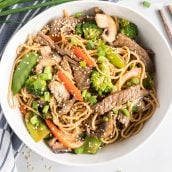 Beef Lo Mein Recipe
Noodles, vegetables & tender beef are tossed in a slightly sweet and spicy sesame sauce to make this easy Beef Lo Mein! Ready in 30 minutes!
Instructions
Mix all ingredients for sauce including soy sauce, brown sugar, sesame oil, sriracha and cornstarch, in a small bowl until smooth. Set aside.

Bring a large pot of water to a boil.

While waiting for the water to boil, heat a wok or large deep skillet over medium-high heat and add 1 tablespoon of vegetable oil.

Add the beef and cook until no longer pink, then remove from the pan to a plate and cover with foil to keep warm.

Drain any liquid from the pan then add remaining one tablespoon of oil, garlic and vegetables. Meanwhile, drop the noodles in the boiling water and cook according to package directions. (5-9 minutes for al dente, depending on noodle used)

Cook the vegetables until they begin to soften, then add the beef back to the pan. Drain the noodles and add them.

Toss to combine, then pour the sauce over top. Cook while tossing 2-3 minutes until heated through and sauce has slightly thickened.

Add sliced scallions and toasted sesame seeds and serve hot.

If you've tried this recipe, come back and let us know how it was in the comments or ratings.
Nutrition
Calories:
515
kcal
,
Carbohydrates:
60
g
,
Protein:
35
g
,
Fat:
15
g
,
Saturated Fat:
7
g
,
Cholesterol:
62
mg
,
Sodium:
1761
mg
,
Potassium:
737
mg
,
Fiber:
4
g
,
Sugar:
12
g
,
Vitamin A:
1399
IU
,
Vitamin C:
75
mg
,
Calcium:
83
mg
,
Iron:
4
mg