I got the inspiration for these melting ghost brownies from my melting snowman cookies. I've never been a big fan of the ghouls and gross Halloween treats, but cute ones, like these are right up my alley.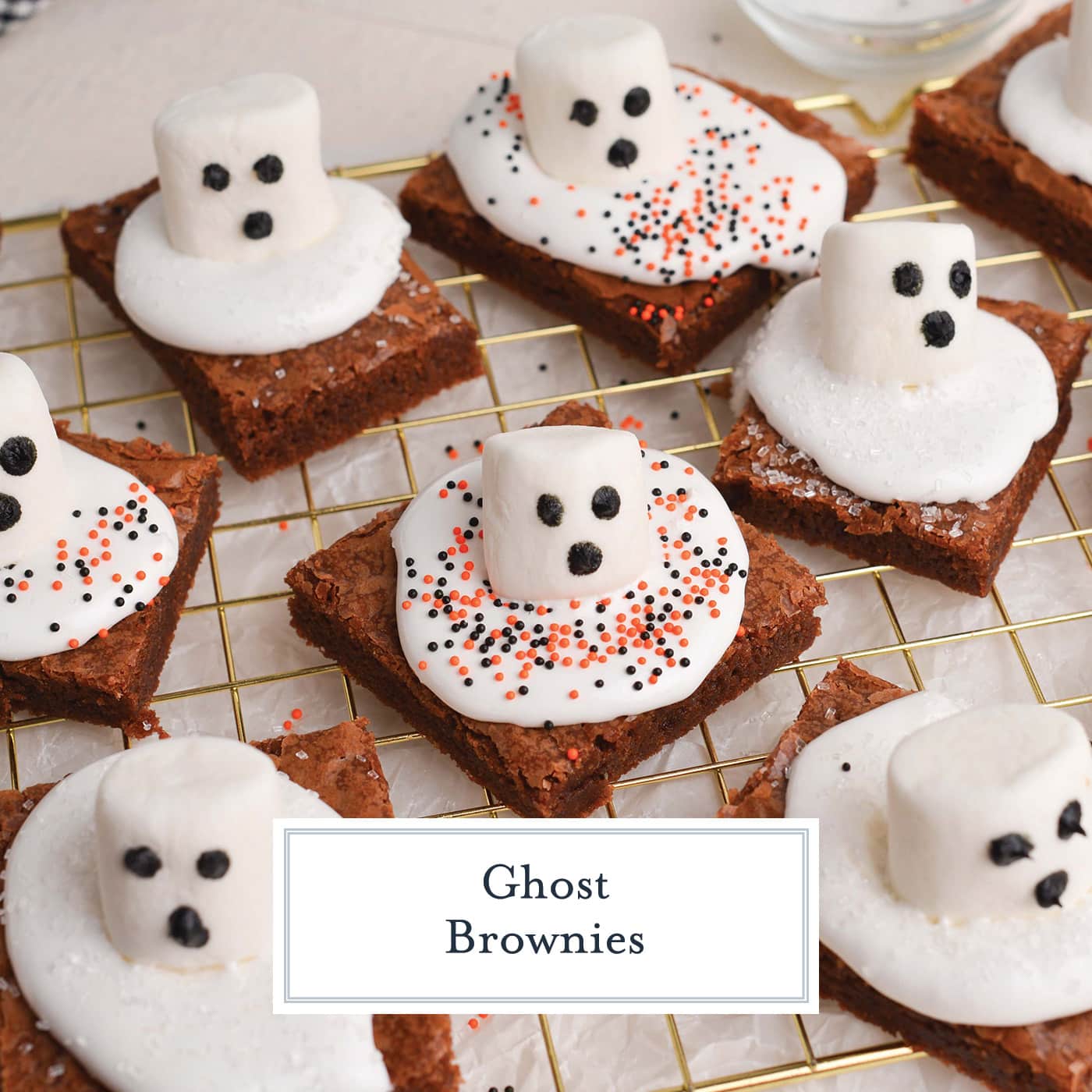 Making these brownies is sure to get you in the Halloween spirit! The base is made of either store-bought or homemade brownies, and the topping is made of marshmallow ghosts that you can decorate.
So, when you're ready to get in the mood for spooky season, give these brownies a try. It may become on of your all-time favorite Halloween recipes!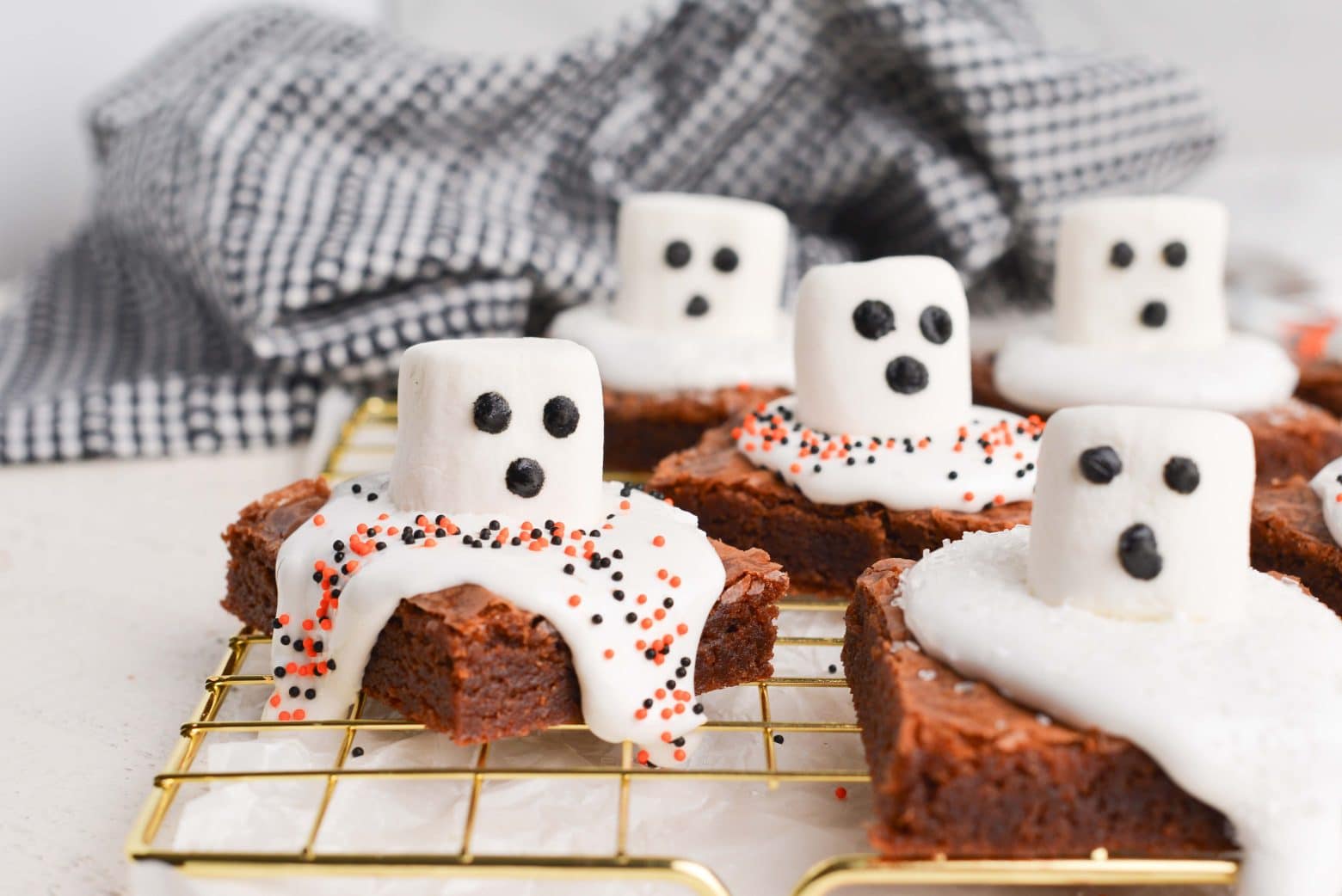 What Kind of Brownie To Use
The beauty is that you can make them with whatever type of brownie you like! Use your favorite homemade brownie recipe, whip them up from a box, or make them with Nutella, peanut butter, fudgy, cake-like, any type you prefer. You can even grab store-bought brownies and let the kiddos do the rest of the creative work.
All you need besides the brownies are festive Halloween sprinkles, marshmallow fluff, large jet-puffed marshmallows, and a tube of black frosting with a pen tip or small round tip or even food-grade writing pens.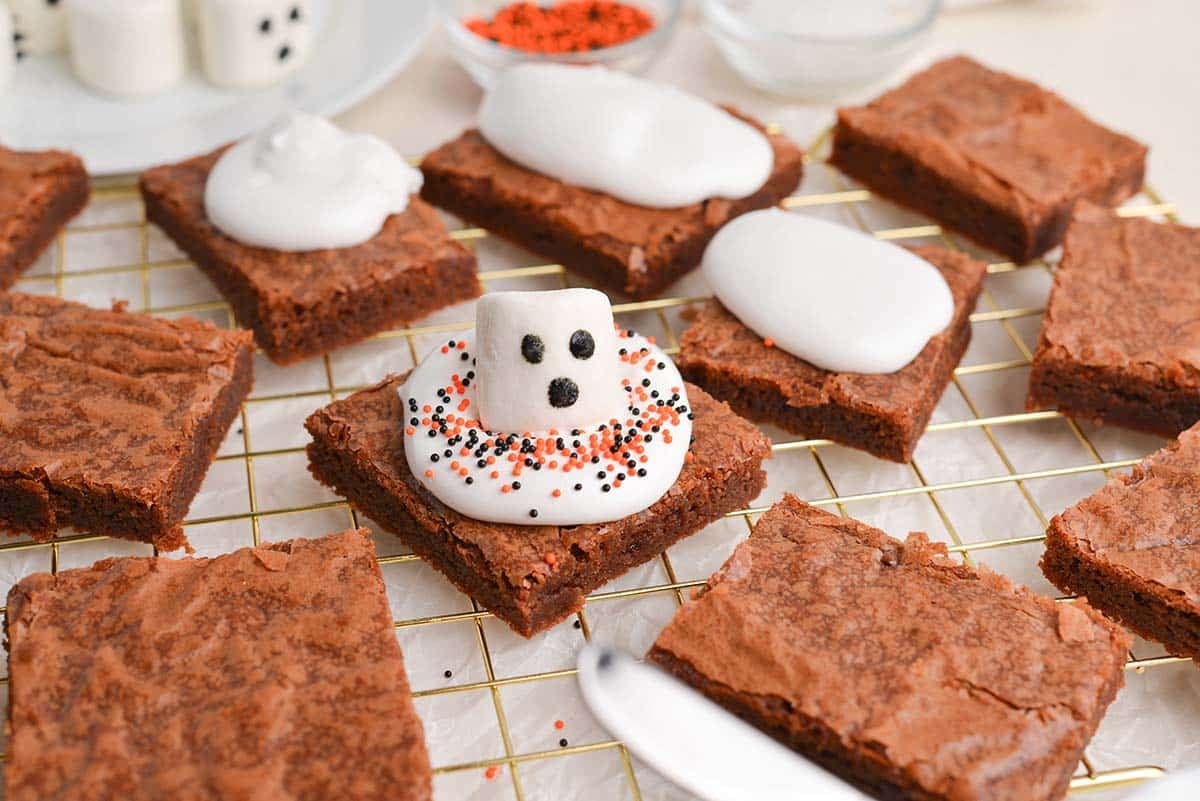 Tips for Making Cute Ghost Brownies
This is a relatively easy recipe, but here are a few tips and tricks to make sure the brownies turn out to be the best they can be with as little clean-up as possible!
I like using a tube of store-bought frosting, but black does bleed a bit. Alternately, you can dab on melted chocolate (sometimes has issues with sticking because marshmallows have a powder coating) or food-safe markers.
When melting the fluff, place it in an oversized bowl to melt. It will expand in the microwave and overflow if the bowl is too small. Work in 2-3 batches, so you have time to decorate and scoop without rushing.
When storing, do not stack the brownies. They will stick to each other. They really need to be in a single layer.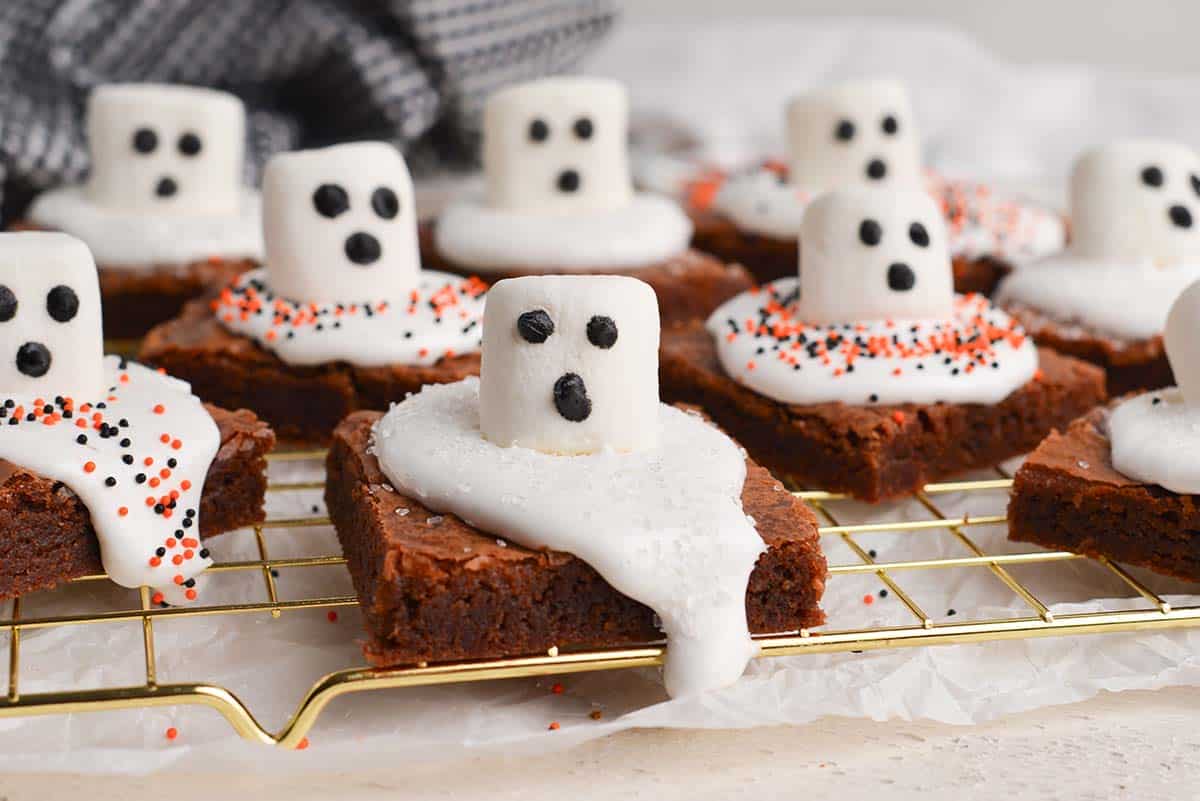 Why You'll Love Ghost Brownies
If you are a fan of cute, festive treats you're going to adore these fun brownies.
Eye-Catching – These adorable brownies will steal the show on any dessert table around Halloween time.
Easy – The best part of making this fun Halloween treat is that it's almost all fun and nearly no work. If you use store-bought brownies, all you need to do is decorate!
Customizable – You can follow this simple recipe, or you can get creative with decorating!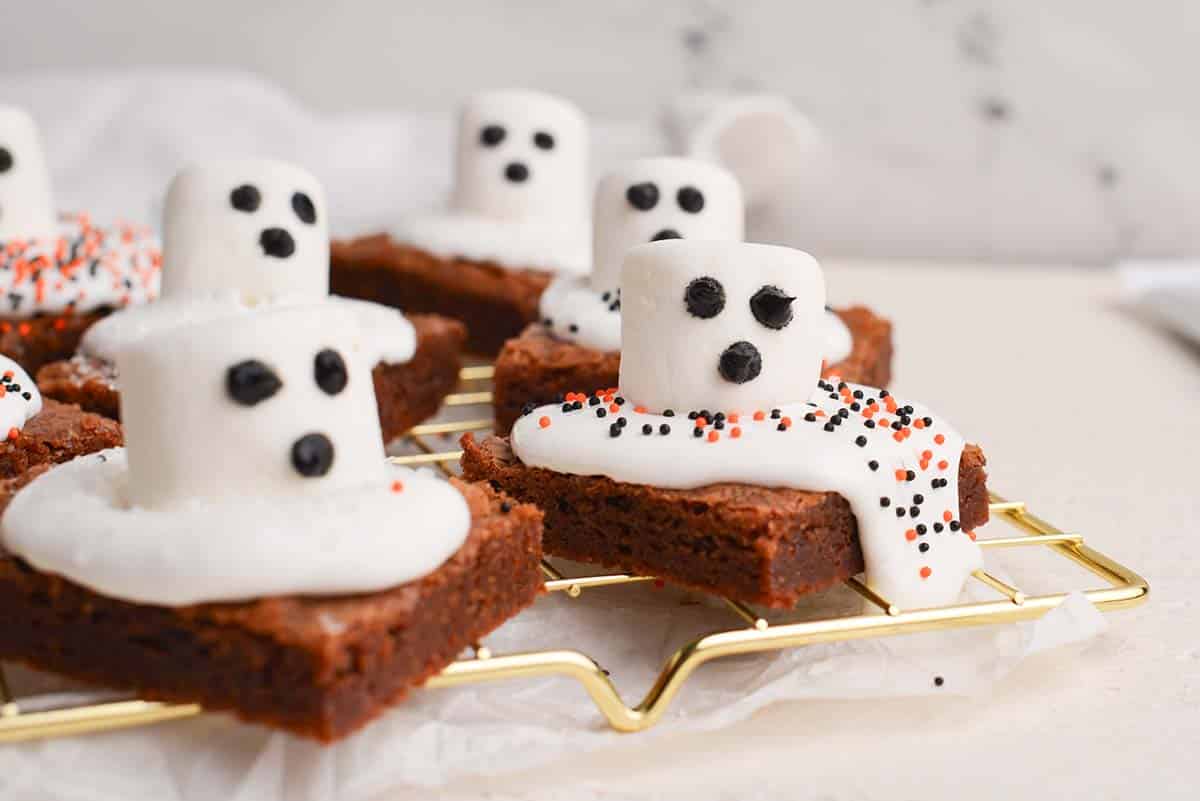 Ingredients
All you need is a handful of super simple ingredients to make these easy ghost brownies.
Large Marshmallows – Be sure to get the large variety so that you have enough room to decorate.
Black Frosting – Use a food-safe pen or a small piping bag with a narrow tip. You can also use black gel that's intended for decorating – find it in the baking aisle.
Marshmallow Fluff – You can usually find this in the baking section. Or, you can make homemade marshmallow fluff.
Brownies – If you're choosing to bake brownies, be sure to allow them to cool before decorating.
Halloween Sprinkles – Get any color combination that you like.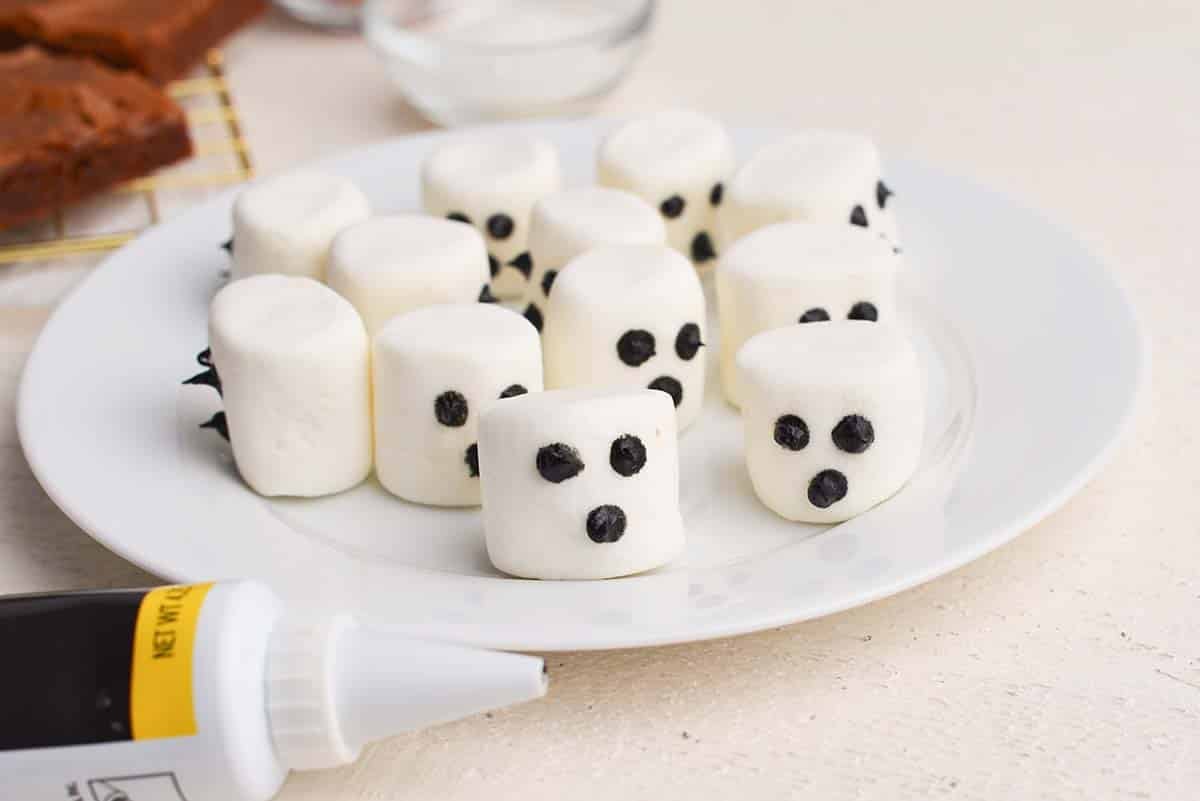 How to Make Ghost Brownies
These Halloween ghost brownies are so much fun to decorate, either on your own or with kids.
Make faces. Use the black icing to create the eyes and mouth of the ghost face on the marshmallows.
Add fluff to brownies. Spread the warm fluff across the top of the brownies and allow it to drip down the sides of the brownies if desired. Add sprinkles if using.
Top with marshmallows. Place the decorated large marshmallows on top. Press them in gently so that they stick to the fluff and the brownie to complete the ghost shapes.
Continue and enjoy! Continue until all brownies have been decorated.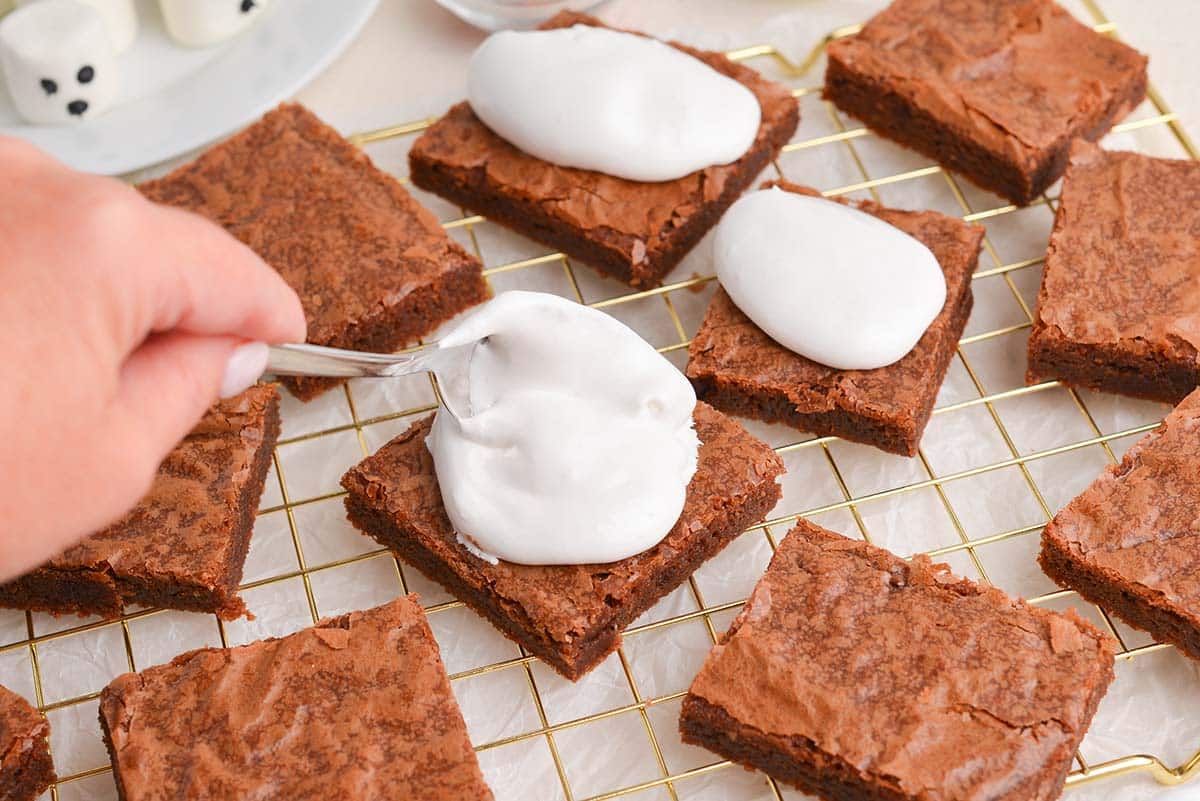 What to Serve with Halloween Brownies
These cute treats can be dunked into milk or whipped hot chocolate. They're also great served alongside vanilla custard or ice cream, or with a dollop of whipped cream.
Variations
There are plenty of ways you can make these ghost brownies your own!
Nuts – Sprinkle crushed nuts over top or into your batter if you're baking the brownies.
Cookies – Instead of brownies, use your favorite cookies as the base. Sugar cookies and peanut butter cookies are two good options.
Decorations – Dress these up with other candy toppers or edible googly eyes.
Chips – If you're making the brownies from scratch (or using a boxed brownie mix), fold dark chocolate or white chocolate chips into the batter.
Frosting – Instead of marshmallow fluff, make a cream cheese frosting or vanilla frosting to spread over the brownies.
White Chocolate – Replace the fluff with melted white chocolate.
Peep – Replace the large marshmallow with a ghost peep.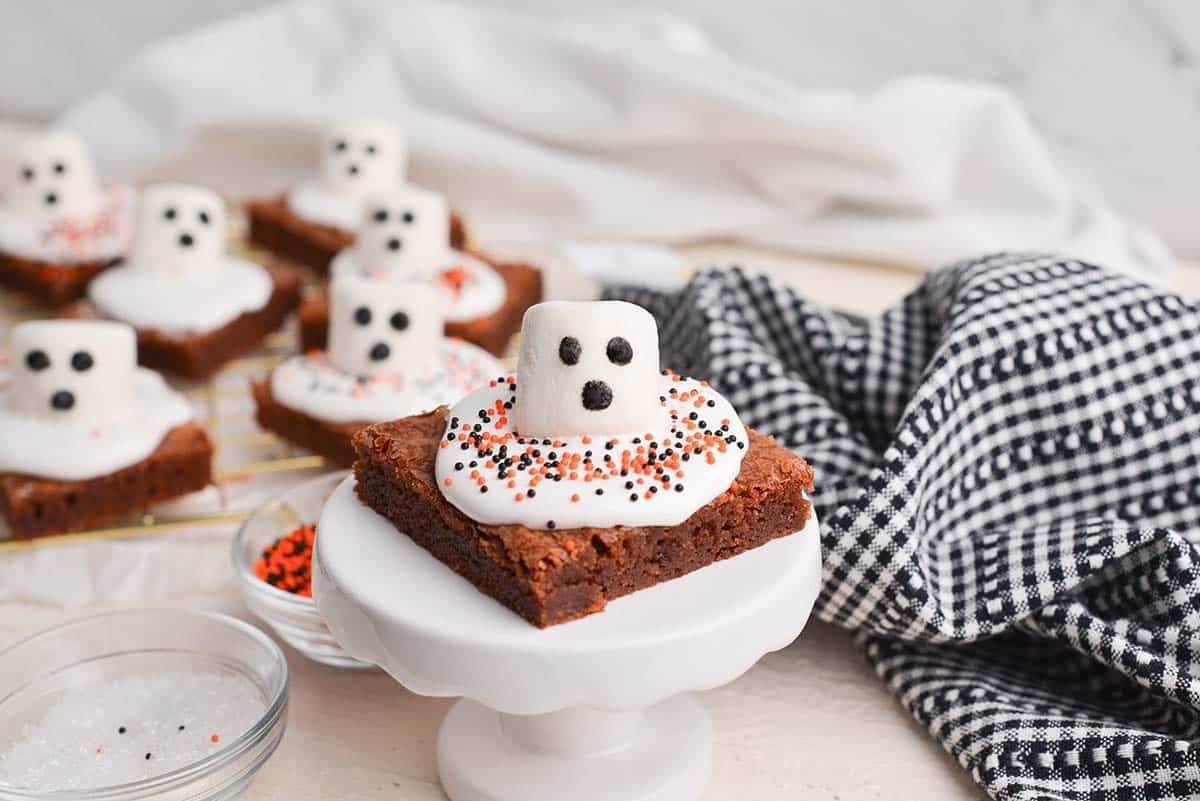 Storage and Freezing
You can store brownies at room temperature for 3-4 days in an airtight container. If you want them to last longer, store them in the refrigerator.
Make-Ahead: You can bake the brownies ahead of time and decorate when you're ready.
Refrigerator: These brownies will last for up a week in the fridge when stored in an airtight container or resealable plastic bag. You can also wrap them in plastic wrap, but it could affect the appearance of the decorated marshmallow.
Freezer: While you can freeze brownies for up to 3 months, the decorative topping may not retain its appearance and texture after thawing.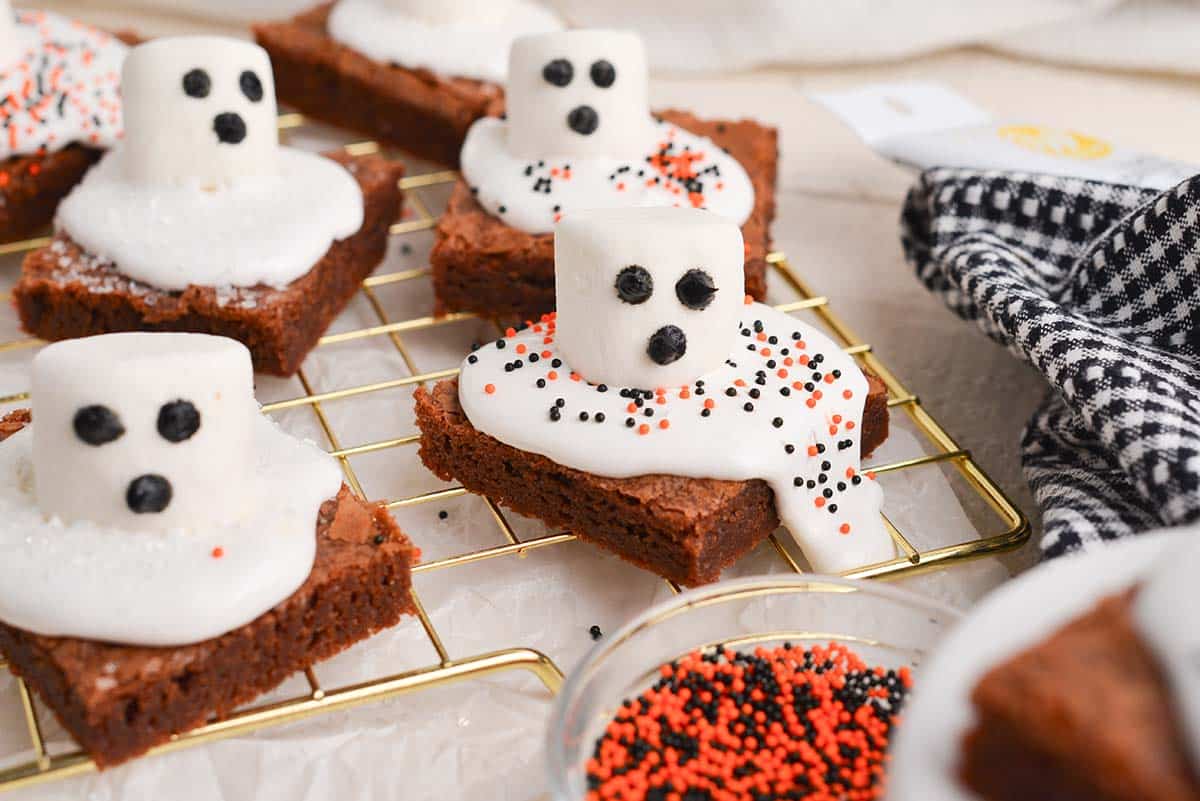 Common Questions About Ghost Brownies
What are the three types of brownies?
Brownies are categorized by their various textures. They can be classified as cake-like, fudgy, or chewy.
What makes brownies fall apart?
Having the appropriate ratio of wet to dry ingredients is crucial for brownies to maintain their structure. Brownies can also have a tendency to fall apart if they have been overbaked.
Why do brownies not cook in the middle?
Having the perfectly baked brownie is as simple as making sure that you have cooked them for long enough. Having a properly preheated oven is also crucial.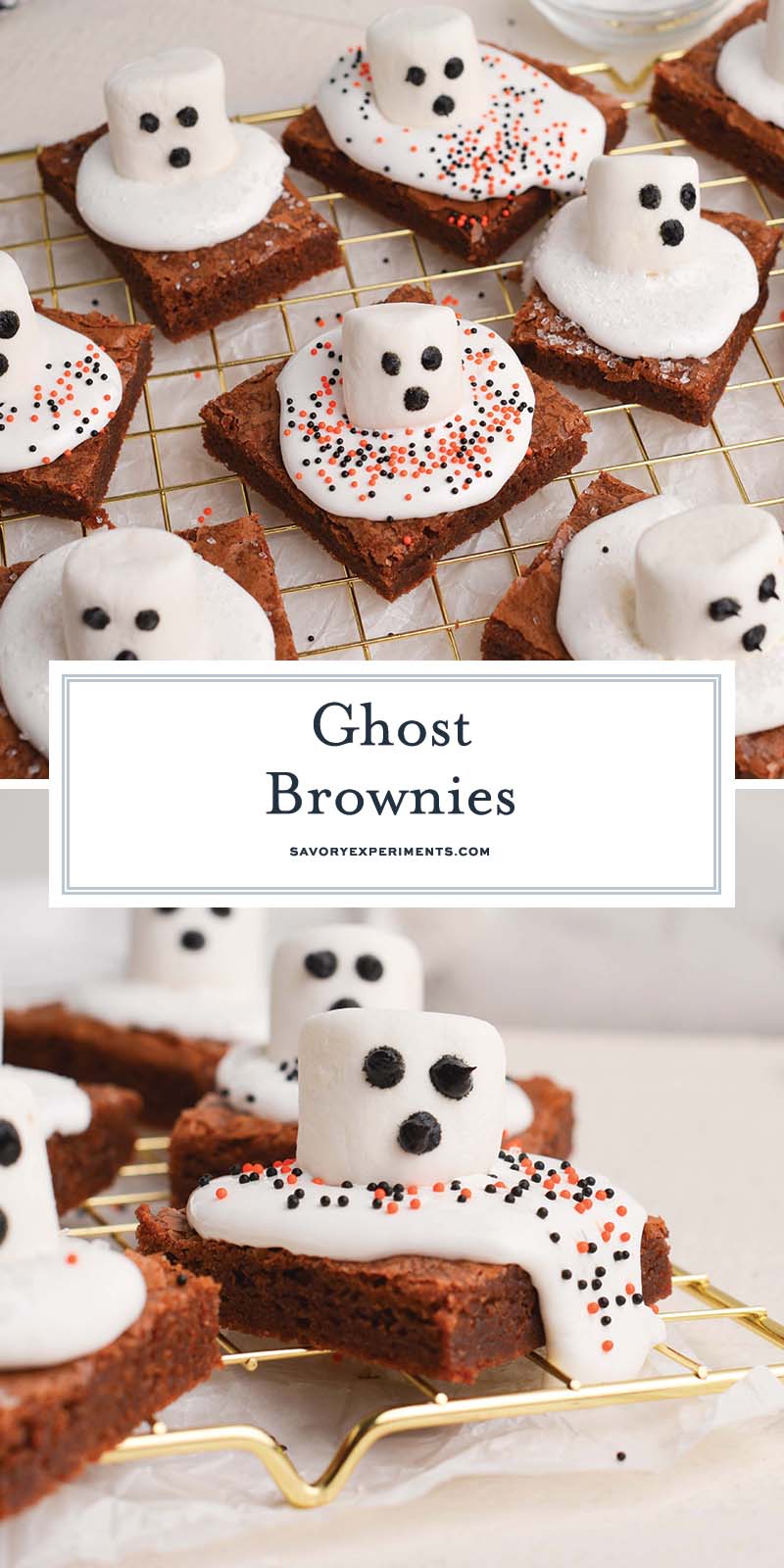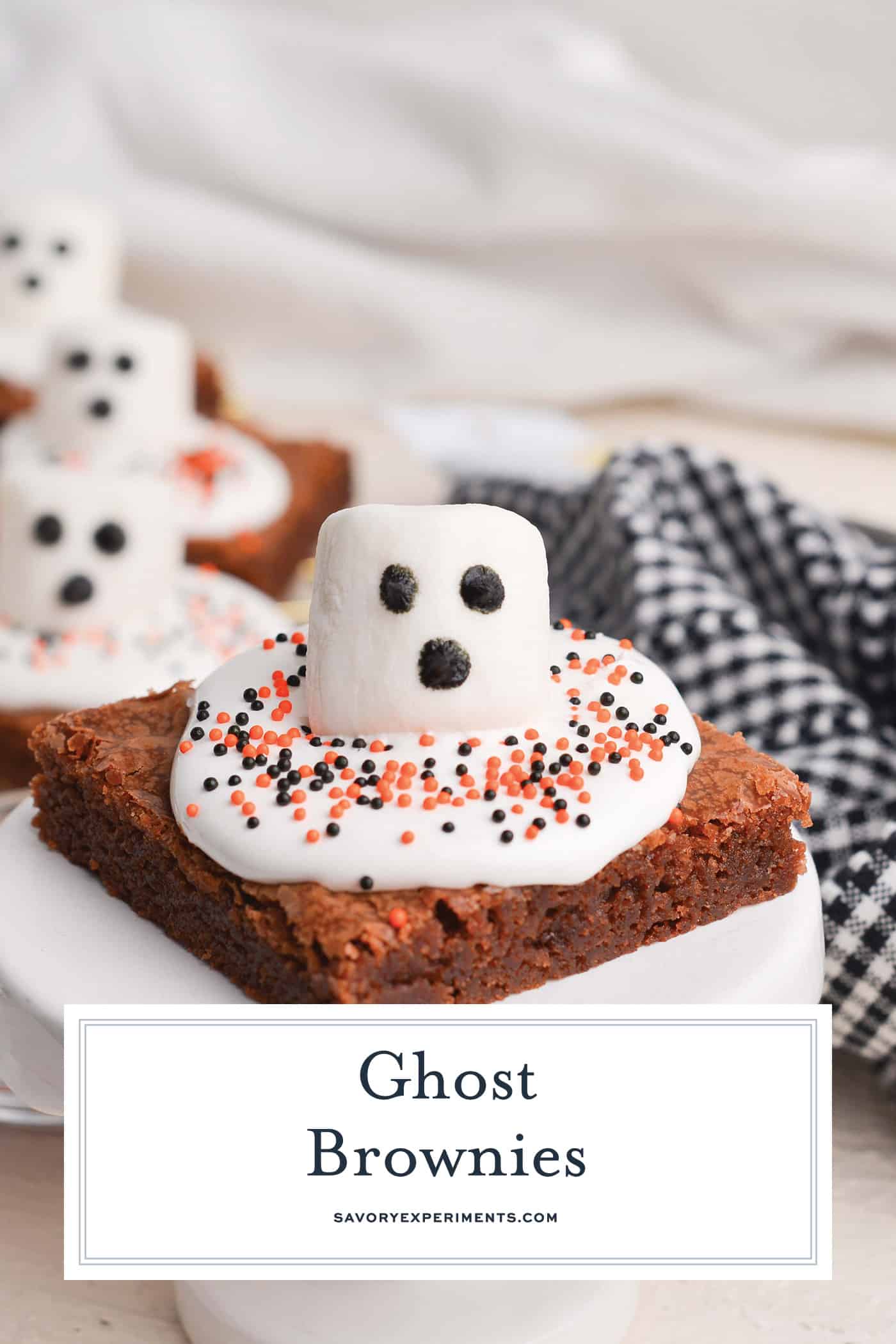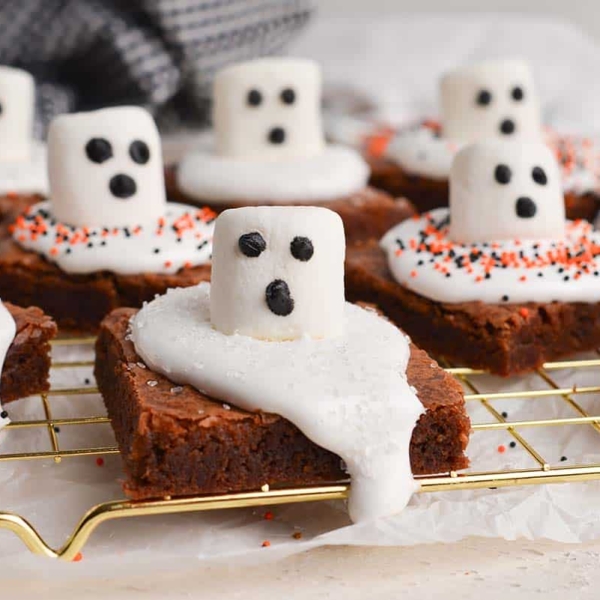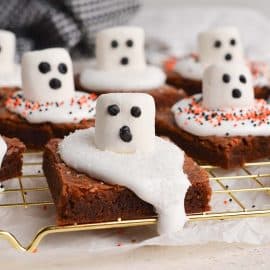 Ghost Brownies
These EASY Ghost Brownies are made with a base of store-bought or homemade brownies and use marshmallows and fluff to make a ghost topping!
Ingredients
12

large marshmallows

tube black frosting

2

cups

marshmallow fluff

12

brownies

, baked and cooled

halloween sprinkles
Instructions
Make eyes and a mouth of each marshmallow, set aside.

Place half of the marshmallow fluff in a large microwave-safe bowl. Heat until it starts to puff, usually around 30 seconds, remove and stir.

Immediately spoon onto a brownie. If using sprinkles, sprinkle on while still tacky. Top with the marshmallow so it sticks.

Repeat with the other half of the brownies. Marshmallow fluff cools fast and won't spread and drip, so working in 2-3 batches works best.

If you've tried this recipe, come back and let us know how it was in the comments or the star ratings.
Nutrition
Calories:
92
kcal
,
Carbohydrates:
24
g
,
Protein:
0.2
g
,
Fat:
0.1
g
,
Saturated Fat:
0.03
g
,
Polyunsaturated Fat:
0.01
g
,
Monounsaturated Fat:
0.1
g
,
Sodium:
9
mg
,
Potassium:
0.4
mg
,
Fiber:
0.01
g
,
Sugar:
18
g
,
Calcium:
0.2
mg
,
Iron:
0.04
mg
HAPPY HALLOWEEN!!!
Welcome to 2023's #HalloweenTreatsWeek event!
If you're new here, Welcome! If you're a returning haunt, welcome back!
#HalloweenTreatsWeek is a yearly Halloween blogging event that is hosted by Angie from Big Bear's Wife . You'll find that this fun and spooky event is an online, week-long event that is filled with some frightfully fun Halloween treats and recipes from some fantastic Halloween loving bloggers!
For this years 6th annual #HalloweenTreatsWeek event we have 18 hauntingly talented bloggers that are sharing their favorite Halloween recipes throughout the week! You can following the hashtag #HalloweenTreatsWeek on social media to collect all of these frightful recipes to use at your own Halloween parties and events!
Make Sure to check out all of the fun Halloween recipes that we're sharing this week!
Today's Halloween Offerings: