There are some things that will always haunt home cooks, like how to keep apples from browning.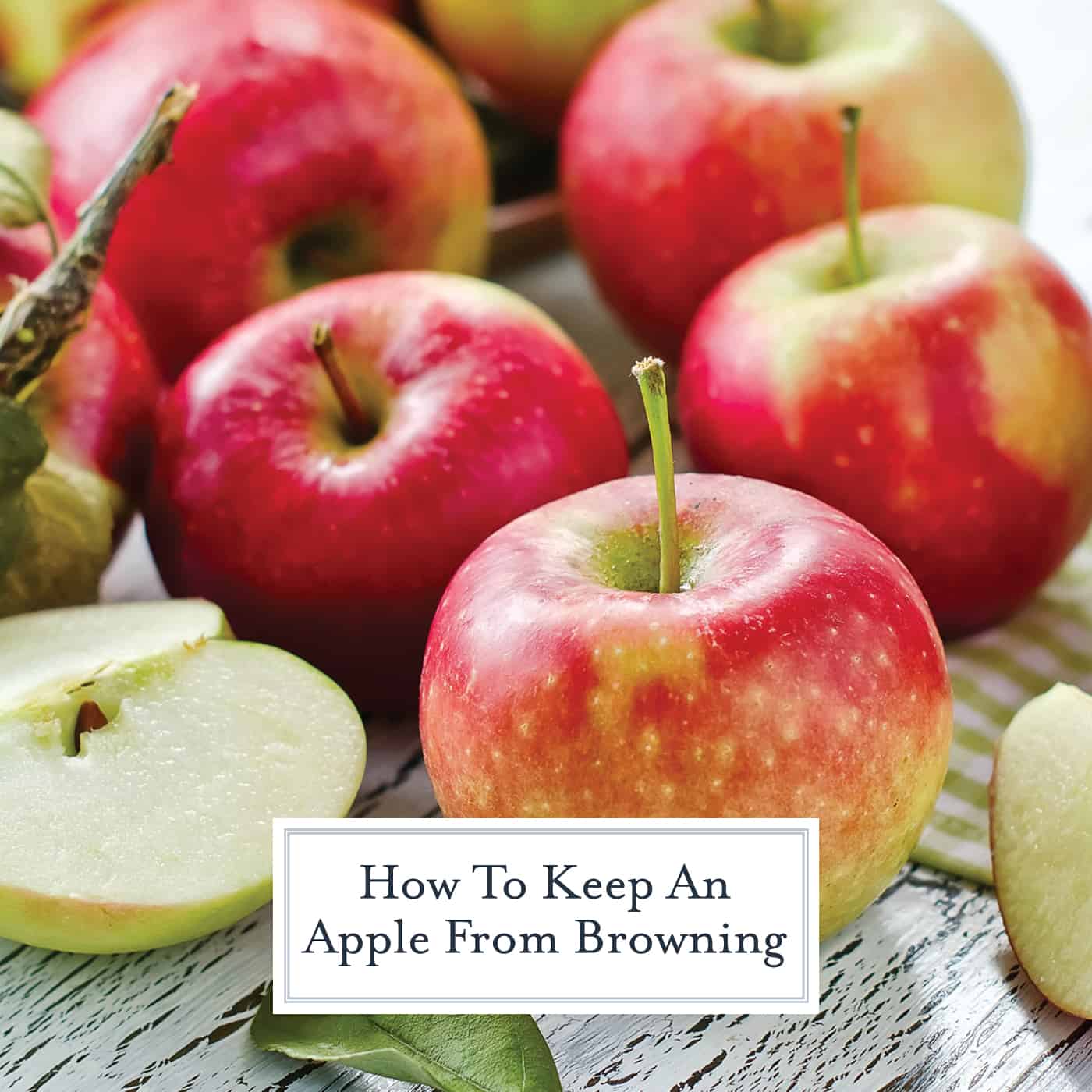 Three easy ways on how to keep apples from browning. You will already have all of the items in your kitchen pantry. Treated apples can be used in any apple recipe!
Nothing is worse than setting out a nice fruit platter and then having your apples turn an unappetizing brown. Or slicing them up for a gorgeous apple pie and watching them discolor before your eyes.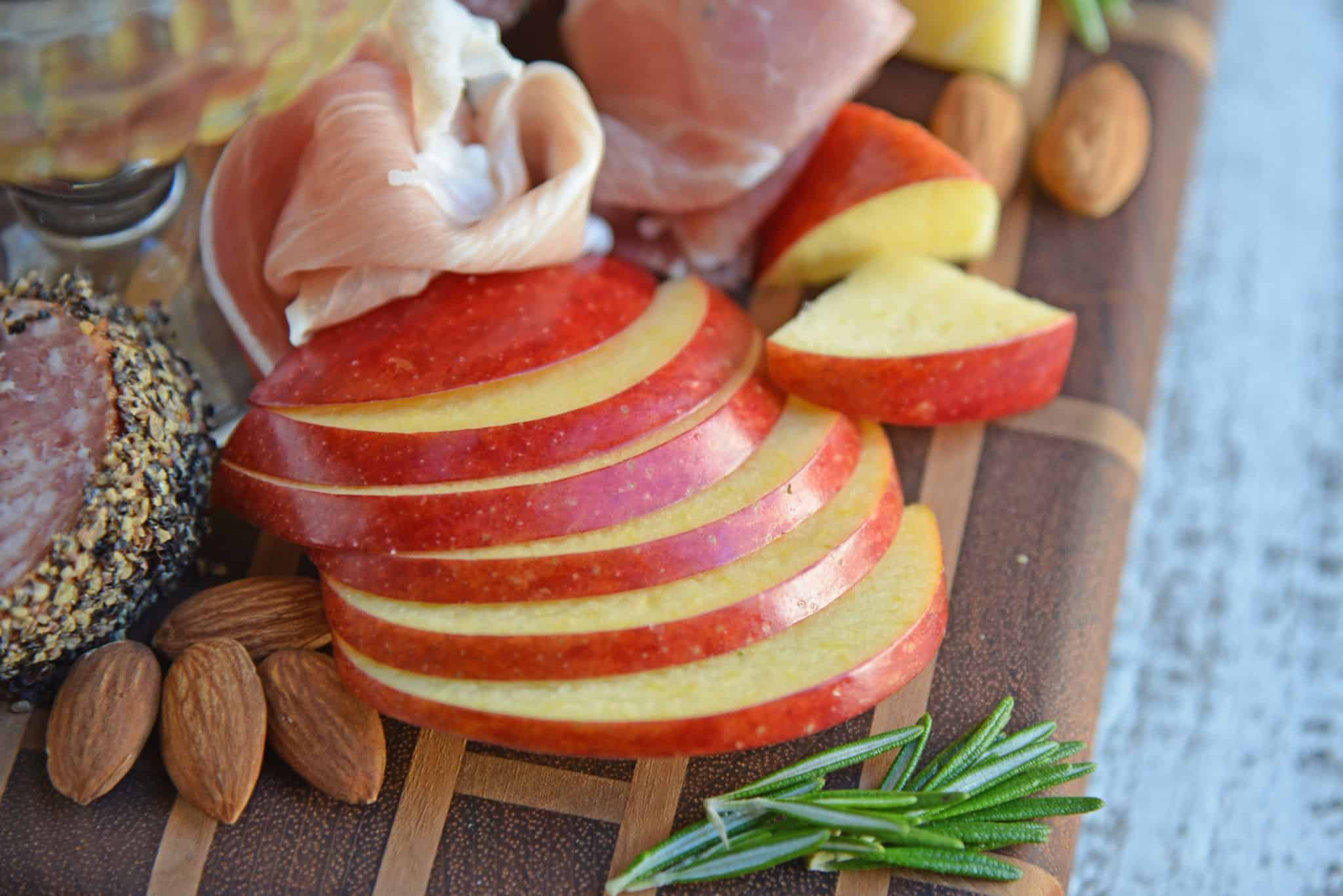 You do not have to stand for this. You can learn how to keep apples from browning!
How do you keep apples from browning? There are three easy ways that chefs and cooks around the world use, but first you should understand the basics.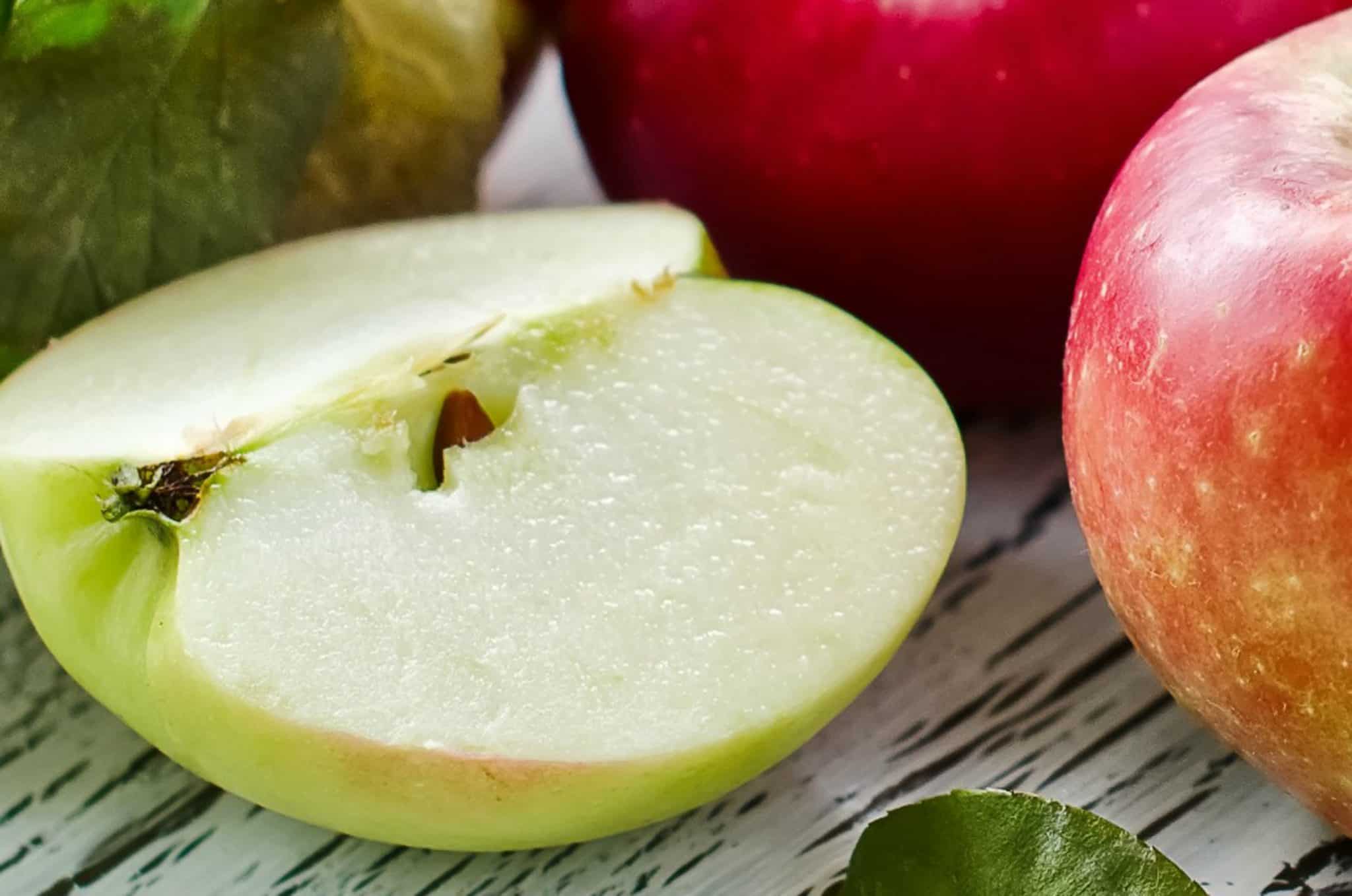 Why do apples turn brown? 
Apple browning occurs when ruptured cells are oxidized. It is impossible to slice an apple without cutting some of the cells, so instead one must have some damage control ready to prevent oxygen from entering.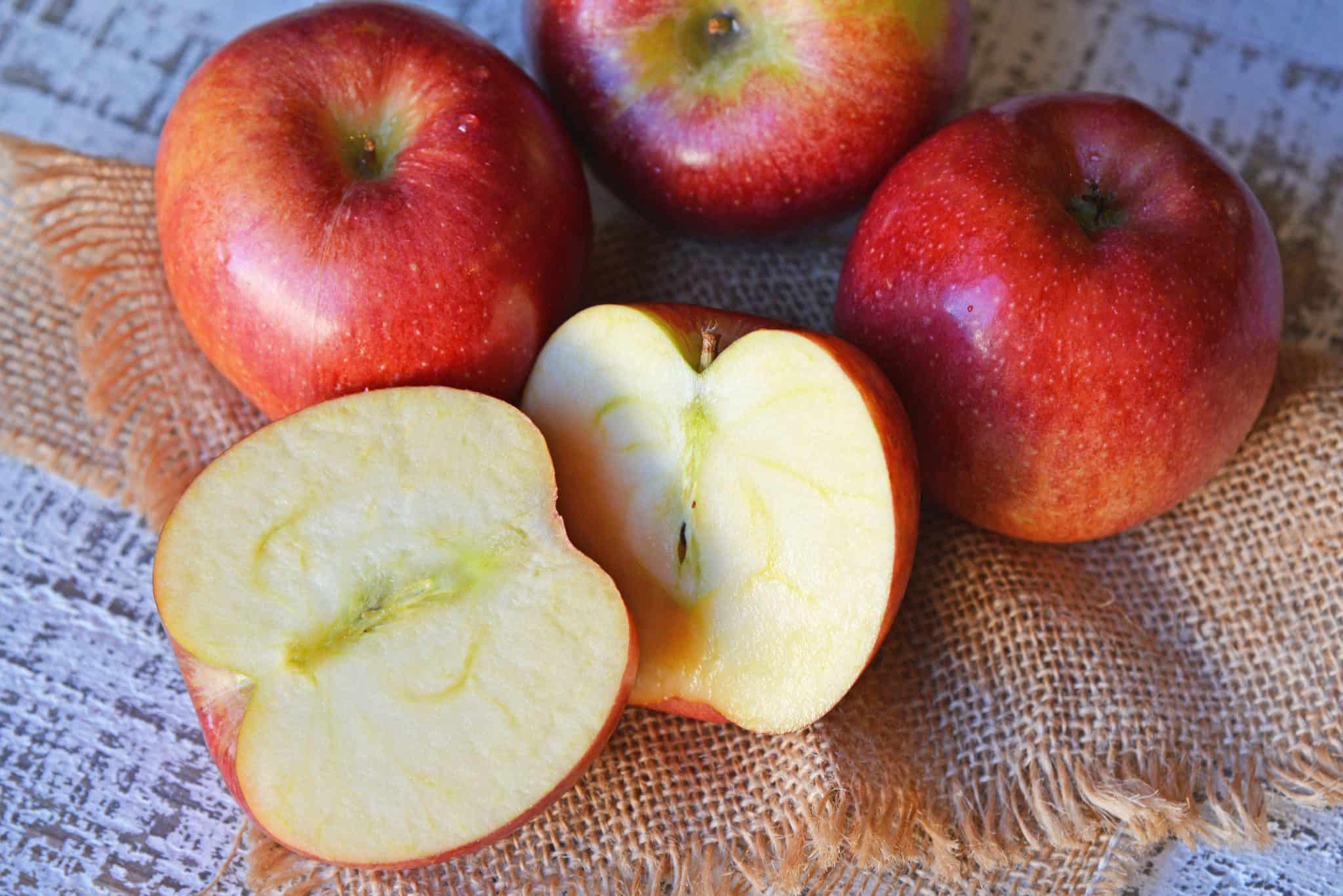 When you buy pre-cut apples that are still a fleshy white, chances are they have been professionally chemically treated and  might even have a funny aftertaste or texture.
In most cases, a lightly browned apple is still good to eat.

Prevent Browning Apples
ONE. Number one and THE best way to prevent apples from browning is using crushed ascorbic acid. Sounds a little ominous, maybe fancy, or like a science experiment, but I bet you have it in your home already.
It is Vitamin C! This is by far my favorite because in a way it fortifies the apple with Vitamin C and it contributes the least amount of flavor, leaving only apple.
It is great for fruit salads and any recipe that calls for straight up apples. Easy enough to do, fill a bowl full of cold ice cold water. Crush or dissolve one vitamin C tablet per 1 1/2 cups of water. Dip your knife or shredder into the water periodically while preparing the apple and place directly into the water when you are finished or until you are ready to use.
Apples will not need to be rinsed before eating and will not have any lingering tastes, but there might be a slight harmless white film.
TWO. The second is a close favorite: lemon juice. Citric acid in lemon juice will keep apples from turning brown, or oxidizing. The problem is the apple will absorb a slight amount of lemony flavor.
This is perfectly fine if the recipe calls for lemon or needs a little pick me up. For instance, I used lemon juice in my Pumpkin-Apple Pie with Pecan Crust. Use approximately 1-2 tablespoons per 2 cups of cold water.
No need to rinse before serving unless you are trying to curb the citrus flavor.
THREE. Salt!!! Salt is probably the most commonly used, however I try to limit my sodium and do not like salty apples. It works, but the taste is off. I use this technique the least and only when I am in a bind.
I do recommend rinsing apples after allowing them to sit. Use approximately 1 tablespoon per 2 cups cold water.
FOUR. My last piece of information is actually a tip, not a trick. There is one apple that is genetically engineered to not brown after being cut, Envy Apples.
I use them to make my Ultimate Cheese Board because no matter how long they sit, they never turn brown! They are slightly bitter and slightly sweet with a crunchy texture. The are available in most grocery stores, I think you'll like them!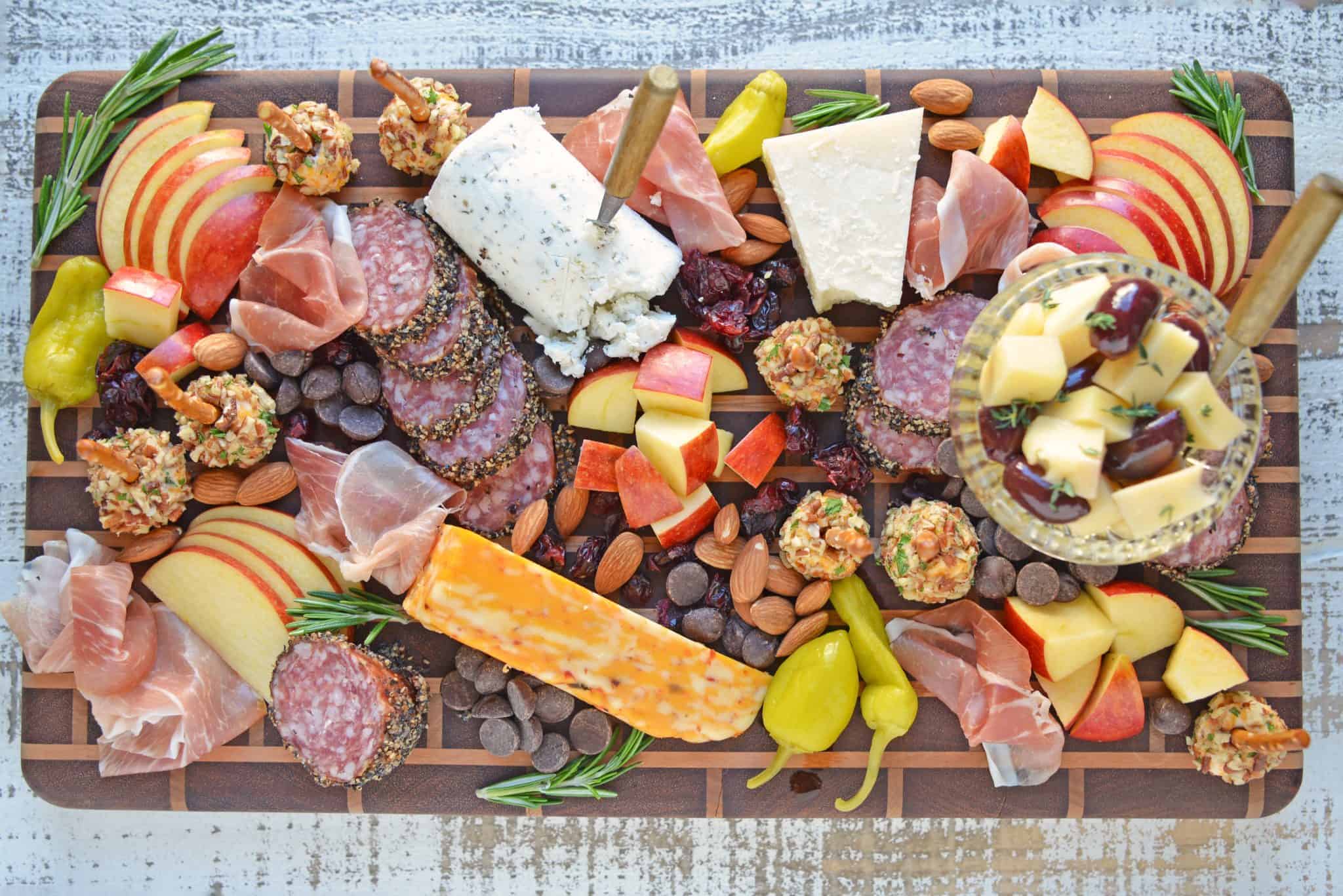 Unfortunately, none of my techniques for keeping apples from turning brown will work 100% of the time and you might still get a little brown. If you are serving apples on a salad or fruit platter, chop them up last so they have the least amount of time in the open air.
Do you have any advice on how to prevent apples from browning? I'd love to hear it, leave it in the comments section!
Easy Apple Crisp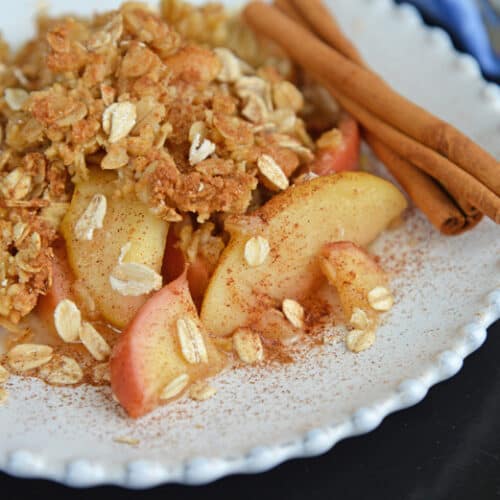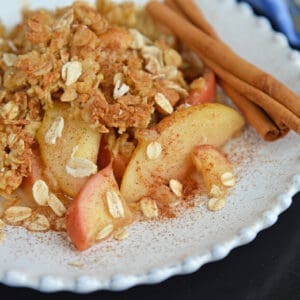 Traditional Easy Apple Crisp made with an oat topping. Recipe includes regular and gluten free options! Serve vanilla ice cream or caramel sauce.
Apple Fritter Recipe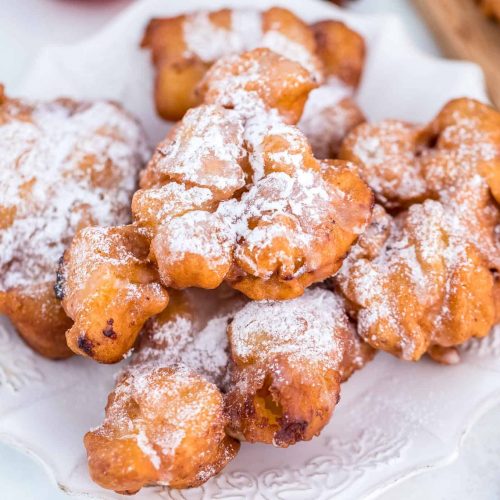 Homemade Apple Fritters have never been easier than with this apple fritter recipe! Surrounded by a cakey batter and drizzled with glaze, they're perfectly sweet and delicious!  
Creamy Apple Pork Chops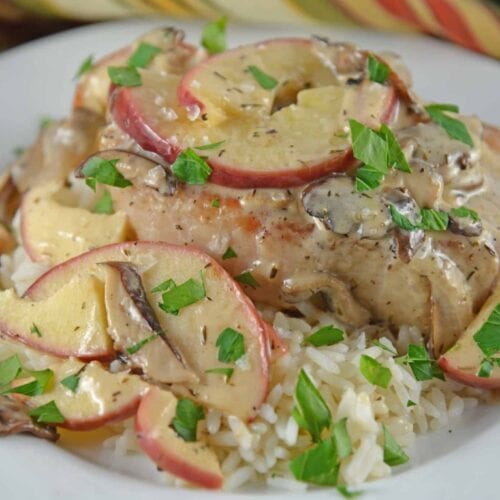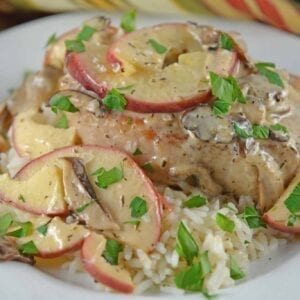 Creamy Apple Pork Chops are a wholesome meal your whole family will enjoy. Mushrooms, apples, juicy pork chops in a savory cream sauce.