If my cheesy garlic bread sticks and an everything bagel had a baby, it would result in Everything Garlic Bread.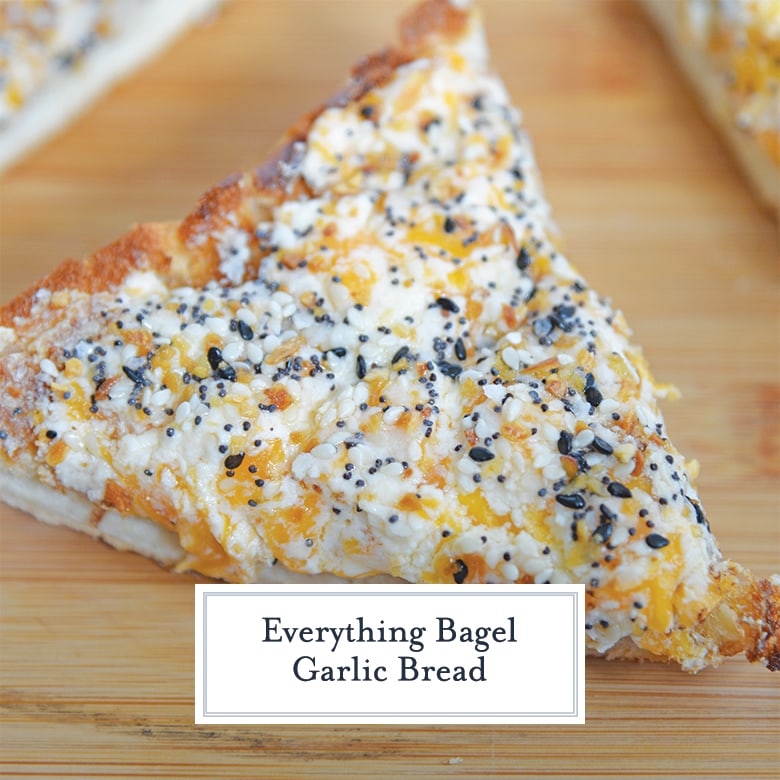 Really what this comes down to is that I am obsessed with Everything Bagel seasoning. I just can't get enough of it. I've put it on biscuits, hummus, stromboli and even in cheesy crescent rolls.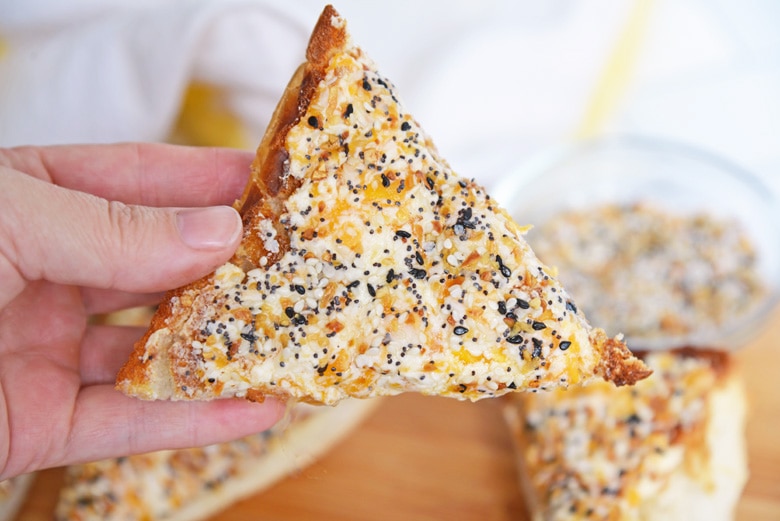 Everything Seasoning
This is really the key, although my blend of cream and shredded cheeses is what takes it over the top. Everything seasoning is now manufactured and sold by so many companies, but the Trader Joe's version is probably the most popular.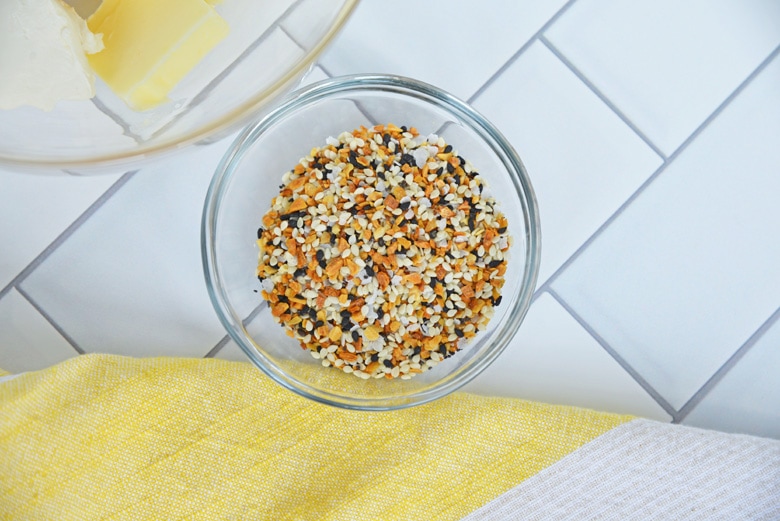 The mix is easy to make at home, so I do. It is also a lot cheaper. My local bagel join charges $2.00 for just 3 tablespoons of the take-home variety.
Here is what you'll need:
sesame seeds (black, white or a mix)
dried minced garlic (onion flakes)
dried minced onion (garlic flakes)
poppy seeds
coarse salt (Kosher salt)
The Cheese
Most cheesy garlic breads use a blend of shredded cheeses and butter. The one also uses cream cheese. Velvery and totally decadent, it is like a dream. I could honestly eat it for a meal rather than a starter or side.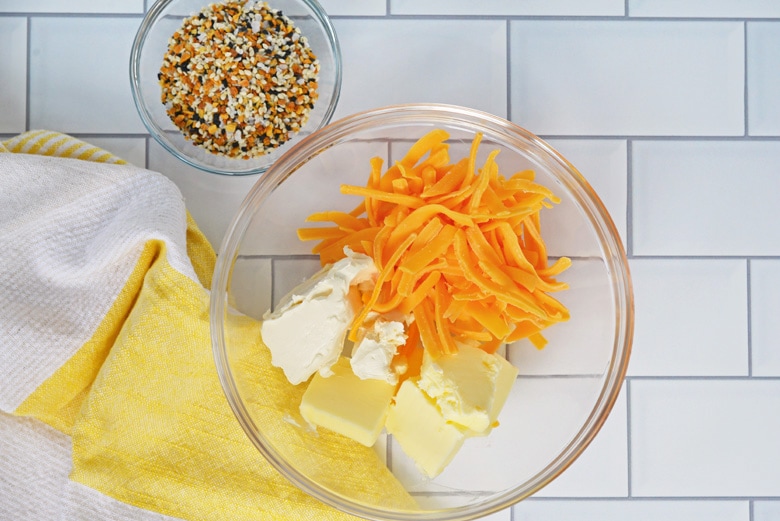 Here is what you'll need for the creamy topping:
Butter– I use unsalted so I can add salt accordingly, plus the everything seasoning has salt in it.
Cream Cheese – full fat or reduced fat both work. I shy away from fat free for these types of recipes.
Cheddar Cheese– Use a low moisture cheese. It can be any type of cheese you enjoy. Mozzarella works too.
Granulated or Powdered Garlic– the everything seasonings also has garlic, but I really love garlic so I add more!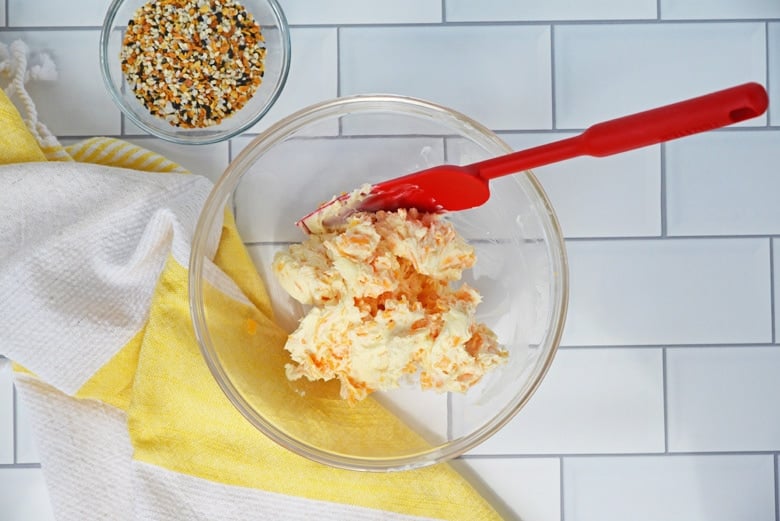 Make It!
This recipe comes together in a snap and will be a new family favorite. Here is the short version.
In a stand mixer, blend together butter and cream cheese.
Add mozzarella cheese and garlic powder.
Slather onto each piece of bread.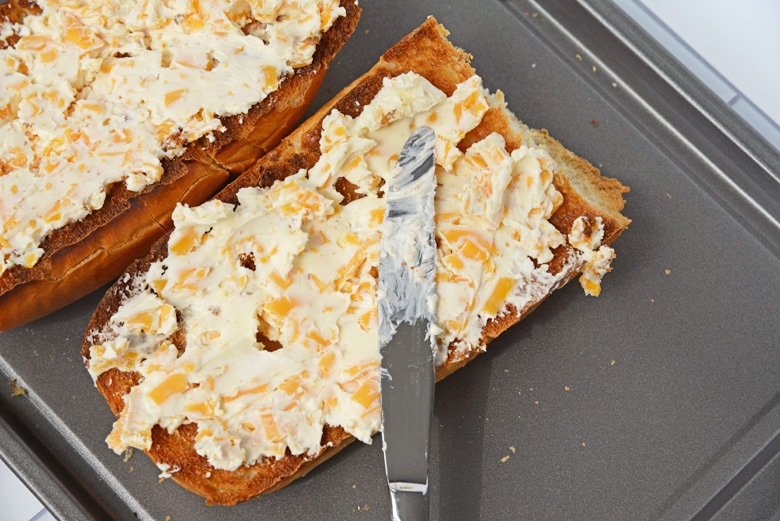 Evenly sprinkle with everything bagel seasoning.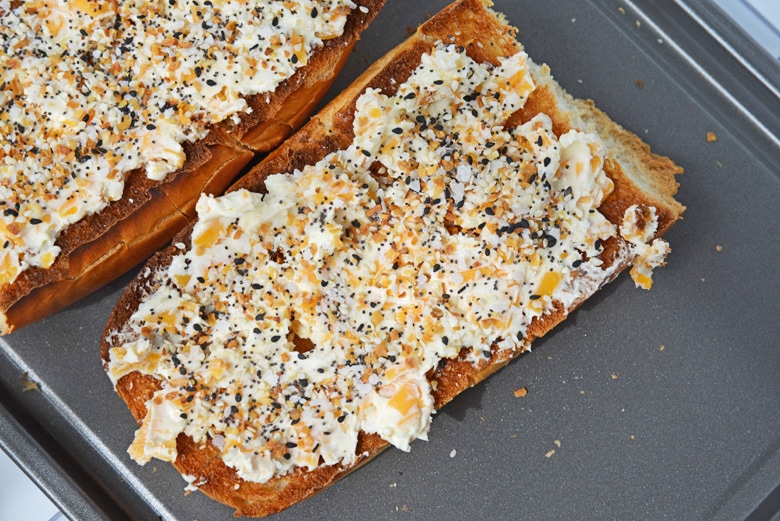 Bake until cheese is hot and bubbly.
Remove and slice.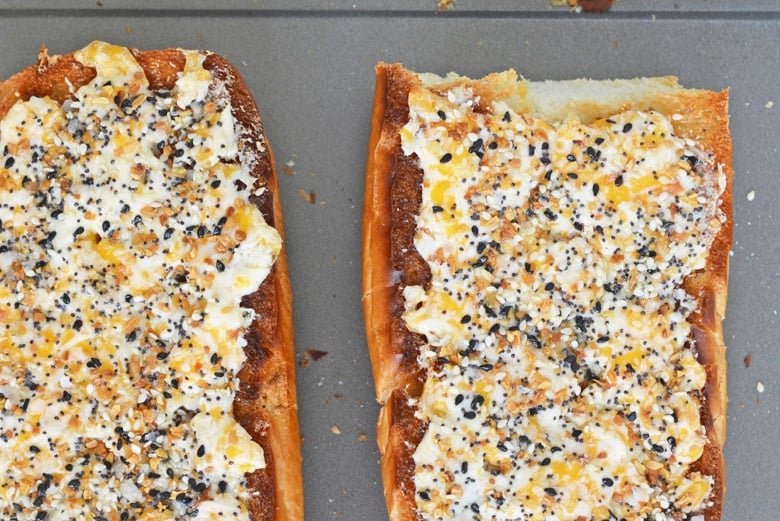 Make Ahead and Freezing
Like most breads, they don't tend to do well when you make them in advance. What you can do is slice the bread and make the cream cheese blend.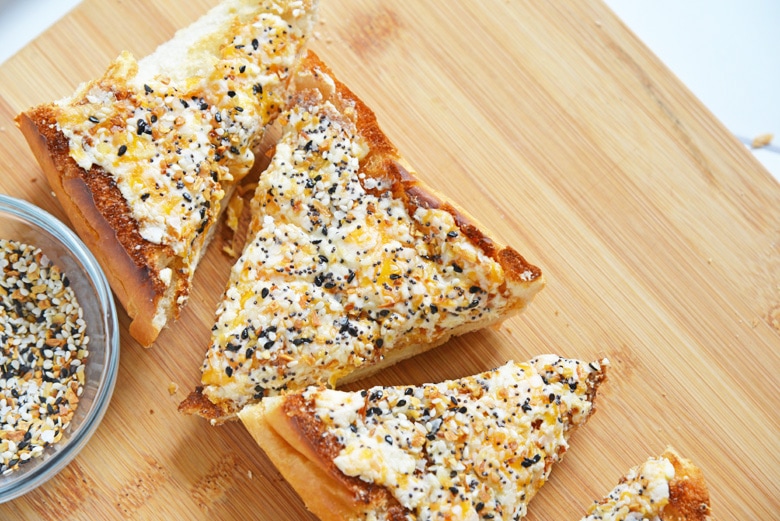 When you are ready to serve, go ahead and slather it on and bake.
For freezing, I don't recommend freezing this bread either. Instead, I would make and freeze the cream cheese mixture and thaw when ready to make the garlic bread.