You might be most familiar with lychees in the form of a martini, but I am most familiar with them because of my sister who lives in NYC.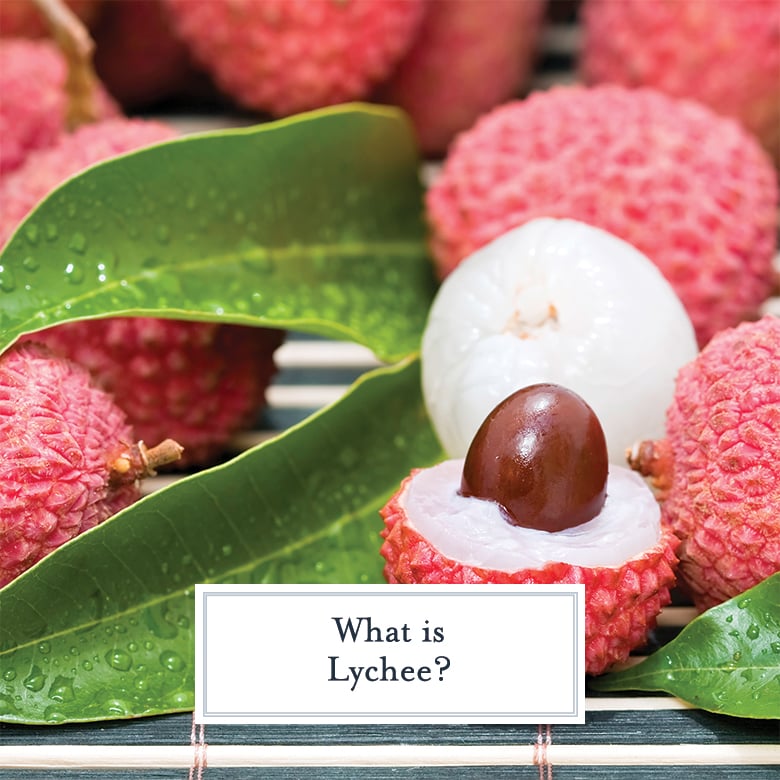 There they have fruit stands on the streets and when lychees are in season, I will always get a text and a photo of excitement from her. Needless to say, she is a fan. For those of you that are uninitiated, let's get down to it.
What Is Lychee?
Lychees are a small fruit that is closely related to longan and rambutan. These golfball-sized wonders are native to China, but nowadays, they are cultivated across Southeast Asia and even here in the States and grown in bunches on big trees.
They are often sold on their branches and have a rough and tough, almost bumpy skin that varies from pink to a brownish-red. Because of this, they have been nicknamed the "alligator strawberry."
When you break through the outer layer, an opaque off white, almost pink flesh is revealed. In the center, there is a hard, oblong, brown seed.
What Does Lychee Taste Like?
The flavor of this fruit is like no other. It is sweet, floral, and tropical all at the same time. Some say it is similar to a cross between strawberry and watermelon with a hint of rose.
Because of this floral quality, some liken it to the flavor of soap which is funny as it is part of the "soapberry" family. They also tend to be very juicy.
How To Shop For Lychee
Lychee is in season from late spring through most of summer. When ripe, the skin is bright and vibrant and easy to peel. The pit should also come out easily when they are ripe.
Aside from the skin, the fruit itself should feel plump and full. If the skin gives when you gently squeeze, it might be past its prime. Keep in mind that they need to be ripe when you purchase them as they will not continue to do so on your counter.
Some higher-end grocery stores will carry fresh lychee as do specialty markets. Aside from the fresh fruit which is delicious, they can also be purchased in the following forms
Canned in syrup – these have been peeled and pitted for you
Puree or juice form
Sauce
Jam
Syrup
How Do I Eat Lychee?
Eating fresh lychee is simple. You can use your nail, a small pairing knife, or your teeth (if you are feeling sassy) to break through the skin. From there, you simply peel away the leathery exterior and remove the seed. The flesh can be eaten in one or two bites.
How Do I Cook With Lychee?
Because of lychee's unique flavor profile, it is often eaten on its own. That said, it pairs well with tropical fruits like pineapple, mango, coconut, passion fruit, and more.
It is great in fruit salads and can easily be added to certain salads and smoothies. You can also boil it with water and sugar to create a simple syrup that is perfect for cocktails, flavoring ice cream and sorbet, and even wonderful for giving your tea a tropical flair.
Health Benefits of Lychee
Lychee is full of the antioxidant, vitamin C as well as vitamin B-complex, and fiber which aids in gut health and digestion.
Substitutes for Lychee
Due to lychees very specific flavor profile, it can be hard to find a substitute for them. Longan or rambutan, two other tropical fruits that are closely related, can work in a pinch but can be equally hard to find.
If you can't find the fresh fruit, the canned variety is your next best bet.
You might also enjoy: