You won't need any other donut recipe after making this one! Sufganiyot Stuffed Donuts are the perfect texture and flavor to leave you satisfied!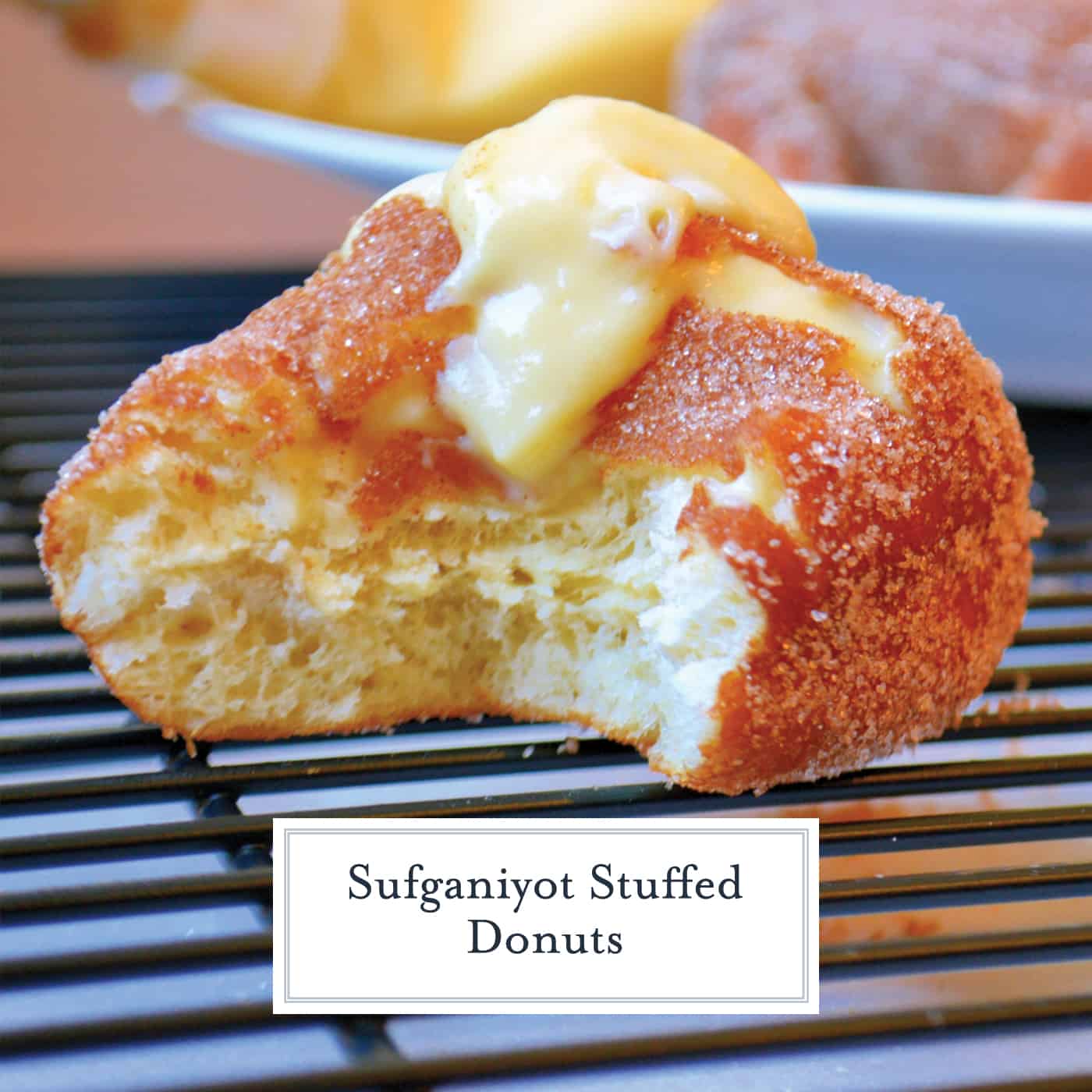 Sufganiyot Stuffed Donuts let you prepare warm and fresh strawberry jelly and vanilla custard stuffed donuts at home!
Say what? What is Sufganiyot? A Sufganiyah (singular of sufganiyot) is a traditional Jewish bread made to celebrate Hanukkah, commemorating the miracle associated with the Temple Oil.
Sufganiyot are quite similar to the North American stuffed doughnut, differing only slightly in the preparation method. The doughnut is deep-fried, filled with jelly or custard, and then topped with powdered sugar.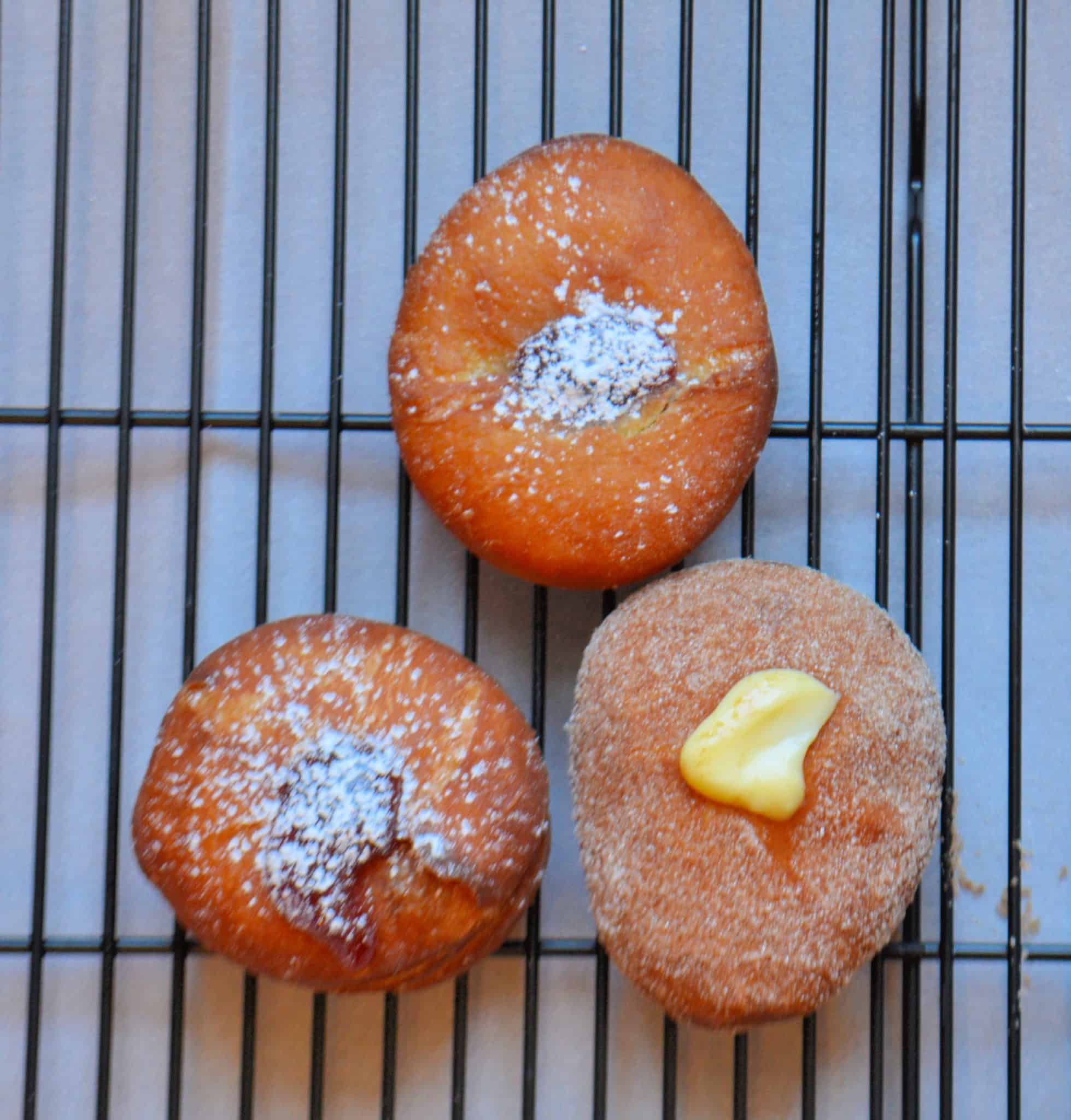 At Hanukkah, Jewish people observe the custom of eating fried foods in commemoration of the miracle associated with the Temple oil.
Like traditional doughnuts, Sufganiyot greatly vary. Tradition calls for jelly or custard filling, which can be any type of fruit base. Custards can also range in flavor from basic vanilla, to chocolate and even lemon.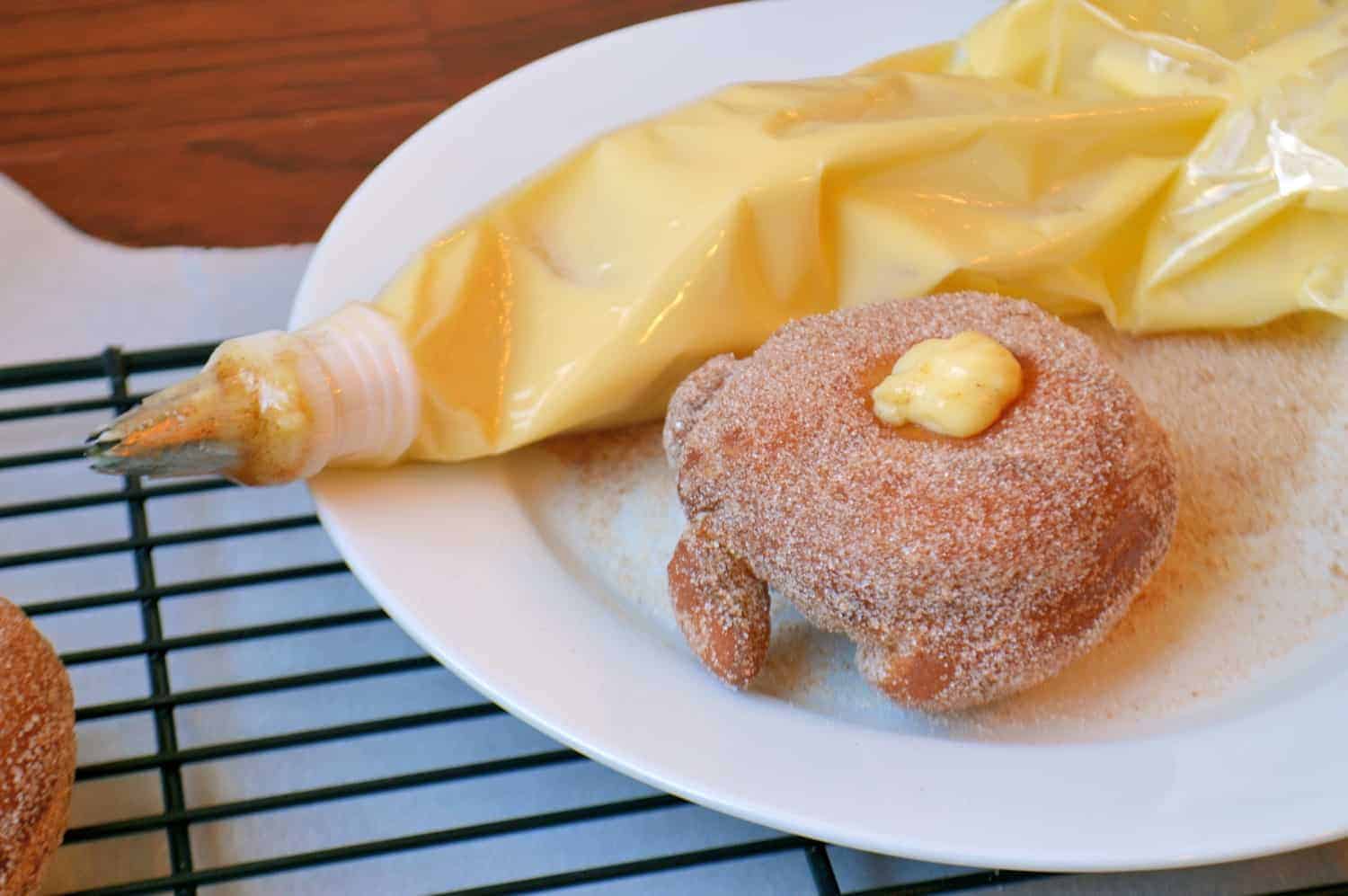 Sufganiyot are lightly dusted with powdered sugar, but can also be dipped in cinnamon and sugar or left plain.
The dough itself is light and fluffy, with only a hint of sugar, calling for other sweet ingredients to build up this aspect.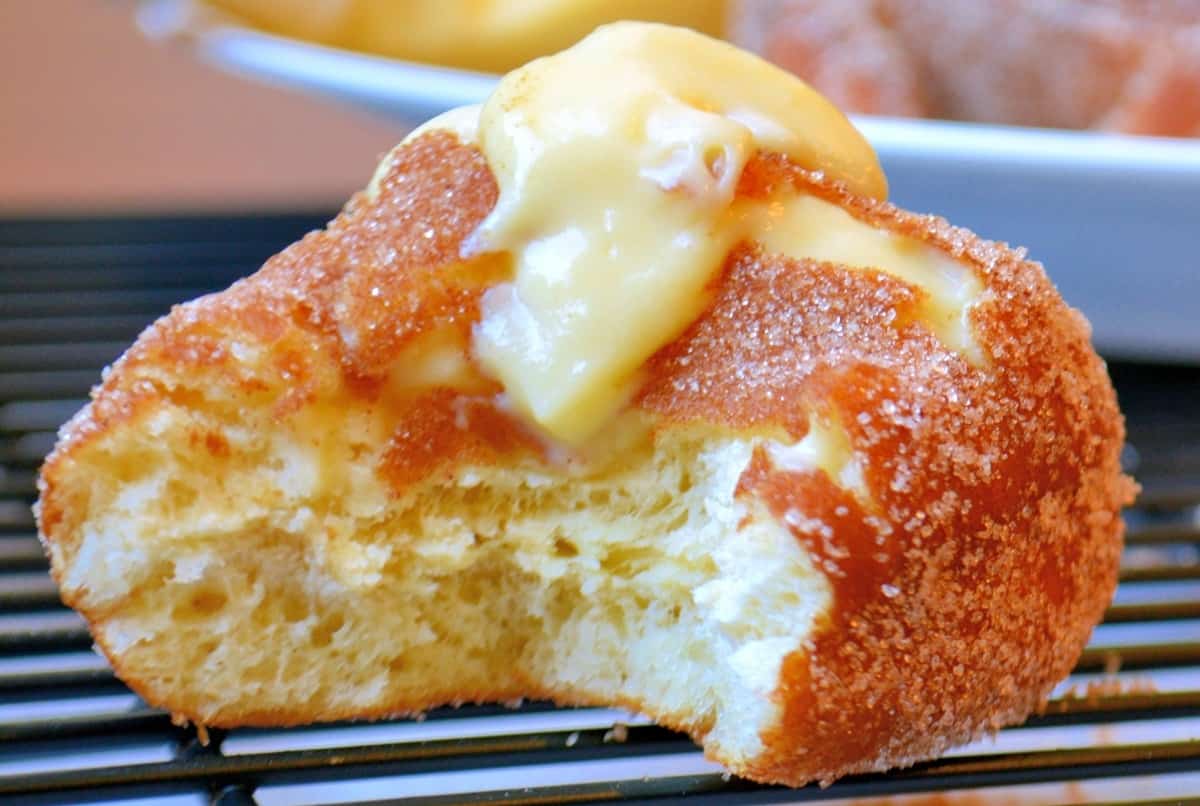 More easy sweet breakfast recipes: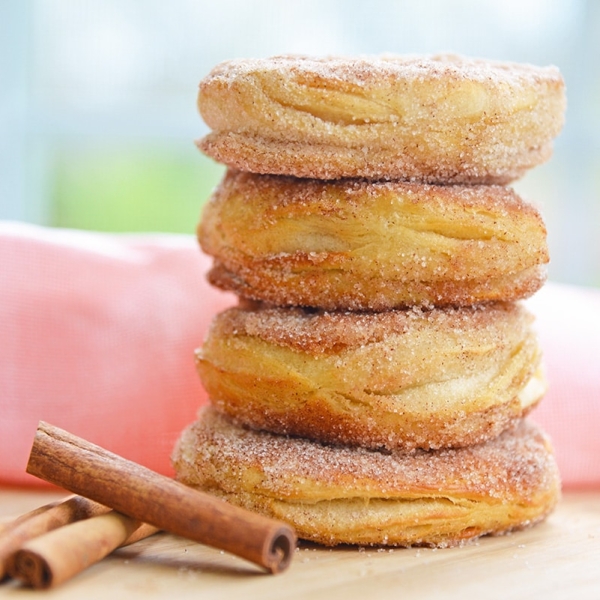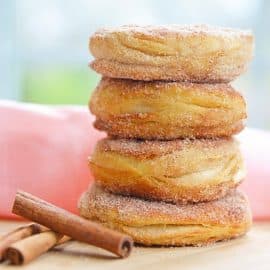 Air Fryer Donut Recipe
Buttery and delicious Air Fryer Donuts in just 10 minutes and using only 4 ingredients. Coated in cinnamon sugar, these are going to be your new favorite!
See The Recipe!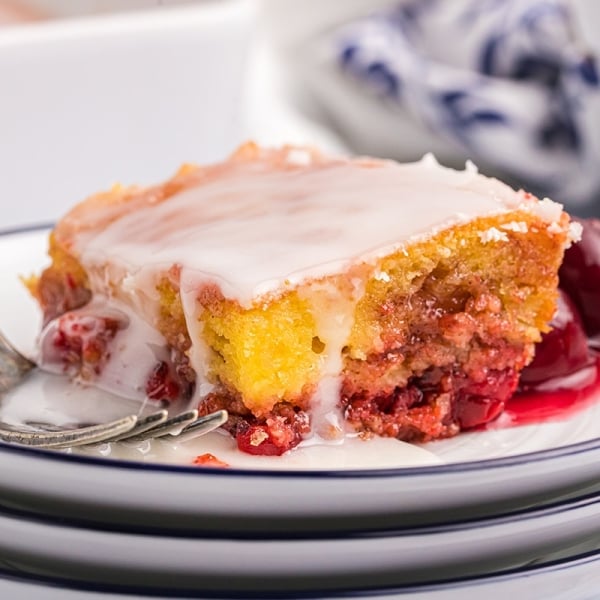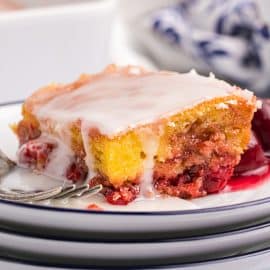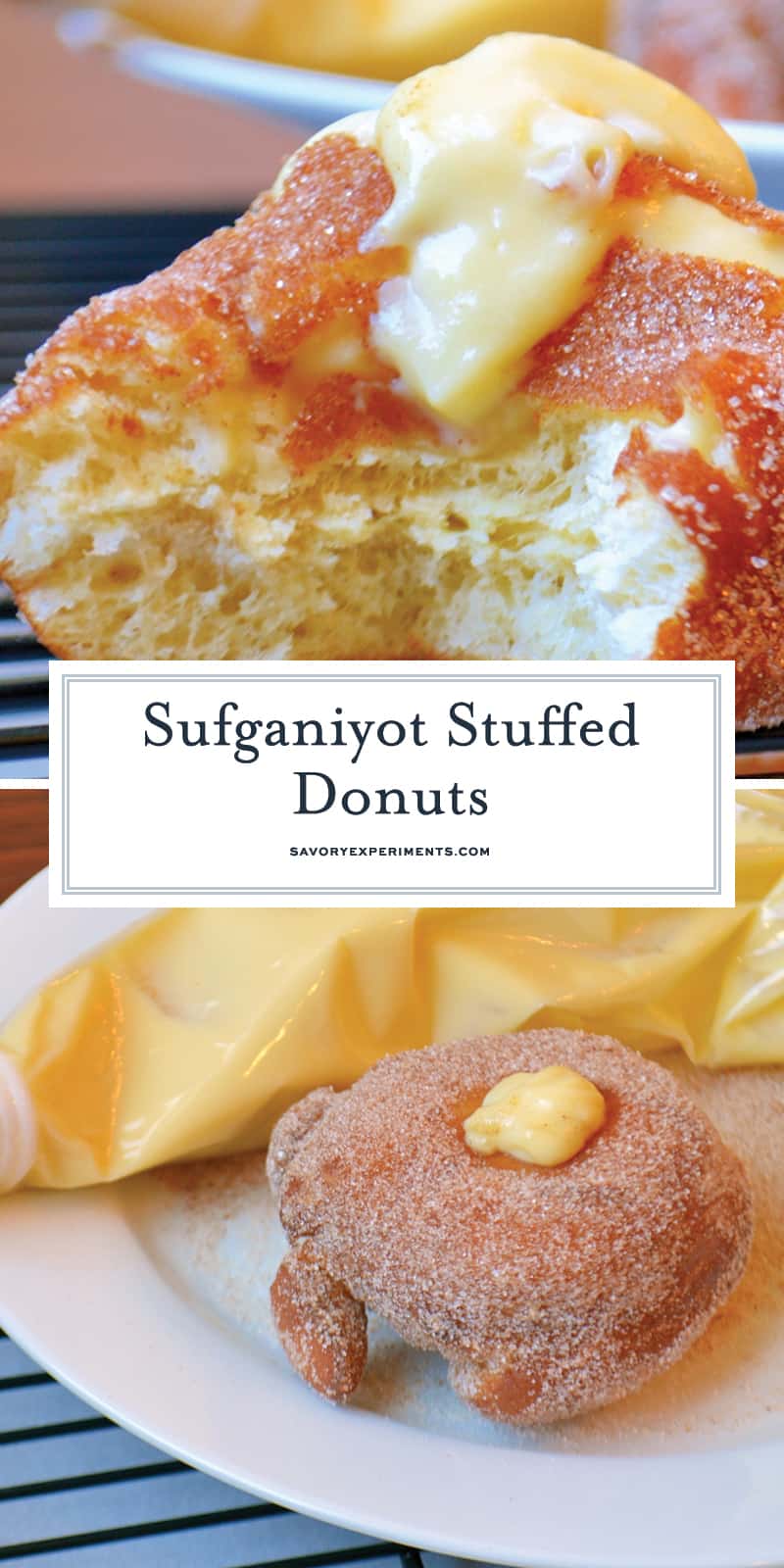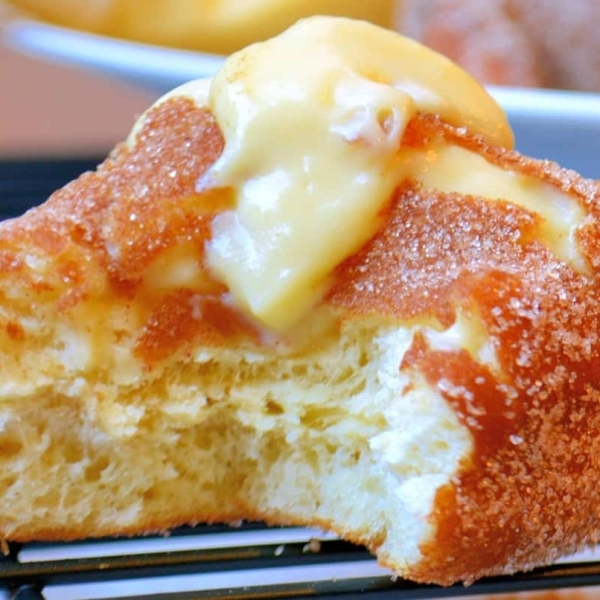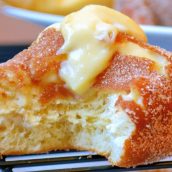 Sufganiyot Stuffed Donuts
Prepare warm and fresh Strawberry Jelly and Vanilla Custard Stuffed Doughnuts at home!
Ingredients
2 1/4

teaspoon

dry active yeast

, or one small envelope

3-4

cups

flour

, divided, plus more for surface

1/4

cup, plus 1 tablespoon

sugar

2

large egg yolks

, room temperature

1

egg

, room temperature

1/2

cup

whole milk

, heated in the microwave for 20 seconds

1/2

teaspoon

orange zest

, finely grated

2

tablespoons

orange juice

1

tablespoon

brandy

, optional

1

teaspoon

kosher salt

1/2

teaspoon

vanilla extract

6

tablespoons

unsalted butter

, room temperature, diced, plus more for buttering the bowl

Vegetable oil

, for frying; approximately 8 cups

4

cups

vanilla custard or preferred jelly

Powdered sugar or Cinnamon and Sugar for dusting
Instructions
The first step is really to plan for enough time to make these fluffy clouds carrying fabulous fillings and then, if it is decided you will fill all or half with vanilla custard, you make the custard, which requires a few hours of refrigeration to come to the right consistency.

Next, make the dough by combining yeast, 1 tablespoon flour, 1 tablespoon sugar, and 2 tablespoons warm water in the bowl of a stand mixer fitted with the bread hook attachment*. Allow to stand until yeast starts to foam and become fragrant, approximately 10 minutes 5 minutes.

Add egg yolks, whole egg, warm whole milk, orange zest, orange juice, brandy, salt, vanilla extract, 2 cups flour, and remaining 1/4 cup sugar. Combine on low speed with dough hook until combined, about 2 minutes.

Add 6 tablespoons of unsalted butter, 1 piece at a time, mixing well between additions. Small lumps are fine and expected. Gradually add remaining flour until dough is soft, smooth, and shiny and starts to pull away from the sides of the bowl and climb the dough hook. You may not need all 2 cups of flour, so work slowly and make sure not to add too much.

Turn dough out onto a lightly floured work surface and knead, adding more flour if needed to prevent sticking, until no longer sticky, approximately 5 minutes. Using a stick of butter, lightly butter a bowl. Place your round of sufganiyot dough into the bowl and roll to cover fully in butter. Cover loosely with a breathable towel. Place in a warm and draft-free place in your kitchen and allow to rise for 1-2 hours, or until doubled in size.

Turn dough back to your floured surface. Roll to 3/4″ thick, this part is important to ensure you have enough dough to puff up and be thick enough for filling. Using a floured 2- 2 1/2 inch, cut dough and then turn the cutter to strengthen the sides. I never knew about this technique of strengthening the sides until making Sufganiyat, learn something new every day. I also used a pint glass because I realized my round cookie cutter was too large for this purpose. I don't suggest it, while some of my doughnuts were gorgeous, others resembles animals, for instance the "turtle". A sharp edge is needed to make nice, clean cuts.

Re-roll scraps once. and cut dough again. Discard extra dough.

Transfer rounds of sufganiyot dough to a parchment-lined baking sheet and cover loosely with a breathable towel towel. Allow to rise again for 45 minutes. Dough will rise, but not double.

While I am known for free styling my frying, being the rebel that I am and not using a thermometer, I decided this time it was necessary. I didn't want to mess up what I had worked so hard on! You can use a deep frying thermometer or a candy thermometer. Oil should measure 4 inches up the side of a large, high sided pot, I used a dutch oven. Heat oil to exactly 350 degrees.

Working in batches of 3-4 doughnuts, fry until golden, only about 1 minute per side. Transfer to a paper towel–lined baking sheet and let cool slightly before filling.

If you plan to toss in cinnamon and sugar, this is the time to do it!

Fill a pastry bag fitted with a large round attachment with desired filling. Placing the bag in a large cup or glass will assist you in filling the bag. Pierce the center of each sufganiyah and fill until filling starts to overflow from the original hole.

Dust sufganiyot with powdered sugar, if desired. Serve warm and enjoy your Strawberry Jelly and Vanilla Custard Stuffed Doughnuts (Sufganiyot)!

If you've tried this recipe, come back and let us know how it was!
Notes
*Don't have a stand mixer? You can get the same results by mixing the dough with a sturdy wooden spoon and kneading on a lightly floured surface.
Nutrition
Calories:
243
kcal
,
Carbohydrates:
34
g
,
Protein:
6
g
,
Fat:
8
g
,
Saturated Fat:
4
g
,
Cholesterol:
82
mg
,
Sodium:
214
mg
,
Potassium:
207
mg
,
Fiber:
1
g
,
Sugar:
7
g
,
Vitamin A:
325
IU
,
Vitamin C:
1.2
mg
,
Calcium:
116
mg
,
Iron:
1.5
mg