This dijon mustard chicken recipe will only set you back 30 minutes. This dish is perfect for a quick and delicious weeknight meal!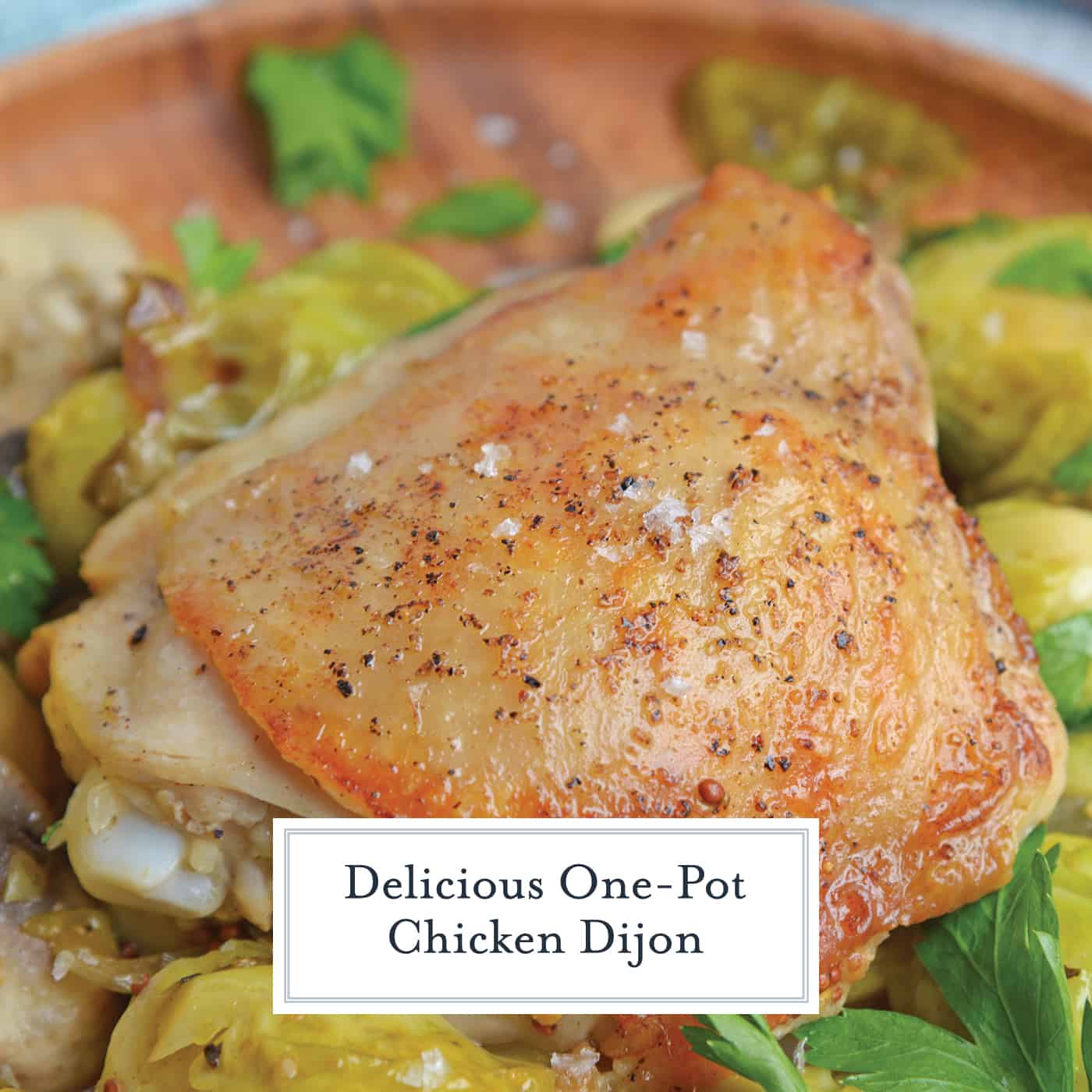 Chicken Dijon is an easy dinner recipe using chicken thighs, mushrooms, brussels sprouts, sweet onions, apple juice and of course, Dijon mustard!
Chicken dijon is another quick and easy one-dish meal. Heat up that cast iron and make a deliciously healthy, carb free and gluten free dish all flavored with the tang and zest of course Dijon mustard. A family favorite!
Why do all chicken dinner recipes use chicken breasts? Don't get me wrong, I have nothing against them, but man I get tired of them.
So I'm straying away from chicken breasts and giving chicken thigh recipes a chance!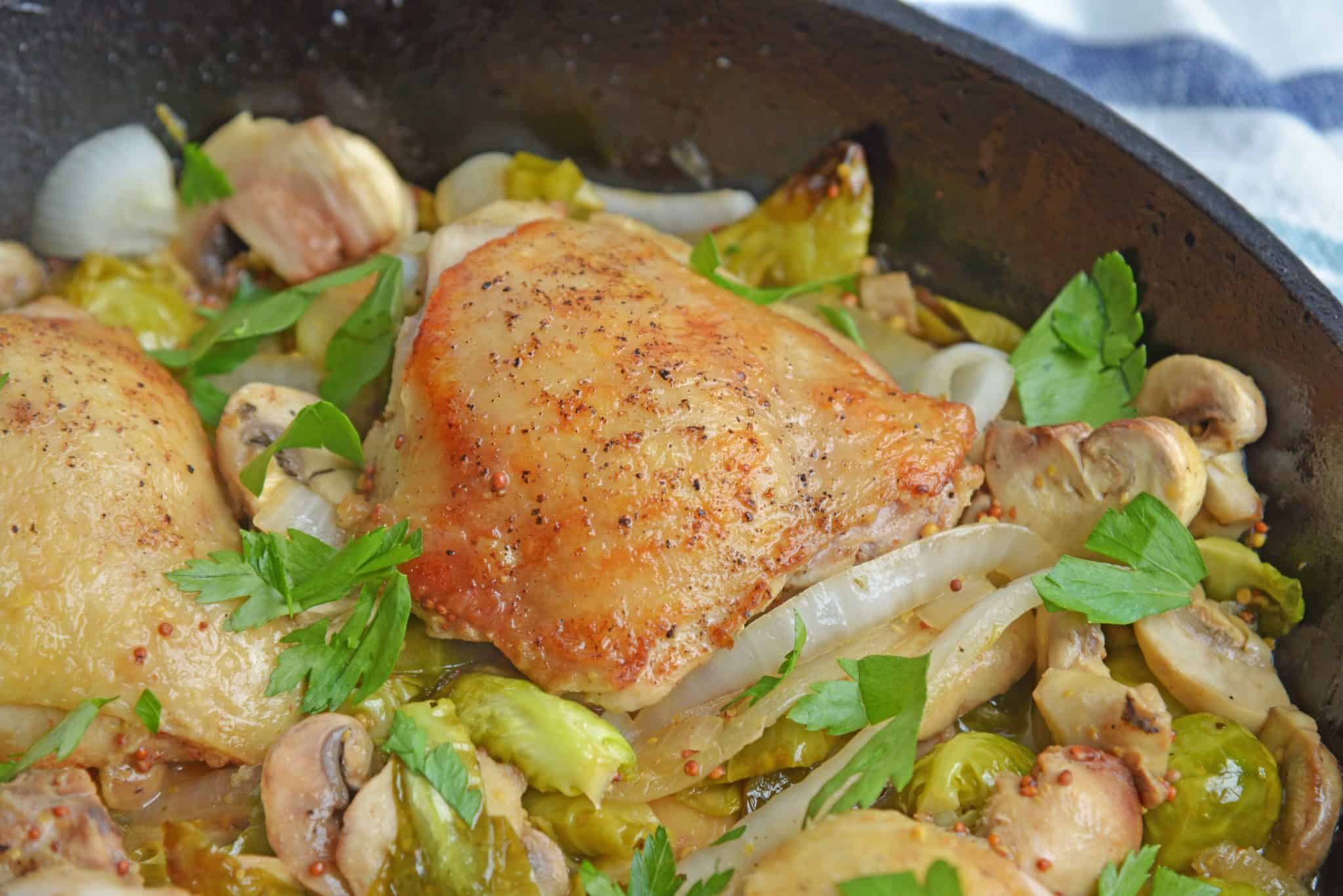 I'm also tired of how much they cost. For a fractions of the cost, you can substitute any recipe into a chicken thigh recipe, bone-in or filets, for nearly any chicken breast recipe. Drumsticks too!
I'd rather compromise the calories and fat for flavor, but if you really want to cut out a few more, go ahead and use chicken breasts in this recipe. But thighs have oh, so much more flavor and depth.
Mustard and apple are a match made in heaven. The sweet of apple balances tart of Dijon mustard. I prefer a heavy grained mustard to also add texture and sophistication, but feel free to use a smooth Dijon mustard if you'd like.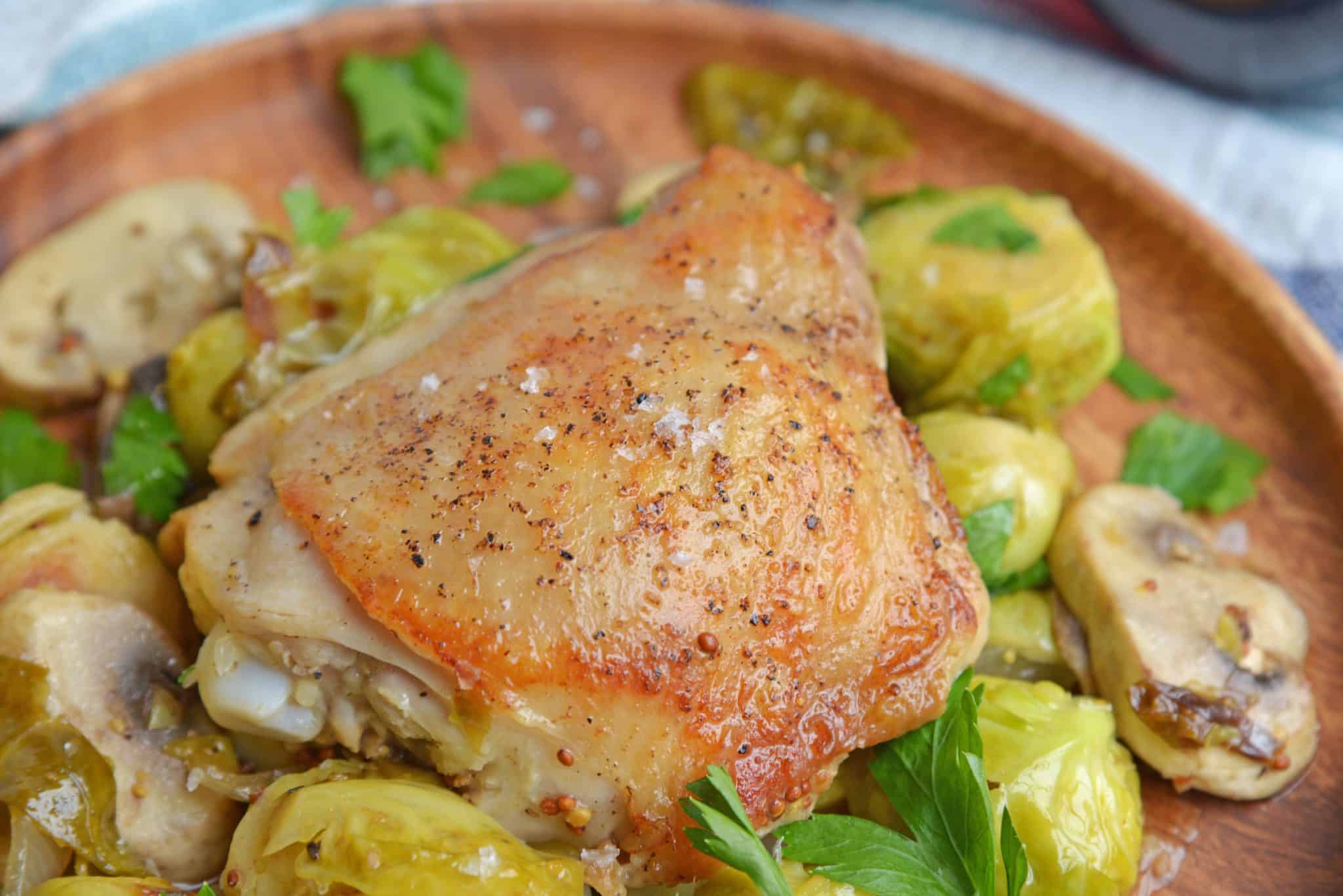 I'm also lightening up this traditional dish. Instead of a heavy, creamy sauce, my chicken has a lighter, cream-free sauce with fresh Brussels sprouts and mushrooms.
Instead of honey or brown sugar, apple juice lends the sweet. All the deliciousness of classic Chicken Dijon with just a fraction of the calories.
Fact: Dijon is a city in eastern France in the Burgundy region. Dijon mustard does NOT need to be grown or manufactured in Dijon France to be considered a Dijon. In fact, most seeds now come from Canada and other countries all together.
Chicken Dijon is French in heritage. It is called Poulet à la Moutarde or Poulet à la Dijonnaise and just means chicken with a mustard sauce. How you get the mustard sauce is not clearly defined and not requird to be thick and creamy.
Although, let's all be honest, most French sauces are thick, creamy and decadent.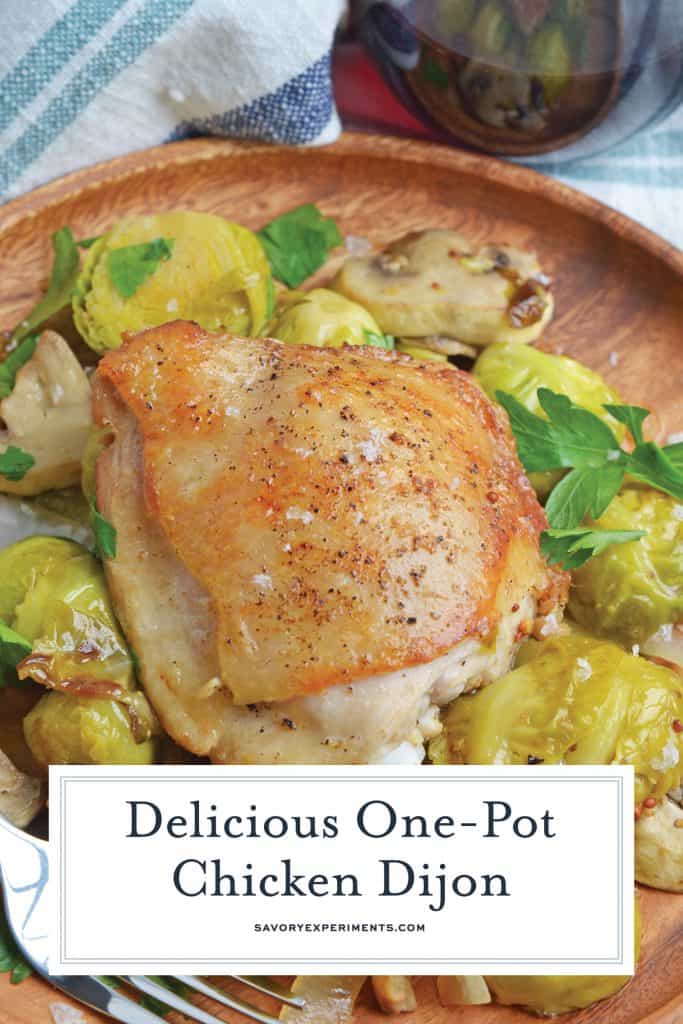 Questions you might have about how to make Chicken Dijon:
Can I make chicken Dijon ahead of time? Sure! You can cook everything and just leave it in the cast iron skillet and either reheat it on the stove or in the oven.
Can I free chicken dijon? You sure can! But mushrooms are notorious for not freezing well, so don't be bummed when they thaw soggy and limp.
What do I serve Chicken Dijon with? You can kept this Chicken Dijon recipe low carb, like it is now, or serve it over a bed or rice or buttered noodles.
It also tastes great with side such as these:
What can I substitute for apple juice? If you don't have any apple juice, feel free to use another sweetener like honey or maple syrup. However these don't have as much liquid by volume, so you might need to add chicken stock or water to make enough sauce.
Can I make this sauce creamy? The beauty of this recipe is to save a few calories, but still get an amazing sweet mustard flavor, but if you need a creamy sauce, feel free to add 1/4 cup cream to the sauce at the very end.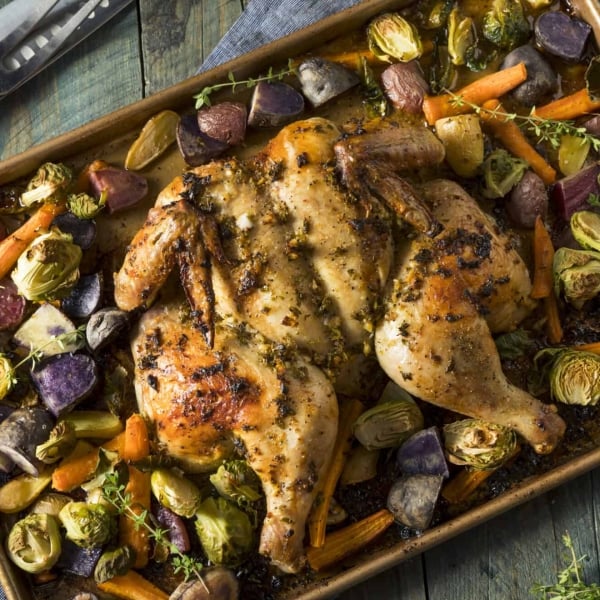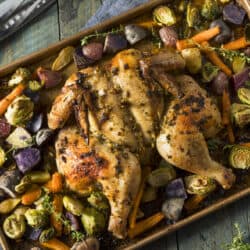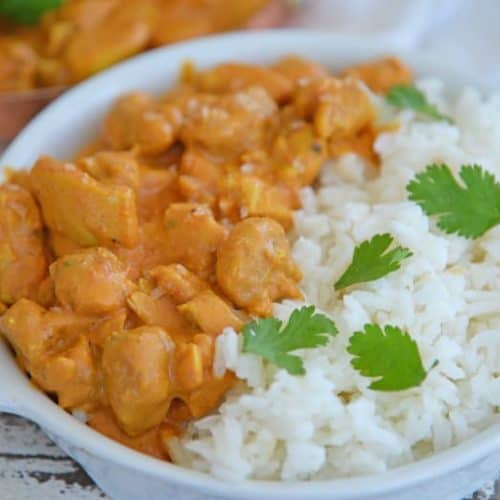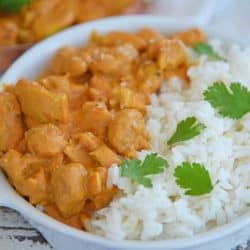 Before you get started, make sure you know how to properly season your cast iron and how to clean your cast iron!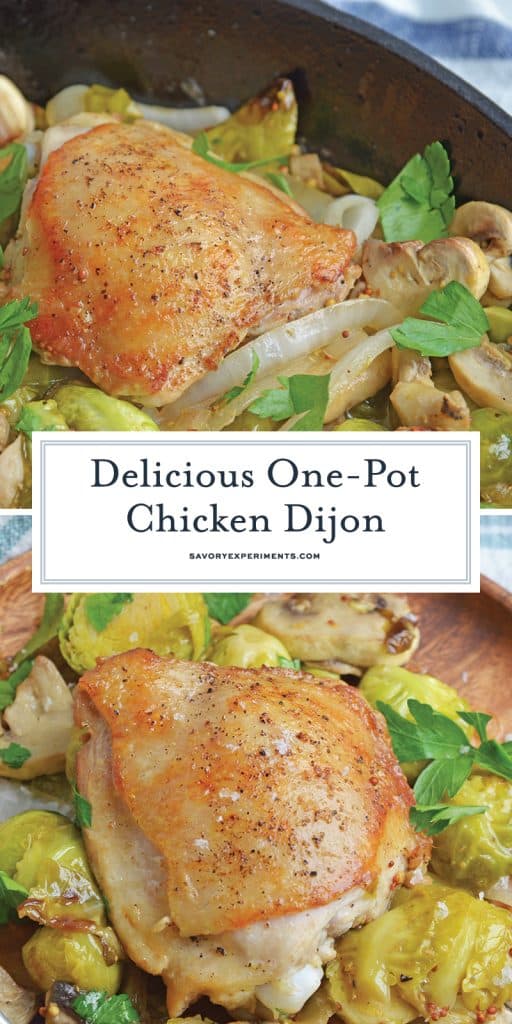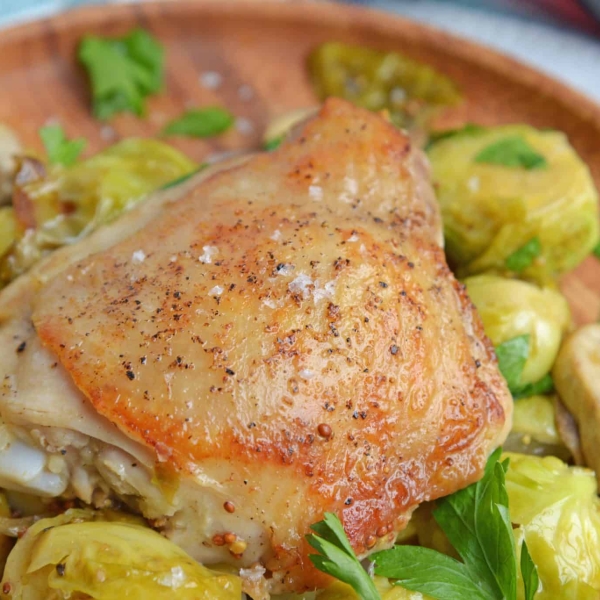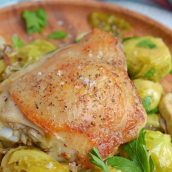 Chicken Dijon
Chicken Dijon is an easy dinner recipe using chicken thighs, mushrooms, brussels sprouts, sweet onions, apple juice and of course, Dijon mustard!
Instructions
Heat large skillet over medium heat. Add extra virgin olive oil.

Dab chicken dry and season fine sea salt and pepper.

Add to hot skillet, cooking chicken on both sides for 3-4 minutes or until browned.

Add butter to pan, swirl to melt. Add brussels sprouts around chicken. Stir around chicken for 5 minutes to lightly char.

Whisk together apple juice and whole grain Dijon mustard.

Add apple-Dijon mixture, parsley, mushrooms and onion. Continue to cook and stir for 10 minutes. The size of chicken thighs varies greatly, make sure the internal temperature has reached 165 degrees.

Remove from heat and allow to rest for 5 minutes before serving.

If you've tried this recipe, come back and let us know how it was!
Nutrition
Calories:
432
kcal
,
Carbohydrates:
15
g
,
Protein:
21
g
,
Fat:
32
g
,
Saturated Fat:
9
g
,
Cholesterol:
125
mg
,
Sodium:
284
mg
,
Potassium:
624
mg
,
Fiber:
3
g
,
Sugar:
8
g
,
Vitamin A:
595
IU
,
Vitamin C:
42.2
mg
,
Calcium:
51
mg
,
Iron:
1.9
mg