Avocado anything makes me one happy camper, so adding crab with avocado makes me even more ecstatic! This avocado salad recipe is packed full of crab meat and different veggies, making it into something mouth-watering.
Crab and Avocado Salad is a simple yet delicious and healthy salad. This recipe with crab combines creamy avocado, red onion, jalapeno, and bell peppers, with buttery lump crab meat and finished off with a topping of miso dressing!
Crab Avocado Salad is seriously one of my main meals and although you can also serve it as an appetizer, it is satisfying enough for a whole meal. Trust me, it'll fill you up and leave your tummy happy!
I first came across this recipe at a local restaurant with a rotating seasonal menu. I loved it and looked forward to it on my next visit… only it wasn't there.
So sad. The only alternative was to make my own. So… I made my own version of Crab Avocado Salad; probably not similar enough to even call it a copycat recipe, but the final product was just as tasty.
The miso dressing is slightly bitter, but coupled with a sweet crab they balance each other out. The spiciness of other ingredients mellows with a bite of cooling avocado. As you take each bite you will experience a flavor explosion in your mouth. How awesome is that?!
Sometimes I serve just the crab mixture in an avocado halve and other times, I put the whole concoction on a bed of mixed greens. After all, lettuce isn't actually required to call something a salad.
It merely has to be a mix of vegetables and this qualifies. Tada: Avocado Salad!
Instead of making two large salads you can make 4 small salads as an appetizer. It's a great dish to serve as a first course when you're having people over or even better for packing up and taking for lunch!
Just don't forget to keep it stored in a airtight container and add some lime or lemon juice to help prevent oxidation!
If you loved this crab meat recipe, be sure to check out these other easy crab recipes:
Italian Seafood Salad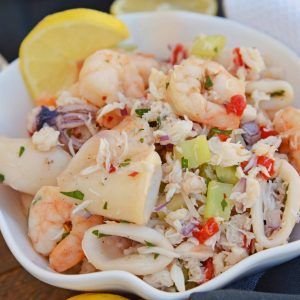 Made with shrimp, calamari and lump blue crab meat, this Italian Seafood Salad is one of the easiest but most delicious seafood salad recipes you'll ever make. Perfect as an appetizer or light meal!
Crab Melt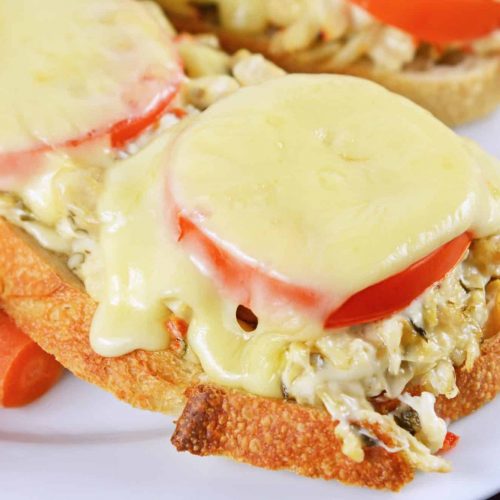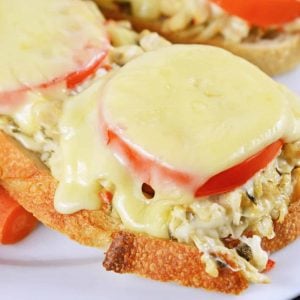 This Crab Melt will become your favorite open faced sandwich recipe! Deliciously cheesy and easy to make!
Tools for making Crab Avocado Salad:
Wood cutting board – wood won't dull your knives like plastic and if treated properly, has natural antimicrobial properties.
Good knife – Global is my favorite! They are worth the price, I promise. I am kind of obsessed with them and store them tucked away so no one else can use them. Including hubby. Hands off my good stuff!
CONNECT WITH SAVORY EXPERIMENTS!

Be sure to follow me on social media, so you never miss a post!

Facebook | Twitter | Youtube
Pinterest | Instagram

Get our FREE 8 Day E-Course on How to Be a Better Home Cook. Sign up HERE!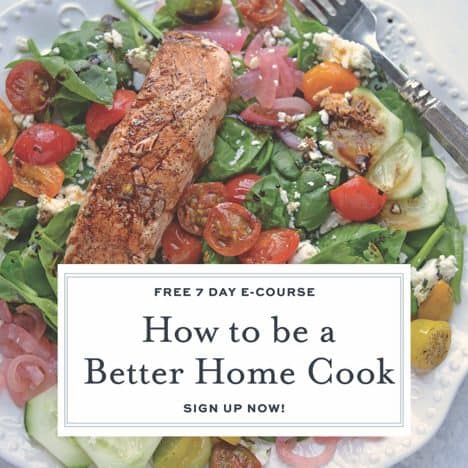 Crab and Avocado Salad
Crab and Avocado Salad is a simple and healthy salad. Buttery lump crab with creamy avocado, red onion, jalapeno and bell peppers topped with Miso Dressing.
Instructions
In another bowl combine crab meat, bell pepper, jalapenos and red onion. Mix gently to avoid breaking up any of the lump crab meat. I used the food processor to mince my veggies- just saved a little bit of time.

Cut avocado down the center and halve. Using a large spoon, gently scoop out the avocado halve from the skin in one piece. Repeat for the second side.

Arrange a bed of spring mix lettuce on two plates. Place 2 avocado halves on top of each bed of lettuce. Spoon crab into the pit wells of the avocados. Drizzle with sweet miso dressing. Serve!

If you've tried this recipe, come back and leave us a comment!
Nutrition
Calories:
449
kcal
|
Carbohydrates:
33
g
|
Protein:
14
g
|
Fat:
31
g
|
Saturated Fat:
4
g
|
Cholesterol:
11
mg
|
Sodium:
1532
mg
|
Potassium:
1309
mg
|
Fiber:
16
g
|
Sugar:
6
g
|
Vitamin A:
2020
IU
|
Vitamin C:
90.2
mg
|
Calcium:
71
mg
|
Iron:
2.5
mg