Looking for an easy seafood appetizer? You'll love these sea scallops wrapped in bacon! You might also know that as devils on horseback.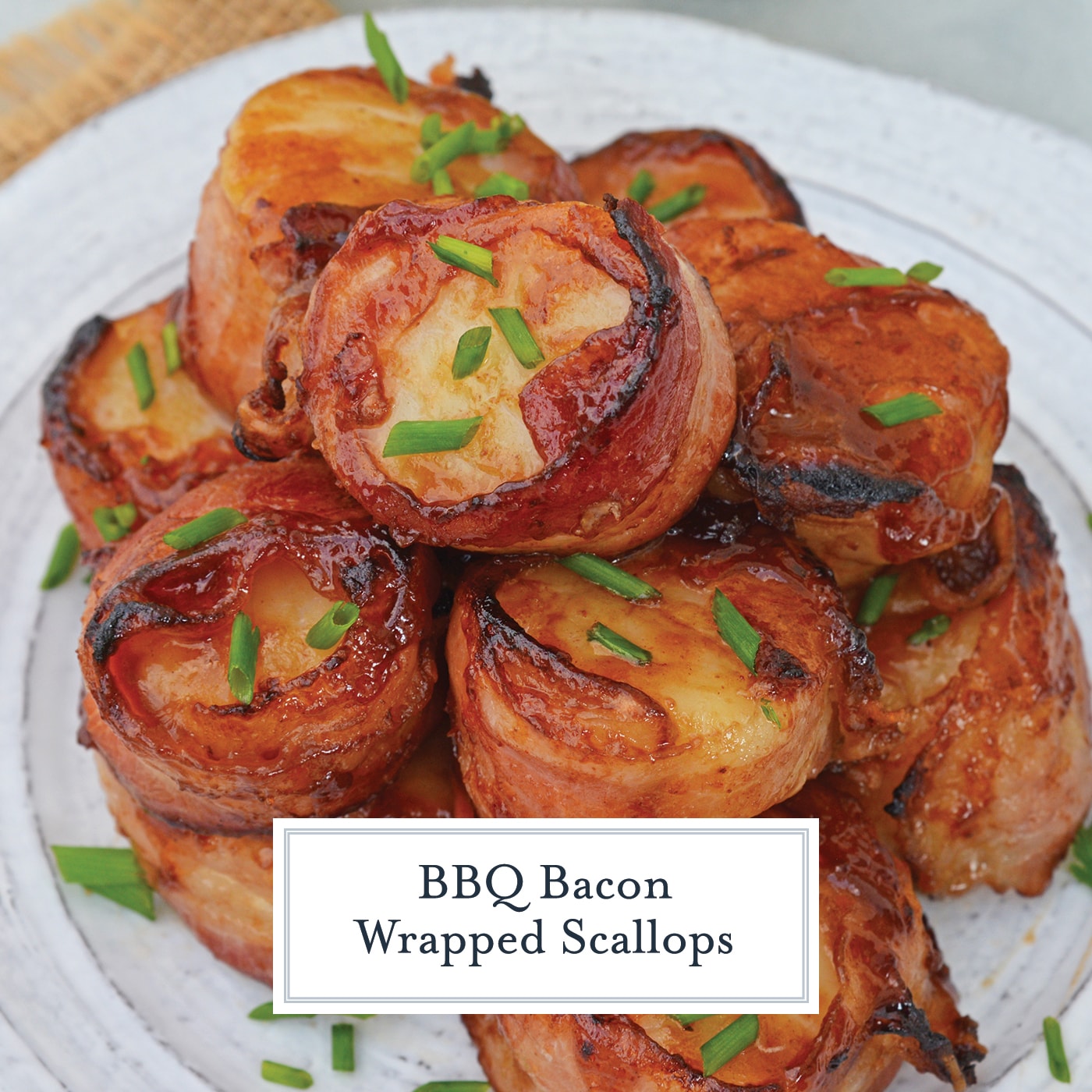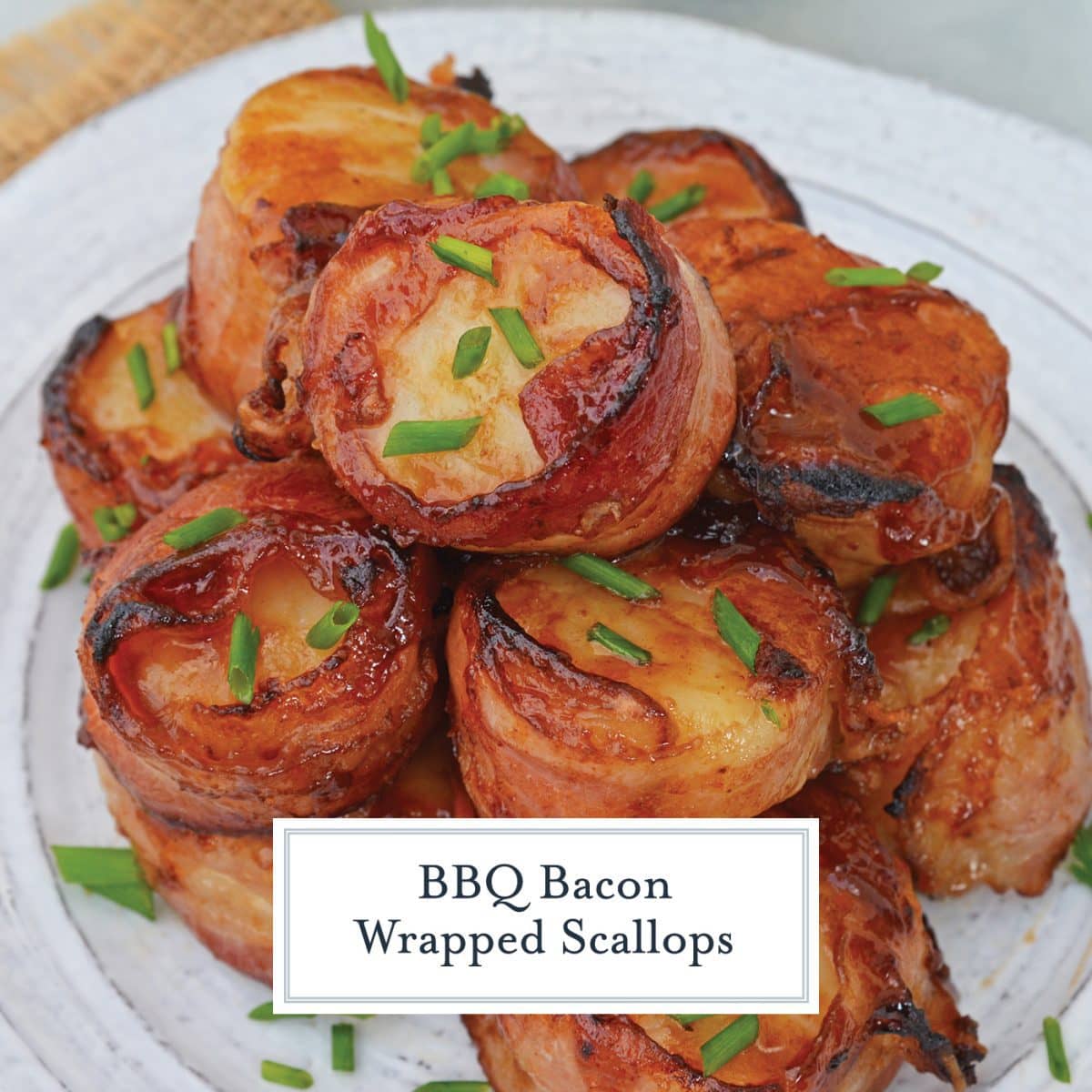 Bacon Wrapped Scallop Recipe
Let me cut to the chase. Bacon wrapped scallops, in theory, are very simple. You get a scallop, wrap it in bacon, secure and cook. Maybe add some sauce or seasoning.
But to get perfection: perfectly cooked scallop and crispy bacon without starting a house fire from burning toothpicks, there are actually a few more steps.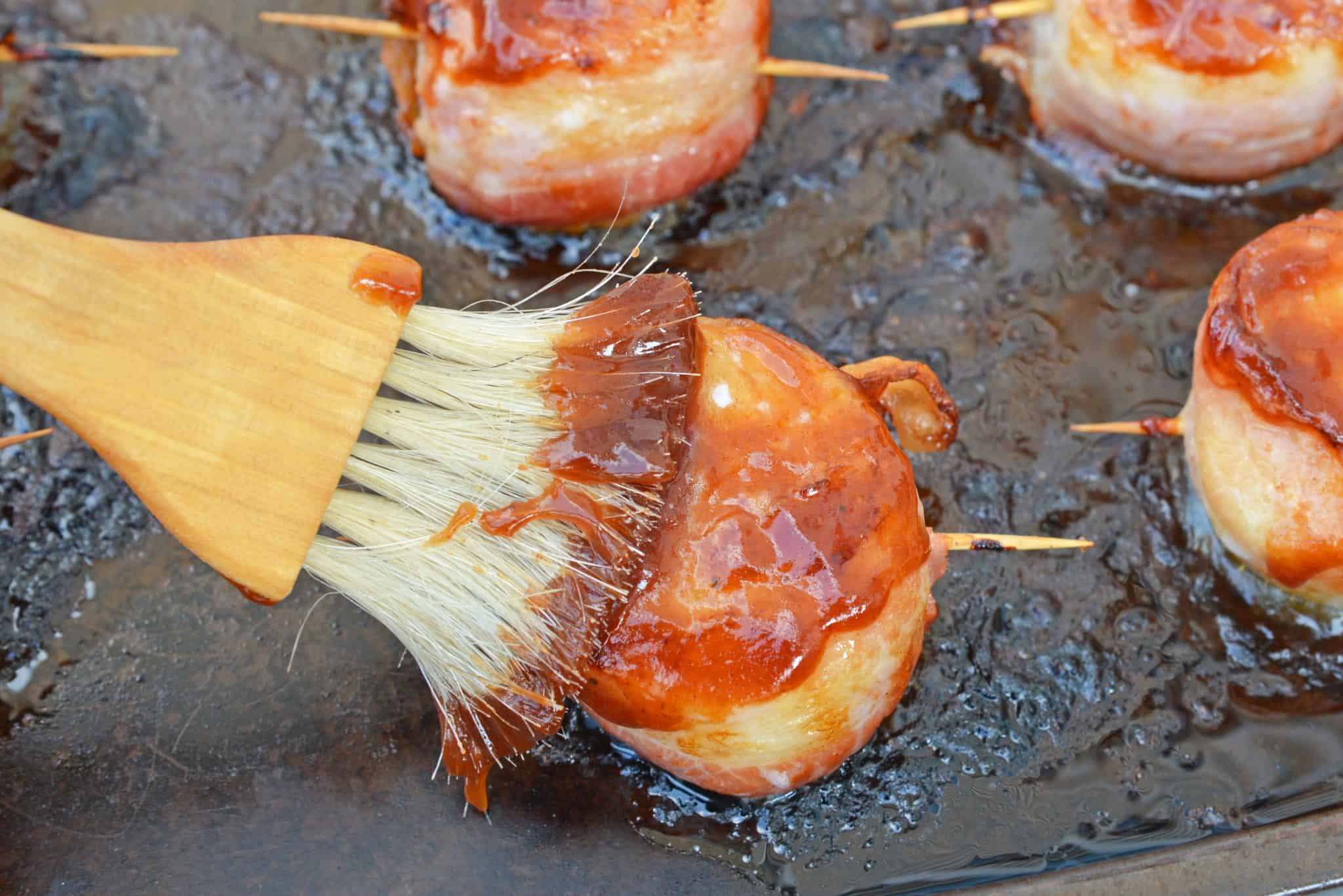 You see, if you do the simple way, the bacon won't get crispy. It will be limp, soggy, greasy bacon.
But if you cook until the bacon is crispy, you'll end up with rubbery, dry and chewy scallops. They really require two different cooking times and that is why I pre-cook my bacon.
SAY WHAT????
Pre-Cooked Bacon
Pre-cooking your bacon is going to be the trick to perfect scallops. You want to cook it about 75% of the way so it is still pliable without breaking (not super crispy) but cooked enough that it will only take a few minutes under the broiler to finish it off.
Nope, you want a middle-of-the-road center cut bacon with a good amount of meat, but also some fat. That fat will let the slice nestle up to your scallop like shrink wrap and also impart flavor. You can even use a flavored bacon like maple or peppered.
The other trick here is the type of bacon you use. For this recipe you do not want the thickest, meatiest slab bacon you can find.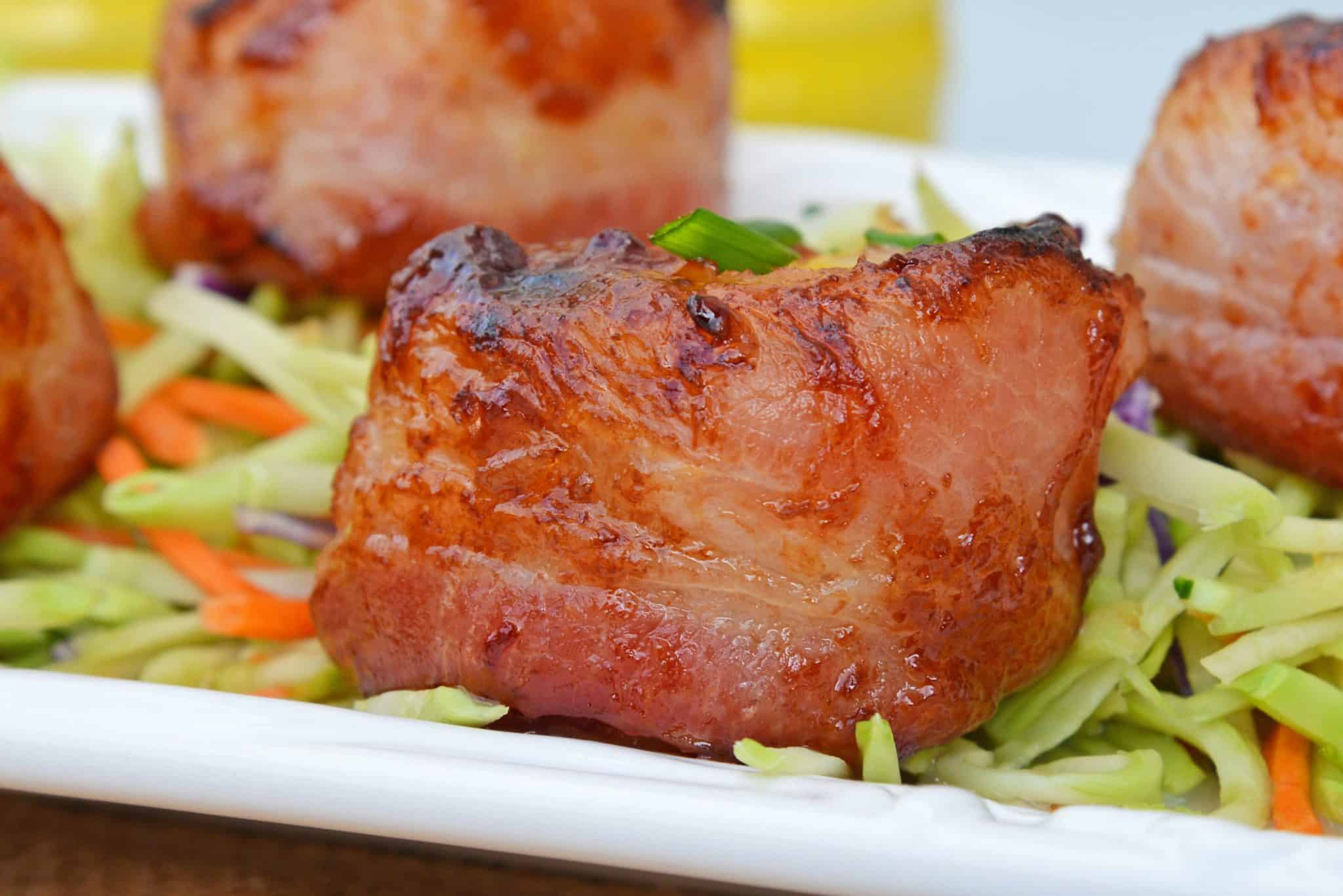 Since you'll be cooking the bacon ahead of time, there will be an opportunity to drain off bacon grease. For this purpose, bacon gets cooked in the oven so it stays long and flat instead of shrinking up to the rippled version done in a pan.
Scallops
The next question is inevitably what scallops to use. I don't care as much about size (as long as they aren't the tiny bay scallops) but that they were dry packed.
Dry packed means they have not been soaked in a brining liquid. This bloats them up and after they cook and release all of that water, they also shrink.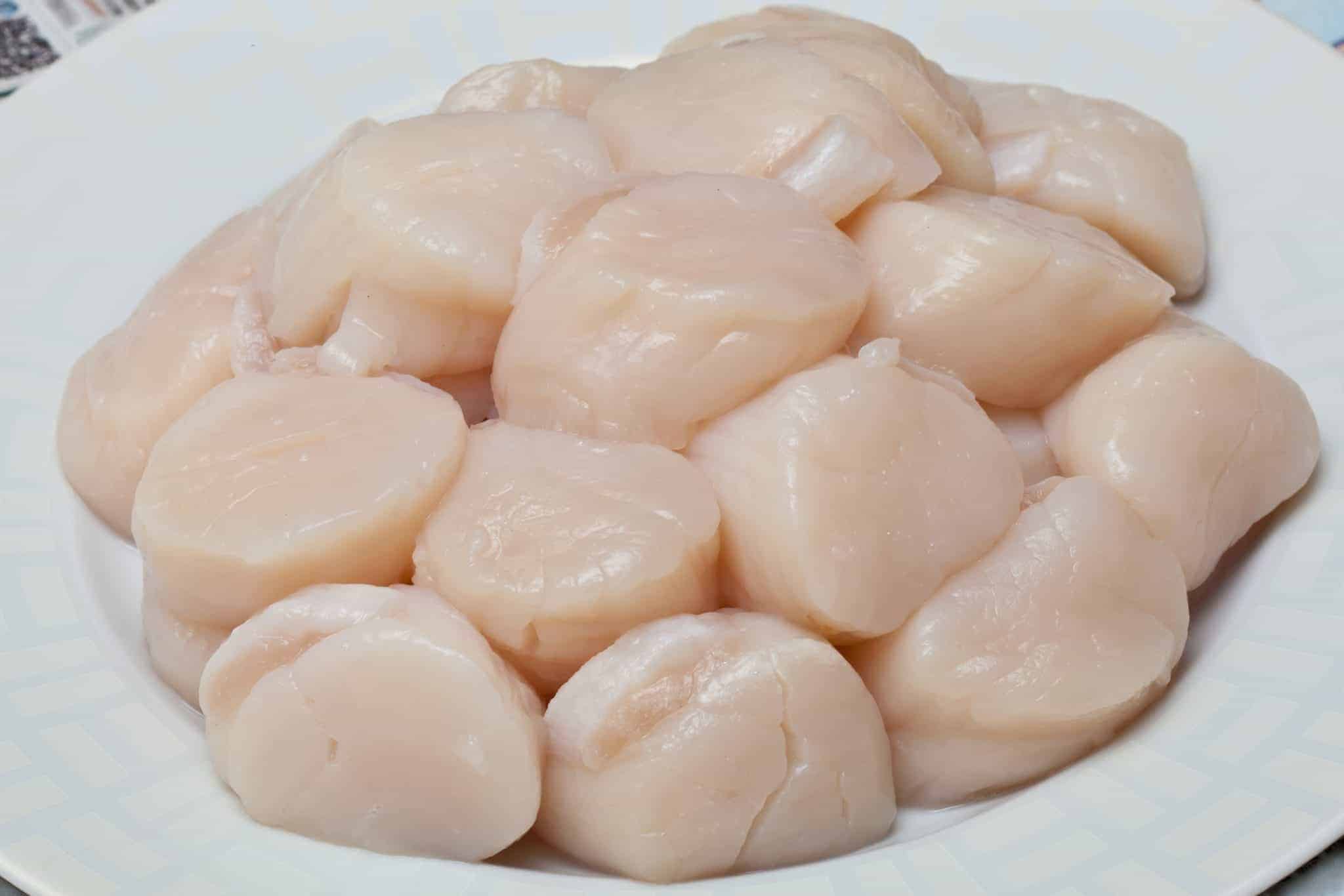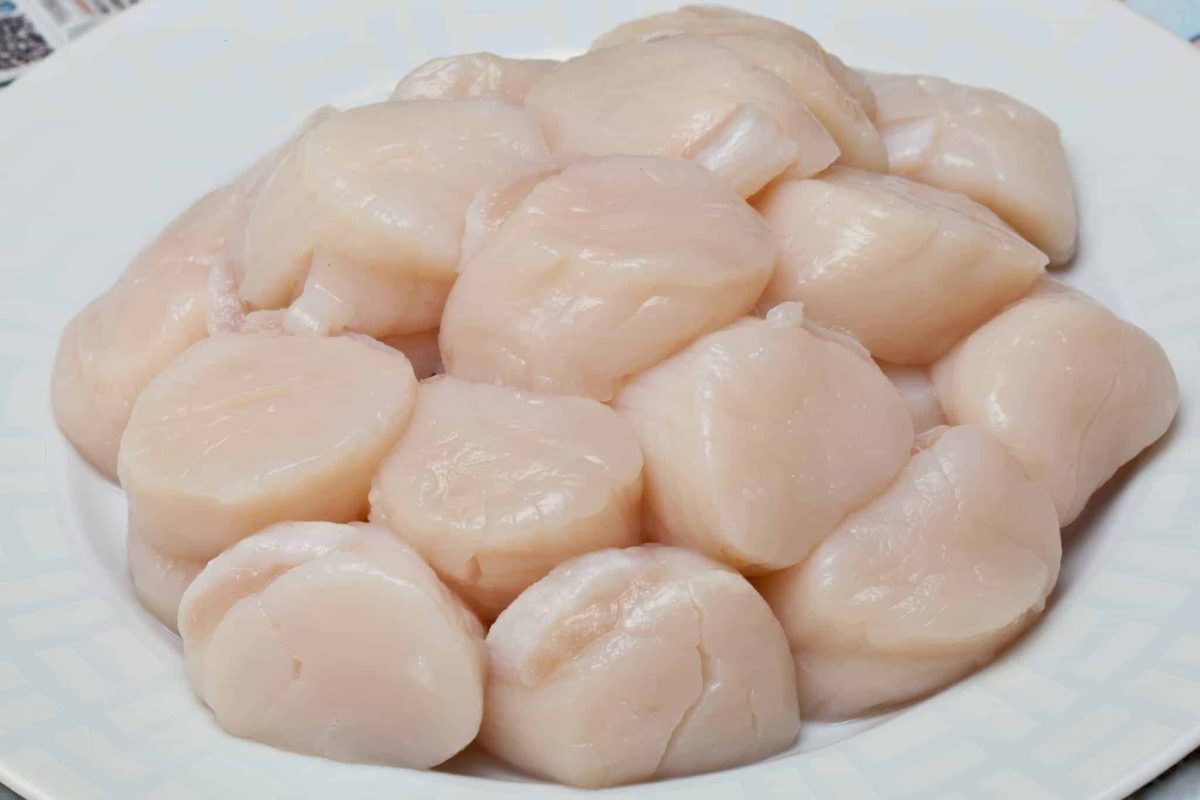 So you have this lovely piece of bacon that fit snugly around your scallop when it entered the oven, but by the time it came out looked like a 2 year old wearing her dad's suit jacket.
Look for larger sea scallops (sometimes labeled U-10). Frozen is totally acceptable, just make sure they are fully thawed before cooking since the cook time is quick and furious.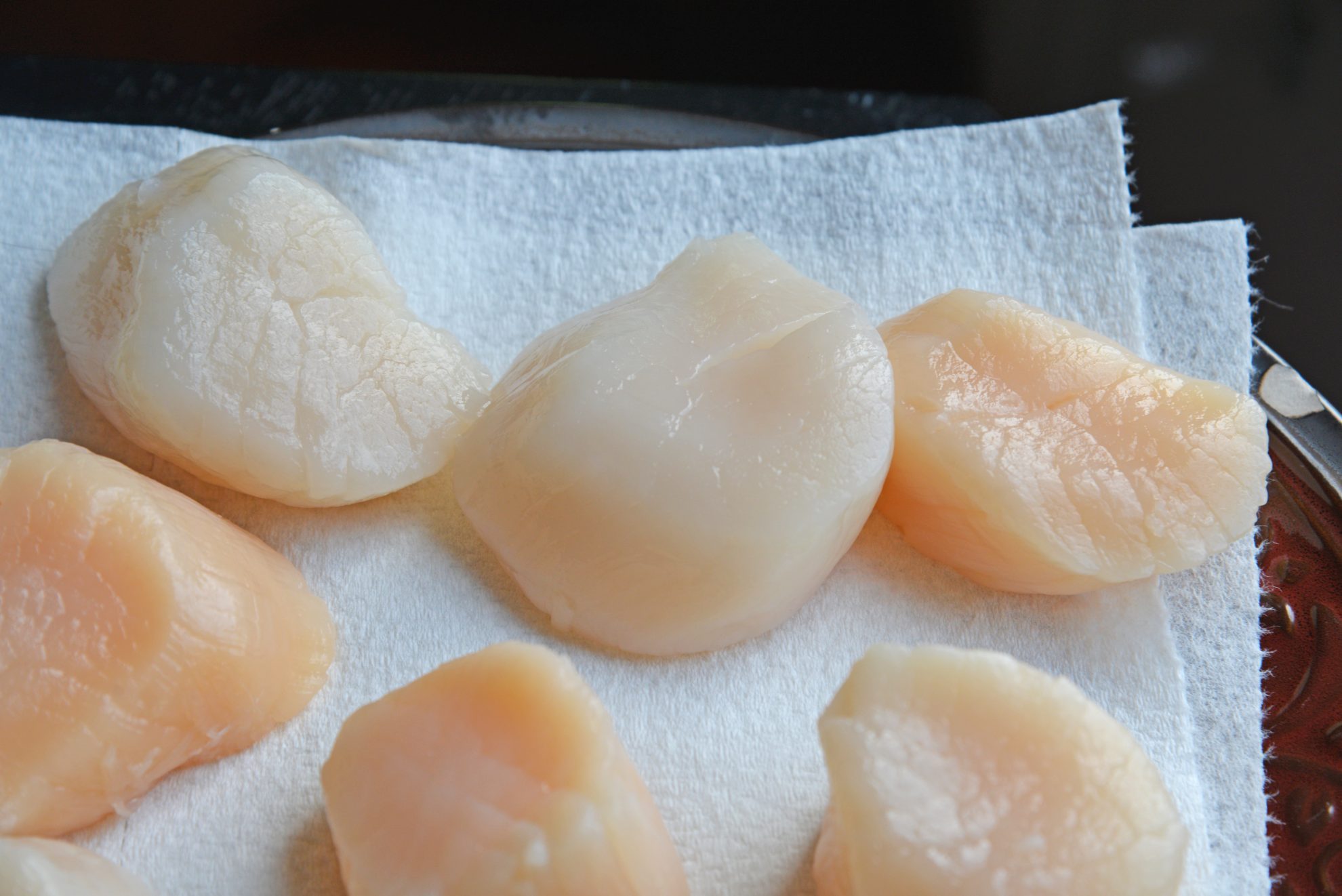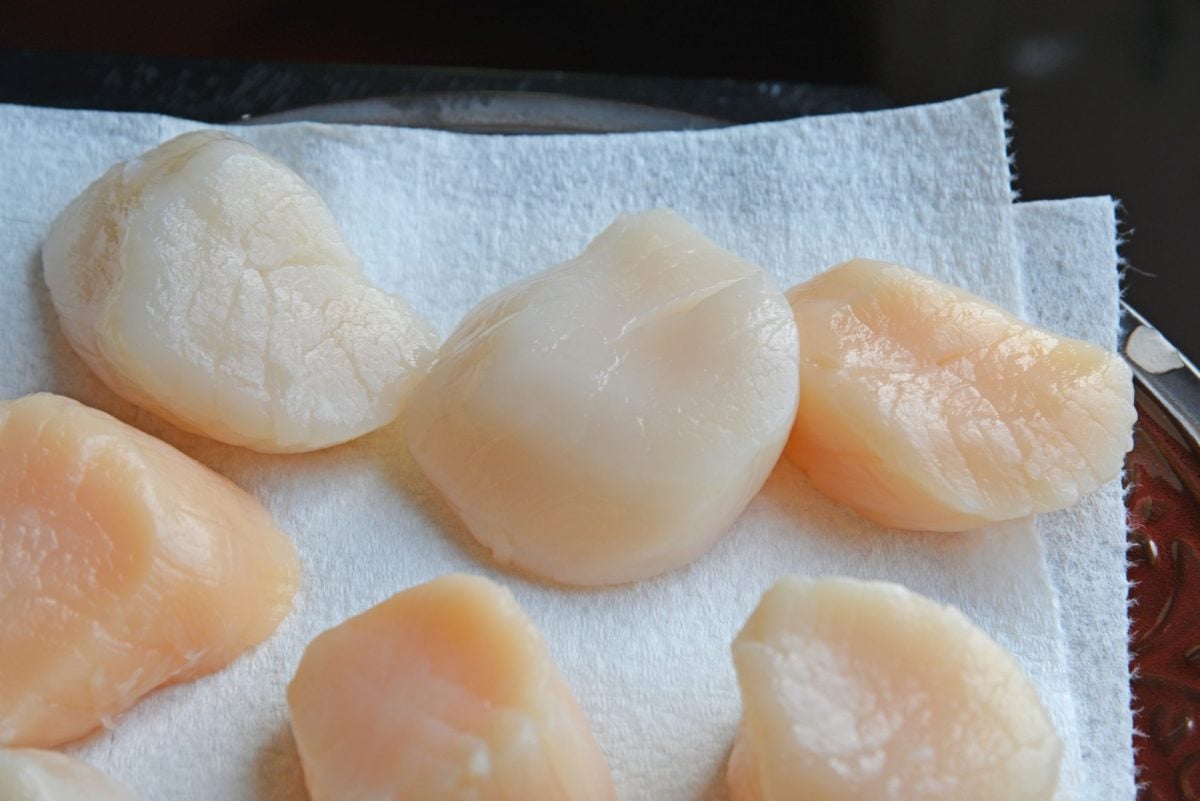 How to Make Bacon Wrapped Scallops
There is a debate out there about the best way to do this: bake, broil or pan fry. I've tried all three and even though you are going to get a little spit and sizzle, broil yields the most consistent and best results.
Pan frying will get the scallops perfectly cooked, but not the bacon. Baking has the same issue.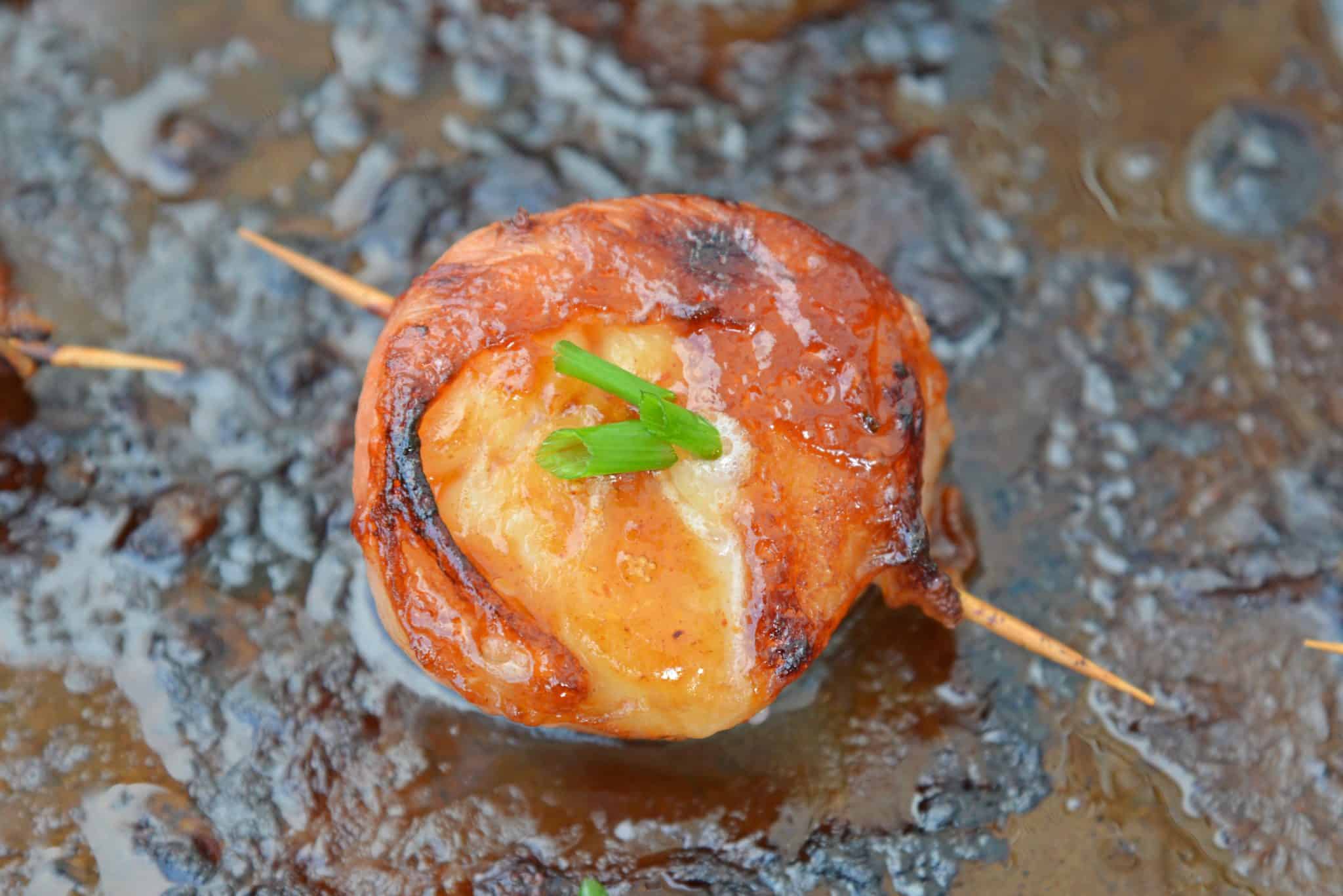 You also don't want to slow cook scallops. They are best with a quick and high heat to sear the outside but leave the center creamy.
ONE. Clean your scallops. If present, remove the small muscle on the side. Dab them dry with a paper towel. Sprinkle liberally with coarse salt and pepper.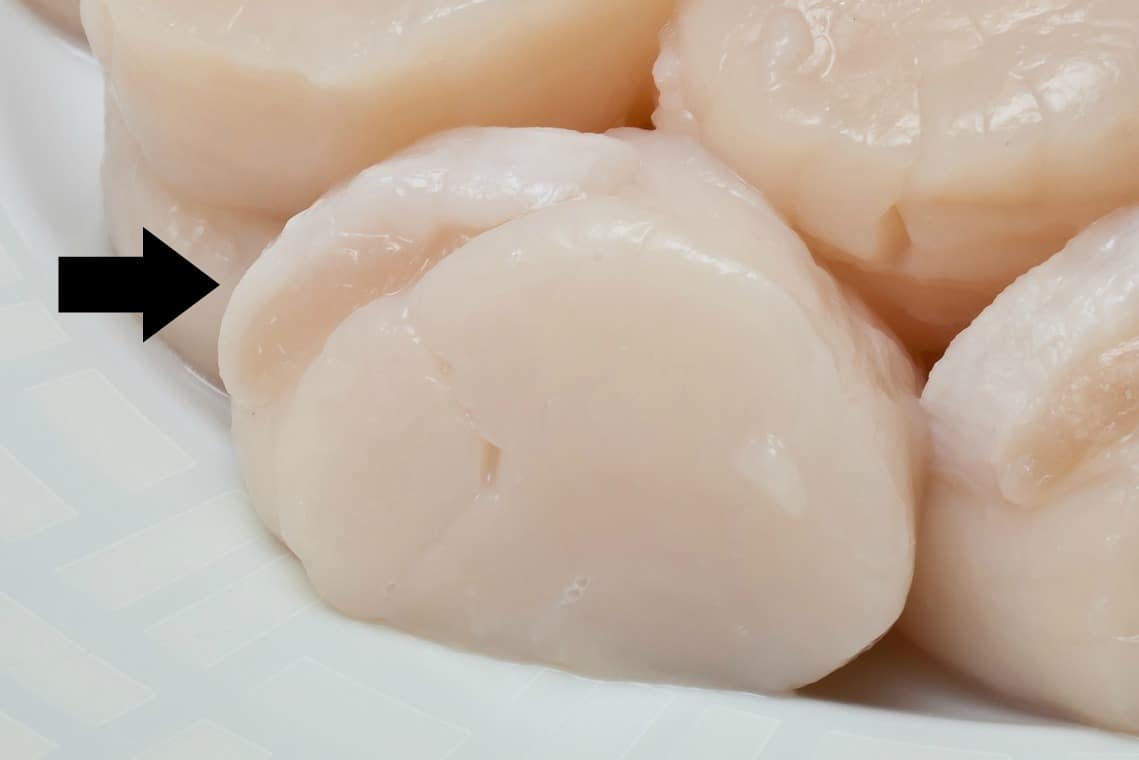 TWO. Prep the bacon. Heat your oven to 400 degrees and arrange in a single layer on a rimmed baking sheet. bake for about 12 minutes, or until bacon is starting to cook, but not fully crispy. Remove, drain and let cool slightly just so it is easier to handle. This can be done ahead.
THREE. Soak toothpicks. The biggest hazard here is securing your bacon on the scallop and it being wood, which tends to create fire when put under heat. But have no fear, just like soaking kabobs for the grill, a quick soak in water for 10-15 minutes, the amount of time the bacon cooks and you'll be fine.
Some people like to go sans toothpicks, but then the bacon won't fit snugly and give you flavor. You might as well just serve scallops with bacon on the side. It defeats the purpose.
FOUR. When bacon is cool enough to handle, wrap a slice around each scallop. Overlap the ends slightly so you can secure with a toothpick, but try not to do two layers the whole way or the rest of the bacon won't cook. If your scallops are large enough, one average strip of bacon should fit perfectly.
FIVE. Preheat broiler and place scallops on a baking sheet. Broil, dry, for 2-3 minutes. Remove and flip, return to broiler for 2-3 minutes. The number reason home cooks ruin their scallops is overcooking. Do not be that person!
SIX. Remove scallops and turn off oven, but shut the door to reserve heat. Baste tops with BBQ sauce. Return to warm oven for 2 minutes, just enough time to heat the BBQ sauce. Don't slather on too much or else the sauce will overpower bacon and scallop flavor.
Adding sauce during the broiling process prevents bacon and scallop from browning. Since you are broiling, this intense heat burns sugars in the sauces. Aim for warm, sticky sauce, not burnt, hard sauce.
SEVEN. Remove and top with chives or scallions. Serve while hot!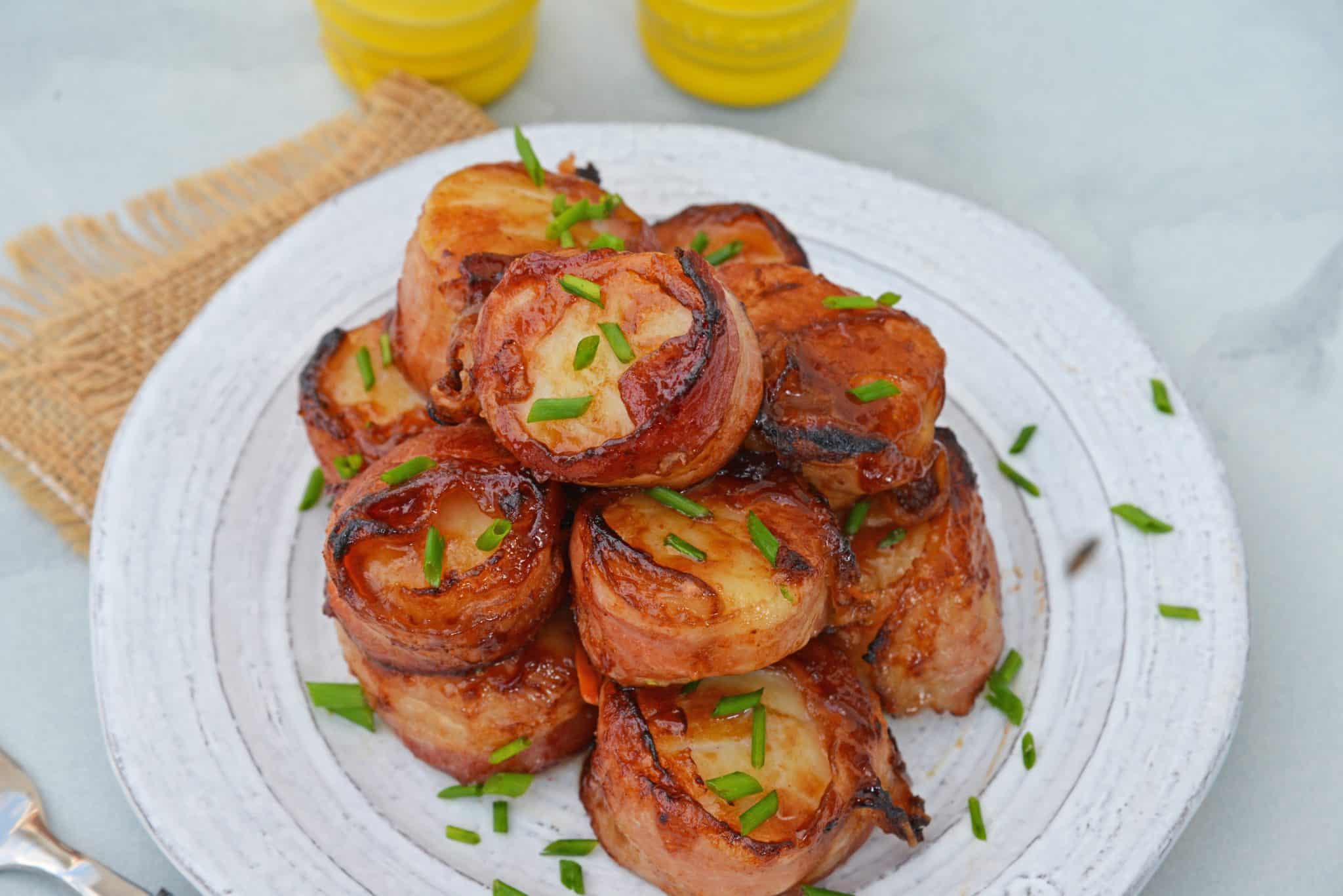 Bacon Wrapped Scallops on the Grill
You can certainly make these on the grill! Follow all the same instructions for precooking the bacon and then instead of giving each scallop its own toothpick, thread 3-4 scallops onto large metal or wooden skewers. Be mindful to allow a small amount of space between each or the touching are won't cook.
Heat grill to medium high heat and place scallops on oiled grates on direct heat leaving the lid open. Sear for 2-3 minutes, then flip, searing for another 2-3 minutes.
Shut off heat, baste with BBQ sauce and close the lid for 2-3 minutes to allow sauce to warm.
Appetizer or a Meal
Scallops wrapped in bacon make a great party appetizer. I definitely anticipate making these for many holiday parties this year and there's no doubt that I'll be serving them up as an appetizer to impress dinner guests soon.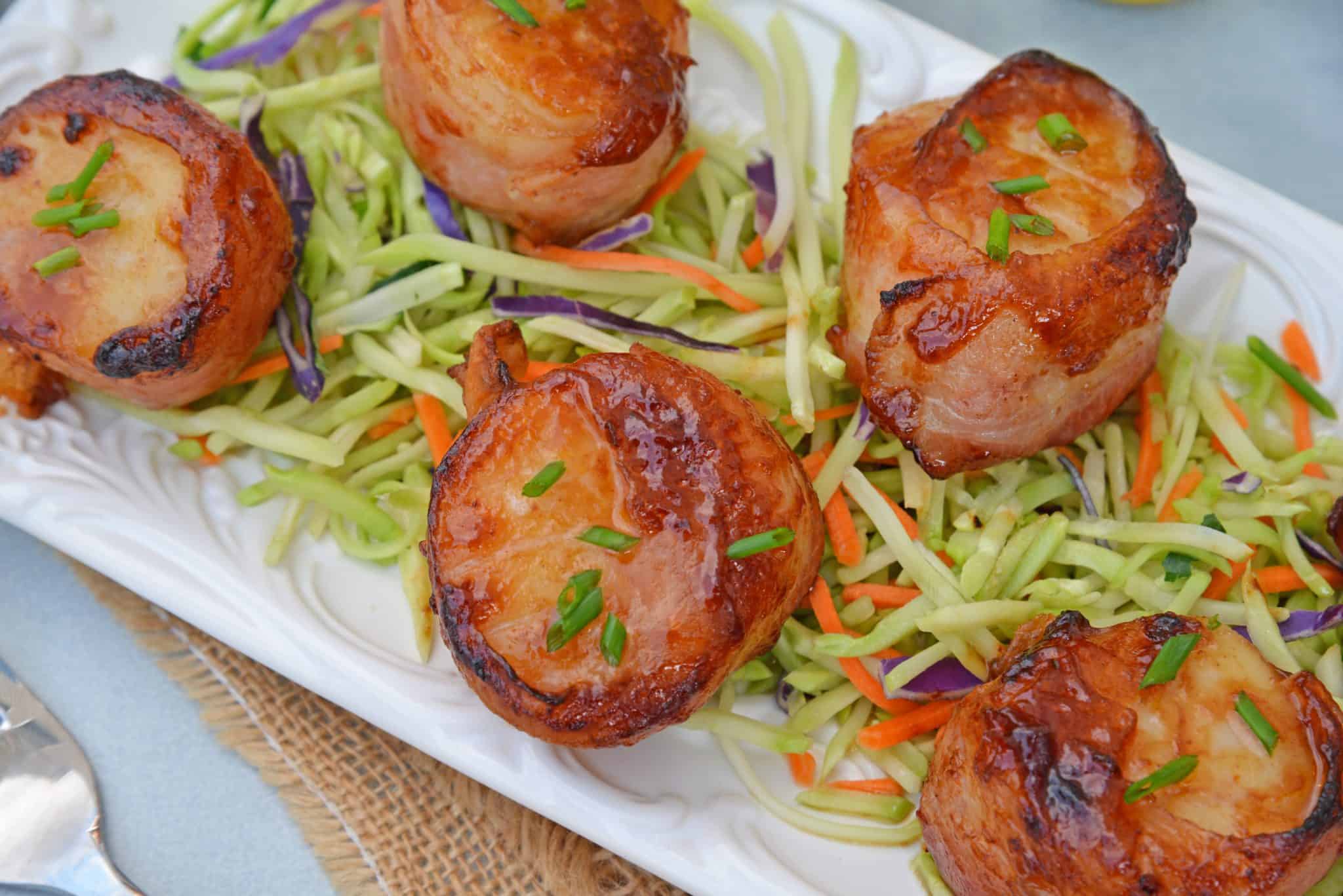 However, these baked scallops can also be turned into a meal, which is what I did when I first made them. Honestly, it might be better this way because there's no way you'll want to eat just one!
They can served over a bowl of carbonara or fettuccine alfredo or even on salad. They make an excellent addition to steak or even crab cakes.
Make Ahead
While I wouldn't suggest making these fully ahead, you can cook the bacon and wrap the scallops. If it is within 2-3 hours of broiling, go ahead and secure with soaked toothpicks too. Otherwise, wrap and then secure right before broiling.
If there are leftovers, store in a covered container in the refrigerator for up to 3 days. For best results, reheat in the oven, but a microwave can be used.
I do not suggest freezing these.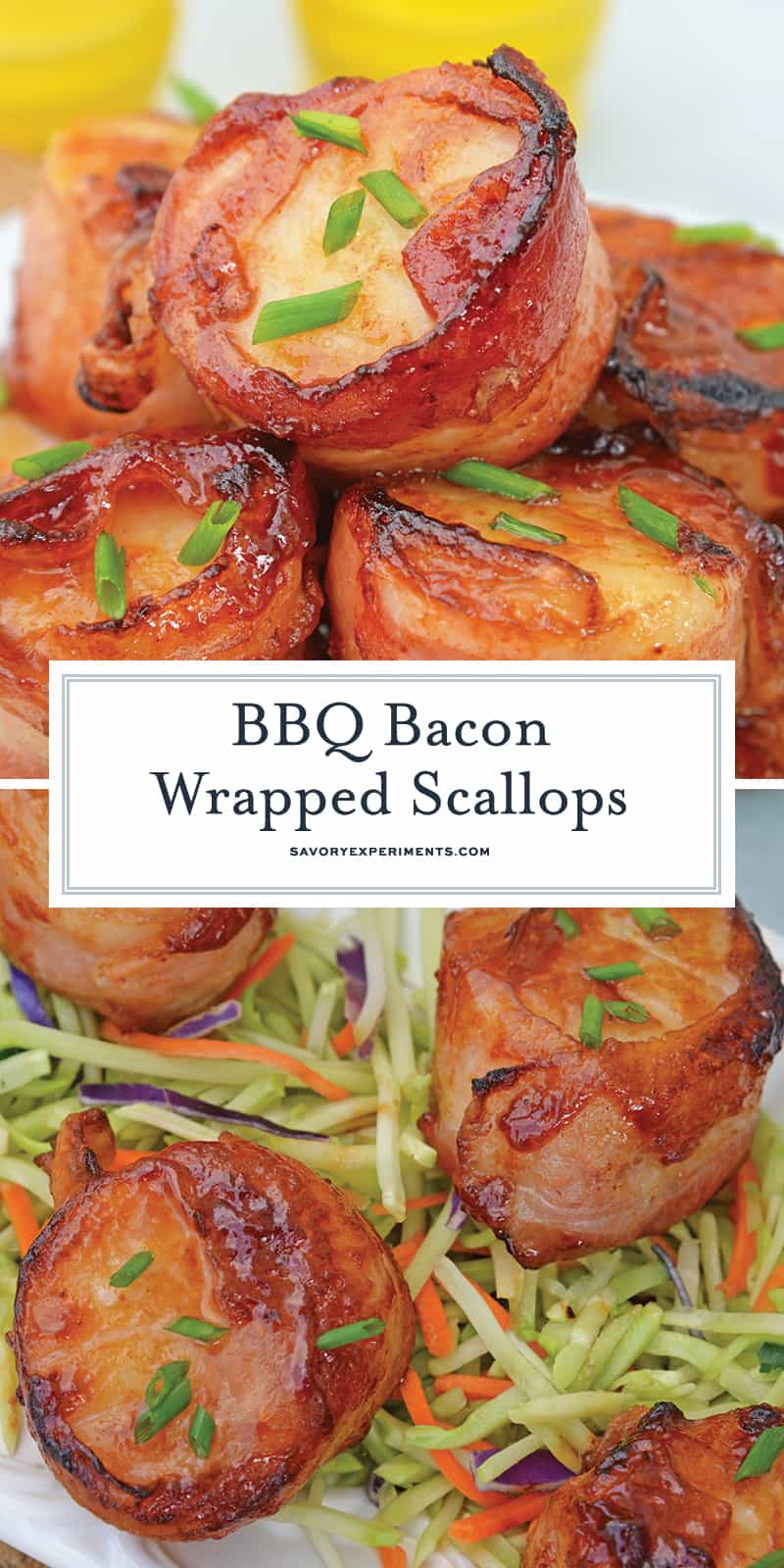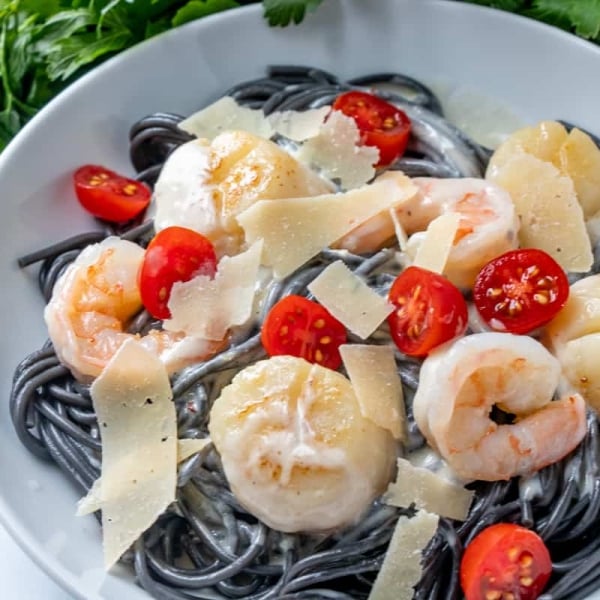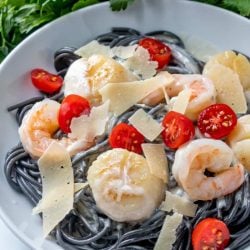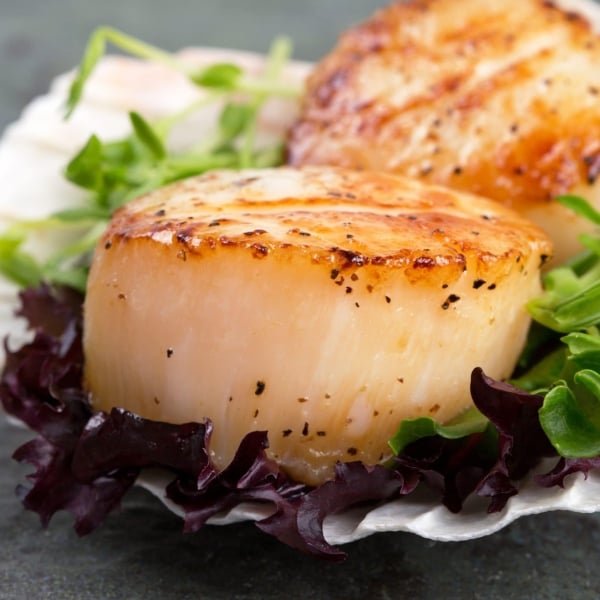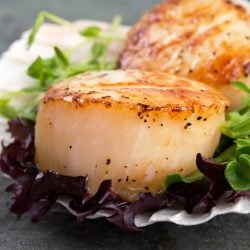 How to Sear Scallops
Pan Seared Scallops at home are easy to make. Learn how to prevent your scallops from sticking and get restaurant quality crust every time!
See The Recipe!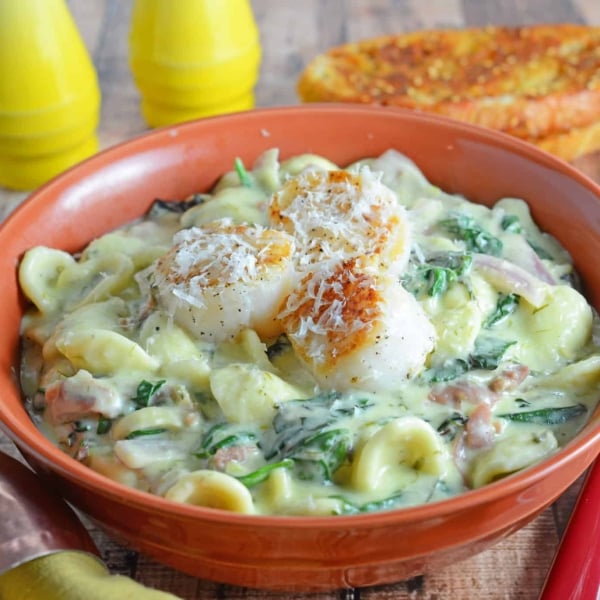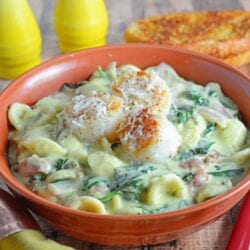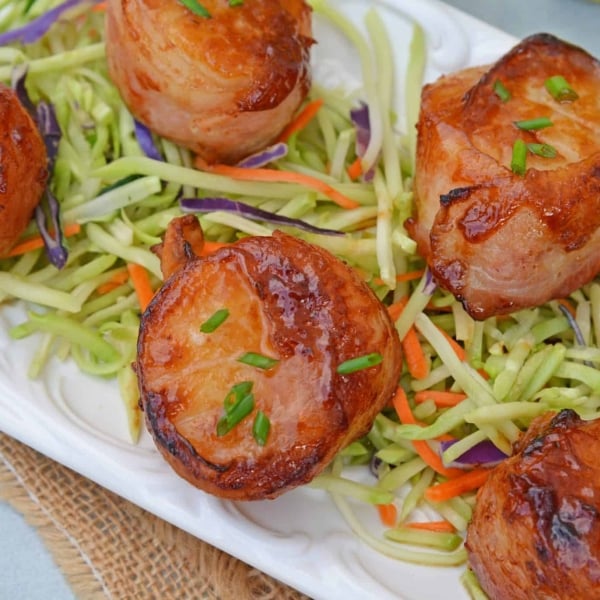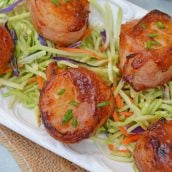 BBQ Bacon Wrapped Scallops
Scallops wrapped in bacon and brushed with barbeque sauce.
Instructions
Soak your toothpicks in water for up to an hour, but a minimum of 15 minutes. You want them good and soaked before going under the broiler for a long period of time.

Prep the bacon. Heat your oven to 400 degrees and arrange in a single layer on a rimmed baking sheet. bake for about 12 minutes, or until bacon is starting to cook, but not fully crispy. Remove, drain and let cool slightly just so it is easier to handle.

Make sure your scallops are rinsed and the muscle has been removed. Pat dry using a paper towel.

Wrap each scallop with a strip of bacon, securing with a toothpick. Place on a rimmed baking sheet.

Preheat broiler to high heat.

Place under broiler (about 4 inches from heating mechanism) for 2-4 minutes. Remove, flip and return for another 2-4 minutes. Remove and baste with BBQ sauce. Return to oven for 2 minutes with the broiler off. *Cooking times will vary greatly depending on the size of scallop. See note.

Remove, garnish with chives and serve immediately.

If you've tried this recipe, please come back and let us know how it was in the comments/ratings section.
Notes
*Scallop size can vary greatly and therefore so can cooking times. These scallops were colossal size, about 2 inches wide and 1 1/2 inches thick. They took a total of 10 minutes to cook. Make adjustments based on your scallop size. This will also impact your bacon size.
*Longer toothpicks are better especially if you got the jumbo scallops.
Nutrition
Calories:
114
kcal
,
Carbohydrates:
3
g
,
Protein:
4
g
,
Fat:
8
g
,
Saturated Fat:
2
g
,
Cholesterol:
18
mg
,
Sodium:
276
mg
,
Potassium:
90
mg
,
Sugar:
2
g
,
Vitamin A:
25
IU
,
Calcium:
3
mg
,
Iron:
0.2
mg
BBQ Bacon Wrapped Scallops were made for three reasons.
I love bacon wrapped scallops and love any excuse to make them.
I am part of a fabulous group that celebrates food holidays. In this case, we are celebrating National Bacon Day!
Bacon is delicious.
Check out even more tasty, perfect bacon recipes!
And MORE BACON!!!!