Looking for an easy seafood appetizer? You'll love these baked sea scallops wrapped in bacon! Yum!
These BBQ Bacon Wrapped Scallops are absolutely addicting! You can make these scallops in the oven as a party appetizer or a main course. Easy to make and so delicious!
These BBQ Bacon Wrapped Scallops are a recipe that I just keep making. I love them so much more than I ever anticipated! Who knew baked scallops could be so tasty and easy to make.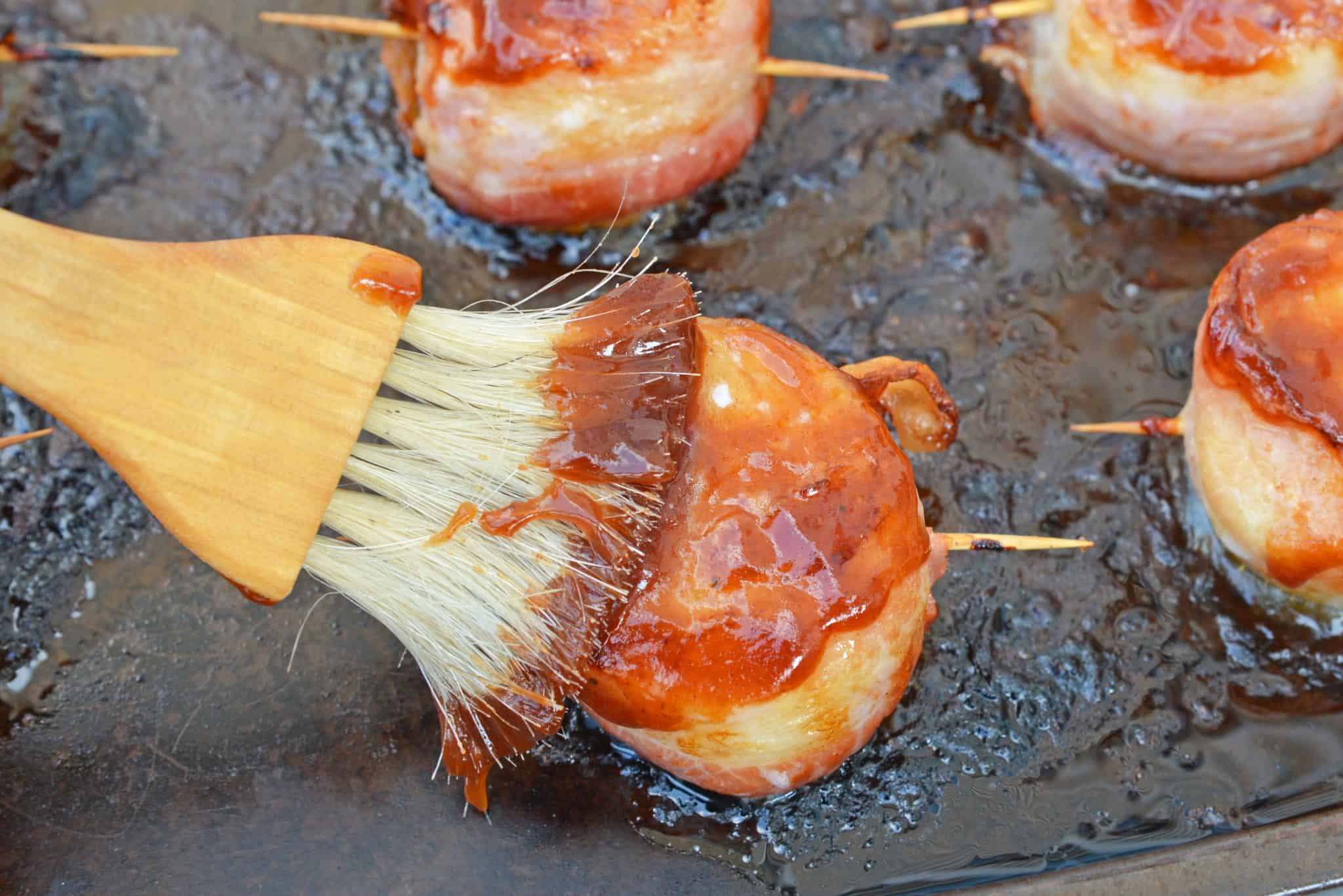 Scallops wrapped in bacon make a great party appetizer. I definitely anticipate making these for many holiday parties this year and there's no doubt that I'll be serving them up as an appetizer to impress dinner guests soon.
However, these baked scallops can also be turned into a meal, which is what I did when I first made them. Honestly, it might be better this way because there's no way you'll want to eat just one!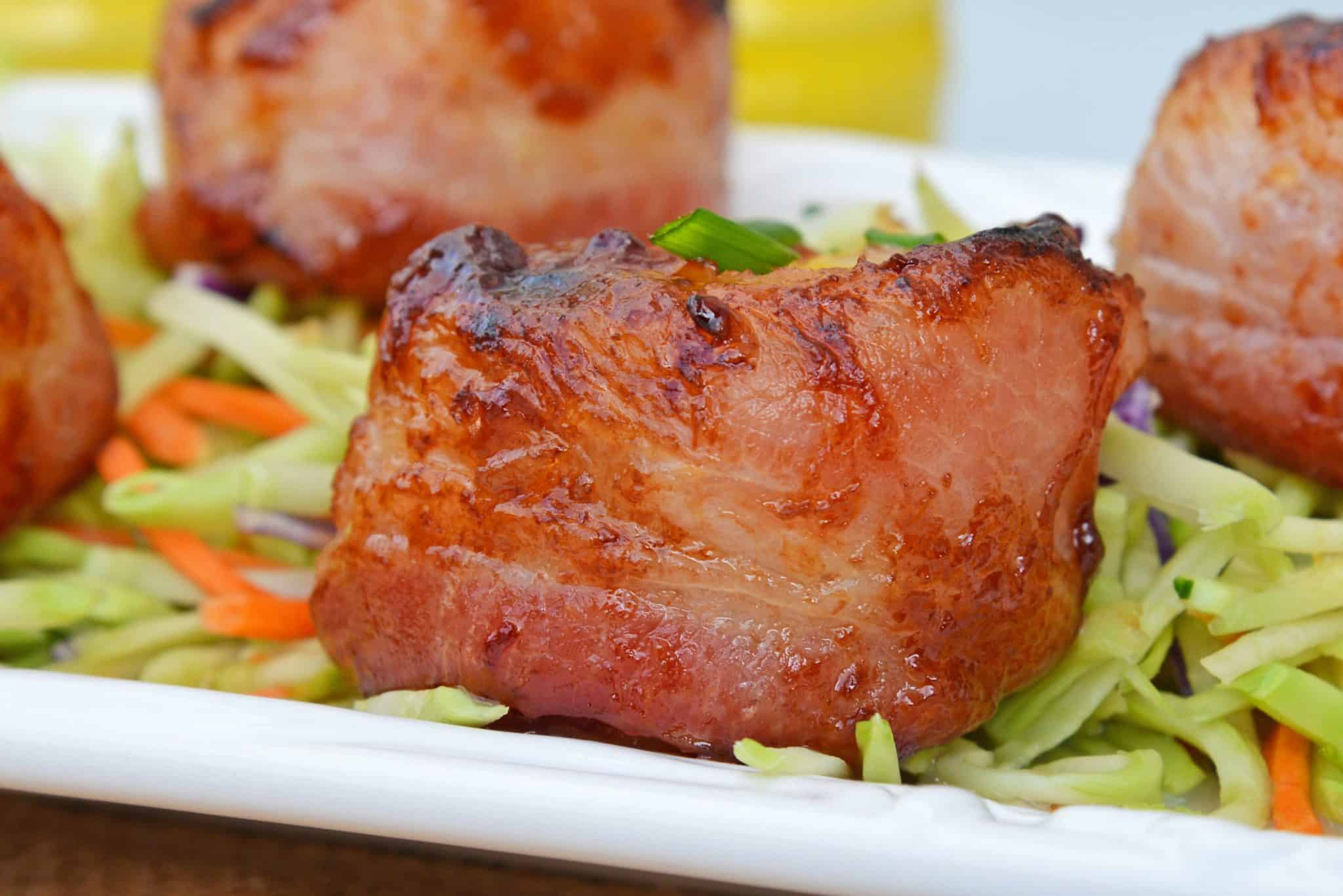 Even the people who don't generally like scallops love these because, well…bacon!
I'm not actually a believer that bacon makes EVERYTHING better…bacon and chocolate, for example, is just not my thing. But I can say that bacon and scallops are definitely two things that belong together!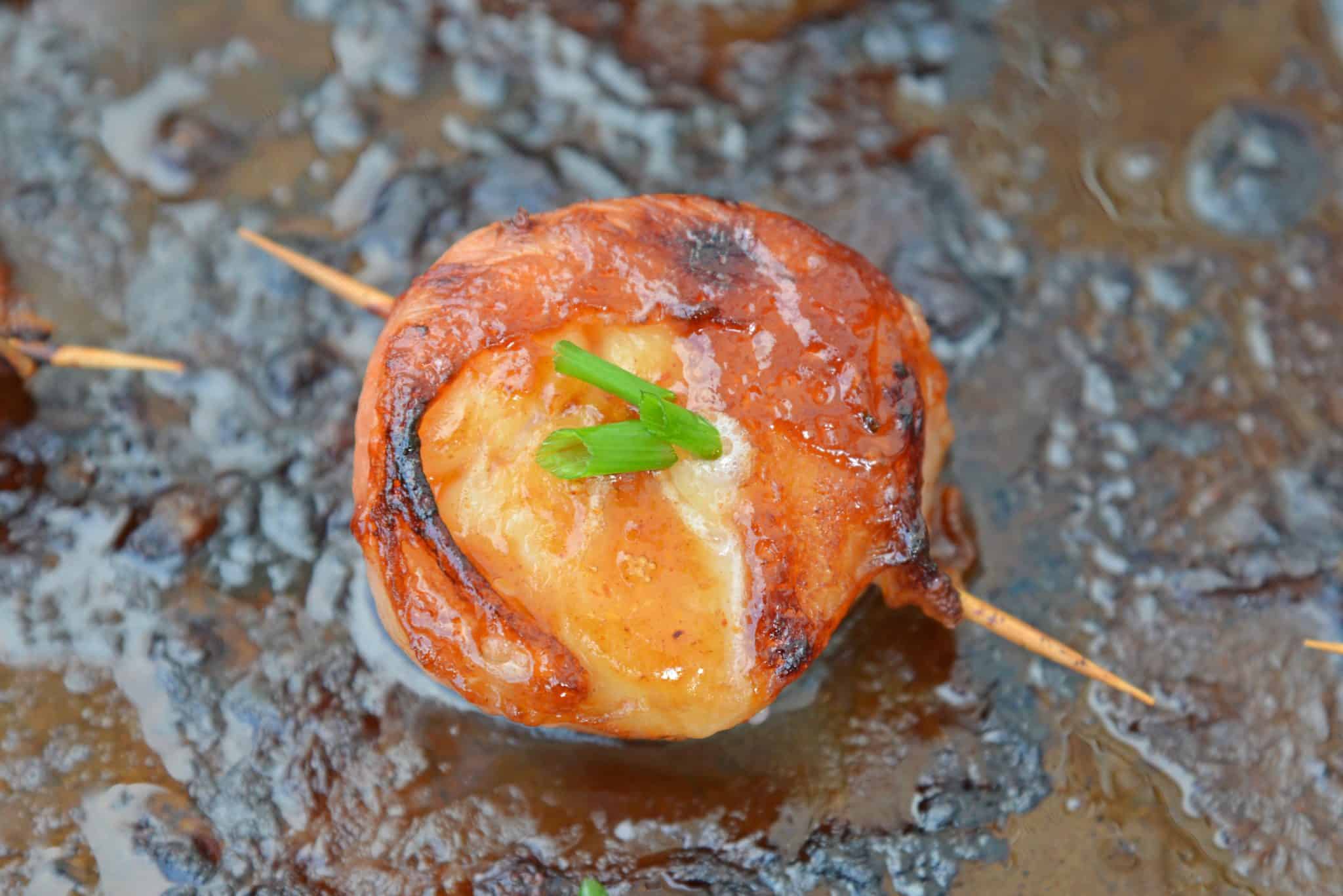 How to make baked scallops may be easier than you're thinking. The most important thing is to match the bacon size to the scallop size, so that one doesn't get done way before the other.
The scallops I used were the colossal size, so they needed one strip of bacon per scallop. This is one of the rare occasions where you don't want a super thick slab of bacon.
The thicker the bacon, the harder it is to cook around the scallop and the scallop will be done (or overdone) well before the bacon.
If you scallops are small and bacon is larger, you might want to cut it down the bacon lengthwise so you don't overlap too much.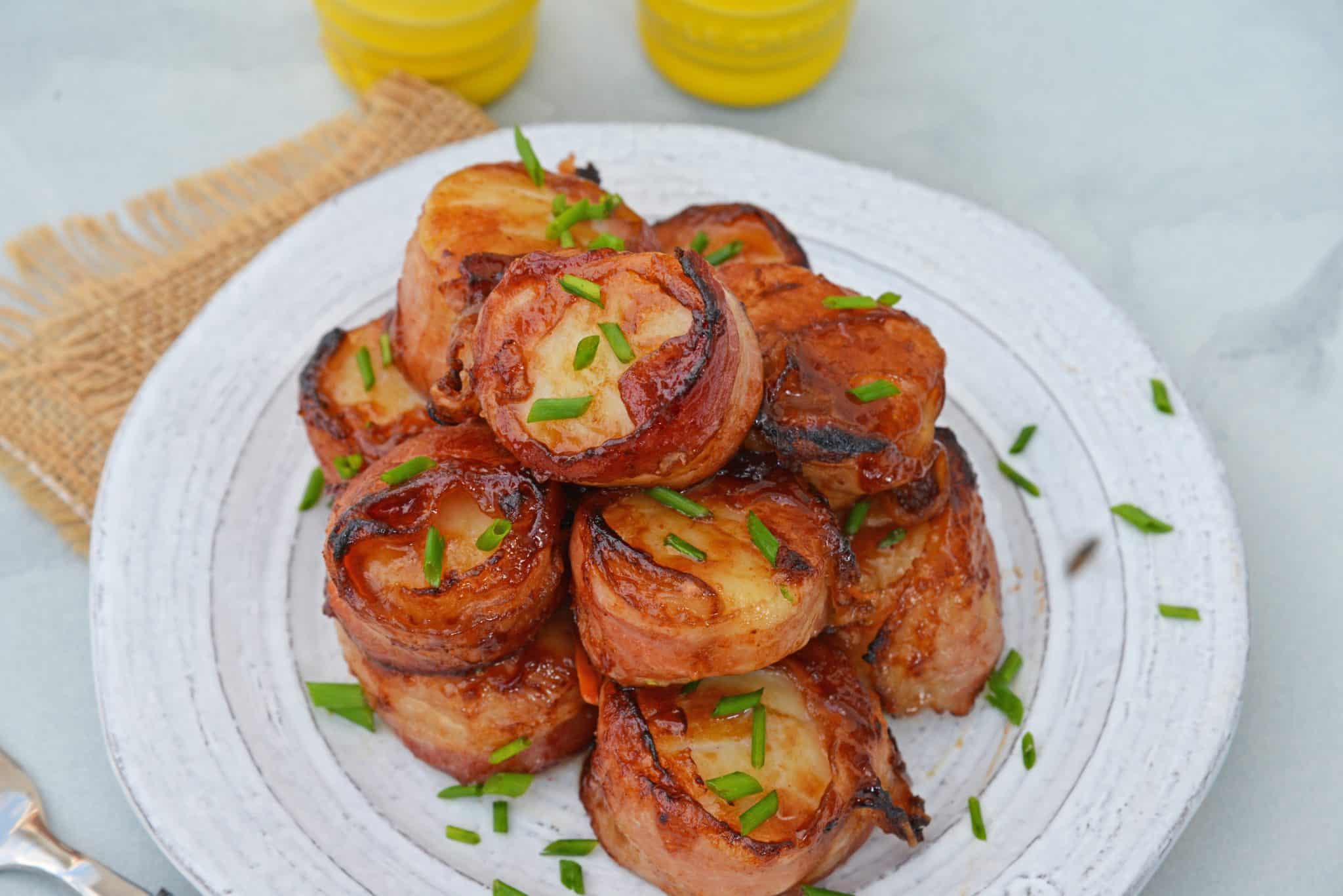 Another very important thing to note is that the toothpicks must be soaked in water a minimum of 15 minutes before baking. Absolutely, 100% do not put dry toothpicks directly in the broiler!
Other than that, these BBQ Bacon Wrapped Scallops are an ease to make! It is necessary to keep an eye on them as they cook since the baking time may vary, so these are an appetizer you can't fix and forget, but rather one to start preparing right before guests arrive.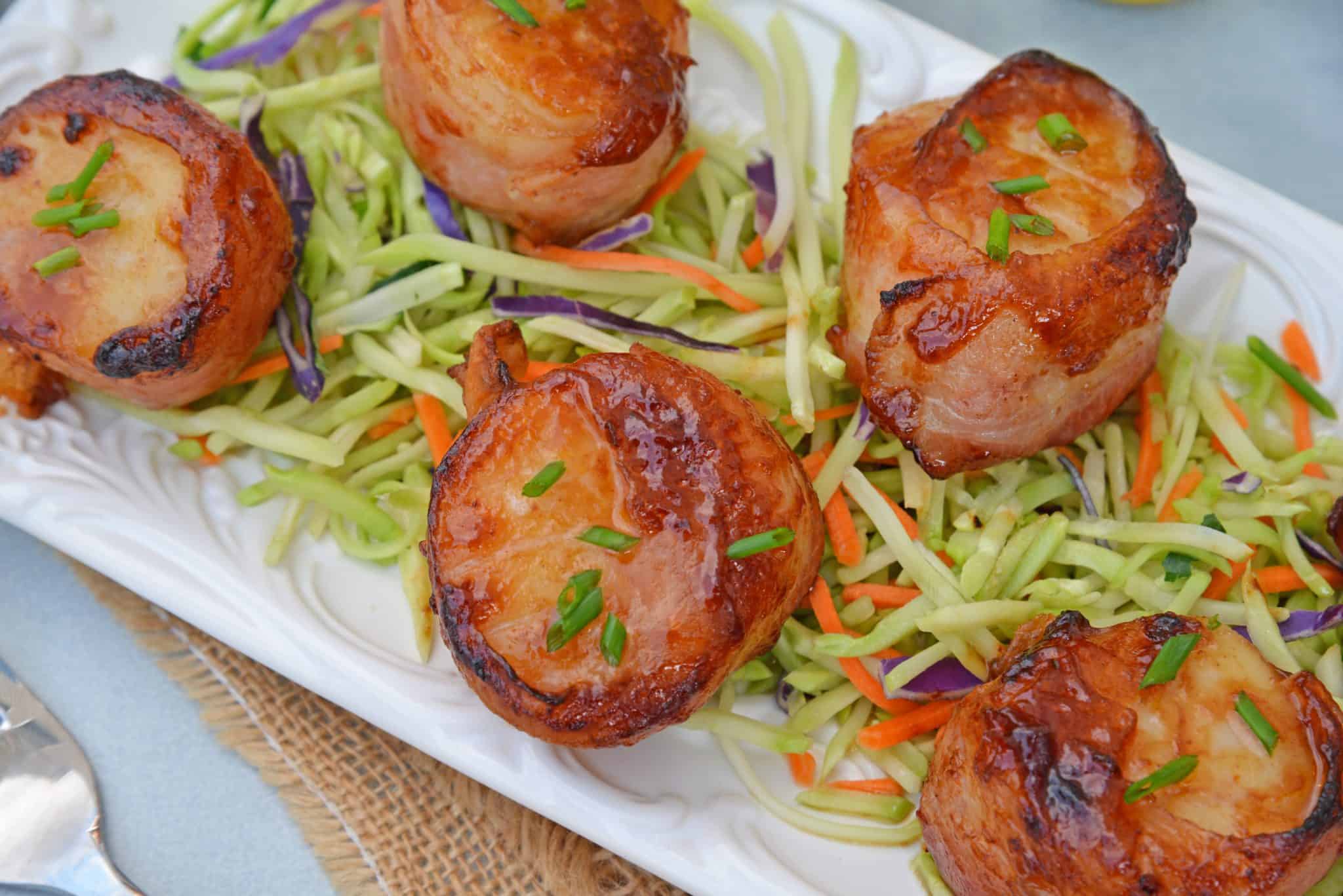 Whether served as an appetizer or entree, these baked scallops will become one of your favorite scallop recipes!
Since you like these BBQ Bacon Wrapped Scallops, you may also like these other easy scallop recipes:
Squid Ink Pasta with White Wine Cream Sauce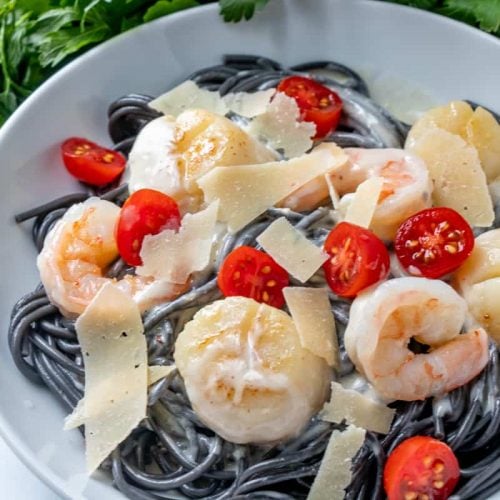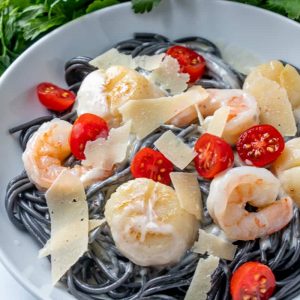 Squid Ink Pasta with White Wine Cream Sauce Recipe is an elegant dish that is easy to prepare. Wow, your diners with this striking dish.
How to Sear Scallops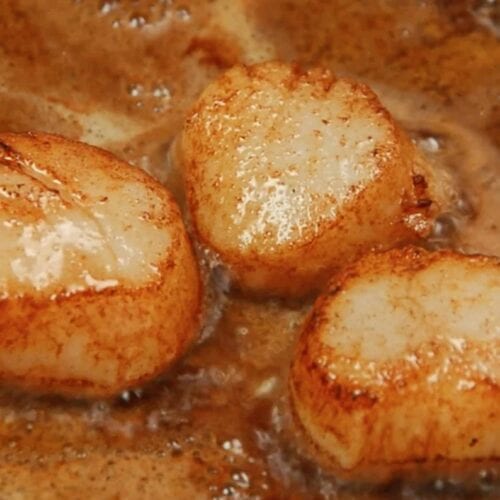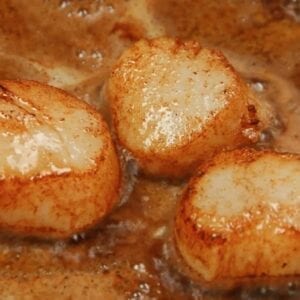 Pan Seared Scallops at home are easy to make. Learn how to prevent your scallops from sticking and get restaurant quality crust every time!
Scallion Pesto Scallop Pasta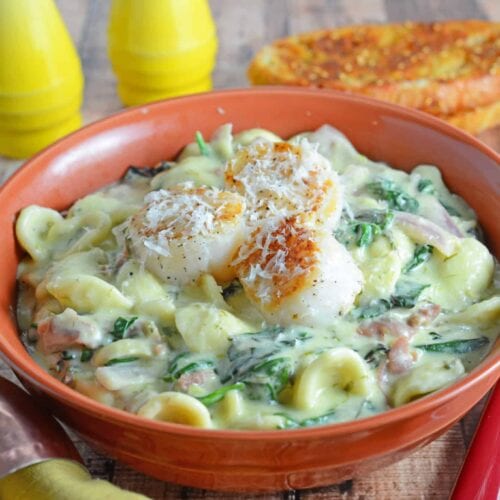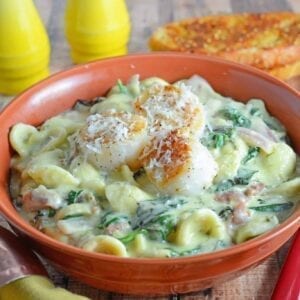 Scallion Pesto Scallop Pasta is a restaurant quality dish, creamy pasta sauce with garlic, Swiss chard, prosciutto and seared scallops.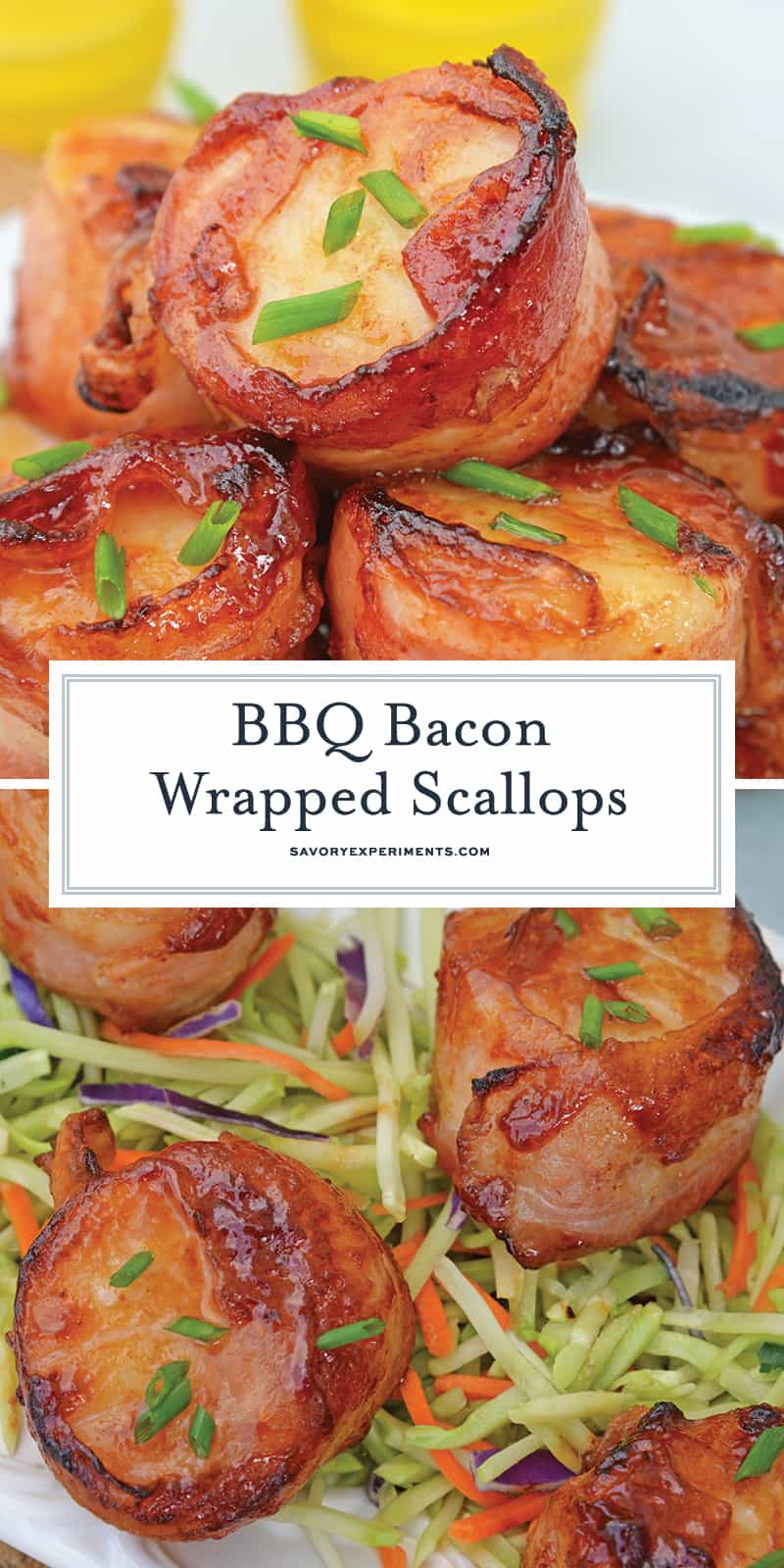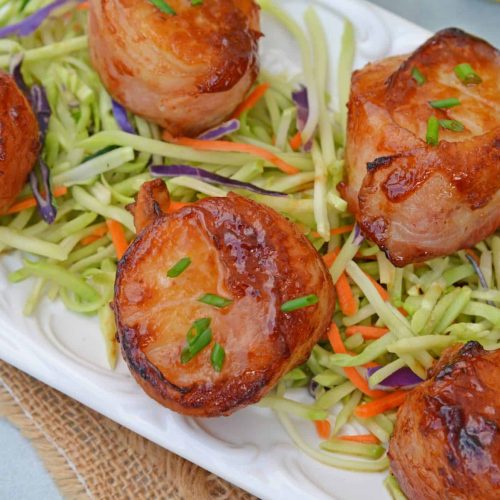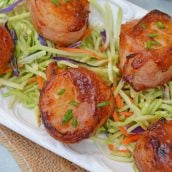 Print Recipe
BBQ Bacon Wrapped Scallops
Scallops wrapped in bacon and brushed with barbeque sauce.
Ingredients
10

large scallops

, dry packed and muscle removed

10

strips bacon

4

tablespoons

BBQ sauce

10

long toothpicks

chives

, minced for garnish
Instructions
Soak your toothpicks in water for up to an hour, but a minimum of 15 minutes. You want them good and soaked before going under the broiler for a long period of time.

Preheat broiler to high heat.

Make sure your scallops are rinsed and the muscle has been removed. Pat dry using a paper towel.

Wrap each scallop with a strip of bacon, securing with a toothpick.

Place on a rimmed baking sheet.

Place under broiler for 5-6 minutes. Remove and baste with BBQ sauce. Return to oven for 2 minutes.

Remove and turn over. Return to oven for 5-6 minutes.

Remove and baste with BBQ sauce. Return to oven for 2-3 minutes, or until bacon edges are dark and crispy.

Remove, garnish with chives and serve immediately.
Notes
*Scallop size can vary greatly and therefore so can cooking times. These scallops were colossal size, about 2 inches wide and 1 1/2 inches thick. They took a total of 13 minutes to cook. Make adjustments based on your scallop size. This will also impact your bacon size.
Nutrition
Calories:
114
kcal
|
Carbohydrates:
3
g
|
Protein:
4
g
|
Fat:
8
g
|
Saturated Fat:
2
g
|
Cholesterol:
18
mg
|
Sodium:
276
mg
|
Potassium:
90
mg
|
Sugar:
2
g
|
Vitamin A:
25
IU
|
Calcium:
3
mg
|
Iron:
0.2
mg
BBQ Bacon Wrapped Scallops were made for three reasons.
I love bacon wrapped scallops and love any excuse to make them.
I am part of a fabulous group that celebrates food holidays. In this case, we are celebrating National Bacon Day!
Bacon is delicious.
Check out even more tasty, perfect bacon recipes!
And MORE BACON!!!!