Simple yet delicious, my Lemon Pepper Grilled Calamari only takes 5 minutes on the grill. This recipe is a great way to enjoy seafood without heading to a restaurant.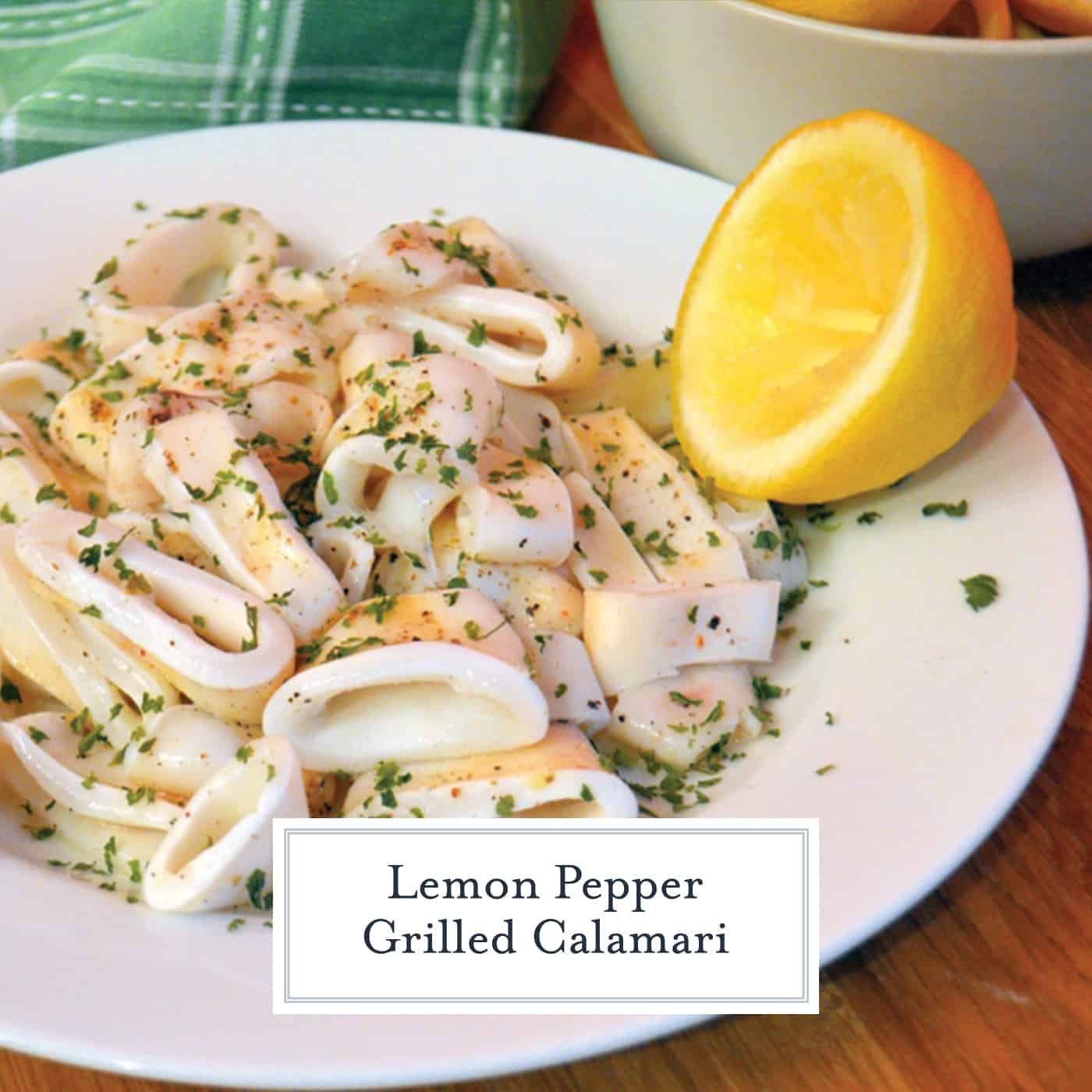 Lemon Pepper Grilled Calamari brings the flavors of the sea right to your dinner table. You won't be disappointed by this mouth-watering recipe.
Calamari is one of my favorite appetizers. Most people think of fried calamari rings, but around the Mediterranean, you will rarely find it breaded and fried.
When cooked well, it is quite the tasty treat. For my Lemon Pepper Grilled Calamari recipe, I use classic ceviche preparation and finish it on the grill.
I use both techniques for this grilled calamari because serving raw seafood to friends and family makes me uneasy. Ceviche relies on citrus juice to "cook" it. This is also known as denaturation.
During denaturation, the citrus juices break down the proteins in the fish or seafood and change both their chemical and physical properties. This, in turn, changes the appearance of the fish as well making it appear cooked.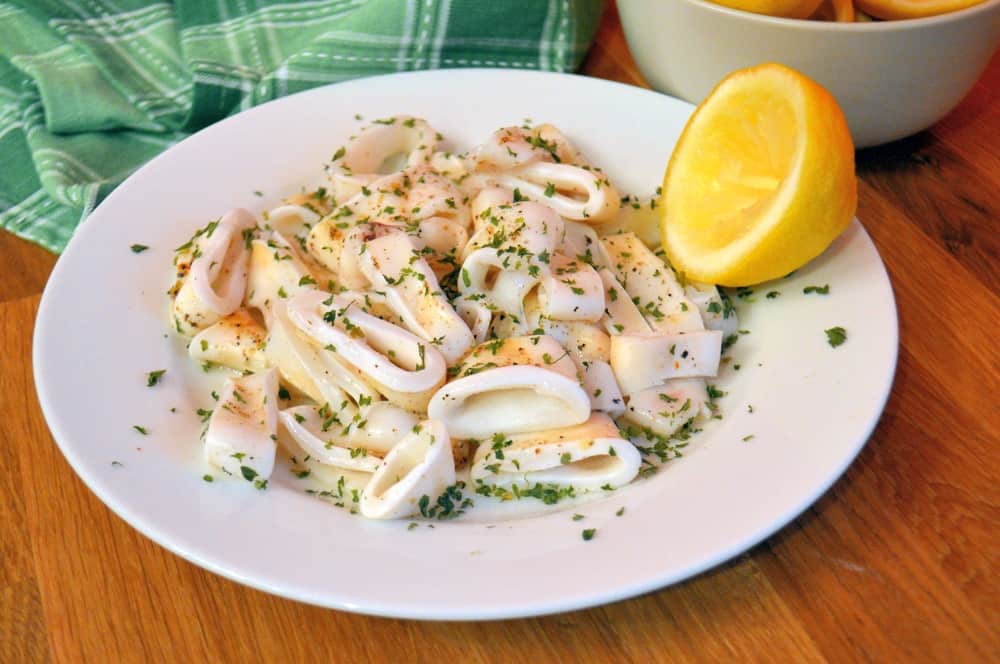 The longer it sits, the more "firm" and "done" the fish or seafood will get. Important note: this process doesn't kill any bacteria, so it is extremely important to have fresh, sushi-grade fish or seafood.
Finding fresh calamari may be a bit of a challenge, but if you can find it, use it! If not, frozen, thawed calamari will work just as well. I fact sometimes frozen calamari is better seeing that freezing can kill certain types of harmful bacteria.
FACT: Many sushi restaurants freeze their fish as a way to prevent some bacteria.
I prepare my Lemon Pepper Grilled Calamari ceviche style and then finish it off with a quick sear on the grill to kill off any bacteria that might be lingering AND to give it a robust smoky flavor.
The homemade lemon pepper seasoning is easy to make using nothing but calamari tubes, black pepper and fresh lemon. As always, I highly suggest using a spice grinder or pepper grinder to get the maximum flavor your of your pepper.
The key thing to remember when you're making Lemon Pepper Grilled Calamari is to make sure you don't overcook it. If you do, it will become tough and rubbery.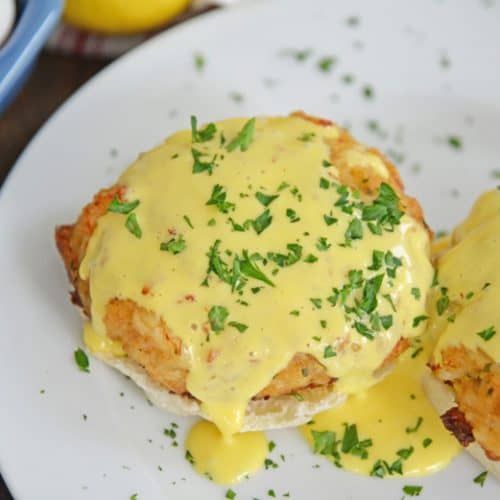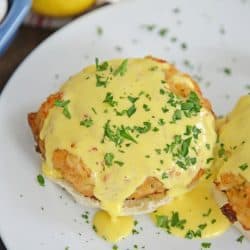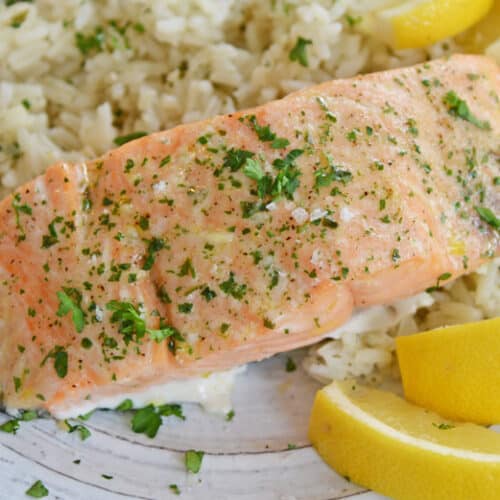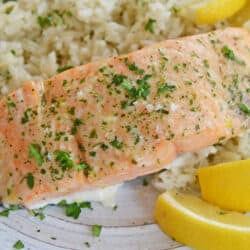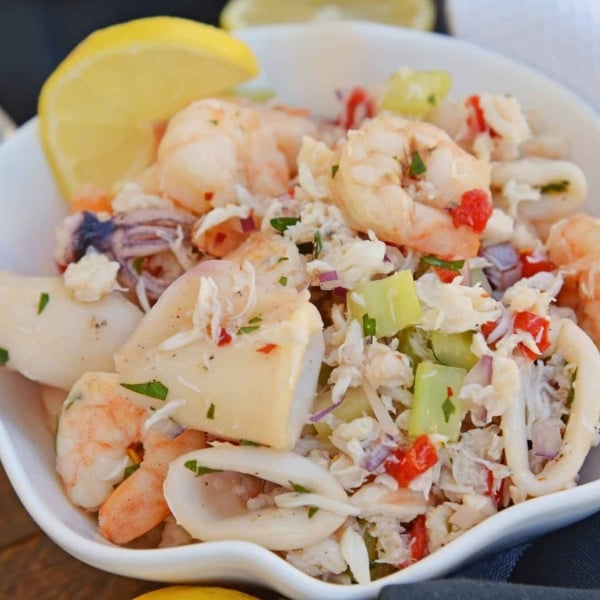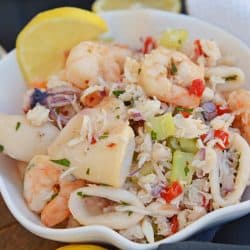 Italian Seafood Salad
Made with shrimp, calamari and lump blue crab meat, this Italian Seafood Salad is one of the easiest but most delicious seafood salad recipes you'll ever make. Perfect as an appetizer or light meal!
See The Recipe!
Questions you might have about how to make grilled calamari:
Are squid calamari? Calamari is the culinary name for squid. There are many varieties of squid, some are tougher than others and some are more expensive than others.
Is octopus the same as calamari? No. Octopuses use their eight sucker-lined arms to capture their prey and move about on the ocean floor. Squids have eight arms lined with suckers and two specialized tentacles that they use to reach out and capture prey.
They look similar and are commonly used interchangeably in recipes, but they are not the same cephalopod, also known as a head-footed animal.
What does calamari taste like? Calamari has a mild seafood flavor with a different texture than many other types of seafood or fish. The texture is perhaps why people are drawn to it. Simple salt and pepper, lemon zest or other citrus can easily be enough.
Are calamari shellfish? Nope! Shellfish, but definition, have shells. Cephalopods don't have protective shells.
How do you reheat calamari? Calamari aren't great reheated. If you do reheat them, avoid the microwave. Instead heat them on 300 degrees in the oven.
How are calamari rings made? Calamari rings are made by simply cutting the cylindrical squid bodies. For this recipe, it is easier to grill calamari while still it is in the whole tube form. If you cut squid into rings before hand, you won't be able to put it on the grill grates and will require a grill basket
.
Can I use the tentacles for grilled calamari? You sure can! I am not a huge fan of calamari tentacles, but hubby loves them. They are a little more challenging to grill just from the standpoint that they don't fit on the grill grates well. Use a grill basket.
What dipping sauce should I serve with grilled calamari? Lemon Pepper Grilled Calamari doesn't really need a dipping sauce. Additional fresh lemon wedges will suffice, but really it doesn't need anything.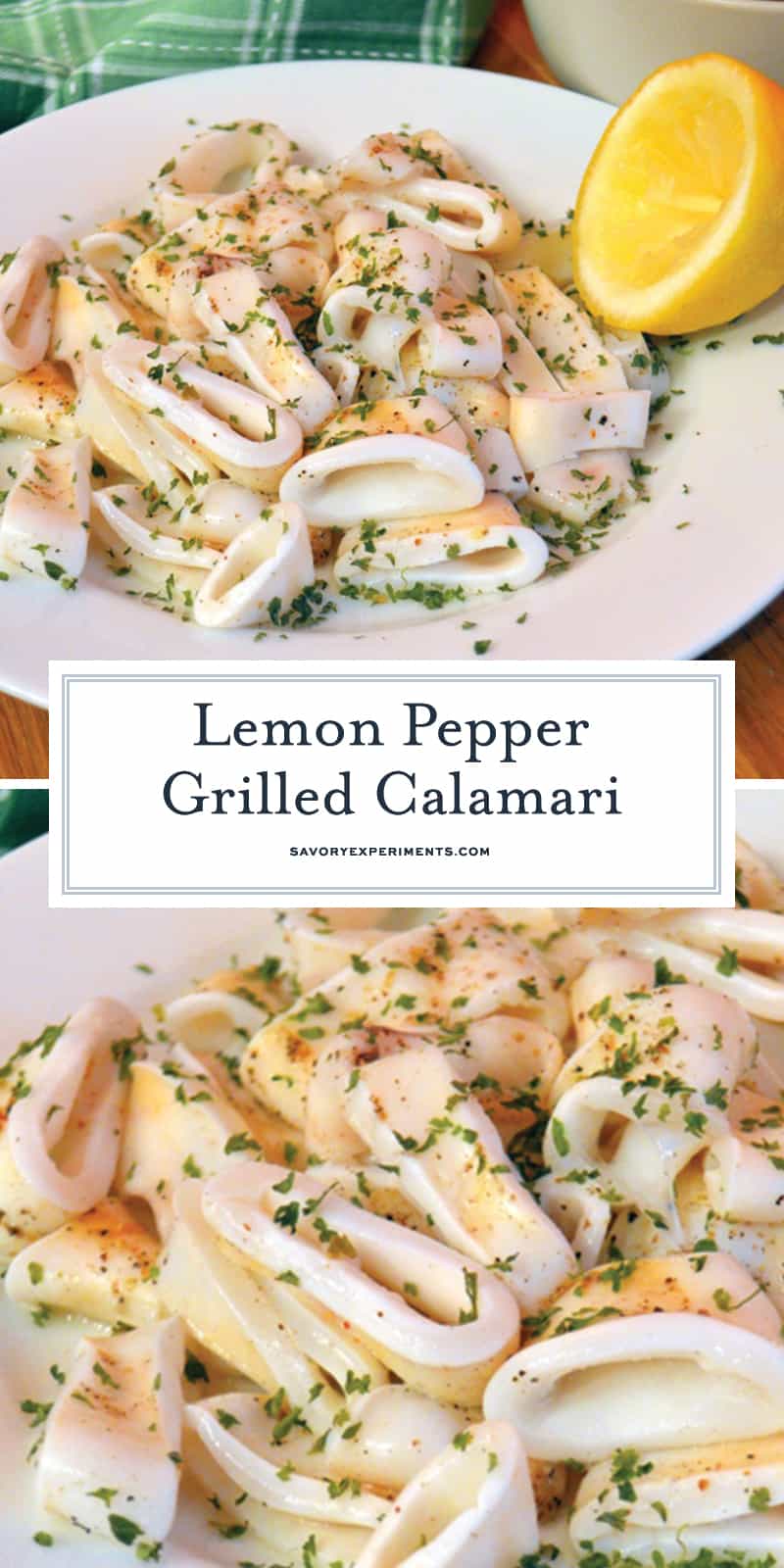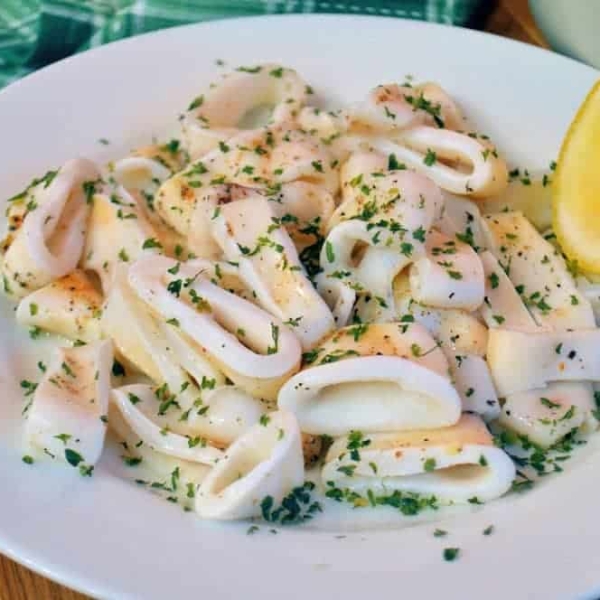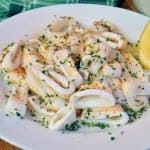 Lemon Pepper Grilled Calamari Recipe
Lemon Pepper Grilled Calamari is an easy recipe for seafood on the grill!
Instructions
Clean calamari tubes well, running water through the inside. If there is a small membrane or muscle still attached at the bottom, cut this off so water can flow freely through the cylinder. Pat tubes dry.

In a shallow dish, lie whole calamari tubes in a single layer. Cover with fresh lemon juice. Cover with plastic wrap and place in the refrigerator for 40 minutes.

Heat grill to high heat. Remove calamari tubes from the refrigerator and drain lemon juice. Brush grill with vegetable oil and heat to a medium temperature.

Place calamari tubes on indirect grill heat for 2-3 minutes per side do not overcook. Calamari should be white and firm.

Remove from grill to a cutting board. Cut calamari into rings and place into a medium mixing bowl. Toss with cracked pepper and finely chopped parsley.

Serve immediately and while hot. Enjoy your Lemon Pepper Grilled Calamari!

If you've tried this recipe, come back and let us know how it was!
Nutrition
Calories:
65
kcal
,
Carbohydrates:
6
g
,
Protein:
9
g
,
Cholesterol:
132
mg
,
Sodium:
26
mg
,
Potassium:
202
mg
,
Sugar:
1
g
,
Vitamin A:
105
IU
,
Vitamin C:
27.6
mg
,
Calcium:
22
mg
,
Iron:
0.5
mg